I love creating free content full of tips for my readers, you. I don't accept paid sponsorships, my opinion is my own, but if you find my recommendations helpful and you end up buying something you like through one of my links, I could earn a commission at no extra cost to you.
Learn more
When looking at home improvement hardware, biscuit joiners are the least used. And even if you do use them, they are specifically designed for just performing one task and that's for joining wood.
This is why it is very important to pick the best one, the one that will not only give you the greatest quality output and get the job done fast but will be worth the price you will be paying for.
There are hundreds of great home repair and maintenance brands out there and it might become a bit difficult in choosing the finest product.
That is why I am here to rid you of your worries and rounded up seven of the best biscuit joiners in the market to make things easier.
Best Biscuit Joiner Reviews
Among the various options available in the market, it gets a bit difficult to choose the ideal product. For this reason, we've compiled a list of high-quality biscuit joiners for you to choose from.
DeWalt DW682K Plate Joiner Kit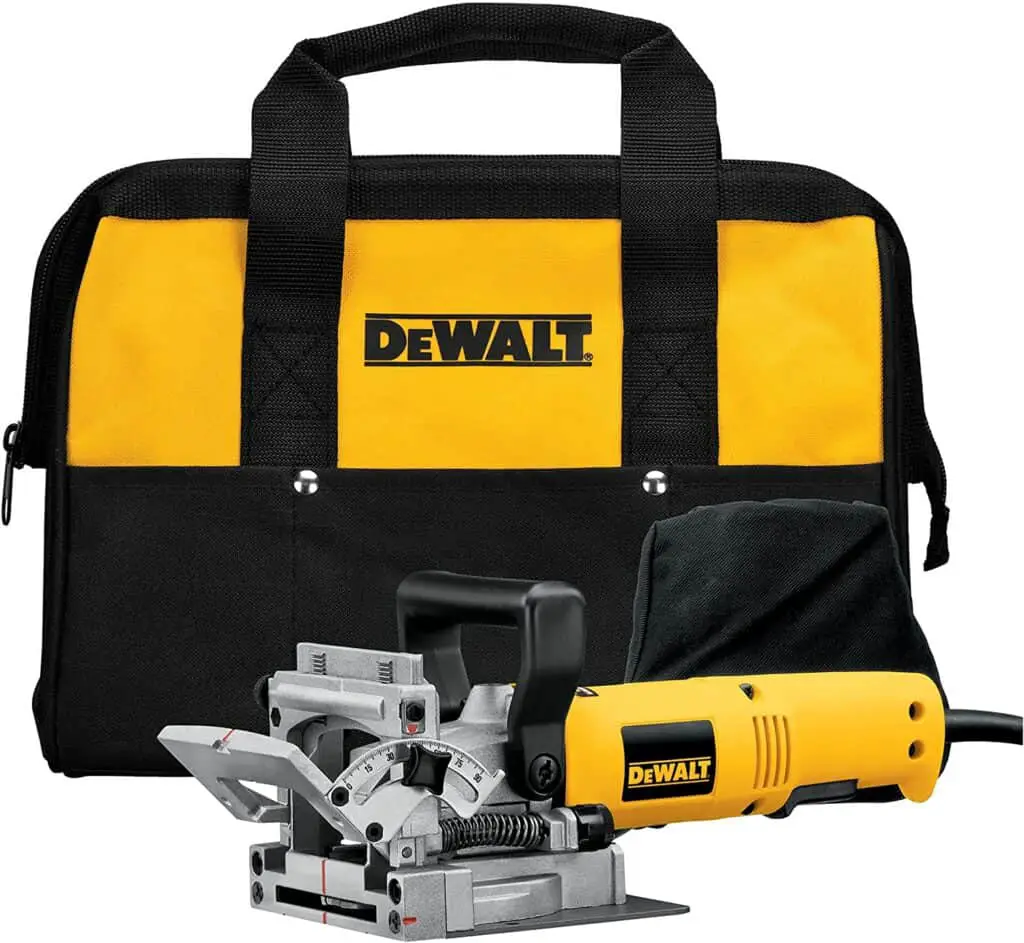 The first biscuit joiner on this list is from the widely known home improvement brand, DeWalt. In the DeWalt tools, the motors that are used are usually of the highest quality and not to mention, they are extremely powerful motors.
You can be sure of achieving the most precisely fitted joints due to its parallel delivery with its dual rack and pinion fence.
Coming down to the specifications, the biscuit joiner runs on a current of 6.5 amperes. And the powerful motor that I had mentioned earlier? That is a whopping 10,000 rpm. The weight of the item is also manageable at around 11 pounds and it accepts biscuits of 10 inches and 20 inches.
One cool thing about this device is that you won't have to even move an inch away from your spot to adjust the fence. The fence is able to tilt all the way up to a right angle while you keep the joiner in place and running. You might be thinking about how such a heavy-duty machine is able to stay in place while it runs.
Well, there are pins fixed on it that are designed to resist slips, so you won't have to worry about it running off to the edge.
Also, the product as a whole is well constructed and is well balanced even though it might seem heavy. The adjustments are very easy to handle, and it makes a time-consuming and seemingly difficult craft like woodworking look like a breeze.    
Pros
It is long lasting and has simple controls. This one is also highly accurate and can be used for stationary purposes. The price is affordable and great for beginners. It can quickly adjust between biscuits and has a very ergonomic design.
Cons
Adjustments might go off at times and doesn't always stay parallel to the wood. Also, the performance is lacking and clogs with dust quickly.
Makita XJP03Z LXT Lithium-Ion Cordless Plate Joiner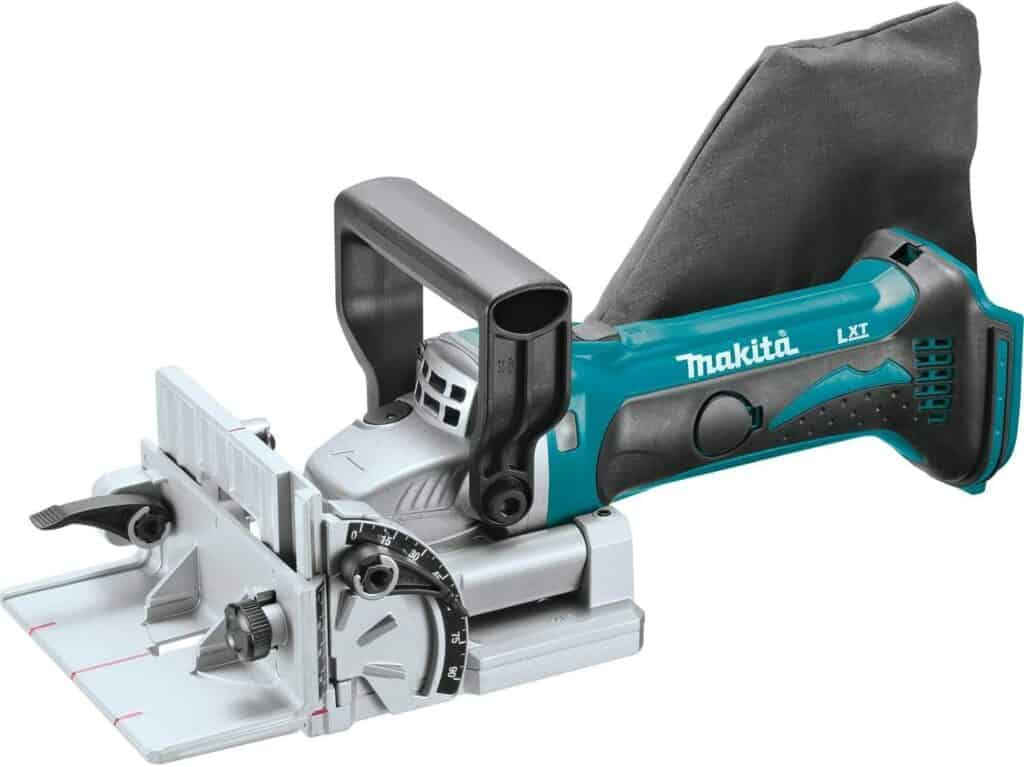 A workshop favorite, the Makita LXT has excellent devices for lining parts during panel gloves, which is specifically what it is used for most of the times. The biscuits and plates that come with it are also incredible.
Also, this unit features Makita's 18-volt LXT battery technology and platform, which is its most special feature. The benefit of this is that you could use the same battery on other Makita tools you may likely have.
When talking about the design of the machine, it has a nice and seemingly large girth of a handle for larger hands.
It also has a nice center line power switch that is very straight forward as you can push it forward to turn it on and push it back to turn it off. There is a dust collector attached to the tool on the right-hand side, behind the base plate of the unit. The dust bag comes with a sliding clip on so you can just pop it right out.
This device features a rack and pinion vertical fence system that has tool-free adjustment. To adjust the angle, you can simply lift up the cam lever without any tools and put it at the desired angle and then sit down and lock it in position.
Another great plus point is that this machine is cord-free, so you are ensured with maximum portability.   
You won't be able to beat this tool because of its convenience and speed. It has been regarded by professionals worldwide that it is able to accomplish tasks easily and safely. For most hardware shops, this product is every customer's favorite go-to woodworking sidekick.
Pros
It has excellent build quality and large handle for easy grip. This one comes with plenty of power. Regarding the dust collector, it is flawless. Also, it is portable, quiet, and lightweight.
Cons
The handle is not long enough, and the adapters are not user-friendly. Also, each tool has a different size port.
PORTER-CABLE 557 Plate Joiner Kit, 7-Amp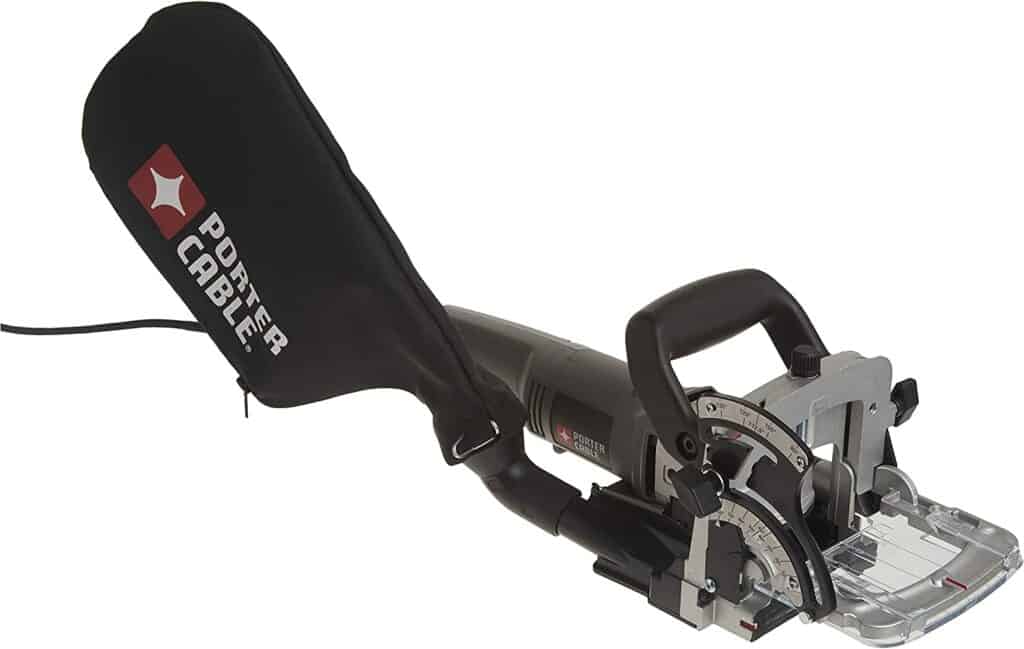 One of the leading power tools of the industry is the Porter Cable 557. The fact that this bad boy is giving you the option of toggling between cutting style settings (seven styles to be exact) makes the experience of woodworking a whole lot easier without you running around and switching between multiple tools.
The current that this device runs on is seven amperes and the motor runs at 10000 rpm, so judging by these statistics, you know for sure how much power this tool holds.
Everything is integrated nicely together so you won't have to take anything off nor do you have to use outside tools or hardware to work it and you can pretty much control and adjust the features by hand. There is grip tape on the end of the fence, so you are ensured of its stability while you are woodworking.
Moreover, the handle attached to the fence instead of the motor provides greater stability and added control during cuts. Even when it comes to the height, you can surely adjust that easily with a specific knob that can be found on the joiner.
Other biscuit joiners have the limit of the fence tilting 45 to 90 degrees, but this particular joiner is able to tilt all the way up till 135 degrees. This makes it extremely flexible and gives you more maneuver control. The joiner uses 2- and 4-inches diameter blade and has a spindle lock for easy blade changes.
This product, according to reviews from consumers, is an amazingly durable device and is recommended by professionals. It's an ideal tool to use for almost any joining work.
You can be sure to join cabinet frames, space frames, or picture frames of any size with this thing. It is head and shoulders above in quality. It is considered a fine woodworking tool.
Pros
The top handle is on the fence for easy grip and there is a high range of adjustments. In addition, there is an additional gripper surface on the fence. The manufacturer provides extra small blades. This machine is highly accurate and offers impressive achievable angles.
Cons
There are no adjustments for misalignments and the unit comes with a poor dust bag.
Lamello Classic x 101600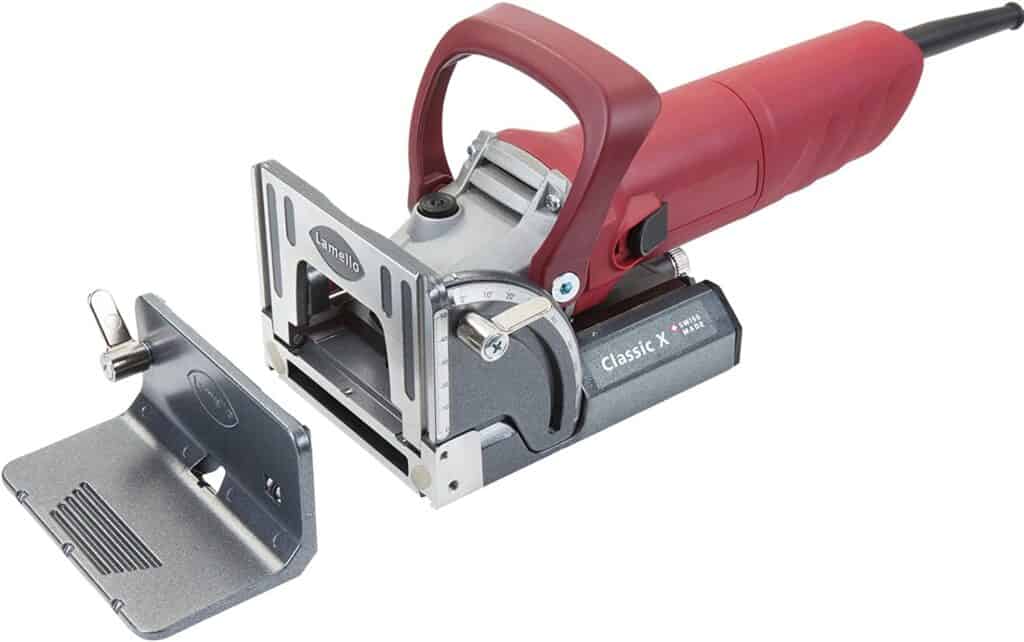 The second most expensive item on this list is the Lamello Classic x 10160 biscuit joiner. Lamello is known as the pioneer of biscuit joiners so it is no surprise why they are deemed as one of the best.
This highly ergonomically designed product is fitted with a base plate that trumps all other base plates in the market because of its precision and ease of movement.
The grooves that you can make with this tool are parallel, so you won't have to worry about misalignments. It allows for 12 different types of cuts and it runs on a powerful motor that is 780 watts and 120 volts. The machine is also very light, weighing at only ten and a half pounds.  
Furthermore, this incredible biscuit joiner also gives you a beneficial option to detach the fence. This allows you to adjust your tool according to any thickness of the wood. The detachable fence is also helpful for stabilizing the machine when it is operated vertically.
You won't have to worry about mistakes being made because of its high cut precision and consistent depth of groove production.
According to user feedback, any serious woodworker deserves a Lamello. With all the features of stability, you would like that this product would be quite slow, or at least average paced but Lamello Classic X is known for their incredibly smooth speed.
Even though it is quite pricey, you will be getting more than what you pay for and it definitely will exceed your expectations.
Pros
The product offers high-quality performance and is very precise. Thus, it gives you great alignment and easy adjustments. The tool is well built and has the self-clamping ability.
Cons
It's expensive and the operating motor isn't very smooth. Also, it doesn't come with a case or a dust bag.
Makita PJ7000 Plate Joiner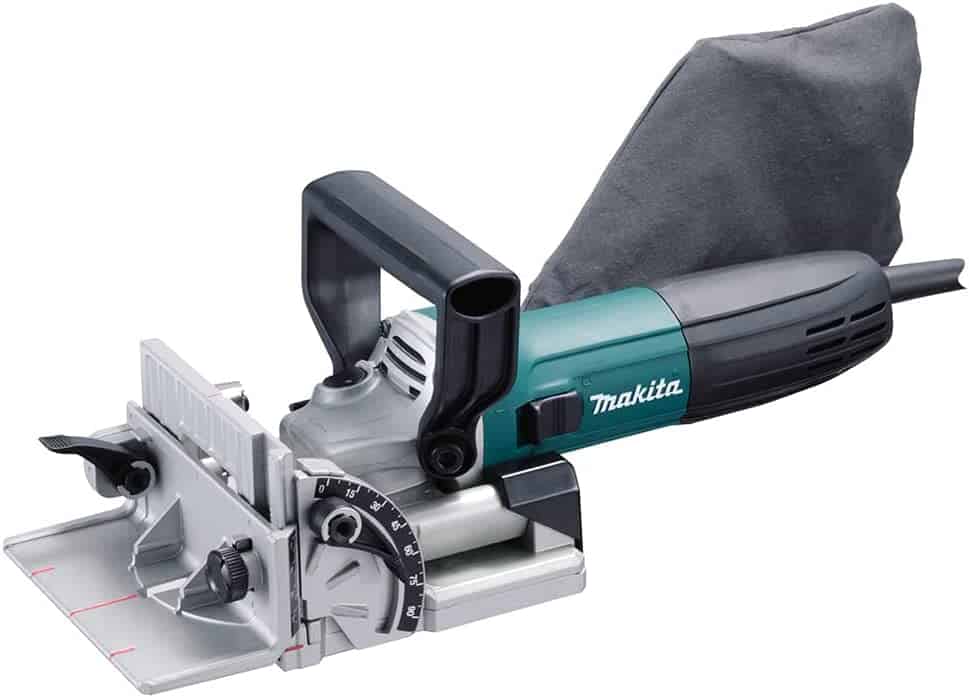 Makita has joined us for the second time here on this list. This time, however, it is the Makita PJ7000 biscuit joiner. What's different about this from the former is that the rotation per minute is 11,000 which makes it much faster and it runs on 700 watts, which also makes it extra powerful as well.
It can deliver top-notch workmanship with amazing quality. The overall build of the machine is ergonomically comfortable, but the grips, fences, and knobs are all larger in size than usual for simple handling.
And like most of the tools listed so far in this article, the Makita PJ7000 also has a vertical fence as well as the ability to biscuit common sizes of 10 and 20 inches.
Another useful feature is that this thing comes with six different cutting settings that are commonly used amongst woodworkers. This makes it easier for beginners to use it as a guide to practice with.
Even the dust collector has been designed meticulously so that you can easily take it off or put it back on after emptying it, just by rotating.  
The adjustable fence and depth of cut are simple, functional, and accurate. You can never go wrong with Japanese Engineered and the USA assembled home improvement tools because you know that the attention to detail will be superb.
Pros
It has simple functions and is easily adjustable. This thing's also very accurate. On top of that, it's not very noisy and lasts a long time.
Cons
Levers are made of plastic so they might break under pressure. And the settings aren't clear or readable. Thus, it's difficult to decode the biscuit sizing
Gino Development 01-0102 TruePower
The most powerful biscuit joiner among all the ones on this list is this one right here. It is more than what meets the eye as it runs on an immense power of 1010 watts and a motor with a rotation of 11000 per minute.
However, it doesn't look at all like the power it holds because of its small stature and it is lightweight. It comes with a blade that is 4 inches in size and is made up of Tungsten. The joiner on every level of this thing is very impressive.
According to user feedback, the cutter runs well and is able to cut clean and smooth slots. It is also said to have a very quick and easy adjustment for switching between biscuit sizes.
When judging the cuts that this thing can deliver, they can be deemed extremely accurate. From edge cuts to sturdy joints, the versatility of this machine is vast.
Even with all its useful features and high-quality output, this tool is very cheap in terms of price.
It is highly recommended for anyone that doesn't see the need to spend the extra money on the more established brands but still wants top-notch quality.
Pros
This tool is very powerful. But that doesn't stop it from being lightweight. Moreover, the price is highly affordable. This thing has great angle adjustment and amazing height adjustment.
Cons
The unit comes with a Poor dust collector and has a Poor factory blade. Furthermore, depth adjustment is a little sloppy.
Festool 574447 XL DF 700 Domino Joiner Set
The final contender is the one-of-a-kind Festool 574447 XL DF 700 biscuit joiner. It is one of a kind because of its state-of-the-art cutting style. It follows various forms of rotations and vibrations to cut accurate grooves that are clean and consistent without any flaws.
Four main features that this tool has is its fence's ability to tilt in three different angles (22.5, 45, and 67.5 degrees), its ability to adjust to several different pits of grooves, its special oscillating technology, and not to mention its options of different joinery methods.
One cool thing about this equipment is that it is very fast. You can finish a joinery or woodworking craft that would take only a small amount of time, instead of hours.
With just the adjustment of a knob, you are able to play around with the alignment of your cuts. The alignment can also be adjusted with the indexing pins that come along with it.
Also, the machine is very lightweight in comparison to its robust appearance. One great advantage of the weight to size ratio is the stability you are able to achieve while working.
Moreover, the set-up for this tool is also very simple and won't take up much of your time either. Another notable feature is that you can use it for crafts that are bigger in size because of its large tenons fixed into the machine.
Whether it is joining a small table or putting together a large wardrobe, the Festool can take it all.
Pros
It's fast and extremely stable. The adjustments are easy. Also, the device is portable and can be used in big projects due to its high accuracy.
Cons
The tool is very expensive and adjustment knobs are weak.
Is There Any Difference Between Biscuit Joiner and Plate Joiner?
If you are a beginner at woodworking there may be a lot of different questions that arise. You might be wondering what the difference is between a biscuit joiner and a plate joiner. There is nothing to be confused about because they both are practically the same thing.
Basically, it is the same woodworking device that has two different names. Different countries use either term. For example, people of the United States more commonly use the term "biscuit joiner" whereas people in the UK use the term "plate joiner". 
The "biscuit" is the same thing as the "plate" as they both are chip-like substances in the shape of a large almond or an American football. These chips are used to join two pieces of wood together.
This process of biscuit joining or plate joining involves making holes or slots in the wood you will be joining and then hammering in the "biscuits" or "plates" and connecting the two planks of wood together. Not only is this a great process for connecting two pieces of wood, but it also helps keep the joints strong.
With a biscuit/plate joiner, you can change around how deep within the wood the cut will be made. You can also easily adjust where and at which angle the fence of the machine will be located.
All these incredible options of a biscuit joiner help you to achieve accurate results, leaving you with high-quality wood furniture that is of a professional level, right at the comfort of your own home.
Sure, you can use glue specifically made for wood to join pieces together. But those will deteriorate over time and come off or fall apart. However, with biscuit or plate joints, you can ensure yourself with long-lasting pieces.
Frequently Asked Questions (FAQ)
Q: Why do you need a biscuit/plate joiner?
Ans If you are a DIY type of person and want to save some money in the long term, a biscuit or plate joiner is a great tool to have in your collection of home improvement tools as they can be used for almost any kind of woodwork.
Q: What size plates or biscuits are recommended for woodwork?
Ans: It is usually recommended by professionals to use the largest size biscuits available (which is usually 20) as large biscuits will give you the strongest joints.
Q: How much space should you keep between each biscuit joint?
Ans: This all depends on the type of woodwork you are doing, and it also depends on how you would like the joints to be. But one thing to follow in order to get accurate results is to keep the joints at least two inches away from the end of the wood. 
Q: What tasks are best suited for biscuit joiners?
Ans: Of course, biscuit joiners are great to use on any kind of woodwork but the types of tasks that biscuit joiners are the most effective on are tabletops. The type of joinery that biscuit joiners work best on are corner joints. And lastly, the type of wood that biscuit joiners are best suited for is beechwood.
Q: What are the types of joints produced by biscuits?
Ans: The types of joins you can achieve by using biscuit joiners are 'edge to edge', 'miter joints', and 'T joints'. 
Conclusion
A biscuit joiner is a great investment for any home improvement, repair, and hardware junkie. This handy dandy machine will act as your sidekick to many different wood-related projects in and out of the house.
I hope my breakdown of the best biscuit joiners in the market will help you perceive a better idea of the kind of machine you need according to the type of work you do most so that you can purchase the right one.
I'm Joost Nusselder, the founder of Tools Doctor, content marketer, and dad. I love trying out new equipment, and together with my team I've been creating in-depth blog articles since 2016 to help loyal readers with tools & crafting tips.