I love creating free content full of tips for my readers, you. I don't accept paid sponsorships, my opinion is my own, but if you find my recommendations helpful and you end up buying something you like through one of my links, I could earn a commission at no extra cost to you.
Learn more
Even though there are plenty of tools around for wood projects, few are as efficient as a brad nailer. And we learned that the hard way. First, we use traditional joinery tools. Those did not only require too much effort, but the results were also not that consistent.
Then, we got our hands on the best brad nailer for woodworking. After that, wooden projects became a breeze to work with. We can make the result look professional and almost flawless now. And we will make it easier for you to pick one of these tools as well. So, stick till the very end of this article.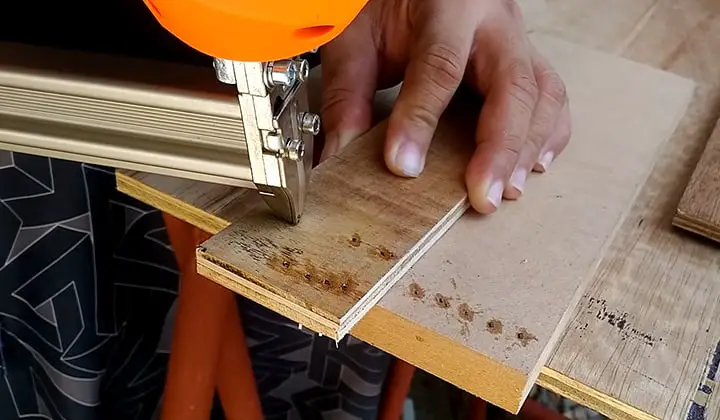 In this post we'll cover:
7 Best Brad Nailer for Woodworking
We believe that choosing a proper brad nailer should not be a complicated process. However, the overabundance of options can surely make things more challenging than it already is. But after doing intensive tests and head-to-head comparisons, we did manage to find seven worthy units. They are:
PORTER-CABLE PCC790LA
One of the top-rated brands in the power tool industry is Porter-Cable. If you wonder how they got so much popularity, you need to go through this review.
The first thing that makes it so good is its cordless nature. There will be no need to go through the hassles of connecting it to a power outlet. It does not even require any hose or costly gas cartridges. That offers a load of mobility. You can move around with it without facing any issues.
It boasts an adequately designed motor that can offer consistent firing power. The motor can shoot 18 gauge brad nails on different kinds of woods. And it can provide a constant power even when it is going through an extreme load. You will not see it throttling even in extreme climate conditions.
There are multiple tool-free settings. Those make the whole operational procedure straightforward. Thanks to its lightweight nature, it will not be hard to hold it and carry it around. It will be possible to work with it for a prolonged amount of time without facing any fatigue.
This unit also features a multi-functional LED on the front. That light does a proper job of illuminating the workspace, which means you can efficiently work in a dimly lit environment.
Pros
Cordless and highly portable
Has tool-free settings
Lightweight
Offers consistent firing power
Boasts multi-functional LED
Cons
It tends to misfire a bit
The included brad nails are low in quality
The unit is cordless and does not require any cable, hose, gas, or compressors. There are a couple of tool-free settings, and it offers a consistent firing power. Check prices here
Ryobi P320 Airstrike
While there are plenty of cordless brad nails for woodworking out there, not all of them have a higher run time. Well, Ryobi factored that in when they were manufacturing this particular unit.
It comes with a high-capacity battery. With a single charge, the tool can fire up to 1700 nails. That means you will be able to work with large-scale projects without having to charge it too frequently. Also, as it is cordless, you will not face any hassles regarding hoses, compressors, and cartridges.
The motor that it boasts is competent too. It runs at 18 volts and can offer superior firing power. You can effectively drive nails on wooden workpieces. It can adequately put nails inside thick and dense workpieces, which is not that common.
This tool has a couple of adjustment dials. Using them, you can optimize the overall performance. The dials also offer control over the air pressure. By changing the air pressure accordingly, you can ensure adequate driving power and finish on wooden projects.
There is a low-nail indicator too. That will allow you to quickly check whether the nail inside the magazine is low or not. As a result, the chances of misfiring and dry firing will be exceptionally low.
Pros
Can fire up to 1700 nails with one charge
Cordless and easy to operate
It has a powerful motor
Features adjustment dials
Flaunts a low-nail indicator
Cons
Not that resistant to jamming
The jam-releasing mechanism is not easy to work with
The capacity of the battery is comparatively high. It can drive up to 1700 nails with a single charge. Also, the motor is potent, and it has a couple of adjustment dials. Check prices here
BOSTITCH BTFP12233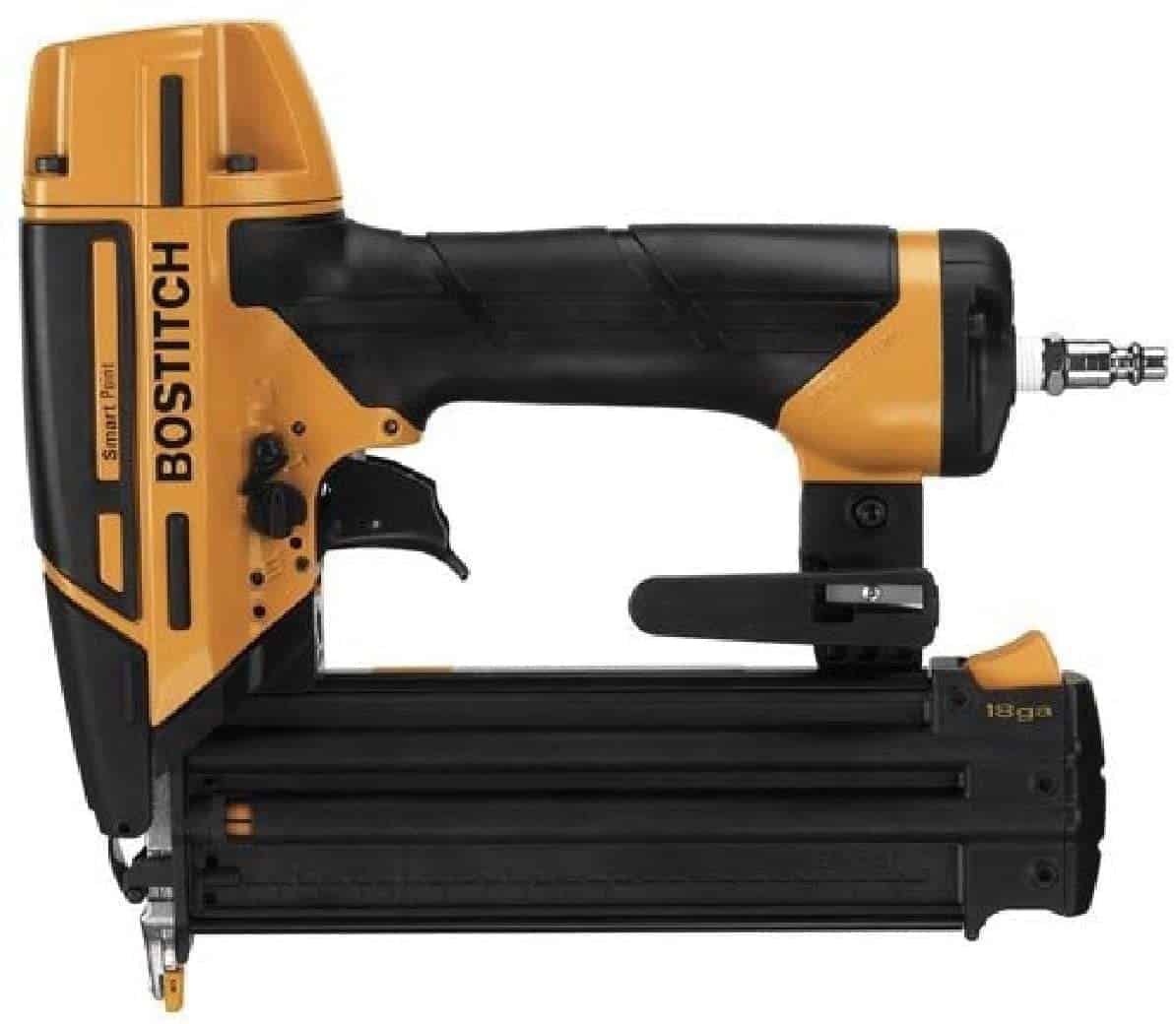 Having to compress the contact trip can be a bit of a hassle sometimes. However, if you get this offering from Bostitch, you will not have to go through that.
This one boasts Smart Point Technology. That mitigates the need to compress the contact trip to actuate the tool. It has a smaller nose compared to most of the available nailers. As a result, placing the nails in the perfect place becomes a hassle-free and easy task.
The unit is highly versatile too. It can work with 18 gauge nails from 5/8 inches to 2-1/8 inches in length. The tool does not require oil to operate either. For that reason, there will be zero risk of accidentally putting oil stains on your precious wooden workpieces.
It even has a tool-free jam-releasing mechanism. That will make the task of releasing jams effortless. Also, you will find a dial-a-depth control knob. This knob will offer precise control over the countersink. So, you will be able to drive nails precisely on the wooden workpieces.
Furthermore, it has a selectable trigger system. It will let you choose between contact operation and sequential firing mode. The tool also has a belt hook and a rear exhaust. It will be easier to carry and store the tool for the belt hook.
Pros
Utilizes Smart Point Technology
It has a comparatively smaller nose
Works with plenty of 18 gauge nails
Features tool-free jam-releasing mechanism
Has selectable firing system
Cons
Dry fires from time to time
Might jam a bit too frequently
The Smart Point Technology is the main selling point of this tool. It has a comparatively smaller nose, which will increase the overall accuracy. Check prices here
Makita AF505N
Want to opt for something that has a higher magazine capacity? Consider this offering that is from Makita.
This tool comes with a magazine that can hold up to 100 nails. That means you will not have to reload the tool that frequently. It will be possible to work with a large-scale project without any interruptions. Also, the magazine can hold 18 gauge brad nails that are from 5/8 inches to 2 inches in size.
The overall build of the unit is pretty solid. All of the crucial parts are aluminum. Even the magazine features the construction of the same material, which increases the overall durability. However, it does not weigh that much. It weighs just three pounds. So, you can work with it comfortably for a long time.
Even the nose of the unit is comparatively narrow. This narrow nose will offer you the ability to work in tight and confined spaces efficiently. As the nose piece features a proper design, the precision will be exceptionally high too. You can accurately drive nails on your projects as the nose will make precise contact.
It also boasts a couple of tool-less adjustment settings. Those will enable you to adjust the overall operational procedure quickly. They will also increase the overall control.
Pros
The magazine can contain up to 100 nails
Made of aluminum
Features a comparatively narrow nose
It weighs just three pounds
Flaunts tool-less adjustment settings
Cons
The user manual is not that in-depth
Does not have an oil-free operational procedure
This unit has a magazine that can contain up to 100 nails. Also, the overall construction is pretty solid. Even the accuracy it offers is highly praiseworthy. Check prices here
Hitachi NT50AE2
Getting more control over the firing mechanism means that you can get flawless results on the wooden workpiece. And that is what you will precisely obtain from this tool.
The manufacturer has gone all-in in terms of accuracy. It has a selective actuation mode, which will let you choose different firing modes. You can switch between contact fire mode and bump fire mode. And to change the firing mode, all you need to do is flip a switch.
This unit is exceptionally lightweight. It weighs just 2.2 pounds, making it lighter than most of the average offerings out there. For being this light in weight, you will not face any fatigue while operating it. The handle also has an elastomer grip. That will add more comfort and lower the chances of slippage occurring.
There is a quick and easy jam-releasing mechanism. It will be possible to extract the jammed nails within a couple of seconds using that. Also, it has a tool-less nose clearing mechanism. That means there will be no need to handle small tools just to adjust the nose accordingly.
It even has a depth-of-drive dial. With that, you can easily adjust the depth of the fires. It will offer more control over the entire operation, and you can get precise and accurate results on your workpiece.
Pros
Boasts selective actuation mode
Light in weight
It has a quick jam-releasing mechanism
The handle has an elastomer grip
Sports a depth-of-drive dial
Cons
It tends to leave a mark on the delicate pieces
The spring of the magazine is a bit stiff
It offers an insane amount of accuracy. And there are a couple of adjustment settings that will let you easily tune the whole operational procedure. Also, releasing the jams is easy too. Check prices here
DEWALT DCN680B
The manufacturer is well known for offering a lineup of fantastic power tools. And this one is not an exception in that regard.
Like some of the other tools that are on this list, this one is also totally cordless. That means you will not have to worry about compressors, gas cartridges, or hoses. The cordless design will offer maximum mobility, allow you to move freely, and work with complete freedom.
It utilizes a brushless motor. As a result, it does not overheat that easily, which means there will be lower chances of performance throttles occurring when you operate it for a prolonged amount of time. The brushless motor will also mean that the internals will last for an extended amount of time.
This tool also has a micro nose. Because the nose is narrow, you will notice an improved line of sight. It will be easier to place the nails in the perfect area on your workpiece. Also, the narrow nature of the nose will increase the overall accuracy. It even has a multi-functional LED light on the front.
Alongside that, the nailer has a couple of tool-free adjustment mechanisms. The tool-less jam releasing system will make the task of releasing jams effortless. There is an adjustable belt hook, which will allow you to hook up right or left attachments quickly.
Pros
Cordless and highly portable
It relies on a brushless motor
Features a micro nose
Sports a multi-functional LED
Boasts a tool-less jam releasing mechanism
Cons
A bit large in size
The hammer mechanism malfunctions from time to time
This is yet another stellar offering from Dewalt. It sports a brushless motor, has tool-less adjustments, features a micro nose, and many more. Check prices here
SENCO FinishPro® 18MG
Being easy to use and having a long lifespan is not present in all of the available options in the market. But if you were looking for one, consider this offering that is from SENCO.
It features a top-notch build quality. The overall construction is of high-quality materials. Such a construction makes this one achieve higher overall durability. It will withstand higher loads and will not show any performance or integrity issues that quickly.
Even though the tool is reasonably durable, it is exceptionally light in weight. The whole thing weighs about four pounds. That means you will not face any fatigue even if you decide to operate it for a long time. As it does not require oil, there will be no need to worry about ruining the workpieces with oil stains either.
The nailer has a rear exhaust. That will clear all of the dust and debris off the workplace. Also, you will find a depth-of-drive dial. This dial will offer you the ability to tune the firing power and adjust the depth of the fires. In other words, you will be able to fire nails into the workpiece with this precisely.
Moreover, the unit flaunts a selective trigger mechanism. You can switch between two firing modes using that. With the burst fire mode, it will be easy to work with intensive and large-scale projects.
Pros
Exceptionally durable
Light in weight
Easy to use
Sports an oil-free design
Features a rear exhaust
Cons
It does not have a no-mar tip
Might not always sink nails properly all the time
The tool features a stellar build quality. It is light in weight and is highly portable. The design is oil-free, and it also boasts a rear exhaust. Check prices here
Frequently Asked Questions
What is the difference between 18 gauge and 16 gauge nails?
The main difference between the two types of nails is the tool they go into. Generally, brad nailers will accept 18 gauge nails, whereas the 16 or 15 gauge nails will go into finish nailers.
Can I use 16 gauge nails on brad nailers?
Not really. 18 gauge is considerably thinner than 16 gauge nails. The brad nailers will have a specific magazine and shooting mechanism that will only accommodate 18 gauge nails.
What can I use a brad nailer for?
As brad nailers use 18 gauge nails, it has loads of use cases. You can use these for base caps, shoe molding, and thin trims. Even though it is possible to use these for thick baseboards, we would recommend against it.
How large of a hole does brad nailers leave?
Brad nailers utilize 18 gauge nails. They are considerably thin, which makes them leave pretty small holes. In comparison, the finish nailers will put a significantly large hole on the workpiece.
Is it possible to use a brad nailer for furniture?
Yes! You can use the brad nailer for furniture. As it utilizes 18 gauge nails, it is perfect for wooden furniture.
Final Words
We cannot simply imagine working with wooden projects without the best brad nailer for woodworking. Using a brad nailer offers you the ability to make the results look almost flawless due to how precise and accurate the tool is.
That being said, we assure you that each one of the models we have covered is worthy of the purchase because we have tested them intensively. So, pick one without any hesitation.
I'm Joost Nusselder, the founder of Tools Doctor, content marketer, and dad. I love trying out new equipment, and together with my team I've been creating in-depth blog articles since 2016 to help loyal readers with tools & crafting tips.
Product prices and availability are accurate as of the date/time indicated and are subject to change. Any price and availability information displayed on Amazon.com at the time of purchase will apply to the purchase of this product.