I love creating free content full of tips for my readers, you. I don't accept paid sponsorships, my opinion is my own, but if you find my recommendations helpful and you end up buying something you like through one of my links, I could earn a commission at no extra cost to you.
Learn more
There's nothing more frustrating than a rubbish filled car, but it's easy for this to happen as everything comes in packaging and during a busy day rubbish can quickly build up!
After a long week many people will find the thought of tidying up their car a daunting and tiresome task, and there can be a variety of rubbish from packaging to leftover food and drinks which can get gross pretty quickly and potentially make your car smell very bad as well as look uninviting to passengers.
Whether you're driving to work, ferrying around your family or working as a taxi driver, a clean car is the best way to make your journey more enjoyable for yourself and your passengers and one of the best ways to do this is to use a car trash can that can contain rubbish and mess.
Naturally, a trash can that is designed to be used in a car is the best choice as it will be able to fit into the tight spaces of a car and will often have key design features to maximise the efficiency of the trash can.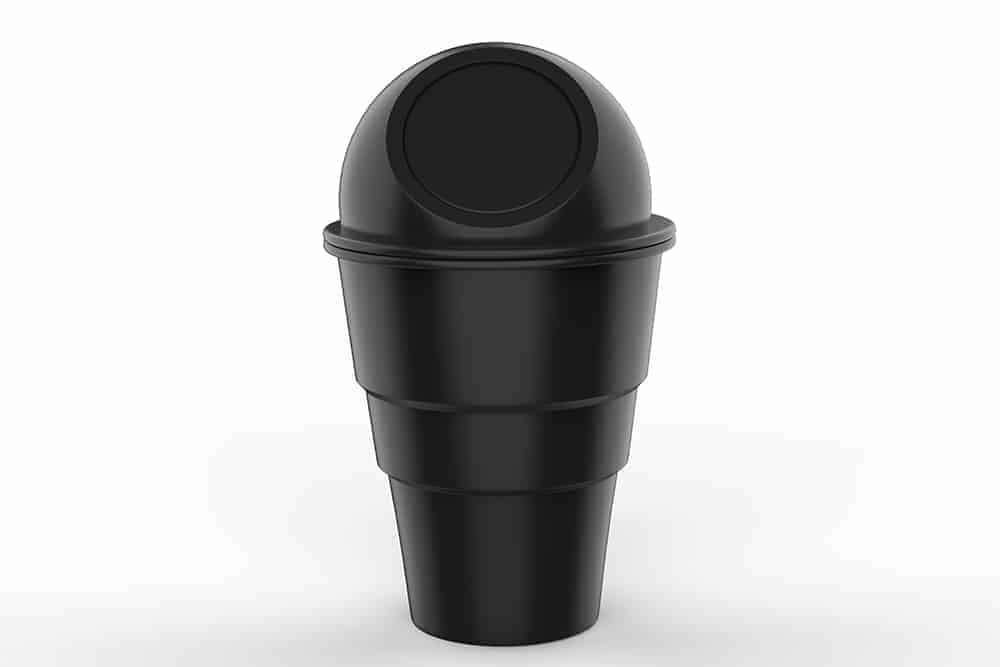 A trash can with a lid is a great choice to prevent smells from leaking out of the trash and making the car a much more pleasant place to be.
In this guide we're going to look at some of the best car trash cans available to help you find the perfect one for you and your needs.
We've also included a small buyers guide to help answer any questions you have about using and buying a car trash can, and to help you make an informed decision about the product you choose.
But let's take a look at the trash cans themselves.
Also read: a lid not what you're looking for? Check out these reviews of car trash cans
Car Trash Can With Lid Reviews
This option from epauto is a great option with some superb features at a very good price. This trash can has a 2 liter capacity which is a lot of space for all kinds of trash, and the lid is elastic which allows you to easily use the bin and keep your rubbish secure.
There is a lot of storage on the outside of the bin too with nets to store packaging, cleaning wipes and other useful items to help keep your car clean and tidy.
This bin is also very convenient as it can be positioned in a variety of places using the strap system. 
This trash can is also waterproof and comes with some additional included trash bags that can help keep your trash can safe from spillages and make it easier to dispose of waste when it's full of trash.
The trash can comes in a range of colors to suit all vehicles making this the perfect choice for any car.
Pros
Good size
Stable
Various color options
Waterproof
Good storage
Cons
This trash can from Ryhpez is a very similar option to the epauto option however the lid on this trash can closes more fully allowing you to keep your trash even more controlled.
Again there is good storage on the exterior of the bin for additional cleaning supplies.

The bin is large with a 4.5 liter capacity for trash, which is more than ample, and the elastic strap allows it to be positioned anywhere making it very flexible.
It also comes in a few other sizes for use in larger or smaller vehicles, allowing to to maximize the space you have to store trash helping keep your car cleaner for longer.
The waterproof liner inside helps prevent spillages and liquid inside the trash can from spreading which means you don't need to worry about stains and smells spreading from the bin.
Overall this is a great choice and works well.
Pros
Waterproof
Good size
Various size options
Good storage
Secure
Cons
This option from Oudew is an interesting choice that offers something different to the trash cans we've seen this far.
These are a multi-function bin that can fit into various areas of your car such as the cup holder or door pocket, and the rigid plastic design makes this a much more durable option compared to some other designs.
However this option isn't as stable or portable as other designs and requires a good amount of space to be used properly.
They are very waterproof however and the lid helps keep things secure and prevents smells and trash from spilling out of the trash can.
Pros
Good size
Waterproof
Durable
Washable
Some color options
Cons
Awkward Size
Not very stable
Another rigid option that is durable and sturdy is this option from HOTOR which comes with two trash cans perfect for using in cup holders and door holders. 
This plastic trash can has a push and lock lid which is very good and keeps everything secure and prevents smells from spreading or trash from falling out of the bin.
It is waterproof and also comes with 30 free trash bags included making it easy to remove trash quickly. The plastic of this bin is also easy to clean meaning this bin is long lasting and durable, a great option for a permanent car bin.
Pros
Durable
Waterproof
Good lid
Easy to clean
Free trash bags
Cons
Another great trash can with a good lid is this option from Renzhichu and there are several highlights from this final offering.
This option can fit into your car easily due to its well designed size, and the handy clip on the rear allowing it to be attached to various points of your car keeping the bin stable and preventing it from falling and spilling trash everywhere.
The lid works well and the trash can is waterproof for easy cleaning and maintenance, and the included trash bag works well for easy disposal of your rubbish.
Pros
Waterproof
Stable
Strong
Good size
Good lid
Cons
Few sizes
Few color options
Car Trash Can With Lid Buyer's Guide
In this buyers guide we're going to look at some of the key things to keep in mind when looking for a car trash can to enable you to find one that's perfect for your car.
Although they seem simple, there are a range of features to look out for in a good trash can so we're going to look at some of these below.
Size

The size of your trash can is really important to allow you to store enough rubbish and prevent you from quickly filling up your car with rubbish.

There are many different shapes and sizes to choose from, and some are small enough to fit into your cup holder, while others are much larger and can be strapped to your headrest or collapsed down and stowed away when not in use.
This flexibility is great for use in all kinds of scenarios from family road trips to taxi services, and can go a long way to keeping your car organised.
Straps
Good quality straps and clips are the best way to keep car trash cans secure and prevent rubbish from spilling while driving, but some options instead use cupholders and other pockets included in the car and aren't as secure.
Regardless, a good quality strap or clip system is a great bonus that increases the versatility of your bin immensely.

Waterproofing
Waterproof bins are essential for keeping smells, juices and liquids from escaping and causing your car to smell.
Some smells can be awful and seep through trash bags and material bins, so a good waterproof liner or plastic bin is essential for preventing this and keeping your car clean and pleasant.
Portability
Portability is a key aspect of a good car trash can, as you'll need to be able to easily store it, empty it and move it around in the cramped and limited space of a car.
Being able to stow your bin when it's not in use can help save space, and being able to move it around the car easily or carry it away makes it much easier to keep your car clean and empty the trash can.

Portability also allows you to use it for picnics and other useful activities adding value to your purchase and making your bin even more useful.
Final Thoughts
Overall there are a ton of great options for trash cans with lids, allowing you to keep your car clean and tidy and prevent spillages and smells from ruining your car, but make sure you are getting a bin with ample size and good features such as waterproofing to ensure you get good value.
Also read: these are the best clip-on car trash cans to get right now
I'm Joost Nusselder, the founder of Tools Doctor, content marketer, and dad. I love trying out new equipment, and together with my team I've been creating in-depth blog articles since 2016 to help loyal readers with tools & crafting tips.