I love creating free content full of tips for my readers, you. I don't accept paid sponsorships, my opinion is my own, but if you find my recommendations helpful and you end up buying something you like through one of my links, I could earn a commission at no extra cost to you.
Learn more
Chainsaws are the necessary cutting tool that causes over 36000 injuries annually according to the CDC (Centers for Disease Control and Prevention). So you can understand how important it is to take necessary precautions or to use safety gear while using the chainsaw.
A chainsaw chap can save your body from a serious injury caused by a running chainsaw. So never ignore the importance of purchasing the best chain saw chap because of safety first and no compromise with safety.
Husqvarna, Forester, Cold Creek Loggers, Labonville, and Oregon are some of the renowned brands of chainsaw chaps about which we are going to discuss today.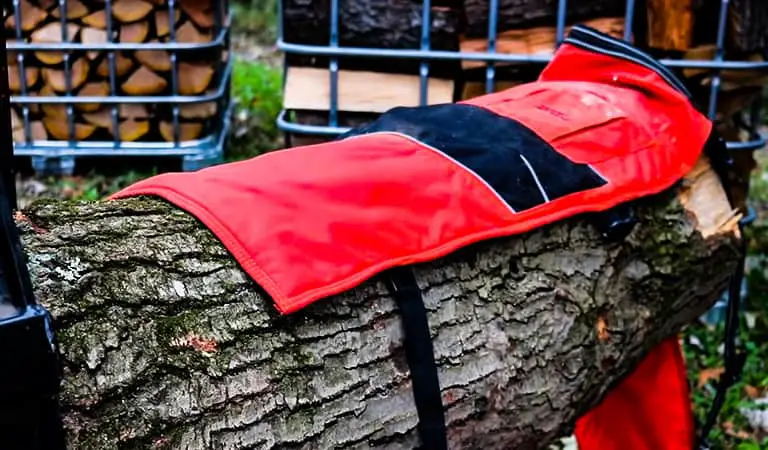 Chainsaw chaps Buyer's Guide
Buying the chainsaw chap that is suitable for your work is a critical affair. I will recommend you do a small research before making the decision of purchasing a particular chain saw chap. This will not take much time but help you to make the right decision.
For your help, I have pointed out the important parameters about which one should be conscious of while buying a chainsaw chap.
Here is the list of those important parameters that will help you to choose the right chainsaw chap:
1. Type of Chainsaw
Not all the chainsaw chap are suitable for all kind of chainsaw. In fact, the chainsaw is specific to the chainsaw. So, the type of chainsaw you are using is the first thing to take into consideration.
Researching numerous chain saw chaps we have found that most of the chainsaw chaps are not built to give protection from electric chainsaw; only a few provide protection for electric chain saw and those are expensive.
So if you are using an electric chain saw confirm this information whether the chainsaw chap provides protection from an electric chainsaw or not.
2. Manufacturing Material
The strength and the level of protection a chainsaw chap can provide largely depends on the manufacturing material. Different materials are used to make chainsaw chap that includes Ballistic, Polyester, Kevlar, and Denier.
3. Washing process
You can wash some chainsaw chaps with washing machine and some have to wash with hand and some do not allow washing. Choose a chainsaw chap that you can maintain easily.
4. Comfort
Comfort depends on 3 factors including size, weight, and breathability. The size should fit with your body. You must not forget to check the length and the size of the waist while buying a chainsaw chap.
The chainsaw chap should be lightweight and flexible so that you can work comfortably. The design, size, and fabric should be breathable so that you can work comfortably in summer days.
5. Durability
To find out a durable chap you can go for brands or searching the quality of material, straps, design and the reading the experience of previous users you can come to a decision.
6. Design
It is better to choose a chap with pockets so that you can carry your necessary accessories in the pocket. Also, choosing a chap with long-range of adjustability is a wise decision because you can also share this with your family member or your colleague.
7. Certification
Certification assures the quality level of a chap. So never forget to check the certification of the chap you are reviewing to buy or you have chosen to buy.
Generally, 4 types of certifications are provided for chainsaw chaps –
UL (Underwriters Laboratories) Certification: UL certification is a global certification company that provides a certificate to assure the quality by inspecting, testing, and, validating products.
ASNI (American National Standards Institute) Certification: ASNI is a non-profit, American, institute that provides a certificate to assure the quality by testing different parameters of goods.
ASTM (American Section of the International Association for Testing Materials) Certification: ASTM is a timeworn international organization that certifies the quality and standards of the test of products and products that maintain the specific standards provided by ASTM, can obtain ASTM certification.
OSHA (Occupational Safety and Health Administration) Certification: OSHA assures that the manufacturing company of chaps treats its workers fairly.
8. Cost
Cost varies from brand to brand, model to model depending on the features and other characteristics. It is not wise to run behind a low-cost chainsaw chap just because its price is low.
Since the question is of safety, ensure the safety features that you need most and then take the price into consideration. That is why we have kept cost in the last position.
Best Chainsaw Chaps reviewed
Researching the chain saw chaps available in the market we have found a total of 2 types of chain saw chap. One type covers only the front part of the legs and another type is like apron style.
We have made our list of the 7 best chainsaw chaps combining both of the types. It is totally up to you which type you will choose. The type that gives you comfort and flexibility to work you can choose that type.
1. Husqvarna 587160704 Technical Apron Wrap Chap
We have ranked Husqvarna 587160704 Technical Apron Wrap Chap at the highest position of our list for its high-quality material, ergonomic and professional design with amazing features.
This chap is available in multiple colors and the color combination is really eye-catching. It has a total of 4 straps. Among the straps, three straps are around the calf and one strap is higher up on the back of the thigh.
It is a lightweight and flexible chainsaw strap that gives you the feeling of the highest comfort when you wear it. It gives you flexibility when you work with a moving chain.
Material is another important parameter to consider since it gives you a good idea about the quality of the product. It is made of PVC coated 1000 denier polyester with Tek warp protective layers. These materials are strong and sturdy enough to protect you from injury. Since it is made of strong material it is durable too.
It is designed to clog up the sprocket system of the chain saw and depending on the speed of the chain, length, angle of contact, and power of the saw this chain saw wrap chap can slow or stop the chainsaw chain from rotating.
The waist size of Husqvarna 587160704 Technical Apron Wrap Chap is adjustable and it includes acetyl Delran buckles and pockets for gear. Another important question is the process of washing or cleaning. Well, you can wash this Husqvarna 587160704 wrap chap with cold water.
To assure you about its high quality I would like to inform you that Husqvarna 587160704 Technical Apron Wrap Chap is certified by UL and it also meets ASTM f1897, ANSI z133.1, and OSHA regulation 1910-266.
2. Husqvarna 531309565 Chain Saw Apron Chaps
Another good quality chain saw chap made by Husqvarna is Husqvarna 531309565 Chain Saw Apron Chaps. It comes with all the necessary certification and the user characteristics and features to ascertain its high quality.
The first thing that we notice for any apron chap is its color and material. Well, Husqvarna 531309565 Chain Saw Apron Chaps are available in 3 colors- blue, black and grey.
600 Denier outer shell has been used to make this chap. It is good quality and strong material that lasts for a long time. An important aim of a chainsaw chap is giving protection. To ensure proper protection 5 layers of Kevmalimot yellow line protective material have been used in this chap.
When you will work wearing this apron chap obviously it will get dirty. You can clean it by washing with normal water and dry it hanging.
It is a lightweight apron chap that is comfortable to wear. You can work with flexibility wearing this apron chap.
It meets all the certifications needed to ensure the quality of an apron chap including ASTM F1897, ANSI Z133.1, and UL certification. It also meets OSHA Regulation 1910-266.
You cannot use it with an electric chain saw.  It does not have any flapped pocket like the other model of apron chaps made by Husqvarna. Husqvarna has kept a reasonable price for this product.
No products found.
3. Forester Chainsaw Apron Chaps
Forester is one of among top sold apron chap. So you can understand its popularity and you must know that popularity cannot be achieved without good quality. And now I am going to tell you the characteristics of Forester Chainsaw Apron Chaps that are the reason behind the good quality of this product.
Let's start with its size and colors that you would like to check at the initial stage of choosing a product. Forester Chainsaw Apron Chaps are available in different colors and sizes. I am pretty much sure that at least one of its color and size will come to your choice.
It is lightweight and so you can work comfortably in a full swing by wearing it. The material used to manufacture Forester Chainsaw Apron Chaps is resistant to oil and water. So there is less possibility of getting dirty and you have to spend less time and less money to clean it.
It features a large side pocket and a flip adjustment belt so that it can be fitted securely and perfectly. It is easy to put these apron chaps on and take off once it is properly fitted and then you will be able to work in a full range of motion.
They protect the front part of your legs properly but the inner thighs remain exposed. It also leaves the crotch area unprotected. It is not suitable for use with electric chain saws.
Finally, I would like to mention the price. It is not pricey and so you can afford it easily.
4. Cold Creek Loggers Chainsaw Apron Chaps
Cold Creek Loggers Chainsaw Apron Chaps is made of 1200 Oxford poly outer. It is a strong material made of the fusion of different fabrics. Since the fabric is strong it will last for a long time.
Moreover, it shows good resistance against the adherence of water and oil. So it will get less dirty and you have to spend less time and money to wash this apron.
It is a flexible chap and capable of cover and protects your legs. You will find it in 3 different sizes. It also includes a pocket.
It is available in once color. With continuous use, the color may fade gradually. The back is laced and you can do the cutting work wearing this apron chap comfortably.
ASTM F1897, OSHA 1910.266, and UL are the 3 most significant certification for chain saw apron chaps and Cold Creek Loggers Chainsaw Apron Chaps met all of these.
You should not use this chap with an electric chain saw. The picture does not always match with the product delivered. So it is better not to expect the product that will match the picture perfectly.
It is reasonably priced. So if your budget is not so high yet you can afford this chain saw chap.
5. Labonville Full-Wrap Chainsaw Chaps
Unlike another chainsaw chap, the Labonvilles chainsaw chap provides full wrap protection. It has all other necessary characteristics to be a masterpiece in the field of chainsaw chap. And now I am going to reveal those characteristics that will surely make a good impression about this chainsaw chaps in you.
Let's start with the manufacturing material. Durable polyester fabric has been used as the manufacturing material of  Labonvilles chainsaw chap.  It is a full leg cover chap that provides protection even in a congested space.
It is not so heavy rather light in weight. So you will feel comfortable to work wearing this chap and it is about 36 inches long. If your waist size is within this range you can take it into consideration.
If the weather is very hot you may feel uncomfortable to work wearing this chap. It does not protect the crotch area. It is available in only one color and the price is quite high compared to other apron chaps for the chainsaw.
Labonvilles is friendly with customers. If you find any problem with the product you can communicate with them for help. It may take some days to get a reply but you will geta reply and help from them.
6. STIHL 0000 886 3202 Chain Saw Chaps
STIHL 0000 886 3202 Chain Saw Chaps are made of high-quality material to last for years. The protective layer of this chap is made of Entex material. Entex is a very strong material that can stop any chainsaw upon contact.
To ensure the protection of highest level STIHL 0000 886 3202 Chain Saw Chaps feature total 6 or 9 tough layers. People working wearing this chain saw chap work with more relax.
The back part of this chain saw chap remains open. So you can work more comfortably even if there is scorching sun overhead. It has a deep cargo pocket on the front part. You can carry your necessary accessories in this pocket.  Very few apron chaps are as cool and safe as STIHL 0000 886 3202 Chain Saw Chaps.
Though it has many amazing characteristics that everyone expects in a chain saw chaps it is available in only one particular color and size. If you are very choosy about color it may not come to your choice.
On the other hand, if the size does not fit with your body then bad luck that you have to sacrifice all other good characteristics of this amazing apron chap. But the good news is that the size is adjustable and hopefully it will fit your body.
No products found.
7. Oregon 563979 Chainsaw Chaps
Oregon 563979 Chainsaw Chaps is a UL classified chain saw chaps. So you can understand that it maintains all the necessary parameters that should be maintained to be a good quality chain saw chap.
The quality of a chain saw chap is largely dependent on its manufacturing material. Oregon has been used 600 Denier Oxford shell to make this chain saw chap of 563979 models.
600 Denier Oxford shell is strong enough to resist any cutting. So you can understand that it is protective material. To ensure more protection there is a total of 8 layers.
Sometimes people feel suffocated during work wearing a chain saw chap of multiple layers. But the layers of Oregon 563979 Chainsaw Chaps are breathable. So you will not feel suffocated wearing this chap during work.
The waistline is adjustable and also the length. You can adjust the length with top snaps on the waist. Unlike other chain saw chap you can wash it using a washing machine.
This protective chain saw chap is available in only one color. It is light in weight and you can work wearing it even in a congested place.  The back part of this chap is open. Though the chap is of good quality the quality of the straps is not up to the mark.
Frequently Asked Questions (FAQs)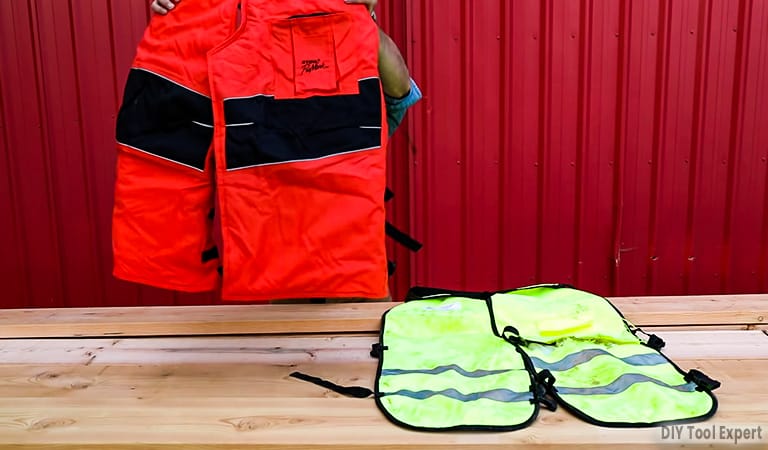 Are chainsaw chaps worth it?
Yes, Chainsaw chaps Chaps are an essential piece of safety and protective equipment for anyone who is operating a chainsaw. They will protect your legs in case the chainsaw would hit your leg. It is just ideal for every chainsaw user, especially those that do professional heavy-duty tasks.
Will chaps stop an electric chainsaw?
Kevlar fibers in chainsaw chaps/pants work by being drawn out and into the drive sprocket to bind it up. It essentially jams up the chain bringing it to a dead stop. The are not effective with electric saws due to the difficult ability to stall the torque of an electric motor.
Is Husqvarna better than Stihl?
Side-by-side, Husqvarna edges out Stihl. Their safety features and anti-vibration technology allow for easier and safer use. And although Stihl chainsaw engines can have more power, Husqvarna chainsaws tend to be more efficient and better at cutting. As far as value goes, Husqvarna is also a top pick.
Should you wear gloves when using a chainsaw?
Always wear protective gloves when using a chainsaw. Chainsaw gloves should be an accessory that you always put on before you decide to fire up your chainsaw. … The other essentials are: Chainsaw chaps, protective head gear and a cut-resistant jacket.
Can you wash chainsaw chaps?
Do not machine wash or machine dry chain saw chaps. Hose and brush chaps to remove dirt and large contaminants. … After the chaps have soaked, scrub them with a bristle brush, rinse them thoroughly with cold water, and allow them to line dry. Many pairs of chaps can be cleaned in the soak tank.
What is the purpose of chainsaw chaps?
Chainsaw chaps, good solid work pants like some of these here and jackets can protect you by stopping the chain or preventing the chain from cutting yourself, giving you enough time to move away from the saw. Our safety clothing is made from high quality material, giving you the protection you need.
Do chainsaw chaps expire?
All PPE will have a shelf life. However, kevlar chaps probably will be fine, as long as they were kept dry. Even steel toe boots (even these top choices) have an expiration date.
How do you size a chainsaw chaps?
Chaps are sized by overall length. To calculate your overall length measure from your waist (where you would wear your belt) to the top of your foot or your instep.
What size chaps should I buy?
We recommend ordering the next size up from your thigh measurement for best fit (unless you like your chaps to fit snugly). For example: If your thigh measured 23-inches, we'd recommend you order size XL (24″) chaps.
How do you stop a chainsaw?
Chain Brake: Located on the top handle of the chainsaw, the chain brake is used to stop the chainsaw chain from rotating around the bar. There are two ways to engage the chain brake: by pushing the handle forward, or by force of inertia that occur when the saw kicks back.
What Chainsaw do professional loggers use?
Husqvarna
Most of the professional loggers still trust Stihl and Husqvarna as their predominant best professional chainsaw choice because they have the right balance of power to weight.
Is Stihl made in China?
Stihl chainsaws are manufactured in the United States and China. The company has a facility in Virginia Beach, Virginia and Qingdao, China. "Made by STIHL" is a brand promise – no matter the location of production.
Why was the Stihl ms290 discontinued?
Stihl's #1 selling chainsaw for years running, the MS 290 Farm Boss, is being discontinued. They stopped production on the Farm Boss nearly a year ago and supply is becoming scarce.
Q: If my chainsaw chap tore away can I use it by repairing?
Ans: It actually depends on the type of damage. If there is only small damage on the outer layer of the chap yes you can repair it. But, if it has been accidentally cut down by a chainsaw through the inner layer I will highly recommend you to replace it with a new one.
Q: How often should a chainsaw chap be washed?
Ans: Some chaps are forbidden to wash since washing degrades the quality of the fabrics and so its ability to provide protection.
Some chaps are forbidden to wash using the washing machine and some are recommended to hand wash. You can know all of this information from the instruction guide provided by the manufacturer.
Q: Can I use any chainsaw chap for an electric chain saw?
Ans: If your chainsaw is an electric chain saw you must know that electric chain saws have higher speeds and momentums than gas and cordless powered chainsaws.
Most of the chainsaw chaps are not capable to give protection from the damage of the electric chain saw. So, if you are going to use an electric chain saw wearing a chain saw chap I will recommend you to ensure this information whether the chainsaw chap provides protection from the damage of the electric chain saw or not.
Q: Can a chainsaw chap stop a chainsaw that is rotating at full speed?
Ans: It depends on the rotating speed and the angle and the angle of contact. If the chainsaw is rotating at a speed of 2,750 ft/min (feet per minute), it will not cut through the chaps; if it rotates at a speed of 4000 ft/min all a chap can guarantee is reduced damage to your legs.
So it is better to use a chainsaw chap at moderate speed.
Q: Is there any completely cut-proof chainsaw chap?
Ans: No, such a chainsaw chap has not been invented yet. All the chainsaw chaps have the ability to reduce the cutting speed of the chain saw at a different level to protect your body from getting injured.
Conclusion
Researching the market of the chainsaw chaps we have found so many new products that are not used yet, I mean that is not sold or sold in less quantity. There is a limited number of chainsaw chaps that have been sold a lot and attained high popularity. Yes, each product has some cons too.
Taking the features, quality, cost, and percentage of the satisfied customer into consideration we have considered Husqvarna 587160704 Technical Apron Wrap Chap our today's top pick among the 7 best chainsaw chap.
Forester is also a significant brand of chainsaw chap and is competing with Husqvarna. The quality of their product is also up to the mark. So we have considered Forester Chainsaw Apron Chaps as the second-best chainsaw chap.
I'm Joost Nusselder, the founder of Tools Doctor, content marketer, and dad. I love trying out new equipment, and together with my team I've been creating in-depth blog articles since 2016 to help loyal readers with tools & crafting tips.