I love creating free content full of tips for my readers, you. I don't accept paid sponsorships, my opinion is my own, but if you find my recommendations helpful and you end up buying something you like through one of my links, I could earn a commission at no extra cost to you.

Learn more

Looking to upgrade your workwear arsenal a bit? Let's talk about work pants. Obviously, you are here for that. Now, work pants, the thing is, they need to be durable, comfortable, and supportive. Some work pants can get really hot on warm days while some can't even keep your crotch warm during winter. If you are an electrician or a carpenter, you know what it feels like doing an honest day's work in the right clothes. The best work pants will give you a balance between comfort and protection. Depending on what you are doing, you would either want to go with a pant that is configured for a carpenter or want a work pant that is more suited for an electrician.
Whatever the case may be, here is a list of products that I think are the best work pants for carpenters, electricians, and construction workers.
Best Work Pants | The Top Picks

If you are in a hurry, here is a quick rundown of some of the best work pants for different trades. Best For Carpenters: Caterpillar Men's Trademark Pant The best in the business. Tough as nails, comfortable and features everything you can expect from a work pant made for carpenters. Best For Construction Work: Carhartt Men's Firm Duck Double-Front Work Dungaree Pant The iconic double-front dungaree work pant from Carhartt. Made in the USA, top-notch quality, and no bad reviews. Best Overall: Wrangler Riggs Workwear Men's Ranger Pant Great fit, regular work pants from Wrangler. Good for a lot of reasons, and comfort is one of them.
Work Pant Reviews For Carpenters, Electricians & Construction Workers

Now that you have seen our top three picks, here are the rest of the work pants reviews. It's not possible to include every brand out there. To keep it short, we have handpicked only the best ones from mainstream brands.
Caterpillar Men's Trademark Pant – Best For Any Tradesman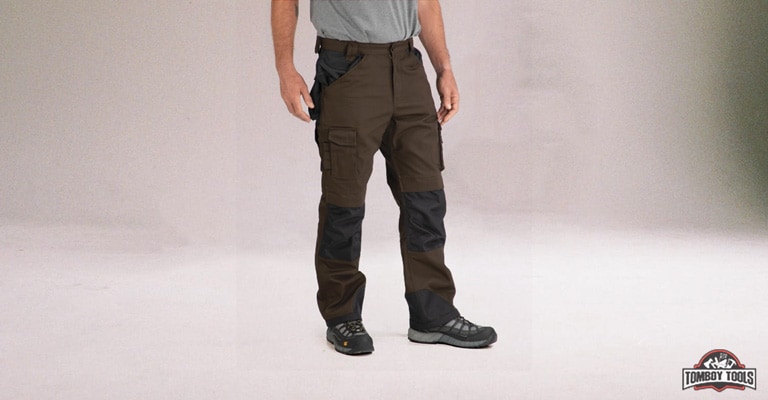 tool belt (like these choices). There are foldout pockets on the front, and the back is made out of oxford denier. This means these pockets are super durable and very long-lasting. You also get a secured cell phone pocket with secure flap closure. Pros
Ruler pocket and carpenter loop
Unstitched from the bottom for mobility
Layered multi-purpose pockets
Tough as nails
Cons
Check prices here
Wrangler Riggs Workwear Men's Ranger Pant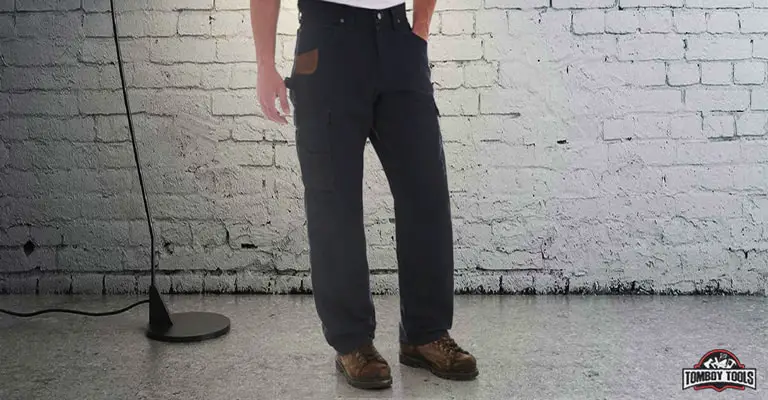 This is a true workwear designed for carpenters and woodworkers by Wrangler. The RIGGS WORKWEAR lineup of work pants contains some of the best work pants for carpenters and construction workers. These pants are made using 100% ripstop cotton fabric. It's durable enough to hold up to snags, dirt and can easily withstand all sorts of rough use. At the same time, these pants also offer a good range of flexibility and motion. In addition to that, you get reinforced knees, extra durable fabric, ability to squat, bend, and kneel with ease. Everything on these pants is reinforced for maximum durability. Some of the unique features of this pant are heavy-duty belt loop, hammer loop, reinforced panels with dirt drop vents, Cordura lined back pockets, Room2move comfort & patented tape measure reinforcement. The straight leg opening, and its natural waist rise give you a natural and relaxed fit. Furthermore, it has seven cargo style pockets to keep all your essentials with you. In short, this is a pant that a lot of hobbyist woodworkers and construction workers will definitely love. Pros
Ideal work pants for carpenters
Triple stitching reinforcement
Good range of movement
Comfortable fitting
Cons
Check prices here
Carhartt Men's Firm Duck Double-Front Work Dungaree Pant B01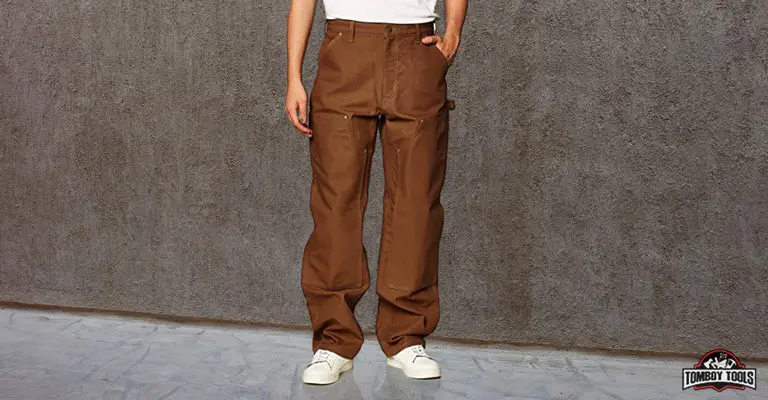 Pros
Thickest and toughest work pants on the market
Impressive quality and very longer lasting
Fits true to size
Made in the USA
Cons
Check prices here
LEE Men's Loose-fit Carpenter Jean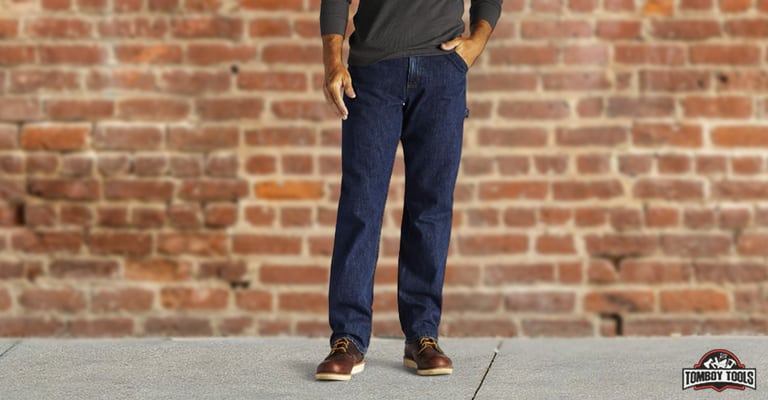 Pros
Good combination of durability and comfort
Adequate room for easy movement
Available in a variety of colors
Quick drying carpenter pants
Cons
Check prices here
Dickies Men's Loose Fit Double Knee Work Pant
Pros
Breathable and comfortable
Suitable for regular work
Loose fit style
Reinforced knees
Cons
Check prices here
CQR Men's Ripstop Work Pants, Water Repellent Tactical Pant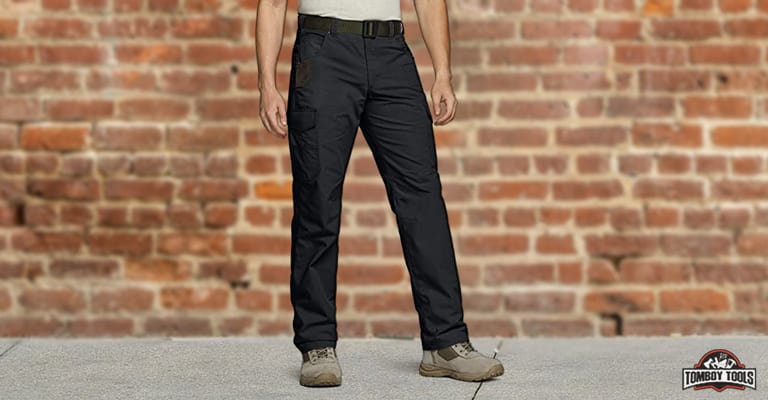 Pros
Affordable cargo pants for regular use
A good collection of pockets
More room in the waist section
Lightweight and durable fabric
Cons
Doesn't have knee pad pockets
Check prices here
Timberland PRO Men's A1OWF Grit-N-Grind Flex Jean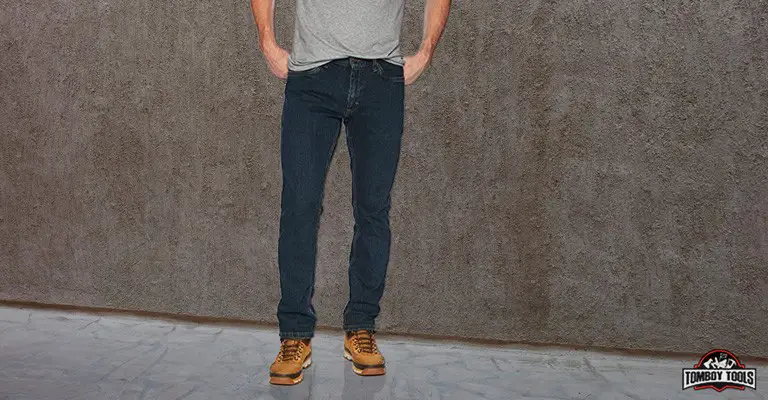 Finally, we have the Timberland PRO Men's A1OWF. These are the type of jeans that you can use on different occasions. Many people like them as regular wear. If you are the type of guy that tears through pants like crazy, the Grit-N-Grind Flex Jean is for you. It's also great for motorcycle riding. However, these jeans have a common problem. They tend to get tight when you wash them and need a break-in period. It usually takes around a day of wearing to restore the pants original size. It doesn't matter if you wash them in cold or hot water, the problem remains. If that doesn't bother you, then there isn't much to talk about. The quality is there. Unless Timberland PRO fails at quality control, these pants should last quite a while. These pants look good and feel well. The measurements are also spot on. However, these pants do run a little short on the inseam. Go +2 for inseam if you want to have a perfect fit. Even with the non-flex version, you will have more than enough flex to move and work in. While not using these pants for work, you can use them as riding pant. It looks really good on people with built legs. Pros
Multi-purpose work jean
Flex and non-flex model available
Durable jean fabric
Comfortable to wear
Cons
Doesn't have many options for bigger people
Check prices here
Choosing The Best Work Pants | A Definitive Buyer's Guide

The job of a work pant is to handle tough jobs while giving your protection and comfort. Now, comfort is something not all work pants can give. To make these pants durable and longer lasting, some compromises are needed. However, there are a lot of workwear out there that can give you a good combination of both security and comfort. Whether you work in landscaping or carpentry, this guide will help you find the best work pants for your job. You can also use this guide to find work pants for your DIY home projects like – DIY plant stand projects, DIY desk projects, DIY workbench projects, etc. When assessing workwear, how well these pants will last under different conditions. One week, you may be climbing poles, and the next week, you might be bushwhacking through thorny patches. You never know where you might find yourself the next day. Amazingly, these pants are designed for those kinds of scenarios. Now, a lot goes into making these pants. To assess the best one, you need to consider the durability, the pricing, price to value ratio, the overall construction of the pant, and comfort. This will be a long guide, so sit tight, grab a cup of coffee, and read one. At first, we will talk about only the things that matter the most when it comes to buying work trousers for the first time.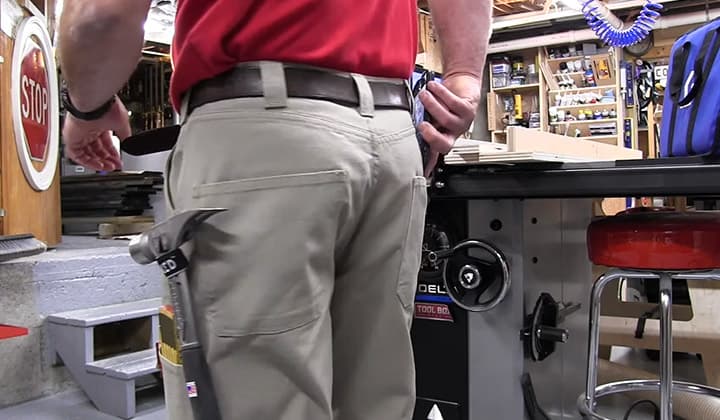 Durability Without a doubt, the most important feature that you should look for in a work pant is durability. These pants aren't cheap, and you don't want to waste your hard-earned money on pants that will tear in a month. Most of the pants on this list have a similar price point. It doesn't matter which brand you go with, if you can use it for a couple of years, then all of the investment would have paid off. Now, in general, good work pants will usually last a year or so. It depends on the usage and the nature of the job that you do. A durable pant will also provide protection during accidents. There are pants in this list that can easily withstand welding flames while others can provide protection against rough objects. Keep in mind that work pants are not a suitable substitute for proper safety gear. However, against a certain type of injury, these pants will provide above the average line of defense. To further enhance your protection, there are pants that allow you to add knee pads. If you are looking to further enhance safety features and durability, go with a work pant that is woven in a way so that the pants become tear-resistant and waterproof. Comfort Now, this a key factor. Comfort is the only thing that most first-time buyers will tend to neglect. Why? It's because of a general misconception that work pants can't be comfortable. Let me tell you; this isn't true at all. When shopping for a construction work pant, there are pants out there that are very comfortable and breathable. Comfortable workwear will make your day a whole lot easier. A good, comfy pant will vary from person to person. The first thing you should ensure is good fitting. There are brands out there that make pants that are consistent in size. This will allow you to get a good idea about the size of the pant and how well it will fit. However, there are pants out there that will shrink after the first wash. So, it's a good idea to get a size longer. Again, you can look at the size chart to find the perfect fitting for your body shape. In theory, buying work pants online might look very easy; however, in reality, this process can become a nightmare. Some pants might run a bit on the smaller or larger side. There are also pants that have inconsistent sizing. A lot of things can get wrong. Take your time, check the reviews, and do a proper measurement before you hit the buy button. Avoid buying work pants from no-name brands, especially if they have a bad record of making inconsistent pant sizes. A lot of things can go wrong. For example, you might order five pants and discover that two or three of them are larger or smaller. You can always return them, but there is no guarantee that you will get the proper size next time. If you are buying from a local store, you can try it out first. But when your shopping online, there is no way to know the size. Fortunately, there are brands out there that have a solid reputation for making pants of the same size consistently. If it isn't breathable, it isn't comfortable either. That's why breathability is a comfort factor when it comes to working pants. In the hot summer days, you will be sweating a lot and having a breathable pant is a must. If you sweat a lot and the pants you are wearing are trapping heat, your whole workday will turn into a disaster. When the weather outside is sticky and hot, cool and breathable pant will keep you comfortable. Weight Nowadays, work pants are made using better materials and advanced spinning methods. As a result, these pants don't weight that much. However, you still have the option to go for bulky pants if your job requires you to do so. Pants that use modern fabric and material won't weigh more than a few pounds. Speaking of weights, it's a good idea to also determine what tools you will be keeping in your pants. Some work pants offer a lot of pockets to keep all sorts of tools. However, that doesn't mean that these pants can replace the need for a tool belt. Having a lightweight pant will put a lot less strain on you during a busy day of work. You will also feel more comfortable during the hot summer days. The Right Work Pants For The Right Job Work pants that are made for construction workers might not be suitable for home DIYers. There is also the matter of price. Try to figure out what your workplace needs, like in terms of protection, features, comfort, etc. If you only work with woodworking tools, you won't need to buy a pant that is fire resistant or waterproof. Take some time to find the right pair of work pants that will closely fit your requirements. Also, check the price. Don't pay more than what the pants are worth. These are work pants. They are bound to get damaged sooner or later. So, get something that will offer the right value for the price.
Frequently Asked Questions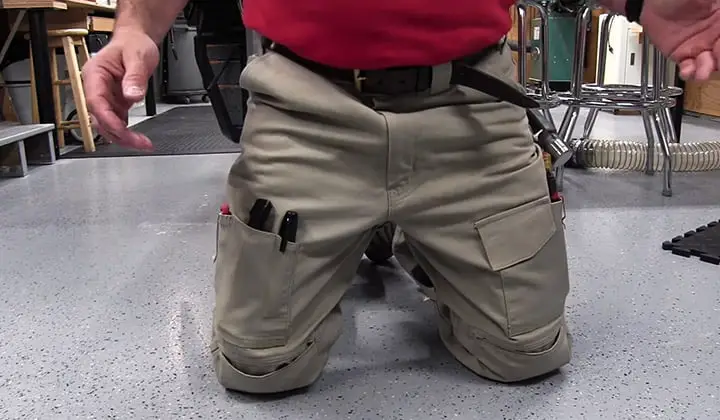 Q: What are the most important factors to look for in quality work pants? Ans: The job of a work pant is to provide protection, withstand tough working conditions, and to keep your legs secure. In addition to that, work pants should keep you comfortable throughout the day. It's crucial that the pant you wear for your job allows you to move effortlessly throughout the day. Q: What type of work pants will look best in the workplace? Ans: In general, you will find four different types of work pants. The most sought-after style is the cargo style work pant. The key feature of this type of work pant is that they have larger and more open style flap pockets. Due to the pocket space, these pants are very popular amongst different tradesmen. Most high-end cargo work pants will be made out of quick-drying cotton blends. The best ones will feature ripstop material. As for the carpenters, freedom of movement is more important than having larger pockets. That's why you will see more carpenter prefer pants made from soft denim. Q: How should a work pant fit? Ans: In addition to having protection and other necessary features, the work pant you will wear should feel comfortable. Especially in the hot summer days, breathable work pants are a must. However, comfort is a matter of personal preference. For example, some people prefer loose fit pants while others will prefer a more relaxed style fit. Go with the size that makes you comfortable. Q: What are the essential features in a work pant? Ans: When it comes to workwear, there are some features that men love in work pants. While I'm not going to state them all, however, I will go through some of the most preferred ones. The first and foremost feature is a place to put the knee pads. Alongside utility pockets, you will also need pockets to hold extra knee pads. If you have to carry a lot of tools, having large, cargo style pockets will allow you to store more tools in your pockets. As for the ease of movement, the stretch fabric will go a long way. To improve comfort in the crotch area, the gusset is a must. A gusset is a piece of fabric that eliminates seams from coming together in one spot. It is a diamond-shaped fabric that prevents the pant from pinching your junk.
Final Thoughts

Effortless movement, protection, and style, these are the combination that the best work pants will offer. A lot of manufacturers are making work pants to meet the needs of tradesmen that are in tough working conditions. That's why it's important that you stick with only the most reputed brands in the industry.
I'm Joost Nusselder, the founder of Tools Doctor, content marketer, and dad. I love trying out new equipment, and together with my team I've been creating in-depth blog articles since 2016 to help loyal readers with tools & crafting tips.