I love creating free content full of tips for my readers, you. I don't accept paid sponsorships, my opinion is my own, but if you find my recommendations helpful and you end up buying something you like through one of my links, I could earn a commission at no extra cost to you.
Learn more
Cutting lumbers can be a huge pain in the bum. Especially since they take a lot of effort and time to move. Taking it to the lumber mill takes a lot of manpower and also some bucks. This metallic tubular structure utilizes your average everyday chainsaw to be used as a portable lumber mill.
You might also know these as an Alaskan mill. The precision that you'll be getting from one of these is nothing less than what you'd be getting from a lumber mill. With a torpedo level, you can fully ensure that the planks are fully leveled and everything.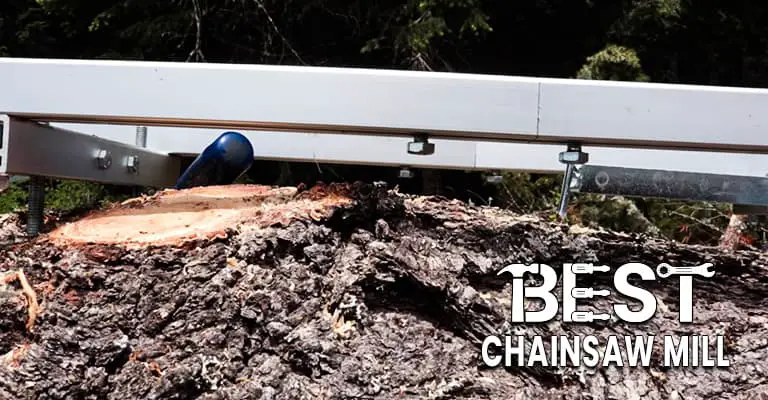 Chainsaw Mill buying guide
Finding the perfect tool for a project is not everyone's cup of tea. Some key points are to be jotted down prior to purchasing as it's the only way to get an effective one. To serve that purpose I, hereby, disclose some key points that I obtained through my experience to lead you towards the best chainsaw mill.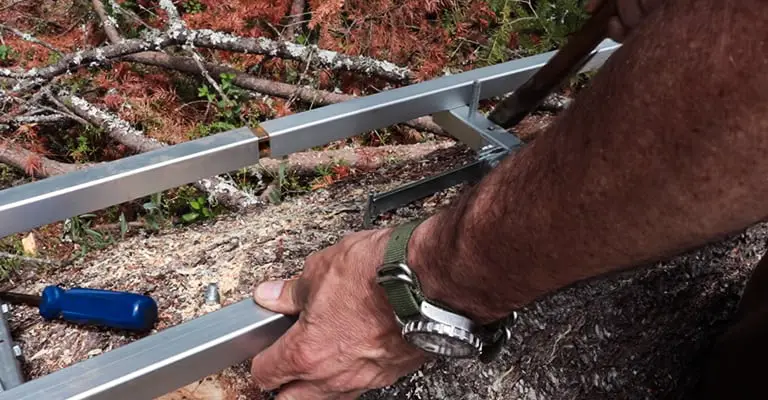 The Adjustability of the Saw Kerf
Sometimes you need to make thin planks from the lumber while some other times the thicker ones. By using the same mill this purpose is obtainable if the mill allows you to adjust the kerf size. In most of the cases, the chainsaw mills allow 0.5-inch thick to 13-inch thick cuts. If you want more variations, you can go for dedicated ones.
Weight
If you need to carry the tool on-spot where you fell the tree, you can go for a lighter chainsaw mill. They will serve the purpose of on-spot cutting. Later, you can fine-tune the cut in the shop with a bigger chainsaw mill. The lighter ones may weigh 6-pounds where the heavier ones can hit 18-pounds.
Maximum Capacity of the Bar
Suppose, you have to cut a massive log that has a diameter of 36-inch but the adjusting capacity of your chainsaw mill is somewhere between 24-inch. It'll be a great mess. That's why do consider the width of the logs you have to deal with regularly. Then order one which can cope up with the maximum.
Cutting Adjustability
The chainsaw bar is responsible primarily to determine cutting ability. But the chainsaw mill can help to adjust the ability. Do check for this option of adjustability if you need to deal with huge logs.
Material
Aluminum and stainless steel dominate the market. Aluminum is light weighted and stainless steel is robust. Moreover, this combination won't catch rust easily. That's why the top branded manufacturers use these widely. You must not go with older options that are constructed with steel only.
Wrench
If you're milling for a while, especially with the bigger logs, you may have noticed that it's difficult to slide the set up along with the log. That's why manufacturers have fitted a wrench mechanism to facilitate the sliding. This is an option that can be seen in higher-end chainsaw mills from trusted manufacturers.
Chainsaw Compatibility
A common problem for the budget options is they simply can't fit the high power saws within. Besides, the vibration that is created for the instability of the setup adds a great discomfort to the miller. That's why, if you're going for the budget options, you need to have a chainsaw with moderate output.
Assembly Time
No drilling mills help to save a lot of time in fixing and re-fixing your saw with the mill. Such a tool can be assembled shortly. Besides, a detailed instruction manual will help you further to achieve the goal quickly.
Accessories
You may find difficulties to tighten a bolt at a specific point without having a wrench of a specific measurement. That's why the manufacturers provide them along with the chainsaw mills.
But for cutting budgets, you may not find those in cheaper chainsaw mills. This won't be a problem if you have a good collection of tools as you can swap.
Return Policy
It's possible that the chainsaw mill you ordered doesn't go with your chainsaw. Besides, any defect during shipping or handling may occur. Take an effort to go through the return policy, especially, focusing on the funding and replacement options.
Best Chainsaw Mills reviewed
As you have gone through the buying guide, you must be, now, prepared to choose the best portable chainsaw mill. The list below shows the best picks for various usages that are currently available. Buckle up to grab the best!
1. Carmyra Portable Chainsaw Mill
Appealing Treats
At the very top of the list, here comes a budget-friendly option. If you are a rookie in milling and you don't need to cut a lot of tough woods, this chainsaw mill can delight you much.
This tool can handle logs from 14-inch to 36-inch wide. Thanks to its adjustable kerf option. It's simple to extend the jaws to engulf wide logs. You can also find a chainsaw mill that can cope with a 48-inch wide log from the same manufacturer. 0.5 to 13-inch thick stubs can be cut using the tool.
Yeah, time to assemble the setup is a crucial parameter. This time is also lessened by some accessories that are provided by the manufacturer. They provide you a wrench that can provide the most needed leverage.
You need not worry about the return policy. This tool is backed up with a month cash back warranty. As noted earlier, this tool is for serving people who are up to small projects. That's why the tool can smoothen the edge of lighter slabs. Thanks to its streamline design.
When it comes down to the material used to build the tool, you won't be disappointed. Though it's a budget option, the manufacturer chose the best combination for durability and lightweight. Steel and aluminum are used as the primary build material for the tool. This tool weighs roughly 16-pounds.
Glitches
A powerful chainsaw is needed to gain proper leverage.
2. ALASKAN Granberg Chain Saw Mill
Appealing Treats
This is a product with the trusted tag of Granberg. If you're searching for a chainsaw mill for a while, you must have heard its name. Yeah, this G777 model is highly appreciated throughout the globe for its compatibility, efficient design, and seamless operation.
This chainsaw mill is opted to cut beams or lumber ranging from 0.5 to 13-inch thick and 17-inch wide. This enables you to deal with smaller logs and get a great variation in cuts. That's why this is a more standard configuration that you can find than most other chainsaw mills out there.
The Assembly process of this tool is something really easy. This mill attaches with the saw without drilling. That means you don't need to waste time adjusting bolts and other parts. The mill can fit chain saws with 20-inch or fewer bars.
Steel has been chosen as the primary build material of this tool. That's why it is sturdy enough to endure heavy-duty milling and last for years. Besides, its lightweight enables you to carry it and saw lumbers anywhere you want.
Glitches
Not for bigger chainsaws.
It doesn't include guide rail.
3. Popsport Chainsaw Mill Planking Milling
Appealing Treats
This tool is made for handling big boys. You can adjust the jaws to accommodate 14 to 36-inch wide logs. If the mill is combined with chainsaw bigger than 60-cc, the result will be spectacular.
When it's the question of assembly process, I should say, it's really easy. The manufacturer provides a detailed guide that portraits a step by step procedures to assemble the tool. The design has been done to keep in mind that you can set up the mill wherever you need it in minimal time.
As soon as you begin to work with this tool, you'll find the setup creates less vibration to cope up with the speed and thus give you a smoother cut. Thanks to the end brackets that features improved design. Now you can easily adjust the height and width both.
The manufacturer has chosen top-notch materials to build the tool. That's why they end up with a sleek profiled mill. The stainless steel provides strength to face the stress of regular milling. Besides, aluminum is used to minimize weight. That's why the tool is portable and can be carried easily.
Glitches
It is difficult to understand the guide.
4. Granberg G555B Edging Mill
Appealing Treats
You must have been heard of Granberg since the very beginning of your woodworking career. They simply make every kind of tool that is necessary for woodworking. On a consequent, they have launched this 'minimill'.
This tool is not the perfect alternative of those mills who deals with large logs. Rather this tool targets the shorter ones and can deal with logs up to 25-inch wide. This mill can be used with a chainsaw that has bars of 16 to 36-inch and 50-70 cc or more displacement.
Its compact design is something really interesting. Though it's a budget solution, the manufacturer has used aircraft-grade aluminum and zinc-plated steel. It's a praiseworthy combination that can ensure both durability and effectivity. The tool weighs 6-pounds only. Superb combination for portability must say.
Assembly of this edging mill is really easy. The manufacturer provides you a 12ft V rail as a cutting guide. These accessories reduce your workload and only require to tighten the nuts and attach the saw. Then it's ready to go! This rail helps you to work along with the log smoothly.
You get a cutting manual to learn how to do this cutting properly. This manual is written in a manner that can help the newbies to get familiar with. Even for the pros who want to size logs anywhere, this tool can be a great companion. This budget-friendly tool can be a handy addition for any woodworkers arsenal.
Glitches
Not suitable for bigger lumbers.
5. Zchoutrade Portable Chainsaw Mill
Appealing Treats
Zchoutrade chainsaw mill can be the toughest competitor for most American brands that sell adjustable chainsaw mill. The primary reason lies in the costing. This rookie manufacturer provides almost the same quality but at a reduced price tag.
As noted earlier, this is an adjustable chainsaw mill that can provide you support for up to 36-inch log. It means you get a great opportunity to deal with massive sized workpieces instead of paying charges of a lumber mill. As most of the portable sawmill, this one can also cut 0.5-inch to 13-inch thick stabs.
It's easy to install! You may face the necessity of a portable sawmill at different locations for cutting logs right there. This chainsaw mill can easily provide that facility because of its portability. The overall weight will be around 15-pounds when fully assembled.
Though the tool comes at a low price tag, no compromise has been done while choosing the materials. The manufacturer has chosen steel as the primary built material but the same time kept aluminum. That's why the tool is light weighted and is less vulnerable to rust.
Glitches
Two operators are needed for a smooth operation.
6. Granberg MK-IV Alaskan Chainsaw Mill
Appealing Treats
Here are the pro strikes again! You may have heard about this Alaskan chainsaw mill if you deal with big logs or beams. Probably, this one is the most reverted option for sizing bigger logs.
You can deal with a log of various thicknesses. This tool will help you cutting slabs from ½-inch to 13-inch thick. It means you need not to be bothered even when you need less thick stabs. All credit goes to its movable arms that are quite easy to adjust. This tool can handle up to 27-inch wide log.
Less than one hour is enough to assemble the whole setup. The manufacturer does provide you some accessories to make the setup process faster. The wrench that comes along with the set, especially, needs to be mentioned. You'll find it handy to screw at some hard to reach points.
Yeah, this big guy weighs around 18-pound, quite heavier than its counterparts. But you need to remember that this tool is made likely to deal with heavy logs. In that sense, this one is a praiseworthy design by the manufacturer. They have used steel along with aircraft-grade aluminum to reduce the weight.
Glitches
Slightly expensive than others.
Carrying is difficult for overweight.
7. Imony chainsaw mill Portable Chainsaw mill
Appealing Treats
At the last of the list, I like to introduce an awesome tool from Imony. Though Imony is not a very familiar brand, they produce tools that will blow your mind. They have got two chainsaw mills in their arsenal for two different usages.
One of the chainsaw mill that fits with chainsaws up to 24-inch and other with up to 36-inch. Both of these are budget-friendly yet offer a great experience for milling. You can cut slabs of various width by adjusting the jaws. This feature comes as handy especially when you have to deal with different lumbers.
Many manufacturers use aluminum to reduce weight. Yeah, in this case, aluminum is also used for a compact profile. Besides, aluminum has empowered the tool to protect rust. 304 stainless steel is there to ensure durability.
The handle is designed in a manner to be more ergonomic and effective. For its improved design, the chainsaw mill also can be fitted easily with the guide rail and be a great time sever.
Glitches
You may have a tough time fitting high powered saws.
FAQ
Here are some frequently asked questions and their answers.
How big of a chainsaw do I need for an Alaskan mill?
Re: Husqy size for Alaskan Mill
For occasional use and only a 24″ bar, a 3120 is probably overkill but would leave room to upgrade to larger logs. Looking at older husky's, a 288xp, 394xp, 2100 would all be excellent choices for a mill as well. Stihl, a good 066\660 would work well too.
Does a ripping chain cut faster?
Re: ripping chain
I find that regular chain actually rips faster but ripping chain produces a smoother cut. Cutting goes a lot faster if you can use a long bar and cut at an angle not directly attacking the end grain, you know the angle that produces those long slivers of shavings that eventually clog your saw.
Why is Husqvarna better than Stihl?
Side-by-side, Husqvarna edges out Stihl. Their safety features and anti-vibration technology allow for easier and safer use. And although Stihl chainsaw engines can have more power, Husqvarna chainsaws tend to be more efficient and better at cutting. As far as value goes, Husqvarna is also a top pick.
What brand of chainsaw do loggers use?
stihl 460
The most popular saws I see here are stihl 460 and husky 372xp. Those are probably 90% of the saws used by logging crews here. Quite a few of the firewood cutters, tree services and homeowners have them in these parts as well.
What is the most powerful chainsaw?
Husqvarna's largest chainsaw is one of the most powerful in the world. The primary applications for the 3120 XP® are extreme logging, portable saw mills and stump work. This saw is designed to pull the chain on our longest bars. Like all Husqvarna chainsaws, the 3120 XP® has a superior power-to-weight ratio.
Is it worth milling your own lumber?
The spirit might be willing, but milling your own lumber is an expensive, time consuming and often frustrating process. On the other hand, it can be a personally rewarding, potentially profitable endeavor – the logical link between a downed tree and your workshop.
How long should logs dry before sawing?
You should seal the ends within minutes after being cut down; you should not wait hours, and definitely not days! The drying time will vary depending on the wood species and thickness of the logs, but they will take at least one to two years to dry – the longer you can leave them before you start building the better.
Does Stihl make a ripping chain?
Stihl 26RS 81 Drive Links . 325 Pitch . 063 Gauge (2 Pack) Rapid Super Chainsaw Chain.
Is Echo better than Stihl?
ECHO – Stihl offers the best choices and reliability with chainsaws. ECHO has better residential options for trimmers, blowers, and edgers. … Stihl may have an advantage in some areas, while ECHO is better in others. So let's start the process of breaking this down.
What is the number one selling chainsaw?
STIHL
STIHL – The Number One Selling Brand of Chainsaws.
Is Stihl made in China?
Stihl chainsaws are manufactured in the United States and China. The company has a facility in Virginia Beach, Virginia and Qingdao, China. "Made by STIHL" is a brand promise – no matter the location of production.
What is the most aggressive chainsaw chain?
Stihl chain
Stihl chain is a little more expensive but it's the most aggressive chain commonly available. It's also made from the hardest steel so it holds an edge better than any other brand I've tried (including Carlton, Saber and Bailey's Woodsman Pro).
What is the advantage of a skip tooth chain?
A skip chain has fewer cutting teeth than a conventional chain which means it won't be dragging as many teeth through the wood you're cutting. Less drag on the chain means less power is needed to cut through the log. That means the motor on your saw runs faster which keeps it in a more efficient power curve.
Q. How should the chainsaw bar and guide rail be placed?
Ans: The most efficient way to cut the log is to place the guide rail parallel to the chain saw bar. This setup helps you most to obtain greater leverage than any other configuration.
Q. Should the setup be cleaned after every use?
Ans: It depends on the condition of the setup after milling. But the thumb rule is to clean the setup and also sharpen the chain after several usages.
Wrapping Up
Hopefully, you have found the best Alaskan chainsaw mill that suits your purpose. But if you have the slightest doubt, no sweat! Let me help you further to grab the best chainsaw mill. Hereby, I have mentioned some of the chainsaw mills those have won my heart.
If you want to go with a mini chainsaw mill that is super portable, you can try Granberg G555B Edging Mill. But for dealing with bigger logs Granberg MK-IV Alaskan Chainsaw Mill will be a better option. Alternatively, Zchoutrade Portable Chainsaw Mill can bring value for your money.
I'm Joost Nusselder, the founder of Tools Doctor, content marketer, and dad. I love trying out new equipment, and together with my team I've been creating in-depth blog articles since 2016 to help loyal readers with tools & crafting tips.