I love creating free content full of tips for my readers, you. I don't accept paid sponsorships, my opinion is my own, but if you find my recommendations helpful and you end up buying something you like through one of my links, I could earn a commission at no extra cost to you.
Learn more
Did you know your self-confidence to accomplish a project is correlated with the tool's precision?
Dealing with plywood is a common sight at my workshop since cabinet making is one of my favorite hobbies.
I often utilized the blade that came with my first purchased circular saw. It was alright in the beginning but eventually shattered my dream piece within seconds.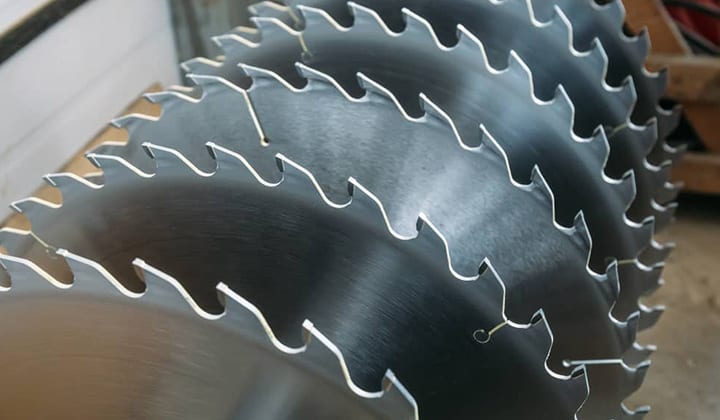 Therefore, I do not wish for any craftsman to face such dejection and give up on a skill. This article covers only the best circular saw blade for plywood products available in the market.
Let us check them out instead of giving up before even beginning.
Top 5 Best Circular Saw Blades for Plywood
Here is a little tip for the novice intellects – plywood is susceptible to tear-outs. Hence, the more the teeth numbers, the better the outcome will be.
1. PORTER+CABLE 4-1/2-Inch Circular Saw Blade, Plywood Cutting, 120-Tooth (12057)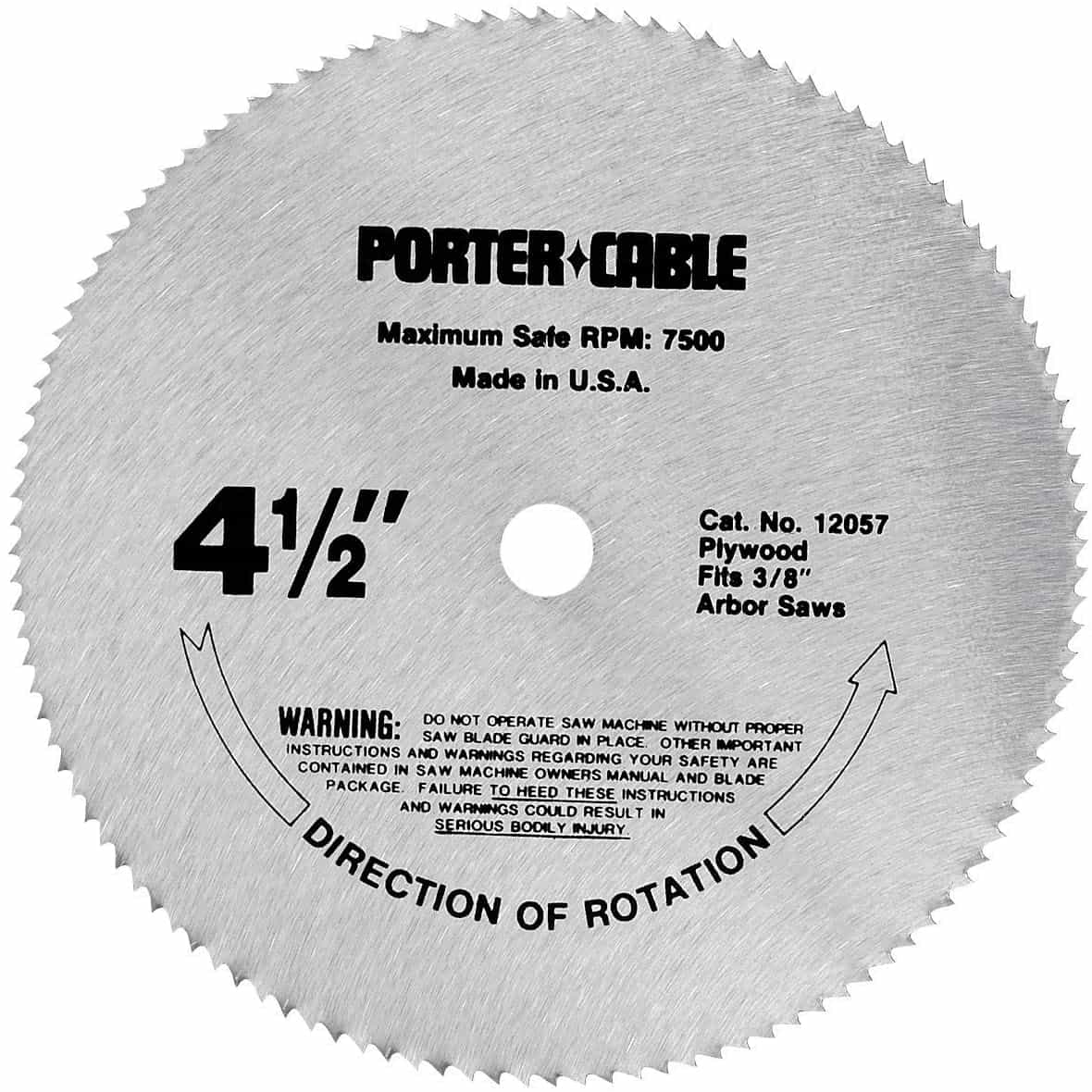 Time and again, surprising results lurk behind standard brand names that we overlook. This is why I have added PORTER+CABLE at the top of the list because the performance deserves such praise.
It is a 4½-inch small body that is highly suitable for many compact circular saws. Still better to inspect the compatibility before buying it online. The 120T with up to 7500 RPM is something many cabinet makers look for.
Just imagine the fast-spinning blade moving forward to feed on to the plywood, given the cut line. Its sharp teeth allow you to go beyond boundaries and cut hardwoods, thin plastics, and more.
As long as the circular saw accommodates a 3/8 inch arbor hole, you will not have to worry about stability. Besides, you can cut various plywood strengths effortlessly.
It is a plus point for professionals/DIYers who are quite versatile with interior decorations and unique crafting. The blade will display utmost accuracy in cuts for intricate designs and applications.
And the best part is that you will hardly notice any damage during the operation on the plywood. You have to watch out for potential wood burns at a certain point, though.
This is the only downside of the blade that unfortunately leads to short sharp life. Hence, keep an eye on the saw speed when working with this little beast.
Pros 
Delivers good cuts
Eliminates splinters
Operates smoothly
Easy and fast effect on wood materials
Ideal for complex furniture designs with plywood
Cons
Fails to dissipate heat occasionally
Verdict
Why should you get this product if the blade dulls fast? For starters, not many 120T plywood blades exert top performance with reduced tear-outs/splinters.
Secondly, you have to appreciate the effort the brand has made with the build quality. The sheet edges hardly require a second time smoothing session!
Last, just give it a nudge and be the judge yourself. I still have this gem stashed next to the others. Check prices and availability here
2. Freud 10″ x 80T Ultimate Plywood & Melamine Blade (LU80R010)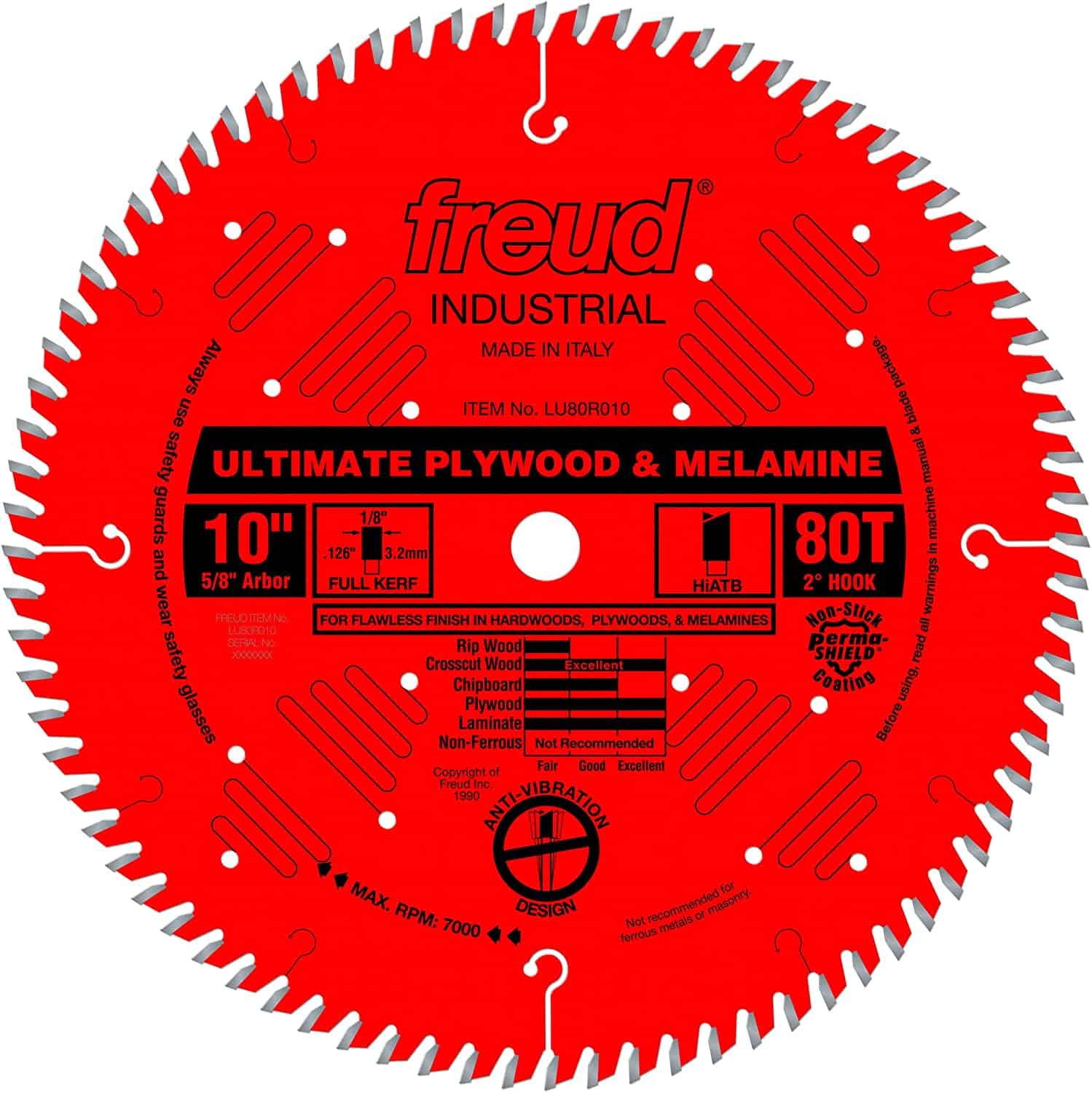 I had my doubts about the Freud 10-inch blade for one of the circular blades in my possessions. However, I am all about experiments before regrets.
A few times, I was adamant about certain tools by the brand due to their questionable precision. Yet being an enthusiast, I chose the 80T blade to cut through the plywood panels I gathered for a small project.
Long story short, I am in love with this product despite what others may comment on the low teeth count. Even I admit the 80 teeth with spacious gullet might not be the ideal choice for melamine or plywood.
Nevertheless, if the blade performance exceeds your expectation, you sure are bound to use it more! So what features make it overtake most competitive products?
It has laser-cut vibration-reducing slots that also averts sideways movements during the cutting process. Therefore, the well-built unit automatically extends the lifespan while giving a flawless finish.
The premium TiCo Hi-Density Carbide Crosscutting Blend ensures maximum performance, whereas the ATB grind keeps the splinters at bay. It has a 5/8-inch arbor and 2-degree hook angle with perfect kerf measure.
If you wish to avoid drastic ruins of a decent project by a saw blade, opt for a Freud model. Moreover, it comes with a nonstick coating to be resilient against drags, corrosion, and pitch.
Pros 
Offers chip-free finish
Suitable for veneered plywood, melamine, and laminates
Less vibration and sideways movement
Corrosion and pitch resistant
Provides 7000RPM maximum speed
Cons 
Verdict
If you do not believe me, you can always search these products online to find the honest opinions of other users. The blade is almost unmatched by similar comparable units. Everything is ready and emits less noise when running with the machine.
I treasure it like a diamond because have you checked the price yet? Check prices here
3. DEWALT 7-1/4″ Circular Saw Blade for Hollow Ground Plywood, 5/8″ and Diamond Knockout Arbor, 140-Tooth (DW3326)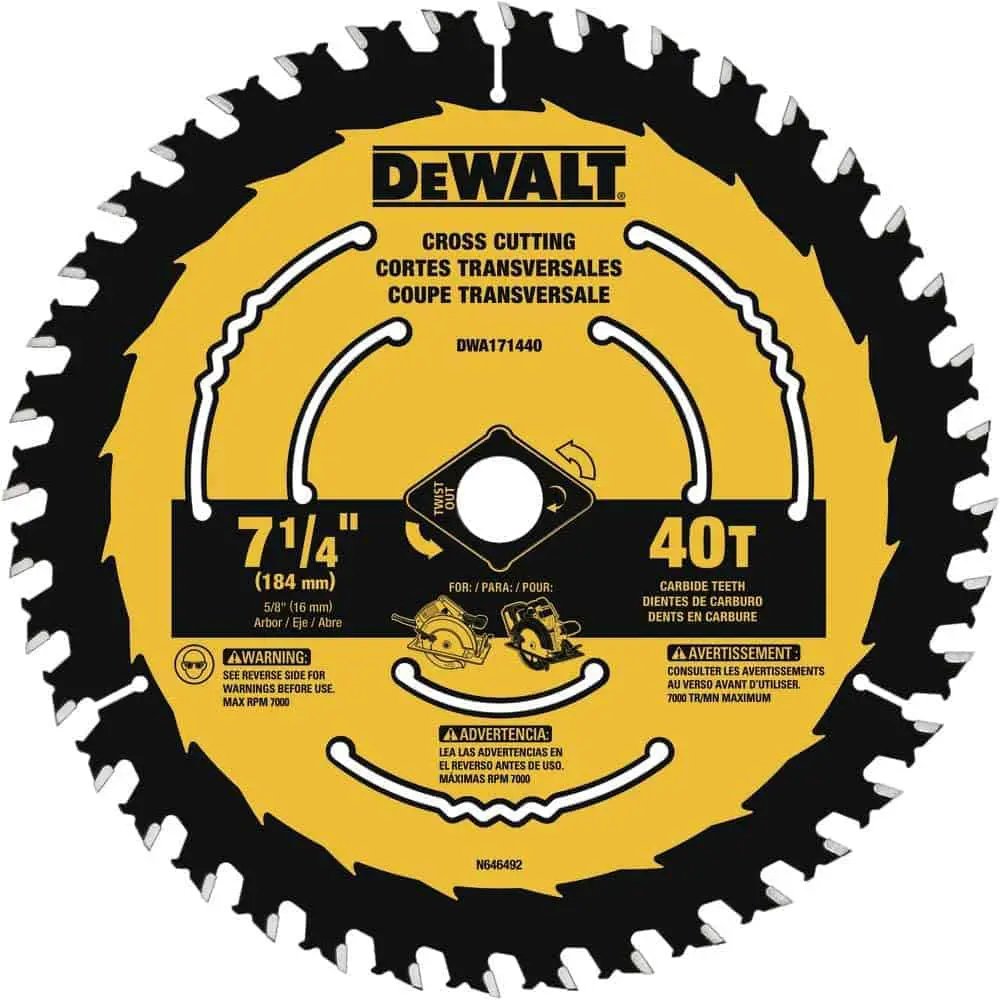 DEWALT is a very complex power tool accessory brand, in my opinion. Some tools are extraordinarily accurate, while others are downright useless despite the high-end engineering.
The question is, where does this 7¼-inch circular saw blade go? Should you obtain it for the precious hollow ground teeth or move on to the next item?
We will get to that point, but the first DEWALT is always considerate in regards to obtaining power tools and accessories at an affordable rate. This is why I have added this item for the craftsmen who might find Freud saw blade too extravagant.
Plus, the number of teeth, along with industrial steel construction, also plays a huge part in making it highly efficient. This means no more dealing with warping or binding.
Those who seek a saw blade with maximum teeth count can rely on this 140T incorporated model for smooth cuts. Thanks to the blade coating, the friction is reduced. It also extends the blade life by withstanding rust.
The 5/8-inch diamond knockout arbor indicates common compatibility with various circular saws. Just make sure to guard yourself with a feasible amount of protection before working.
So stop dawdling on the negative reviews and try out the blade to learn its capability. You will not be disappointed when operating on hollow ground plywood panels.
Let me give you a small running tip to attain burn free aftermath. Move it slowly during the cut; it will maintain the speedy rate and prevent it from going off the course.
Pros 
Performs greatly with thin plywood materials
Sharp teeth deliver fast and smooth cuts
Rust and friction resistant
Thicker body design for better durability
Eliminates binds and warps
Cons 
Difficulty with 3/4-inch plywood
Verdict
It is a reasonably priced circular saw blade that will continue to cut well so long you keep going straight. However, I suggest going for lesser teeth integrated blade if the panel thickness is over 5/8-inch. Check prices and availability here
4. Irwin 11820ZR 6-1/2-Inch 140 Tooth TFG Plastic, Plywood, and Veneer Cutting Saw Blade with 5/8-Inch Arbor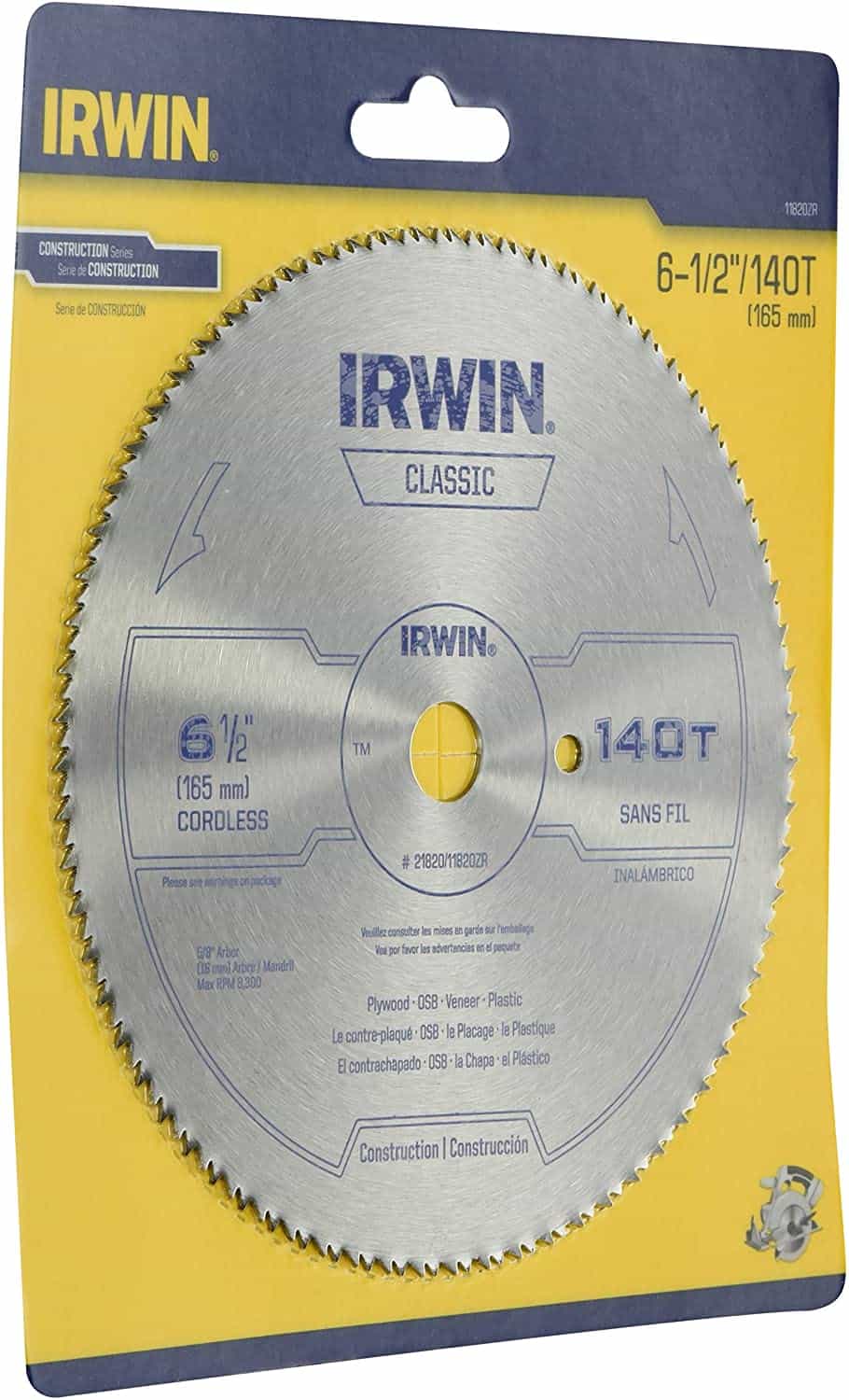 Here is another 140T circular blade saw by Irwin that comes in 6½-inch diameter. This was my first ever challenge when I almost gave up on a kitchen cabinet door.
Nevertheless, there is no way of knowing the tools worth unless someone uses them, right? Similarly, the result is stacked up in the form of numerous rips and crosscuts done on plywood panels.
The ground teeth were the initial attraction that indulged me in trying again. Let us hope it encourages you to attempt the intricate design cuts as well.
Undoubtedly, Irwin saw cutting blade is one of the most reliable ones many professionals have encountered. It is also the perfect unit for any cordless circular saw, so long the machine has a 5/8-Inch arbor setup.
The blade quality with hardened plate offers a truer run to last longer than expected. As a result, you can operate the blade on veneers, plastics, etc., aside from plywood.
While the HDPE plastics are also suitable to cut using this blade, I would suggest monitoring the motion and speed to avoid the fast dulling effect.
Moreover, it has a 1/8-inch kerf that conveys optimum performance when dealing with plywood materials. All in all, you will love how superior an affordable saw blade can turn out when least anticipated.
Pros 
Compatible with most cordless circular saws
Very accurate when operating
Provide ultra-smooth cuts
Fewer tear-outs/splinters outcome
Highly durable with heavy gauge high carbon steel build
Cons
Requires double cuts for ¾ inch plywood sheets
Verdict
Should you get it? Does the low price factor give you the cheap alert blink in the head? I say, forget all that and grab one of these as soon as possible.
Besides, it can be greatly appreciated by the apprentices and DIY users who have little knowledge regarding splinter-free plywood cutting blades. Check the latest prices here
Top-Rated Brands on the Market
Even I am at the liberty of following the topmost brands when it is subjected to owning the best. But which ones are circulating in the market for being superior?
DEWALT
It is like the emperor of all professional power tools. The products are versatile and can be seen practically in all construction, manufacturing sites.
IRWIN
If DEWALT is the emperor, consider IRWIN the competitive ruler with reputation. It is also the envy of many small global power tool accessory companies in the industry.
Freud 
No, this is not about the Austrian neurologist here, but one of the best saw blade manufacturing companies in the world. It also supplies other bits and cutters for various power tools.
Concord 
Earning the trust of people with quality tools, Concord Blades is another leading factory that manufactures varieties of blades, bits, polishing pads, etc. Many companies rely on Concord supplies for their business.
Frequently Asked Questions
How many teeth should a circular saw blade for plywood have?
Plywood is thin layers of wood veneers glued together along the grain. There are various qualities of plywood, depending on the number of layers.
So, the number of teeth will also range according to the panel thickness. You should always look for from 80 to 140 teeth arrangements.
Why do all circular saw blades for plywood have many teeth?
It prevents tears and splinters, which deliver smooth cuts as you maneuver the circular saw.
Are splinters and tearing in plywood inevitable? 
You can try minimizing them by applying masking tape on both sides of the sheet, right over the cutting line.
How often should you sharpen the plywood blades for a circular saw?
This is the only drawback of circular blades with many teeth, especially when working with plywood. They tend to dull quicker than regular blades. Hence, constant sharpening is required.
Can you fix the splintered plywood? 
A proven method includes adding water-based medium viscous wood filler to the area. Make sure to clear the region from splinters and debris before application.
Also, use a putty knife with moderate pressure when filling the edges. Discard anything excessive and wait till it has hardened. Now you can sand and even out the surface.
Final Words
Now that I have shared my personal thoughts on the best circular saw blade for plywood, it is your turn to choose and develop your skills.
Just be sure to get the one that matches your task and competency. You will not be let down.
So, do not give up and be safe around the power tools!
I'm Joost Nusselder, the founder of Tools Doctor, content marketer, and dad. I love trying out new equipment, and together with my team I've been creating in-depth blog articles since 2016 to help loyal readers with tools & crafting tips.