I love creating free content full of tips for my readers, you. I don't accept paid sponsorships, my opinion is my own, but if you find my recommendations helpful and you end up buying something you like through one of my links, I could earn a commission at no extra cost to you.
Learn more
Fixating your meter in a circuit can be a huge pain in the bum, hence clamp meters. These are the 21st century's take on multimeters. Even analog multimeters came in reality just recently, yes it was a century ago but still, it's recent when it comes to innovation and invention.
Getting a top-notch clamp meter will solve that problem and help you measure more than just amps. But the question is how to find the best clamp meter amid a world full of companies claiming their product to be the best. Well, leave that part to us, as we are here to provide a clear route towards finding the device you need.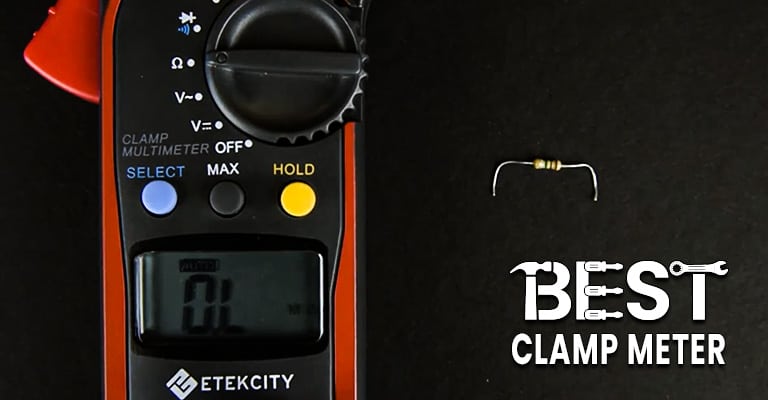 Clamp Meter buying guide
Here are a bunch of things you should keep in mind while searching for a top-notch clamp meter. This portion consists of what to expect and what to avoid, in a detailed manner. Once you go through the following list, I bet you won't be asking anyone but yourself for advice.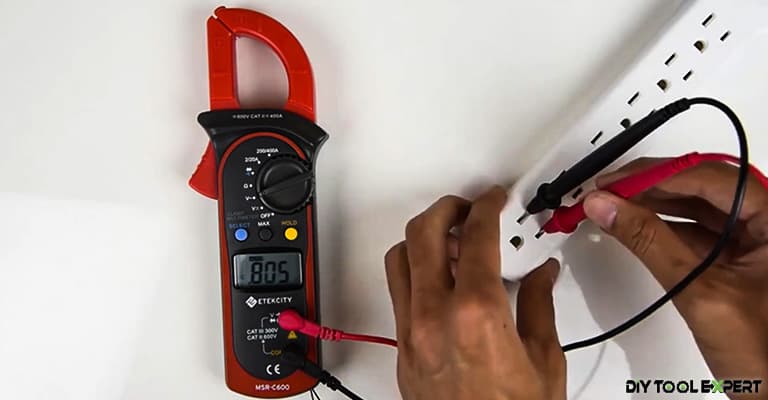 Meter Body and Durability
Make sure the meter has a rugged body that is well built and can withstand several falls from your hand. You should not purchase a product that has poor build quality, as you can never know when the device is going to slip from your hands.
The IP rating is also an essential factor for durability, and you may check it for further assurance. The higher the IP, the more external resilience the meter has. Some meters come with rubber cover and they have an edge of extra durability than those devoid any covering.
Screen Type
Almost all manufacturers claim to provide a screen that has high resolutions. However, many of them prove to be of poor quality. So, you would better be looking for a meter that has an LCD screen, which is large enough. Also, go for one that features backlights as you may need to measure in the dark.
Accuracy and Precision
Accuracy is undoubtedly the most important thing since after all, it's a measurement of electrical parameters, and so is precision. Be aware of products that have a very long list of features but don't perform well in terms of accuracy. You would better be looking for ones who have all the features you'll require and give accurate readings every time. How to find such one? Just check what if the accuracy level is near to +/-2 percent.
Functions
Although we believe that you have better knowledge about the purposes of your clamp meter, let us revisit all the sectors. Generally, a valued meter should serve for measuring AC/DC voltage and current, resistance, capacitance, diodes, temperature, continuity, frequency, etc. But remember your needs and don't rush in to buy anything that comes with all these.
NCV Detection
NCV stands for the term non-contact voltage. It is an excellent feature that allows you to detect voltage without making any contact with the circuit and stay safe from electric shocks and other hazards. Therefore, try to look for clamp meters that feature NCV. But you should not expect an accurate NCV from the ones that offer it at a low price.
True RMS
Owning a clamp meter that has true RMS will help you get accurate readings even when there are distorted waveforms. If you find this feature to be present in a device and that fits well into your budget, you should go for it. If your measurement involves a number of varying types of signals, then it's kinda must-have feature for you.
Auto Ranging System
Electrical instrumentation and measurement equipment get prone to several hazards including shock and fire when the order of voltage and current ratings aren't matched up. A modern solution to get rid off manual range selection is the auto-ranging mechanism.
What this does is that it helps you through detecting the range of measurements as well as measuring in that range without invoking harm to the device. Therefore, your job becomes more relaxed as you no longer have to adjust switch positions while positioning the clamp for taking the readings. And surely, the meter gets greater security.
Battery Life
Most of the clamp meters out there require AAA type batteries to run. And the devices of top-notch quality come with features like low battery indication, which is a must to find. Besides this, if you want extended battery life, you should pick the ones that turn off automatically after being inactive for a certain amount of time.
Meter Rating
It is wise to look for higher limits of current measurements. Suppose, you attach the meter with a rated current of 500 amperes to a 600-ampere line without knowing. Such actions may lead to serious safety issues. Always consider buying clamp meters with high ratings of current and voltage.
Safety Standards
Keeping yourself safe must be the first and foremost concern. IEC 61010-1 safety standard, along with CAT III 600 V and CAT IV 300V, are the safety ratings that you should be looking for in the most valued clamp meters.
Additional Features
Measuring temperature with your clamp meter does sound cool but might prove to be unessential. There are many products out there that come with tons of attractive features like torches, tape measure, audible alarm sensors and all that. But you should only proceed to buy the one that prioritizes accuracy over quantity of features.
Jaw Size and Design
These meters come with different jaw sizes regarding various uses. Try to purchase one with a wide-opening jaw if you want to measure thick wires. It is best to get a well-designed device that is easy to hold and is not too heavy to carry around.
Best Clamp Meters reviewed
For making your journey towards the topmost tier clamp meter smoother, our team has dived deep and made a list of the most valued products out there. Our following list consists of seven devices and all the information you need to know about them for finding one that fits best for you.
1. Meterk MK05 Digital Clamp Meter
Aspects of Strength
When it comes to unique features, Meterk MK05 remains way ahead of the other clamp meters down the list. Speaking of features, the first thing to be mentioned is its non-contact voltage detection function. Stay safe from electric shocks, as the sensor mounted to the device allows you to check voltage without even touching the wires.
The high-resolution large LCD screen comes with backlights so that you don't face any difficulties in taking measurements. You can also keep an eye on the screen for the "OL" sign, which appears to indicate that the circuit has an overload of voltage. Don't worry if you forget to turn off the meter; the auto power-off function will make sure the low battery indicator doesn't pop up soon.
Both light and sound alarms are present to detect live wires, making sure that your safety comes first. Additional features include a flashlight for low light conditions and a data hold button on the side for fixing the reading at a certain point. Along with an auto-range detection, get temperature data using the temperature probes. Even with all these, the portable meter allows no compromise with accuracy.
Limitations
Some small drawbacks include the slow response of the non-contact voltage detecting process. Few folks also complained about receiving dead batteries as well as finding the user manual not clear enough.
2. Fluke 323 Digital Clamp Meter
Aspects of Strength
A True-RMS clamp meter with an optimized and ergonomic design that can give you the best experience in troubleshooting. You can count on this device from Fluke for the highest accuracy, whether you need to measure linear or non-linear signals.
Not only does it measure AC current up to 400 A but also AC and DC voltage up to 600 Volts, which makes it preferable for both commercial and residential use. Detecting continuity is no longer an issue due to the audible continuity sensor equipped in it. Fluke-323 also enables you to measure resistance up to 4 kilo-ohms.
Despite having a slim and compact design, there is a large display for a better user interface. You won't have to worry much about safety, as the meter has IEC 61010-1 safety standard and both CAT III 600 V and CAT IV 300V rating. They also added basic features like the hold button, enabling you to capture a reading on the screen. Moreover, errors on this device will stay well within +/-2 percent.
Limitations
Unlike the last one, this clamp meter lacks non-contact voltage detection. Extra and less important features such as a torch and backlit screen are also absent in the device. Another limitation is that it cannot measure temperature and DC amps.
3. Klein Tools CL800 Digital Clamp Meter
Aspects of Strength
Klein Tools has given this device an automatically ranging true mean squared (TRMS) technology, which works as your key to attaining more accuracy. You can identify and get rid of stray or ghost voltages smoothly with the help of a low impedance mode featured in it.
Are you looking for a long-lasting clamp meter? Then go for the CL800, which can withstand a fall even from 6.6 feet above the ground. Furthermore, CAT IV 600V, CAT III 1000V, IP40, and a double insulation safety rating are enough to claim its toughness. It looks like durability isn't a thing that you have to worry about if you're an owner of this meter.
You can perform all sorts of tests at your home, office, or industry. Apart from these, you will get thermocouple probes for measuring temperature whenever you need to. Poor light conditions will no longer be an obstacle, as they have added both an LED and a backlit display. Also, your meter will keep you notified if the batteries are running low on power, and turn off automatically if required.
Limitations
The leading clips of the meter may disappoint you with their poor build quality and may require replacement. Some also reported that the auto-ranging doesn't work quite smoothly though it should not be doing so.
4. Tacklife CM01A Digital Clamp Meter
Aspects of Strength
Because of being packed with tons of exclusive features, this clamp meter will indeed catch your attention. With the help of its unique ZERO function, it decreases the data error that is occurred by the earth's magnetic field. Hence, you obtain a more precise and accurate figure while taking measurements.
Unlike the previously discussed one, this meter has non-contact voltage detection so that you can spot voltage from a distance. You will notice the LED lights shining and the beeper beeping whenever it detects AC voltage ranging from 90 to 1000 volts. Leave your fear of electric shocks behind, as Tacklife CM01A comprises both overload protection and double insulation protection in it.
To help you work in the darkness, they have provided a large high-definition backlit LCD screen and a flashlight as well. You can get extended battery life due to the low battery indicator and its ability to enter sleep mode after 30 minutes of inactivity. Moreover, with its ergonomic design, you can perform a wide range of measurements required for your automotive or household purposes.
Limitations
Some users have noticed a slow response of the display while shifting modes from AC to DC. There have been rare complaints about the non-contact voltage detection, sometimes causing the LCD screen to freeze.
No products found.
5. Fluke 324 Digital Clamp Meter
Aspects of Strength
Here comes an updated version of the Fluke 323 clamp meter, Fluke 324. You can now enjoy some essential features, such as the temperature and capacitance measuring option, followed by backlights on the screen. These are some pretty impressive upgrades that were missing in the previous version.
Fluke 324 allows you to measure temperature within the range of -10 to 400 degrees Celsius and capacitance up to 1000μF. Then, up to 600V of AC/DC voltage and 400A of current should sound like a quite large limit for such a meter. You can also check the resistance of 4 kilo-ohms and continuity to 30 ohms and get the utmost accuracy with the True-RMS feature.
Despite ensuring the best specifications, it is clear that they won't compromise with your safety. All the safety grades remain the same as the other variant, such as IEC 61010-1 safety standard, CAT III 600 V, and CAT IV 300V rating. So, stay safe while taking readings from the large backlit display, captured by the hold function on the meter.
Limitations
You may be disappointed to hear that the device is incapable of measuring DC current. It also lacks the function of measuring frequency.
6. Proster TL301 Digital Clamp Meter
Aspects of Strength
It sure looks like they have gathered all the specifications inside this one of a kind clamp meter. You will find the Proster-TL301 appropriate for use at any place, such as laboratories, homes, or even factories. All you have to do is hold the meter close to conductors or cables in walls, and the non-contact voltage (NCV) detector will detect any existence of AC voltage.
Apart from that, the automatic selection of an appropriate range will make your job a lot easier. Quite impressive, huh? Well, this device will impress you even more by its power to indicate low voltage and to protect from overload.
When it notices AC voltage from 90 to 1000V or a live wire, the light alarm will warn you. You won't have to interrupt current flow in the circuit just like a circuit breaker finder. The clamp jaw opens up to 28mm and keeps you safe. The list of specs keeps getting longer, as they add the backlit display and a clamp light, intending to help you in darkness. Also, low battery indicator and auto power-off options make it more desirable.
Limitations
One tiny problem is that the display visibility in darkness is not so good as expected. The provided instructions are also not very helpful in attaining accurate readings.
7. General Technologies Corp CM100 Clamp meter
Aspects of Strength
Having an exceptional jaw diameter of 13mm, CM100 helps you to take readings in confined spaces and on small gauge wires. You can detect parasitic draws down to 1mA alongside measuring AC/DC voltage and current from 0 to 600 volts and from 1mA to 100A, respectively.
There is an option of the audible continuity test so that you can check if the current is flowing and whether your circuit is complete or not. Additional features include the large LCD screen, which is easy to read. In addition to all these, you will get, two buttons namely peak hold and data hold, for capturing the values you need.
A noteworthy spec is the extended battery life, which enables you to use the meter for 50 hours without changing batteries. Working becomes even more comfortable with the low battery indicator and auto power-off function. You will be able to work at full pace, as the meter is quick in showing results, up to 2 readings per second. Isn't that superb?
Limitations
A few pitfalls of this clamp meter include the absence of backlights on its display, which makes it quite hard to take readings in dark working places.
Frequently Asked Questions
Here are some frequently asked questions and their answers.
Which is better clamp meter or multimeter?
A clamp meter is primarily built for measuring current (or amperage), while a multimeter typically measures voltage, resistance, continuity, and sometimes low current. … The main clamp meter vs multimeter difference is that they can measure high current, while multimeters have higher accuracy and better resolution.
How accurate are clamp meters?
These meters are typically pretty accurate. Most DC clamp meters are not accurate at anything less than about 10 amperes. One way to increase the clamp meter accuracy is to wrap 5-10 turns of wire on the clamp. Then run the low current through this wire.
What is a clamp meter good for?
Clamp meters allow electricians to bypass the old-school method of cutting into a wire and inserting a meter's test leads into the circuit to take an in-line current measurement. The jaws of a clamp meter do not need to touch a conductor during a measurement.
What is true RMS clamp meter?
True RMS responding multimeters measure the "heating" potential of an applied voltage. Unlike an "average responding" measurement, a true RMS measurement is used to determine the power dissipated in a resistor. … A multimeter typically uses a dc blocking capacitor to only measure ac component of a signal.
Can we measure DC current with clamp meter?
Hall Effect clamp meters can measure both ac and dc current up to the kilohertz (1000 Hz) range. … Unlike current transformer clamp meters, the jaws are not wrapped by copper wires.
How do clamp multimeters work?
What is a clamp meter? Clamps measure current. Probes measure voltage. Having a hinged jaw integrated into an electrical meter allows technicians to clamp the jaws around a wire, cable and other conductor at any point in an electrical system, then measure current in that circuit without disconnecting/deenergizing it.
Can a clamp meter measure Watts?
You can also calculate the wattage of any electronic device by using a multimeter and clamp meter to get the voltage and current, respectively, then multiply them to get the wattage (Power [Watts] = Voltage [Volts] X Current [Amperes]).
Why is a clamp tester advantageous than a light tester?
Answer. Answer: The clamp-on tester does not require the disconnection of the grounding electrode from the system, and there is no need for reference electrodes or additional cables.
How do you use a 3 phase clamp meter?
How do you use a digital clamp meter?
How do you measure power using a clamp meter?
You will need a clamp on meter specifically designed to measure AC power. To do so, you would have the clamp on the conductor, and the voltage probes connected to line (+) and neutral (-) simultaneously. If you just measure the voltage and current and multiply the two, the product will be the VA which is total power.
What does the current clamp measure?
The clamp measures the current and other circuitry the voltage; the true power is the product of the instantaneous voltage and current integrated over a cycle.
Q: Do jaw sizes matter for different applications?
Ans: Yes, they do matter. Depending on the diameter of wires in your circuit, you may need different jaw sizes for getting better performance.
Q: Can I measure DC amps with a clamp meter?
Ans: Not all of the devices out there support measuring current in DC. But you can use many of the top devices to measure currents of DC format.
Q: Should I go for a multi-meter or a clamp meter?
Ans: Well, although multimeters cover a large number of measurements, clamp meters are better for higher ranges of current and voltage and their flexibility of the working method. You may purchase a clamp meter if measuring current is your main priority.
Q: What measurement is the main focus of a clamp meter?
Ans: Although these meters provide a handful of services, the main focus of the manufacturers is the current measurement.
Final Words
Whether you are a professional or a home user, the need for the best clamp meter remains equally important. Now that you have gone through the review section, we assume you found one device that meets all your requirements.
We have found the Fluke 324 to be more reliable in terms of accuracy, because of its true-RMS technology. On top of that, it holds some excellent safety standards too. Another device that deserves to get your attention is the Klein Tools CL800 as it delivers high performance with the top-class durability and longevity.
Although all the products listed here are of fabulous quality, we recommend that you pick a meter which at least features true-RMS. It is such a feature that will assist you in taking accurate measurements. Cause, at the end of the day, accuracy is all that matters.
I'm Joost Nusselder, the founder of Tools Doctor, content marketer, and dad. I love trying out new equipment, and together with my team I've been creating in-depth blog articles since 2016 to help loyal readers with tools & crafting tips.