I love creating free content full of tips for my readers, you. I don't accept paid sponsorships, my opinion is my own, but if you find my recommendations helpful and you end up buying something you like through one of my links, I could earn a commission at no extra cost to you.
Learn more
Ask any professional carpenter, and he will tell you how important his jigsaw is in the workshop. The freedom this machine grants in the hands of a skilled worker is unparalleled. There are very few tools out there that can make complicated cuts better than the jigsaw.
As you might already know, there are a few different types of jigsaws that you can buy. The most popular of the bunch might just be the electric jigsaw since it sits at the sweet spot between power and efficiency. However, nobody likes to work with a power cord, tethering them to the wall socket.
If you want to feel free and be able to move around the workshop or even take your project outside, then a cordless jigsaw might be what you want. After all, it is cheap, efficient, and these days can go toe to toe against corded variants in terms of power and cutting capabilities.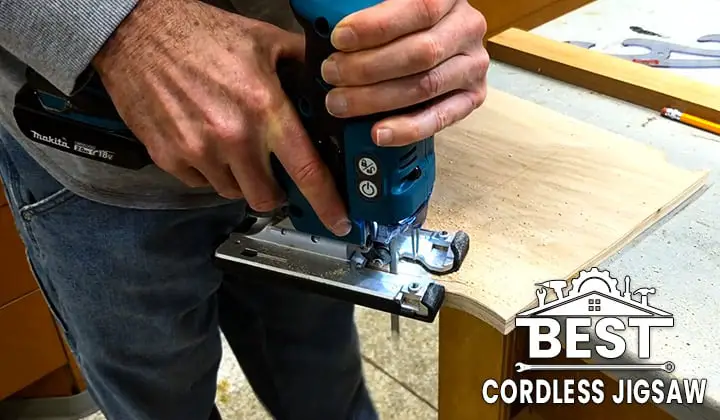 In this article, we will give you a quick rundown of some of the best cordless jigsaws that you can find on the market that allows you to feel true freedom both inside and outside your workshop.
Top 7 Best Cordless Jigsaw Reviewed
Finding the right product for your job is not always an easy task. When it is a machine such as a cordless jigsaw, it is very easy to feel overwhelmed because of the large number of options available in the market. So, it is very easy to make the wrong choice if you are not careful.
In the following section of the article, we will take a look at the top seven best cordless jigsaws that are sure to give you premium performance.
DEWALT 20V MAX XR Jig Saw, Tool Only (DCS334B)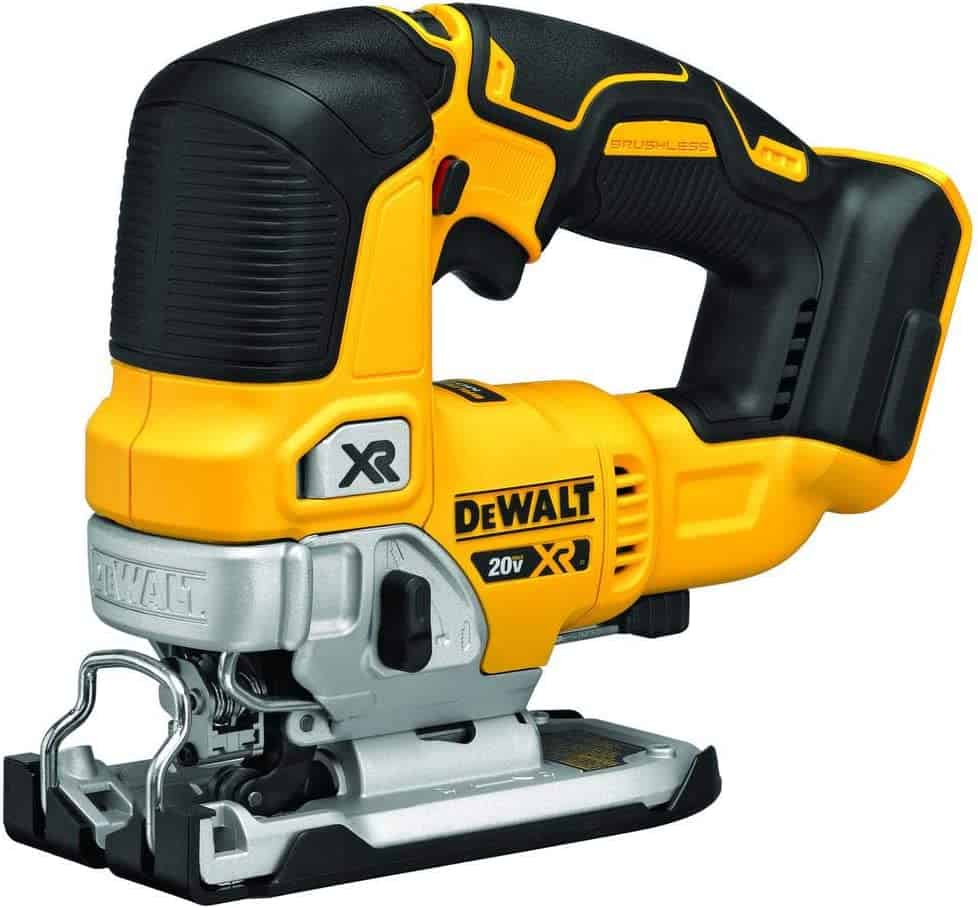 | | |
| --- | --- |
| Weight | 4.2 pounds |
| Dimensions | 8.25 x 1.75 x 6.38 |
| Material | Metal |
| Voltage | 20 Volts |
| Power Source | Cordless-electric |
The first product that we will be looking at is from none other than Dewalt, a brand renowned for manufacturing high-quality power tools that live up to the buyer's expectations. The 20V Max XR jigsaw is an excellent product that delivers amazing uptime and performance at an affordable price.
It comes with a brushless motor that can deliver a blade speed of around 3200 SPM. The speed is sufficient for most of the projects that you might want to take on with the unit. Another plus side is that you get less vibration while using it, which helps you keep it steady when you are making precise cuts.
You also get a variable speed dial on the top side of the unit. The smart placement of the dial allows one-handed operation. The metal lever-action design of the unit means you can change the blades easily without any other tools. It also comes with a bright LED that really comes in handy when you are working in a low light environment.
Thanks to the comfortable padded grip in the device, handling it is a breeze. With four distinct cutting angles at your fingertips, you have complete freedom over how you want to proceed with your projects. It also features a respectable uptime as long as you remember to charge the batteries.
Pros
Excellent brushless motor
Tool-free changing of blade and bevel adjustment
Comfortable to use
Low vibration
Cons
Does not come with a lock-on button.
PORTER-CABLE 20V MAX Jig Saw, Tool Only (PCC650B)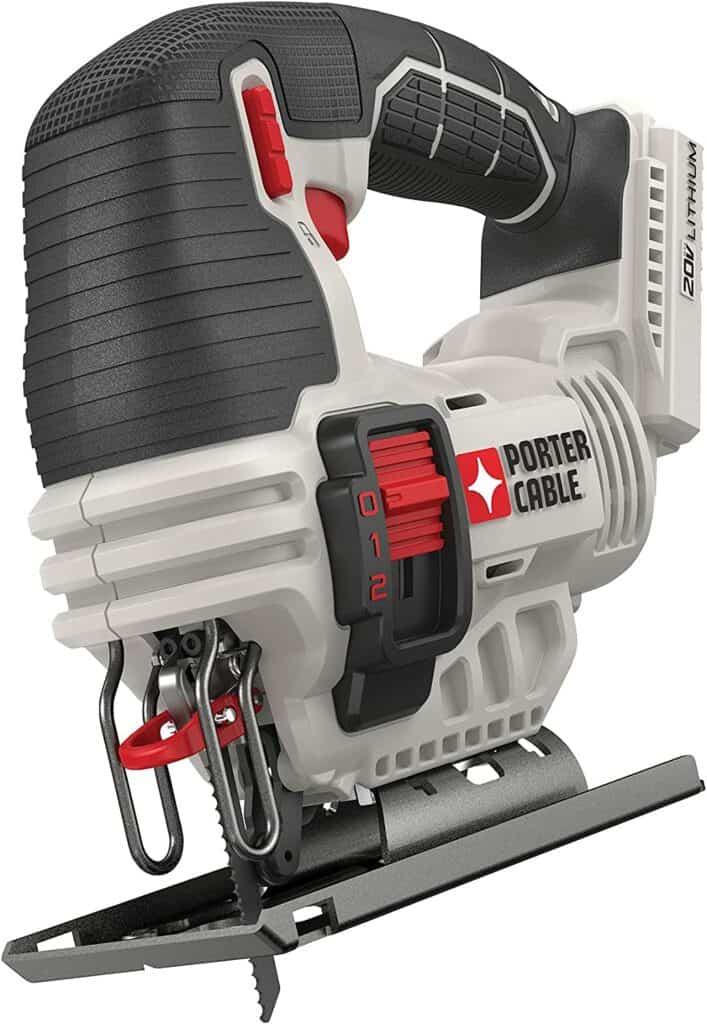 | | |
| --- | --- |
| Weight | 4.5 Pounds |
| Dimensions | 12.19 x 3.75 x 10 |
| Voltage | 20 Volts |
| Power Source | Battery Powered |
| Warranty | 3 year |
The next tool that we have on our list is the jigsaw by Porter-Cable. It is part of their 20V Max bundle, but you can buy it separately too. The ergonomics and features in the unit make it well worth a consideration if you are in the market for a high-quality jigsaw.
It has a max speed of around 2500 SPM and is loaded with a variable speed trigger that allows you to bring it down depending on your requirement. Thanks to the three orbital settings, you can adjust the aggressiveness of the cut instantly. You can quickly change cutting angles due to its bevel adjustment options.
The device comes with a tool-free blade changing system that allows you to quickly change to ay T-shank blades without extra hassle. It opens up the possibility of working with many different types of materials such as metal, pipe, wood, etc. as long as you have the right blade.
The lightweight nature of the unit allows you to handle it comfortably without feeling the strain on your hand. It comes with an ergonomic grip and a built-in dust blower to keep your workspace clear of any debris. Despite all the great features, the price is quite affordable, giving you great value for your money.
Pros:
Lightweight and ergonomic design
Built-in dust blower
Easy and efficient blade changing system
Great value for the cost
Cons:
Makita XVJ03Z 18V LXT Lithium-Ion Cordless Jig Saw, Tool Only
| | |
| --- | --- |
| Weight | 5.73 Pounds |
| Dimensions | 3.6 x 12.3 x 9.1 |
| Material | Plastic |
| Voltage | 18 Volts |
| Power Source | Battery Powered |
When it comes to cordless power tools, Makita is a name that we just cannot ignore. The XVJ03Z is an 18V jigsaw that has all the potential to be your next big investment. With this unit, you will mostly be set for any of your cutting requirements for a good few year.
The variable-speed motor in the tool can deliver a max speed of 2600 SPM without any hassle, which is enough for most cutting applications. Combine that with the heavy gauge and precision base, and you can be sure that the device can give you amazing performance in all your projects.
It features three different speed settings, and you can switch between them easily thanks to the conveniently placed speed dial. For added flexibility, you get three orbital settings to change up the cutting angle as you see fit. Regardless of your cutting material, you are sure to have a good time with this device.
You can be sure that the manufacturers paid close attention to your comfort and flexibility. The battery in the unit comes with a fast-charging feature that helps you get started on your project quickly. In addition, the tool is quite lightweight and comes with a comfort grip for easier holding.
Pros
Easy to handle
Fast charging battery
Six variable speed settings
Three orbital settings
Cons
BLACK+DECKER 20V MAX JigSaw with Battery And Charger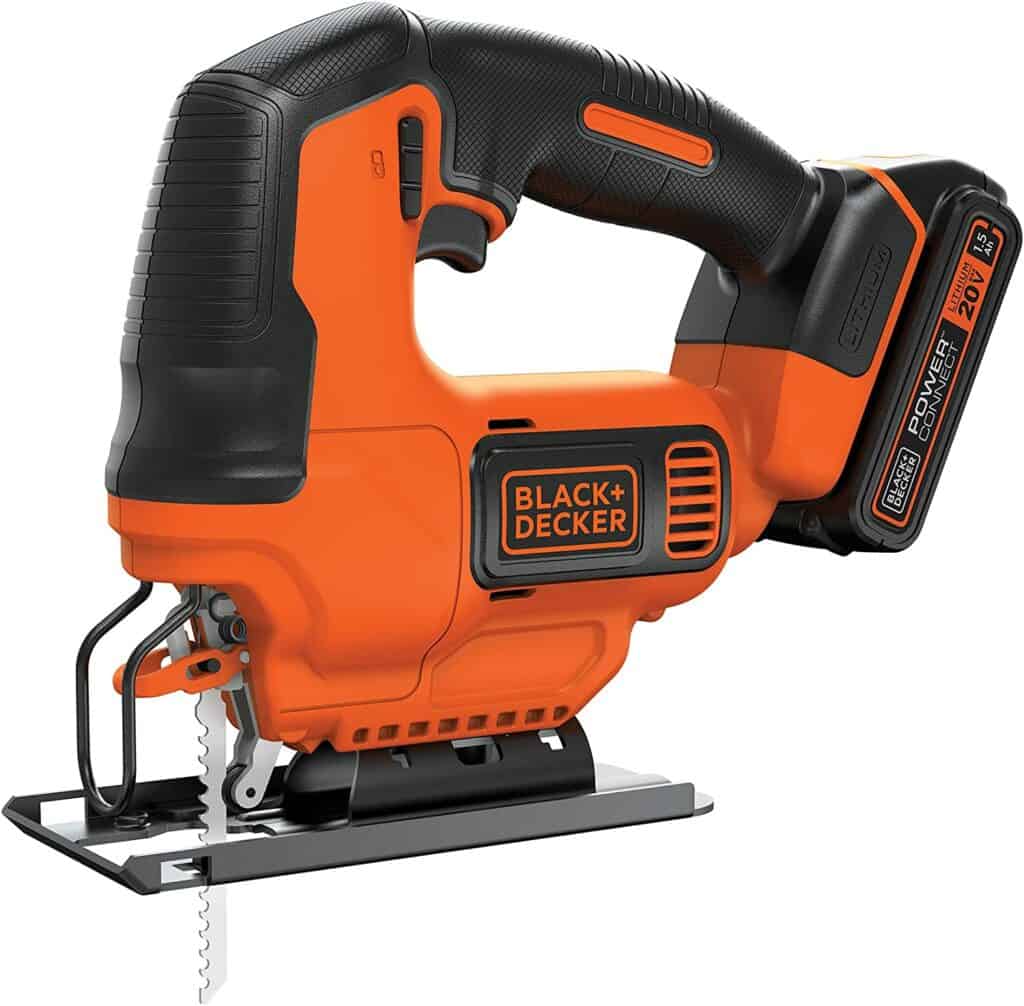 | | |
| --- | --- |
| Weight | 5 pounds |
| Dimensions | 11 x 3.5 x 9 |
| Voltage | 20 Volts |
| Power Source | Battery Powered |
| Warranty | 2 year |
Like Makita, Black+Decker is another brand specializing in manufacturing high-performance, cordless power tools. This jigsaw by the brand comes as part of their 20V Max bundle, but if you want, you can pick it up separately. And considering the excellent features, it is clear why it is so popular.
The device can dish out a max speed of 2500 SPM, making it suitable for almost any type of cutting application. Furthermore, the variable speed trigger in the unit allows you to change up the speed on the fly, depending on your requirements to give you even more flexibility while working.
The tool-free blade changing system in the unit lets you quickly replace the blade. It can accept both U and T shank blades, which highly speaks for its versatility. Additionally, the inclusion of the 45-degree bevel shoe allows you to make angled cut in either direction.
This machine also comes with wire guards that give you protection without hindering your vision in the slightest. To keep your workspace clean, the built-in dust blower really comes in handy. The package includes the battery and charger, which means you can get to work as soon as you get your hands on it.
Pros
Ergonomic design
Extremely versatile
Can accept U-shank blades
Built-in dust blower
Cons
The bevel shoe adjustment requires a hex key.
Bosch 18-Volt Lithium-Ion Cordless Jig Saw Bare Tool JSH180B
| | |
| --- | --- |
| Weight | 1.71 Pounds |
| Color | Blue |
| Style | Bare-Tool |
| Voltage | 18 Volts |
| Power Source | Battery Powered |
If you are looking for a compact, lightweight saw, we have the perfect product for your consideration. The Bosch jigsaw comes in a smaller size than we traditionally see, but do not let that fool you. It has enough power to handle any of your heavy-duty cutting projects without breaking a sweat.
The unit runs on 18v batteries and has a maximum speed of 2700 SPM, which is higher than many of the competing brands. It also comes with a variable speed dial that allows you to fine-tune the speed based on your preference. Furthermore, it features an adjustable footplate that lets you make bevel cuts up to 45 degrees easily.
With the tool-free blade changing system, you can easily replace it as long as you are using a T-shank blade. You also get a built-in dust blower to help keep the space clear of any debris as you work. Thanks to the LED work light, even a poorly lit work environment is not an issue.
The machine also features a protection system for both the motor and the battery to ensure you get the best lifespan out of it. You also get an onboard bevel wrench storage included with your purchase that allows for convenience while moving it around.
Pros:
Lightweight and compact design
Built-in dust blower and LED work light
Adjustable footplate
Durable build quality and safety features
Cons:
Ryobi One+ P5231 18V Lithium Ion Cordless Orbital T-Shaped 3,000 SPM Jigsaw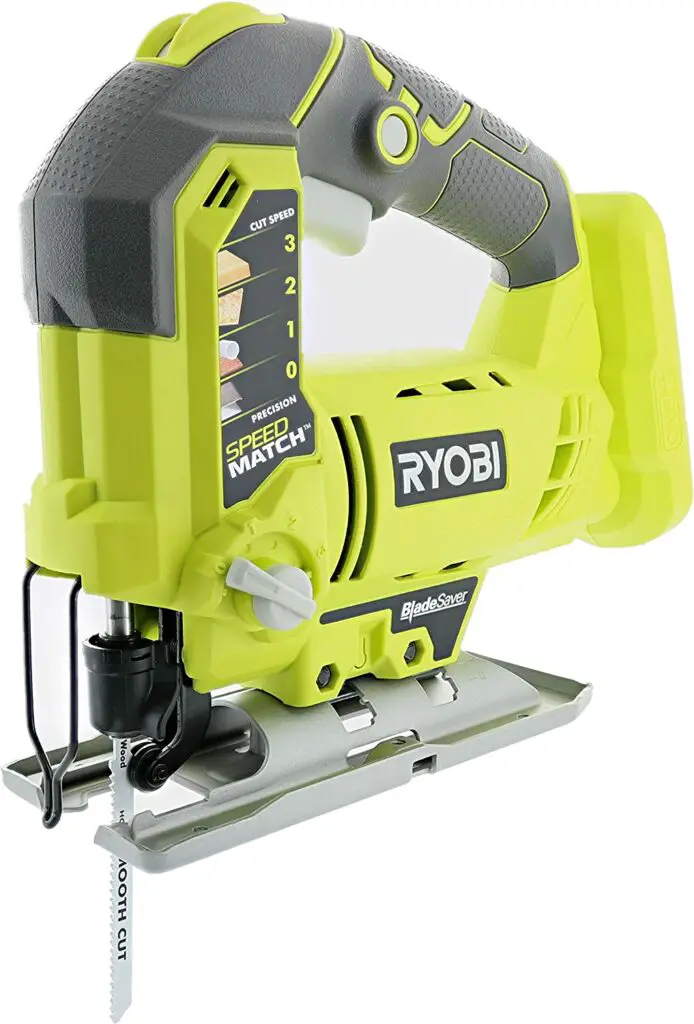 | | |
| --- | --- |
| Weight | 4.4 Pounds |
| Dimensions | 11 x 12 x 6.5 |
| Color | Green, Grey |
| Voltage | 18 Volts |
| Power Source | Battery Powered |
Cordless jigsaws usually go for portability and efficiency over raw power. But that is not the case with the One+ jigsaw by the brand Ryobi. And the best part? Despite the focus towards power, the machine is surprisingly compact and lightweight, giving you a truly portable experience.
The unit features a powerful motor that can reach up to a speed of 3000 SPM. Thanks to the speed control switch at the top, you can quickly bring it done to suit your requirements. This flexibility allows you to take on a wide range of cutting applications across different materials.
It also has a tool-free blade changing system to help you efficiently change the blades in a matter of minutes. The blade saver technology in the base lets you get more use out of it before replacing it by allowing you to make use of the unused portions of the blade. You also get a trigger lock system that lets you focus on stability and not worry about having to pull the trigger.
On top of all the amazing features, you also get some basic quality improvements in this model. For instance, it comes with a built-in dust blower to keep your workspace clean and improve your vision. Additionally, you get a convenient LED to help you see in poorly lit work environments.
Pros:
High maximum SPM
Four orbital settings
Built-in dust blower and work light
Amazing value for money
Cons:
CRAFTSMAN V20 Cordless Jig Saw, Tool Only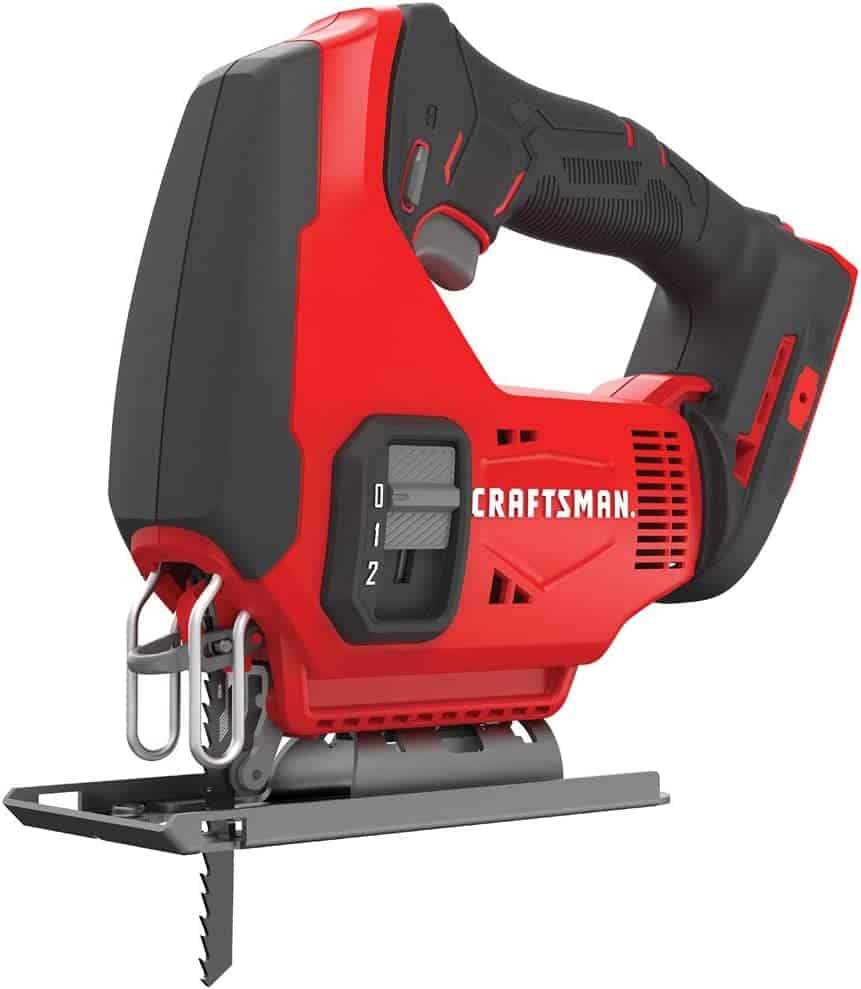 | | |
| --- | --- |
| Weight | 5.06 pounds |
| Dimensions | 10.25 x 2.63 x 9.5 |
| Wattage | 20 watts |
| Voltage | 20 Volts |
| Power Source | Cordless-electric |
To round up our list of reviews, we will be taking a look at the 20V cordless jigsaw by the brand Craftsman. It is a truly budget option for people looking to buy a bare-bones jigsaw without spending too much. Despite the affordable nature of the unit, when it comes to performance, it holds its own quite well.
This machine comes with a powerful motor that can go up to 2500 SPM without any hassle. You also get a variable speed trigger that allows you to bring the speed down as you wish. The three orbital settings further let you tweak the cut aggressiveness to take on multiple types of materials.
It comes with an adjustable beveling shoe that can cut up to an angle of 45 degrees. If that was not enough, the tool-free blade changing system of the unit allows for fast and easy blade replacement. You can use both T and U shank blades with the unit without any trouble.
The device comes with a built-in dust blower, so you do not need to worry about dust and debris cluttering up your workspace. This machine is extremely comfortable to handle and features an over-molded grip. That means, regardless of your hand size, you will have a good time using it.
Pros
Ergonomic shape and size
Can work with T and U shank blades
A built-in dust blower system
Affordable price range
Cons
Does not feature a work light
Things to Consider When Buying the Best Cordless Jigsaw
Now that you have an idea of the best products in the market, it would help to look at some of the essential features. A cordless jigsaw has many small aspects that you need to check to ensure you are making the right investment. By taking a look at these features, you can narrow down on the right unit without too much hassle.
If your project needs accurate design and precise curve then I would recommend you choose scroll saws vs a jigsaw. Scroll saws are used for intricate projects, like – intricate patterns, joints, and profiles.
With that in mind, here are a few factors that you should consider when buying the best cordless jigsaw.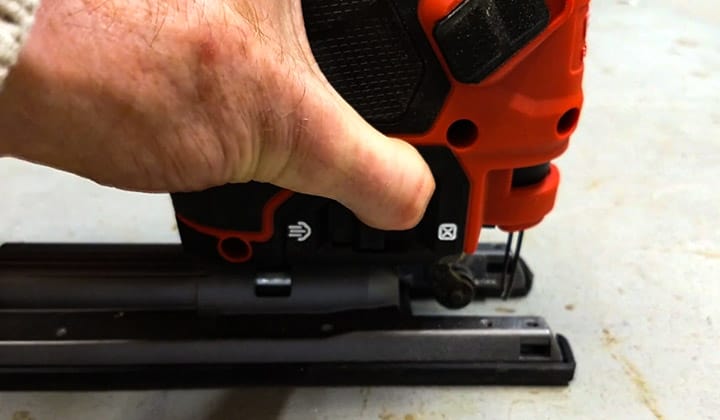 Power
The first feature that you might want to take a look at is the power of the motor. This factor is what is responsible for the actual cutting power of the unit. There is always a trade-off; however, as with higher power, the battery becomes bulkier, which, in turn, affects the portability of the cordless jigsaw.
But with a higher power, your cutting option also increases drastically. Ideally, with a cordless jigsaw, the power rating of 3 to 4 amps is sufficient for most users. If you require a bit more power, you can find it too, but the cost and weight of the unit will be more.
Variable Speed Settings
These days the variable speed setting is a must when you are looking for a cordless jigsaw. With this feature, you can adjust the rate at which the blade of the saw spins. You get to choose whether you prioritize cutting speed or accuracy when you can adjust the speed on the go.
With faster blades, the cutting speed is faster. But you will often be left with rougher edges. So this option might be great for cutting large timber pieces, but when you are working on a precise project, it might not be the best way to go. So make sure your unit has a variable speed trigger if you want to take on a wide range of projects.
Orbital Action Settings
The orbital action that you often find in a jigsaw lets you optimize the aggressiveness of the blade. As a result, you can make faster cuts and can also work with different types of materials. If you want to get the most out of your investment, it is a feature well worth considering.
All the products in our review section feature orbital action adjustment. The lowest adjustment you will find on our list is 3, with the highest being at 4. So you can be sure that you have complete freedom over how you want to approach your projects with these devices.
Blade Adjustment Options
The blade is an essential component of the jigsaw, as that is what controls the cutting capability of your device. Over time, it can wear out and needs replacing. Expecting the blade to last a lifetime is unrealistic, and you need to be ready to replace it when it loses its edge.
The blade changing process can be a lot easier if your unit comes with a tool-free blade adjustment system. Most modern jigsaws come with this option; however, there are cheaper models that tend to overlook it. If you want to have a good time with your investment, be sure to check for this factor.
Bevel Capabilities
By bevel capabilities, we mean the ability of the jigsaw to work with different cutting angles. Without this option, you will be stuck with making a specific cut every time. It takes a lot away from your freedom in how you want to proceed with your project.
When buying your jigsaw, you should always ensure that it can work with different cutting angles. Ideally, you would want to have access to at least two or three angles, including a 45-degree angle. It would allow you to get creative with your cuts and form unique shapes and designs.
Weight and Ergonomics
The advantage of using a cordless jigsaw lies in its portability. But all the freedom in the world will not matter much if the unit is difficult to handle. Weight and shape of the handle both matter when you are looking at the ergonomics of the device.
It should not be too heavy that you have to put it down every few minutes. You should be able to carry it without feeling the weight too much in your hands. Furthermore, you should always look at the padding in the handle. If the padding is good, you would have an easier time gripping it over long hours.
Additional Features
With all the essential factors in check, you might want to see if you can get some additional utility from your cordless jigsaw. These features might not be essential, but they would surely improve your experience when you have a long day in the workshop ahead of you.
For instance, a built-in dust blower is a very handy addition in your cordless jigsaw. When working, you would naturally produce a lot of debris. With this feature, you can keep your workspace clean and clutter-free. Another great additional feature is an LED work light.
Budget Limitations
No matter what you want to buy, the budget is always something you need to consider. If you do not want to spend a lot of money, that does not mean you cannot find a good product. Thanks to the increasing competition in the industry, cordless jigsaws are more affordable than ever.
If you go through our list of reviews, you will notice that we have selected products with a broad price range in mind. It is also important to set a spending limit to save yourself from a lot of confusion and headaches. When you are clear on how much you are willing to spend, you should not exceed it.
Final Thoughts
Finding the best cordless jigsaw might feel overwhelming at first, but if you take things slow, you have nothing to worry about. As long as you make use of the information you found in this article, you can be sure that you will end up with the perfect product you need in your workshop.
I'm Joost Nusselder, the founder of Tools Doctor, content marketer, and dad. I love trying out new equipment, and together with my team I've been creating in-depth blog articles since 2016 to help loyal readers with tools & crafting tips.