I love creating free content full of tips for my readers, you. I don't accept paid sponsorships, my opinion is my own, but if you find my recommendations helpful and you end up buying something you like through one of my links, I could earn a commission at no extra cost to you.
Learn more
Fitting tiles on floors was never this easy until dead blow hammers came into play. Can you imagine smacking a fragile object with a regular hammer? Needless to say, it'll be shattered but you'll never have much control over the magnitude of force you're applying.
It's a given that this will bring precision, ergonomic advantage, and durability to the table. But how is it that you can score the best dead blow hammer, one that's not stained by any limitations or cons. It is to that solution we dedicated this article to.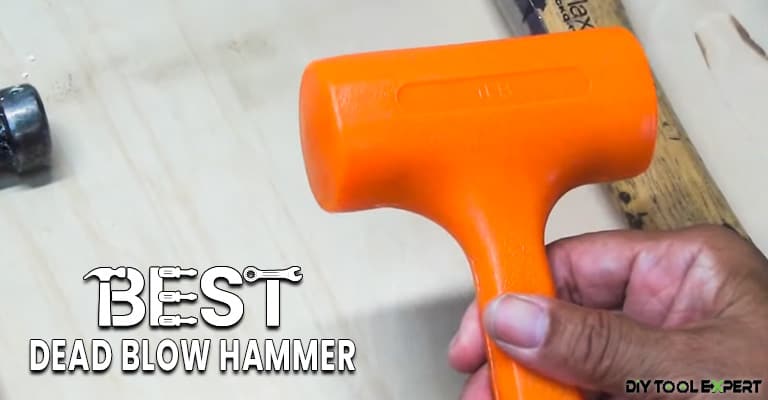 Dead Blow Hammer buying guide
The market is crowded with many dead blow hammers offered from different brands. Some fraudster sellers exaggerate their poor-quality products which may make you suffer. To avoid circumstances, you definitely need to know the parameters to check the quality of a hammer. And here we are to discuss them in length.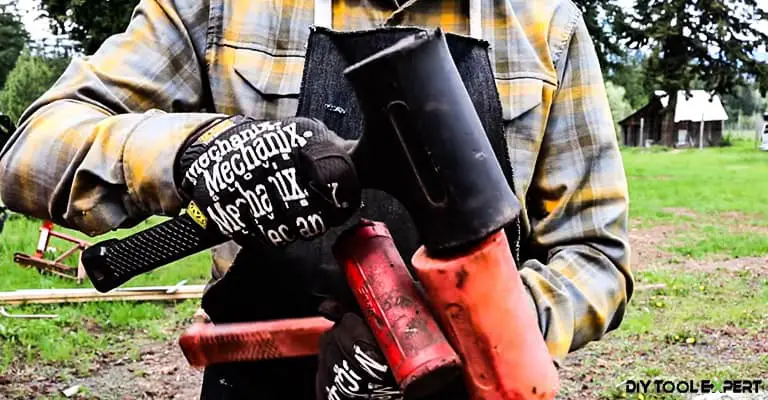 Construction of Hammerhead
There is a wide range of variety of hammers depending on the construction such as some hammers come with a hollow cylindrical head, some hammer has a totally solid head, some hammerhead is made of wood and some hammerheads are attached to the wooden handle. Among them, hollow cylindrical with shots inside, are most efficient.
Body of the Hammer
Different types of hammer are appropriate for a different type of work such as a wooden hammer is used to knock wooden pieces and sometimes in the kitchen. Solid metal hammers without coating, are used in heavy metalworks and weldless metal body hammers with a thick rubber coating are used as dead blow hammer popularly.
Weight
Most of the time a dead blow hammer is used for medium works such as woodworking light metalworking or mechanical works. For these purposes, a rugged heavy dead blow hammer is perfect but it can cause muscle pull or muscle pain. Lightweight dead blow hammers are used in especially critical works, with small nails, small wooden structures.
Coating
The quality of a dead blow hammer primarily depends on the quality of the coating that lies on the surface of the metal body structure. Currently, rubber and poly coatings are available as well as popular in the market. Most of the time poly layers are more rugged than rubber, but it also varies. The thicker the coating is, the longer the hammer will last.
Grip
Serrated grips are immensely important because it gives more traction but it also depends on the style of serration. Deep diamond serrated grips provide good friction between the palm of the hand and the handle of the hammer. Some handles are roundly serrated, if the serrations are deep, they can also provide a good grip.
Type of Metal Used in the Hammer
There are many kinds of heavy metal but all metals are not suitable for dead blow hammer. The metal should resist rebound or recoil to increase efficiency. They should be resisting rust for a long time. In terms of weight, it should not be so heavy and nontoxic. Steel, titanium and some metal alloys are best for dead blow hammers
Best Dead Blow Hammers reviewed
Sometimes avaricious companies conceal the weakness of their product and exaggerate only to increase their profit. These kinds of traps may demolish your money and desire. Here we've reviewed some best products on the basis of experience.
1. ABN Dead Blow Hammer
Constructive Perspective
Firstly, a pragmatic weight assured for the sake of convenience, which is about 4 pounds. It offers an attractive color that comes from sustainable rubber coating. For safety, it comes with a better traction grip where it is serrated, assuring the best grip for those who have a sweating problem on the palm.
To ensure the best safeguard for the stuff it will be working on, it comes with the non-sparking substance on the coating. For better working experience it comes with a convenient length of the handle. Comfort and pragmatic weight are assured using shots in the cavity of the head of the hammer.
For the betterment of work, it offers a minimum level of recoil on strike. An ordinary hammer creates a huge level of unbearable sound which drastically causes hearing loss, where this hammer can demolish the sound and offer the best experience. The mallet of the hammer is unicast, which makes the work riskless for fragile objects.
Drawbacks
In some tough conditions like in very cold weather, the rubber may become brittle which may prompt decreased longevity. This hammer can not generate the best output in heavy works where sledgehammer is suitable.
2. SE 5-in-1 9" Dual Interchangeable Hammer
Admirable Sites
Different work conditions need different kinds of faces, this hammer is provided with different faces which are made of copper, brass, nylon, plastic, and rubber. So you can change the faces according to your purpose. Wooden handle decreases the weight and gives a better experience.
The hammer is specially designed for woodworking, metalworking, and gunsmithing. The surface of the faces is decreased to ensure the safety of the objects surrounded by the targeted object. The faces remain attached with the main part of the body as threaded aluminum heads in the faces and aluminum notch in the body are provided.
Rubber, ABS and nylon heads are to determine non-marring blow with less recoil. Surely hardness can be varied according to the type of work. The hammer comes with shiny and attractive finish both in the handle and in the faces.
Disadvantages
According to a few users, the hammerhead sometimes becomes detached to the handle as the handle is not strictly attached to the head. The wooden handle may torn-apart on heavy works. Besides, the cheap look of the tool may demotivate anyone despite its positive features.
3. TEKTON 30709 Dead Blow Hammer Set
Praiseworthy features
The hammer can eliminate rebound as metal shots are put inside the hammerhead inside a metallic chamber. The metal chamber is coated with thick and durable poly. So the head of the hammer becomes more heavy-duty. The shots inside the head conserve energy and apply in stroke.
The handle is made heavily durable by using metal and the metal is also poly-coated from outside to ensure ease in work. A pretty stable grip is seen because the holding portion is diamond textured and deeply serrated. The hammers are provided in a set of different weights of 1,2 and 3 pounds, so you can have choices according to your purpose of work.
The coating of the dead blow hammer is very environment-friendly because it comes with 3p phthalate coating which is poisonous lead-free and very strong at the same time. Poly increases the longevity of the hammer and it comes with an attractive red appearance.
Cons
This dead blow hammer includes a metal frame but at the head, it has a metal frame with shots so working on metal may make the metal frame of the head bent.
4. NEIKO 02847A Dead Blow Hammer
Positive Sights
Most importantly the hammer is a low weight hammer which is only about four pounds maximum, the other variants are one, two and three pounds. So, you won't feel any kind of muscle pain after working for a long time. Better durability is confirmed by using a thick coating that covers a strong metal frame.
The poly layer prevents the body from oxidizing, as a result, the metal frame can give the best longevity and the best work experience. The poly layer also prevents generating spark and prevents the object from marring. The hammerhead includes a metal frame inside the thick coating and shots put inside the frame.
The body is restricted from wearing between the hammerhead and the body as the metal frame is thickly coated with poly. The handle is deeply scratched in diamond texture to make it comfortable to hold. The bright color of the hammer helps to precise the worksite perfectly and easy to find in the box of the toolkit.
Negative Sights
The handle ends with a chunk of poly, but the chunk has sharp edges that may hit at the wrist of your hand if you don't remain cautious enough during heavy power strikes.
5. Capri Tools 10099 C099 Dead blow hammer
Appreciated Features
A thick coating of polyurethane lies at the surface of the metal frame of the hammer. The thick coating makes the hammer more rugged and durable. The coating also prevents the surface from marring and absorbing liquids. The coating is increased at the joint of the handle and the hammerhead which makes it a heavy-duty product.
In the portion of the handle, the grip is roundly serrated which provides the hammer more ergonomic. the handle contains reinforced steel, so the body provides several facilities, for instance, it can provide more power during the strike, the handle is more durable and prevents it from breaking upon strike.
The polyurethane coating makes the hammer lightweight, tear-resistant, corrosion-resistant and extreme temperature resistant. The steel canister of the head and the handle is heavily welded and the canister is filled with shots which also generates power.
Drawbacks
Polyurethane vibrates more than rubber so working for a long time with this hammer may cause slight damage to your hearing. polyurethane is not natural and not biodegradable so littering the damaged hammer coating may harm nature.
Frequently Asked Questions
Here are some frequently asked questions and their answers.
What do you use a dead blow hammer for?
Dead blows are great at dislodging stuck parts, driving stiff wooden joints together, or to pop small dents out of sheet metal. This hammer is also ideal for striking objects with a great amount of controlled force such as chisels and other sharp objects.
What is the difference between a dead blow hammer and a rubber mallet?
Rubber mallet will bounce, but the dead blow doesn't. May not make much difference in the end result though. Perhaps more efficient energy transfer with the dead blow with the force applied to the surface rather than partially used to bounce the head.
What does a dead blow hammer weight?
4 lb.
This 4 lb. dead blow hammer is used in many specialized areas, particularly in automotive applications, such as chassis work and hubcap installation. The hammer has a steel handle and shot-filled head covered with non-marring material that dampens rebound and won't spark.
Why is a ball peen hammer called that?
It was invented by a French metal worker named Jaques Balpien. B. "Peen" means to bend, shape or flatten material; its ball-shaped head is designed for peening. … "Peen" represents the sound the hammer makes when it hits metal.
What are the characteristics of a dead blow hammer?
A dead blow hammer is a specialized mallet which absorbs tremors when the hammer strikes. It is an extremely useful tool as it minimises damage to a struck surface and it's minimal rebound helps to avoid accidental damage to precision work, especially when working in tight areas.
Can you hit a hammer with a hammer?
Because the hammer's hardness is designed to strike something specific, like soft steel, hardened steel or brick, don't hit something with the hammer that it's not designed to hit.
Why use a mallet instead of a hammer?
Metal hammer faces can damage wood surfaces or the ends of chisels, and a wooden mallet will not mar either wood surfaces or tools. A wooden mallet also makes it easier to control a chisel, since it strikes with less force than a metal hammer.
What kind of hammer do I need?
For general DIY and remodeling use, the best hammers are steel or fiberglass. Wood handles break, and the grip is more slippery. They're fine for the shop or trim work but less useful on a general-purpose hammer. Other things being equal, fiberglass handles are lighter; steel handles are more durable.
What's a mallet?
: a hammer with a typically barrel-shaped head: such as. a : a tool with a large head for driving another tool or for striking a surface without marring it. b : a long-handled wooden implement used for striking a ball (as in polo or croquet)
What's inside a rubber mallet?
Rubber Mallet
A mallet is a block on a handle, which is usually used for driving chisels. The head on a rubber mallet is made of rubber. These types of hammers deliver softer impact than hammers with metal heads. They are essential if your work needs to be free of impact marks.
What is a recoilless hammer?
Recoilless hammers improve effect of impact and so protect sensitive surfaces. Each blow is up to 100% more effective than standard safety hammers. Available with hickory, tubular steel or fibreglass handles. Exchangeable inserts, resistant to breakage or wear, made of modified polyamide.
Why do some hammers have a soft head?
Soft-faced hammers are used for metal forming because they are able to bend and shape metal without causing surface damage. Surface damage is problematic for metals or finishes that are intended to be seen and have an aesthetic purpose. In these situations, soft-faced hammers are preferred.
Q: Are these coating of hammers strong enough to work almost heavy works?
Ans: Yes, most of these hammers come with rubber or poly coating and both of them are very strong to do almost heavy work but sometimes hitting on the sharp objects may give damage to the coating.
Q: Can a dead blow hammer be used to knock off a wheel from a frozen hub?
Ans: A sledgehammer or a mini sledgehammer will be suitable for this work. These hammers can be used but these hammers are not solid enough to do this job
Q: Are hammers with shots inside the hollow metal frame, better or totally solid one?
Ans: Well, a totally solid one may last a little bit longer but the hammer with a hollow frame can give you more efficiency and power during work.
Conclusion
You can be a mechanic, a carpenter, or somebody with a passion for working in a home on holidays. If you have the best dead blow hammer, you can enjoy yourself working in the home during holidays or if you are a professional then it can provide you the best work experience.
All the products are at the top-notch of the market according to user experience but some of that is the best of bests. Capri Tools 10099 C099 has some best features, the designing, and the build quality is strongest and it is also appropriate for semi-heavy and light works.
For lightweight works SE 5-in-1 9 inches, Dual Interchangeable Hammer can be perfect. The hammerhead can be changed and set up according to work purposes. So, for light and critical works, this hammer is appropriate.
I'm Joost Nusselder, the founder of Tools Doctor, content marketer, and dad. I love trying out new equipment, and together with my team I've been creating in-depth blog articles since 2016 to help loyal readers with tools & crafting tips.