I love creating free content full of tips for my readers, you. I don't accept paid sponsorships, my opinion is my own, but if you find my recommendations helpful and you end up buying something you like through one of my links, I could earn a commission at no extra cost to you.
Learn more
A woodworking enthusiast requires some essential woodworking tools – and a miter saw is among those tools. In this case, we can assure you that Dewalt is the one to go for if you are unsure which brand you should choose.
We have done hours of research to find the best Dewalt miter saw for you. But we have kept the choosing to you – which is why you will find seven of our top picks.
Whether you want to go for speed or a wide range of bevelling capacities, you will find it all among our top picks. So, take out five minutes of your time and dive in.
Why Dewalt?
Not sure if Dewalt will stand up to your expectations? Despite the popularity that this brand has, it is understandable as to why you have your doubts. However, we are here to tell you more about it, so you keep your trust without any hesitation.
Reliable Quality
This brand is known for its quality. You can always rely on its products because they are made with high-quality materials – while delivering optimal construction for the best performance.
Long Life Span
Dewalt miter saws come with warranties. That means you can expect them to have a long life span – which will prevent you from getting another miter saw anytime soon.
Top-Notch Service
You can always trust the service provided by Dewalt because it knows how to keep its customers happy. Not only will it give the best quality products, but it will also make sure the customers are getting what they want.
Innovative Technology
What sets Dewalt apart from other brands is its innovative technology. Not only does that make its products more efficient, but also more reliable.
5 Best Dewalt Miter Saws Reviewed
Looking for the perfect Dewalt miter saw but haven't had any luck yet? Well, don't worry, you will find the right one among our top five picks.
1. DEWALT Sliding Compound Miter Saw, 12-Inch (DWS779)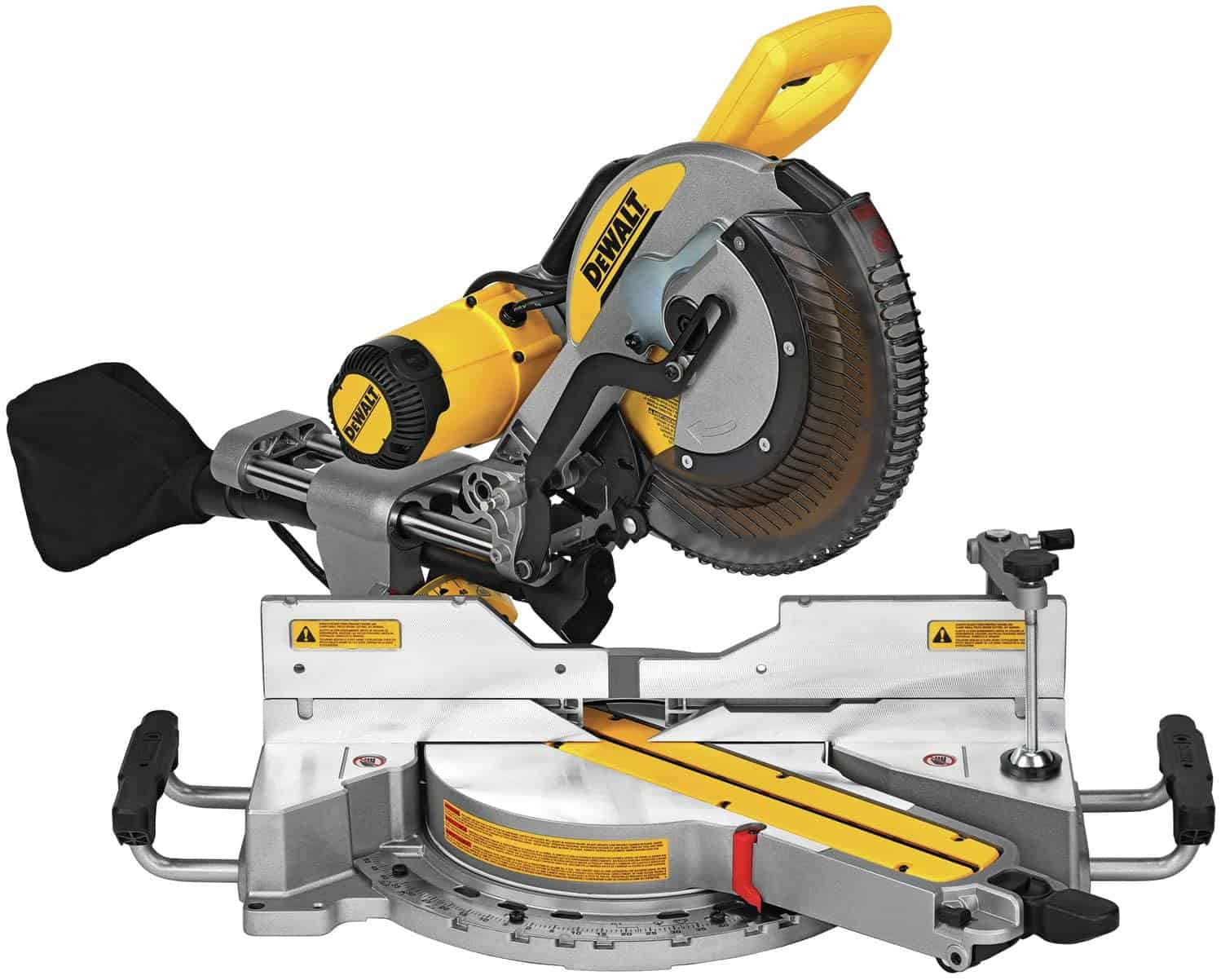 It can be difficult to use a miter saw from time to time – given how much skill they require from their users. But that is not the case with this item. It is made to be user-friendly – and a lot more, which we will discuss in our review.
Our Dewalt miter saw is efficient in a lot of ways. For starters, you will be getting a precise miter system along with a base fence support that has been machined for top-notch accuracy.
With the combination of a cam-lock miter handle and detent override with these features, the saw provides sharp angles. It can even bevel from 0-48 degrees to both the left and the right.
Furthermore, the bevel scale is oversized – so it is very visible to the users. This aspect of the saw makes it even easier to use. The tall sliding fences make the item just more convenient to use.
The 12-inch blade of the saw is long enough to work well with any project. And it comes with a stainless steel detent plate that ensures about ten positive stops for further versatility.
On the other hand, the saw ensures even more durability and accuracy through its double horizontal steel rails. They come with linear ball bearings along with an innovative clamping mechanism.
Once you are done with the project, you won't have to worry about the clean-up because the dust collection system will cover 75% of the dust without any hassle.
Pros 
Precise miter system ensures accuracy
Can bevel from 0-48 degrees efficiently
The bevel scale is visible for convenience
Provides versatility and durability
Cleans up most of the mess
Cons 
Starts loudly
The blade hits the kerf
Verdict 
This user-friendly Dewalt miter saw is suitable for working with all kinds of projects – and it will make all your work convenient for you. Check prices here
2. DEWALT 20V MAX 7-1/4-Inch Miter Saw, Tool Only, Cordless (DCS361B)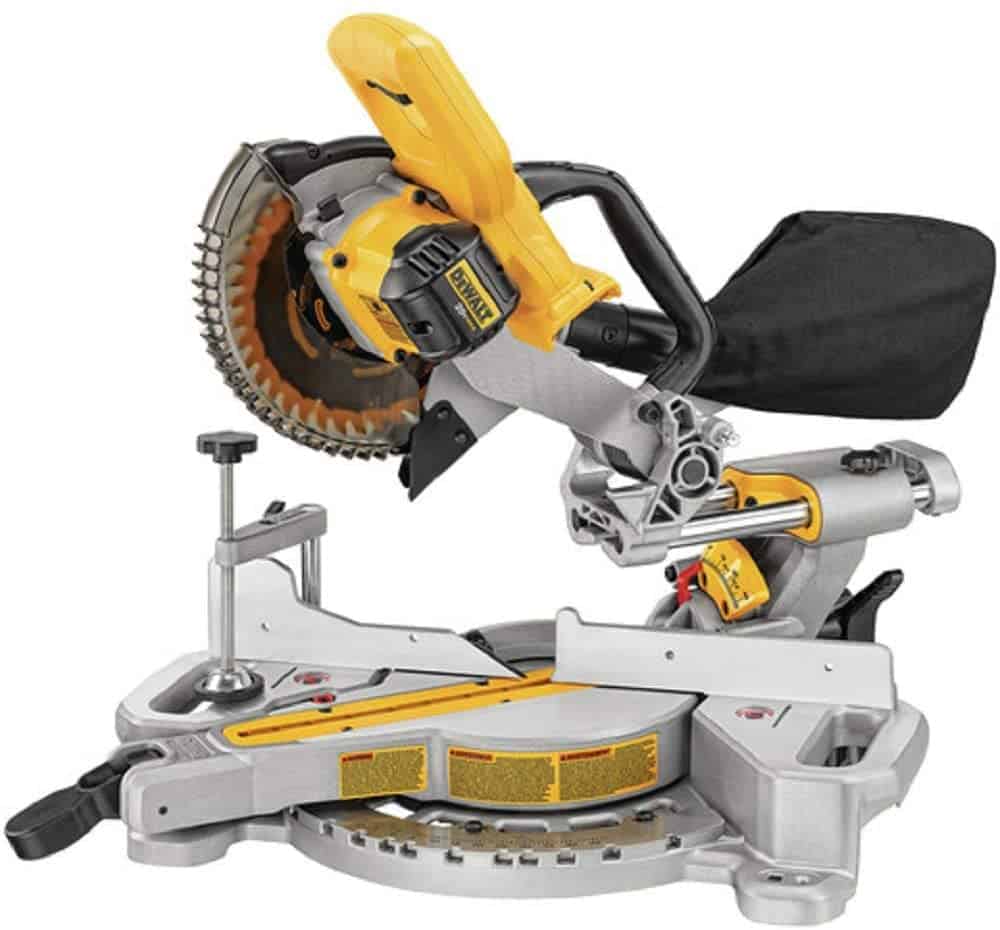 Who wouldn't say yes to a Dewalt miter saw that is both portable and durable? Well, we are sure we wouldn't and so shouldn't you! This amazing machine comes with tons of benefits, which will be discussed right here.
If you are wondering how a miter saw can be portable, we are here to explain. The saw comes with a lightweight body, which weighs only 30 pounds – so you can easily transport and store it.
This Dewalt saw will be your best companion because it will improve productivity like none other. It comes with a stainless steel detent plate that is adjustable, including about eleven positive stops for enhanced accuracy.
For further accuracy, the product comes with a cam lock miter handle. The benefit of this aspect is that you will be getting accurate and quick miter angles for your projects.
Moreover, the base fence support has been machined, and it also comes with a precise miter system. As a result, you will be getting the durability you need and the cutting accuracy you want.
You can easily make bevel angle adjustments with this device. That is because it includes an oversized bevel, which will let you adjust without any mistakes.
To make sure you can use this saw for versatile projects, it comes with the capacity of cupping 3 5/8-inch nested crown along with a 3 ½-inch base vertically.
Pros 
Portable and improves productivity
Provides accurate and quick miter angles
Ensures durability and cutting accuracy
The bevel angle can be adjusted without mistakes
It can be used for versatile projects
Cons 
The blade spins too slow
It does not include batteries
Verdict 
This portable and durable miter saw will provide the perfect results for every project. Check prices here
3. DEWALT Miter Saw, 12-Inch, Double Bevel, Compound, XPS Cutline, 15-Amp (DWS716XPS)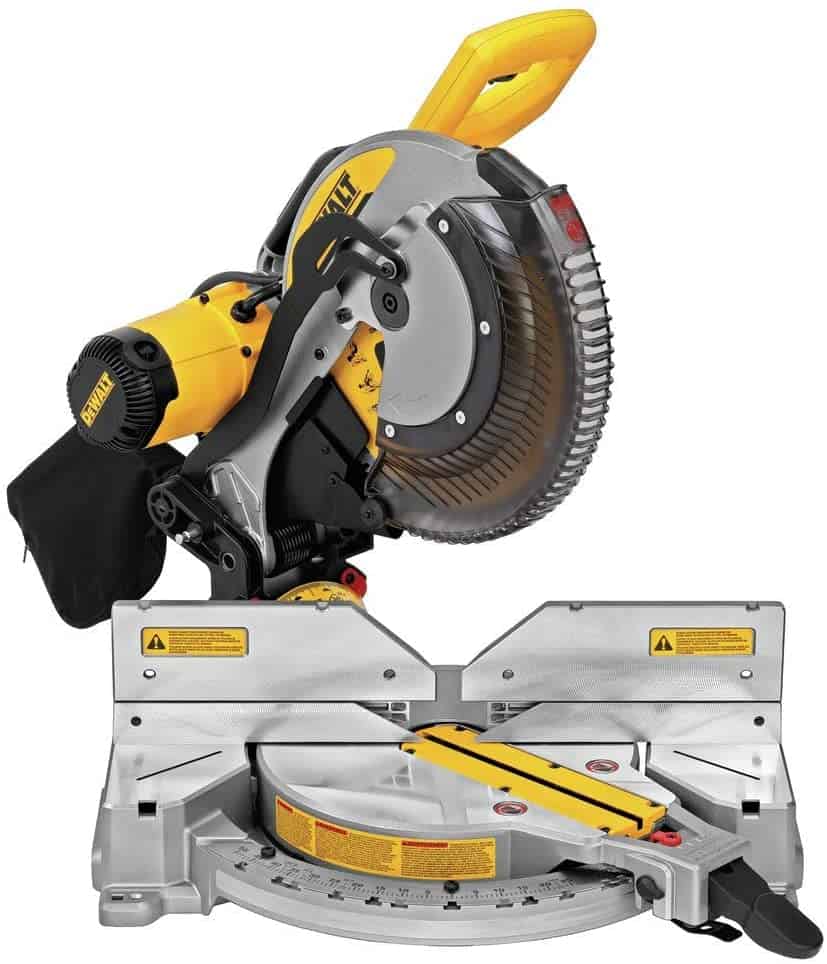 Just like any other Dewalt miter saw, this one is highly accurate. But this machine is ergonomic as well – a feature missing in many saws. You will get many more amazing benefits using this item – get to know more about them here.
This item is different from a lot of its counterparts, and you are about to know-how. For starters, it comes with a double bevel design that will let the saw bevel from 0-48 degrees to the left and right.
A few positive stops can be made along the way – at 45 degrees, 33.9 degrees, 22.5 degrees, and 0 degrees. Therefore, you can work with multiple projects using this product alone.
On the other hand, you will be getting accurate and quick angles, thanks to the cam lock miter handle included. Not to mention, the stainless steel detent plate will also provide accuracy.
The plate includes about 14 positive stops, which ensures durability as well. Moreover, the 12-inch miter saw blade would be able to cut through any material with ease.
For further versatility, the saw includes tall sliding fences. The benefit of this feature is that it supports 6-5/8-inch base molding vertically against the fence and 6-5/8-inch nested molding.
The saw includes an integrated cutline to make sure you never make a mistake while working on your project. The LED light system offers an adjustment-free cutting line indication.
Pros 
Double bevel design with positive stops
Quick angles with top-notch accuracy
Durable and cuts through any material
Ensures versatility and convenience
Includes an integrated cutline
Cons
Ineffective dust collection
Blade develops vibration
Verdict 
This miter saw will always make sure you make no mistakes while working and provide everything you need. Check prices here
4. DEWALT Miter Saw, Single Bevel, Compound, 10-Inch, 15-Amp (DWS713)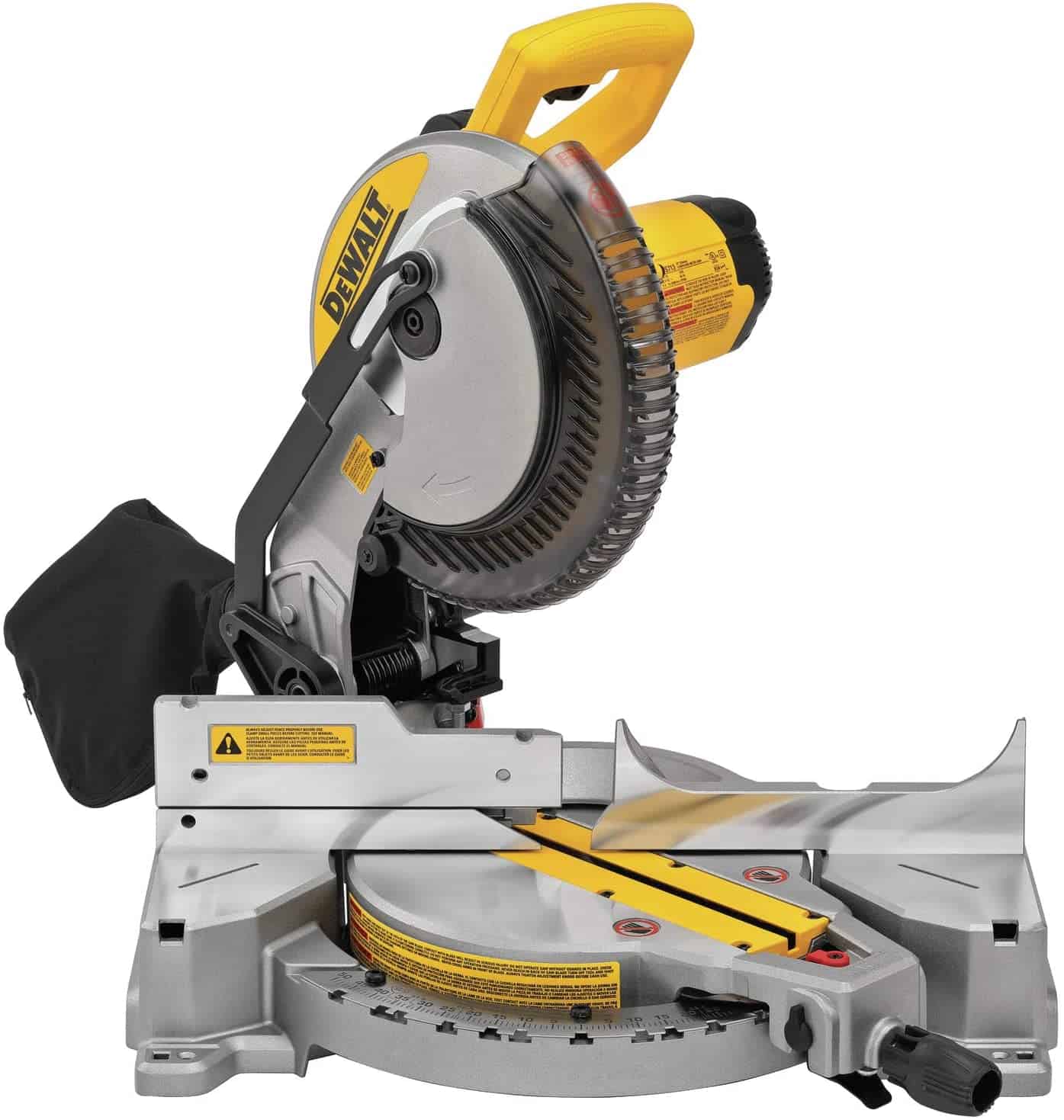 Miter saws can be dangerous to work with – given they are not exactly a walk in the park. Therefore, having integrated safety features is highly important. And here's a Dewalt miter saw that comes with those features and a lot more.
This ergonomic miter knows how to make your tasks more convenient for you. Not to mention, its 10-inch blade will be suitable for most of your projects – making it rather versatile.
The blade comes with a stainless steel detent plate that includes about 14 positive stops for further convenience. This aspect also adds more versatility to your projects.
On the other hand, this machine will not disappoint you when it comes to accuracy. For top-notch preciseness, you will be getting machined fence support along with a precise miter system.
Moreover, this machine can bevel both to the left and to the right. On the left, it can bevel from 0 degrees to 48 degrees. But on the right, it can bevel from 0-3 degrees.
What makes this saw absolutely exceptional is its cut capacities. You will be getting a 2 x 6-inch dimensional lumber cross capacity at 90 degrees and a 2 x 4 inch capacity at 45 degrees.
For better performance, the Dewalt saw comes with a tall sliding fence. The benefit of the fence is that it can support a 4-1/2-inch base vertically, which makes the machine more user-friendly for you.
Pros 
It is ergonomic with safety features
Provides versatility with the convenience
Precise miter system ensures accuracy
Includes multiple cut capacities and bevels
The tall sliding fence makes it user-friendly
Cons 
Does not cut very large materials
It needs to be adjusted before usage
Verdict 
This Dewalt miter saw offers accuracy and safety features for the best performance without any setbacks. Check prices here
5. DEWALT FLEXVOLT 120V MAX Miter Saw Kit, 12-Inch, Double Bevel, Compound, Sliding (DHS790AT2)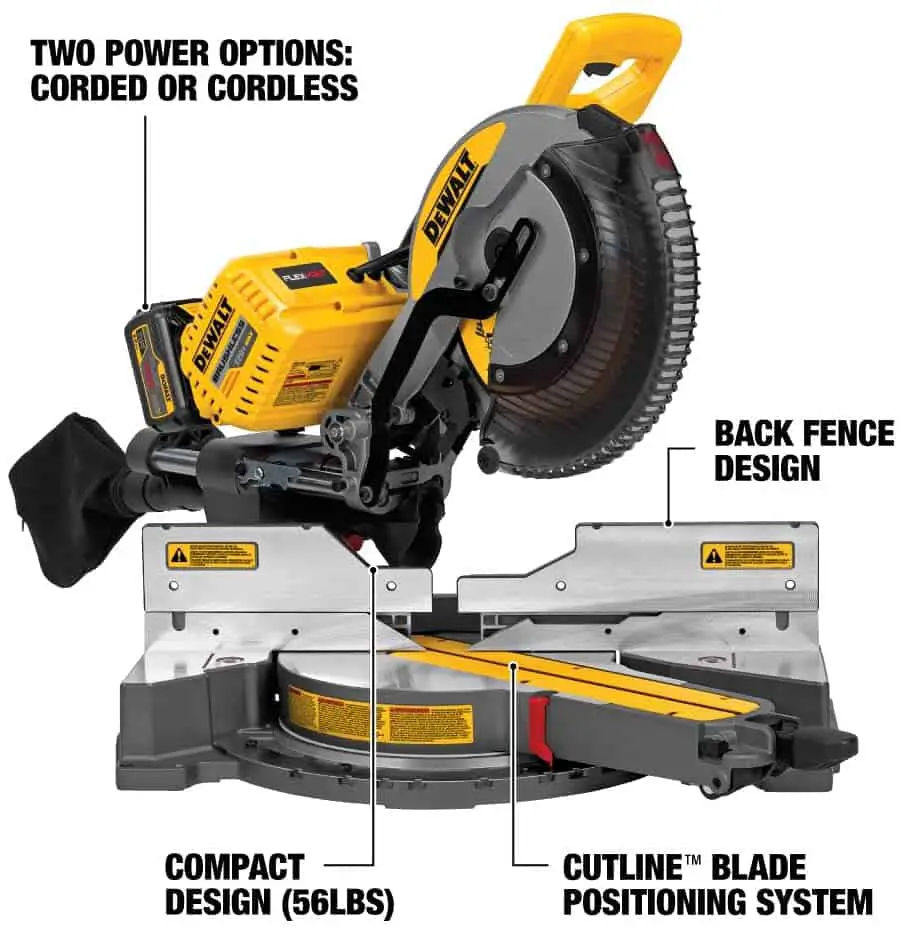 You will never regret spending money on a Dewalt product, but here is one that is worth every penny of your investment. It comes with features and benefits that will make your projects much easier for you – find out more.
The speed of a miter saw is more critical than we would like to admit. And this one comes with a speed of 3800 RPM – making it ideal for working with both rigid and light materials.
With this machine, you will be getting the power of a corded saw without compromising on portability. The battery of this item can change voltages according to the change in tools.
Speaking of portability, you can effortlessly transport this item from place to place. With 56 pounds of weight, you will find no hassle when taking it from your home to your workplace.
Moreover, this saw will make you limitless with the runtime of 289 cross cuts in 3-1/4 inch molding. You will be able to experiment with different sorts of projects without any inconvenience.
On the other hand, this saw will provide longer runtime than its counterparts as well. For instance, the powerful brushless motor has a voltage of 120V – which makes it superior to its competitors.
What makes the device even more convenient is that it comes with a cutline positioning system for the blade. Not to mention, the cutline indicator does not require any adjustments.
Pros 
It comes with the ideal speed of 3800 RPM
Battery changes voltage automatically
Can be transported easily
Powerful motor with a longer runtime
Convenient cutline positioning with an indicator
Cons 
The battery units add weight
It does not last long
Verdict 
This is a powerful and unique motor that is worth every penny spent on it.
Frequently Asked Questions
What do I use a Dewalt miter saw for? 
You can use Dewalt miter saws for various purposes. Basically, it will let you make cuts at different angles. So, you can use them for framing, molding, trimming, and such.
Can beginners use a Dewalt miter saw? 
Yes, Dewalt miter saws are very convenient to use and are very easy to learn. Therefore, even if you are a beginner, you would hardly face any hassle when using them.
What materials can I cut with a Dewalt miter saw? 
You can cut various materials using a Dewalt miter saw. However, these tools are used primarily for woods – so you can cut different types of woods using them. Occasionally, you can use them to cut metal and such.
How long do Dewalt miter saws last? 
Dewalt is known for producing long-lasting tools – and their miter saws are no different. Therefore, you can expect them to last for 5-7 years, and for more reassurance, you can go through the warranty provided.
Are Dewalt miter saws safe? 
All woodworking tools pose some danger if you are not aware of how to use them properly. Hence, before you start using the miter saw, learn some basic safety tips to avoid unnecessary accidents.
Final Words
Finding the best Dewalt miter saw is somewhat tricky because every saw produced by this brand is fantastic in its own way. So, prioritize your requirements while choosing one – and the task will become much more manageable.
I'm Joost Nusselder, the founder of Tools Doctor, content marketer, and dad. I love trying out new equipment, and together with my team I've been creating in-depth blog articles since 2016 to help loyal readers with tools & crafting tips.