I love creating free content full of tips for my readers, you. I don't accept paid sponsorships, my opinion is my own, but if you find my recommendations helpful and you end up buying something you like through one of my links, I could earn a commission at no extra cost to you.
Learn more
We often face the necessity to have a fair cut in our workpieces. Either it's perpendicular or it is a crosscut. Despite the sheer requirement we also expect the piece to be smooth and non-abrasive. According to this purpose of the job we prefer assistance that will reduce our hardships.
A fine cut in the edge of the work-pieces defines your work efficiency, working capability and also the level of work. So as a companion you need to seek the best miter saw blades available. Blades that are sturdy, blades that are thin and runs fast are our first priority.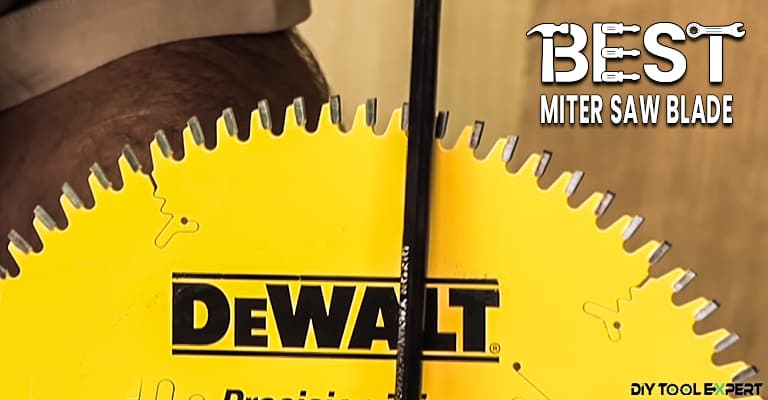 Miter Saw Blade buying guide
While choosing a blade there are a lot of things that you need to take care of. The vital among them is if the blade can take care of sturdy stuff. Else you'll end up having an uneven cut that might lead you to worse work experience. So we need to check the made-up material of the blade and its cutting components.
However, after that comes the speed count which shows how fast and even the work will be accomplished. All these can't be decided if you don't have a proper guide to follow. Here we present a suitable guide for you that will lead you to the perfect blade you dreamt of.
Blade material 
The blade used for the miter saw is basically made of hard and non-brittle elements. This includes –
Titanium Carbide
TiCo Carbide
Tungsten carbide
Steel and steel alloy etc.
The harder the component, the easier it is to have finer cuts. Also, we need to check this fact that if that material is naturally brittle or not. If it is brittle then the blade will get deteriorated and you will face difficulties.
Tooth geometry 
The design the tooth follows that also has a large impact on the grinding. There is the Triple chip grind (TCG) method, the ATG, ATAF, etc. each has a different efficiency. Some can cut wood material and some are good at cutting glass and fiber items. Some also show a remarkable ability to cut metals like aluminum and non-ferrous items.
Crosscuts and hook angle
The cross cuts allow you to have more angular cuts other than the normal perpendicular one. In this case, the hook angle also needs to be taken care of. Basically, the optimum hook angle for a successive blade is -5 degrees to 7 degrees. Consequently, the cuts tend to be more precise.
The speedier the better!
The proper RPM rate enables you to have a more speedy capability. Usually, the average RPM rate is 5000+. And according to the diameter and the arbor size, the RPM rate varies.
Thin plate and kerfs
Thin plates tend to have more torque as it is light weighted. The thinner the plate the swift it moves and you get a smooth outcome.
Read – best jigsaw blades
Best Miter Saw Blades reviewed
We picked the "cherries" for you! I hope the following blades suffice you.
1. DEWALT DW3106P5 60-Tooth Crosscutting and 32-Tooth General Purpose 10-Inch Saw Blade
Reliable features
The DEWALT basically has two different categories based on the tooth counts and the sizes of the blades. The larger the blade the more tooth is to be present. This specification has a 10-inch diameter displayed blade and 60- tooth for crosscuts and general purpose of use. This works both as a slide and compound saw blade.
The laser-cut teeth are precisely made of Tungsten carbide which makes the product more durable. The hook angle is of -5 degree and hence it gives a professional finishing. For compound cuts, it is necessary to have five angle management that the DEWALTs blade takes in cover. The RPM limit for this specification is about 4800 RPM.
The thin kerfs are basically of 0.102" and the blade plate has a thickness of 0.079". The arbor size for this category is 5/8". The teeth are designed as a wedged-shaped having more steels in the tips comprise the triple chip grind and so it easily cuts off any metallic kinds of stuff without any complications and enhances the cut accuracy. This rarely causes any burn mark after the job is done.
After the cut operation, there are fewer specks of dust so it is very convenient for the working area. Best for trim work and crown molding and can cut a good number of logs in one go. The blade body is computer-balanced creation so as a result, it gives less vibration which allows you to have more accurate outcomes.
Constraints
Despite having all these great visibilities it is often accused of not being able to ensure a better finish. Also, making quality is also questioned by a good number of workers. Moreover, a tungsten compound has natural brittleness in spite of being the hardest.
2. Concord Blades ACB1000T100HP 10-Inch 100 Teeth TCT Non-Ferrous Metal Saw Blade
 Reliable features
The Concord blades are made of hard Titanium carbide and Titanium is basically a good constructive element. The blade dimension is of 10x10x0.3 inches in length, width, and thickness.
Concord's blade has a 10-inch display with 100 cut tooth which enables successive work. The kerfs are designed to be 3.2 mm. This follows the Triple chip grind (TCP) mechanism and the hook angles for the teeth are -5 degree that allows a fine cut.
This can work on non-ferrous and plastic materials very easily. If the cutting element is distorted or oxidized then the work is abrupt. So it is to be noticed that the workpiece has to be of an even face.
This can work on non-ferrous metals like aluminum, bronze, brass, and copper. And as for plastic items and others the elements are plexus glass, PVC, acrylics, and fiberglass. This blade can be an easy fit in instead of a circular saw blade, miter saw blade, table saw blade, radial arm saw blade, etc. It has a special ability that is it has a heat expansion slot that gives more working periods without interruption. The arbor size is of 5/8" only and the blade weighs only pounds.
Constraints
The displayed RPM for this blade is 4500. But the speed is somehow not that effective which might lead to an uneven cut.
3. Freud D12100X 100 Tooth Diablo Ultra Fine Circular Saw Blade
Reliable features
Diablo circular blade is manufactured by high qualified Titanium and Cobalt carbide which basically says that it has a fine sturdy behavior. The whole blade is made very thin so it can operate without any effort. The diameter for this specification is 12 inches and they come with 100 teeth for cutting purposes.
This smart choice of blade is advanced with a laser-cut stabilizer that successfully reduces sounds and deteriorating vibration. If the blade vibrates too much then the cut is supposed to be made not good. So sideway cuts turn out to be clear and precise without distortion.
The blade moves fast and has a sharpen finishing that effortlessly pieces off the elements. The tooth is of axial shear face grind, so the shearing job is an absolute. The arbor size is 1 inch and the hook angle is 7 degrees. The kerf and blade thickness is of 0.098" and 0.071" accordingly. The maximum RPM rate is about 6000.
This has this tri-metal shock resisting brazing that defies extreme pressures. It comprises the heat expansion slot and consequently even if due to the formation of heat the blade cuts fine and clear. The blade has a perma-shield coating that prevents it from heat and any corrosive kinds of stuff or grease items. Having a double-side grind tooth geometry this simply works on softwoods, veneered plywood, hardwoods, and melamine and efficiently does the work of trimming and remodeling.
 Constraints
The cuts are often inaccurate and due to high torque creates a significant amount of sawdust.
4. Makita A-93681 10-Inch 80 Tooth Micro Polished Miter saw Blade
Reliable features
The Makita blade is averagely weighted of 1.75 pounds, dimensioned as 12×11.8×0.2 inches in length, width and height and has an RPM rate of 5870. It is a very efficient blade that finishes with a mirror finishing which means the cuts are clear and even.
The hook angle for the tooth is 5 degrees. Besides this blade follows a different kind of blade constitution that allows it to have more precise cuts in a blink. The tooth design is named as ATAF (Alternate Top and Alternate face) gives a cut of the utmost accuracy. The blade's diameter is 10" and comes with 80 teeth.
The micro-grind carbide teeth are quietly happening and they possess about 600 grit for a clear finish. The arbor is sized of 5/8". The body is hardened and hand tensioned steel saw plates for actual cuts.
This Japanese product has a thin kerf of 0.091" and the blade's thickness is of 0.071". The thinner the plate the faster it goes. The blade effectively works on woods, plywood, and hardwoods. Also, the crosscuts are accurate as well. This has a warranty of one year.
Constraints
This can't be used for a long time purpose. Wears off really in a short period of time. It doesn't have a heat expansion slot.
5. IRWIN Tools Classic Series Steel Table / Miter Circular Saw Blade
Reliable features
The IRWIN TOOLs blade is made of steel alloy and precision ground circular saw teeth for successive cuts. Here the hook angle is of 2 degrees and hence the cutting job is quite accurate and efficient.
Let's go for the blade first. It has a dimension of 12×11.4×0.1 inches in length, width, and height. The overall diameter is about 10" and has 180T surrounding the plate. The whole blade weighs almost 1.25 pounds being an alloy product.
It's a classic style full hardened blade quite a handy for woodworkers and other purpose workers. Its hardness and the alloy components, high carbon, and heavy gauge steel give longevity and also it runs for longer times. The arbor is of 5/8".
For the teeth, the kerf is almost 0.09" thick. So this denotes that the blade is thin and so shows better performances. The teeth are ideal for cutting plywood, OSB, veneer, and plastic. This can also show remarkable work efficiency in any metal-like material.
Constraints
This blade basically has no heat expansion slot and as a result, it gets heat up easily and disrupts the work, creates burn marks on wood items. Also, there have been enough negative comments from the users that the teeth are quite weak and sometimes they are knocked down. This doesn't fully assure straight cuts.
6. Hitachi 725206 Tungsten Carbide Tipped Arbor Finish Miter Saw Blade
Reliable features
The Hitachi saw blade is a tungsten carbide made workpiece and weighs only a pound.
The length is 13.4 inches and in width, it is only 11.4 inches, the height is 0.4 inches. The diameter is about 10" and the blade consists of 72 sharpen tooth. The teeth are designed as ATB (Alternate Top Bevel) that is like a mirror-like blading arrangement. As a result, the cuts are made fine and the teeth are glazed with 3 metals for a clear finish. The arbor size is of 5/8" and the slim kerfs depth is of 0.098".
For decorative molding work purposes and veneer and plywood cuts, it is quite effective. It has a lower RPM rate of 3800. It has a promising warranty of 1 year and guarantees for only 30 days.
Constraints
The Hitachi blade has a lower rate of warranty also the teeth quantity is less than other specifications. No heat expansion slot available for this blade and so problematic cut experience. Consequently, there is more sawdust around the working area.
7. A.G.E. Series – Heavy Miter 12″ X 100 4+1 1″Bore (MD12-106)
 Reliable features
This specification has a 12" cutting diameter and this is a European style cutting component. This German-made blade is manufactured with carbide items and weighs only 0.16 ounces.
The Amana tools this blade is basically formed to assist the professionals who work for cabinet remodeling and professional hobbyists. The ground precision teeth are quite handy in industrial purpose usage. Enabling laser cut expansion the blade has its own heavy quality ensured.
There are 100 T and they are set up by the 4 ATB followed 1 rake formulation and enhances the working performances. The hook angle is about -5 degrees. The sharp blade shows successful workability for woods, non-ferrous metals, and glass fiber and plastics. The cuts are so clear that it is often entitled to "Gap-free" saw work.
For having a 12" diameter the RPM rate is almost 5000+. This has a limited lifetime warranty.
Constraints
This German blade is too precisely used for professional purposes and not suitable for every job site. However, there is not that much of a negative side to being visualized. But the grinder seems a little weak.
FAQs
Here are some frequently asked questions and their answers.
Is more teeth on a saw blade better?
The number of teeth on the blade helps determine the speed, type and finish of the cut. Blades with fewer teeth cut faster, but those with more teeth create a finer finish. Gullets between the teeth remove chips from the work pieces.
How many teeth should a miter saw blade have?
80 tooth
Miter-saw blades- 80 tooth.
How do I choose a miter saw blade?
The number of teeth a blade has matters a lot because it determines how effective cutting with the blade will be. If you want a smoother finish and cleaner cuts, then you should go for a blade with many teeth. If you are cutting a thicker material, then a blade with fewer teeth will be most suitable for you.
Which saw blade makes the smoothest cut?
Blades with densely packed teeth make the smoothest cuts. Typically, these blades are limited to cutting hardwoods 1-1/2 inches thick or less. With so many teeth engaged in a cut, there is a lot of friction. In addition, the small gullets of such closely-spaced teeth eject sawdust slowly.
Are Diablo blades worth it?
The consensus is that Diablo saw blades balance great quality with excellent value, and are a good choice when replacing or upgrading the OEM blades that are often bundled with new saws. … These blades were used and tested with a Dewalt DW745 table saw, and a Makita LS1016L sliding compound miter saw.
How long do miter saw blades last?
between 12 and 120 hours
They can last between 12 and 120 hours of continuous use, depending on the quality of the blade and material they're used to cut.
Can you rip with a crosscut blade?
The Crosscut blade is used when cutting short grain, while the Ripping blade is for long grain. The Combination blade allows one to cut both crosscut and ripping using the same blade.
Can you sharpen a miter saw blade?
The more you use your miter saw, the more the blade becomes hard and blunt. You need to sharpen it so that the edges, which have most likely become rounded, will be able to cut wood quickly and easily. Sharpening a blade does not take much time. You only need 15 minutes to complete the sharpening and get back to work.
Are table saw and miter saw blades the same?
Yes, you can. However, since your miter-saw blade is thin-kerf, you might need to change the tablesaw's splitter. If the splitter is thicker than the blade, the workpiece will get caught on it and you'll be unable to feed it through.
What does the number of teeth on a saw blade mean?
Number of Teeth – How many teeth in a blade determines its cutting action. More teeth means a smoother cut, fewer teeth means that the blade removes more material.
What is the difference between a rip cut and a crosscut?
In woodworking, a rip-cut is a type of cut that severs or divides a piece of wood parallel to the grain. The other typical type of cut is a cross-cut, a cut perpendicular to the grain. Unlike cross-cutting, which shears the wood fibers, a rip saw works more like a series of chisels, lifting off small splinters of wood.
How big of a miter saw do I need?
Higher amps mean more cutting power. Blade size is an important consideration in selecting a miter saw. The most common miter saw sizes are 8, 10 and 12 inches. Keep in mind that larger diameter blades can make longer cuts.
Are Freud and Diablo the same?
Both are thin kerf blades and the tip thickness is the same. The key difference is in the way we market these blades. The Diablo line has blades intended for purposes like framing, siding, decking and general home improvement and is packaged and promoted in ways that appeal to contractors and DIYers.
Q: Do blades with bigger diameter work better?
Ans: Of course. The bigger the blade the more the tooth is there and so it works efficiently.
Q: Can miter saw blade be used as a table saw blade?
Ans: Yes, it can be used as a table saw blade.
Q: Which tooth geometry is more reliable?
Ans: This actually depends on your needs. The triple chip grinder seems more efficient. Though it is for strong elements to cut so others will do fine with this kind of tooth.
Conclusion
Reviewing all the available blades in the store is a tiresome job indeed. Again finding the best miter saw blade for purpose of need is the task of another level. As your whole work experience depends directly or indirectly on the cuts of the blades we may jump into some quick conclusions.
From those above products, we prefer the Makita blade and the diablo blade for your convenience. The Diablo so far has no negative feedback. It is a thin plated blade and has a high RPM rate and gives a smooth finishing cut. The Makita blade is a Japanese product and this ensures a mirror finishing.
Based on a high RPM rate and advanced tooth design choices the products were selected. The best one will definitely reduce your headache in finding an affordable one.
I'm Joost Nusselder, the founder of Tools Doctor, content marketer, and dad. I love trying out new equipment, and together with my team I've been creating in-depth blog articles since 2016 to help loyal readers with tools & crafting tips.