I love creating free content full of tips for my readers, you. I don't accept paid sponsorships, my opinion is my own, but if you find my recommendations helpful and you end up buying something you like through one of my links, I could earn a commission at no extra cost to you.
Learn more
Imagine hand-carving just a slice of wood? Let alone the actual work, your imagination is going to take a while. Without any doubt, the dovetail joints are appreciated for its aesthetic elegance.
But what we seek in anything is what's it going to cost you? This case its time. In this era of rich technology, why waste both our time and energy!!
Dovetail Jigs present you with just the solution. A top-notch dovetail jig is a true staple of any project including wood. These provide great strength from the way the pins and tails are shaped.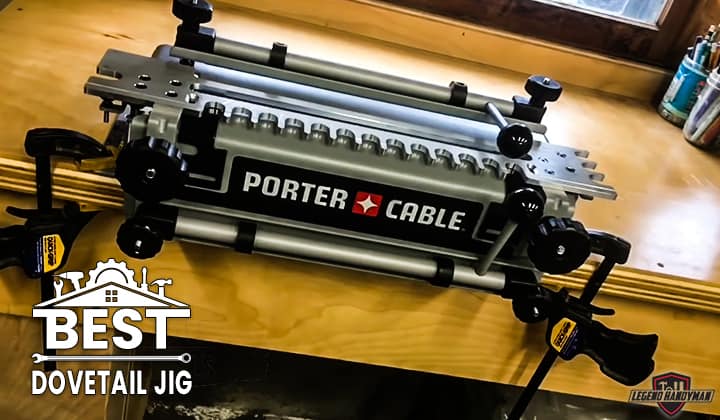 With the help of these, you will spend neither tons of energy nor time. Only a fraction will do the trick. With the help of these jigs, you can finish any wood joints on the furniture smoothly.
Whether you're making bookcases, shelves, drawers, hoods or cabinets, a dovetail jig can save you from frustration in delivering precise and secure joints. You will be able to put any kind of design on the joints. We have done our homework and this is what you will be introduced to. Cling on to your seats in a hunt for the best dovetail jig.
Best Dovetail Jigs – Few Prominent
With the numerous option in the shops, it is common for you to be confused. So we have assembled the best ones with all their details and benefits in the following. Come and take a look…
PORTER-CABLE 4216 Super Jig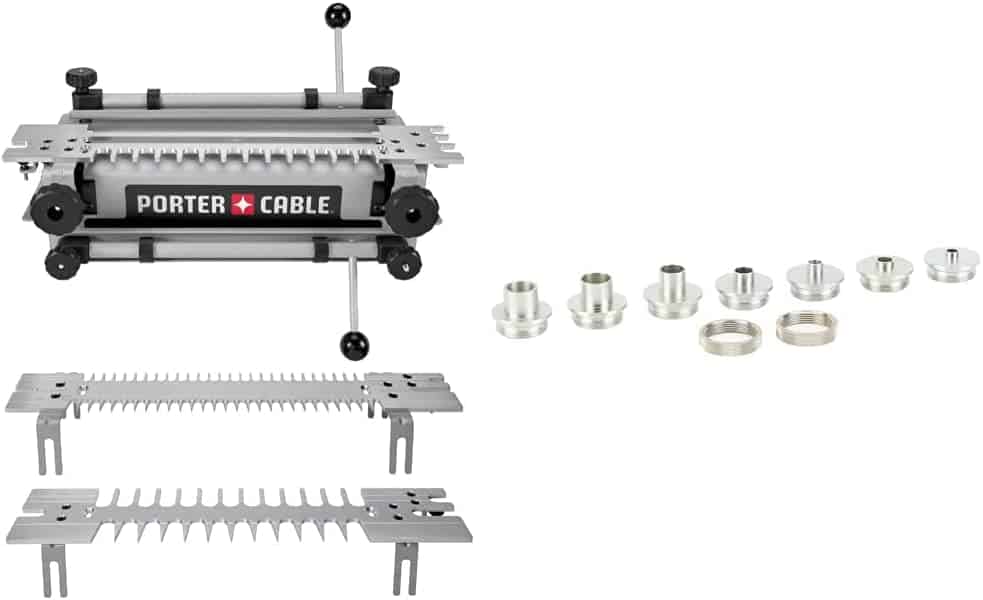 Interesting Features
With supreme carving, the PORTER-CABLE 4216 Super Jig has come up with various templates including various shapes. This jig features 4211 and 4213  templates for half-blind, exquisite dovetails that can adapt to any rotation through sliding and for through dovetails and box joints.
Moreover, this jig includes a template of 4215 for comparatively smaller half-blind dovetails and smaller box joints. For easy setup, this dovetail jig includes better alignment of template lines with better router bit depth gauges. These will allow you to smoothly and precisely determine the depth without even taking measurements. This actually saves 50% of your energy.
For your better user interface, this jig comes with templates, a wrench, 2 lock nuts, and an instruction manual. With the use of an aluminum template, this jig serves you enhanced and smooth cutting and long life.
It configures on a one-piece steel base formula that doesn't involve any assembly and also permits clipping directly to the workpiece holding equipment.
This dovetail jig includes stock within a range of 0.25-inch to 1.125-inch thick and also has heavy-duty cam-type clamps with sandpaper-backed locking bars that provide a strong grip of wood and enhanced stability. Lastly, this 12-inch deluxe dovetail jig kit includes various templates and joints adapting to numerous workpieces.
Not that interesting?
The alignment lines on this jig is a bit off for better precision. The bits are somewhat fragile for heavy work and get broken while working in the long term.
Keller Dovetail System 135-1500 Journeyman DoveTail Jig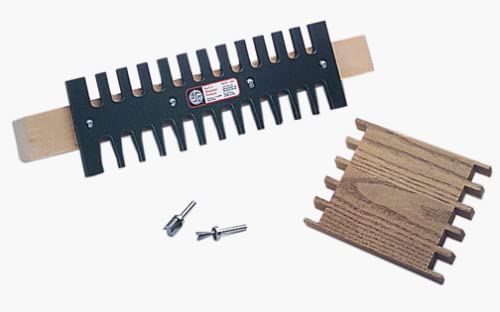 Worth a look
With unique bits and plates, the Keller Dovetail System 135-1500 Journeyman DoveTail Jig includes a 15-inch precision-milled template and long pins. With the help of this jig, you can carve wood from 1/8 inches to ¾ inches thick. Practically you can cut wood with unlimited widths and lengths. You will neither face wasted wood nor need to perform any test cuts.
The Keller dovetail jig is, in fact, a great pick for hobbyists and woodworkers who need to cut through dovetail joints in drawers, cabinets, mid-sized furniture, and smaller boxes and etc. This model manufactured in 1996, includes standard and professional bits that cut through any range of wood workpieces quite smoothly.
Moreover, smaller materials can operate with the templates upended on the router table for agility. The templates and router bits are perfectly manufactured from the industrial quality materials like a carbide tipped, engineered for a better outcome. These are used in this jig is a bit tough and it shows much durability.
This dovetail jig kit includes 1 bit of dovetail with guide bearing, one guide bearing straight bit, a set of mounting screws and an instruction manual. The highlighting point of this tool is that it gives you consistently tight dovetail joints regardless of the wood thickness or the router bit set.
Maybe not?
This dovetail jig works quite well for one half of the joint. Also, sometimes this jig performs poorly in box joint methods.
PORTER-CABLE 4212 12-Inch Deluxe Dovetail Jig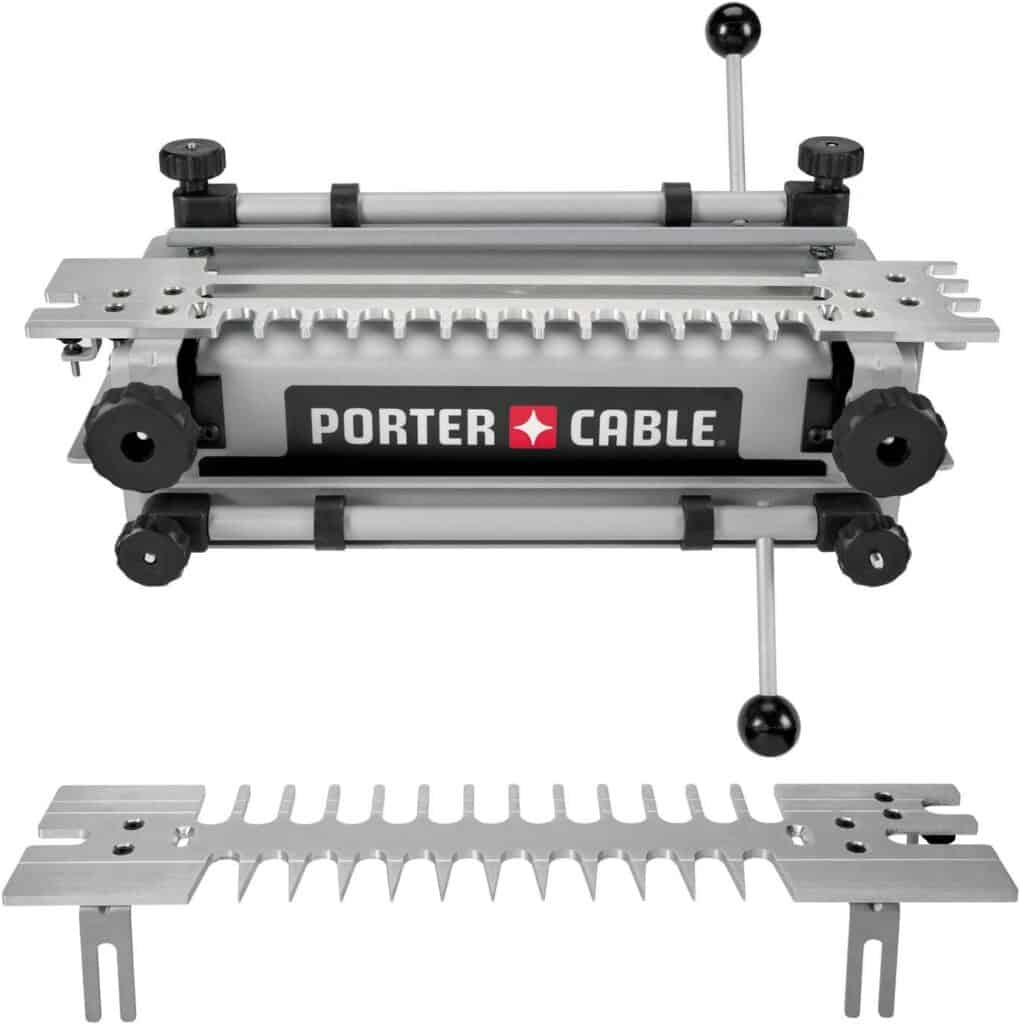 Magnificent Features
The Porter-Cable series has come up with numerous fascinating dovetails jigs. The PORTER-CABLE 4212 12-Inch Deluxe Dovetail Jig is one of them. With solid and durable construction, this dovetail jig includes a steel base. And to its addition, it includes CNC machined aluminum templates for strength and rigidity.
Aluminum serves prolonged life and great cutting accuracy. With the help of this dovetail jig you can cut through box joints, half-blind dovetails and more. Here 4213 template is in use.
Also, the router bit depth gauges of this jig allow you to quickly and precisely set the depth with no measurements involved. This model accommodates stock from ¼ to 1-1/8 inches thick. It includes a half-blind/sliding dovetail template, through dovetail, 2 router bits, 2 template guides, 2 lock nuts, and wrench.
The heavy-duty cam-type clamps with sandpaper-backed locking bars provide firm grip of wood and enhanced stability. It is an ideal jig for woodworking, furniture and cabinet making and etc. This model comes with cutting a wide variety of joinery for drawers, boxes, and furniture.
This Porter-Cable tool provides a 3year limited warranty that covers any damages or malfunctioning due to corrupt materials and also a 1year free service, for stress-free maintenance.
Still some issues
The locking nuts don't seem to tighten the workpiece as expected sometimes. Also, the template alignment comes off coming down to our expectations.
PORTER-CABLE 4210 12-Inch Dovetail Jig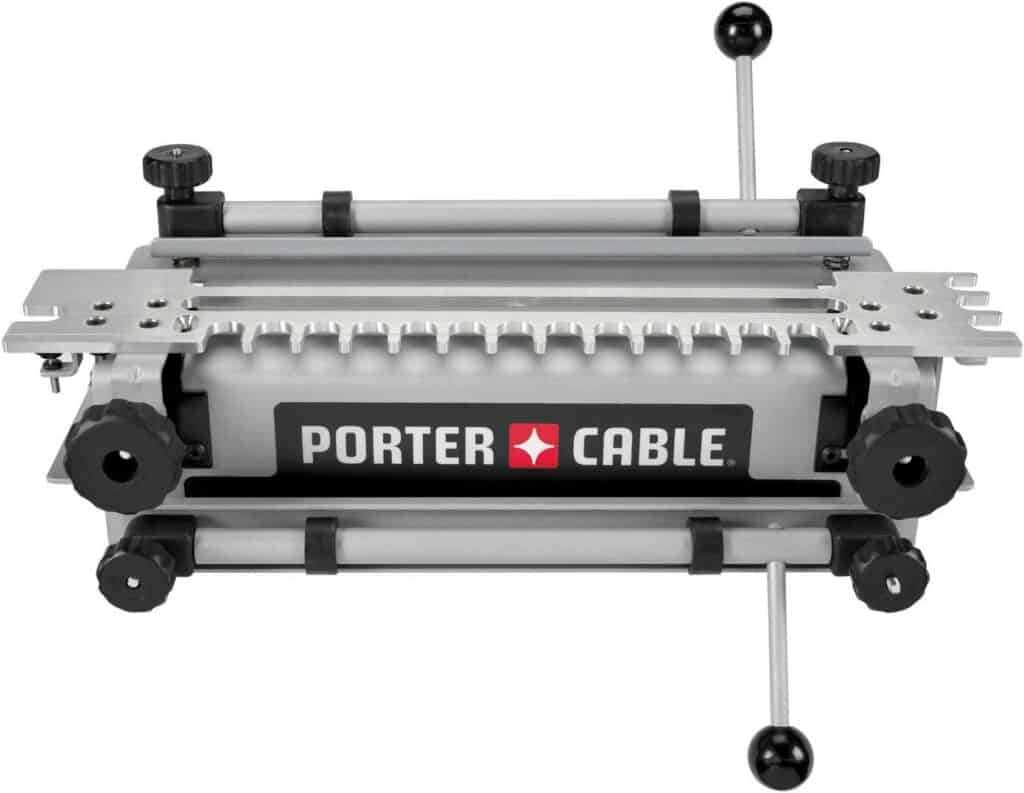 Worth a look
Among the Porter Cable series, the PORTER-CABLE 4210 12-Inch Dovetail Jig includes 4211 templates for half-blind, exquisite dovetails that can adapt to any rotation through sliding for half-blind, rabbeted half-blind and sliding dovetails. This jig includes alignment lines for templates to help in prompt setup. and router depth gauges which allow for quick and prompt setup. This heavy-duty dovetail jig includes a 12-inch max stock width.
Moreover, this jig features cam-type clamps to hold steadfast the wood. To avoid any possibility of slipping, the dovetail jig shows up with bars that lock with aid in friction by sandpaper. This versatile dovetail jig is widely and commonly used among the other ones in this series. The router depth gauges add to the flexibility and let you set the depth quickly and easily without even taking measurements.
This model includes onboard instructions to provide you with a great guide for setup and use. It is configured with a machined aluminum template that provides efficient cutting precision and prolonged durability. Aluminum adds to the strength of the dovetail jig.  This jig accommodates 1-1/8 inches thickness.
This dovetail jig includes extra templates of professional value. With the help of this jig, you can finish the joints of small to large boxes, drawers, cabinets, and other household furniture.
Take a deep look
The depth gauge of this dovetail jig is fine but is made from fragile plastic, so a certain doubt rises. Also, the heavyweight in comparison to other tools, portability is a bit of an issue.
Clarke Brothers Dovetail Marking Jig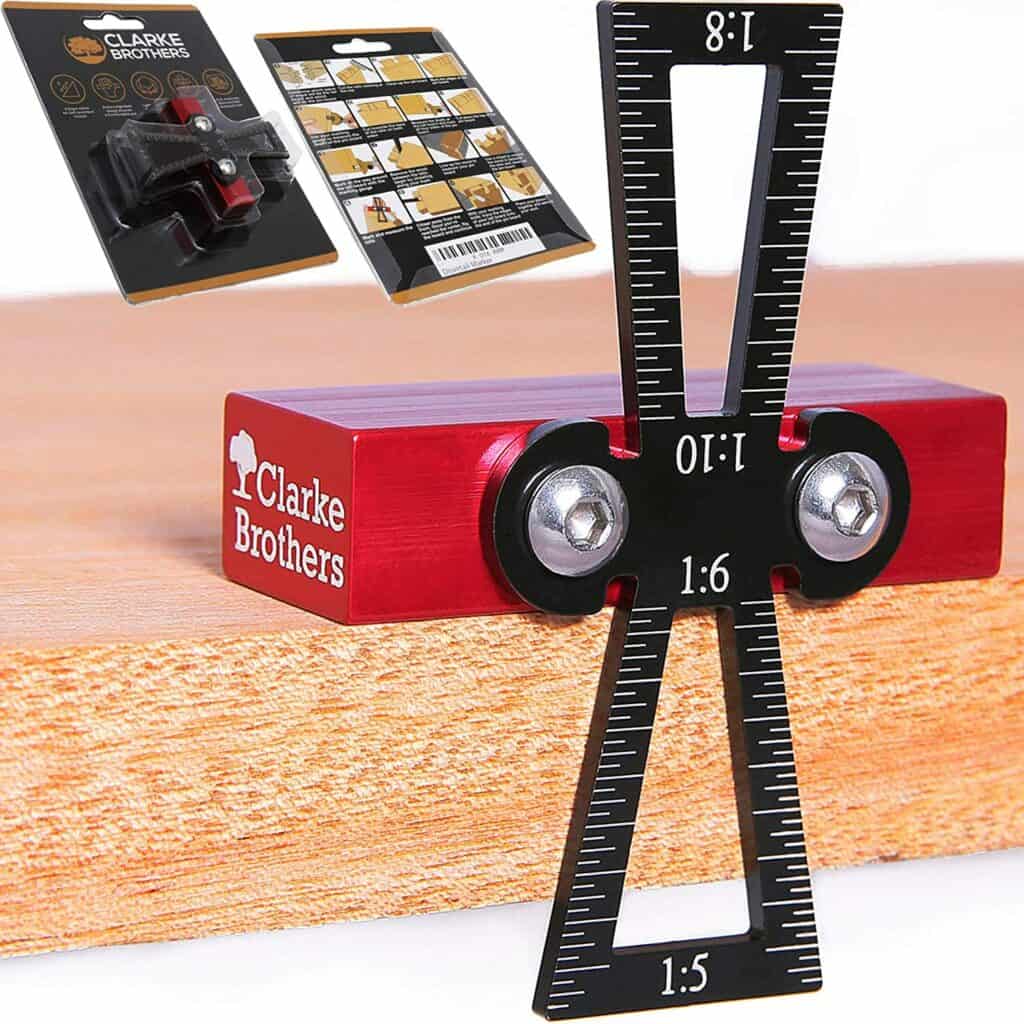 Might catch your attention
Dovetail Marking Jig is one of the most well-known dovetail jigs as its kinky features meet the need of your various woodwork. This jig consists of a large body and is user-friendly. It provides you optimum security. Moreover, the differing marker is quite useful for quick and precise dovetail layout including long legs.
There are four types of portion marks, 1:5 to 1:10. The variation comes for different needs per to working angles for mushy wood and rough wood dovetails each. Also, this jig is programmed from a tough and rigid billet of aluminum and has a black or even red anodized aluminum Dovetail marker which is lightweight and consistent.
This jig is configured with a standard measurement scale that has been carved onto each of the portions that are very useful and aids when moving out. The most admirable feature of this model is its use. It is very agile and comfortable to operate. This jig has precisely marked and well-identified timber for all kinds of wood with both the slopes. The labels clarify its slopes.
It makes laying out the angles simple and precise. These are very convenient to use and are ideal for beginners and expert woodworkers. With the dimension of 67*50*23 mm this jig has a weight of 2.1oz and comes in colors.
Might push you away
Even though it has magnificent features, yet its durability grows a certain doubt. This jig wears down after a long time use.
Rockler Complete Dovetail Jig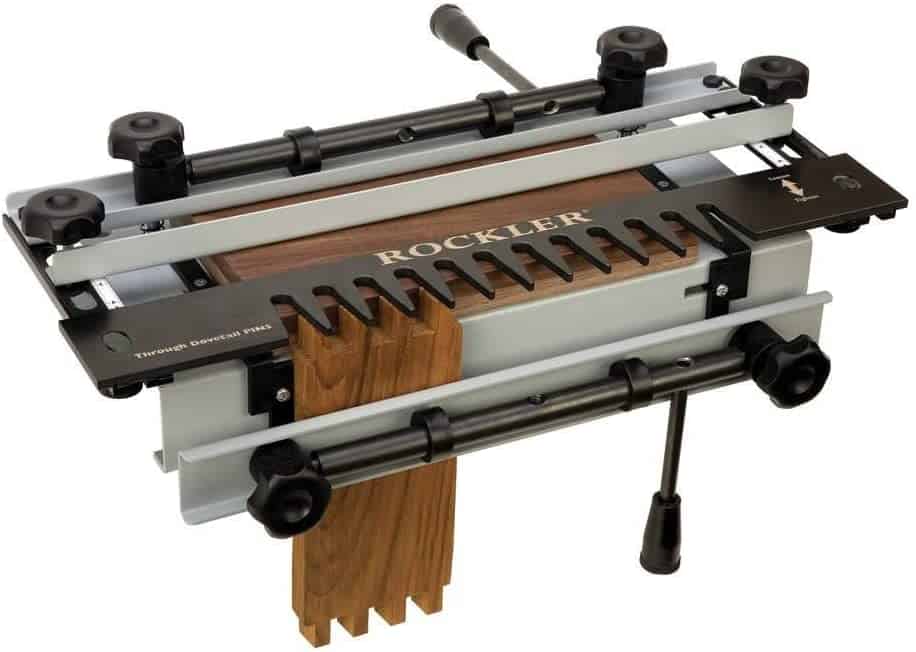 Take a look
Rockler Complete Dovetail Jig is an admirable model in this criterion as it contains a mixture of best components. This jig is 11 inches in width from ½ to 1/3/4 inches thick and full through dovetails from 3/8 inches to ¾ inches thick while cutting through half-blind or through joints. Also, it is basically focused on a narrow set of joint cutting scenarios to make the setup simple and quick.
This improved dovetail jig accommodates stock up to 11 inches wide. Moreover, the 8mm diameter bits are 25% larger than the typical ones with an exception in reducing chatter and fit all existing Rockler dovetail jigs. With a lightweight of only 24 pounds, it includes preset template and fence locations which are marked for standard thickness stock.
This dovetail jig also includes clamping bars which are immune to abrasion or corrosion of any kind. The clamping surface prevents slippage. Lastly, it includes depth gauge on the templates for setting dovetail bit height for half-blind joints.
Take a deeper look
This dovetail jig even with its magnificent features contains a small nagging issue like requiring a router with ½ inch collet and it also requires a router base plate that accepts template guide bushings. Otherwise, it is a prudent pick.
Leigh Super Dovetail Jig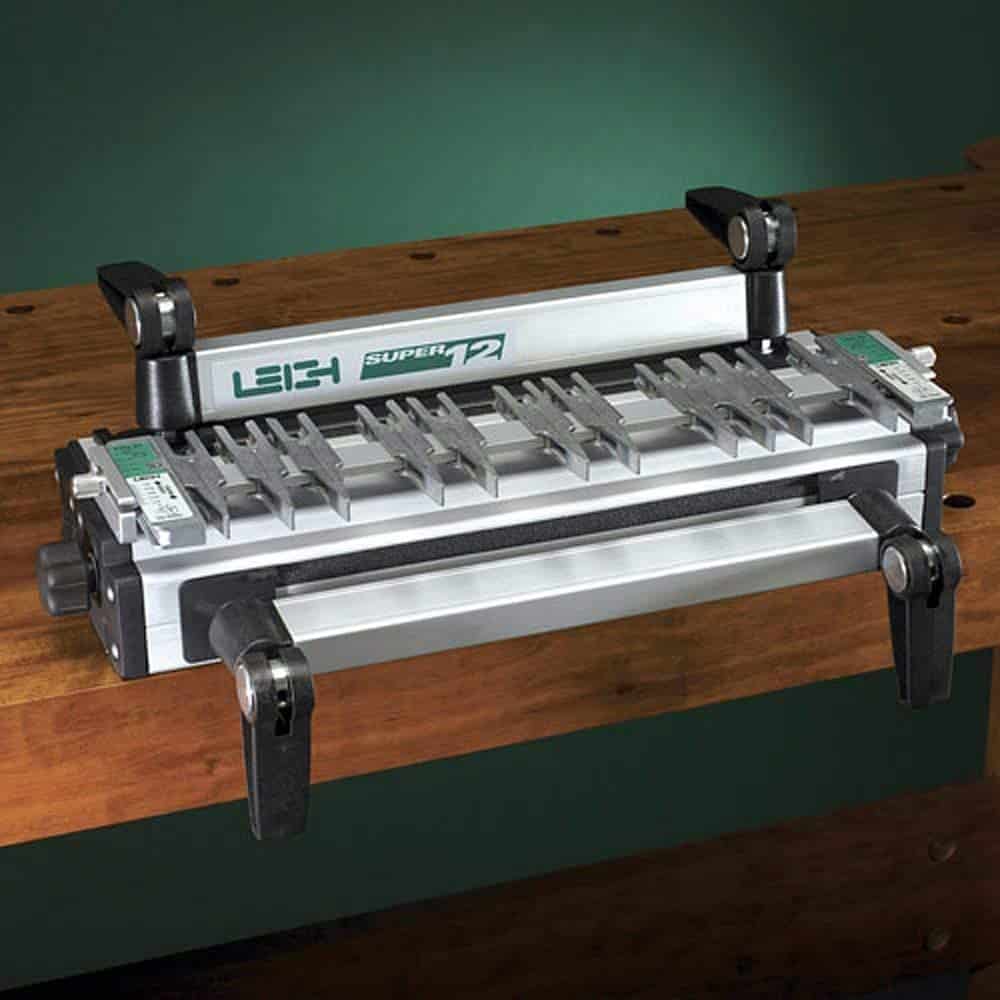 What that draws you
With a smaller and portable size, the Leigh Super 12 in Dovetail Jig has come up with 3 router bits for better performance. Also, it operates on hard boards up to 12 inches. This jig includes numerous rotating 1piece bits that add to your working flexibility. This 12-inch dovetail jig offers uniqueness and accurate cuts. It uses variable templates. The half-blind templates are freely set aside and also standard.
The adjustable 1 piece fingers are positioned for all kinds of joint pattern ensuring you a semi cut in at every end of the point adapting to all board width. It includes variation from 1/2″-8 degree dovetail bit to 1/2″ tails. It also includes a dovetail fence that slides through the work-piece, half-blind bridge and etc.
The cross-cut fence is used as a glider on the dovetail template. The finger assembly allows you to create 5/16 inch and 5/8 inch joints further widening your scope. This dovetail jig includes aluminum clamp bars for improved strength and cam action to keep your wood tied to the jig as tight as possible.
The bits in this dovetail jig help you make half-blind dovetails quickly and very easily. This dovetail jig uses Leigh e-Brush for maximum precision.
What that pushes you away
This dovetail jig even with its brilliant features holds a certain issue in hand like the e-7 brushes failing after a long time use.
What is Dovetail Jig used for? 
We are always dealing with big projects that include wood. And most of the time it requires a certain shaping or framing. These carvings were done with the dovetail joints. And it has served us well for so long. But with the advancement of technology, we have made this task easier and smooth. Thus came the Dovetail Jigs.
Firstly, the Dovetail Joints have been around since the time of the Egyptians. And without any doubt, it's the most recognized joint in wood-working. It relies on the holding power of an interlocking joint. Yet with more efficiency, the era of Dovetail Jigs has come to our doorstep.
A dovetail jig is a tool that makes the joining process of any two compounds or materials not only quick but also smooth and easy. It relies on a template that guides a router or and a set of bits across your work surface. The template works like a stencil for the router.
You just follow the template moving the router along with its cutting edges and let it cut your workpiece into your desired shape. So with the help of dovetail jigs, you can carve your wood to create an intricate joint, build boxes, drawers, and cabinets, etc anything that needs joining in order to complete a compact item.
Basically, it is used for better performance like repeatability, precision, stability, and interchangeability in the manufacturing of products. So that is what a dovetail jig is used for. 
Let's Get Started with the Best Dovetail Jig
It is evident to be overwhelmed while buying something from a shop. The numerous options confuse you and either you buy something not suitable or just go home. Don't worry, we will send you with your hands full. All you have to do at first is to just get acquainted with the fundamental components a dovetail jig should have.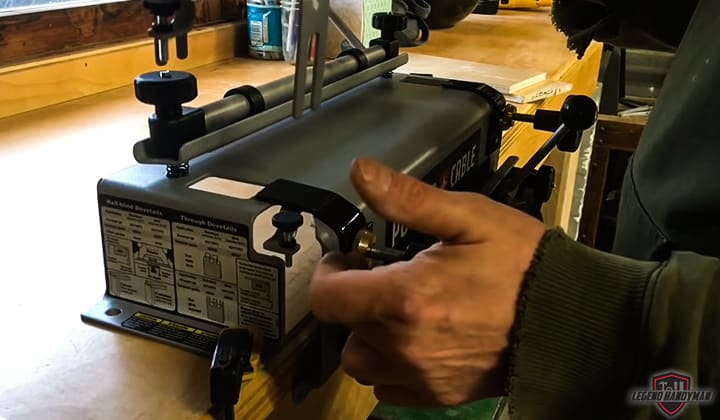 Capacity
You should make sure that the dovetail jig you will be buying is big to meddle with all sorts of workpieces you will be working with. You are to handle big projects often. So it is wise to pick one that can adapt to most work-pieces allowing you the most convenience.
Weight and Transportability
In the case of dovetail jigs, weight and portability go in hand in hand. Lightweight dovetail jigs will be easy to clip to the work table and also easy to carry because of the weight. Aluminum is generally used for better stability and long life, on the other hand, steel can be heavy to work with but also serves you great strength.
There's no definite answer to your doubt, because it depends on what workpiece you are working with and moreover, your preference.
Locking Nuts
The locking nuts in your dovetail jig is a prime key to the output. It holds the furniture and the wood that you will be working on. If it is not strong and rigid then the wood joints will come off. So locking nuts add to the stability of the jig.
Be advised to check if the locking nuts are made of steel or metal, or aluminum. Also, higher rigidity may scar the wood workpiece. So settle for what you want according to your workpiece.
Accuracy
Shaking hands or shaking instruments can destroy a good build-up. And an accurate carving can create a beautiful finish on the wood. So many things come into consideration while ensuring optimum accuracy. So, to pursue accuracy you should look at models with higher accuracy.
Router Bits
Router bits are designed to make and shape exit doors, cabinet doors & glass doors as well as creating the woodwork surrounding the door. These bits are used to make and shape doors or the design you want to implement on the wood. These bits create two bead-shaped contours in the wood piece. It is often used on the edges of shelving or narrow molding strips for better shaping.
There are 3 types of router bits.
1) Carbide-Tipped Bits
2) Hardened Steel (HSS) Bits
3)Tungsten Bits
Half-Blind
The half-blind dovetail is used when you do not want the end grain visible from the front of the joint. It basically finishes up your joint smoothly. The tails fit into mortises in the ends of the board in the front with their ends latent. These jigs are used to fasten drawer fronts to drawer sides.
Your dovetail jig should have a half-blind template plate because it is demanded any kind of wood-working.
Depth gauge
The built-in Depth Gauge of a dovetail jig is used to set both the depth of the cutter during router setup as well as to control the length of the pins during cutting your workpiece. The depth helps you to cut through a certain point in the surface of the wood and helps you to put pins anywhere you want in that depth. Basically, it provides you a larger surface.
Router Bit Depth Gauge estimates a bit prognosis in 1000 of 1 inch up to .875″, this is adequate for the amusing and sliding tasks. The depth gauge basically hands you the ease and comfort in cutting into deep and far areas for spotty designs.
Templates
The templates are what your wood will be cut to. It is the shape and size and design that you will be giving to your workpiece. So the stronger and distinctive your templates are, the more unique and beautiful your carving will be. The layout of your wood depends on the templates in your dovetail jig. Two kinds of templates: Fixed and Variable.
Fixed Template: Just one aluminum sheet is utilized in this case to yield this kind of orthodox template. You would need the least settling up. It includes strong and rigid joints.
Variable Template: The templates will be able to give you sliding capability as well as freedom of space. You can easily make creative designs on the wood joints.
CNC machined
CNC machined means Computer numerical control. You must be wondering what does a computer has to do here? With advanced technology, a programmable tool will always serve you the optimum output. With a CNC machined dovetail jig, it is easy to carve with a click. You can set the cycles, stopping time, starting time, path, rpm, offsets, limits, and etc.
FAQs
Q: What is a full-blind dovetail?
Ans: The grain is hidden on both sides making this strong joint ideal. Small cabinets and drawers feature this type of joint mostly.
Q: Do we need to use a router table with the dovetail jigs?
Ans: Not certainly. It depends on the model. Some are used free-hand, some with the gliding over the table.
Q: How much thick a dovetail jig can cut?
Ans: It can cut from 1/2″ to 11⁄8″ thick and up to 11″ wide.
Q: What should be the size of the collet in Rockler Complete Dovetail Jig?
Ans: The Rockler Complete Dovetail Jig requires a ½ inch collet. Others may vary depending on the model.
Conclusion
We have come to the end of our briefing. We have introduced you to the best dovetail jigs that meet your demands in every criterion. By now, we hope you have had a firm idea of which one you should buy. But if you are still stuck on what suits you the most, let us recommend you a few from our perspective.
If you are looking for light-weight, then the Rockler Complete Dovetail Jig would just suffice. You can set it up easily. On the other hand, if you are looking for something flexible then you may opt for the Keller Dovetail System 135-1500 Journeyman DoveTail Jig. As it can cut in any range of width and length and it is carbide tipped. It is durable and strong and abrasion-resistant.
So, what do you think? Which one to pick? Review our briefing once more if you need to or pick the one that suits you right now before it's too late. And as always, we hope you have a safe and stunning carving finish on your wood and happy shopping!
I'm Joost Nusselder, the founder of Tools Doctor, content marketer, and dad. I love trying out new equipment, and together with my team I've been creating in-depth blog articles since 2016 to help loyal readers with tools & crafting tips.