I love creating free content full of tips for my readers, you. I don't accept paid sponsorships, my opinion is my own, but if you find my recommendations helpful and you end up buying something you like through one of my links, I could earn a commission at no extra cost to you.
Learn more
Dovetail joints are the strongest of joints when it comes to joining planks in perpendicular. I made that state by ruling out the insane Japanese joints. There are indeed a few techniques that beat dovetail joints in strength and obviously so in complexity. Dovetail joints are optimum choice considering ease and strength.
For a dovetail joint to be reliable and durable, your cuts have to be precise. And that can never be obtained from a DIY dovetail marker. Some of the best dovetail markers are perfectly sized to hold. Most of these come with a lot of marking signifying measurements that'll be a lot helpful to you.
Dovetail Marker buying guide
You need to do your homework before appearing for the test. We've done that on dovetail markers and are here to share the key aspects you should be looking to choose a top-notch one.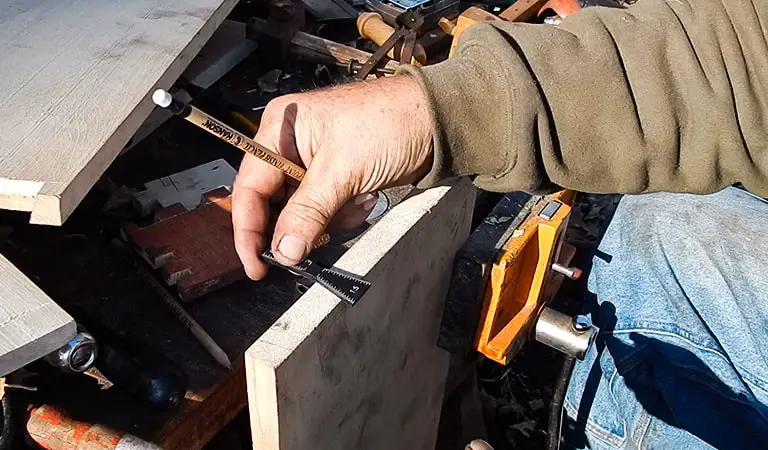 Build Quality
Some manufacturers use solid aluminum, some use brass & then there is stainless steel. Every material here is highly durable & they feel excellent while working.
But make sure the build is solid one-piece construction. Don't even think about those markers that are glued together. A CNC machined solid billet of aluminum, steel, or brass would be a fine selection.
Slope Ratios
Your main objective to buy a dovetail marker is to get the slope ratios right for cutting suitable dovetail joints. Slope ratios indicate in what angles the dovetail joints will be cut. Let's dig deep with some figures and facts.
Slope Ratio Vs Angle in Degrees
To get the most accurate result with the projects that include dovetail joints, you need to mark the angles correctly. There are commonly 4 types of slope proportions that are used. 1:5 slope ratio is equivalent to 11.31 degrees. 1:6 in equivalent to 9.46 degrees. 1:8 & 1:10 slope ratios are equivalent to 7.13 & 5.74 degrees respectively.
It doesn't matter what slope you are going for, but you have to make sure that dovetail joints are equally marked so that they fit together. Some dovetail markers offer all 4 kinds of proportions, so go for them if you would be working with various slopes.
Measurement Scale
There should be a measurement scale on both sides of the marker. This feature comes in very handy for woodworkers and saves time as well. It allows them to mark the angles with a proper length. Thus, cutting through the lines would be perfect as both of them would be the same.
The slope ratios & measurement scale should be photo-etched on both sides so that you can work precisely with one look.
Block Size
The block is the part where you hold to place the slope template on the wood. It is important to have a wide block so that you can hold it easily when marking the slopes. If you are to make a large number of dovetail cuts, you shouldn't go for tinier ones. Some even come with holes in them to attach them to the jig.
Warranty
A money-back warranty on the item comes in very handy in case you receive a defective tool. Better warranty indicates the durability of the marker.
Best Dovetail Markers reviewed
Here we have assembled a list of five top dovetail markers in the market with their pros & cons to help you identify everything you need to know.
1. Newkiton Dovetail Marker
Top Features
Newkiton Dovetail marker is a fine tool for woodworkers to produce repeated dovetails in a traditional manner. It is made from a solid billet of aluminum with a one-piece cutting. Though it has a lightweight property, it is very much durable & easy to work with.
It is CNC machined to mark with precision & accuracy. The graduated imperial measurement scale is chemically engraved on both sides. This small marker has an overall weight of 1.12 ounces but due to the appearance, it fits nicely to your hand.
Hardwood & softwoods can be marked effortlessly using the Newkiton dovetail market. There are 4 kinds of proportions 1:5, 1:6, 1:8 & 1:10 can be marked on the wood. Two angles can be drawn from the inside & two from the outside which is a smart feature as these 4 proportions meet woodworker's everyday needs.
This is a great tool for both beginners & experienced people who are in woodworking. There is a 30-day money-back guarantee on the marker too.  Cutting woodworks with accuracy couldn't get any easier.
Downsides
no instructions with the tool
2. Clarke Brothers Dovetail Marker
Top Features
Without the proper tool, cutting dovetail joints is not a piece of cake for every woodcutter. Clarke Brothers have come up with this unique marker to help produce the perfect dovetail joints. This marker is constructed using a solid billet of aluminum, making it lightweight but very much durable.
The body of the marker has a black & red anodized finish, making its appearance noticeable to the naked eye. Gradual imperial measurements are engraved on both sides of the body so that you can use it easily.
The overall weight of the marker is 2.4 ounces. The body of the marker is large & ergonomic so that you can easily use it against the wood without the fear of slipping. The long legs are present to give a good hold in your hands for precise measurements.
On top of everything, it has 4 types of proportions that you can work with.  It features 1:5, 1:6, 1:8, and 1:10 slopes on both hardwood & softwood. Whether you are a professional or an amateur, cutting dovetail joints precisely couldn't get easier.
Downsides
It doesn't mention any money-back guarantee for any defects.
3. Taytools Dovetail Marker
Top Features
This handy little tool is presented by Taytools for improved accuracy on dovetail joints. The whole marker has a CNC machined solid brass construction that makes it indestructible. You won't need to worry about any issues due to minor falls.
This quality marker has a golden color appearance making it look appealing. The slope markings that are engraved on both sides are photo-etched. Due to the construction with brass, it weighs 3.2 ounces.
The marker can accurately markup two types of proportions. For softwoods, it can accurately cut 1:5 slope. On the other hand, for hardwoods, it has accurate markup for 1:8 slope.
Taytools will mark dovetails in stock up to 1 inch thick for both slopes. Woodworkers jobs couldn't get any easier with this handy tool. You will be able to cut dovetails with better precision & ease with Taytools.
Downsides
It is only capable of cutting 2 types of proportions.
There are no annotations on both sides of the tool.
4. ATLIN Dovetail Marker
Top Features
If you are looking for a tool to help you draw dovetail joins onto boards, then the ATLIN dovetail marker is the perfect buddy to help you out. The dovetail jig has a CNC machined out of black anodized aluminum for durable build quality. They are designed to give you better precision.
The measurement marks that are onto the template are laser etched. White measurement lines on a black surface are easily noticed. It has an overall weight of 1.6 ounces, making it very lightweight.
Each leg of the dovetail guide has a length of 1 inch. The narrow leg has a slope ratio of 1:8 for hardwood, that allows you to draw 7.13 degrees. On the other hand, the wider leg has a slope ratio of 1:5 (11.31 degrees) for softwood.
The markers are all checked through quality control for any defects. ATLAS does not compromise on the quality of their product. They back their products with a 1-year warranty and a money-back guarantee for ultimate customer convenience.
Downsides
1:6 & 1:10 slope ratios are not possible with this marker.
No Instruction manual is provided
5. Eagle America 415-9307 Dovetail Marker
Top Features
Cutting dovetails by hand can become an unsettling job because your hands are not completely precise. That's why Eagle America has come up with its dovetail marker to help you out. It has CNC machined solid aluminum construction with a lightweight, yet durable feature.
There are gradual imperial measurements on both sides of the template so that you can use it with precision & ease. White under the black appearance makes it look appealing too. The overall weight of the marker is 1.28 ounces.
Eagle America can mark up to 1-inch-long with two different types of slope ratios. 1:5 slope ratio is for softwoods & 1:8 slope ratio is for hardwood. There is also a small hole that allows the marker to be mounted on a rod attached in a jig. That way you can easily slide the marker along with the markup for multiple markings.
Laying out angles couldn't have been easier due to this amazing tool from Eagle America.
Downsides
1:6 & 1:10 angles can't be drawn from this.
Oversized dovetails are not possible to markup with this one.
Instruction is missing with the tool.
FAQ
Here are some frequently asked questions and their answers.
What Is the Best Dovetail Ratio?
1:8
With regard to what to use, a common recommendation is 1:8 for hardwoods and 1:6 for softwoods. These recommendations are based on some arguments related to strength. However, people use a lot of different ratios depending on application and aesthetics.
What Saw to Use for Dovetails?
Don't buy a 'dovetail saw' for your dovetails. They're too small. Instead go with a small tenon or carcase saw. These will still cut your dead small joints but will be much, much more versatile.
What Is the Best Dovetail Saw?
If you're looking for a tool that can take your woodworking to the next level, then the Suizan Dovetail Handsaw is a good option. It is designed as a pull saw, so the teeth are structured to create a precise cut when you retract the saw.
What Is the Most Common Dovetail Angle?
Lower (7° to 9°) angles are often advised for joining hardwoods, while higher angles (10° to 14°) are recommended for softwoods and even higher angles (14° to 18°) for half-blind dovetails.
How Do You Calculate Dovetail Joints?
Mark out the two 'half-pins' at the edges on the first piece of wood. The 'pins' are the bits of wood between the tails so there are two half-pins; one each side. The general rule is that they measure half the thickness of timber plus around a mm, so the two dots on the shoulder line are 7mm in from each edge.
What Is the Difference Between a Dovetail Saw and a Tenon Saw?
A well-sharpened well-set dovetail saw is used as much for other cutting alongside its larger cousin the tenon saw, which also is not a dedicated use saw either. Most tenon saws are sharpened for aggressive rip cut, which is exactly what you need for cutting the cheeks of tenons. … Nothing wrong with the saw.
What Is a Gentleman's Saw?
The "Gentleman's Saw" is a western type back saw. It was generally of a smaller size and features a simple turned handle. It cuts on the push stroke and has a brass spine to keep the blade straight and stiff. … The Gent's saw also excels at dovetail cutting for the same reasons.
How Do You Cut a Dovetail by Hand?
Q: What angles should ideally be used for dovetail markings?
Ans: There is no ideal rule for what type of slope you should be using for your dovetail. Most woodworkers use 1:8 for hardwood & 1:6 for softwood. But the main thing to remember is what proportion you are comfortable with.
Q: What is the use of a measurement scale?
Ans: The length between each mark is usually 1 mm. So you can easily identify the length of where you should stop marking. If you have measurement markings on both sides, then you can see whether you have marked the same level as the previous markings.
Q: Some markers have holes on the block. What are they intended for?
Ans: These holes are intended to hold the marker on the board. Some even use them to adapt a small magnet to the jig so that it can guide the saw in the right direction of the markings.
Conclusion
Whether you are making a cabinet or shelving you need to make proper joints, otherwise, your project is bound to become a disaster. Cutting out the perfect dovetail can become a mess pretty easily with one marking going wrong. The perfect dovetail marker helps you in marking every stroke in the right angles.
If you are looking for a more versatile piece of tool to work with, then the Newkiton or the Clarke brothers dovetail marker would serve you great. Because they both have 4 kinds of proportions that you can work with. But if you are looking for a marker that has a compact photo-etched build & standard slopes, then the Taytools dovetail marker is a fine tool.
As a woodworker, you need to be prepared with the perfect tools to help you join pieces of stock. Build quality, proper slopes & measurement scales are the important criteria you should be aiming for to get the best dovetail marker in the market.
I'm Joost Nusselder, the founder of Tools Doctor, content marketer, and dad. I love trying out new equipment, and together with my team I've been creating in-depth blog articles since 2016 to help loyal readers with tools & crafting tips.