I love creating free content full of tips for my readers, you. I don't accept paid sponsorships, my opinion is my own, but if you find my recommendations helpful and you end up buying something you like through one of my links, I could earn a commission at no extra cost to you.
Learn more
A good drill makes an extremely valuable possession for both the professionals and the do-it-yourselfers. But working with a drill bit isn't much fun considering the hard work it demands.
Now, as tricky as it already is, the absence of the right bit makes it even more difficult. That's why you need a strong and sharp bit for your work, especially if it involves concrete.
We, therefore, have come up with the best drill bits for concrete out there to help you understand what great bits are about.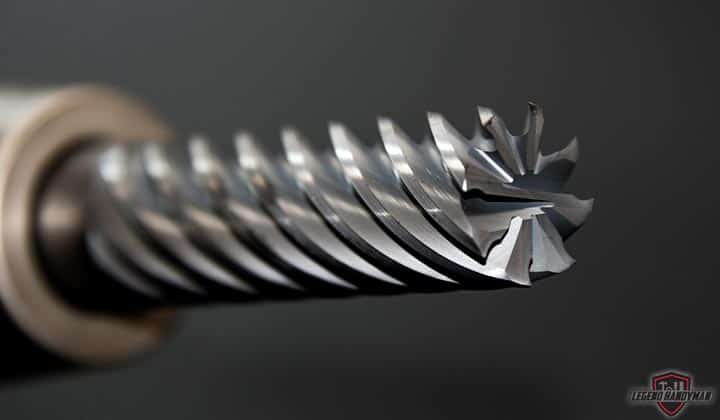 Once you have finished reading this article, you can easily find your ideal option.
Basics of Drill Bits for Concrete
Concrete is one of the hardest materials you will ever come to know. There are several components used in making it. If you have a regular drill bit, you will have a hard time drilling concrete.
So, you need something with more strength and roughness. And a masonry drill bit happens to be just the type of bit you want.
This type of drill bit has a steel body along with a carbide tip. Thus, it becomes durable and strong as needed to drill concrete.
And when it comes to drilling, getting a hammer drill will be the way to go for working on concrete.
Best Drill Bits for Concrete Review
By looking at the features, convenience, and performance, we concluded that these are among the finest of drill bits for reinforced concrete. Check them out.
DEWALT DW5207 7-Piece Premium Percussion Masonry Drill Bit Set
Going through some tough time in the work with the ridiculously hard concrete? Well, why not read the drill bits for concrete review and see if this tool can be of any help?
Dewalt is a renowned brand that knows how to produce stuff. This time, it has come up with a tool that will make its way through the hardest of materials. It will see the job done fast and do it in the cleanest of manners. This is due to the fluted design it arrives with that leaves no mess behind.
You don't have to depend solely on the brand's decade worth of reputation. There are so many cool things about it that will make you go for the tool in a heartbeat. For instance, Carbide, being the sturdiest material, is used as tips in this tool.
The two cutter tip it comes with will offer you the carbide surface you have been looking for all along. With this in place, you don't need me to tell you how durable the bit becomes. Be it any regular drill, these bits will get along with it for their easy compatibility.
Another cool thing about this unit is that it doesn't allow any bit slipping. That's why; it will be the best option for cordless units of drills. You will find them durable as well as highly functional. However, I would have liked it better if it brought along a storage case.
Pros
The carbide tips ensure durability and the drilling is very clean with the fluted design. It has an easy compatibility with regular drills.
Cons
I wish there were a storage case.
QWORK 5 Pcs Set (6, 6, 8, 10, 12mm) Multi-Material Drill Bit Set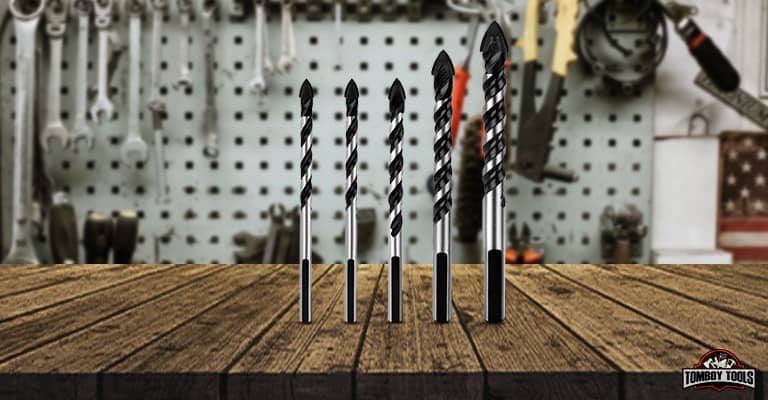 If you want to know how a tool with many different sizes works like, you got see this product we are going to talk about. These sizes that it comes with are useful in getting many tricky jobs done. Be it bricks, wood, plastic, or concrete, this guy will get through them all.
You won't have a chance to complain about accuracy if you lay your hands on it for drilling. What's cool about it is that it can deal with multiple types of materials at the same time. And in terms of durability, you will be content knowing there's not going to be another purchase soon.
Yeah, this tool has shown some classy performance already as reported by a few privileged users. They were quite happy with its quality. I mean, who wouldn't appreciate a concrete drill bit that comes with a tungsten carbide tip?
There's a concern that workers have during the process of drilling. It's that there are burns during the work on the workpiece. It might be an uncommon occurrence but still needs to be addressed.
Manufacturers of this brand seemed to take it seriously. So, they have chosen water as their product's lubricating agent.
Let's not get too dreamy about this tool though. It has its drawback. And that is, its bits take time to get through tough materials. But they drill them alright. Therefore, these are ideal drill bits for concrete and rebar if you want perfect results.
Pros
The carbide tips make the drill bits tougher. And the water as a lubricating agent prevents burn. The set provides versatility with multiple sizes.
Cons
Bits might be a little slow in drilling too hard materials
Owl Tools 10 Piece Masonry Drill Bits Set
We would get tired to mention the long list of materials this product can get through. Yes, that's how much versatility it brings along. Other than being highly compatible, it's durable also. That durability is because of the carbide tips they have introduced in it.
Carbide is the best of options when it comes to drilling concrete. They have so many good properties, and to mention one, they are sharper than any other materials and remain that way for quite long. Also, you will find them awesomely durable.
A storage case is a useful accessory that many drill bits do not come with. But manufacturers knew its demand and value. Thus, they have provided one with this beauty. It will make sure the bits are in good form being safe from any harms, like rust and such stuff.
There was a user who went out of his way to review this classy tool. He went on saying that this drill bit will go through bricks like hot knives would go through butter. I do not find the statement as an exaggeration since the product is phenomenal.
What's also worth mentioning is that the bit won't rotate too violently in the chuck. There's a shank to keep it under control. And the best part about all these is that you get the job done without putting on excessive pressure. This drill bit will get along best with the hammer drills.
Now, we shouldn't get too ahead of ourselves thinking that the bit will work on all sorts of tiles. It won't, with the toughest of them.
Pros
Carbide as the drill bits material provides high durability. This set is able to work on numerous materials. The included storage case will prevent rust.
Cons
Doesn't work with the toughest of tiles.
Bosch HCBG700 7-Piece Blue Granite Hammer Drill Masonry Bit Set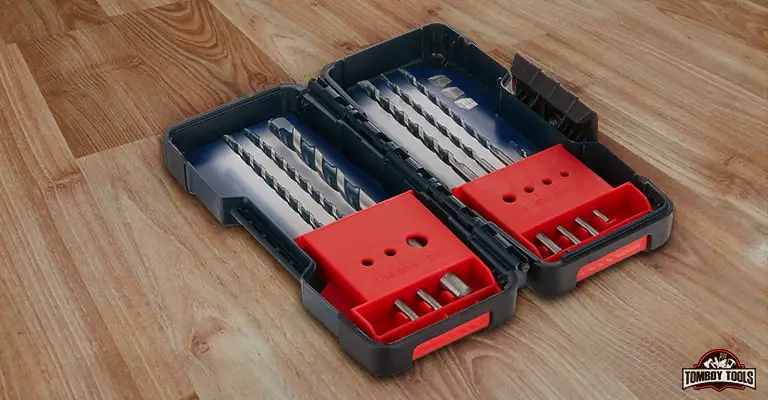 Bosch is a name you can rely on when it comes to tools of this sort. It knows how to produce things right. I mean, it didn't become so renowned overnight, right? Now, let's look at what we have here. Will this product be able to deliver like the ones before it? The answer is a pleasant one, dear reader.
The most outstanding fact about this product is that it features diamond carbide tips. Yeah, you heard it right. Needless to say, how tough the material will be and how fast it will make those holes.
Even Dewalt won't be able to catch up with it in this aspect. For, diamond carbide will make the reputation of rock carbide faded on any given day. But this preciousness has a price. And that is, these tips are less durable. Nevertheless, you will be satisfied with the operation.
To provide with a clean job, this tool comes with flutes, really wide ones, for removing debris and dirt. Thus, work efficiency gets improved. The case holding the bits looks alright. However, we wouldn't mind it to have variable sizes.
As for the width of bits, they have decided to go with the two commonest ones. That kind of restricts you in using the drill bits on various surfaces.
Pros
Diamond carbide tips offer extreme toughness and fast drilling. The fluted design offers cleanest of drilling and the compact case holds the bits nicely.
Cons
Tips aren't so durable when too much force is applied.
Hanperal 65mm SDS Plus Shank Hole Saw Cutter Concrete Cement Stone Wall Drill Bit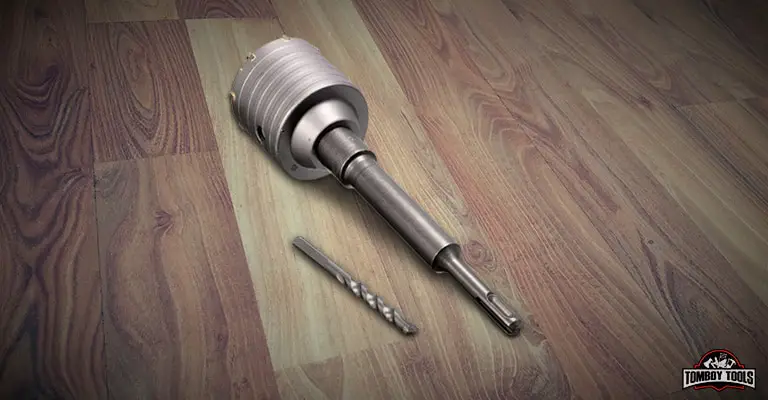 Let's talk about this SDS plus shank that I found to be a pretty cool option. Its tip is made of carbide. Therefore, you can rest assured that it will last long. And carbide offers quick penetration through the concrete for being the best material to be used as drill bits for concrete.
Operating this tool will be a breeze. Its extreme ease of use qualified it to be on our list of great products. But, that's not all this thing has to offer. It perforates materials so smoothly that it will leave you stunned.
You know, it boosts your confidence when you pick up a tool to deal with tough material, and you see that it's doing it effortlessly. By using this tool, you will be able to drill bricks, stones, walls, etc. And if you have air-conditioning to install, you will find it to be a good possession.
If you happen to have a worn-out adapter, you will find the SDS plus shank adapter as a fine tool to replace it. The drill chuck will do it for you. And when it comes to welding technology, they have introduced one with high frequency.
Openings of this welding are quite sturdy. Not to mention, the amazing smoothness of the welding mouth, both inside and outside. Now, dealing with concrete is never easy. It might take a bit of time in some cases.
If you use this drill bit continuously for intense works, you cannot expect it to stay in a good form forever. But, if the jobs are lighter, then you will be in for a pleasant surprise in regard to durability.
Pros
The excellent adapter works as a replacement for any broken adapter. You'll like the smooth and strong welding technology. It's very durable, thanks to the carbide tips.
Cons
The bits won't remain in good form if used for intense work continuously.
Best Drill Bits for Concrete Buying Guide
Let's make some things clear before getting yourself involved in buying a product. To make every penny worthily spent, you need to know what makes the best drill bits.
There are a few grounds to cover that you cannot afford to take less seriously. In this buying guide, we will keep it simple and precise for you. So, let's talk about the features and aspects to keep an eye on.
Materials
The material you choose to go for will be the most crucial part of the decision. Since we are talking about concrete over here, therefore you need the toughest of materials to get the job done.
Now, carbide has been the material that hardcore drill workers have always relied upon. Though there's a fat chance of it getting broken if you fail to hold the drill at an accurate angle. But, at the end of the day, carbide is the material to go for.
Coatings
Coating plays many roles in enhancing the efficiency of drill bits. It increases longevity and strength of the bits. In keeping the bits edges perfectly sharp, you will find the coating playing a great role. Also, for avoiding rust and providing lubrication for the bits, it's important to choose the proper coating.
Check out a few types of coatings that the products out there usually come with.
This option will save bucks. By adding lubrication, it makes the unit resistant to heat and protects it from corrosion. Moreover, it ensures the durability of the bits.
You will see this coating in the high-speed twist bits. For extra durability of the drill bits, this is another great option. Even when the sharpening has taken place, it will extend the life of the bits.
Titanium Aluminum Nitride
When it comes to providing durability, you will find this coating to be a better option than the previous two. We are talking about increasing life by five times or more.
Now we are talking about serious stuff over here. This type of coating is used in bits that have to perform extremely difficult tasks. While working on the hardest of materials, you need such coating to get the job done without much difficulty. Be it tile or stone, this guy will make the bits get through.
After adding this coating to the drill bits, the bits become very hard and abrasive. You can then compare them to sandpaper, only much harder.
Type of Bits
For concrete, the best option will be masonry drill bits. Their bodies are made of steel while the tips are carbide-made. Thus, they become strong enough to drill through concrete. This type of bits will also be useful for drilling stone and brick.
These bits have become extremely popular for drilling concrete. Their outstanding shape makes them a very good option for cutting through hard materials. What's more, they are quite affordable. These bits make small holes better.
Just make sure that you remove the bits at the time of drilling. Otherwise, materials would clog their rotation.
This is another great option for drilling concrete. They come with flutes for removing any unwanted materials. Only, you will have to let them cool down every once in a while. Also, you can't forget to remove dust and debris after using them.
Frequently Asked Questions
Q: Will it be okay to use a regular drill bit for concrete?
Since the concrete is a very hard material, you would want something tougher to get the job done. Masonry drill bits would be the best option to go for.
Q: Is titanium bit a good option for drilling concrete?
Ans: Yes, it is. For, it dissipates heat rapidly and is abrasion-resistant. While drilling concrete, you need something that has these properties.
Q: How can you tell if it's a masonry bit?
Ans: Masonry drill bits usually come with arrowhead-shaped tips. This should be the main point for identification.
Q: What should be the drill bits to use on concrete?
Ans: Look for masonry drill bits. They are more suitable for drilling concrete. Also, the drill bits with carbide tips are the most popular options these days.
Q: What kind of drill is the best for concrete?
Ans: A hammer drill is the best option for drilling concrete. Its a bit different and powerful than a traditional corded drill, They make the job easy by being very sturdy. It becomes a bit difficult to deal with concrete without such a drill.
Final Words
We tried to bring you the most important information that you need before going for a product. The market cannot offer you units better than these. At least, that's what we figured out after doing our research.
Hope you found the unit you were looking for and it's the best drill bits for concrete.
You may also like to read – best drill bits for wood
I'm Joost Nusselder, the founder of Tools Doctor, content marketer, and dad. I love trying out new equipment, and together with my team I've been creating in-depth blog articles since 2016 to help loyal readers with tools & crafting tips.