I love creating free content full of tips for my readers, you. I don't accept paid sponsorships, my opinion is my own, but if you find my recommendations helpful and you end up buying something you like through one of my links, I could earn a commission at no extra cost to you.
Learn more
If you are someone who likes to do little projects around the house, fixing things, or making little additions onto your space, then drills will come in real handy for you. With a drill, you can bore holes into the walls, stir up the mortar, and finish off countless repair work without any external help.
In this article, we are going to talk about the best corded drills, which are of a more traditional design than the regular cordless or battery-powered drills, and yet they are extremely versatile, as well as multifunctional in capacity.
Corded drills are more reliable than other types of drills because they have a huge output capacity, and they also deliver with great efficiency.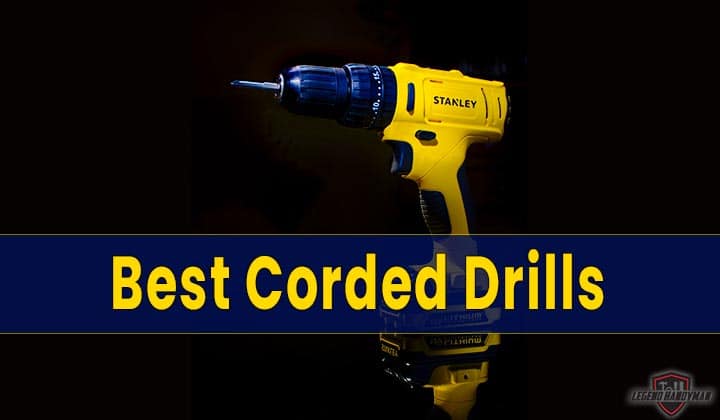 As you can already tell, these two make a great combo which is why there is a high demand for these machines in the market right now, and a lot of supply too. But don't worry, we have made a list of the most reliable options for you right here. 
Best Corded Drills
There is so much competition in the market nowadays that companies make all drill machines with more or less of the same features. The most difficult task is to seep through all the junk and get to the ones that really are made to provide the best quality of work.
Thus, we are here to help you, after some research, with our picks of the best corded drills available right now. Take a look.
DEWALT DWD115K Corded Drill Variable Speed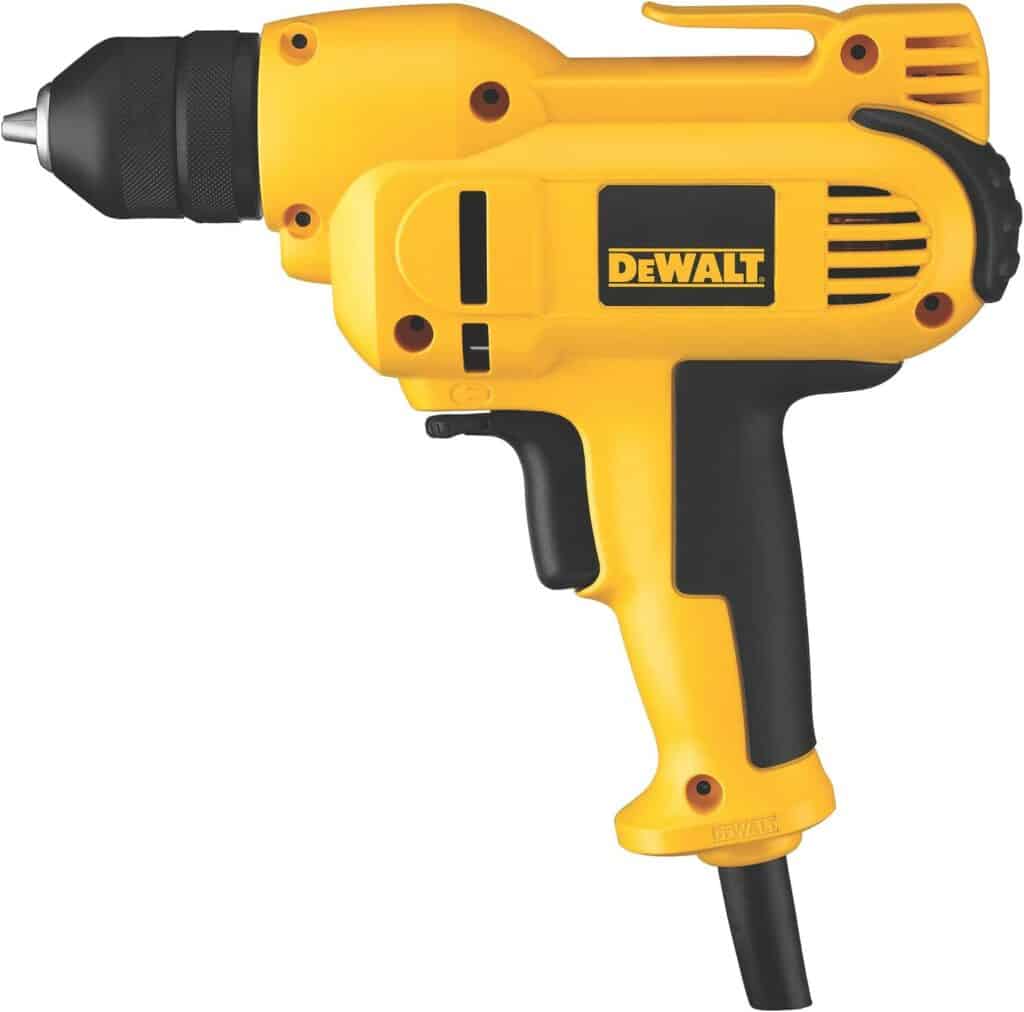 If you want a machine that you can rely on for any kind of task at home, then go for this easy-to-handle reversible drill machine! With the 8-amp motor of this machine, you can easily drill through any wood, steel or brick.
On wood, you will be able to drill a hole of 1-1/8 inches in depth. Whereas, if you use it on steel, you will be able to drill a hole about 3/8 inches.
It also has a ratcheting key-less chuck which tightens, as you work, to give you quicker bit changes and retention. This is what makes it so easy for beginners to use. Another courtesy of the machine, you will have greater precision in work without even trying.
Moreover, there is a major plus point of this machine which is that it supports a lot of swift hand positioning due to its soft grip and balanced new design. Also, this machine only weighs about a mere 4.1 pounds, which means that you will be able to work for longer periods without cramping up your hands.
Drilling is a tiring work indeed. So, choose a machine that will give you maximum comfort and control. Inside the box, you will find the 3/8 inch VSR mid-handle machine and kit box.
These machines are very ergonomic. The motor is the heaviest part of the machine, but the soft non-slippery rubber band is placed in the center so that the weight is evenly distributed, and you can work with more accuracy.
Also, this machine is very sturdy and is pretty low on the hazard level. The trigger is very easy to manage even for someone who has not had any experience with handling heavy machinery.
Pros
It's powerful, easy-to-control and has a lot of speed. The trigger is comfortable. It also comes with a powerful motor
Cons
There are some slight glitches with the chuck.
BLACK+DECKER BDEDMT Matrix AC Drill/Driver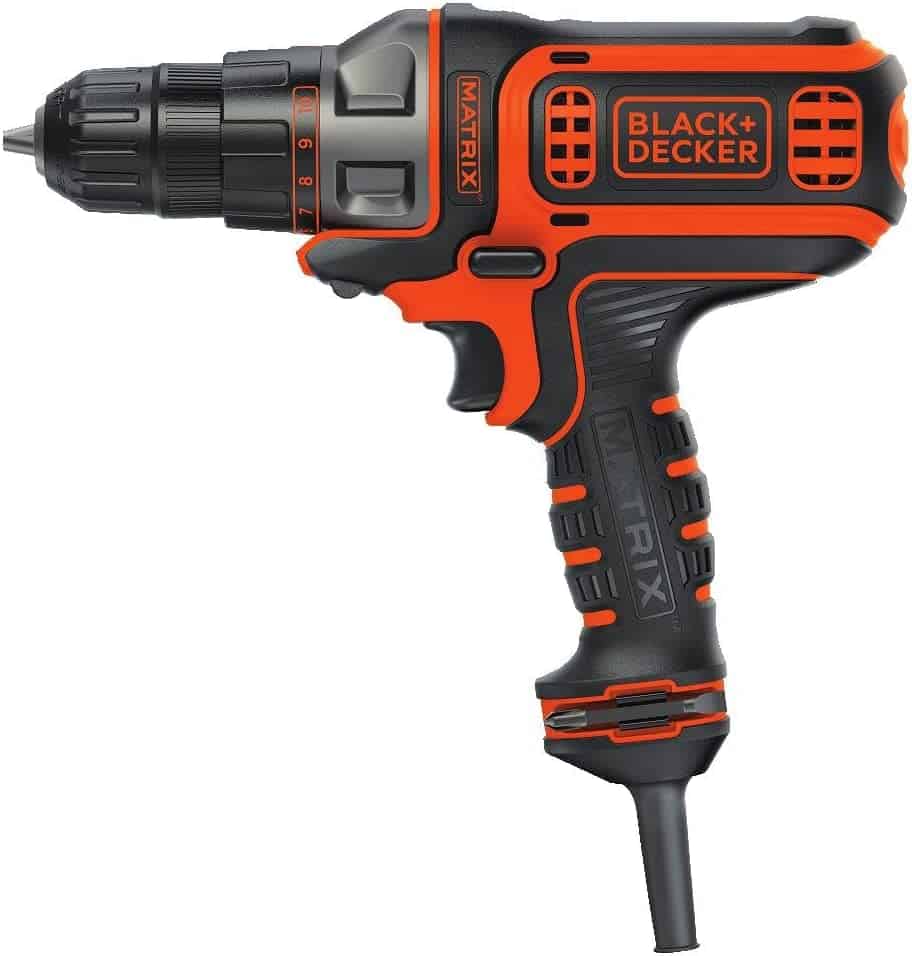 If your criteria for selecting the best corded drill machine include durability, strength, and value, then this power tool will be a good match for you.
This lightweight and compact AC drill/driver machine features the best torque and speed performance in any machine in the market right now. The robust motor will finish off any job in a breeze. It runs on 4.0 amp and can perform a range of tasks at low current settings.
So, with this machine, you will be saving quite a bit of electricity as well.
Moreover, the compact design of the machine means that it will work very efficiently and stay cool for longer periods, thus giving you more accessibility in tricky areas that are difficult to reach for more bulky power machines.
The device comes with an 11-position clutch in order to reduce the chances of over-driving the screws, so that you can have more control over your work.
Also, the torque is designed, in this regard, to efficiently monitor the change in transmission, and quickly stop the chuck if it revolves too close to the work-piece. With such preventive measures taken into account, this machine is pretty safe for everyone, even a beginner.
Additionally, the speed switch has a granular control, which allows more accuracy and precision to the task. This machine can do just about everything any other drill machine can do, owing to a large number of attachments that it comes with.
All of the attachments can easily be put into place with the help of the Matrix Quick Connect so that you are endowed with all the power to drill, cut, sand, and anything that needs work done.
After you are done, just remove the attachments, bring out the bit bar and put all the different drill bits into place for storage. This is truly one of the best corded drills out there in terms of versatility of function.  
Pros
There's a matrix quick connect system for easy tool exchange. And it's lightweight and compact. Along with the 11-position clutch, there are a high number of speed settings.
Cons
Permanent chuck; no key. And the motor may burn up  
Makita 6302H Drill, Variable Speed Reversible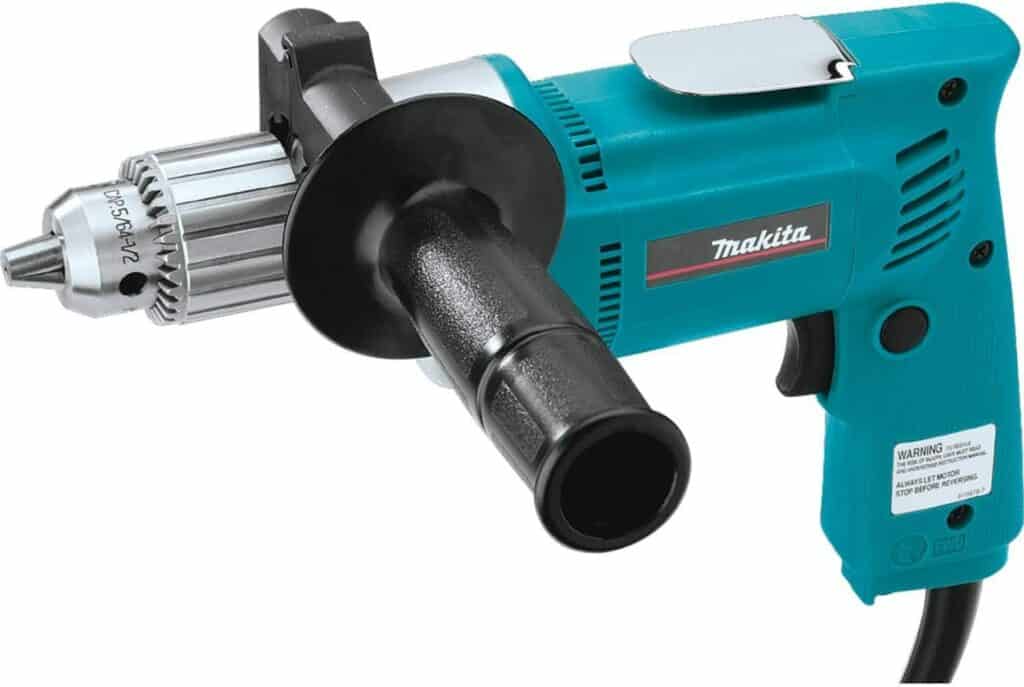 Traditional drills are known for their durability. And though there are some that are not a stereotype to this, Makita 6302H is definitely not one of those unique ones. This here is the real deal; it has a record of lasting as long as 15 years without any maintenance work! Now that's real quality, isn't it? 
With solid features, this device stands out to awe users with its torque and speed control. The powerful 6.5 amp motor has double insulation to make sure that it is capable of doing heavy-duty tasks without getting heated up. Due to this, you can work with this machine for hours without any discomfort whatsoever.
The speed ranges from 0 to 550 RPM, which earns it a good point for flexibility and ease of usage. You will be able to work on materials such as bricks, steel or wood, by changing the speed to match the requirement for the material of the work-piece.
Moreover, the speed is variable and can be adjusted to slow down for metals or speed up for wooden surfaces. You will be able to work with that high degree of precision control even if you use it for angular drilling.
There is a huge on/off button on the machine, which is of a very convenient size and is placed in a very convenient location, for ease of access. Furthermore, this machine has a 2-position handle, which adds to the lasting comfort of use.
It is very easy to turn this machine on and off as required, as well as to continue using it for a long time without feeling fatigued or getting sore arms.
Pros
I like the comfortable handling and application of the device. It's not too heavy and has double insulation on the exterior. There's also a special heavy-duty chuck and a 6.5 amp motor for more power. You'll be also getting long extension cord for more accessibility.
Cons
The location of the reversing switch might be a problem for some users, and it's too big to work in corners or tricky areas.
DEWALT DWD220 10-Amp 1/2-Inch Pistol-Grip Drill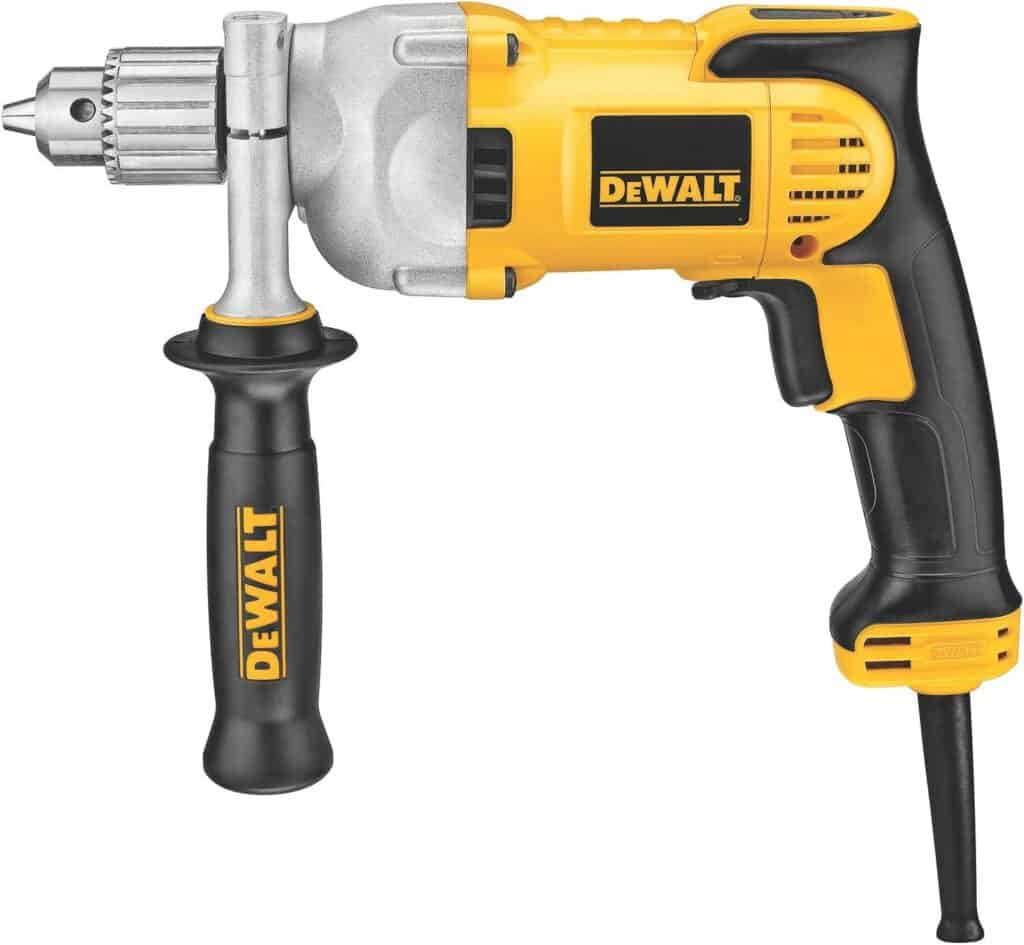 With a whopping 10 ampere at the motor, this device is best known as a professional drill machine, for heavy-duty fastening, and drilling on any kind of hard material.
It is convenient and smart, with modern features that are incorporated to give you the best quality of work with the least amount of effort.
The speed on the machine goes up to 1250 rpm! This range in speed offers greater versatility in work. The machine can be used to work on all kinds of materials.
If you are using a spade on wood, you will have a range of 1-1/2 inches, and if you use this machine for a twist-bit on steel, you will have a range of 1/2 inches.
There are more combinations such as these, for most materials that might need some drill machine work. Refer to the manual guide inside the box to get the complete list.
Moreover, the motor of the machine is patented with a special overload protection construction, which makes this machine safer than those that do not have the extra protection. The device weighs about 6.8 pounds, which might be a little heavy for you if you are not used to lifting heavy objects.
However, taking that into account, the company has added some features to it, so that it is more comfortable for the users. The handles on the metal body of the machine are designed with a soft grip, which gives the device immunity against slipping off from sweaty palms.
Additionally, there is also a two-finger trigger put into the handles, for a stronger grip. A strong grip gives more accuracy to the work and more satisfaction to the worker.
Oh, and some other features that make this machine a more pleasant experience, is the conveniently spaced reversing switch and handles. These will make the machine feel less heavy and prevent muscle fatigue.
Pros
There's a powerful 10 amp motor and additional features that make the machine easy to handle. You'll also like the robust metal framework. Overall, it's versatile and durable.
Cons
The weight will take some getting used to and it might heat up a little.
Hitachi D13VF 1/2-Inch 9-Amp Drill, EVS Reversible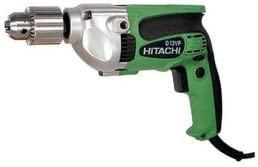 We all want to make the best out of our hard-earned money. So, we buy things that will function and last for up to many years without causing us any hindrance.
With drills, the product that will ensure this is the Hitachi D13VF EVS Reversible Machine. This drill is an efficient worker that is designed to be sturdy enough to carry out any kind of project that requires it to be hard-core and efficient.
It has a motor that performs on 9 amperes of current and so it is safe to say that this is a high-performance device that can work with any material. Also, it has a big speed variability, which gives it a lot of versatility in action.
The torque power adjusts to the different degrees of speed and allows the machine to be useful on hard-materials like steel, wood, concrete, and so on and the body is made with industrial cast aluminum, which works into keeping the device cool even when it is working on the highest settings.
Furthermore, it also has a double gear reduction system, which reduces the strain from the gears, and provides more torque power to the drill. The device itself is only about 4.6 pounds, which is pretty lightweight for a machine that houses as powerful as a motor like this.
On top of that, the soft palm grip handles make it very comfortable to work with, by dampening the vibrations. So even if you are working for many hours straight, you might be surprised to see that your muscles do not become stiff or fatigued.
All in all, this is the best corded drill for that will be a complete value for money, in terms of performance, comfort, and sustainability. From construction work to heavy machinery work in factories, this mighty machine can handle it all.
Pros
You'll love the lower vibrations, very comfortable for the user. It can also handle high torque demands and is efficient in heat management. You can work with it in nooks and crannies.
Cons
It has problematic chucks and screws keep getting lose. Also, the cord is inflexible.
SKIL 6335-02 7.0 Amp 1/2 In. Corded Drill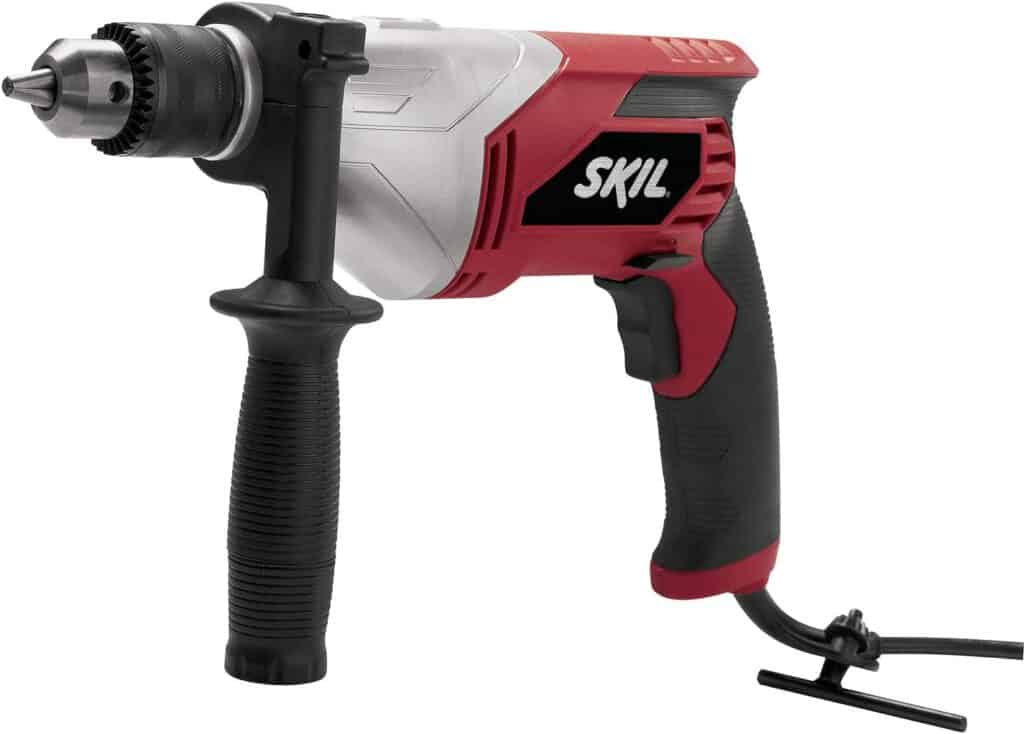 This drill machine can handle all sorts of drilling, handling and driving with a lot of accuracies. Despite the traditional design, this corded drill offers a high-quality performance on any demand that is made of it.
Moreover, this 7 amp motor set up is the most useful for heavy-duty tasks that could be a strain on other drill machines. You will be able to drill through any type of tough material due to the massive control in torque and speed that it offers to its users.
The power source is corded electric, which means that it does not rely on batteries. You will just have to plug it into a power source, and you'll be good to go. Another feature which makes this drill particularly useful is the range of speeds it can achieve.
For different materials you need to set a different speed on the trigger, otherwise, the drill holes will not be made properly. Monitor the change of speed of the rotating chuck in order to work with different materials.
Also, the speed and torque control are pretty important, as they determine how much of the material will be drilled and how fast the work will be completed.
Another thing to point out here about the design of the machine is that the handles are put on the side so that they are easier to get access to. This gives the user more control over their work. In many machines, handles are inconveniently located, which is a huge setback on productivity.  
Furthermore, the item weighs 5.6 pounds, and can drill holes of 1/2-inches, with the 1/2 inch keyed chuck that comes with it. But the device is not very compact at all, therefore, these are recommended for buyers who won't be working in small, confined places.
Pros
It has a strong motor for heavy-duty tasks, and you'll enjoy the easy handling for better control. There are also variable speed settings.
Cons
It cannot work in corners or small areas.
PORTER-CABLE PC600D Corded Drill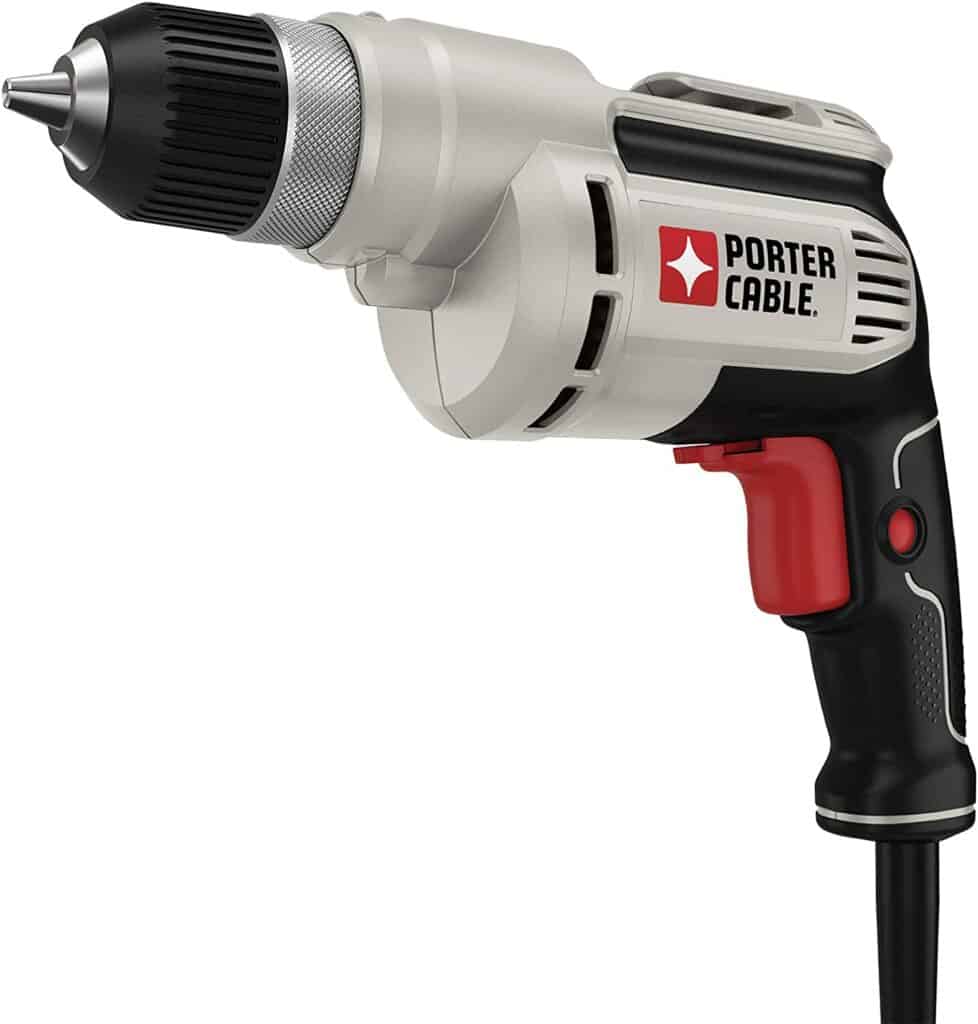 This machine has a motor that runs on 6.5 amperes of electricity. It is a pretty heavy-duty motor that can do professional work in big sites more easily than any other device in this list. From metals to glass, you will be able to drill into anything you need with ease.
The motor is strong, and it can sustain itself by not overheating under pressure. This is a testament to the durability of this machine, and in turn, its reliability through the years. The speed of this drill can be varied from 0 to 2500 revolutions per minute.
Also, the more the speed, the better the accuracy. Therefore, monitoring the speed is of great importance in order to assure the complete perfection of the project. Another thing is that the drill is not bulky, so you will be able to use it with just one hand as you relax the other one.
Switch hands if you get uncomfortable so that you don't end up getting muscle fatigue. The durability of this machine is commendable.
It was designed by taking proper ventilation into account, and so the machine has turned out to be very efficient and able to maintain temperature even if it is being used for many hours at a stretch.
And the solid design on the body and the compact size, all contribute to keeping the parts good for a longer period and be of greater use to the users.
There is also a lock-on button on the machines, which allows the users to use the power in moderation and keep an eye on it so as to save the device from overheating.
Additionally, you will get a long cord with this device, which is very convenient for use since it means that you can use this machine even when the work site is a long way away from the power source.
Pros
It does not overheat and has lock-on button for easy power moderation. The device is compact and powerful and has a heavy-duty 6.5 amp motor. It also features key-less chuck of 3/8 inches
Cons
There's no speed variation
Advantages of Corded Drills Over Cordless Drills
Corded drills were the only drills in the market before the technology for cordless drills came about. But still today, they hold their place in the market.
There are many kinds of corded drills available, and they generally tend to be bulkier in size, and heavy to carry around. This is a disadvantage, yes. But if you are looking at usefulness, then this won't matter.
The physical weight goes hand in hand with the amount of power that this machine can deliver. They are made to withstand high-pressure levels and work with hardcore materials.
Also, cordless drills can only handle 20-volts at maximum, whereas, with corded drills, you can expect to have an endless supply of electricity, as they can run at about as high as 110 volts for a regular-duty project.
On the other hand, the corded drills have a higher capacity for work, as they have a higher torque power and can run at higher speeds too. The combination of these two vital features makes these machines very efficient and competent for any sort of task, whether it be professional or domestic.
However, cordless drills are mobile, which is why they met a rising demand in the market. And since they are battery-powered, they are compact and have the advantage of being able to go into small corners that bigger machines can't reach.
That's two points over the corded drills, and that is also, pretty much, the end of them having the upper hand here. In terms of price, corded drills win again. They are less expensive than their cordless equivalents.
Furthermore, the wires that this comes with, are definitely a hassle, but that can be overcome by being a little organized when drilling. If you have a lot of power-packed jobs lying around, then corded machines are highly recommended.
Frequently Asked Questions (FAQ):
Many people have questions about the many types of corded drills available in the market. Here, we answer some of yours.
Q: How many types of corded drills are in the market right now?
Ans:
Standard Drills: These are the most common drills in the market. If you need to drill regular holes and drive screws into materials for regular needs around the house, then this is the one that you should go for.
Hammer Drills: This is a little more powerful than the standard drill. Its specialty is that it can drill through harder materials than the standard drill. If you have to work with the likes of bricks, stones, and concrete, then opt for these hammer drills for the best results.
These two are the most common drills used. Additionally, you may also find rotary drills in the market. These are the more powerful, good relatives of the hammer drill. Get this if you need more power to work with tougher materials.
Impact drivers are another variation, intended for light work like tightening up loose bolts and screws. People often get confused between a rotary driver and an impact driver. A comparison article of hammer drill vs. impact driver will help you to understand this two tools well.
Q: Are corded drills more reliable than cordless drills?
Ans: Yes, they are more rigid and solidly built than the cordless drills in relation to their prices. A reliable cordless drill will cost you way more than a reliable corded drill.
Q: I only use my drill machine occasionally in the house. Which one should I buy?
Ans: If you don't have much work for your drill, and will only use it a few times, then go for corded drills. The battery-powered drills will need a regular change of batteries, while you can forget about the electrical drill until the time comes for you to use it.
Then just plug it in and go on with the work, your drill will work just fine.
Q. Is corded drill used for masonry work?
Ans: The hammer drills along with drill bits for concrete is used for masonry work.
Conclusion
Consider what you'll use the drill for and how often you will use it, in order to find out the best corded drill for you. After that, you can consult the thoroughly researched list we have provided above, and you will have little space to go wrong.
We have only chosen the best corded drills that are reliable and strong. Hope this article helped you to make your pick. Best of luck with the purchase! 
I'm Joost Nusselder, the founder of Tools Doctor, content marketer, and dad. I love trying out new equipment, and together with my team I've been creating in-depth blog articles since 2016 to help loyal readers with tools & crafting tips.