I love creating free content full of tips for my readers, you. I don't accept paid sponsorships, my opinion is my own, but if you find my recommendations helpful and you end up buying something you like through one of my links, I could earn a commission at no extra cost to you.
Learn more
After the creation of the drilling machine, the need for reverting to primitive methods of carpentry or other works has ceased to exist. Now, with tens of millions of drilling bits (claiming to be the best), finding the best and the right one can be an impossible task.
And, finding a drill machine that can drill through stainless steel, one of the toughest metals on the planet is another tough issue. But, with our article, you will never have to face such a dilemma.
Everything you ever need to know to buy the best drill bits for stainless steel will be provided here in detail. So, sit back and give this article a good read for a better understanding.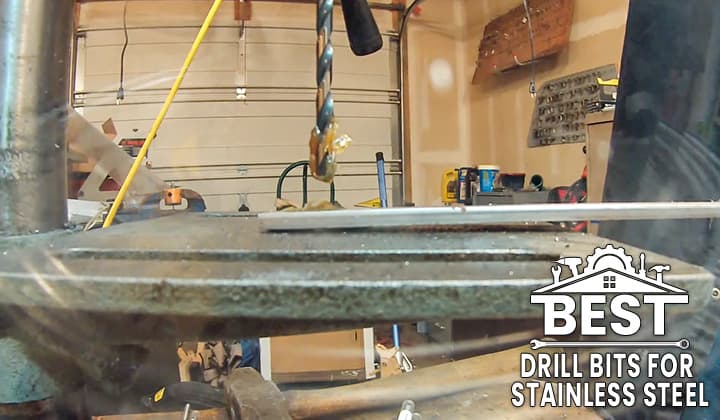 7 Best Drill Bits for Stainless Steel Reviews
In this section, we have introduced 7 drill bits which are remarkable options when working with stainless steel. All the pros and cons of each and every product have been included for your better assessment of the drill bit. So, let's get started right away!
Neiko 10194A Titanium Step Drill Bit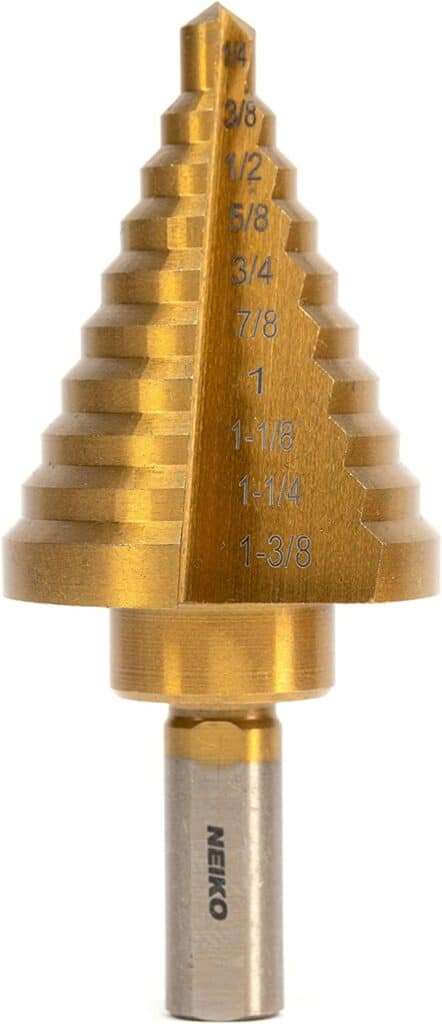 Looking for drill bits that can penetrate through almost any surface? If you are, then you have come to the right spot! Neiko's 10194A has a high-speed steel exterior, which allows you to drill into all types of hard surfaces like copper, stainless steel, aluminum with minimum or no difficulty. 
Also, the high-speed steel drill bit comes with a Titanium coating, which builds guarantees superior durability and longevity and ensures resistance to dents, corrosion, etc. Thus, making the item a remarkable one-time investment! 
And, its innovative flute shaped design provides an easy escape for debris and waste particles for a fine and clean finish. 
Plus, it comes with numerous sizes, including ¼ inch, 3/8 inch to all the way to 1-inch. Ergo, you can do all kinds of drilling projects with this drilling bit. Furthermore, the sizes are incorporated with a laser; so, you can effortlessly understand the depth to which you need to drill.
The drill bit comes with a tip that has a 135 degrees split point. Due to the tip, it allows you to drill much faster and more efficiently and ensures shaper and uncomplicated cuts on all types of material. In addition to that, the tip assures a walking-proof and wobbling-proof drilling experience and gives you a steady and straight cut.
Its walking-proof feature is an exceptional feature when working with lighter or less-sturdy surfaces. For example, if you are working with plastic, there is less friction. Hence, the bit tends to wobble off from balance. So, its walk-proof and wabble-proof design let you drill even the softest material with ease.
Besides, its 5.6-ounce weight and compact construction allow you to effortlessly carry or store the product anywhere in your garage or workplace in any kit.
Pros
Titanium coating enhances the durability and makes it impervious to rust, wear, and corrosion
High-speed steel and walk-proof design lets you drill hard as well as soft surfaces
Comes with 10 various sizes 
Portable
Cons
Tends to reach extreme temperatures when drilling
Hymnorq 12mm Metric Twist Drill Bit Set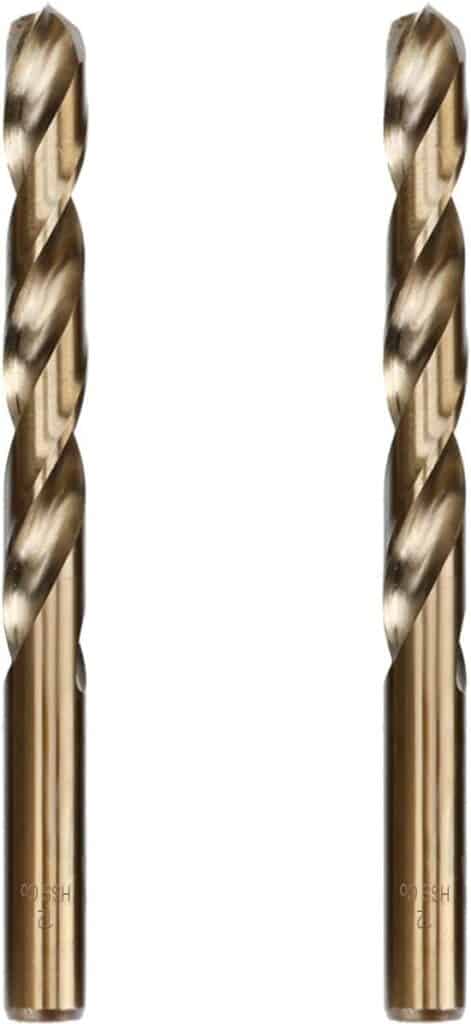 Hymnorq is known for making top-notch drill bits at the most affordable prices. And their newest drill bit set guarantees to uphold their moto the best. The drill kit comes with 2 pieces of bits, which have a 12mm diameter and are perfect for all types of carpentry and workshop projects. 
Each of the bits is made of pro-grade M35 cobalt steel. Cobalt steel is an alloy of molybdenum and cobalt, which guarantees exceptional drilling and longevity. So, you can work without a worry about the drill's safety. 
It can drill through the hardest metals like cast iron and stainless steel like they are butter. In short, any material that has a hardness count below 67, the drill's hardness count, you will face no issue drilling a hole in that object.
Next, it comes with quick-cut split tips. These tips are auto-centering, meaning that the bits themselves will align themselves and ensures a straight cut or hole. Such an attribute lets the item drill through objects with outstanding speed and efficiency.
Also, the self-centering attribute assures zero or minimum wobbling or walking effect. Thus, giving you superior accuracy when working with softer materials. 
Lastly, its straight shank with a chamfered end provides a smooth and firm locking of the item. Therefore, there is no chance of the bit shooting out while drilling. And, its compact dimensions and lightweight build makes placing the bits inside any kit and effortless task.
Pros
Straight shank with chamfered end guarantees superior holding of the bits
Made of sturdy and durable material which is wear and rustproof
Innovative design allows straight drilling and resists walking or wobbling
Affordable
Cons
Can't drill through concrete and materials which are above it in the hardness scale
Dewalt DW1263 14-Piece Cobalt Drill Bit Set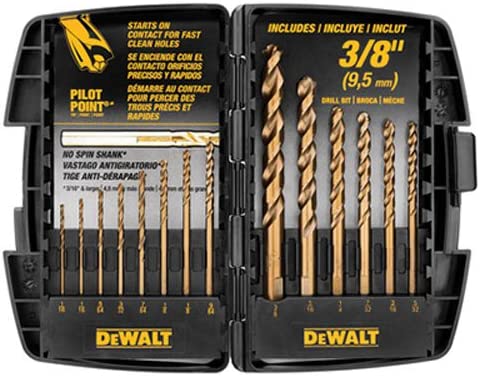 Let us introduce Dewwalt's newest masterpiece, which assures remarkable speed and stability. It is made of cobalt, which is one of the hardest metals on the planet and assures remarkable durability and sturdiness. 
Cobalt is made by alloying steel, cobalt, and molybdenum! Such heavy alloying assures extreme sturdiness and, hence, is the dominating factor for the bits to cut through hard surfaces, including stainless steel.
Plus, the alloy is also impervious to rust, dents, wears, and other damages to the bits. Thus, you can use the bits without a tad bit of worry and, is a remarkable long-term purchase.
Next, its pilot point tip is self-centering. The self-centering talent of the bits assures that you drill a hole or make a straight cut in all materials and enables you to do so with minimum force. Also, the self-centering perk allows superb stability when working with hard as well as softer surfaces.
Plus, the kit comes with 14 bits ranging from 1/16 to 3/8-inches. So, once you purchase this product you can rest assured that all types of drilling projects are possible with the drill bit kits. 
Each of the bits come with a straight shank, which has a firm locking mechanism to your impactors. Plus, the bits come in an innovative casing with slots for each size, all arranged in ascending order. So, you can store the product in your garage or workshop without any complications.
Pros
Comes with a 14 set of the drill bit, each having a different size
Made of highly durable and robust material; thus, can drill through the hardest surfaces
Has a self-centering tip which is impervious to wobbling
Cons
Might become blunt after numerous usage
The drill bits tend to heat up when being used
EZARC Carbide Hole Cutter

EZARC is known for its unique designs and, its newest item takes the prize of the most innovative design the company has ever built. It has a serrated-like exterior with a drilling unit or shaft in the center. Even though it has a different "look", its performance and efficiency are off the charts.  
Its carbide build allows you to cut through most materials, including stainless steel, alloy steel, plastic, aluminum, PVC, and FRP. Hence, with the cutter, you get a wide range of working options. 
Also, the carbide cutter provides extreme durability and longevity. In addition to all that, the top-notch grits, superb brazing mechanism, stepped pilot design raises the longevity further. 
Apart from reliable cutting and longlasting performance, it excels in precision and accuracy. Due to this, it is an exceptional option for pros and novices for decoration works, heavy-duty drilling for electronic devices, and other projects, which require exceptional drilling. 
And, its straight-shank can effortlessly be locked onto impactors, or other devices and lets you use the bit without any worry for the item. Plus, its small dimensions and easy-to-store features will allow you to effortlessly place the bit in your toolbox. 
Lastly, the bits come in all sizes, allowing you to carry out any form of drilling work. And, can be placed in your toolbox with little or no effort and, can be carried around anywhere without any effort.
Pros
The drill bits pilot tip can be replaced with minimum effort
Is installed with a pilot drill bit, a spring, and wrench; so no need to buy anything separately
Guarantees a smooth cutting effect
The innovative design reduces walking and wobbling effect and lets you drill straight
Cons
Might need frequent addition of lubricant to prevent the cutter from getting stuck
Expensive compared to conventional drill bits
Drill America 29 Heavy-Duty Drill Bit Set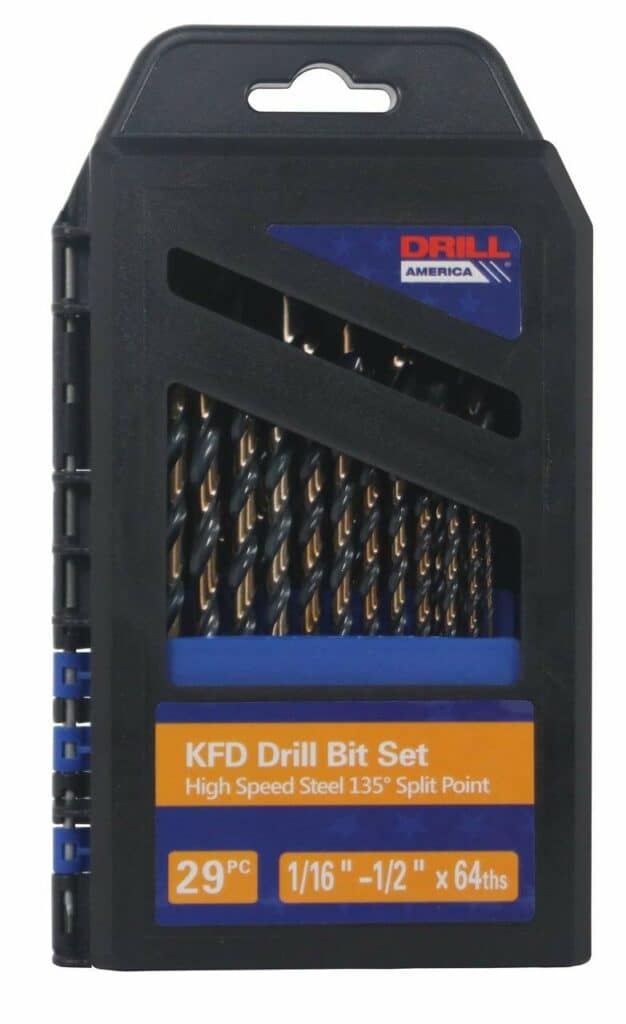 Is it frustrating to buy individual bits one at a time? Well, Drill America has come up with a solution for that. 
The brand provides 29 heavy-duty drill bits all in a lucrative and handy cylindrical pouch. You hook the pouch to your work pants and have access to a wide range of drilling options. Thus, you don't have to put extra effort to go and fetch for different drill bits. 
Yet, this is not the key attraction for the bad boy! Each bit has a KFD (Killer Force Drill) standard with M2 quality heavy-duty steel used to make it. Hence, with each bit, you get a wide variety of options such as iron, stainless steel, aluminum, and other hard materials.
Plus, the black and gold oxide coating makes it impervious to rust, wear, dents, corrosion, and other damages. Thus, increasing its longevity further, it an extraordinary purchase.
Unlike conventional 128-degree pilot tips, this one comes with a 135-degree pilot tip. The 135-degree is responsible for the remarkable drilling power and also grants it a self-centering feature. Such a perk minimizes walking and wobbling and allows a clean and straight drilling experience through any material.
Also, the reduced walking contributes to steadier drilling on softer materials. When you are drilling plastic or other softer material, the lack of friction or grip prevents you from having a steading drill. But, with this product, you do not have to face such a buzzkill.
Pros
Comes with an easy-to-carry plastic casing that can be stashed anywhere
Contains 29 drilling bits which can be used for all types of drilling projects
Is made of highly durable and robust material which are resistant to rust, corrosion
Ideal for drilling on soft materials
Cons
You might need to sharpen the drill daily to avoid dull cuts
Comoware 15 Piece Cobalt Drill Set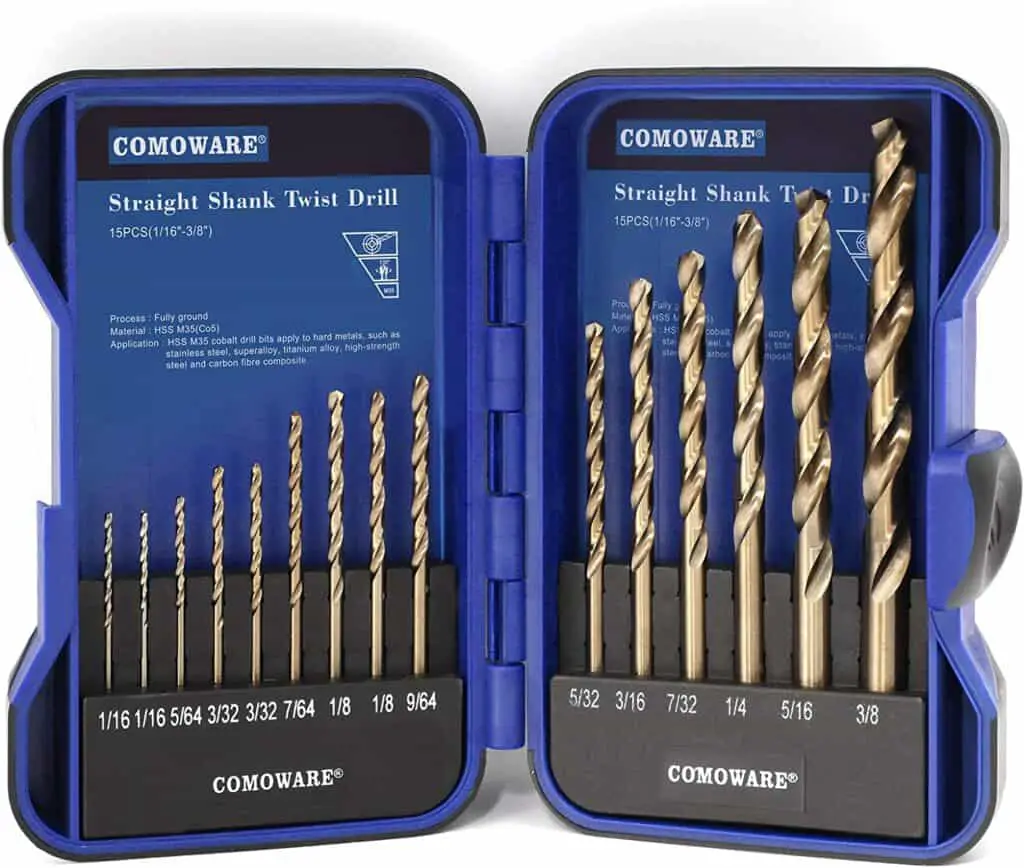 Drill bits undergo a lot of stress during a project. And, it is absolutely imperative that the drill bits in our arsenal can take such a beating. If you are having trouble finding the right one, then look no more, as Comoware introduces a drill bit, which assures remarkable durability and longevity. 
The 5% cobalt used in making the drill bits guarantees M35 grade products and gives it the edge you need when working with super hard surfaces like aluminum, stainless steel, high-temperature alloy, etc. Also, the addition of cobalt enhances the durability of the bits and attributes to its long-lasting features.
And, add the gold oxide layer to the mixture which is impervious to rust, corrosion, and wear, takes the longevity of the thing to the next level. Thus, it is an amazing one-time buy!
Plus, its pilot tip has an angle of 135-degrees, which enables you to enjoy a smooth and efficient drilling experience on all types of materials. 
Furthermore, the 135-degree split tips are self-centering. Meaning that during the cutting process, the walking and wobbling effects are reduced exponentially and allows you a smooth and uniform cut. The tips are also designed to provide an easy escape for debris and waste particles and, hence, ensure a cleaner cut.
Lastly, the kit comes with 15 pieces, starting from 3/32 to 3/8-inches and gives you a wide range of cutting options. Besides, all the pieces come in a compact and easy-to-carry plastic casing, which can be placed anywhere in your garage or workshop. 
Pros
Comes with 15 pieces of bits that increase the drilling options exponentially
Contains a rustproof oxide layer, resistance wear, and corrosion
Straight shank enables effortless and firm docking of the bits to a drilling device
Highly durable
Cons
The plastic casing can sustain damage with minimum effort
Amoloo 13 Pieces Cobalt Drilling Bit Set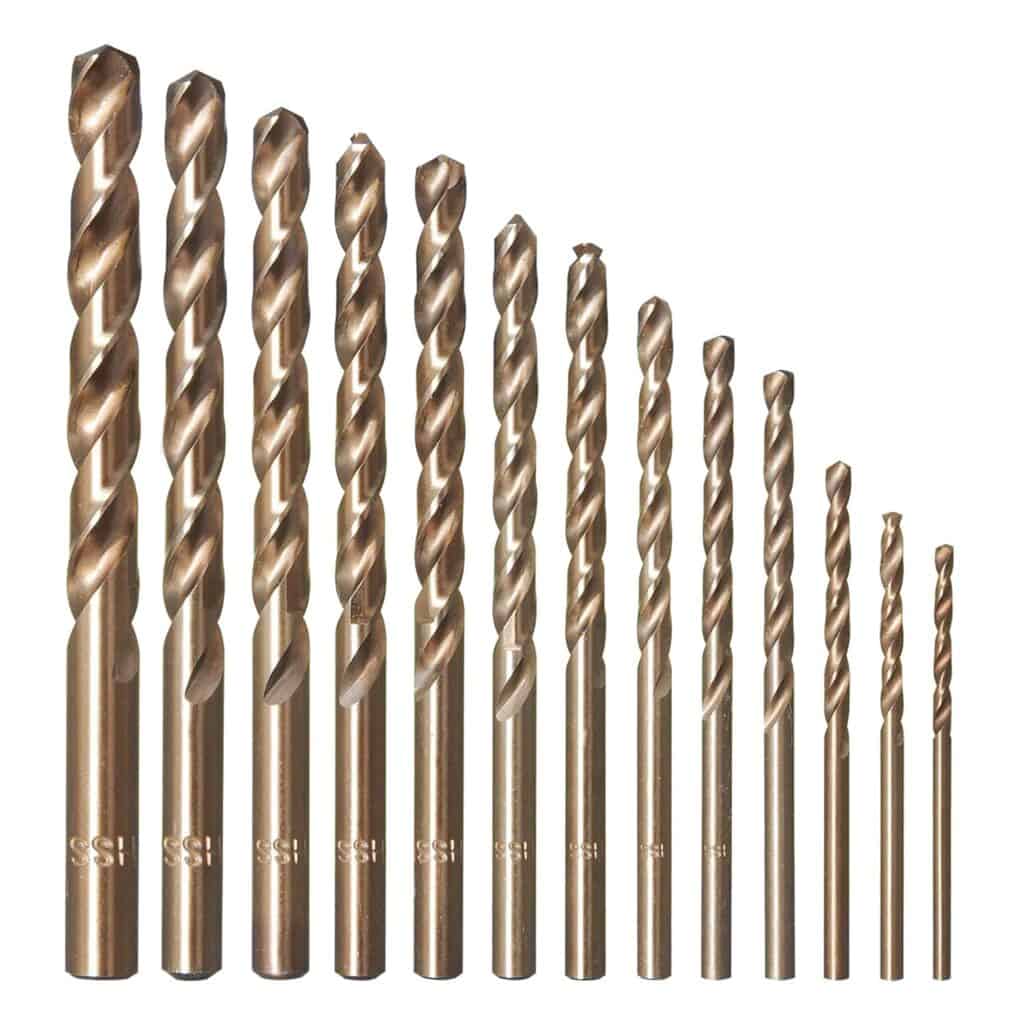 Looking for a drill set that assures a wide range of drilling options? Look no more, as Amoloo introduces 13 pieces of cobalt drilling bits! Each of the bit varies in size and allows you a cutting range of 1/16 to 1/4-inches and allows you to make any cut, or hole, required for the task in hand. 
Furthermore, each of the drill bits has been made of M35 high-speed cobalt. Such a build gives it a hardness, which is off the chart (literally!) and enables you to drill or cut into any material that is below the drill bits on the hardness scale.
In addition to that, the 5% cobalt mixed with it, making the drill bits impervious to wear and corrosion. Due to the cobalt construction, the item is highly resistive to temperature. Thus, reducing the risk of the bits sustaining damage and enhances the longevity factor.
Next, the tips have a 135-degree has a self-centering attribute. The self-centering attribute grants exceptional balance and prevents walking or wobbling. And, this also allows you to carefully drill through softer exteriors with superior precision and accuracy.
And, it comes with a design that assures easy escape for unwanted waste particle. Thus, the particle ensures a clean cut every time which is attributed by the fully ground groove.
Each drill bit is lightweight and has a compact design, which allows you to easily place the bits into any casing without any effort. When all of these are coupled with its rather affordable price, the product's attractiveness skyrockets.
Pros
Comes with 13 pieces which give a wide variety of drilling range
Exceptional tips and design enables superior cuts and drills
Is made of durable and sturdy material, allowing you to drill through any material with minimum effort
Cons
Can heat up during the cutting process 
Neiko Titanium Step Drill Bit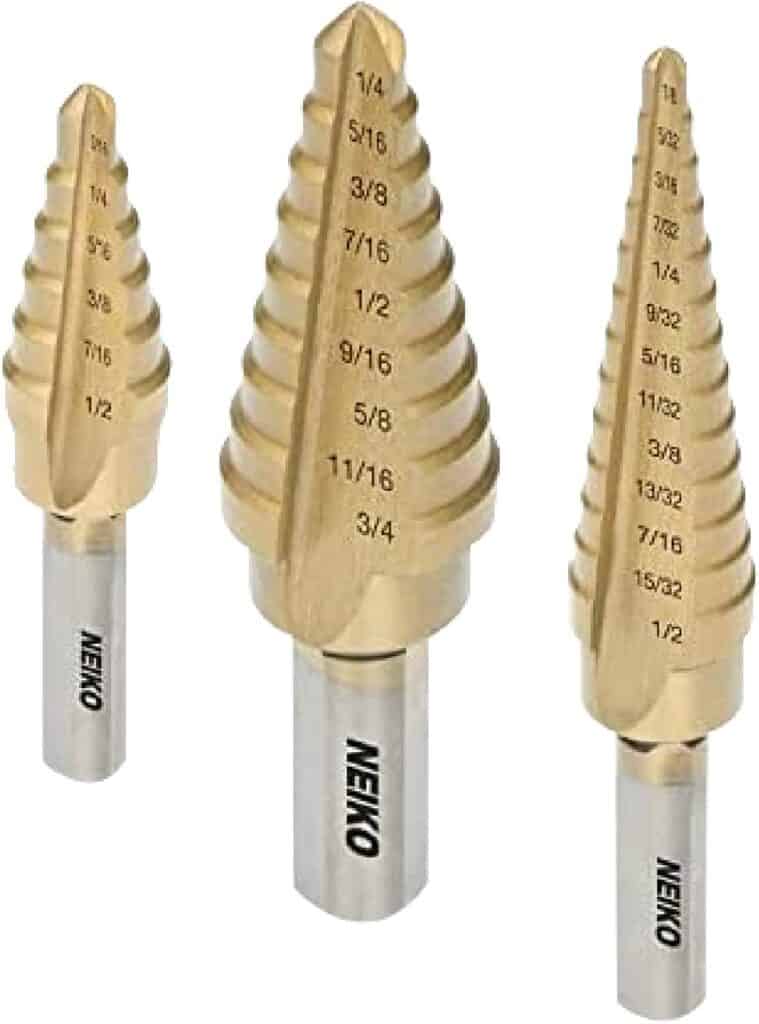 Our first suggestion is the Neiko titanium step drill bit. The drill bits are made with HSS steel and have a titanium coating. Thus, enhancing the strength of the bits further as well as increases the durability to the next level. And, its dual flute design will provide exceptional balance when you are working with stainless steel.
And, its universal shank lets you effortlessly attach the bits to any impact machine and prevents it from shooting out when you are drilling.
Hymnorq Metric M35 13-Piece Drill Bits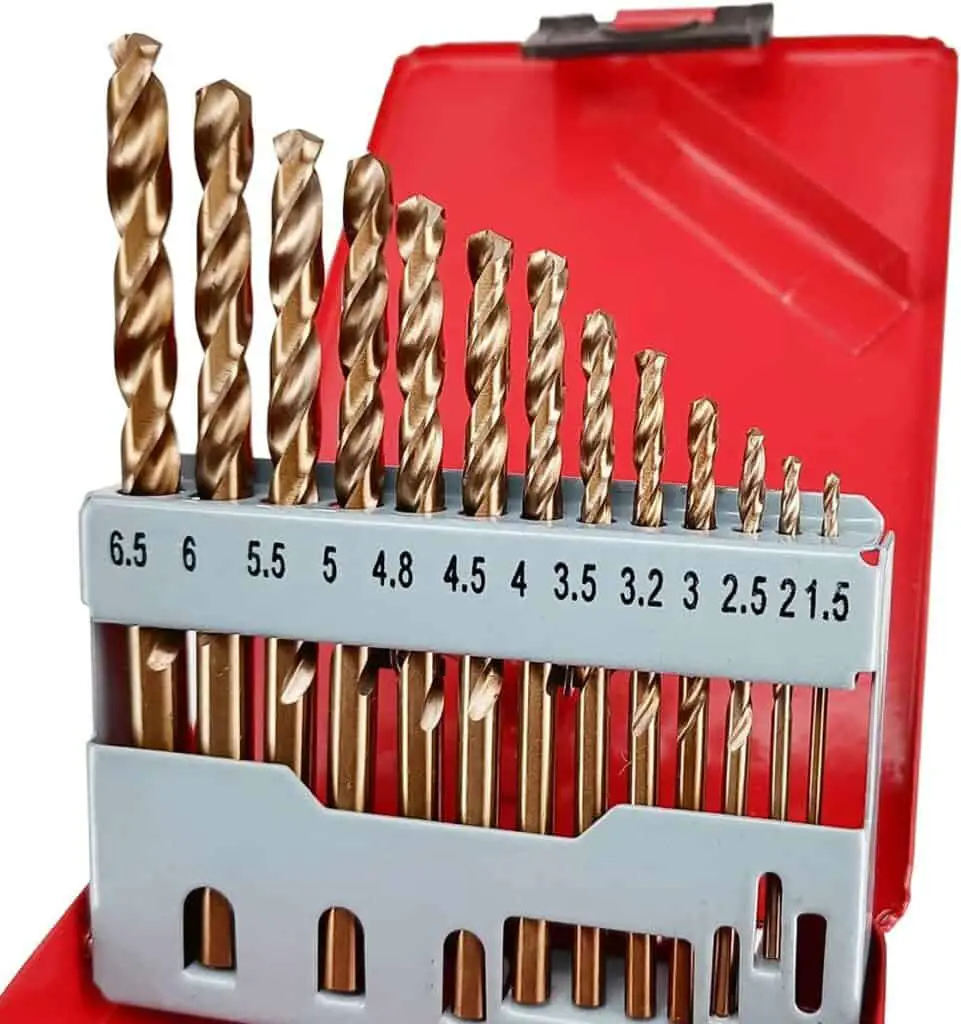 The next recommendation would be the Hymnorq metric 13-piece cobalt drill set. As the name suggests, the product comes with 14-drill bit pieces, each with varying sizes and diameters and provides a vast range of drilling options. Furthermore, each drill bit is made of robust and sturdy cobalt.
Having cobalt in its construction gives them the ability to work through the stainless steel like it is butter. Plus, the design of the pilot tip enhances the performance and assures a much smoother and cleaner drilling experience every time.
Comoware 15-Piece Cobalt Drill Bit Kit
Our last recommendation would be the Comoware Cobalt twist drill bit kit. First of all, the drill bits come in an innovative plastic casing and can be hung to your work apron or pants for easier access to the bits. Besides, the bits come with 21 drill-bits each with different sizes and widens your drilling options exponentially.
And, its sharp twisted design cuts through hard metal with little or no issues. Plus, the cobalt used in its creation grants the product exceptional durability and the ability to cut through stainless steel effortlessly.
Lastly, you can enjoy all these perks at the most affordable range, making it an exceptional option for working with stainless steel.
Considerations to Buy the Best Drill Bits for Stainless Steel
Here are features you need to take into account in order to find your ideal pick.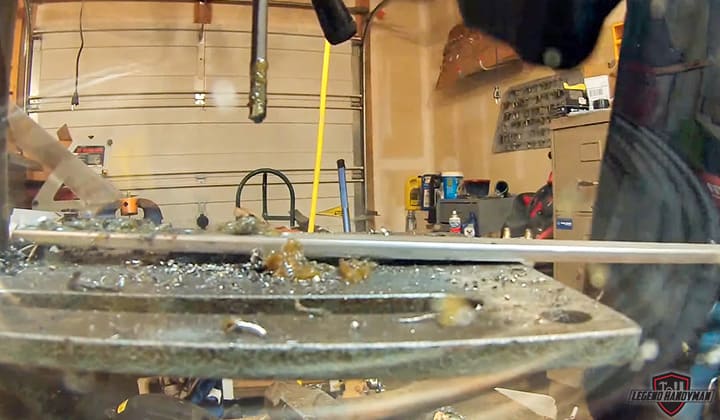 Design
The design of the drill bit is an important aspect that must be kept in mind before the purchase. It is one of the determining factors which assures a clean and smooth cut. There are numerous styles and designs such as twist style, brad-point style, auger drill bits, Forstner drill bits, etc available in the market.
Each design comes with a unique perk and, you need to distinguish which type and style of drill bit you require for the work in hand.
Material
In the present day, technology has advanced to such an extent that we are capable of using various materials and heavy-alloys to enhance the performance and durability of drill bits. Drill bits are made of Cobalt, Titanium, Gold oxides, HSS (High-Speed Steel), Carbide, and numerous other ingredients.
But the best amongst all these are Titanium and Cobalt. These assure superior durability and performance. And, can penetrate through any hard surface, including the soft ones. 
Drill Bit Angle
All drill bits have a certain angle (usually 118 or 135-degrees). These enable steady and uniform drilling and most of them have an auto-centering mechanism. The mechanism prevents walking and promises straight drilling. Recently, the hex (360-degrees) bit is also becoming famous. 
So before buying, be 100% sure that you are buying a one which you require.
Resistance
Resistance to what? Well, drill bits undergo some heavy-duty punishment! So, every drill bit has to be resistant to heat. During the drill, the bits tend to heat up quickly, and hot metal is more prone to damage. Thus, it is necessary that the bits can withstand extreme temperature and still show remarkable results.
Another resistive feature that drill bits must-have is resistance to corrosion or wear. Drill bits need to be built with outstanding pressure resistance so that they don't falter when working on harder materials.
Lastly, it is not unnatural for the metal drill bits to come in contact with water! And, the presence of water put the bits at extreme risk of catching rust. Thus, it is mandatory that the drills have to be rustproof, wear and tear-resistant, as well as corrosion-resistant.
Sizes
Drill bits come in numerous sizes starting from 1/4-inches to 1-inch. Thus, letting you make various cuts of different sizes and, that too, with exceptional precision of different sizes and, that too, with exceptional precision. 
Also, the drill bit has to be of a specific dimension. Therefore, it cannot be too sizable and can't be too minuscule. The minuscule size will attribute to weak structure and will the bits untraceable in your wide arsenal of tools.
Shanks
Another feature that you have to keep in mind is the shank of the structure. The shanks are what you attach your drilling devices to and, the drill bit's shank and your drilling machine must be compatible. 
So, the most preferred are the straight shanks with a chamfered end. They firmly grip your drilling machines and ensures that they won't fly away while drilling. There are numerous shank types like round shanks, SDS shanks, tri-flat shanks, hex shanks, etc. Hence, be sure that you are buying the right type of shanks.
Tip Design
The tip design of the bits are essential as well! And, in the recent market, there are numerous tip designs which include the L-type double fluter (standard tips), U-type double fluter (rust remover), four-flute (superior balance, etc. These designs determine the fluidity and how smoothly the bits cut through materials.
Plus, each of these flutes has their own unique attributes and, it is entirely dependant on you and the type of work you are doing to pick the right tip design. 
Also, you have to keep in mind about the spurs and cutting-edges of the drill bits. For instance, a flat spur is better for decorations, whereas a pointed spur assures superior precision and cutting speed. Furthermore, the cutting-lips need to be sharp and well-maintained because with that you won't have a uniform cut.
Thus, you must go for a drill bit, that ticks all these. So, before buying a drill bit, it is necessary to understand the requirements for the work and buying bits with adequate tips.
Frequently Asked Questions
Q: Can drill bits be sharpened?
Ans: Yes, of course! There are separate machines that will sharpen drill bits efficiently. And, a sharpened drill bit assures superior drilling with smooth and effortless holes. Plus, it is wise to sharpen drill bits quite frequently as they tend to become blunt after several usages.
Q: What is the best to sharpen drill bits?
Ans: Well, this is entirely preference. Though, most pros hold the bits to the sander at about 60-degrees. But we suggest that you avoid holding the bits at 90-degrees to the belt sanders as it would do exactly the opposite of sanding! 
Q: Which the best angle for drilling?
Ans: The best angle would be any angle between 70 to 90 degrees as the force required is reduced (due to gravity) and lets you drill straight.
Q: What is the significance of the drill bit angle?
Ans: It is the twisted design or construction of the drill bits. The most common form is the 118-degree and 135-degree!
Q: Is there any difference between the 3/4 and 19mm?
Ans: No, it is literally the same!
Q: Is the shank size important? 
Ans: Of course! It determines if you can attach a drill bit to your impactor or other drilling machines. So, you must keep that in mind before purchasing a drill bit.
Final Words
Drilling stainless steel can be a risky business. As you drill through stainless steel, minuscule chunks of metal shoot out. If one of them hits your eyes, it could mean trouble. Thus, it is always wise to be fully protected when drilling by wearing a protective goggle and glove, a working apron, and a workplace away from kids. 
Hopefully, you now know all the nukes and crannies regarding drill bits and, we hope that our recommendations help you to find your ideal product.
With all that being said, we hope you could find the best drill bits for stainless steel that ticks off all the boxes on your list.
I'm Joost Nusselder, the founder of Tools Doctor, content marketer, and dad. I love trying out new equipment, and together with my team I've been creating in-depth blog articles since 2016 to help loyal readers with tools & crafting tips.