I love creating free content full of tips for my readers, you. I don't accept paid sponsorships, my opinion is my own, but if you find my recommendations helpful and you end up buying something you like through one of my links, I could earn a commission at no extra cost to you.
Learn more
Among our five senses, ears play a significant role in helping us hear. We learn how to speak, to respond to social cues, and how to stay alert through our sense of hearing. So, inevitably having the ability to hear is essential.
However, numerous ways can push you towards hearing impairments, or you can simply catch a cold if you do not cover up adequately! If you are perplexed about how to prevent such incidents from occurring, then invest in the best earmuffs, of course.
If you thought earmuffs are only winter wear items, then you are very wrong. The product is surprisingly very purposeful, and you can utilize it for various professions.
Best Earmuffs for Woodworking
While woodworking, you have to work with drills, nailers, and chainsaws. All of those power tools create loud noises, which can lead to headaches and hearing impairment. So, a quick way to protect yourself if you use earmuffs.
Procase 035 Noise Reduction Safety Earmuffs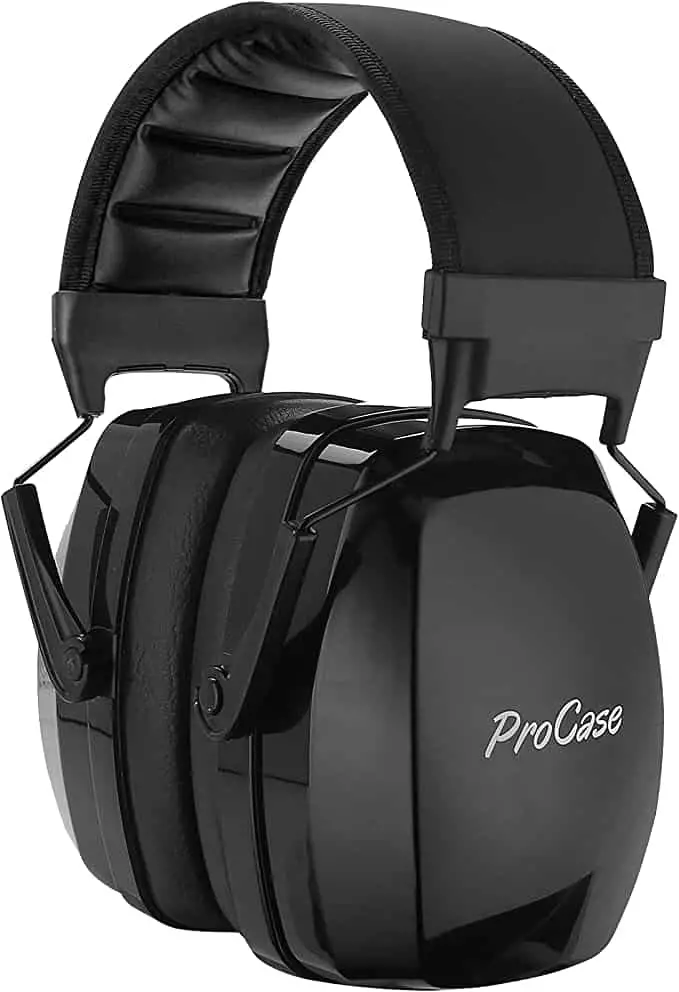 Earmuffs can be challenging to work with, as it often comes in one size fits all. Hence if you were looking for a headgear that has flexible options, then Mpow 035 is an excellent choice.
This earmuff has an ergo-economical design, and the length is adjustable. Steel wire holds the band and the padded cushions, which you can slide at will. It also has some brackets that click to ensure that the pillow is in the slot.
Moreover, the brackets also make sure that the wire does not slip and slide. All the necessary parts, such as the headband and the earmuffs, are well padded. Consequently, it can effectively block out noise while providing comfort. 
The cushions have two tight layers of noise dampening foam and meticulously sealed strong cups. Hence this product can provide SNR of 34dB effortlessly. This certified product can work for shooting, woodworking, and hunting.
It is effortless to maintain and use. The 360-degree flip option makes the product more flexible. Moreover, it can collapse into a compact size. Hence it is travel-friendly as well. It is also only 11.7 ounces with no foam exterior. Thus, dust cannot settle on top of the item.
Highlighted Features
It has a noise reduction rating of 28dB
Can collapse and fit into a pouch
Has dust-free exterior
Consists of 2 layers of professional noise dampening foam
Adjusts according to need
360-degree flexible ear-cups for maximum comfort
3M PELTOR X5A Over-the-Head Ear Muffs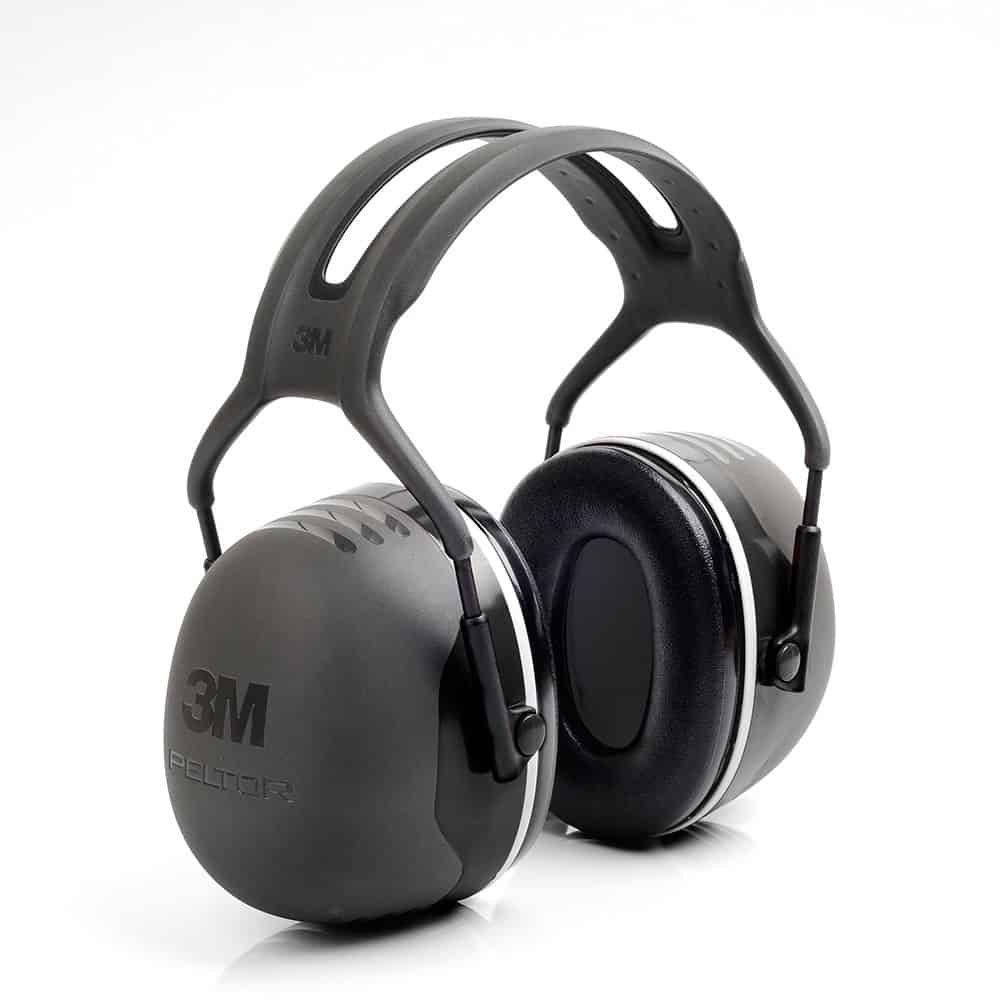 Working around numerous power tools can be hazardous. Hence, your safety wear should be insulated to avoid getting electrified. However, earmuffs often have a steel framework which is very electrically active.
So, if you want to steer clear from metal safety wear, then the 3M Peltor can be what you want. It has a dielectric framework. Which means it is insulated and has no exposed wire. So, you can work around sparks from chainsaws without the fear of getting shocked.
Moreover, other parts of the tool consist of ABS plastic, which is known for its durability and strength. A sturdy plastic framework also makes the earmuff much more lightweight. Hence this product weighs only 12 ounces.
When it comes to noise cancellation, this tool has a 31dB NNR rating. So, it can stand the test of noises from heavy drilling with ease. Moreover, the comfortable built allows the user to wear it for eight hours and more. It is possible because the unique design also reduces heat build-up around the head.
The twin headband ensures that sufficient air circulates through the earmuff. The cups are adjustable, and you can fine-tune it according to your head shape. It also has replaceable cushions and a hygiene kit to help you take care of the product.
Highlighted Features
Can be worn for eight long hours without any discomfort
Has dielectric framework that eliminates chances of electricity conduction
Tried and tested against harsh, noisy environment
Can minimize heat build-up from friction for comfortable wear
Replaceable cushions for ease of use
3M WorkTunes Connect + AM/FM Hearing Protector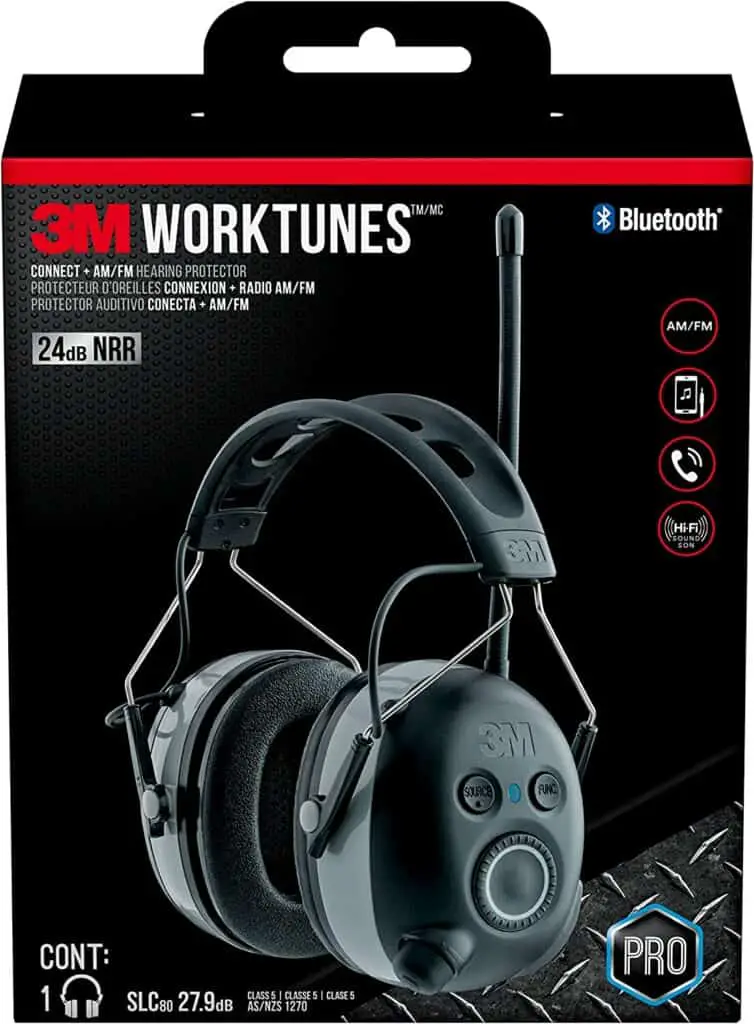 Have you ever gotten bored while drilling through the wood? Moreover, it is not easy to find any source of entertainment since its so noisy. Well, what if the earmuffs themselves were a source of fun?
You can stop dreaming about that perfect product because 3M WorkTune brings the best of both worlds together. It has excellent noise blocking capacity and can play killer tunes simultaneously! You can even tune in to AM/FM radio stations whenever you want.
The digitalized radio system makes it possible to play live songs. Moreover, the product is not one of those cheap headsets that give you a headache. The premium speakers deliver maximum quality while making it comfortable for the eardrums.
Moreover, the safe volume system makes sure that you have the authority to set the volume of the speaker. You can use audio assist mode to change through different radio channel frequencies or to adjust the sound.
On top of all that, you can even receive phone calls with this earmuff since it has Bluetooth technology and an integrated microphone. So, you will never have to take the product off while working. Most importantly, this device has a 24dB noise reduction rating.
Highlighted Features
Earmuffs with in-built audio system
Change the audio volume as per wish
Has wireless Bluetooth technology
Premium sound quality speakers
Has integrated microphone for more accessible communication
Equipped with digital radio
Has audio assist mode for changing volume
Best Earmuffs for Shooting
Shooting with a rifle is not as easy as it looks. It takes practice and strength to hit the target, and the process can be very noisy. Since the bullet splits through the casing, it makes a loud noise, which can be harmful to your ears. So, we have gathered some of the best earmuffs for shooting.
Honeywell Impact Sport Sound Amplification Electronic Shooting Earmuff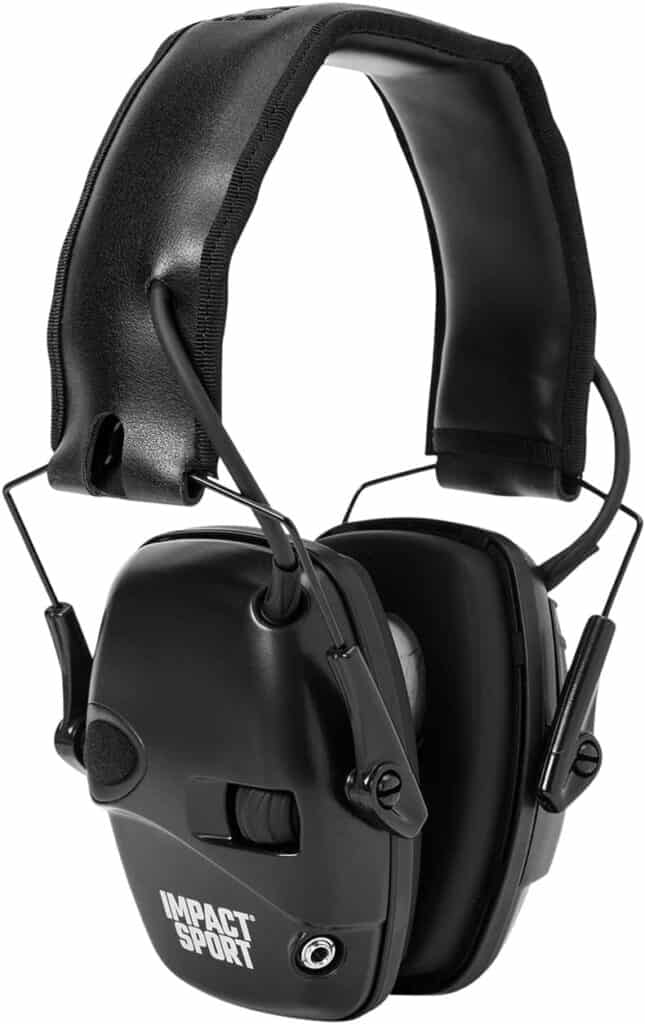 Shooting requires special earmuffs as you cannot completely block the noise out. That would mean that you are unaware of your surroundings. Hence you can easily injure yourself.
Even if you are shooting indoors, an utterly silent earmuff is not ideal. Hence Honeywell brings a line of earmuffs that allows noise within an acceptable range. The sound that will reach your ear will not be harmful and will help you know what is happening around you.
Another factor that makes this model suitable for the shooting purpose is its microphone. You can communicate with your fellow mates using the feature. Moreover, it only uses AAA batteries to function. So, you do not have to fuss about charging priorly.
The auto-shut mode will turn the device off in case you leave it on for more than four hours. So, it is also energy efficient. You can even connect your cell phone with this device, and it will become a headphone. So, you can jam on to some music anytime.
It blocks loud noises above 82dB while making it comfortable for your ears. The soft ear-pads help to isolate the cavity and also adds flexibility. You can adjust the headband according to your head shape as well.
Highlighted Features
Allows sound within a range to enhance awareness
Has a built-in microphone to pass on commands and instructions
Can function as a headphone
Compatible with cell phones
Runs on two AAA batteries
Has extra-padded ear cushions for ultimate comfort
Can be collapsed for compact storage
ClearArmor 141001 Shooters Hearing Protection Safety Earmuffs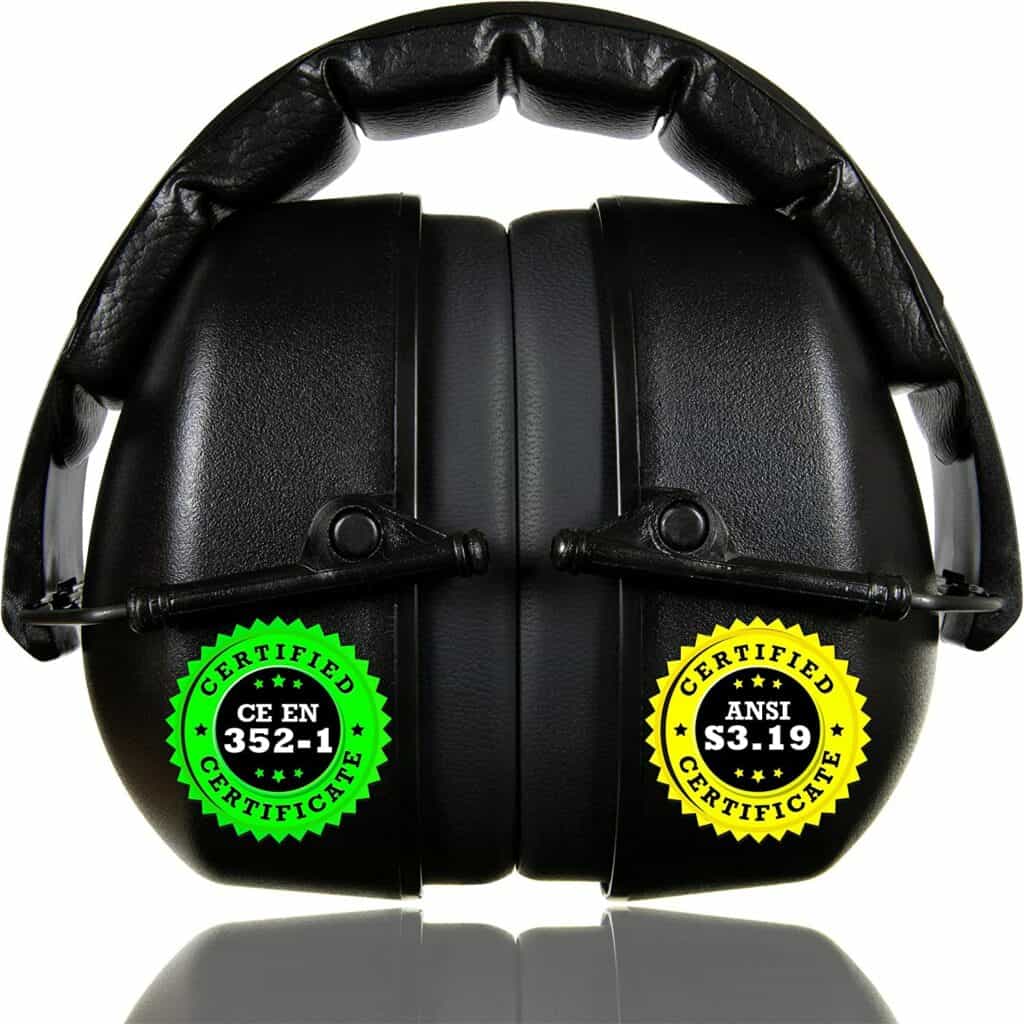 Whether it be a friendly shooting match with your friends or a practice session, the earmuffs need to be durable. Otherwise, its money not worth spending. So, how do you ensure quality and durability without the product being too bulky?
Well, with the ClearArmor 141001, you can get both of those benefits. These products have a sturdy exterior without compromising on the weight. The sturdy plastic enables the product to have much less weight.
Hence this item only weighs 9.4 ounces. But at the same time, it has solid shells that are 1/4 inches thick. Consequently, loud noises cannot enter the internal cavity. However, these models do allow muffled sound.
Thus, you can know if something is about to hit you. So, it can block 125 dB sound for short periods and 85 dB for more extended periods. You can use the ClearArmor while lawn mowing, loud sirens, chains-sawing as well.
Most importantly, this model has ANSI S3.19 and CE EN 352-1 certifications. Which means they are hazard-proof and comfortable for long time use. Plus, padded headrest and three layers of noise dampening foam make the experience more relaxing.
Highlighted Features
Sonic seal system that prevents sound leakage
Provides snug fit for better comfort
Has all the necessary certifications to work as a shooting earmuff
The ear cups fold into a compact shape
Padded headrest and ear cushions
Solid blocker shells with 1/4-inch thickness
Caldwell E-Max Low Profile Electronic 20-23 NRR Hearing
Shooting already requires numerous safety gadgets. It would help if you had eyewear for protecting the eyes and gloves for the hands. On the field, having a life vest is also imperative. So, would you not want an earmuff that is light and does not put extra weight?
That is why Caldwell came out with E-Max earmuffs that are incredibly lightweight and compact. Moreover, after use, you can fold the product and put it inside a pouch. The headband is completely flexible as well.
So, overall the earmuff will not take any much space at all. The earmuff itself is flat and wide. Hence it will cover a significant portion of the user's head, providing a better grip. So, even if you are running or jumping, the earmuff will stay put.
This product has a full stereo and two microphones on each cup to qualify as a shooting earmuff. As a result, you can communicate with other team members at times of crisis. You can even adjust the volume according to your taste.
The device only needs two AAA batteries to run so that you can use it for a longer time. It can effectively block 23 dB noise. The in-built stereo will automatically shut off as well if the sound is over 85 dB. Moreover, a small indicator light will notify about the battery health of the device.
Highlighted Features
Has a wide headband for better grip
Lightweight and collapsible design
Allows different ranges of sound for a better shooting experience
Needs two AAA batteries to function
Has a power indicator system
Works as a headphone with speakers
Has two different microphones
Adjustable volume levels
Best Electronic Earmuffs for Shooting
Regular earmuffs are fantastic. But having an electronic earmuff can undoubtedly improve the sport for you. So, let us go through some of the best options we have regarding this item.
Awesafe Electronic Shooting Earmuff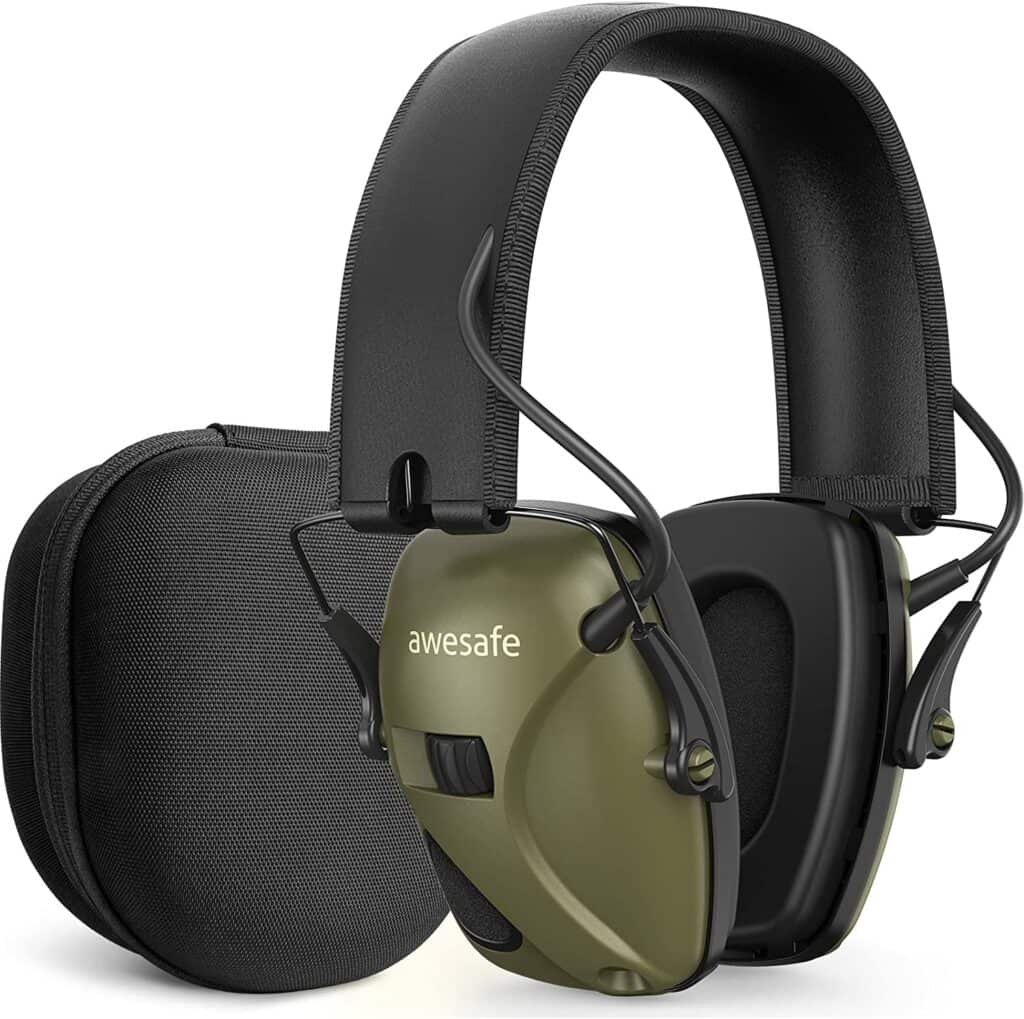 How often have you missed a shot because you could not gauge the target accurately? Hearing allows you to understand the surroundings, which in-turn help in a better aim.
Hence the earmuff by awesafe is a fantastic product for a rifle shooter. It has omnidirectional microphones that will gather surround sound at a lower decibel. Thus, it will not be destructive for the eardrums.
Moreover, the tool itself is very flexible. You can adjust the headband to fit your shape. So, if you are wearing a goggle or a facemask, this tool will not come in the way. However, it will still be snug around your head.
Since it has a flat band, it will not slip off easily. You can connect the earmuff to cell phones or other radio devices with a 3.5 mm AUX cable. You can use this feature to communicate with fellow rifle shooters on the field as well.
This device can block noises up to 22 points. Which means you can use it for woodworking, drilling, and other construction work as well. Overall, it is a versatile tool to have.
Highlighted Features
Omnidirectional microphones for an increased sense of surrounding
Adjustable headband for comfortable wear
Flexible design that will not interfere while aiming
Easy to maintain and replace earmuffs
Energy-efficient device
GLORYFIRE Electronic Shooting Earmuff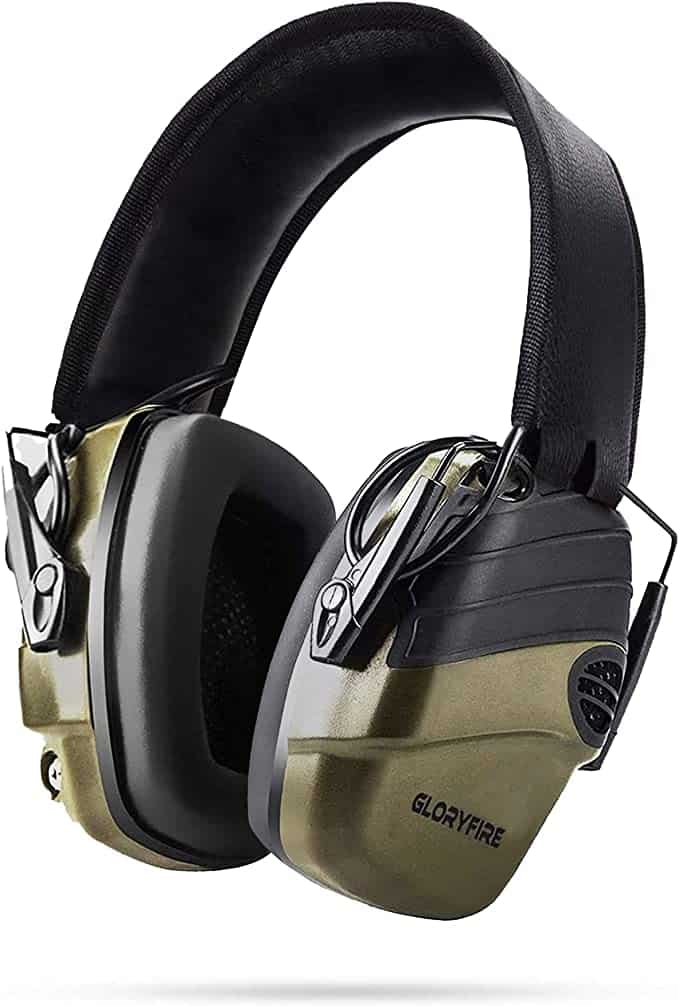 Any form of shooting takes long hours of practice and skills. Especially if you are hunting, then no one knows how long you have to stay on watch for your target to show up. Hence your safety gear should be comfortable for long time wear.
Luckily the earmuffs by GLORYFIRE are super lightweight but durable at the same time. You can use them for long hours without feeling any discomfort. It is possible because the framework of the tool fits the user correctly.
Moreover, small tweaking, such as a switch button at hand reach, makes the device even more user-friendly. This model also features a wide headband for a secure grip. Moreover, the ear cups rotate 360 degrees to fit you perfectly.
So, no matter what you do, the earmuff will not fall off. The GLORYFIRE also has high-tech microchips for improving the speakers. You can hear six times more precise sound with this device. Thus, your hunting game can be unbeatable now.
However, the earmuff does block out sound within a specific range, especially if it is harmful to hearing. The NNR rating of this model is 25 dB, and you only need two AAA batteries to start using this earmuff.
Highlighted Features
Suitable for long-range shooting
Has padded foam throughout the headband and ear cups
360-degree rotating cups
Foam seal around the edges to prevent sound leakage
Compatible with mp3 players, scanners, and cell phones
Amplifies sound up to six times more
Best Earmuffs for Sleeping
Some people are sound sensitive, and if you are an insomniac, then you know how hard it is falling asleep amidst the noise. It can be loud chattering or even the constant ticking noise of a clock that keeps you awake. However, there are special earmuffs for sleeping as well.
Sleep Master Sleep Mask
Having problems trying to sleep is very typical. The trouble can arise from a dimly lit room or a noisy place. If you are a person who needs complete darkness and silence to fall asleep, then these factors can be annoying.
You can easily find sleeping eye-pads that block the light out. However, noise-canceling sleeping masks are rare to find. But Sleep Master has manufactured a miracle product that can eliminate both problems.
It can block light out as it sits on top of your eye socket and also cancels the noise thanks to its noise dampening pads. The padding has the perfect ratio that enables noise reduction but does not feel suffocating.
Often eye masks can tug on the head, causing discomfort. Hence a velcro strap at the back can help you adjust the band tightness. But do not worry about hair getting stuck on the velcro. The concealed velcro only adheres to the other end.
The outer covering also feels luxurious as it is a satin material. Hence it will stay cold throughout the night by eliminating heat build-up. More importantly, the cloth or the padding does not have any hypo-allergic particles in it.
Highlighted Features
Exterior consists of cool, breathable material
Not prone to skin irritation
Soft satin glides over the skin comfortably
Does not contain any hypo-allergic particles
Very easy to wash and dry
Has velcro straps for easy adjustments
Yiview Sleep Mask Eye Cover for Sleeping
Who wants to wake up with a hot face because of a sleeping mask? The whole point of the product is to make you feel comfortable. If it fails to do that, then why bother purchasing it?
Hence the sleeping mask from Dream Sleeper is an excellent option as it has satin material covering the pad. Moreover, the cushion itself is breathable. Thus, your face will not get hot overnight.
Moreover, it can block 100% of the light as it has a blue hue to it. However, before use, you should give the mask a thorough wash. It is surprisingly easy to wash and dry as well. Do not machine dry as it can deflate the cushions.
But you can sleep on your sides as much as you want, the cushion will not flatten out. It can effectively reduce noise, and the soft padding helps in this purpose. Another great feature is the cut-out around the nose. It enables the mask to sit snugly on the face.
Hence, light cannot peak through places where the mask cannot cover. It does not have any hypo-allergic substance as well. So, coming in contact with the nose will not be a problem.
Highlighted Features
Breathable padding that covers the eyes and the ears
Blocks 100% of light
The size is adjustable according to need
Does not contain any hypo-allergic substance
A large pad that snugly fits the eye socket
Has cut-outs to adjust to the nose shape comfortably
Soft satin material
Best Hearing Protection Earmuffs
Having an earmuff while working in noisy factories or fields can be very beneficial for your health. It not only protects your hearing ability but also allows you to concentrate on the work.
Professional Safety Earmuffs by Decibel Defense
Earmuffs come in categories that are suitable for different professions. But if you wanted to avoid all the hassle about research and wanted a versatile earmuff, then Decibel Defense can come to your rescue.
This earmuff has high NNR ratings. Which means it can block hazardous noise with ease. The specific NNR score for this device would be 37 dB. Hence you can use it for pretty much any noisy work.
It can come in handy while mowing a lawn, gardening, woodworking, and even shooting. Even though it completely muffles loud noises, it can still allow enough sound to keep you aware.
However, the ear cups are not suitable for sleeping. But they are very comfortable, and you can use them for long hours without experiencing headaches. The padded layers inside the cup also provide a soft surface for your ears.
You can slide the metal band to any length. Thus, it can sit snugly on your head. However, it will not be suffocating, and even kids can use the earmuff. This product also has all the necessary certifications for optimal protection.
Highlighted Features
Versatile earmuff that can work for kids and adults
Has ANSI and CE EN certifications
Slidable headband for the perfect fit
Lightweight and compact body
Can completely block out higher decibel sound
Guide to Buy the Best Earmuffs
By now, you are well aware of various earmuffs and their qualities. However, before purchasing one for yourself, you need to know which model to pick. Hence, we have gathered some factors that you must take into account.
Noise Reduction
The number one factor to look for while purchasing an earmuff is the noise reduction rating. These ratings have different names, such as the SNR or the NNR. Usually, the point will be available on the box of the product.
Different purpose requires different levels of noise reduction. You can choose a tool that completely blocks all noise for woodworking. But for shooting, you need to be aware of the surrounding. Consequently, an earmuff with a variable range of sound will be more useful.
Flexible Framework
Avoid earmuffs that claim to be the free size. As every person has different sized heads, the earmuff should also be adjustable. So, look for a product that has 360-degree rotating cups. That way, you can divert the earmuff away from one ear and still keep the gear on your head.
Flexibility also allows the tool to be collapsable. So, you can increase or decrease the length of the headband. You can even fold the item into a compact size. Thus, you can travel light.
Microphone
Having the ability to communicate comes very handy while shooting. So, if you want a tool that is exclusively for rifle shooting or hunting, then certainly look for microphones.
Some earmuffs even have dual microphones on each cup. So, the omnidirectional feature allows you to talk from any position. Earmuffs can have various forms of microphones, such as in-built ones or in the form of an actual mic. You can choose one, depending on your needs.
Battery
If you want external features such as microphones or speakers in your earmuff, then it will need batteries to run. Most of these products run on two AAA batteries, which you can find anywhere.
Some earmuffs even have light indicators for displaying battery life. However, do look for secure battery slots. Otherwise, the battery can fall off anytime.
Durability
Earmuffs should be sturdy but also lightweight as it stays on your head. If it is not comfortable, then the user will experience headaches or uneasiness. ABS plastic or any other light metal makes excellent earmuffs.
Having layers of soft cushions inside the cup also increases the shelf life of the product. It also helps in canceling noise and providing comfort.
Speakers
A cool feature that you can look for is speakers. You can play music and kill boredom at work. However, the product should be compatible with cell phones or mp3 players to access entertainment.
You can look for an AUX cable or Bluetooth feature to connect the earmuff with the cell phone. Some earmuffs can even play live radio.
Frequently Asked Questions
Q: Are shooting earmuffs suitable for sleeping?
Ans: No, shooting earmuffs are not suitable for sleeping.
Q: Can you adjust the volume level of the speakers?
Ans: Yes, the volume level is adjustable.
Q: Is an entirely silent microphone useful for shooting?
Ans: No, shooting earmuffs should allow sound under an acceptable range.
Q: What is the best NNR rating for earmuffs?
Ans: There is no fixed NNR rating. Different activities need different levels of NNR or SNR ratings.
Q: Can I replace the cushions?
Ans: Some brands offer replaceable cushions, while others do not.
Final Word
The best earmuffs can come in numerous categories, but all of those products can only be beneficial. You can avoid all the discomforts caused by a noisy place by choosing an earmuff that has the right weight and dimensions.
So, do not take your hearing ability for granted. Do your ears a favor and get yourself an earmuff.
I'm Joost Nusselder, the founder of Tools Doctor, content marketer, and dad. I love trying out new equipment, and together with my team I've been creating in-depth blog articles since 2016 to help loyal readers with tools & crafting tips.