I love creating free content full of tips for my readers, you. I don't accept paid sponsorships, my opinion is my own, but if you find my recommendations helpful and you end up buying something you like through one of my links, I could earn a commission at no extra cost to you.
Learn more
Be it for use at home or a workshop; a screwdriver is an essential tool to have available in your toolbox. However, the traditional screwdriver makes work slow and relatively tedious, having to do the same thing again and again. As a  result, the electric screwdriver is the perfect upgrade, helping work go along much quicker and efficiently.
There's a small problem with electric machinery; they cannot be relied on at all, as breakdowns can happen at any time. To make sure you don't have to go through a similar situation, we've made a list of the best electric screwdrivers available.
Go through these reviews carefully to pick out a machine that perfectly matches your needs.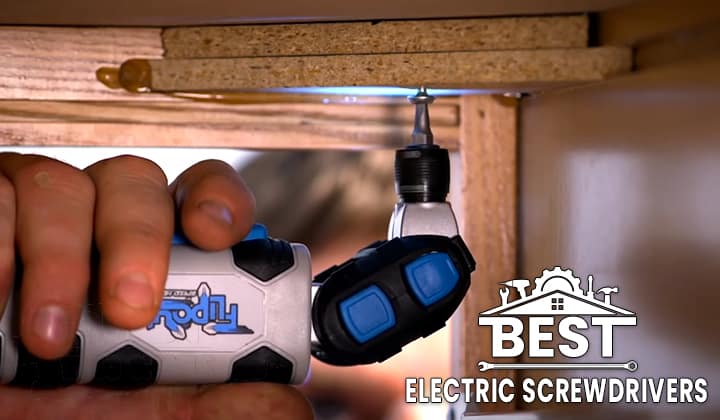 7 Best Electric Screwdrivers Reviews
Buying a flimsy electric screwdriver would only be your loss, they may seem shiny at first, but they're likely to breakdown. For this reason, it's necessary to buy quality equipment; this list here consists of the top 7 options can buy today.
BLACK +DECKER Cordless Screwdriver (BDCS20C)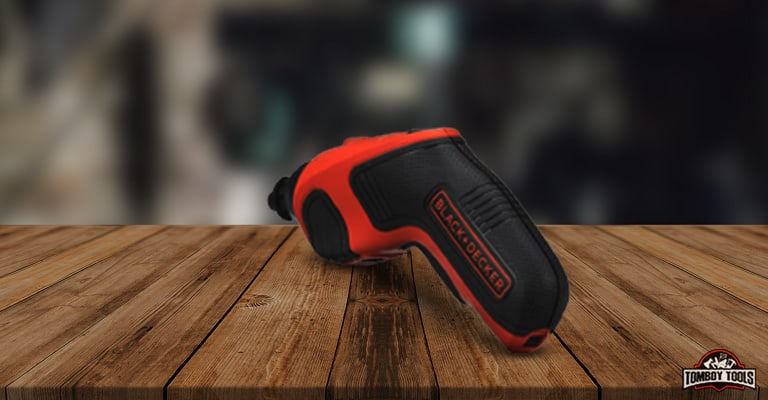 | | |
| --- | --- |
| Weight | 1 pounds |
| Dimensions | 8.5 x 2.63 x 6.75 |
| Color | Black |
| Power Source | Battery-Powered |
| Warranty | 2 year |
The Black + Decker is a name that's quite familiar in the power tools industry. As a brand from Stanley, this company is known to produce quality machinery. Thus, you can be sure that your cordless screwdriver is a tool that can be relied upon.
Plus the company has an excellent aftersales service, which is necessary for electrical machinery.
This screwdriver is an excellent piece of hardware with an attractive and ergonomic design. The machine is relatively small in size and lightweight, making it a  perfect addition to your home toolbox. Moreover, the compact design allows you to reach into tighter spaces providing optimal functionality.
However, its compact size does not compromise on power; the machine comes with a 4V powered motor. This motor can generate a maximum of 35in-lbs of force, so you'll be able to tighten even the stingiest of nuts.
Moreover, you'll also be able to run the machine at 180 RPM; this should make tightening/loosening screws quicker and efficient.
The rubber gripping added to the handles further allows for a more comfortable and controlled grip of the screwdriver. Additionally, since it's from Black + Decker, you'll be able to use all the available attachments and those that will be. Price-wise, the machine is relatively cheap, so you can say you're getting your money's worth.
Pros
Small and compact
Powerful machine
Provides money's worth
Comfortable gripping
Rechargeable
Cons
Does not come with a charging light
Inconvenient location of Forward/ Reverse switch
Metabo HPT Cordless Screwdriver Kit DB3DL2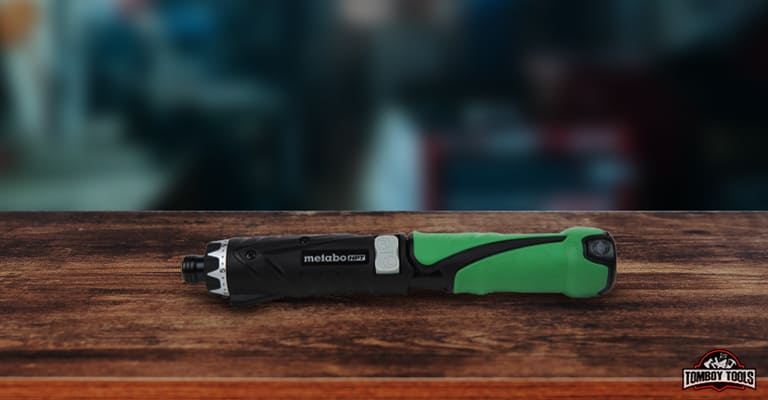 | | |
| --- | --- |
| Weight | 14.4 ounces |
| Dimensions | 10.5 x 1.8 x 1.8 |
| Voltage | 3.6 Volts |
| Power Source | Battery Powered |
| Warranty | 2 Years |
Metabo is another big name in the power tool industry, formerly known as Hitachi Power Tools. These people have cracked the code when it comes to making electrical equipment, making some of the most durable and reliable machines. And this cordless screwdriver performs no less than anticipated.
What sets this machine apart is its dual position handle. This dual positioning allows you to use the device wholly straight or use in the conventional pistol grip position. These dual settings make it an excellent piece for when you need to reach into a tight corner and hard to reach places.
Not only is the machine well designed, but it's also very light and compact, so storage should never come as an issue. Moreover, the machine also features 21 clutch settings and one drill setting. Having these many settings allows you to set up the device according to your comfort level for extra precision and control of the device.
The machine is powered using quite a powerful motor; this motor can generate up to 44 in-lb of torque. Moreover, you'll also be able to vary the speed because the machine works from 260 RPM to 780 RPM; thus, you can match the speed according to your need. The forward and reverse switches on this device are also ergonomically placed for quick switching.
Pros
Speed can be varied
Heavy torque of 44 in-lb
Includes LED light for better visibility
Dual position setting
21 clutch + 1 drill setting
Cons
Relatively pricey
Uncomfortable grip
WORX WX255L SD Semi-Automatic Power Screw Driver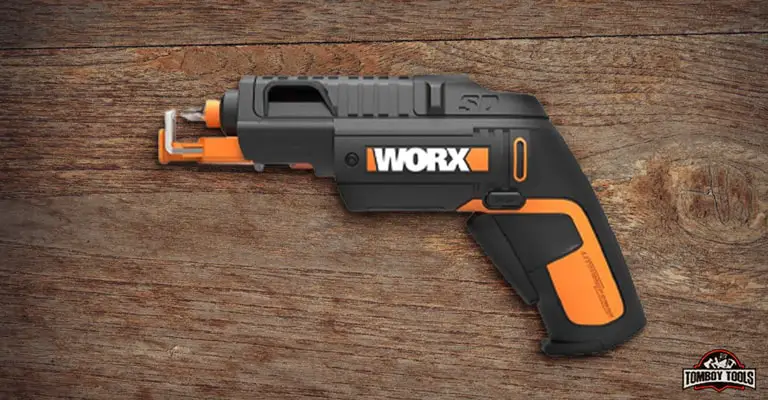 | | |
| --- | --- |
| Weight | 1.5 pounds |
| Dimensions | 3.8 x 1.8 x 5 |
| Color | Original Version |
| Power Source | Battery-powered |
| Voltage | 4 Volts |
This one might seem like a Nerf gun at first, but Worx has outdone themselves with this unique machine. The uniqueness comes about due to the machine's easy bit switch system, allowing you to switch between six different bits with no more than the pull and push of a slider.
However, the bit dispensation & switching system is not the only single unique feature about this little device. The machine has a screw holder included at the front end of the machine; this allows you to firmly hold onto the screw while you're working on it. Thus, you'll be able to work with the screwdriver singlehandedly.
Furthermore, since this is a tiny little machine, you should have no issue reaching into tight spaces, plus the lightweight should allow one-hand use. Being tiny, however, has not affected the machine's power output, producing an RPM of 230. This motor may not be the most powerful; however, it is sufficient for home use.
Furthermore, the lithium powered charger on this machine should be able to give you around an hour's worth of charge. Being lithium powered further allows the machine to hold in this charge for almost 18 months, without fail. Price-wise, the machine is relatively cheap, giving you the value for your money.
Pros
Unique dispensation and switching system
Compact and lightweight
One-handed usability
Provides value for money
Comes with an LED light
Cons
Not the most powerful
Running time is a bit short
Milwaukee 2401-20 M12 Cordless Screwdriver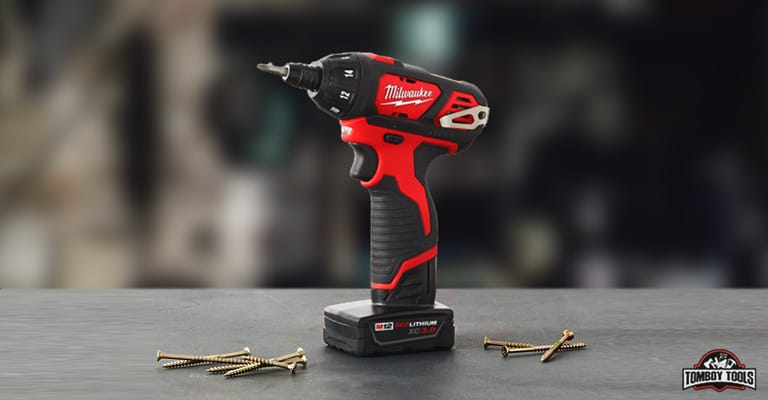 | | |
| --- | --- |
| Weight | 1.95 pounds |
| Dimensions | 8.66 x 6.38 x 4.45 |
| Color | Red |
| Power Source | Battery |
| Voltage | 110 Volts |
If you're looking for a machine that can deliver real power for excellent value, then it doesn't get better than this model from Milwaukee. The machine can deliver insane power using its 12V motor, generating a torque force of 175 in-lb.
This much force added with the 500 RPM will allow you to screw into some sturdy materials with ease.
However, having this much power in its raw self would cause the user to lose control of the device. For this reason, the manufacturer has installed 15 clutch settings + one drill setting into the device. These clutch settings allow you to gain better control over the device, allowing for precision and comfortable usage.
For efficient usage, the device includes a quick chuck change system. The universal ¼ chucks used by the machine are easily switchable without the need for a key. For those who use the machine regularly, Milwaukee has made sure to make the device ergonomic and comfortable to hold.
The machine is a bit larger and heavier than other models but can still be considered as a compact device. Moreover, it also uses a superior Redlithium battery pack, which can provide a longer usage time. And for the convenience of the user, the machine includes a battery fuel gauge, to keep a check on remaining runtime.
Pros
Large and mighty motor
15+1 clutch and drill settings
More effective battery
Quick chuck change system
Ergonomic design
Cons
Relatively larger in size and weight
Made using plastic
DEWALT DCF610S2 Screwdriver Kit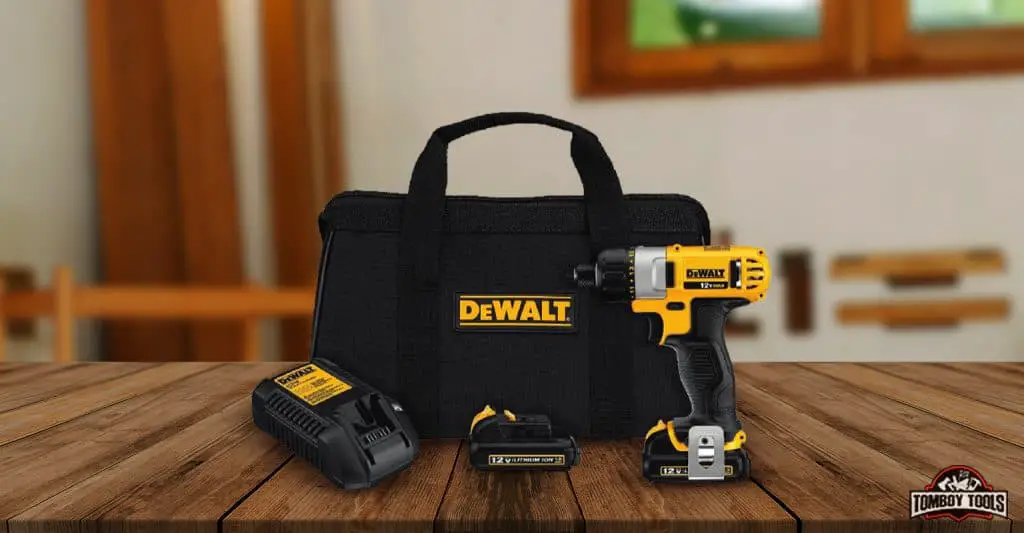 | | |
| --- | --- |
| Weight | 2.12 pounds |
| Size | Medium |
| Color | Yellow |
| Power Source | Battery |
| Warranty | 3 Year |
Dewalt is known to produce only performance machinery that never falls short on quality, and this screwdriver kit lives up to it. The DCF610S2 uses a 12V motor; this motor provides exceptionally high speeds reaching a maximum RPM of 1050.
The torque force that is delivered by this machine is also no joke, delivering a whopping 375 in-lb force, so you never have to worry if the screws are tight or not. This power is controllable using the 16 clutch steps included in the machine. These clutch steps help maintain control and prevent damages from taking place.
The set comes with a quick charging battery, giving you a full charge within 30min or an hour. But the battery is not only quick to charge; it also has a much longer usage time. Additionally, when you buy the set, you'll be getting two batteries together, so you can just switch between both.
For better efficiency, the screwdriver comes with a keyless chuck design that accepts 1/4-inch bits to be loaded in. These bits can be loaded quite quickly, and the lightweight should allow one-handed usage as well. Moreover, the machine also comes with 3 LEDs to help you see when you're reaching into tight dark spaces.
Pros
Extremely high-performance motor
Quick charging battery
Ergonomic and comfortable design
Keyless bit switching
16 clutch steps
Cons
Dremel HSES-01 Powered Cordless Electric Screwdriver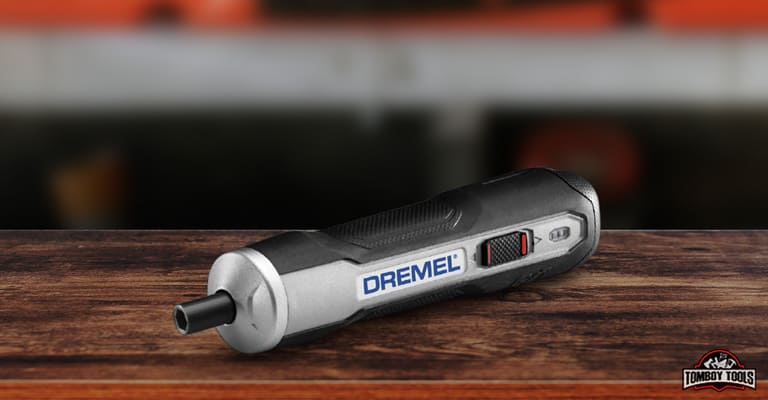 | | |
| --- | --- |
| Weight | 9.6 ounces |
| Dimensions | 1.8 x 6.25 x 9.5 |
| Voltage | 4 Volts |
| Power Source | Battery |
| Warranty | 2 Years |
If you're working with delicate equipment, a power-hungry machine won't do you much good. For such work, you'll be needing precision rather than torque; thus, the pen-type Dremel electric screwdriver is the perfect device for the job. However, even though it is a tiny machine, it still packs a punch.
This machine uses a reasonably strong motor to run the device, delivering enough torque that can drive-in 2inch long screws. The motor is also able to generate about 360 RPM; however, the high speeds can be controlled in delicate scenarios using the variable torque setting.
Furthermore, the machine uses a push and go activation system to start up the system. This push and go system is a quick method that complements the pen-type design, helping you when you're trying to reach into tight little spots. Plus, weighing in at a bare 0.60lbs makes it one of the most lightweight machines available.
What's impressive about this machine is that it uses a USB charging system. So you never have to carry around a bulky charger, preferably a simple phone charger will do the trick. Moreover, the battery also has a charge indicator; this will keep you updated on the charge available and make life convenient.
Pros
Unique push and go activation system
Variable torque system
USB charging abilities
Lightweight and compact
Pen-type design
Cons
Not preferable for firm surfaces
Small battery won't provide long usage time
What to Look for Before Buying?
It's not that easy buying an electronic product; there are a lot of features that must be looked at before you consider the purchase. Plus, even though an electric screwdriver is a relatively cheap purchase, there's no reason for you to have to buy multiple ones.
So, make sure you look into these features to find yourself the best machine there is.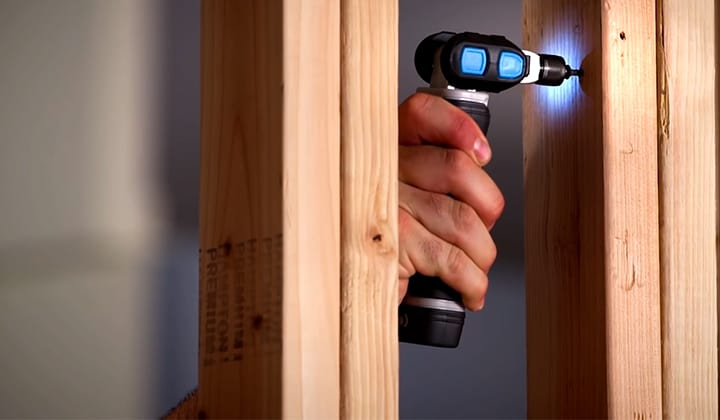 Motor Power
The motor's power rating is one that is going to be dependent on your needs from the screwdriver. To better understand and choose the device with the best, there are some things to keep in mind.
First and foremost, the power derived from your motor will depend on how much energy it is sucking in. Motors with higher voltage ratings tend to be much more powerful.
You also need to check the amount of torque and RPM that is generated by the motor. Higher torque ratings mean the screwdriver can apply much higher force, and a higher rpm means it can do the job quicker.
For household jobs, you won't be needing much high powered devices; a rating of 4V should do the trick. However, if you're looking for heavy-duty work, then the 12V models are a minimum.
Size
When buying a cordless screwdriver, it's always better to go for models that are more compact and lightweight. A smaller device will allow you to get into difficult to reach spaces.
Moreover, storing the tool and carrying around also becomes much simpler; some devices are available in pocket sizes for easy useability.
Ergonomics
Another very crucial factor for a cordless screwdriver would be its ability to provide comfort to the user. If you're looking at a cordless screwdriver for regular usage, you'll want to choose one that includes rubber gripping.
Not only that, when you consider ergonomics, you must also consider the placement of the buttons. The forward and reverse button familiar to all screwdrivers must be placed in a lucrative location that has easy reachability. This design will allow you to use the machine more efficiently, making yourself more productive.
Speed Control
Some of these screwdrivers available have very high torque and equally high RPMs. High power like this can, at times, be damaging as they cause the user to lose control of the machine. Additionally, it can lead to problems like overdriving or stripping of fasteners.
To avoid these issues, make sure your devices come with a clutch or a variable torque system. These will allow you to control the amount of RPM/torque that is derived from the motor.
Thus, you can customize the power to meet the needs for the job, allowing you to avoid doing damages, also giving you greater control and precision.
Price
The electric screwdriver is one piece of machinery that you can attain at quite an affordable price. These machines perform a relatively simple task and are pretty small in size as well, so you shouldn't spend more than  $100 on one.
Frequently Asked Questions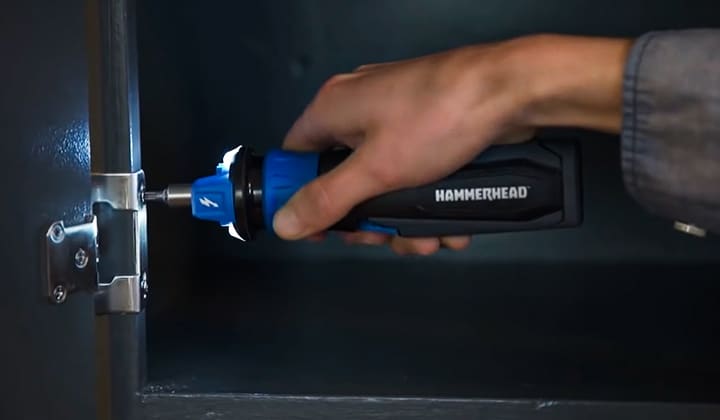 Q: Can my electric screwdriver be used as a drill?
Ans: Yes, you can quite effectively use your electric screwdriver as a small drill press for lightweight project. However, the machine's abilities as a drill will be mostly limited, and you'll be able to do only minuscule tasks.
Q: How do I charge my electric screwdriver?
Ans: Charging the device will mainly depend on the type of machine you have. For machines with removable batteries, the battery charger will be provided in the box. However, some machines even support USB charging abilities.
Q: How long will it take to charge my device?
Ans: Charging times are another factor dependent on the model that is being talked about. However, on average, it should take 6 to 12 hours with a standard charger. For ones with quick charging abilities, you can be done in an hour.
Q: Can I use the screwdriver to put a screw in the wall?
Ans: For larger machines with enough torque in them, this could be possible. However, for a successful try, make an indentation in the wall beforehand, this will make driving in the screw easier.
Q: Can I keep the batteries inside the drill?
Ans: If a screwdriver is unused for a long time, it's recommended that the batteries are kept separately. Keeping the screwdrivers batteries away makes sure components such as the battery power indicator, do not completely drain out the batteries charge.
Final Words
Quality tools help a person go a long way in life; however, what provides quality to one much depends on the individual's needs. To get the best electric screwdriver into your toolbox, make sure to take help from this review. It will not only suggest the best product but will also help you understand your needs better.
I'm Joost Nusselder, the founder of Tools Doctor, content marketer, and dad. I love trying out new equipment, and together with my team I've been creating in-depth blog articles since 2016 to help loyal readers with tools & crafting tips.