I love creating free content full of tips for my readers, you. I don't accept paid sponsorships, my opinion is my own, but if you find my recommendations helpful and you end up buying something you like through one of my links, I could earn a commission at no extra cost to you.
Learn more
Do you want your bright side to being reflected in your workpieces? Are you crazy about making new and innovative designs? If so, surely, you want those masterpieces to last for a long time. And here the epoxy resin comes to action.
Epoxy resin is a material used for different purposes. From electronics to cool DIY projects, this is needed almost everywhere. If you need to make a shiny river table, you need this epoxy resin. This resin has to be added as a transparent layer on any surface that you want to be highlighted.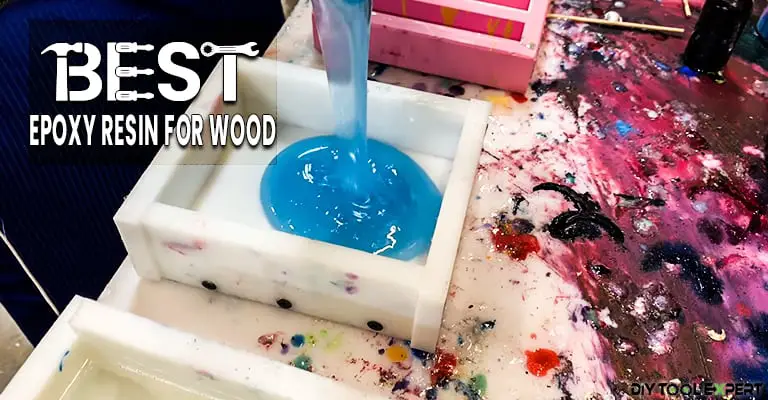 But all epoxy resins are not suitable for woodworking. You need to deeply understand the significance and then pick up one. From innumerable alternatives, we have selected some for you. Just go through the article and be an expert!
Epoxy Resin for wood buying guide
Consider some features that you have to be careful before picking up a product to the cart. Here is a guide that will lead you to the best epoxy resin in the market.
You may also like to read – best stainable wood filler.
Protection
Epoxy resin doesn't just only give a shiny and glossy surface, it also protects the workpiece from UV radiation and water. But there's a problem. UV radiation never leaves epoxy raisins at peace. The trouble with these raisins is that they gradually turn yellowish as UVs impact them.
To deal with this issue, some epoxy resins contain materials that will help get rid of the effects of UV radiation. Though full protection is an ideal case, as a practical solution the usage of an external protective layer has always proven to be appreciable. And that's the way manufacturers save the best epoxy raisins for wood from direct sunlight.
Epoxy resin, however, can give you protection against water. The resin makes a transparent protective layer on the surface and prevents water drops to get in. But make sure that you pick up a resin that gives you extra hardener with it. By using the manufacturer's recommended hardener, you can have a finished layer to prevent water.
Application process
If you feel it too much uncomfortable to apply a coating on the surface, it's quite difficult to have the best outcome. Especially, if you are a noob, it will be a nightmare.
Usually, the main difficulties with the application process involve how the resin cures while it is being applied. The most common issues with the application are either the development of bubbles or a condition called blushing.
So, try to choose an epoxy resin that is suitable for your workpiece and comfortable for you to apply. Go for a resin that comes into a complete package. To be more precise, go for the resin that comes with a hardener with it.
Coverage
If you're looking for a more economical choice, it's a rule of thumb to go for the one that covers an enlarged surface area. There are indeed some more parameters to be taken under consideration, but this indeed gives an idea of how much value one product gives over another.
If you see an epoxy resin providing a coverage area of 25 square feet, it's indeed an economical and efficient choice. But always be sure that you don't end up buying one with some major faults.
Curing
Raisin's performance can be quantified on the basis of curing time. It's basically the 3 stages of application of the epoxy coat. You need to know them or in fact, feel them get the best output.
Certainly, you can't touch the surface as soon as you apply the coat. It's the first curing time that tells you when you are granted that silly permission. It should be enough hardened by that time. If it gets ready for the next coating, it's the second one. And the final one is the stage when it is prepared for use.
You need to find a better epoxy resin that quickly cures. It is extremely important if you are using it for commercial purposes. You will find this important information quoted on the container of the resin.
Self-leveling
The epoxy resin coat which is self-leveling might be a better option for you. You know what, The best thing about a self-leveling coating is that it will never be a problem of concern for the streaking or other imperfections that a non-self-leveling epoxy resin may suffer from. By filling up cracks, dips, and other planar imperfections this feature will be a great benefit of the product to be used.
So, always prefer a resin that is self-leveling, even if you have to pay more for the resin. Do remember it is an investment, not an expense to spend money on necessary materials.
Blush and Bubbles
In the case of Epoxy resin, blush is always a nightmare, especially woodworkers working with resin. In fact, it is one of the most annoying issues that you have to face if an epoxy resin blushing creates a waxy bi-product that sits on the surface of the finish. That's why we recommend that it's clever to pick up a resin of new and enhanced formula. It is, generally, printed on the container.
Bubbles are another annoying thing you have to encounter. Bubbles can appear from both inside and outside. But the major fact is that it is caused due to redundant formula or cracking during application. If the bubble is from the inside surface, grab a blow torch and blow it. On the other hand, if it from the outside surface, just make it a point and make it go out.
If you pick up an epoxy resin made by a new enhanced formula, it is more likely to porn bubbles. So, make sure that you are up to that!
User-friendly Application Process
If you are an amateur, pick the easiest one to apply for your work. Application of epoxy resin might look very simple, but it's actually not. This step also influences how good your work will be, so do it carefully.
Look for bubble and blush preventing epoxy resins as they are more user-friendly compared to others. Blush and bubbles are two of the most common problems of applying epoxy resin on wood. If those two are taken care of, you are good to go.
Waterproof
People use epoxy resin on many different things. This particular material is highly versatile as it's compatible to be used on almost anything. That is why; you need an epoxy resin that's waterproof.
Tabletops are one of the most common surfaces where a resin is used. You don't have to spill water on it; if you only leave a glass without a coaster, it's going to leave a mark on the surface. Preventing that is very simple; get a waterproof epoxy resin.
Some resins are 100% waterproof, and they are specially manufactured to be used on boats or surfing boards. These resins make the wood last longer.
UV- ray Protection
This is a standard feature for epoxy resin; it should come with UV protection. All the products we have listed here are equipped to save themselves from UV rays and can be used outdoors.
UV-rays are harmful to humans, and they turn resin yellow. So, if you would like to retain the new condition of your product and use it outside at the same time, you should get a resin with UV protection feature.
UV protection is not necessary if you are going to use the furniture or artwork indoors and always keep it away from the sun.
Scratch Resistance
If you have kids, you know the horror of having your furniture scratched all over. You can't tell your kids not to do that or cover everything up. What you can do is use an epoxy resin that's scratch resistant.
These resins are so hard and give such a strong finish that they can't be scratched. The resins are also longer lasting as they have a stronger finish.
Epoxy resins are basically hardened strong glue. Resistance to scratches and scuffing should be something all products have.
Best Epoxy Resins for Wood reviewed
Epoxy resin has a wide variety of usage, you know better now, and that's why thousands of alternatives are available in the market. It's too difficult to choose the best one. But don't worry!
We have selected some products on our radar. Go through this section and explore the cool facts about those products. Then, hopefully, you can decide who wins the triumph!
1. Crystal Clear Bar Table Top Epoxy Resin Coating For Wood Tabletop
Why pick this?
This product is trusted for a long time all over the world. Of course, there are certain reasons behind that. This top-notch epoxy resin coating is a helpful tool not only for the professionals but also for the amateur DIY project makers! Probably, the most appropriate feature that can describe its superiority.
It's a complete package of epoxy coating and comes with 2 different products. Yes, it is equipped with a hardener! You need not be bothered to buy another set of hardener all by yourself. This pack includes half-gallon epoxy resin along with the half-gallon resin.
Most professionals remain worried whether the layer of resin they add will be cured and harden properly or not. But for this product, you need not be worried. This product has no issues relating to hardening problems so far. Great relief for woodworkers!
This resin gives your workpiece complete protection against UV. It undoubtedly increases the longevity of the workpiece. Besides, the resin is quite easy to apply. All you need to do is to mix the epoxy resin and hardener in a 1:1 ratio. This resin is made in no VOC formula. That's why you will face no health issues during or after the application process. Also, this formula makes this resin is eco-friendly.
The overall coverage will be 48 square feet which are quite impressive, making the resin efficient. But don't worry about the protection! The coating is water-resistant and blush resistant.
The products are blush resistant and can cover an area of 48 sq ft. It comes with UV protection, which makes the furniture long-lasting as well. The material used for making this epoxy resin is food safe, which makes it excellent for tabletops.
As we have mentioned before, you have a cure with this resin before you pour the whole thing as wood is porous. This one cures better than most other brands. You would need to maintain a temperature of 80 degrees for mixing this epoxy resin; this is suggested by the manufacturers.
As the kit is 1 gallon, you can definitely work on one or more projects with this product.
Highlighted Features:
Food safe. Can be used on dining tables
Contains no VCOs. Good for people suffering from respiratory diseases
Cures faster
Comes with UV-ray protection
Water and blush resistant
Something we didn't like
This gets hardened a bit too fast. Hence, it becomes troublesome to be working with this. If you're a noob and take a bit too much time, it'll get all hardened up even before you're done.
2. Clear Casting and Coating Epoxy Resin – 16 Ounce Kit
Why pick this?
If you like crystal clear finish on your workpiece then Clear Casting and Coating Epoxy Resin – 16 Ounce Kit is here to meet your need. It gives you a complete glossy finish and that even remains shiny after years. That's why this epoxy resin is thriving in the market.
You can apply this coating regardless of any workpiece. This resin gives you a rock-solid yet transparent layer. The shiny, bright and glossy outlook is worth mentioning. No matter if you use this resin for small workpieces or a polished river table, this epoxy resin can delightfully serve your purpose.
This product was made ensuring the USA standard and made in the USA. That's why the process of production includes Rigorous testing. This was done to ensure that the resin is a perfect match for all of the glow in the dark and other craft pigments.
Don't worry about the protection. The coating gives complete protection against UV rays and also prevents water to be absorbed by the workpiece. The resin also ensures a shiny outlook of the project by eliminating the yellowing caused by UV.  It also ensures a dent-free surface for a premium look.
If you want a quick odor-free application, this product is here to give you that experience. The epoxy resin is made in a special formula that eliminates odor and also contains no VOC, making it safe for the application process. You have to mix it in one to one ratio and apply it onto the surface. The overall work time is 40 minutes.
Something we didn't like
This product, like others, has some cons too. Through our inspection process, we learn that this product can handle amateur projects properly but it is not very suitable for a gigantic process, as it needs more time to be fit for the application process. Some DIY project makers complain that the one to one ratio is not very effective for their projects.
3. EPOXY Resin Crystal Clear 1 Gallon Kit. for Super Gloss Coating and TABLETOPS
Why pick this?
East coast resin is being manufactured over a solid 20 years and has a track record of ultimate user satisfaction. The manufacturer, recently, opts to spread their business and for that their trump card is EPOXY Resin Crystal Clear 1 Gallon Kit for Super Gloss Coating and TABLETOPS.
Though the race was a close call, this resin proved itself to be the quickest resin to be cured. The manufacturer has understood the demand of their customers and so they came up with this effective formula. The application process needs just 30 minutes, surely faster than others. But the shocking fact is the overall cure time of this resin sits at under 16 to 20 hours.
This product gives your workpiece the ultimate protection. This coating is protected against water and UV. It means your workpiece will remain protected and won't turn yellowish gradually. It's a great companion for the longevity of your valuable workpiece.
The process of application is quite easy. You need to mix the solution at one to one ratio and apply the solution quickly and gently on the surface. As this epoxy resin is completely free from odor, you will find no difficulties during the application process. The no VOC formula is another blessing for the user along with the surroundings.
Something we didn't like
Some aspects of this resin, found through our detailed inspection, let us down. The mixture is more likely to bubble up during the application process which was the biggest problem that we faced. Besides, you need to be experienced enough to apply this to any workpiece. Noobs will face the bubbling issue along with a difficult application process.
4. Crystal Clear Epoxy Resin One Gallon Kit
Why pick this?
Crystal Clear Epoxy Resin One Gallon Kit is one of the premier epoxy resins in the market. Its performance will definitely please you if you are looking for a product that can do pretty much everything well so long. Obviously, it needs time to cure properly. But as you do not need your project to be done quickly, it is certainly a good option.
The coolest fact about the MAS Epoxies resin is that it was made by professionals for professionals. But if you are a complete beginner, you need not worry even a bit. The easy application process is surely user-friendly and so it understands that DIYers are liable to look their way as well.
Another cool thing about the coating is it comes in a whole package! The package includes spreaders and brush. Moreover, this 1:1 kit includes 1/2 gallon of Part A (resin), half-gallon of Part B (hardener), a 4″ spreader, and a 4″ brush. Shocked? Yes, this kit makes a great gift for the DIY person in your life!
The application process is smart as well. It's zero odor formula makes it perfect to work with. Besides, the non-VOC formula is eco-friendly and surely a great feature to be mentioned. But the protection of this resin is top-notch. This coating prevents the workpiece from excessive sunlight, UV rays and, nevertheless, from water.
If you want a long life of the applied coating, this product is a great option for you. The coating lasts for long and gives a glossy, shiny and posh outlook along with the best protection. It means the workpiece will be protected, at least for a long period, after the coating once applied. Besides, the resin gives a vast coverage area, making it a product value for money.
Something we didn't like
The coating needs a long period after being applied to the workpiece. Its slow curing process makes it more vulnerable to bubble.
5. Table Top & Bar Top Epoxy Resin, Ultra Clear UV Resistant Fin
Why pick this?
If you are looking for a glossy, shiny and polished outlook of your workpiece, then Table Top & Bar Top Epoxy Resin, Ultra Clear UV Resistant Fin is a good potion for you. This product is dedicatedly made to ensure an attractive and furnished outlook.
The amazing features of the product aren't confined to outlook only. This product also ensures the protection of your workpiece and thus contributes to its long life. This coating is UV resistant and also protective against water. Gradual yellowing of the workpiece will be prevented by these protective measures.
This resin is quite easy to apply, even if you're a complete noob. The easy application mechanism is possible for its odor-free and quick cure formula. The resin is free from VOC which is indeed eco-friendly.
The curing time of the coating is significantly less than the others. It means you have to spend less amount of time for a particular project. Moreover, the Bar Top Epoxy self-levels on the application including corners, over bar rails and edges. You have to mix the coating with a hardener in one to one ratio.
Something we didn't like
You need to be careful during the application process. A delay in an application can result in numerous bubbles on the surface. Besides, you need to ensure perfect temperature (almost 75 degrees) for the application process. Otherwise, you won't be able to get a perfect shiny finish.
6. Crystal Clear Epoxy Resin Two Gallon Kit
Why pick this?
This product is a bigger version of the Crystal Clear Epoxy Resin One Gallon Kit. The only thing different here is this product contains 2 gallons rather than 1 gallon. This product is more likely to use by professionals but, of course, amateurs can also deal with it.
You can depend on the quality and will, eventually, fall in love with the product. The manufacturer, MAS Epoxies, has taken pride in manufacturing the highest-quality epoxy products available. But the most important fact that will surely draw your attention is the product is proudly manufactured, everything, from start-to-finish in the USA. It surely ensures the best quality possible.
Of course, the package, like the smaller one, contains spreaders and brush. Moreover, this 1:1 kit includes 1/2 gallon of Part A (resin), half-gallon of Part B (hardener), a 4″ spreader, and a 4″ brush. The package is a great option to get the best product in a low budget.
Don't worry about the application process. The application process is quite easy. It's zero odor formula makes it perfect to work with. The enhanced formula that is free from VOC is eco-friendly and also protective for human health.
The manufacturer has left no stone unturned to ensure the best protection. That's why the protection of this resin is top-notch. This coating prevents the workpiece from excessive sunlight, UV rays and, nevertheless, from water.
The resin ensures a glossy and shiny outlook of the product. The overall appearance of our workpiece will be enhanced as the coating will be a plus. The protection and glossy finish will last long as the improved formula is dedicated to ensuring a long life.
Something we didn't like
Though this product has some cool features to be mentioned, it has some issues that will let you down. Firstly, the coating needs a long period after being applied to the workpiece. Besides, it's slow curing process makes it more vulnerable to bubble.
7. 2 Gallon Table Top & Bar Top Epoxy Resin
Why pick this?
If you are looking for a perfect solution for the protection along with a longer life of your workpiece, the 2 gallon Table Top and Bar Top Epoxy Resin from Incredible Solution is a great option for you. You will experience a perfect combination of protection along with style from this package.
The coating is protected against UV rays and its top-notch protection has made it a top pick. The gradual yellowing of the product eliminated by the layer of protection it adds on the surface. Thus the bright shiny outlook is sustained throughout the lifetime of the workpiece.
The non-VOC formula is added to the features of this resin. This enhanced formula is eco-friendly and emits less toxicity. That's why it is also good for human health. The non-odor formula is something that makes the application process even easier. The required time for the curing process is also less than the others. You will have an all-round experience while applying this product.
Something we didn't like
The product, like others, has some negative aspects that will let you down. The protection against yellowing overtime is not worth mentioning. Some users have complained that the resin doesn't work properly on every surface.
ArtResin – Epoxy Resin – Clear – Non-Toxic – 1 gal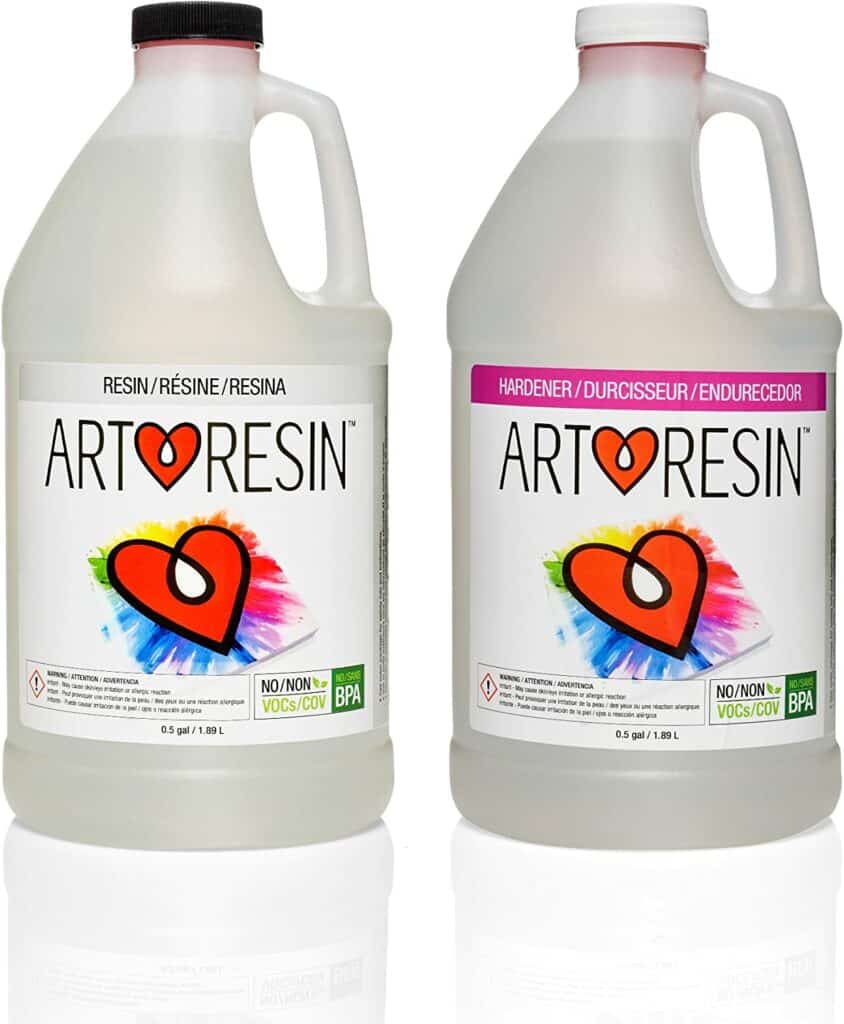 | | |
| --- | --- |
| Weight | 9.83 pounds |
| Dimensions  | 5.5 x 10.5 x 10 |
| Color | Clear |
| Material | Epoxy Resin |
| Size | 1 Gallon |
Manufactured specially for the artists, this one is a non-toxic, crystal clear epoxy resin that'll give your artwork the gloss it needs. To maintain the non-toxicity, you will need to follow the instruction strictly.
One of the main reasons epoxy resin is so popular among artists is that it can be used like metal but is more flexible than metal. Like metal, resin can be cast as well; but melting it is way easier and faster.
This one is manufactured by keeping artists in mind, but you can also use it for other purposes. The product is excellent for layering on artwork and casting. You can make outstanding 3D sculptures just by pouring it into a mold. The process requires some other crucial steps you need to follow; otherwise, your cast will have bubbles in it.
The resin is BPA free and contains no VCOs. You can completely rely on it to be safe. Some users have recommended using this product freely when it's cured. You can even use it to coat tabletops as it contains no toxic materials.
If you are an artist, you must have dealt with yellowing of cast. This one comes equipped to prevent that. So, the product you make will retain its shape and color for a long time.
Highlighted Features:
Specially designed to artists
Resists yellowing
Excellent for casts
Free from BPA, VCOs, and other toxic ingredients
Self-leveling epoxy resin
FAQ
Here are some frequently asked questions and their answers.
How strong is epoxy on wood?
Epoxy adhesives cure by a different chemical process. They neither contain water nor is water necessary for them to form bonds with wood. Epoxies can, therefore, perform very satisfactorily below 6% m.c. as well as giving excellent bonds up to 20% – 25% m.c., well outside the limits of the other glues.
What do you seal wood with before epoxy?
Before applying epoxy, sand smooth non-porous surfaces—thoroughly abrade the surface. 80-grit aluminum oxide paper will provide a good texture for the epoxy to "key" into.
Can you glue resin to wood?
Epoxy is an especially useful adhesive for the bonding of smaller plastic pieces to wood, glass, metal and other materials used in crafting and other applications. Mix equal parts resin and hardener together in small quantities according to the manufacturer's instructions. Dries hard, almost glassy.
Does epoxy scratch easily?
An epoxy coating will last longer than pretty much any other type of coating and epoxy coating by itself is scratch resistant due to the composition of its ingredients. … In fact, you will find that epoxy flooring is not only resistant to scratches but it is extremely durable.
How thick can you pour table top epoxy?
The maximum depth to pour is approximately 1/8"- 1/4″ thick. If depths thicker than 1/8"- 1/4″ are desired, multiple coats are necessary. You must wait at least 4 to 10 hours between coats to allow sufficient curing and cooling.
What is the hardest epoxy resin?
MAX GFE 48OZ – EPOXY RESIN VERY HARD CASTING LIQUID FIBERGLASS ELECTRICAL POTTING COMPOUND. Cures to a very tough high hardness, glass-like casting.
How do you add resin to wood?
What material does epoxy resin not stick to?
Epoxy resin adhesives will bond all woods, aluminum and glass well. It does not bond to Teflon, polyethylene, polypropylene, nylon, or Mylar. It bonds poorly to polyvinyl chloride, acrylic and polycarbonate plastics. The only way to tell if an epoxy will bond to a material is to try it.
Is epoxy resin harder than wood?
If they are used correctly, both are stronger than wood, so as a practical matter they are equally strong in most situations. The wood will break before either glue breaks. As a material, hardened epoxy is stronger than the polyurethane that makes up Gorilla Glue, but again, that doesn't matter in actual use.
What kind of wood is used for epoxy table?
The best material to use for an epoxy resin table is typically the flattest piece of live edge wood you can find – such as Yew, Elm, Oak or Black Walnut – that has been properly air dried so the moisture level is below 20%.
How long does wood epoxy last?
How long should I expect my epoxy resin table/bar/counter/etc to last? If the wood was properly dried, and all factors are taken into account, this type of project can last indefinitely. It would not be out of the ordinary to have a 20+ year life without any major repairs.
How do you keep epoxy from soaking in wood?
Use pva to coat the wood, this will seal the wood without staining it as it soaks in.
Q: What if I mix the solution not in one to one ratio?
Ans: Simply you will not get the desired output. You cannot have the proper mixture rather you will end up having either harder or more liquid mixture.
Q: Is there anything to give my workpiece complete UV protection?
Ans:  Yes! You can use protective liquid to get complete protection even outdoor.
Q: What can I do to prevent scratches on my workpiece?
Ans: You can cover the surface and just rub it regularly to get rid of scratches made by anything sharp like a carving tool or stuff.
Q: Are epoxy resins eco-friendly?
Ans: The answer is yes, and no. Dried and cured epoxy resins are considered to be eco-friendly. But the resins sold in the market don't come dried or cured, which is why they aren't readily environment friendly.
Q: Can I use epoxy resin to seal wood completely?
Ans: Yes. Epoxy resin is mainly used for sealing wood. You can cover a whole piece of wood with resin and cover any pores so that nothing gets out or comes in.
Q: Can epoxy resin and wood create a bond?
Ans: Yes. Epoxy resin bonds to wood very strongly, and it's permanent as well. You cannot easily break this bond as there is proper adhesion. The wood needs to be clean and prepared for bonding.
Q: Can I use different epoxy resins on the same wood?
Ans: Although it's recommended to use a homogenous mixture, you can use different resins. Two different kinds of resins are able to create a bond between them and the wood, but this isn't as strong as the homogenous resin and wood bond.
Q: Can I use an epoxy resin coated tables in the sun?
Ans: You can, but it's not a great idea. The UV-ray from sun because epoxy to turn yellow and pale. 
Conclusion
Epoxy resin is an important element for creative woodworking. No matter if you are a professional or a novice DIYer, you will need this important mixture. So, it needs to be perfect and render the best performance.
Are you confused to select a suitable one for you? Don't be! If you want a product from a trusted brand then you can go for Crystal Clear Bar Table Top Epoxy Resin Coating For Wood Tabletop. Again, Clear Casting and Coating Epoxy Resin – 16 Ounce Kit is a good option. If you want a complete package, you can choose the Crystal Clear Epoxy Resin two-gallon kit or one-gallon kit according to your needs. Happy crafting!
I'm Joost Nusselder, the founder of Tools Doctor, content marketer, and dad. I love trying out new equipment, and together with my team I've been creating in-depth blog articles since 2016 to help loyal readers with tools & crafting tips.