I love creating free content full of tips for my readers, you. I don't accept paid sponsorships, my opinion is my own, but if you find my recommendations helpful and you end up buying something you like through one of my links, I could earn a commission at no extra cost to you.
Learn more
A smooth and sleek finish requires detailed and precise artistry. From a picture on our wall to the wooden shelves outside our house, we all crave for perfection and circumstantial work. In cases of wood, if you want an exceptional engraving, you need a wood carving tool by your side.
But the problem is there are varieties in the market. And the question is how would you know what will be the best option for you? Don't worry, we don't ask a question without an answer. So, hop in and let's find out what we have for you!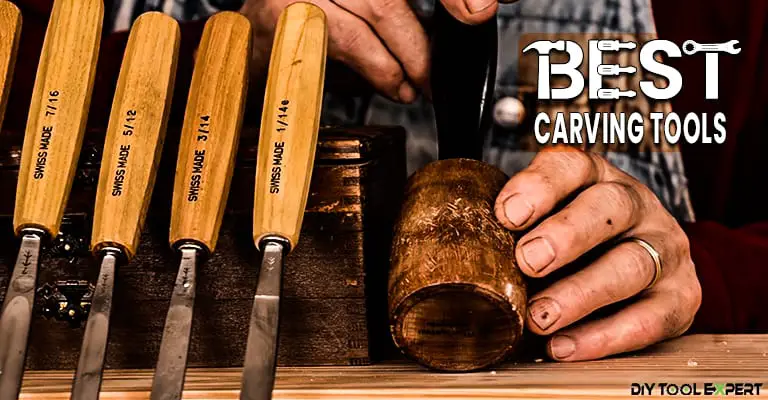 Wood Carving Tool buying guide
Finding the right tool requires a lot of research. To buy a tool, at first, you need to know about the features it will be offering. But sometimes, even if you do it's hard to choose between so many varieties and when you do there are times you end up with a bad deal.
Your problem is our problem. That is why we came up with an approach that will guide you through the facts, the details so that you have a clear head when you pick one. To save you a great deal of time, we spent time with the woodcutters in the market and reviewed a bunch of wood carving tools and eventually, came up with a list of the best wood carving tools.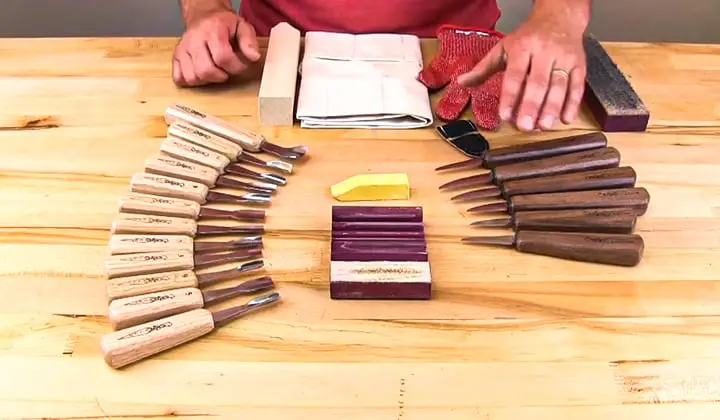 Whether you are a professional or a beginner in wood carving, you must have the essential tool set with the best quality. And to make a product good in quality, certain aspects play a crucial role.
No matter how ordinary skilled you are in your field, a top-class product will boost your confidence up by providing convenience.
Therefore, we have come with this buying guide to help you make a great purchase so you get the best of outcomes from woodworking every time. Let's check out the things to keep in mind before buying the carver.
A Set with Multiple Tools
These sorts of kits are extremely useful when it comes to dealing with different kinds of woodworking jobs. Both professionals and beginners will benefit from such products.
What's more, going for such options will save a whole lot of bucks and create so many opportunities. These tools come with different chisel heads. Thus, you will be able to do a bunch of works that require different tips.
Construction
The best material to be used in constructing these tools would be carbon steel. Thus, the users get a sturdy carver to deal with the toughest of wood pieces. The best quality products in the market usually come with such a build.
And if you want to go for other strong metals, it would be cool also. Just make sure that it will get the job done both with hardwoods and softwoods.
The Sharpness of the Heads
It's best to have the chisel heads sharpened beforehand. This way, you will be able to get to work right away once you get your hands on the tool. Some products provide sharpeners. With one of these, you can sharpen the head as you like making it suitable for your particular project on hand.
Price
This is one of the most crucial factors that determine the choice of product for a buyer. When it comes to carvers, they might not be the priciest of tools. Nevertheless, to make the best purchase, it's important to make every penny worthily spent.
Keep in mind that some brands might compromise on quality to offer a great price. So, watch out for that, since the quality comes first in making a buying decision.
Different types of wood carving tools
Make your first step towards us and let us do the rest. So, we urge you to go through this buying guide patiently. Thank you!
Carving knife
A carving knife is used to make sleek carvings and smooth finish but better than chisels. Knives are sturdy or concrete as chisels but they do provide more detailed work than chisels. Knives can also be used to carve rounded edge or make spoons.
This tool is used to make smoother carvings and finer finishes than those achieved using a chisel. Knives are not as hardy as chisels in removing wood waste, but you will realize their value when you want to achieve a high level of detail in your work. They are also ideal for creating rounded objects such as bowl and spoon interiors.
When people discovered wood carving, they mostly worked with knives for their art. It might sound primitive, but it is still one of the most effective tools that are used regularly in this line of work. Wood carving knives help you chip the wood and carve out your desired shape with high control and precision.
These specialty knives are usually made of carbon fiber and come with a blade that is one and a half inches long. Because of the sharp blade, you can get precise and smooth cuts through the wood. There are also a few different variants of wood carving knives. They are carving hook knife, chip carving knife, whittling knife, etc.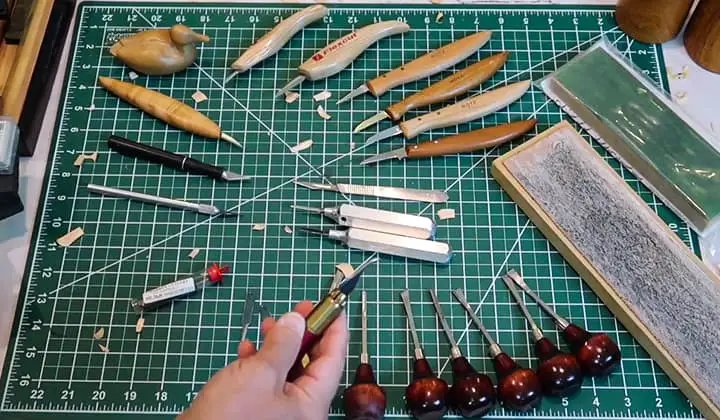 Carving gouges
Gouges are the most used tool for cutting edge. These are mainly used to carve cutting edge. It's one kind of curved chisel mostly used for carving bowl, spoon or rounded objects. These come in U-shape and V-shape. U gouges are known for the width of their cutting edge whereas V gouges are known for the bottom edge angles and space between the tips at the top edge.
Wood carving gouges are an essential piece of equipment in this field. Gouges come in various shapes and sizes. The ones you need to focus on are U gouges, and V gouges. Depending on your project, you might also need a bent gouge and spoon gouge, so it is always handy to keep a few laying around the toolbox.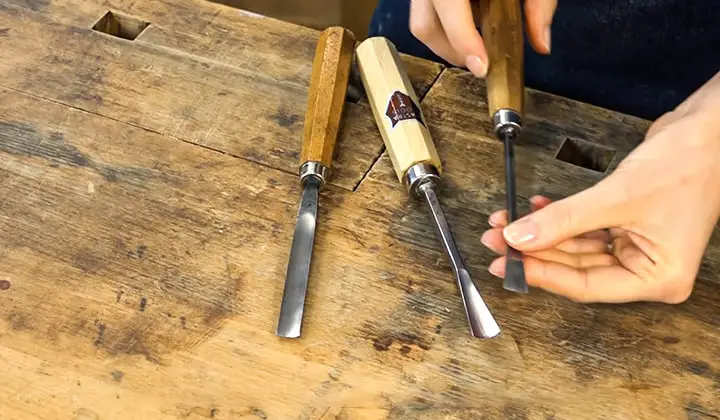 U gouge
This type of gouges come with a wide cutting edge that helps you sweep deep in the wood. U-gouges can again come in various shapes such as straight, bent, or spoon. The one you buy will need to match the project you are working on.
V gouge
The cutting edge of this type of gouge is shaped like the letter V. The sharp ends of the gouge are at the 60 and 90 degrees angle. The main purpose of the V gouge is to sharpen the wood or make deep cuts.
Bent gouge
This type of gouge comes with a bent shaft and is useful when you want to carve a broader surface.
Spoon gouge
As the name implies, this type of gouge comes with a shaft that is shaped like a spoon. It is used for both deep and broad carving.
Carving chisel  
Here's a carving tool with a straight cutting edge at right angles (or square too) to the sides of the blade.
A chisel is usually termed sweep. These can be palm tools which means it does not require mallets. Hand-push is enough to work with chisels. The chisels once set in right removes the dirt from the flat surface. But for deeper cuts and carving, the need of mallet is necessary.
Whenever you are wood carving, the chisel is like an extension of your hand. So, you should not compromise with the quality of your chisel and must buy the best woodworking chisel.
It is also known as carpenters chisel, and it will the tool that you will mostly work with. The edge of the chisel is sharp and can sweep off the wood easily. In most cases, the edge of the chisel is flat.
Because of the design of the edge, you can dig around the wood and sculpt the shape that you want. These tools come in different sizes, and depending on your project, you need to decide which one you need. If you go through the toolbox of any professional woodworker, this is the first equipment that you will find.
Mallets
Mallets are a classic wood carving tool. This tool is essentially a wooden hammer with a broader head. Traditionally, the shape of a mallet is cylindrical; however, these days, that is not the case. You can also find rubber mallet in the market that gives you better control over the force and protect your workpiece from breaking.
For denser wood, a mallet is essential while carving. You will not be able to chip away by hand whether you are using a knife or a chisel when you work with a dense wood. A mallet comes in handy in this type of situation as it gives you that extra boost in strength when carving dense wood.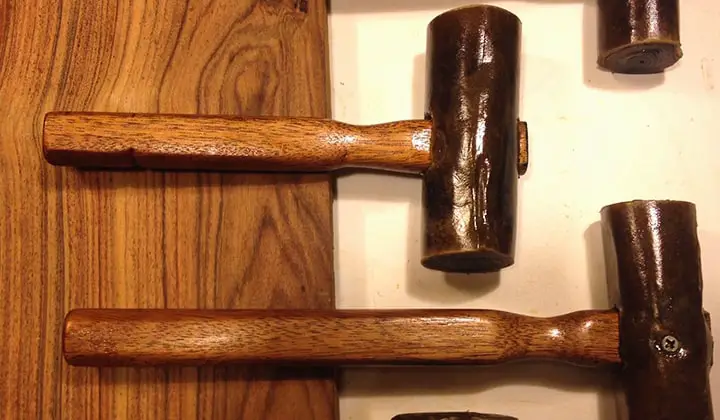 Palm Tools
If you do not want to go through the market, picking out specific knives and chisels, you can just get a palm toolset. It comes with an assortment of small hand tools that are essential to wood carving. For beginners, this is a great option, as you do not need to worry about leaving out anything important.
The main issue with this option is that you might also end up with a lot of tools that you will never use. But if you are sure that you want to stick to this line of work, it offers you great value as the individual pieces would end up costing you more.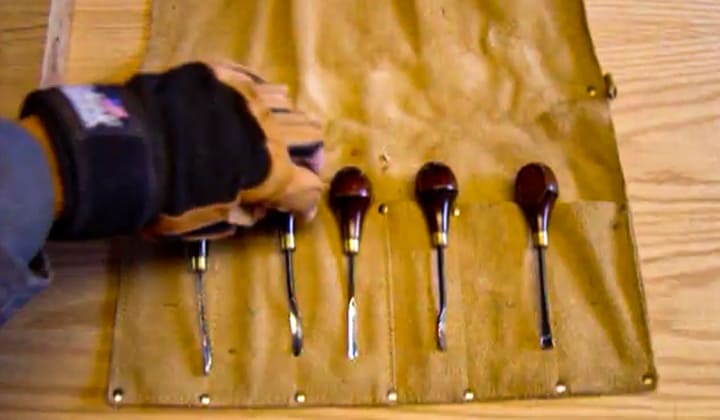 Power Saw and Sander
Although not essential, but power saws and sanders deserve mention because of the utility they offer to the carver. Power tools such as a good quality drill press, belt sanders, band saw can help speed up your job if you know how to use them properly. However, if you are not experienced with these tools, it might be wiser not to use them.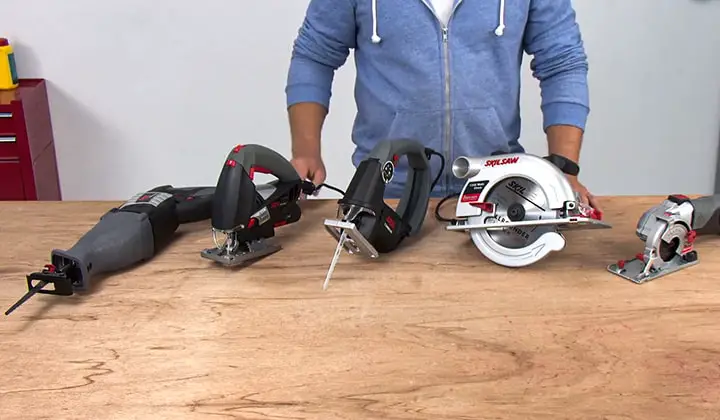 Material
Most of the models use carbon chrome steel for blade material. Blade material defines the durability and sharpness of the blade.
When it comes to the handles, the common material used is wood. It gives you a tight grip on the blades and a firm grip on your hand. Octagonal and not round handles are better for grip.
Now let's hop on to the reviews!
Best Wood Carving Tools reviewed
After thorough research and detailed comparison, we present to you a list of the best wood carving tools among the best ones. Take a look!
1. Xacto X5179 Carving Tool Set
Features to look forward to
Want a tool that deals with any type of wood? Then take a look at the Xacto X5179. It is a 3-dimensional carving toolset that is equipped with 6 tools. They include an alloy of carbon and iron, compressed under maximum pressure for durability and ability to do well with any type of wood.
From shaping wood to groove cut and deep cutting or linoleum, name it and it will perform. The design and acute size of the blades make it conveniently better for precision and sharp cuts with due consistency. Xacto took care of the fact that you don't have to resharpen the blades more often by maintaining the sharpness.
The handles are hardwood and sturdy enough for easy gripping. For easy maneuverability and minimum fatigue, Xacto has maintained a light-weight construction without compromising the heavy-duty blade material.
Glitches
Unfortunately, the block plane is next to unusable. The throat has a big brattle and the blades don't seem to be fitting right on many occasions. The gouges and router set off an off foot angle distribution causing deep cutting than needed.
2. Stanley 16-793 Sweetheart 750 Series Socket Chisel 8 Piece Set
Features to look forward to
The good thing with top-notch brands like Stanley is they never fail to disappoint you with their clever tools. The Stanley 16-793 Sweetheart 750 is no exception to versatility.  It features a classic 750 design compact with the 8-piece set.
The blades are thin and long enough to get into the first choice for the woodcutters. The blades are high carbon chrome steel. The thing with high carbon steel is that they do extremely well with masonry nails and woods than ordinary steels. Stiff hardness and due strength are what separates it from others.
The carving tool is impressive because of the blades that sharpen very fast with little fatigue. Plus, the blades are capable to maintain their razor-edge sharpness for long. To be able to do well even in tight spaces, Stanley has included tapered bevel sides to make it narrow. Last but not least, don't forget about the hornbeam wood handle for extended longevity and provides efficient transfer of energy while striking it with a mallet.
Glitches
This comes with a bit high price that might not seem affordable regarding such tools. The handles often don't set right. Customers have had a problem with chisels not being remotely fat on the back. Users have complained about the edge not holding long necessitating repeated steps to the sharpening stone.
3. Gimars Upgrade 12 Set SK5 Carbon Steel Wood Carving Tools Knife Kit
Features to look forward to
Talk about sharp blades and no mention about Gimars? Not possible. The Gimars 12 set SK5 Carbon Steel Kit is an option, woodworkers can miss out. The set features 12 wood whittling tools such as deep gouge, medium gouge, shallow gouge, narrow straight chisel, wide straight chisel, rounded chisel, 4 angled knives/chisels, parting tool and pinpoint tool.
The SK5 carbon steel with an electrolytic coating demands appreciation. Electrolytic coatings increase the wear, abrasion and corrosion resistance and aesthetic qualities. For smooth and easy gripping and maneuverability, the wooden handles are next to perfect.
It gives you a detailed and precise finish. The razor-sharp blades are sharp enough to cut through, sturdy enough not to fall off and stay sharp long enough for beginners to promote to professionals. From general wood carving projects with stencils and patterns to miniature or micro models, linoleum, clay objects it handles very pretty.
Glitches
Users have complained about the knives having chipped after a certain period of time. Also, there is doubt about the durability that it does not stay quite useful after some time. The blades get weary and dull after having cut for a few days. The metal quality is not up to the mark according to some users.
4. Morakniv Wood Carving 106 Knife with Laminated Steel Blade, 3.2-Inch
Features to look forward to
The Morakniv wood carving 106 brings you an al-laminated steel blade with a strong taste running through its length. The blades are tapered from one end to another to provide for extra versatility and easy maneuverability. The blades offer extreme sharpness that doesn't get dull till a certain period of time.
The blade measures 3.2 inches in length and still manages to weigh less and provides hassle-free use. It has dimensions of 0.8 by 3.2 by 7.4 inches with a weight of only 1.6 ounces. The large blade allows carvers to easily make precise cuts. It features a high premium material handle fro Oiled Birchwood. It's impressive that you are allowed to customize it according to your needs.
The factory pre-set grip should be able to fit the average hand without the requirement for an upgrade. The handle is uniquely designed to provide for optimum comfort even for larger hands at work, in addition to the leverage to slightly oversize it when needed. The size allows it to make adequate and precise cuts. Last but not least you get a lifetime warranty for back up.
Glitches
However, the tool is prone to rust and corrosion. So, the necessity of maintenance is a must. The blades are not as sharp as promised. Some users have found the edge of the cutting blade was poorly grounded. Regrinding the edge can turn out to be very painful.
5. BeaverCraft Wood Carving Hook Knife SK1 for Carving Spoons Kuksa Bowls and Cups
Features to look forward to
In case you are looking for a versatile woodworking hook knife to make a spoon or a rounded edge for some extra details in your project, the BeaverCraft Wood Carving Hook Knife is an option you can think of as it does design to do pretty well with carving bowl, and similar concave shapes. Hook spoon carving knife is a good implement for making precise cuts or rounding edges and spoons.
The blades are constructed with high carbon steel for longevity and better quality. They hold edges perfectly. The carbon steel of the knife is single-edged to provide leverage while pushing or pulling cuts with one hand on the blade thus giving you balance. The cutting edge of the knife is hardened to RC 58-60 and hand honed and polished to provide accurate cuts and effective edge management.
The cutting edge is sharp enough for cutting softwood delivering smooth and shiny cuts. The durability allows cuts even on the hardwood. The outdoor spoon knife is constructed of hardwood oak and processed with natural linseed oil. The unique design of the handle decreases fatigue and gives you control and stability and balance.
Glitches
Though the tool is compact the blades need some attention. The handle is not lacquered. Some users have complained that the knife is not sharp enough. Blades are assumed not to even cut oaks.
6. BeaverCraft Cutting Knife C2 6.5″ Whittling for Fine Chip Carving Knife Bench Detail Carbon Steel for Beginners
Features to look forward to
Woodcutting knives are generally designed to perform delicate jobs of cutting, carving and marking wood. The thin pointed tip of the knife lets you cut in tight spaces thus ending giving a good result. The BeaverCraft Cutting Knife C2 6.5" is an excellent choice to keep when it comes to precise cutting and carving.
The blades are made of high carbon steel which ensures its durability and strength. The carbon coating naturally gives top-notch longevity and ensures sturdiness. The cutting edge is very sharp letting you cut softwood very delicately. The cuts are very sharp, smooth, and sleek as top spokeshaves. Don't get yourself a cut from the fine cut blade!
The knife wood handle construction involves hardwood oak and processed natural linseed oil. The unique design allows a comfortable grip. And so for the ones without strong hands, don't worry! This knife here decreases hand fatigue so that you can go for hours.
Glitches
The handle is not too good. The blade has a secondary bevel. The tip is broader than what is shown and so it compromises the detailed work in tight spaces. Some users have complained that it comes out of the handle at contact with actual wood. The blades are not razor-sharp as promised.
7. Mikisyo Power Grip Carving Tools, Five Piece Set (Basic)
Features to look forward to
We save the best for the last. The Mikisyo Power Grip has won choices in many woodcutters' list. The Mikisyo Power Grip is equipped with 5 pieces. A 3mm9 gouge, a 6mm 8 gouge, a 7.5mm skew chisel, a 4.5mm V-parting tool make this tool a compact set for the woodcutters. You get a storage box with it.
If the handle is not good enough, moving or having a tight or firm grip while striking the wood can be very difficult. So to unravel this problem, this carving tool features  4-1/2" handles that are designed to be held like a pen for precision and control. The handle shape and the size of the blade are just too delicate enough to be able to fit on your palm, the perfect gap fillers.
Need more force? Just the place the flared handle end in your palm and consider the work done. The blades are 1-1/4" with the construction of laminated steel that promises you durability. The blades give you smooth and precise cuts. The blades hold a pretty good edge. The handles really do a promising work to get you a detailed and sleek finish.
Glitches
The blades are strong as promised. Users have complained that their ones broke after a certain period of time. Handling chisels with the gouges is pretty much stressful. Too much use break the blades.
SE 7712WC Professional 12-Piece Wood Carving Chisel Set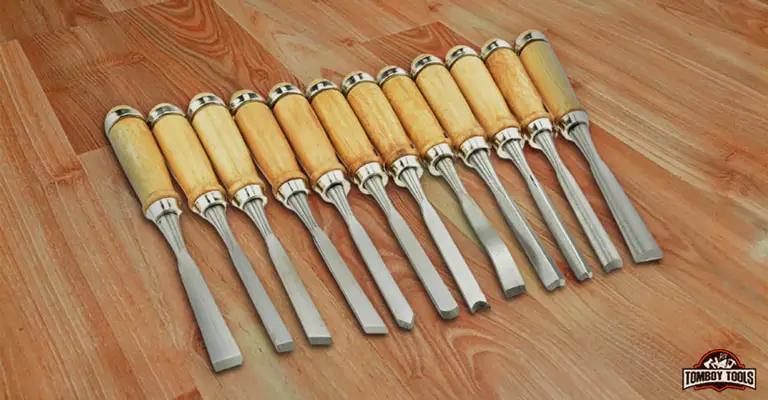 This kit comes with 12 pieces of differently designed wood carving tools. They have different types of tips for offering you versatility in work. As for their construction, manufacturers have used carbon steel in making their blades. You will be able to work with them for a long time since these blades are quite durable.
Apart from being long-lasting, the blades come with the sharpest of edges that will remain such for long. Be it detail jobs or carving, these little beauties will do it all for you. This is because of the various shapes and sizes of the tips.
And when it comes to handling, they have introduced one of the most comfortable ones for these tools. It's remarkably soft.
A special feature this unit comes with is the tip protectors. With these in place, you won't have to worry about the consistency of sharpness of the blades. What's more, they are nicely organized when you open the package.
What I liked most about this product is that it's remarkably cheap. For newbies to start with, this is a great option.
Pros
The carbon steel blade is highly durable. It does both detail work and carving. And the tip protectors included keep the tips sharp for a long time.
Cons
There are grinding errors at times
Why use a Wood Carving Tool
Wood carving is a form of woodworking. It normally includes cutting a tool in one hand or a chisel using two hands or with a chisel and a mallet simultaneously, shaping a wooden sculpture or an object. Wood carving derives an engraving in the woodworks to make a more sleek design to take it to the next level of beauty.
A wood carving tool is used for this purpose. A wood carving tool includes a carving knife used to pare and cut softwood or oakwood. A gouge with a cutting edge to give shapes of varieties. A coping saw to cut off chunks of wood. A chisel for lines and clearing up flat surfaces. A V-tool for partitioning and the U-gauge for deep gouge with U-shaped edge. And there are mallets, routers, and screws.
How Do We Use a Wood Carving Tool?
Lack of proper knowledge about the procedure of using a wood carving tool can be fatal and might cause danger if the strike goes the wrong way. So, to ensure you don't land getting yourself a nasty cut take cautions as soon as you begin preparing the chunk using your drawknife. We thought it would be better if we just took you tough the steps of doing it safely.
Hold the chisel correctly. A chisel should be held like you are holding a dagger through lower down on the handle so that the part of the blade is covered by your hand. Have a firm grip on the handle you are about to strike. If you do not have a tight grip the chisel will be imbalanced and as a result, on one hand, you will have an ugly spot on your wood and on the other, you end up with a deep cut.
Align the cutting edge with the mark you left with a pencil. It's important you leave a mark before using the tool so that you don't get confused when you start carving. Apply force gradually. For beginners, they tend to push the mallet very hard. Go slowly on the push and make a nice carve.
The gouges are the workhorses of a carving tool. If you are hand manipulating the gouge then hold firmly with both your hands. But the risk comes when you use a mallet. Use the non-dominant hand on the gouge and the dominant one on the mallet. Don't let a flimsy grip ruins both your work and your hands. Place the cutting edge of the gouge on where you want to start carving.
If you are inserting designs or outlines, you can either use hands or mallets with the gouge. But whichever you use, use the gouge downwards. And be careful with if you use mallet as the control over the force applied is very sensitive.
V gouges are used to create channels and angles recesses. Hold the parting tool correctly, position the gouge wherever you need and if you use a mallet, focus on the force you apply as too much can cause either danger or unwanted scars on your wood. It's important that you align the cutting edge carefully each time.
You can use a wood carving tool both hand-held and by using a mallet. Let's learn how to use it step by step;
Step 1: Hold the Tool Properly
Hold it using both your hands, if you want to use it by hands. And if you are using a mallet, then use the non-dominant hand. You have to make the hold correct according to your working needs.
Step 2: Make the Cutting Edges Smooth and Straight
Place the blade at the particular spot where the curve is going to start. Depending on the length of the cuts, you will have to raise and lower the tool.
Step 3: Put in Some Pressure
Once you apply some force on the workpiece, you will have your desired carving. Then you will adjust the force according to the requirement of your project.
Happy carving!
FAQ'S
Here are some frequently asked questions and their answers.
What Is the Best Brand of Wood Carving Tools?
Best Brands of New Carving Gouges:
Pfeil carving gouges.
Auriou carving gouges.
Henry Taylor carving gouges.
Ashley Iles carving gouges.
Stubai carving gouges.
Hirsch carving gouges.
Two Cherries carving gouges.
What Is the Best Way to Carve a Piece of Wood?
Always carve in a downward direction onto those lines of grain. You can also carve diagonally across the grain or parallel to it, but do not carve up against the grain. If the wood begins to tear as you carve it even though the tool is sharp, you might be carving in the wrong direction.
What Are the Two Main Tools Used for Wood Carving?
Wood carving is a form of woodworking by means of a cutting tool (knife) in one hand or a chisel by two hands or with one hand on a chisel and one hand on a mallet, resulting in a wooden figure or figurine, or in the sculptural ornamentation of a wooden object.
What Tools Do You Need for Carving Wood?
The most popular styles of wood carving tools are: straight chisel, with a straight flat edge; straight gouge, with a curved cutting edge which will range in depth; short bent, with a small spoon-like dip used for quick deep cuts; long bent, which will make a long deep cut; straight skew, with a diagonal cutting edge; …
What Are the Best Wood Carving Tools for Beginners?
Best Wood Carving Tools for Beginners
Carving Knives. …
Wood Carving Mallet. …
Chisels. …
Gouges. …
Veiners. …
V-Tools. A V-tool is nearly the same as a veiner. …
Bench Knives. Bench knives are different from carving knives in both appearance and purpose. …
Rasps & Rifflers. Once you learn to master the tools above, you will most likely be quite skilled at detail work.
What Is the Difference Between Wood Carving and Whittling?
Carving employs the use of chisels, gouges, with or without a mallet, while whittling involves only the use of a knife. Carving frequently involves powered equipment such as lathes.
Is Wood Carving Difficult?
Wood carving is not very difficult to learn. … There are many different ways you can carve wood, and most of them will require specific tools for that style of carving. Some branches of wood carving, like whittling and chip carving, only require a couple of cheap tools to get started.
Q: Do we need to sharpen the blades very often?
Ans: Most of the models feature carbon steel blades that are very sharp and do not require often resharpening.
Q: What do we need the chisels for?
Ans: Chisels are used for lines and cleaning up flat surfaces.
Q: Can all wood carving tools can be used by a lefty?
No, unfortunately not. The ones with the right-hand control if used with a left hand might cause danger while striking.
Q: What types of wood are more suitable to be carved?
Ans: The woods that are more suitable for carving are white pine, European lime, European oak, basswood, sugar maple, butternut, and mahogany.
Q: Is it okay to carve oak?
Ans: Yeah, it's okay. Oak makes some of the best furniture. For, it doubles up perfectly and is well-defined. You will need to apply a bit of force though since it's one of the toughest kinds of wood.
Q: What is the tool used to carve wood?
Ans: You will need straight gouge as well as a chisel for carving wood.
Q: Is wood carving a good way to earn money?
Ans: Of course, it is. If you have the proper tool and know how to do it right, you will make a healthy amount of money.
Q: What does a chisel look like?
Ans: It looks like a wooden handle bearing a metal blade. The design, material, and size will vary for both the blade and handle.
Conclusion
It's quite evident why we need a wood carving tool. So, if you want to buy one then why not the best, right? The products we have selected is only for you to get a great deal. These have been selected very carefully after quality time investment. We know in the end you will be expecting a verdict from us.
Despite the fact each product selected here is top-notch, there are two that are quite impressive if you look into the details we provided. The BeaverCraft Wood Carving Hook Knife SK1 is an outstanding tool with all the features it provides. The concrete construction quality and the smooth cutting edge provided have most definitely made it shine more than any other.
With the 12 set smoothness defying razor-edged carbon steel blades, our second choice is won by the Gimars 12 set SK5. So, you have all you need. Now pick one!
I'm Joost Nusselder, the founder of Tools Doctor, content marketer, and dad. I love trying out new equipment, and together with my team I've been creating in-depth blog articles since 2016 to help loyal readers with tools & crafting tips.