I love creating free content full of tips for my readers, you. I don't accept paid sponsorships, my opinion is my own, but if you find my recommendations helpful and you end up buying something you like through one of my links, I could earn a commission at no extra cost to you.
Learn more
When it comes to axes we picture chopping woods for fire or BBQ. That's very different from felling a tree. When you're chopping down woods, you're working along the grains. You're just splitting the woods apart, nothing tough. But when you're felling a tree, you're going against the grain. felling requires the axe to go in deep.
When you're chopping woods, you'd prefer the other end of the blade to be thicker. This way the head of the axe can also act as a wedge. But if you're on a felling job, an entirely thin axe is far more efficient. They dig deep, fast, and smooth.
Felling means you're gonna be swinging for half an hour or so, get the best felling axe or there's gonna be a lot of muscle cramps and sores to pay. And more importantly, you need your felling axe to have longer arms for a good swinger. For obvious reasons go with the weight of your comfort.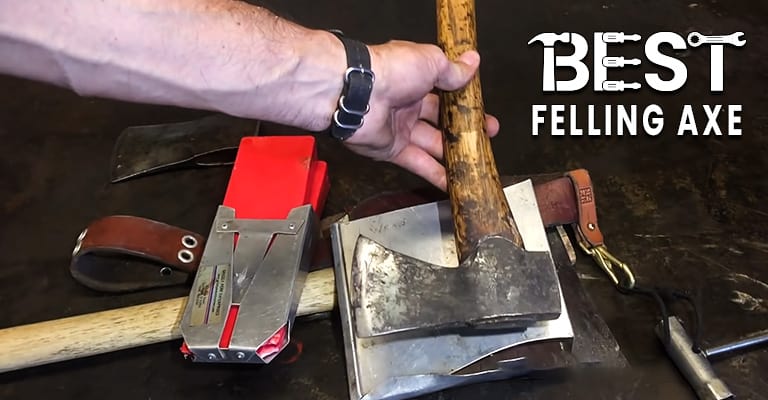 Felling Axe buying guide
Let's prepare a checklist of parameters that make a felling axe worth buying and avoid buying a wrong one. Pick the points of the buying guide to follow and keep the justifications we specified as side notes.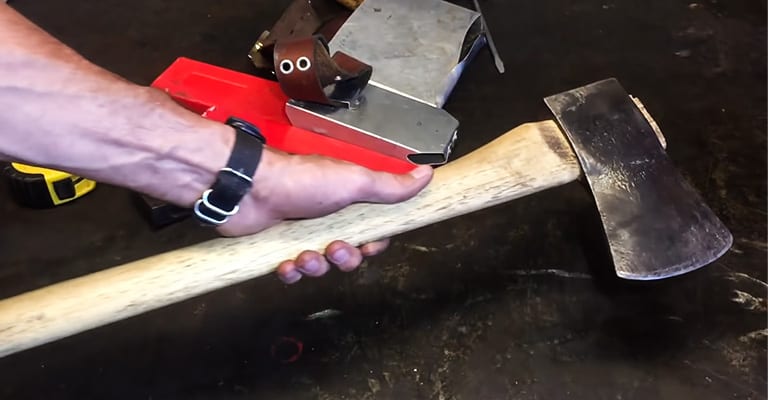 Types
Except for multi-purpose axes, other types are only made for a specific purpose. Though there are so many types of axes, we are gonna talk about a few axes that are widely used since other than their specificity they're nothing more than junks of metal and wood.
Felling Axe
If you simply wanna knock down trees, you should go for the felling axe that is solely made for this work. It usually has a thinner blade and a longer handle to cut deeply into the wood. That's where a felling axe and a chopping axe differs.
Hudson Bay Axe
For chopping and trimming Hudson Bay axes are used. This type of axe features a lighter head and smaller handle compared to the felling axe.
To split the logs vertically, this type of axe is used. It features a heavier wedge-shaped head, broader butt, and a straight handle to cut the logs with more force without getting stuck in the wood.
Carpenter's Axe
A carpenter's axe is essential if you do delicate woodworking. The head of this axe is lighter and the handle is also smaller. But this axe is slightly larger than hatchets.
Broad Axe
As the name says, this axe features larger bits to create scalloped cuts. You can cut both flat and round edges using this type of axe.
Cutting Edge
For a felling axe, it is necessary to have a thinner blade. Especially the cutting edge must be super sharp to cut deeper on the wood to fell-down the tree with fewer swings. If the edge is thicker or becomes dull, you should sharpen it before using it again.
Bit
There are 2 types of bit in axes, single bit axe and double bit axe. A single bit axe has got a blade on one side only. It is heavier and lets you cut quickly. While a double bit is equipped with a blade on each side and it is more balanced as both sides are equal. So, it's easy to swing and gives more accurate cuts.
Head Weight
Heavier axe head produces more force but it also makes your swings less accurate. Fatigue is ought to grab you for using the heavy axe multiple times continuously. As a starter, you should try working with a head weighing 2 to 3 pounds and gradually raise the weight as you adapt. But it's better not to exceed 6 pounds.
Handle
The handle of the axe helps you to control your cuts. There are some criteria that you need to look up for better maneuverer handles.
Material
Whilst most of the handle is made of wood, you can also find handles that are made of plastic or metal. Surely, plastic is weaker while metal is too heavy an option. Needless to say that the wooden handles are perfect to use, especially the hickory or ash handles. You should also look into the grain and growth rings on the wood.
Grain
If the grain is perpendicular to the bit, it makes the wood weaker and breaks apart easily. That is why make sure your handle has a grain that runs parallel to the bit, as it makes the axe handle stronger.
Growth Ring
Narrow growth rings that are close to each other make woods stronger. So, avoid the axe handle that got wider growth rings that are far from each other.
Length
Though the standard length of the axe handle is around 35 inches, it's better to use the one with length around 28 inches. Because longer handles may provide more force while swinging, reducing the control, and pushing towards the boundary of safety. So you should get an axe with a bit shorter handle than necessary.
Shape
A handle can be curved or straight in shape. Generally, a single bit axe comes with a curved handle for better control and a more natural vibe. In contrast, a double bit axe has a straight handle. A curved handle can only be used in one direction while the double bit is reversible. But a single bit with a straight handle is not comfy to use.
Varnish
A varnished handle may be good in looks but not so good to work with as varnish only makes the handle slippery. It is so risky as the axe may fly away while you are trying to swing.
If the handle is varnished, you better remove it using sandpaper to get more friction for max control. After that smoothen rough and sharp scratches with a smooth fabric.
Sheath
To store your axe securely and refrain the blade from getting rust, a protective sheath is necessary. Make sure your axe comes with a high-quality leather sheath.
Best Felling Axes reviewed
Say goodbye to the tiresome comparison of hundreds of tools to find your perfect one. For you, we've sorted out the best axes that are leading the market right now,
1. Husqvarna Wooden Multi-Purpose Axe
Positive Aspects
Husqvarna manufacturer offers a traditional style wooden multi-purpose axe. This single bit axe can be used for tree felling, wood chopping, branch trimming, and clearing bushes. The head of this tool is made of hand-forged Swedish steel that provides great durability and stays sharp longer than others.
With proper maintenance regularly, this axe can even last a long time. The handle is made of hickory and it is well curved to enjoy the ultimate ergonomic support while using. As the length of the handle is 26 inches long, this axe is the ideal size for most of the users. The weight of the axe is only 2.1 pounds.
You will get a 90-day warranty with the product. Aside from this axe, this brand also offers ten different axes that have their area of expertise. You will also get a leather sheath to protect the edge and store it safely. To ensure the axe head is fastened tightly, it is attached to the shaft with a steel wedge.
Negative Aspects
Handle shrinks in warm conditions and that leads to breakage.
2. Council Tool Velvicut Felling Axe
Positive Aspects
Council Tool brand provides a Velvicut premium American axe that is produced by the most experienced artisans. This tool features a razor-sharp head that is heat-treated and weighs 4 pounds. The handle is made with hickory and the length is 36 inches. It is mounted to the head with steel and softwood wedges for added security.
To prevent rusting the axe head is coated with oil which also showcases axes natural beauty. The head is forged from alloy steel for strength, toughness, and durability. Then it is sharpened using fine abrasives and then finished with leather stropping. A brand logo is embedded on one side of the axe head.
All the components are made in the USA and the manufacturer guarantees that the head will last for a lifetime. You will get a premium leather sheath to protect the tool that has an embossed logo on it and also has a buckle for fastening.
Negative Aspects
The handle is very poorly finished.
Price is a little bit high comparing others.
3. Gransfors Bruks American Felling Axe
Positive Aspects
Gransfors Bruks manufacturer boons you with the best American making felling axe to work in the forest. Using this solid chopping axe, you can knock down small to large trees effortlessly. As the axe is forged to a curved bit, it is well suited to cut down fresh softwood such as spruce and pine.
Thanks to the wide blade edge of 11.5cm length, this axe works better than most other axes. This tool weighs less than 5 pounds and comes with a long hickory handle that is about 35 inches long. It provides a greater force to fell large trees effortlessly and also do chipping and notching.
No other axes can beat the quality of the axes from this brand. When you cut in angle with this tool, it takes out larger chunks at a time and makes your work faster. You will get a vegetable-tanned leather sheath to protect the sharp edge during storage. This sheath is also well made like the tool itself.
Negative Aspects
The hardwood handle is a bit rough to work with hands without gloves.
No protective sheath is provided with it.
4. Hultafors Swedish Felling Axe
Positive Aspects
Hultafors brand provides a felling axe that is made in Sweden. This axe features a large head that is hand-forged with high carbon steel and weighs 3.3 pounds. The weight of the head allows you to do deep and wide cuts into the wood. The sand-blasted blade is clear coated finished and it has visible forging marks.
American hickory wood is used to make the solid handle which is very well balanced and lighter. The handle is ergonomically designed and curved to fit your hands. You can easily swing the axe and do more accurate cuts with the 28 inches long handle.
On the blade, the brand logo is embedded, so you don't have to worry about getting a fake product. you will get a fine leather sheath to protect the edges while storing. You can use this tool not only to cut down small to big trees but also light wood splitting, chopping, and trimming.
Negative Aspects
This axe is quite expensive than many others.
5. Truper Premium Single Bit Axe
Positive Aspects
Truper manufacturer provides a wide range of axes for a variety of works. This Mexican company uses modern technology to guarantee you optimum quality axes. With all these axes, you can cut down trees, do splitting, chopping, trimming and you can throw it well in the sports.
You can get an axe that has an American hickory handle or you can choose the one with a fiberglass handle. This brand also provides both single bit and double bit axes along with many other kinds of axes. Both lengths and the head weight varies from one axe to another. But all the blades are heat-treated for more durability.
In all the axes, wood and steel wedges are used to assemble the axe head with the handle. The edges of these tools are super sharp to cut through wood with ease. You will even get a warranty with all the axes but the warranty period varies from one to another.
Negative Aspects
The handle is so uncomfortable to hold and use.
Sometimes the cutting edge and the handle is uneven and poorly finished.
6. Snow & Nealley Single Bit Axe
Positive Aspects
Snow & Nealley brand offers a single bit felling axe that is hand-forged from the fine grain carbon steel. So, this axe is super strong and the 4 inches edge is made sharp to be able to knock down any tree effortlessly. The head weighs 5 pounds and provides max force and you can carry it anywhere easily.
Though the handle is well varnished with lacquer, the varnish is thin enough to be easily removed if you wish. It is made with American hickory wood for more durability. This tool is ideal for everyone to use as the overall length of this tool is 30 inches.
You will also get a stylish leather sheath for safety that got the brand logo embossed on it. The ergonomically designed handle of this tool fits your hand perfectly and it offers accurate cuts. This USA made axe is cheaper than most other axes on this list.
Negative Aspects
Not sharpened properly when arrives.
7. Hults Bruk Atran Felling Axe
Positive Aspects
Hults Bruk boons you with the Swedish best tree felling axe for cutting up small to large trees. The axe head weighs 3.5 pounds and it is made with strong hand-forged steel along with blasted finishing. As the steel is struck many times during production, the density increases and makes the blade more durable.
There is a tempered zone designed on the head so the blade remains very sharp even after many sharpenings and the grind is evenly applied. The handle is made with the US-sourced hickory and it is coated with linseed oil for extra protection. This 32 inches long handle offers more accurate cuts and smoother swings.
Each axe comes with a protective leather sheath that is even ornamented with some traditional authentic Swedish decorative elements. You will even get a detailed user manual that will help you more if you are a beginner.
Negative Aspects
The shape of the handle is not so proper.
As the blade is not super sharp when it arrives, you might need to resharpen it before use.
FAQs
Here are some frequently asked questions and their answers.
What is the difference between a felling AXE and a splitting AXE?
Splitting axes are designed to create smaller chunks by splitting wood fibers apart. This is in contrast to a felling axe, which cuts through those wood fibers. Trust us: you'll feel extremely frustrated if you attempt to use a felling axe for wood splitting purposes.
What kind of AXE do lumberjacks use?
Husqvarna 26
Husqvarna 26″ Wooden Multi-Purpose Axe
Although this is a multi purpose axe, it performs quite well in lumberjack competitions. It's simple design and versatile uses makes it perfect for different events, including throwing. This axe is a bit on the long side with a slightly lighter head than others on the list.
Where are Stihl axes made?
Italy
The Head. The head of this model is 600g and made in Italy.
Which AXE should I buy?
True full-size felling axes are 36 inches long, but that's usually way too large for most people's needs. Instead, consider getting a 31-inch full-size axe and 28-inch "boy's axe". The latter, despite the name, is a great all-rounder in terms of size.
Why is an AXE handle curved?
The curve places the blade a little more forward and moves your knuckles back a little which seems to feel more protective when swinging near briars, limbs, etc. With all that said, a huge reason that I prefer straight handles for heavy heads is because wood tends to grow straight.
What kind of AXE do they use in timbersports?
Stihl Timbersports® athlete Dennis Schmitz also uses the OCHSENKOPF Champion axe intensively for his training, as he knows it enables him to prepare optimally for his competitions.
Do lumberjacks still use axes?
When he is working in the woods, the lumberjack carries a lighter quiver. A razor sharp racing axe is replaced with a smaller axe to drive wedges or trim branches. There is still a STIHL chainsaw by his side, but no race-only hot saw.
Is crafted AXE better than plane AXE?
Like the Rusty Axe, the crafted axe will chop down trees in 13 hits (9 for the Modern Axe & 17 for the Plane Axe). … It deals more damage than the Plane Axe, has more knockdown power and a farther reach.
What is the strongest weapon in the forest?
Next up is the Modern Axe, which is the best of all axes available in The Forest. The Modern Axe doesn't just make a great weapon either, as it's great for chopping down trees. Similar to the Crafted Club above, the Modern Axe deals 7 damage.
What is the sharpest AXE in the world?
Hammacher Schlemmer
The World's Sharpest Axe – Hammacher Schlemmer. This is the felling axe made in the United States that holds the sharpest, strongest edge in the world.
What is the most expensive AXE?
1. Gransfors Bruks Outdoor Ax. The numero uno spot on our list goes to a premium ax from Gransfors Bruks. The Outdoor Ax is one of the most expensive options on this list, with a price tag of 200 dollars.
What is the difference between AXE and hatchet?
He defines a hatchet as simply, "a small one-hand axe used for chopping." These are ideal for splitting small pieces of firewood and chopping small branches from trees. … Axes, on the other hand, are made to be used with two hands to maximize striking power.
Where are Collins axes made?
Axes were made in Michigan, Connecticut, Dayton and Yankee patterns. Double bit axes and hatchets were also in among the 1,300 edge tools in its product line.
Q: How should I handle the axe properly?
Ans: First of all, you should firmly grip your axe. Put your right hand near the head and the left hand at the end of the handle while your palms should be facing toward you. The axe head should face at a 45° angle while cutting trees. It may not have sharp ends on both sides like a Pulaski axe, but checking behind your back before you begin is a recommended practice.
Q: Should I repair or replace a damaged handle?
Ans; It's best to replace a damaged handle with a new one. You may repair the wooden handle but it won't provide much force like before and you will get inaccurate cuts.
Final Statements
Whether you are a pro or a noob, if you already read the product review and buying guide section, you should have an idea about which axe suits you best. But if you don't have much time or are still confused, then hold your horses. We are ready to help you find the best felling axe ever.
Among all the axes on this list, we recommend you buy the wooden multi-purpose axe from the Husqvarna manufacturer. The axe from this brand is super strong and it can do a wide range of woodworkings though it is not so expensive.
Aside from that, if you don't have any problem with spending more money, you should go for the axe from Gransfors Bruks as it is one of the best quality axes that you can find. You can also buy the Hults Bruk Altan felling axe as this one is well finished and durable and also very good looking.
I'm Joost Nusselder, the founder of Tools Doctor, content marketer, and dad. I love trying out new equipment, and together with my team I've been creating in-depth blog articles since 2016 to help loyal readers with tools & crafting tips.