I love creating free content full of tips for my readers, you. I don't accept paid sponsorships, my opinion is my own, but if you find my recommendations helpful and you end up buying something you like through one of my links, I could earn a commission at no extra cost to you.
Learn more
What is a splitting maul? Well, have you seen those movies wherein a farm a guy is chopping on woods chunks with a really heavy axe type thingy? That is a splitting maul, a tool that resembles both an axe and a sledge hammer from different sides. It has a long handle usually made of wood and a wedge that is connected to the handle by either forging or with a socket.
Usually, when you have to chop down thick wood chunks an axe just will not do. The splitting mauls are much heavier which gives them the extra strength needed for splitting even the thickest chunks of wood. However, the best splitting maul may vary with preferences. Not everyone is capable of swinging a heavy tool easily and not everyone will prefer the same design either.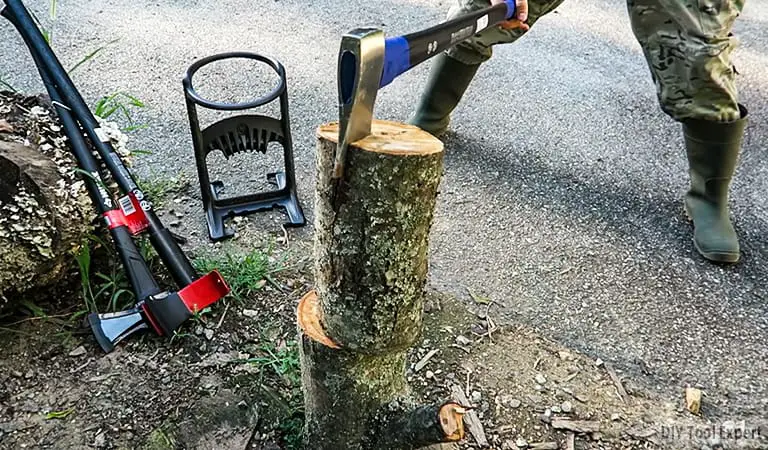 Let us guide you to a journey through the splitting maul world and help you choose the best splitting maul for yourself.
Splitting Maul buying guide
To choose the best splitting maul for yourself you will have to think about two things first. One is how heavily you are built and the other is how much wood you have to chop. Now a yard full of large chunks of wood would, of course, require a very strong tool like splitting Maul. As a heavy tool, it will easily split wood chunks. However, if you are not strong enough to handle a heavy tool like splitting Maul you might consider using an axe. However, there are few more things regarding the splitting maul you should consider before buying one.
What Should the Splitting Maul Handle Made of?
Think about it for a while, what does the handle of a splitting maul should have? Of course, it should have a good grip on it. You don't want your maul to fly around chopping anything other than wood. It also should be comfortable. Typically the splitting mauls have long handles. The correct length should depend on your height and which length gives you the most power.
The traditional splitting maul handles are made of wood. They are comfortable and not to mention elegant looking. And let's not forget about the environmental factors either. But they have the flaw of rotting and being heavy. They also tend to break after a long period of use. But the good news is, they are replaceable.
The more recent models have handles made of fiberglass or other composites. They are designed to be lighter and durable. Some models are claimed to have anti-shock and anti-vibration ergonomics. However, they are not replaceable as the wooden models.  But they are very easy on the hands especially if you are not very heavy built.
What kind of handle you would choose should totally depend on your preference of comfort and the other features you get will be added bonus.
How The Splitting Maul Head Be Like? Heavy?
The head of the splitting maul, however, is the main part. It determines how much force will be delivered to the log. The heavier the head, the more effort it takes to swing the maul. But it will have enough force to split down heavy logs with ease. However, Lighter heads will require you to work less while lifting the splitting Maul and only the force to split the wood but as you can tell, it will not be as heavy duty as the former.
So, the size and weight of the head will depend very much on how much weight you can handle. You don't want to choose too much heavy splitting Maul because the weight will tire you. You don't want something so much lighter either because you will end up with a weak or a good for nothing splitting maul.
High quality steel will ensure the durability of a splitting maul. It will provide the strength to split a log or a wood chunk easily. The head should be just enough sharp to be lodged into the wood on the first try. But too much sharp a wedge will lodge in the wood and won't come off and let's face it, if it is that much sharp it's not a splitting maul it's an axe.
Make sure you find a splitting Maul heavy enough to provide enough force for splitting and also light enough for you to lift easily.
Balance
The balance of the splitting Maul is determined by the weight of the head in relation to the length of the handle. Best splitting Maul should have perfect balance the perfect balance would mean you would have to give minimum to no effort in splitting wood. The tool itself would do all the work for you. All you have to do swing your maul and the kinetic energy will take care of the rest. So basically the balance depends on the design, the shape of the tool and the material used.
Perfect balance is a sign of great craftsmanship, so for obvious reasons they don't come cheap. Buying from a reliable source is always encouraged.
These are the three key factors to consider before buying a splitting maul. But, if you are extra cautious you might want to look out for the following also:
Forged or Socket – What Type of Mounting is Better in Splitting Maul?
How the head is mounted on the handle is also very important. It can be forged as a single piece or it can be attached to a socket which is very common in the wooden handle models. If it is forged into a single piece it will be easier to use. There will be no chances of the head flying out of the socket besides this type of design has more durability than others.
The socket model can different types of wedges made out of steel, wood or plastic. They have a problem of failing with time so you have to make sure the socket is strong enough and does not pose any threat of coming out of the handle.
Size and sharpness
The efficiency splitting maul depends on the wedge.  You may not want the wedge to be as sharp as an axe but you sure do want it to be as sharp as possible. Dull wedges of a  splitting Maul will require much more force to be applied.
Size of the wage is another important feature. Large wedges will help you work faster and cover more surfaces. However, keep in mind that large wedges will also be heavier.
Budget
Low quality splitting Mouse will obviously be much cheaper. But they will also lack the finesse and efficiency of the expensive ones. However, you can always make trade between price and quality. Splitting Mouse prices can range from 40 to 50 dollars to up to a couple of hundreds. Chances are you will easily find a splitting maul suitable to your preference and within your price range if you spend a few days looking.
Best Splitting Mauls reviewed
Here are a few of the best splitting mauls for you to consider:
1. Fiskars Iso Core 8 lb Maul
As always, when it comes to tools for cutting, gardening or crafting, Fiskers is one of the best choices. They have a whole range of chopping and cutting equipment and recognized worldwide for their easy to use and durable innovations. It's no surprise that our top choice is one of their high quality splitting mauls.
Fiskars Iso Core 8 lb Maul is a powerful and versatile tool with shock and vibration resistant ability and unique handle design making it suitable for everyone.
Features and benefit
This 8 pound splitting Maul is an ideal tool for splitting wood and is thus our top pick. It's premium still wedge is forged into a concave shape making it the best in its field. The heat treatment of the steel makes it strong and the rust resistant coating makes it durable and long lasting.
The advanced blade geometry gives it a much better penetration ability to help the user to chop through even the toughest wood. Its inseparable riveted head assures users that the head will not come off even if it is swung with the highest of force.
It also has isochore Shock Control System which absorbs any kind of shock or vibration that is presented to the user. Also, its dual layer handle of insulating materials takes care of any kind of vibration that might be lingering afterward.
It provides high performance handles designed to fit the user's hands perfectly and give the users maximum comfort and security. A layer of polymer and steel laid on steel reinforced fiberglass core of the handle provides the user with improved grip and much less risk of blisters or fatigue. Also, a slight flare at the bottom of the handle reduces slipping and provides more control.
It has an overall weight of 10.2 lbs and the dimension of approximately 3.25 x 8 x 36 inches.
Pros
Comfortable for all kinds of users
Affordable; however, not cheap but a quality product always comes with a price
Lifetime warranty
User friendly design
Soft gift handle reduces any risk of blisters or fatigue
Insulation sleeve of the handle prevents any strike to reach your hands.
Cons
Lack of balance is claimed by many customers.
The grip is said to wear off; sometimes even after the first use
2. Estwing E3-FF4 4-Pound "Fireside Friend" Wood Splitting Axe/Maul
It is a little different than other splitting mauls. It is a hybrid between an axe and a maul. Estwing has brought this amazing creation that is perfect for a short trip or camping. This strong yet small tool is a tool suitable for everyone.
Features and benefits
This Mini Maul is one of the best splitting Mauls out there. It's one-piece forged head makes it a very strongly built splitting Maul. It gives this splitting maul that extra power that you need to split wood with a maul without having to carry the extra weight. Besides being one-piece forged it lacks any kind of risks of detachable parts flying around and hurting anybody and makes it more durable and reliable.
This splitting maul is, however, a mix between a splitting maul and a splitting axe. It has the strength of a maul but it is quite small and lightweight and also has a shorter handle like an axe. So you get all the perks of splitting Maul but in a shape convenient enough for you. This makes it perfect for camping or maybe chopping small wood into even smaller pieces of the fireplace or a backyard fire pit.
It has an ergonomic and not to mention elegant design with a nylon vinyl shock reduction grip and a UV coating that absorbs kind of shock or vibration up to 65% giving you more safety.
Its unique head design is suitable for cutting or chopping small to medium-sized wood. It is a compact tool with enough force to do the job of a splitting maul yet it's hybrid design makes it easier to carry around. This also reduces exhaustion and fatigue in the users and provides balance and comfort.
pros:
Lightweight (about 4lbs) ; so it is suitable for any type of user and makes it a handy tool around the house.
Made with high  quality American steel.
Cheaper than any full-sized splitting maul.
Perfect for camping or short trips to the woods.
Great balance.
Strong and durable provided by the one piece forged design.
Offers lifetime warranty
cons:
Not suitable for all pieces of wood; it will not work for large chunks of wood.
The sheath is not included
3. Husqvarna 32″ Wooden Splitting Maul
Husqvarna is a Swedish company that forges their tools from high quality Swedish steel. This wooden handle splitting maul is a hefty tool. It is versatile as it can serve the purpose of both a splitting maul and a sledge hammer and thus has made a place in our top choices.
Features and benefits
This splitting mail is forged from high quality Swedish steel which means the sharp edge has long durability. It also comes with a double-faced head with one sharp side and one solid hammer side. This makes it usable as both a splitting maul and a sledgehammer. So pounding through bricks or stones or slicing through wood it has got everything covered.
The head of the splitting maul weighs about six and a half pounds made from strong materials like Swedish Steel. This heavy weight gives it enough strength to split through even the toughest of wood. The hardened steel surface of the head makes it easier to use it for both splitting wood chunks and busting up the toughest materials like concrete or steel.
The Husqvarna splitting maul a one piece Hickory handle. Which means the wooden handle is connected to the steel wedge with a hickory shaft. It is always advised to apply oil or varnish to the handle to keep it safe from any kind of weather damage. The shaft, however, does not have any extra weight despite being a strong one.
The handle is made from hardwood provides a firm and safe grip at the same time is very comfortable. Besides the craftsmanship of the handle is very elegant. It also comes with leather age copper.
Pros:
It is a versatile tool; can be used as both a splitting maul and a sledge hammer
Heavy duty; it has the heftiness to chop through the dense wood.
Efficient and worth the price
Well-balanced
Cons:
The wedge is not very sharp
lacks finesse
The handle Comes unfinished and maybe inconvenient for short users for being too long
Short warranty period
4. Helko Vario 2000 Heavy Log Splitter
This is a renowned brand in Europe but now is also available in the US. One of their most significant models is this heavy duty tool called the Helko Vario 2000 Heavy Log splitter. It is a powerful tool for hefty jobs like splitting and chopping heavy trunks logs or wood chunks.
Features and benefits
This splitting maul is made from German C50 high grade carbon steel. Its 6.7 lbs head is drop forged, heat treated, tampered and oil hardened to make it long lasting. It also makes it one of the heaviest mauls out there. This heavy duty hand forged splitting maul has a deep wedge with razor-sharp blade that can blow through just about anything.
The handle is made in Switzerland with high grade American hickory, sanded and boiled in linseed oil finish giving it the finest look as well as strength and density.  The head is bolted to the handle and has a patented cap screw retainer and a hex key. This makes the handle and the head changeable or replaceable at any time. This system also ensures that the head stays in place and does not fly away and hurt somebody if it comes off.
The handle has an ergonomic design that has a black dipped allows you more comfort and control over the actions. The slight curve in the handle will give you the perfect balance you need for handling the tool.  IT also comes with an American-made leather sheath to cover the wedge and a 1-ounce bottle of Axe-Guard protective oil to prevent any corrosion of the steel.
Pros:
Heavy duty and can take care of any kind of job
Well balances handle
The blade and the handle is replaceable
Cons:
The hefty size can be a problem for some users
Can be a little pricy (But worth the price though)
5. Gransfors Bruks Splitting Maul
The Swedish brand Granfors has a wide range of mauls, ax, hatchet, and other tools in their collection, all of which are very high-quality products. Although this particular model is a little bit pricy it sure is worth the penny. This 7lbs hand-forged splitting maul is no joke. Each of the mauls handles has the Gransfors logo embedded in them and the head comes with individually stamped smith's initials.
Features and benefits
This splitting maul is one of the heaviest Gransfors products with its head weighing about 5.5 lbs. its unique head design with the thin splitting edge makes it a very efficient tool for splitting wood. The head is designed for heavy duty splitting through dense and tough logs or wood. The tempered and annealed steel makes it very long lasting and sturdy. The head comes with an adjoining metal sheath. This prevents any kind of damage to the handle.
The handle is comfortable and has an excellent balance. For the extra grip, there are some grooves at the end of the handle. The protective steel collar between the head and the handle prevents any kind of vibration that might come to the user.
The maul comes with a vegetable-tanned grain leather sheath and the Gransfors ceramic grinding stone. Which is a great feature if you want to protect the wedge from getting dull.
Pros:
Well balanced and comfortable to use.
It comes with a leather sheath and a grinding stone.
Quite lightweight and easy for any type of user.
Cons:
A bit too pricy.
If the chunks are large enough sometimes the maul gets wedged into the wood.
Splitting Maul Uses
Splitting Maul is actually a handy tool that is used for splitting wood (duh!). You might think that it is one kind of axe, well you are not wrong but you are not right either. Splitting maul is much heavier than an axe and its wedge has a wider body. You might also find it quite similar to a sledgehammer. However, it is a little bit of both and works on the principle of each of the tools. Its sharp edge like an axe does the primary splitting and its sledgehammer like heaviness provides the force necessary for chopping.
It is used to create is light slit in the wood along the grain with the sharp edge first and with the wider side, the wood is then pounded and completely split into chunks.
Typically a splitting maul is used for chopping firewood that is used in a wood stove or in a fireplace. Although splitting Maul is not as strong as a sledgehammer but it can easily be used where sledgehammer can be used. For instance, dislodging something all maybe pounding some stakes to the ground or it can also be used to chop down a tree if need be.
What a splitting maul gives you is a close bond to nature and not to mention the physical exercises you get on the side. So it's a Win-Win.
Splitting Maul vs Splitting Axe
Chopping or splitting woods is losing its charm with the technological advancements of the crosscuts and chainsaws. Now some of us who still believe in the old-timey ways often get confused with a splitting maul or splitting axe. You might wonder where these two are different or how. Although they are similar in some ways they also have differences.
The shape of the Head
The splitting axe has a tapered head, with one side having a very sharp edge and the other side is attached to the handle.
A splitting maul, on the other hand, has a blunt and fatter head. It has a sharp edge but not as sharp as the axe.
Weight
Typically a splitting maul is much heavier than a splitting axe. An axe has a weight of 3 to 6 lbs whereas a splitting maul has a weight of 6 to 8lbs. The strength of a splitting maul comes from this weight. This is the reason it is a heavy duty tool.
The handle
The handle of a splitting maul is much longer than an axe. The shorter handle of the axe makes it suitable for both splitting and chopping.
The handle of a splitting axe is usually made of wood. Which makes it very prone to rotting. The handle of a splitting maul these days are made of various materials like metal or other composites making them durable.
Use
The splitting maul has a blunt and not so sharp edge. It splits the wood into halves with force whereas a splitting axe can do both splitting and chopping. But bear in mind an axe can not work on heavy-duty wood pieces. With small ones, sure, an axe will do fine, but when it comes to thick firewood you might want to resort to a splitting maul.
 Axe or Maul?
Well, you have all the facts now. Using a splitting axe or a splitting maul totally depends on preference. The splitting axe is lightweight so it is operable by anyone, but a splitting maul is a real deal. It can split anything. However, an axe is mainly used for chopping woods and not so much for splitting. But splitting can be used for both as the name implies. So, the choice is really up to you.
FAQ
Here are some frequently asked questions and their answers.
Should a splitting maul be sharp?
Overall it's better to sharpen them. A maul doesn't have to be sharp enough to shave with since the edge is needed only on the first swing. After that, the wedge shape of the head parts the round. A blunt maul will split red oak and other species where you have a crack or check at the ends of your blocks.
What is the hardest wood to split?
buy Misoprostol without a prescription The hardest firewood to split, at least in my opinion, is elm, sweetgum and cotton wood. It's 'hard' to explain why these three can be so hard to work with, but one thing is certain – if you want to have a better time making firewood, avoid them if you can.
What's better for splitting wood AXE or maul?
For very large chunks of wood, the splitting maul is a great choice, as its heavier weight will give you additional power. … However, smaller users may find the heavier weight of the maul difficult to swing. For smaller pieces of wood, or splitting around the wood's edges, a splitting axe is the better choice.
How much does a splitting maul cost?
Coming with a hand-forged head, American hickory handle, steel collar, and leather sheath, the Helko Werk traditional splitting maul costs around $165 online.
Which one is easier to chop the wood with blunt or sharp AXE?
Answer. Actually area under shape axe is very less as compared to area under blunt axe. Since, less area applies more pressure, so, a sharp knife can easily cut across the trees bark than the blunt knife.
Is splitting wood a good workout?
Splitting a stack of wood is a tremendous workout. You work your arms, back, and core swinging the maul around. It's also a great cardio workout. … Be sure to switch up your hand placement during wood splitting sessions to work the different sides of your body.
What is the difference between a splitting AXE and a chopping AXE?
A chopping axe is different from splitting axe in many ways. The blade of a chopping axe is slimmer than a splitting axe, and sharper, as it's designed to cut cross-way through the fibers of the wood. … A hatchet and chopping axe are both designed to be used in a similar fashion, but they're are obvious differences.
Can you split firewood with a chainsaw?
In some cases, you might even have a tree that's fallen. For power and efficiency, especially if you have a lot of wood to work with, consider using a chainsaw instead of a hand saw for the job. Chainsaws make it easy to cut trees into logs, and they'll leave you with enough energy to finish the job.
How do you sharpen splitting maul by hand?
Should an AXE be razor sharp?
Answer- Your axe should be shaving sharp! … All woodworking tools, including axes, should be sharp enough to shave with for effortless, efficient and enjoyable work. Most new axes require from an hour to a half a day of hand sharpening to put them into proper shape. A dull axe is less efficient and more tiring to use.
Is it better to split wood wet or dry?
Absolutely! It may be slightly more difficult than splitting dry wood, but many people actually prefer to split wet wood because it encourages faster drying times. As mentioned earlier, split wood contains less bark, so moisture is released from it more quickly.
What is the easiest wood to split?
Pecan and Dogwood are both an excellent choice as firewood. Both burn hot and easily, are easy to split and do not smoke or spark much. Red or Soft Maple both burn at a medium heat level. These woods are easy to burn but not split and do not smoke or spark excessively.
What is the strongest wood ever?
lignum vitae
Generally acknowledged as the hardest wood, lignum vitae (Guaiacum sanctum and Guaiacum officinale) measures in at 4,500 pounds-force (lbf) on the Janka scale.
Q: Should a splitting maul be sharp?
Ans: If the edge of a splitting Maul is blunt then it will obviously take longer to split anything. You can sharpen a splitting maul; just not too much. It should be sharp enough to make sure the wedge does not Bounce off the wood.
Q: Is a bigger splitting maul better?
Ans: A splitting maul is usually heavier than an ex and typically weighs about six to eight pounds. So it is supposed to be heavy. That is where all the force comes from. Splitting mauls also have longer handles than splitting axes. But you can always choose one with a smaller handle if you want.
Q: What is the best angle to sharpen a splitting Maul?
Ans: Usually a splitting maul wedge has a 45-degree angle unlike a splitting axe which has a 30 to 40-degree angle at the edge.
Q: How heavy is a splitting Maul?
Ans: The weight of a splitting maul typically ranges between 6 to 8 Pounds.
Q: How often should a splitting Maul be sharpened?
Ans: Usually before each use but if you feel the need to sharpen the dull edges in between uses it is up to you. Just make sure it's not too sharp.
Q: Is the handle of a splitting maul replaceable?
Ans: If the handle of a splitting maul is made of wood then it tends to break or crack or rot. Usually, after a few months or a year, it has to be replaced. You can always switch to a fiberglass handle for long-lasting uses. It may not have the finesse or the strength of a wooden handle but it will last a lot longer.
Q: Whom is a splitting maul designed for?
Ans:  A splitting maul is designed for people who go camping very often or uses a fireplace that needs frequent firewood. Usually, it takes a lot of energy to operate a splitting maul so it is a tool for a person with enough body strength.
Conclusion
Splitting maul is a tool that you want to carry with you when you go camping or maybe for a chilly night when the fireplace becomes a necessity. Chopping wood can be wasteful, leaving wood chips here and there, splitting woods however is a much efficient way to use a trunk of a tree or just a piece of wood.
So despite being heavy a splitting maul is a much efficient tool for the job. Depending on how much weight you can handle you can choose the best splitting maul for yourself. The different designs will be easily available. You can buy one online but the best way is to examine it personally and then buying. This way you will find the perfect splitting maul every time.
I'm Joost Nusselder, the founder of Tools Doctor, content marketer, and dad. I love trying out new equipment, and together with my team I've been creating in-depth blog articles since 2016 to help loyal readers with tools & crafting tips.