I love creating free content full of tips for my readers, you. I don't accept paid sponsorships, my opinion is my own, but if you find my recommendations helpful and you end up buying something you like through one of my links, I could earn a commission at no extra cost to you.
Learn more
Like any other tool, the wood splitting axe has so many variances. If you simply pick one from the pile without doing proper research there is a big chance to end up being a frustrating chopper.
Buying a bad wood splitting axe means not only wasting money it also opens a door of injury. Because a flying head or a splintering handle can hurt and bleed you.
Finding out the right axe from the huge variety is like searching for a needle in the stack of hey. I am pretty much sure that you do not have a huge time to do this job. So we have done this difficult job for you.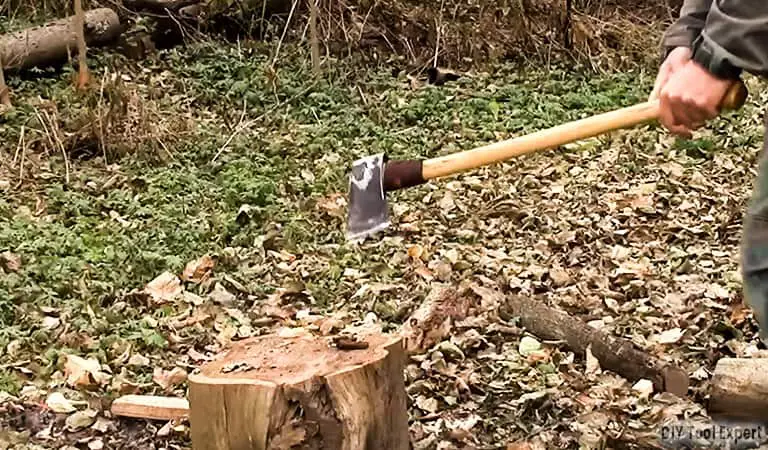 Identifying the key factor of buying the best wood splitting axe we have sorted out the best products for you to review. It is a short list but once you go through this list you do not have to spend more time to find out the right product; even if you spend more time you will find the same information provided here in a different way.
Wood Splitting Axe Buying Guide
We have made a shortlist of 7 best wood splitting axe for your review. But each of these axes is not suitable for a particular customer. Here the question comes – so which one is suitable for you?
Do not get confused, we have made this guide to take you to the right destination. Whenever I intend to buy something I follow a simple strategy. I check out the key factors that determine the quality and functionality of that product.
But to choose the best wood splitting axe it is not enough. After checking the key factors you have to find out which factors match you and which not.
It seems that a long time-consuming work. But fortunately it is not since we have done 90 percent of the work and you have to do just the rest 10 percent; I mean the second step – checking the key factors that match with you.
5 Key Factors to Choose the Best Wood Splitting Axe
1. Blade
A potential buyer firstly looks for 2 things while buying a wood splitting axe and the first thing is its blade or head. You have to check the material used to construct the blade and also the design of the blade.
Generally different kind of steel is used to construct the blade. Besides the constructing material, you have to check the coating material of the blade.
Also, the quality of the edge should be checked. A wood splitting axe with a straight or convex edge is always desirable.
Sharpness is another important factor for consideration for the blade of an axe. A blade of good quality remains sharper for a long time. It depends on both craftsmanship and the quality of the material of the blade.
2. Shaft or handle
It is the second thing a potential buyer must check to identify the best wood splitting axe. Material, design, and length are the most basic parameters to check in the handle of the axe. Here I would like to discuss in detail these 3 important parameters, especially for new users.
Generally, wood or fiberglass is used to make the handle. Both of these materials have specific advantages and disadvantages. If you have gone through the product reviews you already have a good idea about this.
Design determines the flexibility of use and length determines the capability of controlling the axe during use.
Do not forget to check the design at the gripping position of the handle. The length of the handle and height of the user should have consistency; otherwise, you cannot control the axe.
3. Joint
The head must be joined strongly with the shaft. If it loosens from the shaft while splitting wood it may hit you and cause a serious accident.
4. Weight
A wood splitting axe of heavyweight is good but here you have to consider one more thing and that is your capability of controlling that weight. If you are not strong enough to use a wood splitting axe of a heavyweight you should not choose that axe rather you should choose a lightweight axe.
5. Budget
Wood splitting axe has numerous varieties. So if you spend a little more time surely you will find your required product that fits in your budget.
Best Wood Splitting Axes reviewed
Sometimes people get confused with hatchet and axe. Hatchet and axe are pretty much similar to a little bit different. In this article, we have listed 9 best wood splitting axe of popular brands.
1. Fiskars 378841-1002 X27 Super Splitting Axe
If you have a good idea about the products of X-series you must know that these products always maintain a high level of quality. Fiskars 378841-1002 X27 Super Splitting Axe is also a product of X series that has advanced blade geometry, perfected weight distribution, an ultra-sharp edge and virtually unbreakable design.
For tall people and people who like to use a longer axe, Fiskars 378841-1002 X27 Super Splitting Axe is a good choice for them. The advanced features along with the intelligent design increase the effectiveness of cutting of the blade and maximizes the performance of users.
The blade design of the Fiskars 378841-1002 X27 model is superior to the conventional splitting axe. The blade has been crafted with a proprietary grinding technique. To increase the longevity of the blade it is coated with a low-friction coating. The sharper edge is conducive to better contact and cleaner cut easily.
It is engineered to an optimal power-to-weight ratio. Its increased swing speed multiplies power and increases the productivity of the users.
It has a FiberComp handle that is stronger than steel and the head is insert-molded. So even you hit the axe at a high speed and apply high pressure it does not easily separate. It makes the wood splitting job more enjoyable by requiring less time, less effort and less hand strain to complete each job.
If you are not physically strong enough you may get tired within a short time. For efficient splitting, you also need to maintain a good level of sharpness of the blade.
2. Truper 30958 Splitting Maul
Truper is a Mexican brand and its splitting axe of 30958 model is a popular product. They have used the latest technology to manufacture the Truper 30958 Splitting Maul so that it can cut through both hard and softwood.
Fiberglass has been used in the handle of this tool. The flex and shock reduction rate of this fiberglass handle has been kept approximately the same so that you do not have to gather any bitter experience of joint problems.
A common problem with the wood handle is that the wood handle easily gets cracked and shrinks with the change of moisture content and temperature. But the fiberglass handle does not have these problems. You can keep the splitting axe in any extreme weather condition and it will remain fine.
You can work with a splitting axe well only when it will have good grip along with a strong handle and sharp blade. To ensure improved handling and control rubber material has been used in the grip.
The drop-forged maul round bevel-edged striking face is strong and sharp enough to cut through both soft and hardwoods. So to split your firewood for winter you can use this Truper 30958 Splitting Maul.
The handle is quite short, so you may feel uneasy to use it. Though fiberglass has been used in its handle, there is some fault in the material and design of the handle that it gets bent or breaks.
3. Husqvarna 19'' Wooden Splitting Axe
If you are not a new customer in the market of wood splitting axe you must know the brand Husqvarna. It is forged from Swedish axe steel with consistently high quality.
It is designed to split lightweight firewood. So we will suggest you not to use this axe to split hardwood. Sometimes consumers use this axe for heavy-duty splitting work and get disappointed by its poor performance. So we will recommend this axe only if your firewood is soft and lightweight.
Hickory wood has been used to make the handle of this axe. Since hickory is a hardwood and the handle has to endure a high-pressure Husqvarna has been chosen this for making the handle.
The head is designed in such a way so that you can cut the wood by applying minimal effort. To secure the fastening of the handle with the head steel wedge has been used.
It is a durable axe but its durability depends on the way you are using it. You need to take good care of the axe to use it for a long time.
For example, you should not keep the axe in a moist environment or soak it in water, you also should not keep it in dirt and dust. If you do so, the handle will swell or shrink and the blade also will get rusted.
If you do not use the axe for a long time it is better to grease the blade to prevent rusting. The place where you are going to store the axe should not be too warm or too moist.
The axe is small in size and comes with a leather edge cover. The most common complaint against Husqvarna Wooden Splitting Axe we found is that initially it was a great axe and works excellent until it breaks. So you can understand its level of quality.
4. Husqvarna 30'' Wooden Splitting Axe
Here is another model of Husqvarna wood splitting axe of different sizes. The previous model was meant for lightweight work and this model is for heavy-duty work. So you can chop any thick log with it.
Hickory wood has been used to make the handle and the head is secured with the handle with a steel wedge. You can chop wood into two parts by applying minimal effort.
Its long handle provides an extra advantage by creating extra power.  Since the handle is made of wood it needs extra care.
You should not keep it in extreme heat or in cold. In hot weather, the wood gets shrink and in cold it soaks moisture and consequently swells.
Both of these conditions deteriorate the quality of the axe. The handle may break and its bond with the head may get loosen. So you should be careful about the environment of the place where you are going to store it.
To avoid any kind of injury you should not keep it open when you are not using it rather you should cover the head in the sheath. It is a good practice to grease the blade so that it does not get rusted.
Though it can endure high force it has a limit to endure high force. If you cross the limit it is not unusual to get the blade separated from the handle.
5. Hello Werk Vario 2000 Heavy Log Splitter
Helko Werk is a german brand and the Vario heavy log splitter of 2000 series shows great performance to split hardwood and the thick lumbers. Its big size along with an excellent combination of head and handle is really admirable.
To manufacture the blade German C50 carbon steel of high grade, 53-56 HRC has been used. The engineers of Helko Werk has been designed the blade in such a way so that the user has to apply less force to achieve more efficiency.
The handle is made by a Swedish company. The handle is made of wood and Grade A American hickory has been used to make the handle. To make the handle smooth and to increase its aesthetic beauty it is sanded with 150 grit sandpaper.
The boiled linseed oil finish has made the handle shiny. To secure it with the head it is hung with wood wedge and notched steel ring wedge.
Since it is made for heavy-duty work it is quite bigger and its weight is also more than the other lightweight axe. It comes with a sheath and a 1 oz bottle of Axe Guard protective oil. You do not have to spend more to take good care of your axe if you include this in your toolbox.
Its fatal weakness is the fastener that fastens the head with the handle gets loosen easily and the axe becomes unworthy of work.
6. Estwing Fireside Friend Axe
Like other wood splitting axe Estwing Fireside Friend Axe does not have a separate handle and head rather both pieces are forged in a single piece. So it is more durable and lasts for a longer time than other wood splitting axe.
The length and weight have a good combination. So it can ensure easy wood splitting by providing leverage and power.
Solid America Steel has been used to manufacture the head of this axe. The edge of the blade is hand sharpened and you can cut through the wood by applying comparatively less force.
Impact vibration is a common problem of wood splitting. It reduces the working efficiency of a wood splitter. The grip of Estwing Fireside Friend Axe is able to reduce the impact vibration up to 70%.
The USA is the manufacturer's country of this product. The whole product is hand polished and its beautiful finish along with the amazing color is really choice able.
A nylon sheath comes with the product. To store the axe nicely this sheath will come to great use of you.
Estwing is renowned all over the world for manufacturing the high-quality product but unfortunately, the performance of Estwing Fireside Friend Axe is below the performance of other Estwing products.
It may chip, peel and bent after using for a few days. No doubt that it is a well-made tool but there is a little bit problem in its design which is the main reason for all its cons experienced by users.
7. Gerber 23.5-Inch Axe
Customers like me to whom quality and aesthetic beauty both are important Gerber 23.5-Inch Axe can be a good choice for them. It has achieved a place in our shortlist with its sophisticated look along with great functionality.
Forged steel has been used to construct the head of this wood splitting axe. Since forged steel is strong and durable this can be a great choice for long-term use.
To induce a superior non-stick property in the blade of Gerber 23.5-Inch Axe it is coated with Polytetrafluoroethylene (PTFE).  It reduces the rate of friction and ensures clean cutting.
Another important part of any wood splitting axe is its handle. Composite material has been used to construct its handle.
Absorption of shock, reduction of vibration and hand strain are the 3 most important characteristics of the handle of a wood splitting axe expected by every customer. The advanced and intelligent design of the handle of Gerber 23.5-Inch Axe has all of these qualities.
Finland is the manufacturer country of this axe. It comes with a slim sheath. You can carry it anywhere safely in this sheath and it also works as a safe storage of your axe. But unfortunately, sometimes the sheath remains missing.
A jagged deformation of the metal near the gripping position may cause the problem to grip it. It may also cause injury to your hand.
8. Gransfors Bruks Small Forest Axe
The Gransfors Bruks Small Forest Axe is a lightweight wood splitting tool of average size. Since it is a lightweight tool it is used for light-duty works, for example – to split small sticks or limb wood.
Its head is constructed with recycled steel. It is very sharp and strong. Its edge is not straight rather convex to resist edge retention.
Hickory wood has been used to make the shaft. So you can understand that it has a strong handle that can endure a lot of force.
You can sharpen the blade when it gets blunt. How often you have to sharpen the blade depends on the frequency of your use. You can use Japanese water stone to sharpen the blade.
It looks like a hunter's axe but it has a slight difference with the hunter's axe. Its handle is a little bit longer than a hunter's axe handle. The profile of the blade is also different from the hunter's axe.
Like all other wood splitting axe Gransfors Bruks Small Forest Axe also comes with a sheath. But unlike others, you will get two more things with Gransfors Bruks Small Forest Axe and those are warranty card and axe book.
It is quite pricey compared to its performance. The edge and thickness of the blade of this axe are not satisfactory.
9. TABOR TOOLS Splitting Axe
For splitting kindling and small to large size logs TABOR TOOLS Splitting Axe is an ideal axe. The geometry of its blade has been optimized for providing maximum efficiency.
The head is made of steel and it has a protective coating to prevent rusting. The fully polished finished edge is designed to offer better penetration and it can easily blast tough logs apart. If the blade gets blunt you can sharpen it again using a file.
Its handle is made of fiberglass. So, you can keep it anywhere you want under the extreme weather condition. You do not have to worry about shrinking or swelling since the handle is made of fiberglass.
To ensure a comfortable grip cushioned rubber has been used at the position of gripping. The rubber material provides several advantages including non-slip, shock-absorbance and reduced strain.
The vivid orange color helps to locate it easily. Generally, we expect a straight or convex sharp edge of a wood splitting axe but TABOR TOOLS Splitting Axe does not have a straight or convex-shaped edge.
Some products reach to the customer with an unsharpened blade. If you are among those unlucky customers you have to sharpen it by yourself before the initial use.
If you are a tall person you will feel comfortable to work with TABOR TOOLS Splitting Axe since it has a long handle and the overall length is also suitable for taller users. For the ease of storage and transport, it comes with a rubber protective band.
Different Type of Axe
There are 3 common types of axe including – chopping axe, mauls and wood splitting axe.
Chopping Axes: The chopping axe has a lighter head with a sharp edge. It cuts against the grain of the wood.
Mauls: A maul does not have the as sharp head as the chopping axe. Unlike the chopping axes, it cuts along with the wood's grain. They are larger in size and so you can split larger woods and projects with mauls.
Splitting Axes: Like mauls splitting axes have duller blades and cut with the grain. They are commonly used for splitting wood, preparing to kindle, chopping branches, limbs, and smaller woods or trees and many more.
Safety Precautions to Use a Wood Splitting Axe
Since axe is a cutting tool you must take all the necessary safety precautions to avoid injury. Here is a list of must take safety precautions to use a wood splitting axe:
Cover the axe with sheath
When you are not using your axe cover it with a sheath. Sometimes people keep it leaning against the threshold of the backdoor or a wall and later forget about it. It may cause a serious accident for you and your family members.
Hold it steadily at the proper angle
Hold it firmly at 45-degree angle while chopping wood.
Never do cold chopping
If it is winter and your axe left unused for a long time heat it up in fire before starting the chopping work. It will prevent chipping and breakage of the head.
Frequently Asked Questions (FAQs)
What is the difference between a splitting AXE and a chopping AXE?
A chopping axe is different from splitting axe in many ways. The blade of a chopping axe is slimmer than a splitting axe, and sharper, as it's designed to cut cross-way through the fibers of the wood. … A hatchet and chopping axe are both designed to be used in a similar fashion, but they're are obvious differences.
Q: How frequently should I sharpen the blade?
Ans: It depends on the frequency of your use. For moderate use, generally, you may need to sharpen it once within 6 months.
Q: Should I sharpen before using the axe for the first time?
Ans: Though all the wood splitting axe claims that they come with a sharp blade many experience users suggest sharpening the blade before using it.
Q: What to do to prevent rusting and corrosion of the blade?
Ans: Some blades come with a rust-resistant coating. If your chosen wood splitting axe has a rust-resistant coating it will not get rusted but if not, you should grease it to prevent rusting and corrosion.
Conclusion
All the listed wood splitting axe has some unique property. For example, The Fiskars x27 Super Splitting Axe 36 Inch has a strong handle, great blade, and balanced weight distribution; The Helko Werk Vario 2000 Axe comes with a curved shaft and high-quality carbon-steel head but it is more expensive than others.
The Husqvarna, Estwing, Tabor Tools all have some specific features that are better than others. The one that matches your requirements will be the best choice for you.
I'm Joost Nusselder, the founder of Tools Doctor, content marketer, and dad. I love trying out new equipment, and together with my team I've been creating in-depth blog articles since 2016 to help loyal readers with tools & crafting tips.