I love creating free content full of tips for my readers, you. I don't accept paid sponsorships, my opinion is my own, but if you find my recommendations helpful and you end up buying something you like through one of my links, I could earn a commission at no extra cost to you.
Learn more
A cant hook is an essential woodworker's tool used for gripping, turning, rolling, and handling logs in sawmills and woodlots.
Once you start using it, you'll wonder how you were ever able to do without. It is like having a super claw to assist you in handling the logs and get the job done without straining your back.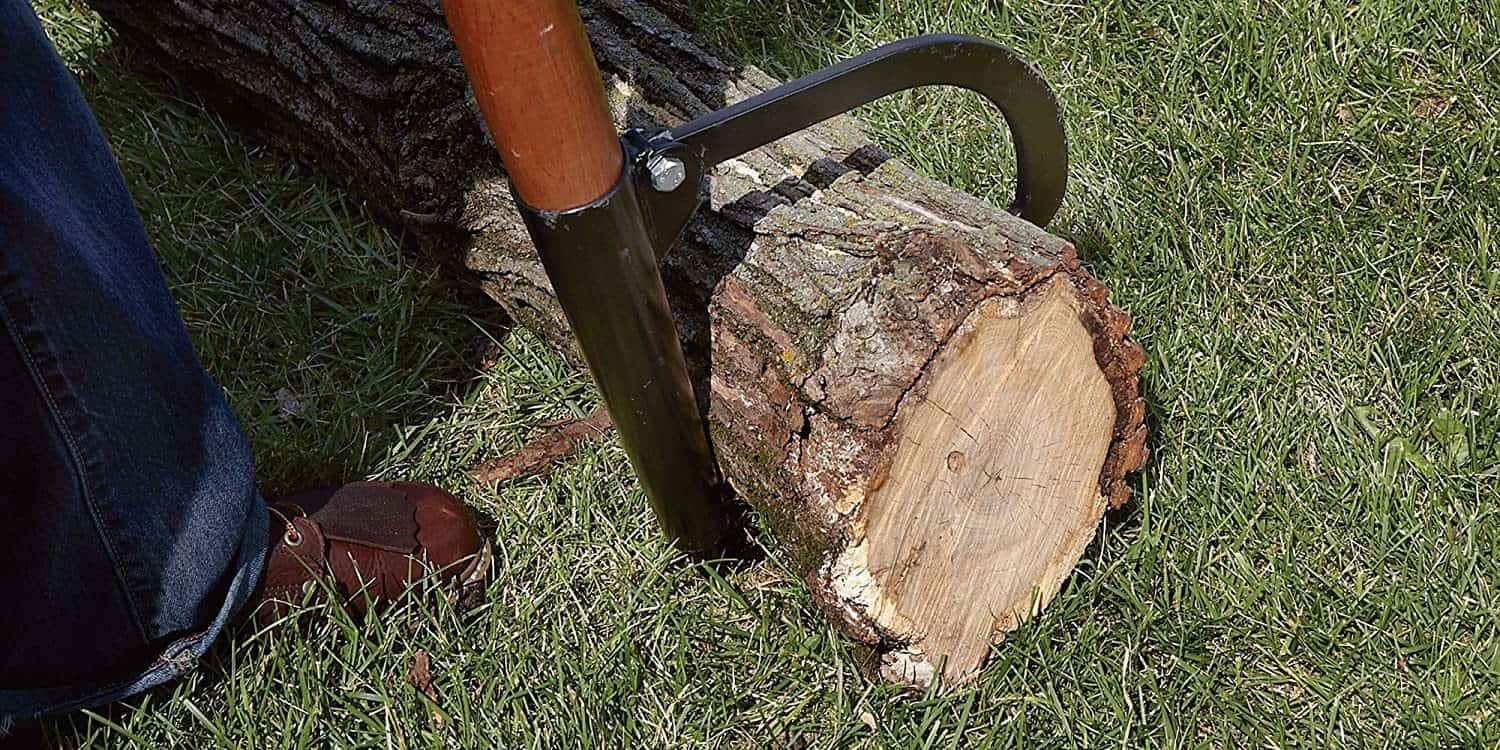 The best cant hooks are sturdy, durable, and strong enough to turn or roll any kind of log. Read on for reviews of the top 5 cant hooks on the market and a guide for easy shopping.
My top choice is definitely the LogRite 60" Aluminum Handle Cant Hook. This aircraft aluminum zinc-plated steel tool is designed to resist the wear and tear of lumber work but is still light enough to handle with one hand. The long rubber handle provides excellent leverage and a comfortable grip, and the bright blue color makes it easy to spot around the woodlot. 
Cant hook vs peavey: what's the difference?
When searching for the best cant hook, you may come across the term 'peavey'. Don't let this confuse you.
A cant hook has a small toe hook on the end which provides a second biting edge, whereas a peavey has a pointed tip.
Today these tools are used interchangeably and are capable of doing the same jobs. There are also a number of cant hooks available that have an added peavey tip.
Best cant hook buying guide
To be assured that you find the best cant hook, it is important to consider some basic features.
Handle
The handle is an important feature to consider as it must be able to withstand the force that is applied to it when gripping and rolling logs.
This means that the handle must be made of a durable material and strong material.
An aluminum handle is highly recommended as it ensures durability and strength but is also very lightweight.
A wooden handle is great for colder climates, as it's also sturdy enough to withstand strong forces, but doesn't feel so cold to the touch as metal does. It also gives the tool a more authentic look, if you are into that.
The design of the handle is also very important. It should have a comfortable grip to allow you to work without developing blisters or sore hands, and this depends a bit on personal preference.
Either way, a handle with a rubber grip is great because it will prevent the cant hook from slipping out of your hand.
Length
The length of the handle is important because it should provide enough leverage when moving logs.
A long handle gives you more control and reduces the strain of having to bend over. However, a short handle is ideal if you are shorter or looking for a more portable cant hook.
Hook
The hook is the most important part of this tool because it allows you to grip and turn or roll the logs.
Most cant hooks are made of steel or a steel alloy for strength and durability. A powder-coated hook reduces the risk of chipping, scratches, and general wear and tear to the hook.
Hooks with serrated teeth are a great option for an even better grip on the logs.
It's also essential that you check the hook's grasping capacity. The hook must be large enough to fit around the diameter of the logs that you will be working with.
Best cant hooks reviewed
Now that you know more about the features to consider, it's time to start shopping.
I have found the top 5 cant hooks on the market and reviewed them to allow you to make the best and most informed choice.
Best overall and long-handled cant hook: LogRite 60″ Aluminum Handle

The 60" LogRite Aluminum Handle Cant Hook is definitely my top recommendation for the best cant hook on the market. The longer length of the handle makes it ideal for rolling and positioning logs without straining your back.
The handle is made of aircraft aluminum making it both lightweight and super durable. The handle has a rubber grip that makes the cant hook comfortable to hold and to work with.
It also makes sure that the cant hook won't slip out of your hands, even in damp conditions or when wearing gloves.
The bright blue powder coating on the handle, not only protects the metal but also makes this tool easy to find among your other woodworking tools and lumber.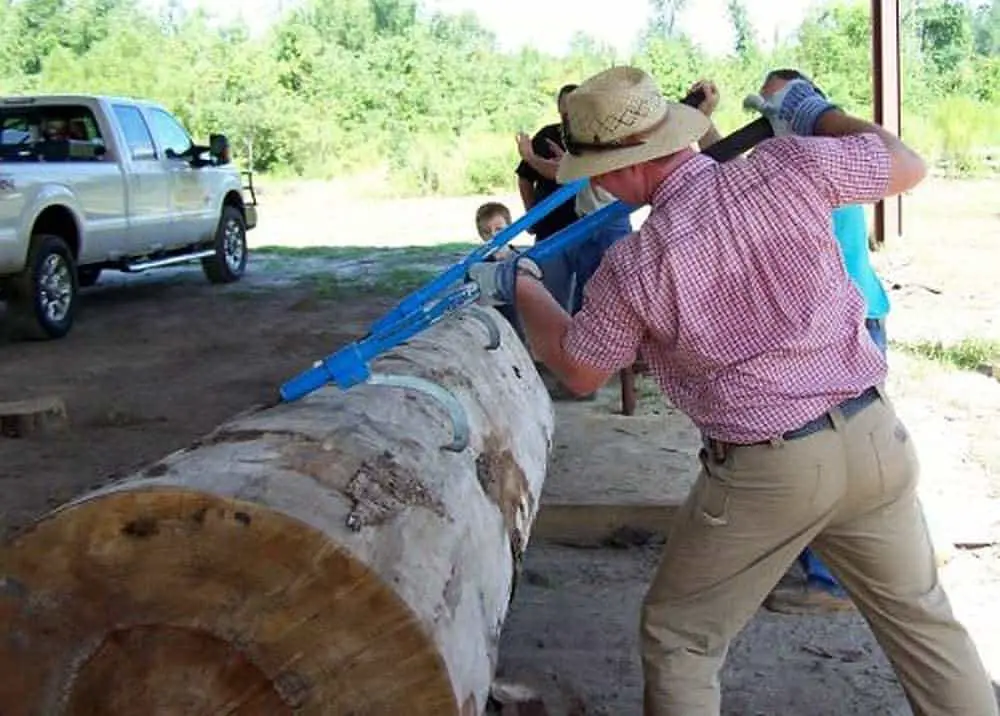 The hook is made of zinc-plated steel has two biting edges for better grip. It can easily grip logs of 10-36 inches in diameter. For optimum grip, you can sharpen the hook.
If you also get the V-LXRONG LogRite Log Stand, you can turn this cant hook into a timberjack as well.
This premium quality tool is on the higher end of the price range but definitely worth the investment.
Here's the Backyard Warrior explaining why this tool is such a must-have:
Features
Handle: powder-coated aluminum handle with rubber grip
Length: 60"
Hook: zinc-plated steel for logs with a diameter of 10-36"
Best wooden-handled and budget cant hook: Ironton 48 inch

The IrontonCant Hook is another great choice, especially if you are a fan of tools with a traditional wooden handle.
This cant hook is great for handling logs, cants, and beams around the sawmill as well as for rolling logs when cutting firewood
The handle is made of red oak and ergonomically shaped for a comfortable grip. The handle has a lacquered finish which makes it smooth and easy to grip.
The 48" handle is quite a bit shorter than the LogRite cant hook which makes it easier to store and transport. It's also an ideal choice if you aren't tall enough for the longer-handled LogRite option as this option is ideal for average height users.
The hook is made from durable hardened steel with a black enamel coating to protect against rust and scratches.
Whereas the LogRite tool is great for logs up to 36", this cant hook is suitable for logs with a diameter of 8-10" which makes it a great alternative for smaller logs.
The hook is not that shark, but you can easily sharpen it with a file for better grip on logs. This cant hook is also a budget-friendly option compared to the other tools on the list.
Features
Handle: Ergonomically shaped hardwood handle with lacquered finish
Length: 48"
Hook: Hardened steel hook for logs with a diameter of 8-10"
Best heavy-duty cant hook: Woodchuck WCT04

The Woodchuck option is a great dual-purpose option. It combines a cant hook and a Peavey into a single tool.
This combination tool features an aluminum handle like the LogRite cant hook which makes it sturdy and durable.
However, as opposed to the LogRite, this handle is only 47" which makes this a better option for you if you aren't quite as tall or need a more portable hook.
It comes with a retractable peavey point which helps with re-positioning log ends freeing frozen logs, turning or rolling logs comfortably.
The hook itself is made of powder-coated steel for strength and durability. The hook also has a unique toothed design ensuring a better grip on lumber. This makes it easier to lift and roll logs.
The hook is capable of lifting logs of 16-24'' diameter. A compatible jack foot is available to purchase separately to allow you to convert the tool into a log jack for cutting purposes.
This tool is ideal for large logs and rigorous work and as a result, it is a heavier option.
Features
Handle: aluminum and high strength powder-coated steel
Length: 47"
Hook: toothed steel head with retractable peavy tip
Best short-handled cant hook: Wood-Mizer Steel 28″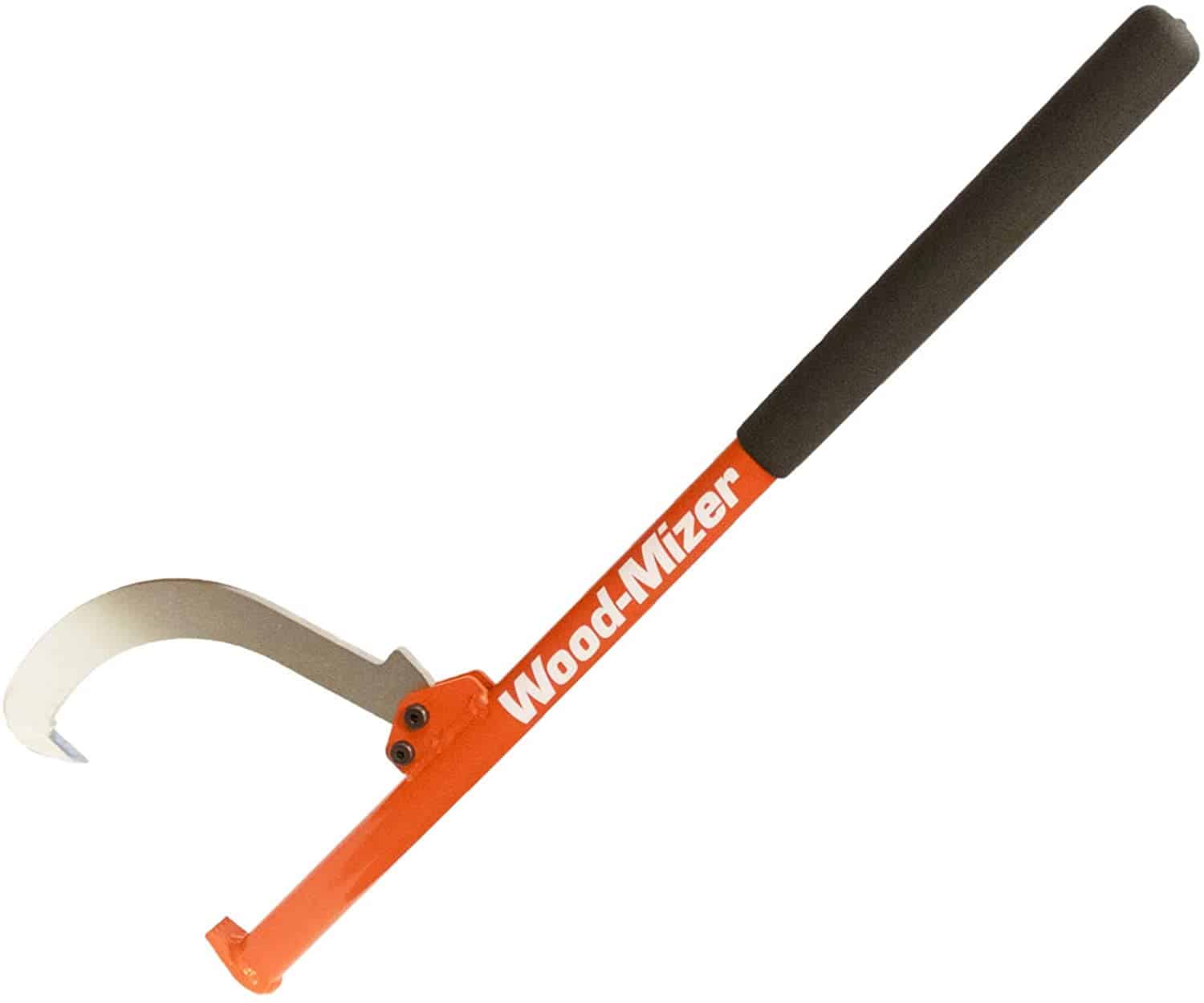 If you are looking for a cant hook with a convenient short handle to position logs on elevated wood processing equipment, then the Wood-Mizer 28" cant hook is the best choice for you.
This cant hook is made from hardened steel with an industrial strength orange powder-coating finish on the handle. This coating not only protects the tool from rust and wear and tear, but the bright orange color is great for visibility.
The handle also has a rubber grip for comfortable use and to avoid the tool from slipping out of your hands while working.
The steel hook has extra teeth for a second biting edge. This provides better control when rolling or moving logs.
The large hook makes it suitable for logs with a diameter of 8-32 inches.
Features
Handle: powder-coated steel handle with rubber
Length: 21"
Hook: Hardened steel hook for logs with diameter of 8-32"
Best multipurpose cant hook: LogOX 3-in-1 Forestry Multitool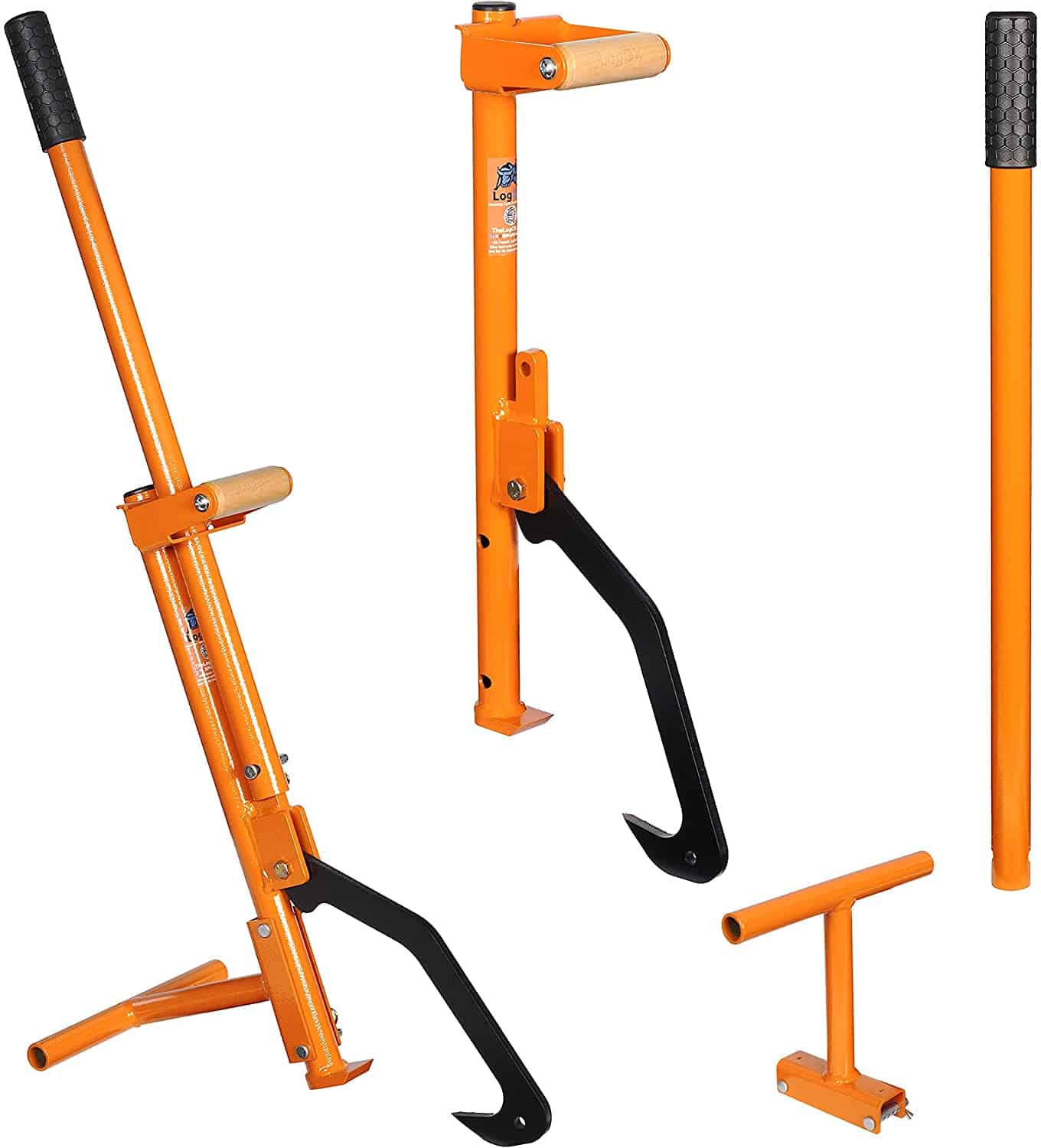 The LogOX is a great multipurpose option. It combines three different tools into a single, compact tool. It serves as a log hauler, a cant hook, and a timberjack.
The 21″ LogOX hauler with ergonomic, EZ-grip hardwood handle allows you to lift, roll and move log rounds or split pieces without continually having to bend over.
By adding the handle extension it can be converted into a 38" cant hook. The T-bar can easily be attached using clevis pins to convert the tool into a timberjack.
This enables you to raise logs from the ground for easier cutting and prevents chainsaw chain damage from ground strikes, bar pinch, and dangerous kickback.
Here's an overview of all the uses for this tool:
The hollow steel frame is rugged but lightweight and the hardwood handle is ergonomically designed for comfortable use.
The Hi-Vis orange powder coat finish makes it clearly visible. The wide beveled base and laser-cut steel hook provide a more aggressive bite and allow for a more stable grip on the log while rolling and lifting it.
This tool is on the more expensive side, but you rest assured of value for money as you are getting three tools for the price of one.
Features
Handle: ergonomically designed hardwood handle
Length: 21" and 38" with extension
Hook: steel hook with a sharpened tip for logs with a diameter of up to 32"
Still looking for a good 50CC chainsaw? I've reviewed the best 50CC chainsaw options here
Frequently asked questions
Here are some frequently asked questions about cant hooks and their answers.
What is a cant?
A cant is a piece of wood that is at least 2" in thickness and has been sawed flat on at least one side.
What accessories are available for my cant hook?
Some cant hooks have compatible log stands that can be purchased separately. This converts the tool into a timberjack and enables you to raise logs off the ground for easier cutting.
See the LogRite 60″ Aluminum Handle Cant Hook above for an example.
Can a cant hook be sharpened?
Yes, the hook can be sharpened with a hand file or an angle grinder.
Conclusion
A cant hook is designed to make woodworking easier and to saves you from back strain. With the best cant hook, you can lift, roll and turn logs easily.
With the great variety of cant hooks available on the market, you can easily find the right option with the best combination of features for your specific needs.
Before deciding on a cant hook consult the buying guide and reviews to make the best choice.
Here's another handy woodworking tool: the best pickaroons (hookaroons) on the market
I'm Joost Nusselder, the founder of Tools Doctor, content marketer, and dad. I love trying out new equipment, and together with my team I've been creating in-depth blog articles since 2016 to help loyal readers with tools & crafting tips.