I love creating free content full of tips for my readers, you. I don't accept paid sponsorships, my opinion is my own, but if you find my recommendations helpful and you end up buying something you like through one of my links, I could earn a commission at no extra cost to you.
Learn more
You won't see any electrician or jeweler without one of these in their tool bags. Since needle nose pliers are the only tools designed for bending, twisting and cutting wires, they find their purpose for many tradesmen.
There are indeed other tools like the fencing pliers that meet the quota for such tasks. Firstly, that might be a bit of a heavy-duty tool to carry around for many tasks. Secondly, how is it that something like a regular plier or a fencing plier can twist a thin piece of wire. They just might but at the cost of double the time. And time's money.
Since we demand such precision and finesse, it can only be justified if you're grabbing on to the best needle nose pliers. Hence this post.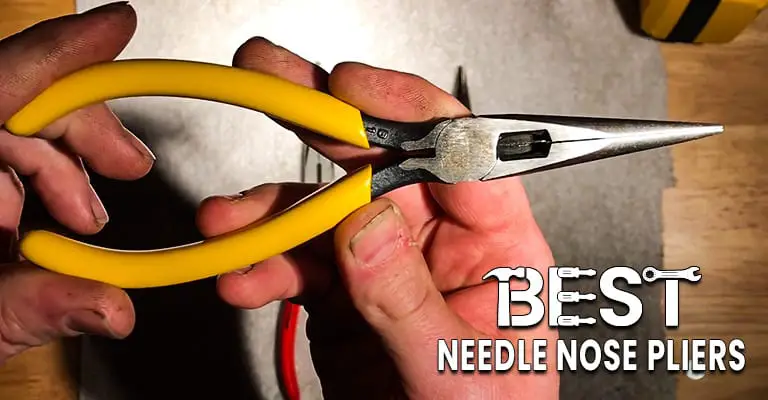 Needle Nose Pliers buying guide
Picking perfect needle-nose pliers indeed requires quite an effort. There are certain factors that you have to keep in mind while looking for a top-class plier. You will be able to guide yourself towards the tool of your desire by just giving a read through these factors that we have mentioned here.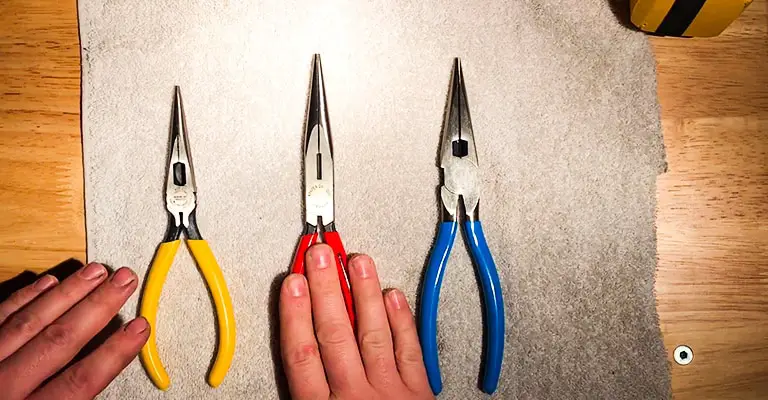 Design
Nose pliers aren't meant to be too artistic in look but must deliver aesthetic work and finish. For that, lightweight yet enough gripping soft handles should come with a robust metal body. A slender head made of double metal construction is the ideal design.
Avoid pliers that are too bulky as the purpose of such pliers is not heavy duty but intricate jobs.
Material
Although it's difficult to find exceptions of steel when it comes to needle nose pliers, there are some concerns regarding the material. It will be wise to search for the products made of hardened and better if induction hardened steel so that it can handle all your tough tasks without getting bent.
Carbon steel, in this case, proves to be more versatile for jewelry. Cutting precise and delicate metal joints as in wristlets and wristwatches and handling beads are swiftly done using such nose pliers.
Size
Actually, there isn't an ideal size for a needle nose plier. It depends solely on the size of your palms. Go for a larger one like 7-8 inches if you have bigger hands. Otherwise, pick one that is as small as 5 inches. But smaller than that may not suit you best.
Speaking of size, another thing to consider is the jaw size. We recommend getting a long and flat jaw for reaching tight spaces. Around 1-inch jaw and 0.1 to 0.15-inch nose should be a versatile choice for most tasks.
Handle and Comfort
The better the handle, the more comfort you get, and that's why you must check if the handle features a comfortable grip. Rubber handles are the preferred option as they help the pliers not to slip from hands and protect your hands from fatigue.
Double dipped handles are usually made of plastic but may not offer that much comfort unless enough ergonomics is incorporated. Dolphin style handles are an excellent choice as they offer the most control yet add cumbersomeness.
Features
Although pliers aren't the type of tools that allow the addition of a lot of features, manufacturers keep trying to implement new ideas into them. Some features like cutting-edge may be useful, but not all of them will be of great use.
Durability and Longevity
How long a needle nose plier will last depends on the coatings on its material. You better look for rust prevention coatings, as they will keep the tool safe from rust and also let it withstand the challenges of tough workplaces. Nickel chromium steels are better in that case.
Ease of Use
Needle nose pliers should have a structure that is both simple and allow easy operations at the same time. Try to check if the jaws operate smoothly enough, and no difficulty arises while opening or closing them. Such ability will make sure that it will withstand the pressure no matter how frequently you use it in your project.
Best Needle Nose Pliers reviewed
Even after having adequate knowledge about what to get, it can be a bit frustrating to choose from tons of options in the market. Our team has prepared a collection of the experts' choice needle nose pliers so that you don't waste your time searching in the wrong direction. Here's all that you need to know about them.
1. Channellock 3017BULK Needle Nose Plier
Noteworthy Aspects
What sets this tool apart from others down the list is its excellent narrow nose. Designed to provide the maximum precision, the 0.14 inches wide nose will allow you to reach into the tightest of spaces.
Even with such a thin nose, you can obtain a fabulous grip in either direction due to the unique crosshatched teeth pattern on its jaws.
When it comes to the build quality of this 8 inches long plier, Channellock has made no compromise. To make sure you get outstanding performance and durability, they have built this one using high-carbon C1080 steel.
On top of that, you won't have to worry about its longevity, as it has a special coating that will keep it rust-free.
Moreover, the eye-catchy blue handle of the 3017BULK will not only help you spot it easily but also make sure you get a comfortable grip. It has a jaw length of 2.36 inches, which makes it suitable for multiple uses. You will also find this tool easy to carry, as it weighs no more than 0.55lbs.
Limitations
A little drawback is that it doesn't feature a side cutter.
Also, its biggest strength, which is the narrow nose, may prove to be a weakness when heavy-duty cutting or bending is required.
2. Stanley 84-096 Needle Nose Pliers
Noteworthy Aspects
Having a length of only 5 inches, the Stanley 84-096 is indeed the smallest on this list of pliers. What its short length does is that it helps you to get more precision while working with the smaller components.
Then comes its long-tempered jaws which are sure to provide you the ease of working in compact and hard to reach areas.
Even such a small size didn't stop it from getting a dependable build quality, as they made it from forged steel. On top of that, you can rely on this one for maximum durability due to its excellent rust-resistant finish.
You'll also find it quite comfortable to work with this tool, as it fits well in your hand and comes with a double-dipped handle.
An additional feature is a spring-loaded handle that removes quite a hassle while working. Along with containing all these features, it also meets all of the ANSI standards out there.
As a result, you will be able to use it for both commercial and residential applications. Since it's from one of the most reliable manufacturers, you don't have to think twice before making your purchase.
Limitations
Picking small gauge wires can seem a bit hard with such a structure of this plier.
3. Irwin Vise-Grip 2078216
Noteworthy Aspects
When it comes to durability, Irwin Vise-Grip can beat most of the needle nose pliers in the market. Such superiority is possible due to its nickel-chromium steel construction, which turns this tool into a sturdy one. You can get a better hold of objects, as its machined jaws are ergonomically designed to provide you the utmost strength.
The best part about the 2078216 pliers is its unique handle, which Irwin likes to call the ProTouch handle. Thanks to this feature, you'll get an excellent grip while working.
Also, your hands will remain free from fatigue, and you can work for an extended period, comfortably. The 8 inches tool is also not too heavy and weighs only 5.6 ounces.
Cutting wires won't seem problematic anymore because of the sharp cutting edge featured in this tool. Moreover, the cutting edge is likely to stay sharp for longer, as they have hardened it.
Irwin has successfully brought all these features in this tool without even giving it an expensive tag. Well, that sure does sound like a great deal.
Limitations
If your palms are a bit large, then you may find it quite smaller than expected.
Some also have complained about the jaws not closing tight enough.
4. SE LF01 Mini Needle Nose Pliers
Noteworthy Aspects
Thanks to the high-carbon steel used to build this one, you'll fall in love with the firmness and durability you'll get. Especially if you are a professional, then the LF01 is made just for you. Cause, SE has built this 6-inches long plier, keeping in mind that you may have to work in hard conditions.
Although the design is for raw uses, it will not hold back when you require it to function in tight and compact areas. On top of that, it features a durable grip on the handle, which will deliver you maximum comfort while working.
Bending and shaping memory wires is also no big deal because of the strength this sturdy handle gives.
We are also very impressed with the price tag of the LF01, as it is pretty hard to find all these features and such durability at this range. You won't find a better option than this if spending a lot of money on a plier is not what you intend to.
Limitations
There is no side cutting-edge featured on this one from SE.
Also, the overall size may seem quite small to some users depending on the size of their hands.
5. Klein Tools J207-8CR
Noteworthy Aspects
Who doesn't prefer a tool that serves for more than just one purpose? Klein Tools has brought such a tool, which single-handedly does all the job of striping, cutting, looping, crimping, and shearing.
You'll be able to strip 10-18 AWG solid and 12-20 AWG standard wire with this tool. Shearing screws of different sizes will also be no big deal, once you own the J207-8CR.
Moreover, the plier also allows you to crimp non-insulated connectors, lugs, and terminals quite easily. All these works won't cause any harm to your hands due to the dual material handle.
Well, we almost forgot to state the main objective of this plier. Grabbing small objects as well as reaching tight spaces becomes easy-peasy, as it features an ergonomically designed long nose.
Speaking of the handle, you can get a firm and comfortable grip no matter how tough your working conditions are.
Not to mention how much durability you will get because of the forged steel construction of this tool. Klein Tools has left no stone unturned so that you don't have a regret for the money you spend on this product.
Limitations
You may find the design of the J207-8CR to be quite bulky for the small jobs.
Having a lot of features also made it a bit pricey when compared to the regular price of a needle nose plier.
6. Uxcell a09040100ux0188
Noteworthy Aspects
Here comes a handy needle nose plier that is best for holding the smallest of objects. Uxcell has built this one, especially for the jewelers out there. You'll find it very easy to work with this 6-inches long tool, as it comes with an excellent compact design.
Apart from these, the plier features a comfortable handle, which has a plastic coating for making sure that you obtain a solid and secure grip. As a result, the tool is less likely to drop from your hands while working.
Most importantly, it can deliver you smooth and effortless motion every time you open and close the pliers. Such smoothness has been possible because of the double-leaf springs in it.
When it comes to reaching compact places, this one won't hold back either. You can reach into small areas with the help of its long and pointed nose. Besides, they have also polished the tip of the plier. As a result, longevity won't be a thing you need to worry about whether you are a professional jeweler or a crafter.
Limitations
The Head of the plier is not heavy-duty.
It will disappoint you if you intend to wrap coils of wire made of hard materials.
7. Hakko CHP PN-2007 Long-Nose Pliers
Noteworthy Aspects
You're surely going to be in amazement with this plier if electronics is your field of work. Well, that doesn't mean jewelers or crafters have to be disappointed with the CHP PN-2007 from Hakko.
Having a nose that is long and flat, this tool can prove to be perfect for handling small objects. You can also reach into compact places, as it features a flat outside edge.
On top of that, the operation is smooth as butter due to the 32mm serrated jaw with precision ground surfaces.
To ensure that the plier doesn't slip too often from your hands while working, they have added dolphin-style non-slip hand grips. Your hands will also stay safe from all kinds of fatigue because of a unique curved design of its handles.
Along with the excellent ergonomic design, the CHP PN-2007 has a sturdy construction, which lets it last longer than average pliers. You'll be impressed with its durability that comes from 3mm heat-treated carbon steel.
Furthermore, it comprises specially coated surfaces to prevent glare and resist corrosion so that it lasts for years.
Limitations
Small drawbacks include the jaw tending to flare after using it for a long time.
Few users have also reported that the jaw doesn't seem to be opening smoothly enough.
Frequently Asked Questions
Showing results for best needle nose pliers
Search instead for best neddle nose pliers
What is a needle nose pliers used for?
Needle-nose pliers (also known as pointy-nose pliers, long-nose pliers, pinch-nose pliers or snipe-nose pliers) are both cutting and holding pliers used by artisans, jewellery designers, electricians, network engineers and other tradesmen to bend, re-position and snip wire.
What is the difference between chain nose and needle nose pliers?
Chain Nose – each jaw is flat on the inside and rounded on the outside on these types of jewelry pliers. … Needle Nose- these pliers have an especially long nose and often have a serrated jaw for a very strong grip. They are long and pointed at the tip making them handy for using on areas that are difficult to reach.
Is knipex better than Klein?
Both have a set of crimping options, however the Klein has more of them, but the Knipex do a better job with the wider surface area crimper. They both have the shape of a needle-nose pleirs mixed with a lineman's pliers, but the larger surface area of the Knipex proves to be far more useful.
Are knipex pliers worth it?
Lastly, this tool packs the value of two tools into one by doing the same job as water pump pliers and an adjustable wrench. Add to that the fact that Knipex is a high quality, durable tool and that makes it worth the investment worth it.
Can you cut wire with needle-nose pliers?
Although they're commonly used to cut and bend small wires and electrical wiring, needle-nose pliers have other uses, as well. They can bend, cut and grip where fingers and other tools are too big or clumsy. … They are not sturdy enough to cut large, hardened wires, and they are not to be used on live electrical wires.
What is a needlenose?
needlenose (not comparable) Having a long, thin nose; applied to needlenose pliers.
What does chain nose pliers mean?
Chain nose pliers are a very versatile tool, most commonly used for gripping and manipulating wire, head pins and eye pins, as well as opening and closing jump rings and earring wires. These pliers look similar to "needle nose" pliers that can be purchased at the hardware store – with two important differences.
Is knipex a good brand?
Knipex is definitely a quality brand. I specifically like their pump pliers. The linemans are pretty good too, but they are lighter than most others. I used a variety of brands for tools.
Are channel locks pliers?
The CHANNELLOCK Straight Jaw Tongue and Groove Plier is the tool every home and garage needs.
Is Klein a good brand?
Klein linesmans are a staple of the industry. They are solid. You can buy a cheaper set to start out. The kleins are made to last.
What is the difference between knipex Alligator and Cobra pliers?
The only big difference is that the Knipex Cobra has a quick release button for adjusting the jaw opening on the pliers. Also, Knipex Cobra pliers have 25 adjustable positions whereas the Alligator pliers only have 9 adjustable positions.
Does Home Depot sell knipex?
KNIPEX – Pliers – Hand Tools – The Home Depot.
How do you maintain side cutters?
If the diagonal cutting pliers get wet, dry them thoroughly to prevent them rusting. After cleaning them, coat them in a thin layer of oil, taking care to work the oil into the moving joint. Store them in a dry place where the blades and tip of the jaws won't get knocked about and blunted. A toolbox or pouch is ideal.
Q: Can I use needle nose pliers for cutting wires too?
Ans: Well, you can cut wires if the plier you pick has a built-in cutting edge for such operations. Otherwise, you won't be able to do so, as most of the models out there focus on holding small objects and bending wires.
Q: What sets needle-nose pliers apart from regular pliers?
Ans: The compact size and specialized jaw are the sectors that differentiate them. Needle nose pliers have long and narrow jaws that provide a better experience with smaller objects, which is not the case with regular pliers.
Q: Are there any safety issues with such tools?
Ans: Not really. But it will be wise to use safety glasses while working with these. Besides, be aware when you're working with electrical circuits and don't ever forget to switch the power off before touching a plier to it.
Q: Does the weight matter for such pliers?
Ans: Weight can make an impact on the usability of a needle nose plier. To avoid fatigue in hands, it is better to choose a model that is less bulky.
Bottom Line
The necessity of a needle nose plier remains equal, whether you are a professional jeweler, crafter, or a home DIYer. Such a tool surely deserves a place in your toolbox. We have explained thoroughly about the reasons behind us picking the pliers above. As you can see, we included both pricey and low-cost options so that you can choose the one that fits your budget.
We are very impressed with the Channellock 3017BULK because of its ability to reach into compact areas. Gripping small objects is also easier with this one than the others out there. On the other hand, if you're looking for a tool that does more than just handling intricate jobs, then do go for the Klein Tools J207-8CR, as it offers a long list of features, and is an excellent tool for multipurpose use.
Whichever of the above pliers you pick, keep in mind that getting the best needle nose pliers is not all about looking for high-end specifications. It's the comfort and precision you get while working, which turns an ordinary tool into a top-notch one. Finally, we hope that you won't need anybody else's advice for the task of choosing the right needle nose plier.
I'm Joost Nusselder, the founder of Tools Doctor, content marketer, and dad. I love trying out new equipment, and together with my team I've been creating in-depth blog articles since 2016 to help loyal readers with tools & crafting tips.