I love creating free content full of tips for my readers, you. I don't accept paid sponsorships, my opinion is my own, but if you find my recommendations helpful and you end up buying something you like through one of my links, I could earn a commission at no extra cost to you.
Learn more
When you are outdoors for camping or when you are indoors and thinking about landscaping, what can be more useful compared to a folding saw? If you are looking for the best folding saw, you definitely need some guidelines.
In this article, you are going to get a complete buying guide, brief reviews of some of our recommended folding saws and some basic information. So, scroll to the end of this article and select the best folding saw from our top picks.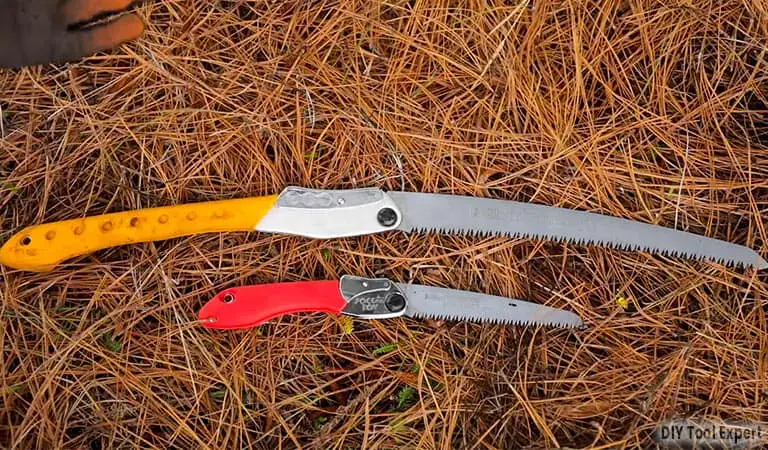 Folding saw buying guide
Most of the consumers are not satisfied with their purchase. What is the reason behind? This is because of ignoring some facts.
To get full satisfaction from your product in exchange for your valuable money, you should consider some facts about the product before buying. Here I am going to give you a complete buying guide of a folding saw to help you find out the best one.
Purpose of Use
The first thing to think about is what kind of task you are intending to do with your folding saw. you do not need something large if you are thinking about going camping or hiking. Also, it will be useless to buy a little saw for your large tree branches.
Durability
No one wants a folding saw that will become dull or the blade will fall off after a few uses. It is not desired to buy folding saws every month. So, look for something that will stay with you for years or decades. Also, consider if the blade is replaceable or not.
The material of The Blade
When you are buying a saw, definitely you are looking something with a sharp blade that will cut quickly and easily. The blade is the heart of your saw. The durability of saw also depends on blade material. the blades are normally made of stainless steel or carbon steel.
Stainless steel is rust-resistant and sturdy. Carbon steel is impulse hardened and chrome-plated or covered with anti-rust coating for preventing rust and friction. So, the material of the blade is a very important factor.
Shape of Blade
The blade is either curved or straight. Curved ones are best suited for small and thin branches. So, to handle thicker branches, straight blade saws are preferable.
Teeth Positioning and Density
The alignment and arrangement of blade control the cutting. If the teeth are slanted towards handle that means the saw would cut in draw stroke. The straight teeth saw will cut in both directions. Also, you have to check the teeth per inch of the blade.
Direction of Cutting
Folding saws cut either mono-directionally or bi-directionally. Saws that cut in only pull strokes have thinner blades, gives more control while cutting and cuts precisely. Saws that cut in both directions gives a fast cut and efficiently cuts bones, plastics, and thicker branches.
Design of Handle
When you will use a folding saw, the performance of the saw depends much on the comfort of holding it. So, carefully consider if the design and material of the handle will give you a comfortable grip or not.
Safety Feature
Safety is the mater of concern when it comes to using a sharp saw. So, pay careful attention to the locking mechanism they are offering and if the saw is safe when it is closed.
Best Folding Saws reviewed
So, which folding saw is perfect for you? Here I have tried to sort out some of our preferred folding saws and reviewed them neutrally with their features, benefits, pros, and cons. Go through the reviews carefully and decide which one you would like to purchase.
1. Bahco 396-LAP Laplander Folding Saw
Bahco Laplander is a general-purpose folding saw which you can use for cutting green and dry wood, bones, plastic and so on. It's featured for wild-life enthusiasts, hunting and campers.
This folding saw is featured with XT teeth for cutting in either way which is advantageous for beginners. The seven inches long blade is specially coated for low friction and rust protection and has seven teeth per inch. That helps the saw to cut fast.
The curved grip is perfect even in wet weather and is made of two components and leather strap. You can take this to your winter camp for its lightweight and it can prove itself to be a very useful tool.
This one offers a reliable lock-in and lock-out feature that keeps the saw safe even when it is folded. The blade will be opened once you push the release button.
But still, there is a flimsiness in the push stroke which makes the saw to bend on bigger sticks. The liner lock system on the saw sometimes may not work. Also, the handle may crack by too tight of a grip.
2. Silky Professional Series BIGBOY 2000 Folding Landscaping Hand Saw
This Silky Big Boy folding saw is a legendary saw which is convenient to use both around your house for pruning and around the campsite for processing firewood, hiking, clearing trails and so on. This is a Japanese type saw which cuts fast and smoothly in the pull stroke.
There is a long blade (14 inches) with 5.5 teeth per inch configuration which makes the efficient cut. The blade is replaceable. The curve in the blade assists in tearing into a tree efficiently.
The handle is large enough to accommodate your two hands and is very comfortable to hold with or without gloves.
This saw will ensure your safety with thumb lever lock. The lightweight (1 pound) makes this saw easy to carry and compact to use.
There are some cons as well. The rubber grip may fall off after a few uses, there is a small gap where it can cut you and the locking mechanism may get stuck. The bolt holding the blade may come off.
The flexible blade will bend if you try to cut in push stroke and put too much pressure. To avoid this, you will have to make an undercut first.
No products found.
3. EverSaw Folding Hand Saw All-Purpose
The EverSaw folding hand saw is an all-purpose, sturdy Japanese style pull-cut saw that gives smooth cut in wood, plastic and so on.
The 8 inches blade comes with a triple-cut-razor-teeth which is hardened to stay sharp and give you an amazing experience while trimming. The medium tooth blade is adjustable to facilitate your work.
The ergonomic, slip-resistant handle gives you a comfortable solid grip. You can tighten this if you feel blades are wobble.
There is a gear style lock instead of pop-button mechanism for providing your safety. This folding saw Is not flimsy for the blade thickness making it safe to use.
If you have any complaint with this product the customer service is offering you a complete replacement or they are ready to refund your order.
Problem is the teeth are not deep enough so takes time and a lot of labor to cut. This tool is a little bit heavy to carry for camping. Also, the blade becomes blunt after a few uses and may become infective for the rust. So, this is not a perfect saw for using in long terms.
4. Corona RazorTOOTH Folding Pruning Saw
Corona razor tooth folding Pruning saw is providing you with three-sided razor teeth along with 10 inches blade to give you wonderful experience of cutting small to medium branches. The blade is designed to be easy to latch that prevents any possible injury.
The blade is a little bit curved, taper-ground and replaceable. For long service life season after season, the teeth are impulse hardened. It can make a smooth and quicker cut with it's up to 6 teeth per inch. To improve efficiency, the blade is designed chrome-plated.
The co-molded, ergonomically designed handle makes the saw comfortable to you for extended use. The higher carbon of SK5 steel blade ensures that the blade will stay sharp for a long time. Also, you can vary the blade length as you require.
There is a right or left-handed-activation lock for both left and right-handed people. It opens smoothly and locks safely in every use.
But a matter of concern is, there is a part of the blade uncovered by a gap when the saw is closed. The handle is a little bit flimsy and shaky. The blade lock system may break out for some users. The blade may get dull though there is carbon in the blade and you will have to replace the blade.
5. Fiskars 390470-1002 Power Tooth Soft Grip Folding Saw
When you are looking forward to something to cut thick branches then no folding saw can compete this Fiskars folding saw. The power tooth blade with triple ground aggressive teeth is the reason behind this. This is an ideal combo for campers or hikers.
The blade features with two different lock systems in two open positions which will make both overhand cuts and undercuts easy for you with maximum efficiency and control.
The precision ground steel blade is fully hardened and stays sharp after heavy use. The monodirectional blade cuts in only draw stroke.
The soft grip touch points with rubberized handle offer you comfort and better control while cutting. The size and weight of the saw make it compact and easy to carry.
But this folding saw requires much effort to cut. The blade seems wiggly while folded closed. You may find it difficult to open and close. The blade may come apart for some consumers and they will need replacement.
No products found.
6. TABOR TOOLS TTS25A Folding Saw
Tabor tools offering you this folding saw that features a curved power blade to assist in cutting smoothly and efficiently by helping it stay on track. The blade is designed with rugged razor tooth blade to cut in pull stroke for trimming trees like oaks and pines (up to 4 inches in diameter).
The lightweight makes the saw perfect for backpacking. This can be your master hand tool in the bush for trail maintenance or while constructing a tent or campfire for camping.
The red attractive handle makes the tool easy to find in your other tools in the toolbox. The rugged handle is made of non-slip materials and fits in any size of the hand comfortably. The ergonomic grip ensures comfort and balanced weight across the saw.
There is a locking system where the handle functions as a scabbard and sheath. All you have to do is to retrieve it from the pocket, like your pocket chainsaw, flip the lock, extend the blade and lock it open before starting work. And you can lock the blade closed after finishing work.
But while cutting a live tree you may face friction for the moisture present, you could check the moisture content with a moisture meter before that. Sometimes these folding saws are loose and hard to close. The curved handle exposes a part of the blade while closed so you have to be careful. The blade is flexible, thin and may become blunt after long term use.
7. FLORA GUARD Folding Hand Saw
Flora Guard folding saw is perfect for trimming, camping, clearing sightlines for hunting, etc. This saw comes with triple-cut razor teeth that are hardened for quick and smooth sawing. This folding saw is sturdy enough for work and light enough for carrying.
This is easy to carry and comfortable to use for its ergonomic handle. The handle is very large which is perfect for any type of hands.
The blade is 7.7 inches long and is made of SK-5 stainless carbon steel. This blade works like butter on shrubs, rose bushes.
There are two stages of safety lock to prevent unwanted accidents. These saws are available in three attractive and easily trackable color.
Every product has some cons as well. The blade is a bit thin making it bent easily and hits the handle when you are closing it which decreases durability. This only works well with dry wood. Otherwise bends for its straight teeth configuration.
8. Folding Saw, Heavy Duty Extra Long 11 Inch
When you are looking something for landscaping or any general yard work, this heavy-duty folding hand saw cannot escape your eyes. The blade is bidirectional. That means you can cut in both push and pull stroke which saves time and energy.
The rugged 11 inches long triple cut blade helps you to cut through thick branches (6 to 7 inches diameter) faster and smoother. The extended full length is nearly 22 inches that allows you to cut deeper or further.
This saw includes aggressive, staggered seven teeth per inch for sharp sawing and longevity making it excellent hand saw.  These make the saw capable of cutting plastic, bones, woods, etc.
The longer rubber coated polymer handle makes sure of comfort and firm grip even in wet weather.  You can use this on both green and dry woods for building shelter, clearing a path or preparing a meal when you are on an adventure trip.
There are some drawbacks too. This is not too much durable for the movement in the hinge in the locked position. The long length makes the blade easy to bend when too much pressure is applied. The lock nut of the blade may come off.
Why a Folding Saw?
So, why you need a folding saw?
Well, when you are camping, you need something sharp to prepare firewood, shelter or food. Also, you can not take something heavy and unsafe like a chainsaw. So, you need a folding saw here that is compact.
If you are hunting in a forest, you need something to remove obstacles in front of you to move ahead. So, the folding saw will help you in this purpose which is portable.
If you are a gardener or a landscaper, you definitely need a folding saw to complete your toolbox which is safer than other saws.
How to Sharpen a Folding Saw
After long term uses, your folding saw blade may get blunt. In this situation, you can replace the saw blade. But not every saw has the feature of the replaceable blade. So, all you have left to do then is to sharpen the dull blade.
You can use a little metal file or grindstone in this purpose. First, tightly clamp the blade into a vise and then slowly and carefully sharpen the saw blade. You have to sharpen only the beveled edges leaving the flat edges.
But remember, impulse hardened blades cannot be sharpened. And also, if you are a beginner in handling saw, it will be wise not to try sharpening your saw by yourself. You have to find a hardware store or an arborist supply company to do this task.
These guys are nice folding that even fits on your tool backpack, even you are above the ground while doing some framing job, right?
FAQs
Here I have tried to answer some frequently asked questions about folding saws.
Are Wire Saws Any Good?
They are used to cut branches for firewood and to create fire. Wire saws are handy and very useful as this is very lightweight and compact.
Can Silky Saws Be Sharpened?
Can Silky saw blades be sharpened? … So it is possible however, the blades are made of very high quality Japanese steel and are heat tempered on the cutting edges for long lasting service. They were not designed to be sharpened but instead to keep the edge sharper much longer than traditional blades.
How Long Do Silky Saws Last?
one to two years
Your saws can last one to two years.
Where Are Silky Saws Made?
Ono Japan
Silky saws are manufactured in Ono Japan, home of the finest cutlery steel known to man.
What Is the Best Pocket Chainsaw?
These are the Best Pocket Chainsaws:
Nordic Survival Pocket Saw.
Sportsman Pocket Chainsaw.
SOS Gear Pocket Chainsaw.
Skyocean Pocket Chainsaw.
SUMPRI Pocket Chainsaw Survival Gear.
Wealers Pocket Chainsaw.
Loggers Art Gens Pocket Chainsaw.
Yokepo Survival Pocket Chainsaw.
Q: What type of teeth configuration folding saws have?
Ans: Folding saws have either double-ground teeth or triple-ground teeth.
Q: What is the advantage of triple-ground teeth of a folding saw?
Ans: These type of blade features to cut bi-directionally as there are three cutting edges.
Q: How many teeth per inch a folding saw have?
Ans: 6-7 TPI is perfect for cutting smoothly and quickly.
Q: Why I cannot sharpen the folding saw blade if it is impulse hardened?
Ans: These blades contain incredible strong and hard edges by heating and cooling at very precise time intervals using compact energy created by high-frequency currents. So, it is tough to sharpen these types of blades.
Conclusion
In summary, each of these folding saws is unique. When you want to cut in both directions, choose a folding saw of Bahco or Heavy-duty Extra Long folding saw. Or you can choose Corona RazorTooth Folding saw for the replaceable blade.
When reliable customer service is your main priority, choose EverSaw Folding Hand Saw. Folding saw of tabor tools is perfect for you for its curved blade.
Each of them contains a different handle and locking mechanism. So, consider the pros and cons of each and sort out the best folding saw for you.
I'm Joost Nusselder, the founder of Tools Doctor, content marketer, and dad. I love trying out new equipment, and together with my team I've been creating in-depth blog articles since 2016 to help loyal readers with tools & crafting tips.