I love creating free content full of tips for my readers, you. I don't accept paid sponsorships, my opinion is my own, but if you find my recommendations helpful and you end up buying something you like through one of my links, I could earn a commission at no extra cost to you.
Learn more
If you need to replace garage door rollers you'll soon realize it's actually pretty hard to know where to start!
Don't get me wrong, it's simple enough and usually a combination of getting the right roller wheel and axle that help in guiding the garage door through the tracks.
But getting the right ones and doing a bit of research (like I did FOR you in this article) could mean the difference between operating your garage door safely and smoothly, or a squeaky and unreliable mess…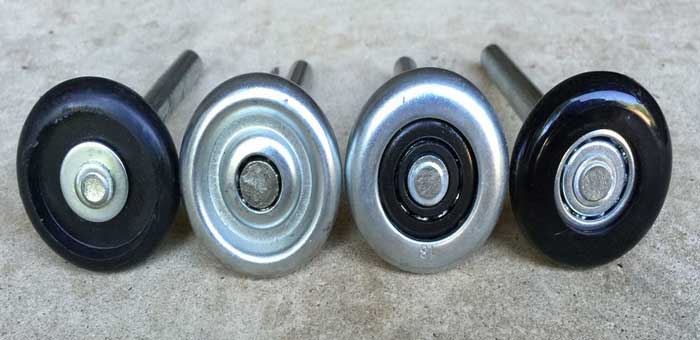 Damaged rollers will make your garage door extremely difficult or even impossible to operate, so let's get into replacing them!
These are some of the best options, and I'll get into them in more detail below:
| Garage door roller | Images |
| --- | --- |
| Best value for money: National 2 inch 13 Ball Nylon Garage Door Rollers | |
| Cheapest 13 Ball Nylon Garage Door Rollers: DURA-Lift Ultra-Quiet | |
| Sealed 13 Ball plastic rollers: AME 8006029 | |
| Strongest garage door roller: Durabilt Ultra-Life Precision | |
| Best Steel Garage Door Roller: Ideal Security SK7171 | |
| Most quiet Garage Door Rollers: Durabilt CECOMINOD086710  | |
| Best nylon sealed bearing garage door rollers: Torque Force 6200Z Precision | |
| Premium Reinforced Garage Door Rollers: DURA-LIFT Ultra-Life | |
Buying Guide
Rollers are manufactured in different materials, sizes, and qualities to suit your garage door operations. There are nylon and steel rollers in long or short stem for your garage door.
Replacement garage door rollers are critical in facilitating mechanical counterbalancing that ensures the garage door is operational.
Most garage doors roll up or down when opening or closing while a few slide horizontally. Several garage door rollers that do not use ball bearings.
These rollers might be cheaper in some instances compared to ball bearings. However, they deteriorate faster by offering a shorter unproductive lifespan.
Plastic rollers break after withstanding a considerable amount of time and usage.
Rolling systems with steel tracks that are integrated with plastic rollers are not ideal for more extended garage door functioning.
This is because the plastic part easily wears out due to subjection to extreme friction and heat produced by the moving parts.
In most cases, the plastic roller wheel gets smaller and smaller and lastly pops out of the steel track rendering your garage door non-operational.
Using steel rollers over plastic roller is the sure way of increasing the lifespan functionality of your garage door.
Steel roller doesn't wear out quickly due to the continuous use, although, steel wheels lacking built-in-bearings sometimes pops out of the stem.
You can quickly identify this malfunction whenever your wheel appears crooked once your garage door is open.
The material used in making the rollers
Steel rollers tend to last longer compared to their counterparts nylon rollers. You should always select roller made of the right material offering better service.
You should check whether the bearings are sealed or exposed
Sealed bearings are isolated from dust and grime; therefore they tend to operate quietly, smoothly, and for more extended periods.
Always check the weights supported by each roller
Using a roller for the wrong weight makes it to either break or wear out, therefore, reducing its lifespan.
The number of cycles of opening or closing your door
Each roller is made for a specific number of opening/closing cycles of your garage door.
Compatibility with standard shafts
You should identify the rollers which are more compatible to the standard shafts to minimize replacement hurdles.
Best Garage Door Rollers Reviewed
Best value for money: National 2 inch 13 Ball Nylon Garage Door Rollers
Are you tired of spending over costly garage door roller repairs? Then this is the best garage door roller for you.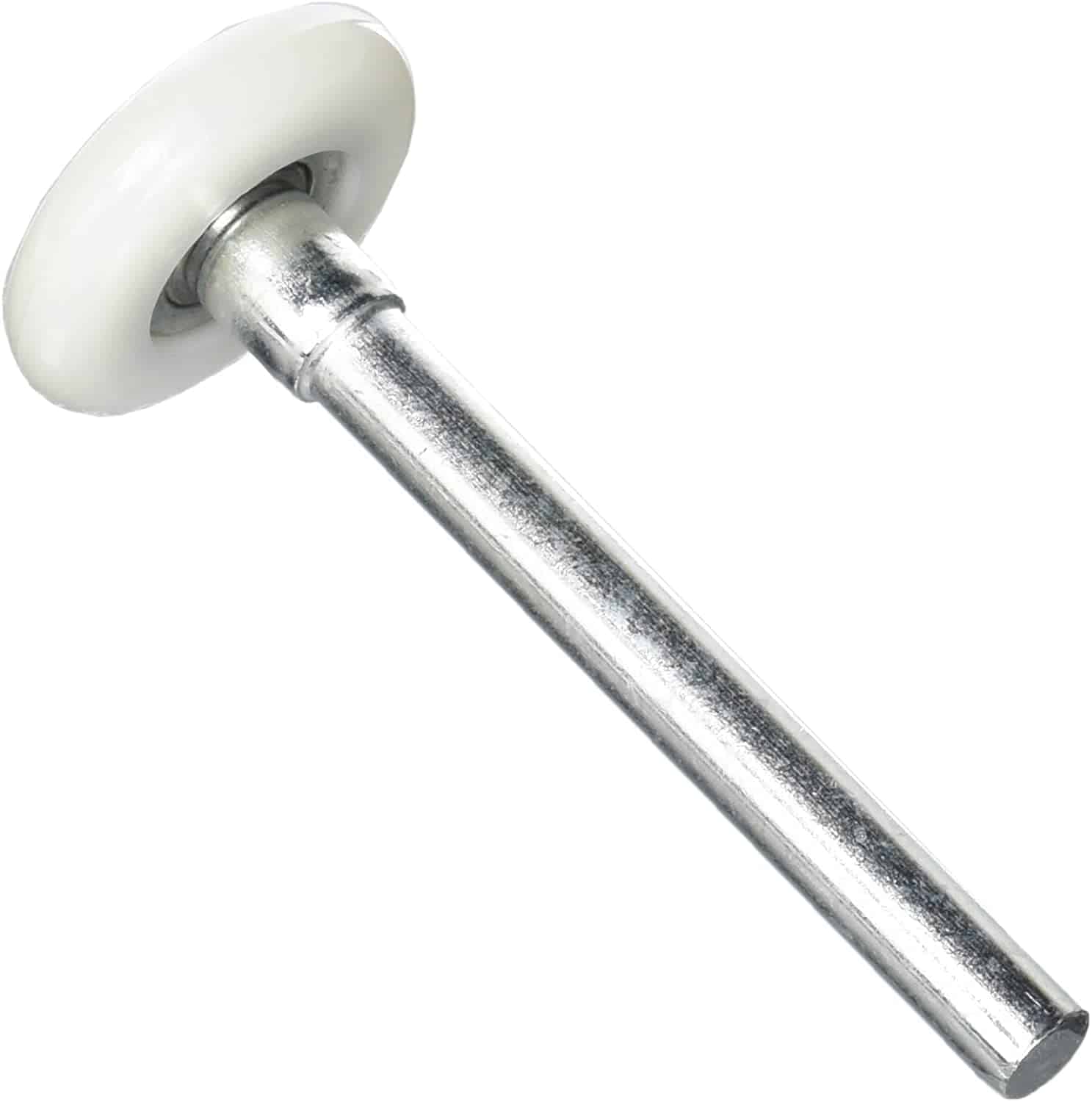 If you are good with DIY, these rollers are easy to install.
The 13 ball bearing allows your door to operate quieter and smoother while at the same time reducing stress on the opener.
Reduced stress on the opener diminishes tear and wear effects, therefore, saving you money intended for repairing the opener. Also, the 13 ball bearing reduces stress on the door hinges making them last longer.
The rollers alone make an enormous difference in operations by dramatically reducing noise and vibrations caused by metal rollers.
Having 13 ball bearings in the rollers guarantees a longer life cycle and decreased noise in activity compared to standard rollers.
Key Features :
Comprised of a 4-5/8-inch long shaft.
7/16 inch diameter shaft with B2.
Very quiet while in operation.
Works perfectly well with all 7-foot or 4-panel sections mostly found in light commercial and residential doors.
Fits in all 2-inch tracks.
Rated at 125LBS per roller and @ 20,000 cycles per 12 inch door.
Rollers are laced with lubrication grooves to distribute lubricants over a long duration of time.
0.5 inch wheel thickness and 1-13/16 inch wheel diameter.
Cheapest 13 Ball Nylon Garage Door Rollers: DURA-Lift Ultra-Quiet
It's a 2-inch Nylon Garage Door Roller with 13-ball bearings and 4-inch stem precision and comes in a 10 pack.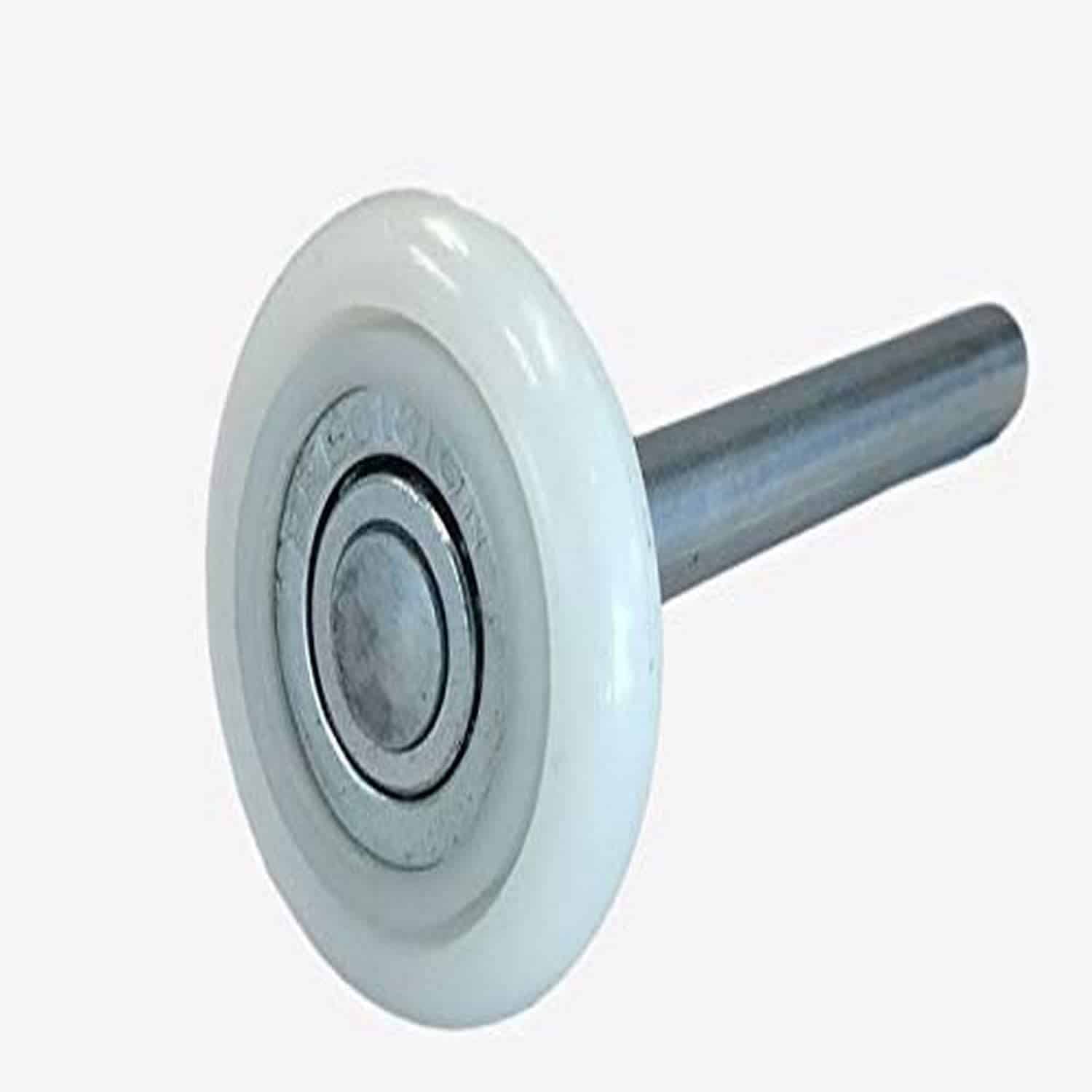 If you are in need of ultra-quiet operations, standardized sizes, verified test ratings, ultra lubrications, and extra quiet rollers then this is the right design for you.
DURA-BILT Ultra-Quiet is a replacement roller kit for broken, noisy, and old sections of your track-style garage door opener.
The 13 ball bearings provide smooth and quiet experience while opening or closing your garage door.
Installing rollers on any side of your garage door opener can be conducted in less than an hour.
It is possible to reduce your garage door opening and closing noise by up to 75% using a perfect DIY garage door project.
Nylon wheel and 13 balls bearing are combined to make your door extremely quiet during operations.
A lubrication groove is used to distribute lubricants over an extended duration of time and an area.
Key Features :
Ultra-Quiet Operations made possible by the presence of 13 ball precision bearing.
Extra quiet rollers which reduce noise by up to 75%.
Ultra lubrication, a bearing lubrication groove containing Mobilgrease XHP 222 grease enhances bearing protection in both high and low temperatures
Ranging from 5ºF to 300ºF or 15ºC to 150ºC.
Verified test ratings. Tested to exceed 10,000 open or close door cycles with 100-pound loads.
Standard size. Shaft length 4-58 inch, shaft thickness 716 inches, wheel diameter 1316 inch, wheel shoulder inch, wheel thickness 12 inch.
Sealed 13 Ball plastic rollers: AME 8006029
It has a 13 Ball Sealed Nylon Bearing and comes in a pack of 10. This 10 pack Nylon Garage Door Roller is the best deal to enhance and prolong the operational life of your garage door.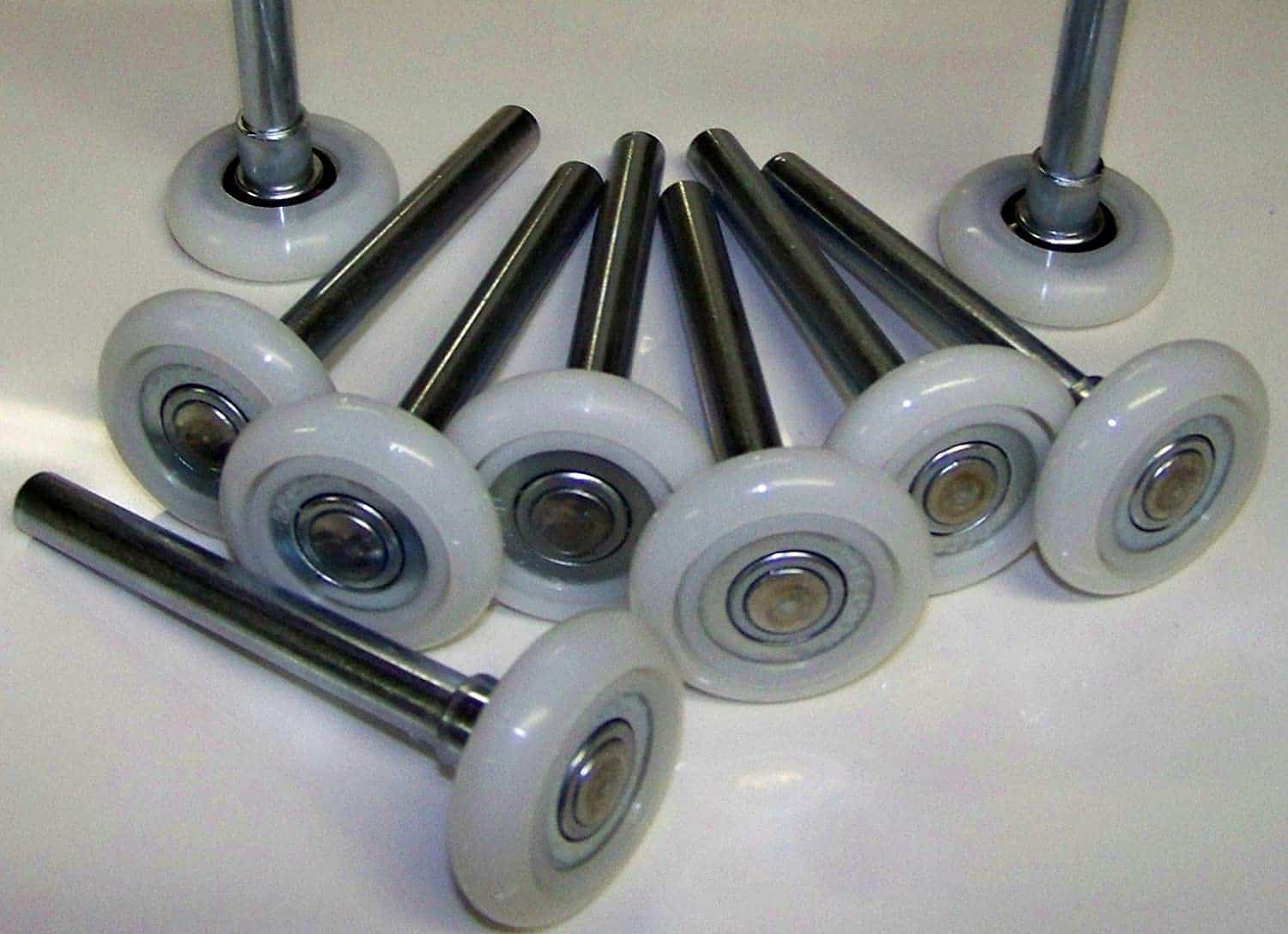 A caged 6200Z 8-ball bearing rated at 100,000 open-close door cycles is the technology applied to design the roller.
The roller is 10 times stronger compared to an average roller that offers an average 10,000 cycles of opening-closing doors.
The ball-bearing nylon is 75% quieter than other non-bearing and steel rollers. To protect the inner ball bearing from grime and dirt over time, the 6200Z bearing is sealed using advanced technology. 
Sealing the bearing also results in smoother opening-closing experiences while handling your garage door opener.
With a light usage of twice a day, the nylon rollers should serve you forever.
The only caution is to identify whether you are living in a salty coastal environment whereby you should use the stainless steel bearings.
Key Features:
Made of Nylon for ultra-quiet operations.
Bearing are sealed with advanced technologies to abolish maintenance costs
13-Ball bearing for more durability, smoother, and quieter operations.
Available in a 10 roller pack.
Strongest garage door roller: Durabilt Ultra-Life Precision
The Ultra-Life 2 inch Garage Door Roller reinforced with a 6200Z bearing, 4-inch stem, and 10 pack happens to be the last roller replacement kit you will ever purchase for your noisy, broken, or workout track-style garage door.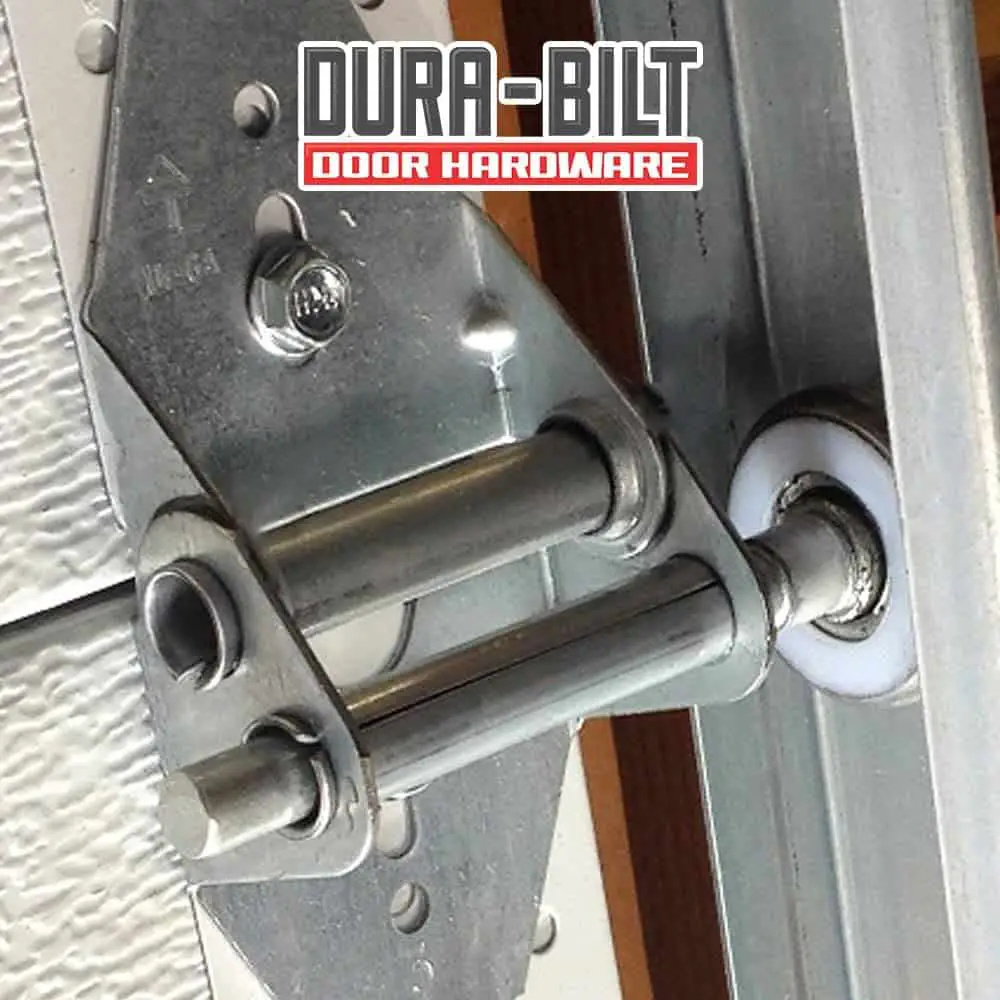 The hardened 8-ball 6200Z bearing steel encasement shields the ball bearings from grime and dirt. Doing away with grime and dirt offers smooth and quiet operations while opening/closing your garage door.
The technology applied enables you to enjoy moments of 100,000 times of opening or closing your garage door.
It is possible to install rollers on either side of your door in a duration of less than an hour.
On the other hand, your garage opening and closing noises are reduced by 75% on applying the perfect DIY garage door project.
Key Features:
The rollers can be installed on either side of the door.
Wheel diameter 1-13/16 inch, wheel thickness 1/2 inch, and wheel shoulder 1/2 inch
Roller length 4-5/8 inch with a 4-1/8 inch long shaft, and a shaft diameter of 7/16 inch.
Roller life is extended by lubricants dispersed by the lubrication groove.
Extreme quiet door operations are attained by combining a nylon wheel and a sealed 8-ball bearing.
The wheel has a diameter of slightly less than 2 inches.
Ultra life 6200Z 8-ball bearings which are enclosed in a hardened steel encasement.
Best Steel Garage Door Roller: Ideal Security SK7171
These are the perfect replacement rollers for commercial and residential garage doors and their lifting power is amazing.
They use a commercial roller grading system which is better than the standard OEM rollers present in most garage doors.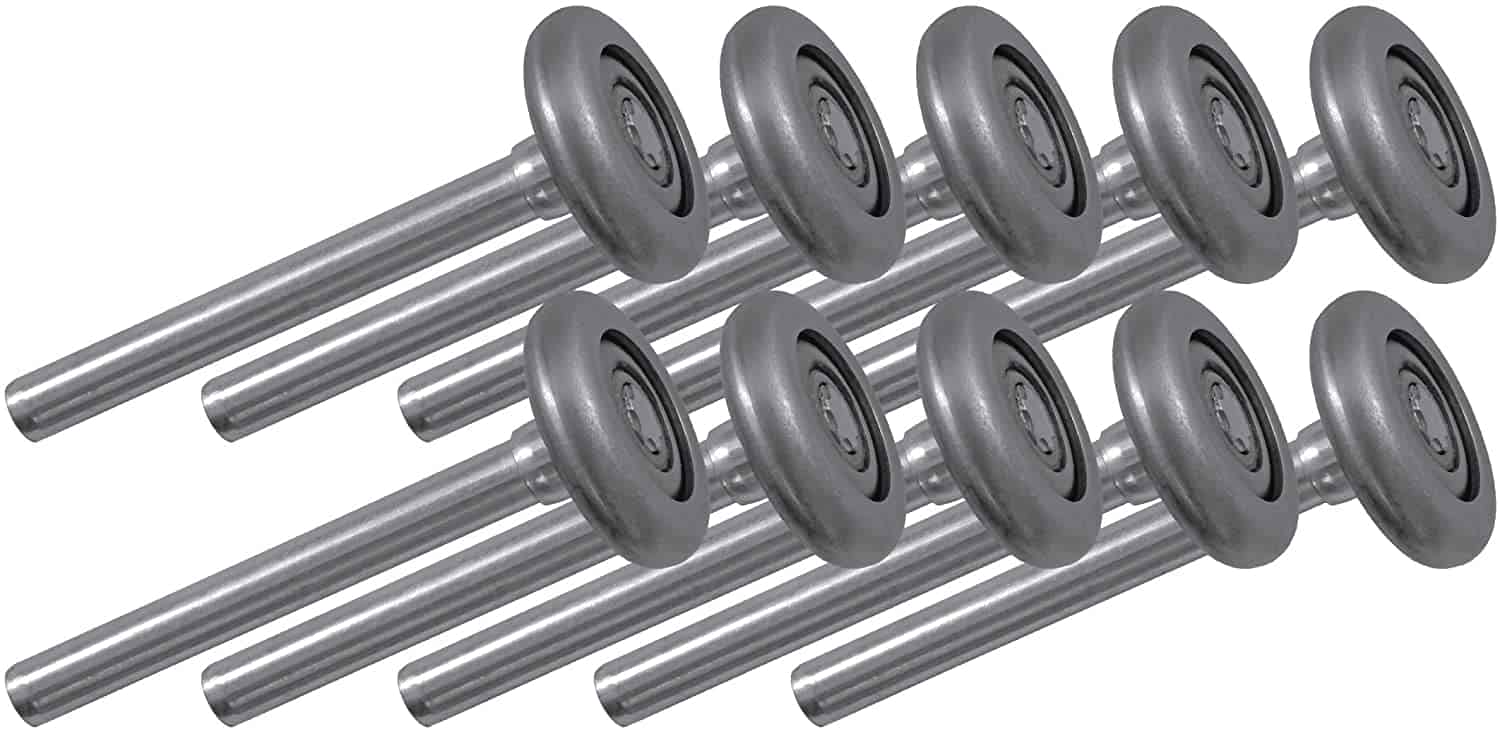 Steel wheels are incredibly durable and offer a longer lifespan. Steel wheels reduce operational costs encountered during maintenance and replacements.
However, you should always ensure that the garage door moving parts are well lubricated using the best garage door lubricant to reduce the tear and wear effect, therefore, increasing the part's lifespan.
Smooth operations are made possible by the availability of 10 ball bearings per wheel.
These lubricated ball bearings make the movement of the garage door a lot smoother since its weight is distributed evenly among them.
The wheels are 1-13/16 inches enabling them to perfectly fit in 2-inch tracks which are commonly used for standard residential doors.
Most residents use garage doors of 2 inches track size which makes this product most ideal for your garage door operations.
For standardization purposes, the SK7171 model is available with a 3.75-inch stem. The 3.75-inch stem is the standard single-hinge installation unit that works for most doors.
Key Features:
Steel wheels to enhance durability.
Ten ball bearings per wheel
3.75-inch stems
1-13/16 inch wheels
Fits perfectly well in 2-inch tracks
10 pack size
Most quiet Garage Door Rollers: Durabilt CECOMINOD086710
Durabilt CECOMINOD86710 nylon garage door rollers offer a lot of smooth operations. These rollers dramatically quiet your current noisy rollers by holding the weight of the door.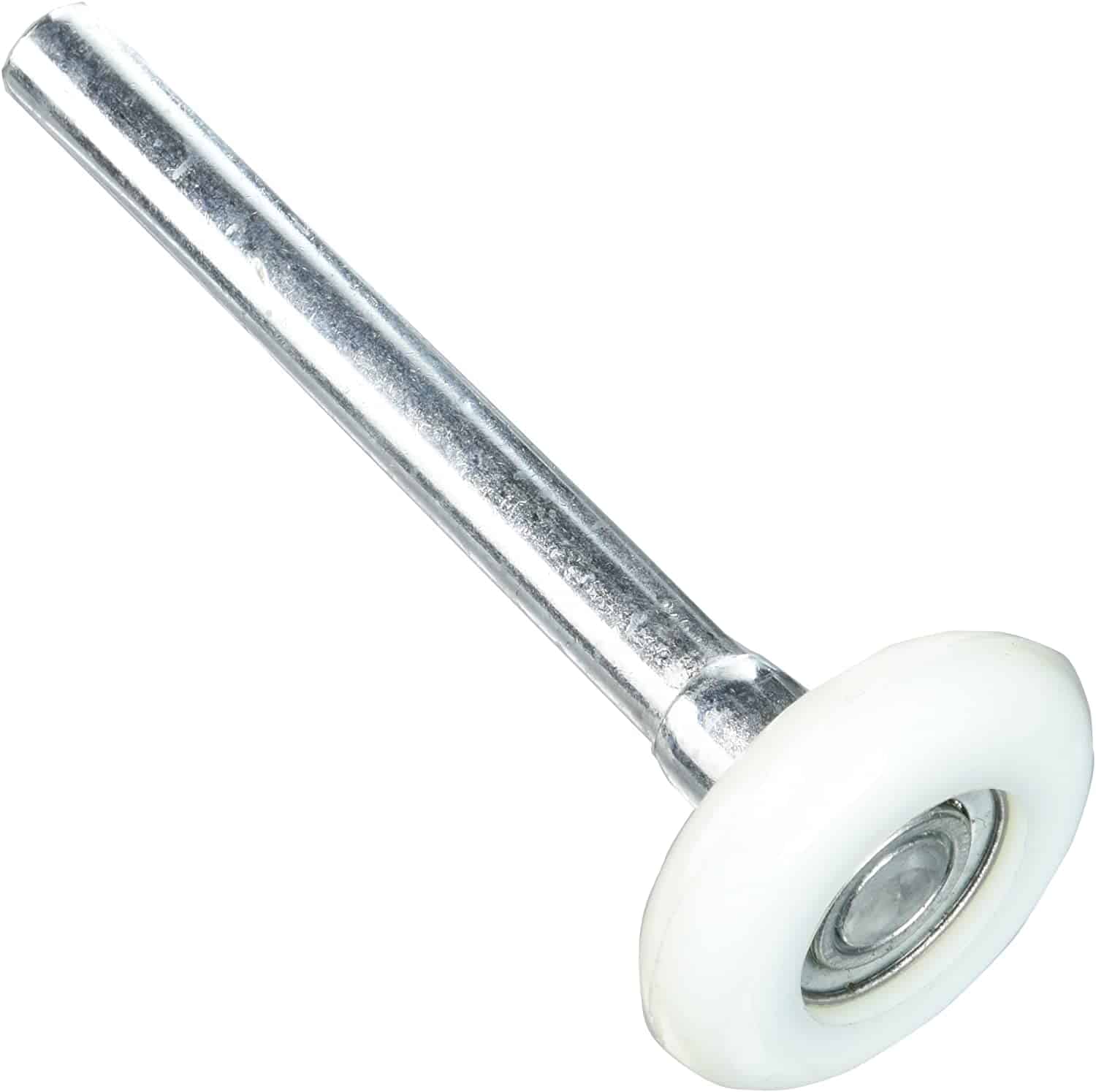 This quality product significantly reduces tear and wear and in the more extended run operational costs are remarkably reduced.
Durabilt has a shaft length of 4 inches which is the standard length for other shafts. Being of standard size makes it easy and possible to replace with other rollers.
Roller diameter of 1.75 inches is the ideal size fitting in all the 2-inch tracks which are popularly used in both commercial and home-based garage doors.
Making replacements with this design is an easy task for you since you don't necessarily need to change the tracks of your door.
Each roller supports a 75lbs weight and guarantees approximately 15,000 cycles of opening or closing a 12-inch garage door. This is a very long operational time and with intensive maintenance, you are guaranteed to better performance.
Key Features:​
Approximately 4-inch shaft length
Quantity on 10-11 balls of nylon garage door rollers
1.75-inch roller diameter
Rollers are compatible with a 2-inch track
75 lbs per roller @ 15,000 cycles of a 12 inch door
A bearing rate of 11 balls
Best nylon sealed bearing garage door rollers: Torque Force 6200Z Precision
6200Z offers you a long-term service while ensuring that your garage door operates in a smooth and quieter mode.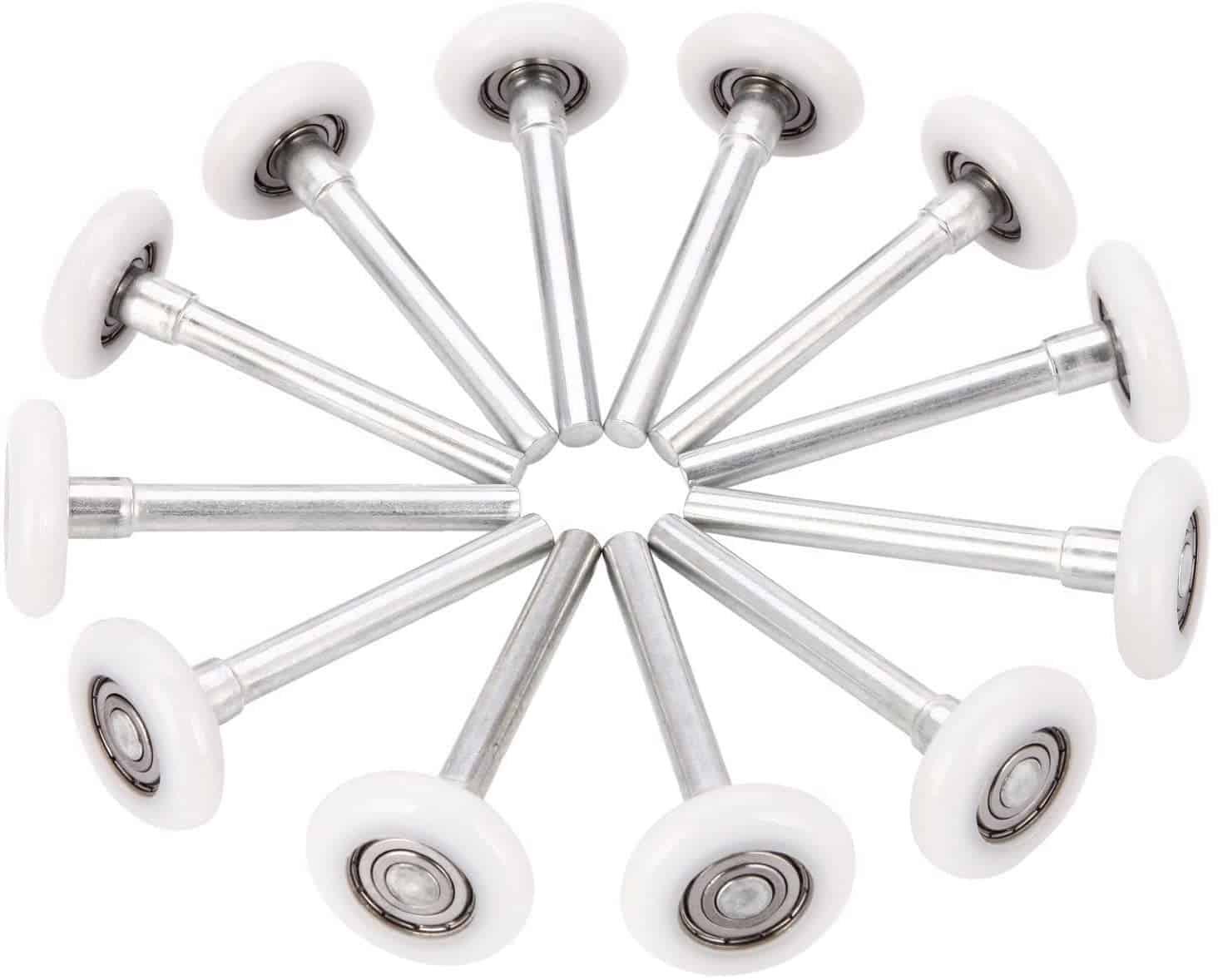 The product saves you money which could be used for maintenance and replacements thanks to the sophisticated technology applied.
The 4 inch plated steel stem offers prolonged service when properly maintained. The device is stainless and can be used in salty coastal environments.
The 2-inch nylon precision bearing garage door roller together with the 4-inch stem offers 100,000 cycles while supporting a 12-inch door.
On the other hand, the 6200Z precision sealing bearing protects the inner bearings from getting dust and grime which hinders smooth operations.
The technology applied in designing the 6200Z garage door rollers enables the device to support a weight of 150lb while offering smoother and quieter experiences while opening or closing your garage door.
Key Features:
1-inch zinc plated steel stem
Supports up to 150lb load
Offers 100,000 cycles of opening or closing a 12" door
4-inch stem for adequate support.
2-inch nylon precision bearing garage door roller
6200Z precision sealed bearing
Check the latest prices and availability here
Premium Reinforced Garage Door Rollers: DURA-LIFT Ultra-Life
As the name "Ultra Life" suggests, this product offers up to 10 times longer and better service compared to other original roller equipment and can result in a significant noise reduction.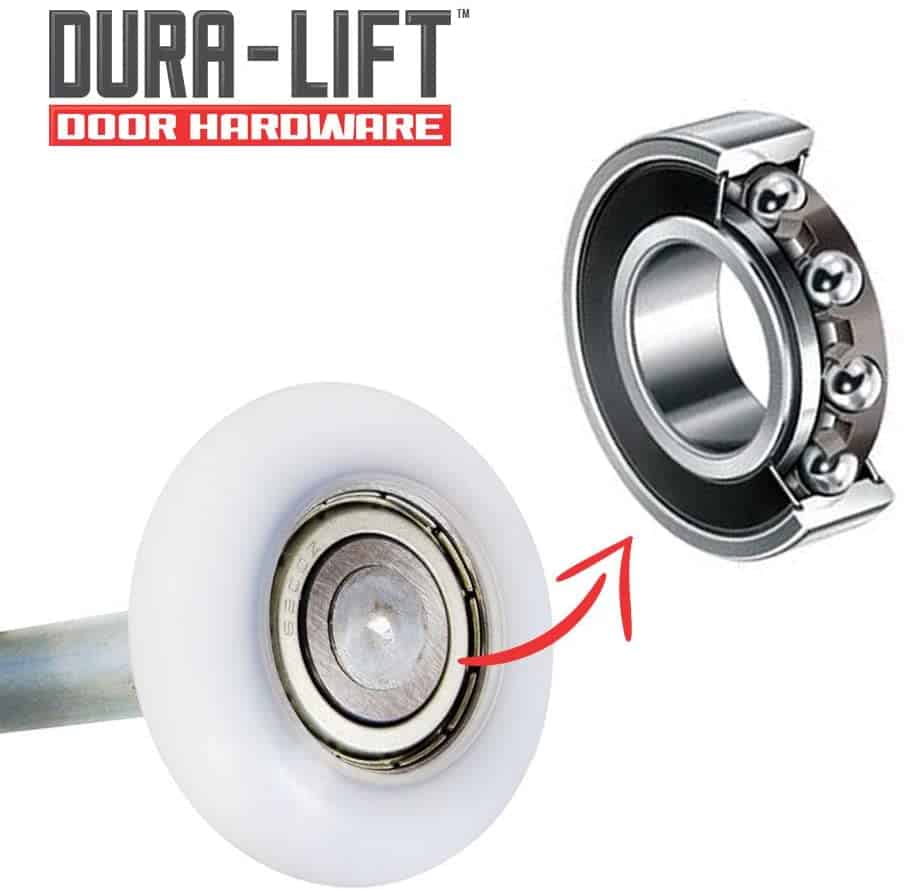 The reinforced 6200Z bearing with heavy-duty cover dramatically improves the lifespan of the roller.
6200Z standardized bearing significantly reduces play and friction between bearings by holding them in place.
Reduced play and pressure increase the longevity of the roller by 10 times translating into a cycle rating of 100,000 cycles.
Ultra quiet operational are attained by the use of 6200Z ball bearings with heavy duty cage which reduces noise by up to 75%.
The availability of a bearing lubrication groove containing Mobilgrease XHP 222 grease enhances ultra-lubrication within the bearings.
Key Features:
Exceeds 100,000 cycles while supporting a 120-pound load.
Bears the 6200Z bearing in its nylon 6 wheel.
The Nylon 6 wheel offers Ultra-quiet and long-lasting operations
Extended lifetime of smooth operations is made possible by the availability of lubrication grooves containing Mobilgrease XHP 222 grease.
4-5/8 inch length and 7/16-inch diameter standard shaft size.
Buy these premium rollers here on Amazon
How to replace garage door rollers
Now, if you are looking forward to DIY'ing your garage door repair and replace the existing ones with a new one, here's the easiest way to get started.
The first thing to do is to get your car out of the way. Even if you have a little more room back there, be sure to move the car onto the street so it won't get damaged if something falls or a spring suddenly jumps out of one of the bottom brackets.
Things you will require:
Required garage door rollers
A helper if necessary
Ladder
Wrench
Pry bar
Clamp
Pliers
Screwdriver with the most recommended type being the flathead
Examining the current set
These rollers come in various categories like a top roller, middle roller, and bottom roller. The following are the critical steps in changing or the three types of rollers.
Replacing them
Push the entire door to the top.
Firmly erect a ladder to access the highest points of your garage door.
Dismantle your garage door opener from its socket and clamp the door in the direction it opens so you can hold the track slightly open.
Open the track carefully with the aid of a plier.
With the help of a screwdriver, remove the first roller out of the track. You can only access the rollers after opening and keeping the track slightly open.
Insert a new roller into the bottom bracket immediately after removing the old one, then do the same for the next roller.
Repeat the same technique for all the other top rollers.
Replacing the center set
In the case of a wooden garage door, use a 7 inch or 16-inch wrench to remove the nuts tightened on the hinge. Use a hammer to remove the bolts which appear.
In the case of a steel garage door, use a 3 inch or 8-inch wrench to open the hex-headed screws.
Now, pull the hinges and remove the rollers one after the other. The shaft of the new roller should be inserted in the hinge's sleeve.2. The next step is to insert the wheel roller. You should perfectly align the holes in the rollers to the ones on the hinges of your garage door.3. Depending on the material of your garage door, use a special wrench to tighten all the screws.
You have successively replaced your garage door's middle rollers.
Replacing your bottom roller
It is recommended to hire qualified personnel to install or replace the ones in the bottom fixture.
The garage door springs cable carrying the weight and tension of the garage door requires a skilled person to handle it and it can be extremely dangerous and could result in significant personal injury.
Unless you are a professional should always hire one to work on the bottom part of your repair project.
How can I increase the lifetime of my garage door rollers?
Lubricate the rollers regularly
It has been observed that sometimes the largest moving part of a homestead is the garage. These moving parts should be routinely sprayed with a lubricant to ensure that they remain in shape and prevent premature wear.
Rollers usually operate under stress whenever you use your garage regularly or on a daily basis. Therefore you should conduct a lube job every year to enhance the smooth operations of your garage door on a regular basis.
Keep the rollers clean
You should always clean them to remove dirt and avoid gumming parts up. A non-corrosive cleaning chemical should be used together with a piece of cloth to wipe away the dust.
Wipe all the exposed parts of the rollers and wheels together with the entire track to remove all traces of hair, dirt, dust, and grime. You should always keep your entire roller system clean since dirt accelerates the breakdown process of the bearings shortening the lifespan of your garage door.
An unpleasant sticky surface can also be formed on the metals parts due to excess deposits of dirt and oil.
Keep all the moving parts tight
Regularly used machines most likely loosen over time. You should always take time to inspect all screws, bolts, and nuts that hold your garage door together.
Maintaining a tightly fixed garage door extends the life-cycle of your rollers, bearings, and tracks tremendously.  Since rusted nuts and screws can easily break while tightening, it is advised that you change them with immediately after noticing them.
Rusted moving arts are more likely to pose a significant problem shortly hence you should avoid rusting at all costs.
Conclusion
You have to keep in mind all of these recommendations if you want to pick out the right fit for your needs.
Moreover, It is important to carry out inspections regularly to check whether your system has parts that are damaged, missing, in need of repairs or even completetotal replacement.
I'm Joost Nusselder, the founder of Tools Doctor, content marketer, and dad. I love trying out new equipment, and together with my team I've been creating in-depth blog articles since 2016 to help loyal readers with tools & crafting tips.