I love creating free content full of tips for my readers, you. I don't accept paid sponsorships, my opinion is my own, but if you find my recommendations helpful and you end up buying something you like through one of my links, I could earn a commission at no extra cost to you.
Learn more
A garbage disposal is a little machine containing a motor and a grinder that crushes leftover food items into tiny bits.
The tiny bits are then sent down the plumbing all the way to the septic tank without blocking the pipes.
For many Americans, a garbage disposal is not an option – it is a must-have.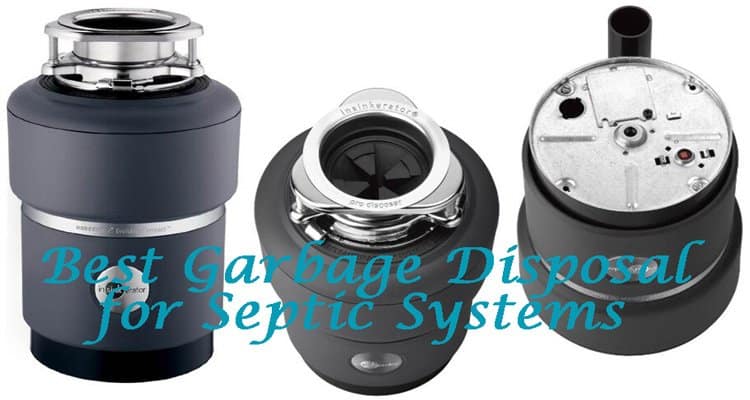 Apart from helping us reduce our trash in sustainable means, it helps keep our kitchens looking and smelling nice, free of odors.
If you're looking for great value for your money, you can't go wrong with the easy to install Waste King. I'd recommend this one for almost anyone looking to bring a disposal in.
Here's On Point reviews looking at this very model:
With this article, I will help you to get the best garbage disposal for septic systems.
Let's get started by looking at the top ones in a quick overview, I'll get to a more in-depth review further down:
| Garbage disposal | Images |
| --- | --- |
| Best value for money: Waste King Garbage Disposal for Septic Systems | |
| Entry-level InSinkErator: Evolution Septic Assist | |
| Easiest installation: Moen GX50C GX Series Garbage Disposal for Septic Systems | |
| Best waste disposal for septic systems for under $400: InSinkErator Evolution Excel 1 HP | |
| Premium waste disposal for septic tanks: InSinkErator Pro Series 1.1 HP | |
| Best septic system garbage disposal for under $100: Becbas Element 5 | |
| General Electric: Garbage Disposal part for Septic Systems | |
| Best cheap garbage disposal for septic systems: Frigidaire FFDI501DMS | |
| Most affordable InSinkErator: Badger 1 Garbage Disposal | |
| Most quiet septic system garbage disposal: Waste King Knight | |
Buying Guide on Purchasing the Best Garbage Disposal for Septic Systems
A bad or inefficient garbage disposer can create one of these two issues – a jammed sink or a septic tank filled up too quickly – both of which no one wants.
The best garbage disposals are that which packs enough power to process your food scraps efficiently without needing too much water.
The following are the top factors you ought to consider to get the best disposal for septic system.
Motor
What you need to consider with regards to the motor are the power and speed.
The power is normally suggested by the hp rating (horsepower number). For homes, this rating normally goes from 1/3 hp to 1 HP. In between, there is ½ hp and ¾ hp.
The lower the rating, the smaller and less powerful the motor, and vice versa.
If you're a couple, or you're living alone, 1/3 hp will likely be enough. One the other hand, if you want to take care of the needs of a whole family, you're better off getting a 1 hp motor.
As for the speeds, the higher the RPM, the more efficient the motor is. Basically, anything above 2500 RPM is very efficient and will take care of a family's needs.
Size
Got only a small septic tank? The last thing you need is a huge disposal that flushes excessive waste into it.
And then again if you have a small septic tank, chances are that your kitchen's waste is not a lot. So a large disposal is unnecessary.
The bigger the disposal, the more you'll need to pay.
Check the dimensions of the product and see if it will fit your existing mounting system.
Septic-System compatible​
Compatibility is a big deal. Considering there are units out there that are not ready for use with a septic tank system, it is a factor you need to look out for.
Some units are made for use with the standard plumbing – that doesn't mean they're septic-compatible.
Ensure the unit is specifically compatible with septic tanks. Some advanced units even come with a bio-pack, which releases micro-organisms to further support the breakdown of wastes.
Amount of noise​
Some units can sound like someone is drilling a hole in the wall. Such disposals make cleanup daunting by disrupting the peace in the house. They can also scare kids and pets.
Luckily, these days, you can get a whistle-quiet disposal. Such a unit is designed in a way that the grinding chamber is sound-insulated and the vibrations are absorbed so they don't get to the countertop.
Batch feed vs continuous feed
Batch feed is where you have to seal the disposal before operating it. As the term suggests, you don't have to run the unit every time you put food in there.
You can wait for it to accumulate a bit then run the disposal.
Continuous feed is where you run the disposal every time you put food in there. It is better in terms of efficiency and ease of use.
But if you want to reduce the amount of water going into the septic, batch feed is the way to go.
Ease of installation
If a complicated installation can be a headache for a seasoned plumber, just how much more hectic can it be for a DIYer? Ease of installation is a must for many homeowners.
You want the unit to be compatible with the standard 3-bolt mount. A unit that comes with a pre-installed power cord is always the best because you need not have the electrical experience to handle it.
Again, the package should come with the mounting hardware needed and a good set of instructions.
Why Do You Need a Garbage Disposal for a Septic Tank?
Keeping your home clean is very important, isn't it? Especially the kitchen! You want to make sure it is smelling nice and free of the smell of rotten food.
And how do you do that? There are many ways, and the most crucial one is getting rid of food scraps.
Using a garbage disposal makes this very easy.
You throw the leftovers in the sink, open the faucet, and with the turn of a switch, you're able to shred the waste into tiny bits that can freely pass through the pipes and get into the septic.
The following are the benefits that make a garbage disposal for septic a useful/necessary installation.
Save time
The alternatives to sending food scraps to the septic consume a lot more time. Imagine having to make up the garbage and take it out all the time.
Or composting the food scraps. These are time-consuming processes but using a garbage disposal is easy and quick.
Reduced Odor
There is nothing quite as uninviting as a smelly kitchen. But that's what you end up with if food scraps are left to accumulate.
With a disposal, you get rid of these scraps every day, thereby avoiding the development of these unwanted smells.
Reduce Trash
A kitchen full of trash can be quite the eyesore. Processing the food waste with a disposer reduces the trash.
Of course there are certain wastes, like plastic and paper, that you have to take out for the garbage company to collect. Getting food scraps out of the way means less trash to deal with or take out.
Fewer Pipe Leaks
Sending food scraps whole down the drain is a bad idea. Why? It blocks the pipes and creates pressure. That, in turn, bursts pipe and causes leaks.
But a disposal unit grinds the scraps and reduces them to bits that dramatically reduce the chances of leaking.
Longevity 
Disposals are in general, long-lasting. If you get a high-quality unit that comes with a long warranty, say 5 years, you might not need to replace it even in the next one decade.
That means you get a great service for a long time.
Saving on costs 
With a good disposal, you're able to improve your drainage system and keep your pipes safe. Fewer leaks means you won't have to pay plumbers to fix your plumbing system so often anymore.
Another area you get to save is on trash bags. Less waste means less bags needed.
Protecting the Environment
The more the garbage trucks operating in town, the more greenhouse gas is emitted. Again, the more the waste the garbage companies have to deal with, the more the methane emitted at landfills.
If everyone in town can deal with their food leftovers, that would reduce the waste and ultimately reduce the garbage trucks, and the associated greenhouse-gas pollution.
It would also cut down the methane production at landfills.
Best Garbage Disposals for Septic Systems Reviewed
Best value for money: Waste King Garbage Disposal for Septic Systems
Ease of installation is paramount when choosing a waste disposal for your septic systems. You want a unit that won't give you a headache with the installation.
If that's so, the Waste King Garbage Disposal would be a perfect selection.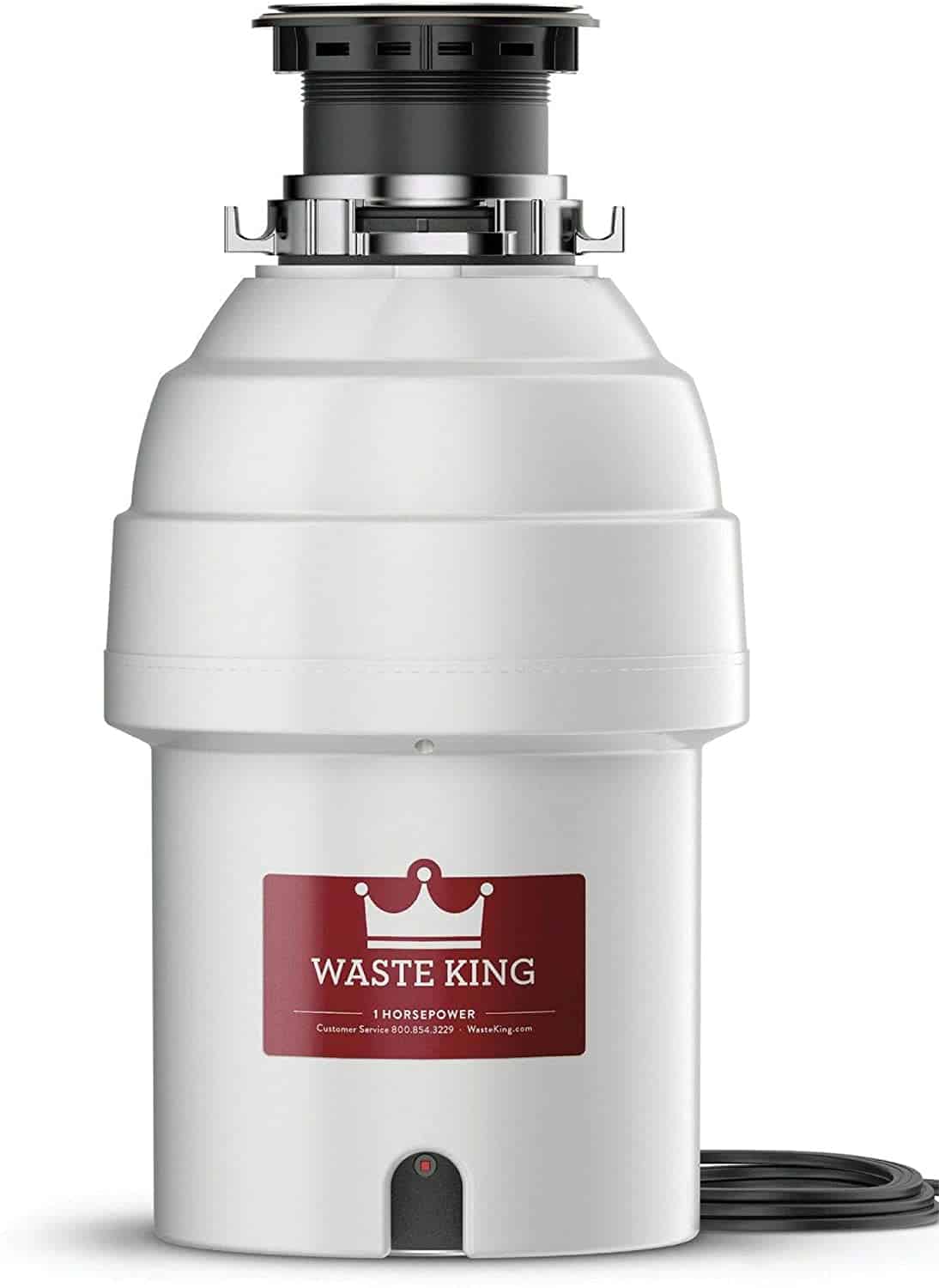 It features an EZ mount for a super quick and effortless connection to the kitchen sink.
Don't have any electrical experience? That's not a problem. The appliance features a pre-installed power cord. There's no electrical work to do.
Regular cleaning is a critical process in the maintenance of garbage disposals. Tell you what? The King unit comes with a removable splashguard.
This makes it easy to detach the unit and clean it on a regular basis.
If there's something that can be frustrating about a garbage disposal, it is when the unit jams.
This makes the water fail to go through and can cause flooding, or curtail the washing of utensils and other items in the sink.
With such issues, the problem is usually the motor. If the motor isn't strong enough for the task, jamming will be a frequent issue.
But the King unit has a powerful, high-speed motor that you can depend on. It is a 115V 2800 RPM high-speed motor.
This one reliably and efficiently grinds the waste to reduce it into tiny bits that can easily move to the septic.
Ease of operation is also important. This unit comes with a wall switch. All you have to do is activate it and the disposal will run and grind waste on a continuous feed until you flip the switch.
Some people may see the Waste King as being a bit costly compared to other units. And yes, it costs around 50% more than the average disposal.
But at the same time, it offers you 50 percent better disposal. If you asked me, it is totally worth it.
Check it out.
Pros:
Easy to install – no electrical experience needed
Easy to operate – uses a wall-activated switch
Runs quietly
Powerful 2800 RPM motor
Durable – made of stainless steel
Compact and lightweight
High-speed motor
Highly efficient
Cons:
A little costly (but well worth it)
Entry-level InSinkErator: Evolution Septic Assist
Ever used (or heard) a waste disposal for a septic system that sounded like an electric chainsaw? It was really disturbing, wasn't it?
Wouldn't you want a quieter unit now? The InSinkErator Evolution Septic Assist might be just what you need.
This one is installed with an innovative sound silencing technology called Sound Seal. With it, is able to run quietly and give you peace of mind.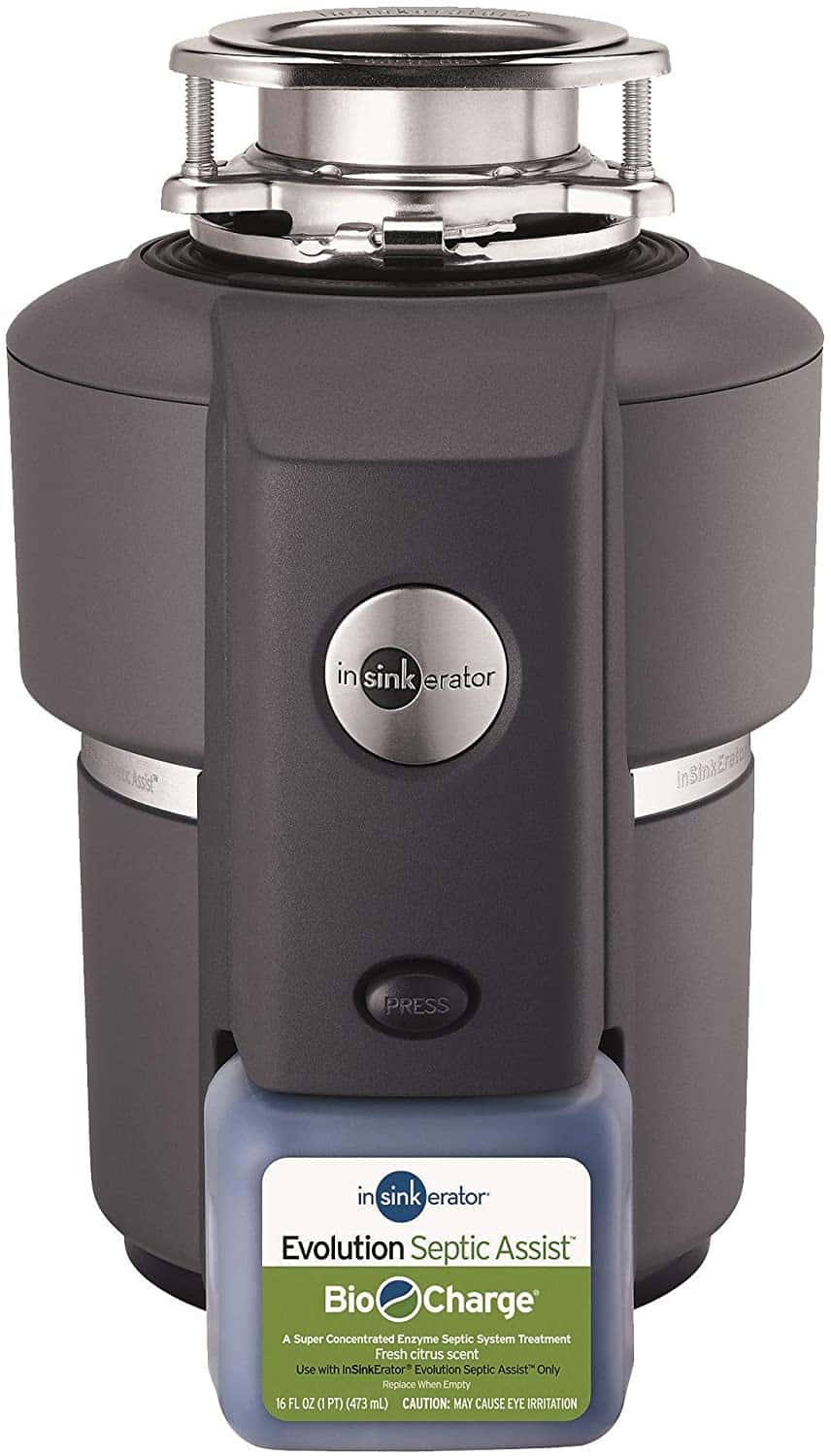 Many homes out there have huge issues with the septic tank getting filled too quickly. This is normally related to the poor breakdown of the waste materials.
The InSinkErator comes with the solution for that. It is installed with a bio-charge. This is an innovative feature that does the automated injection of microorganisms.
As you might already know from Science 101, it is micro-organisms that play a key role in the breakdown of organic waste.
That's what makes this the best garbage disposal for septic tanks. With it, you have the confidence that your septic tank won't get filled up too soon.
Many people are of the idea that the louder the machine, the more the power. But that's not true! Here's a whisper-quiet disposal unit that packs quite an amount of power.
It uses a ¾ HP induction motor to deal with the waste.
The motor uses a Multi grind Technology to deal with even the toughest scraps of food. It grinds everything without a hitch.
As you can agree, the unit is all about technology. It uses tech to offer exceptional quality.
Another reason I would recommend the unit is the fact that it comes with a wall switch.
That way, you can run and deactivate the motor whenever you want. You can even operate it on a continuous loop.
That's plenty of convenience right there.
Here's how to install the InSinkErator Evolution:
The InSinkErator Evolution Septic Assist goes for over 200 bucks, which you might agree is a premium.
But the quality is nothing like what you'd get with the budget units. No noise, reliable waste shredding, and exceptional durability.
Pros:
Beautiful
High-tech design
¾ HP induction motor
Whisper quiet
Injects microorganisms automatically
Grinds everything without a hitch
Has a wall switch
Multi-grind technology
Cons:
Easiest installation: Moen GX50C GX Series Garbage Disposal for Septic Systems
Looking for a high-grade garbage disposal for septic for around $100? Why not get the Moen GX50C GX Series?
For the quality and functionality that this unit offers, it is a bang for your buck indeed.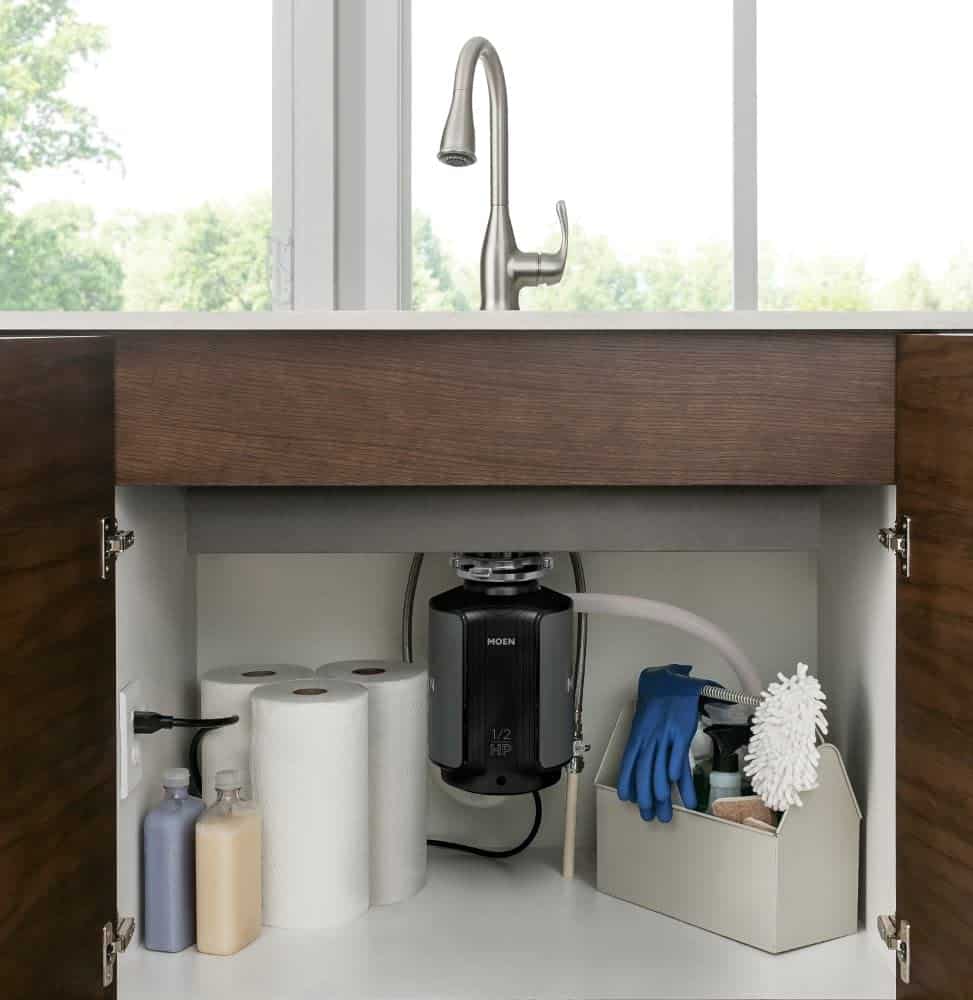 But what makes many people go for this unit is the ease of use it offers. You cannot believe how easy it is to install this one.
It mates perfectly with the old hoses and pipes, and the whole process of installing it is a breeze.
We all hate the sound of noisy machines when they run. That noisy washing machine, the drill, the juicer, even the garbage disposal!
Imagine the pain of waking with a start every time someone turns on the unit. Well, the Moen is not one of the noisy ones.
In fact, many people have confessed that when they first used this model, they had a momentary panic. They thought the motor wasn't working, only to confirm that it was in fact working.
The motor runs so quietly that you might think it's not turning.
That way, the waste can be taken care of without disrupting the peace and quiet in the house.
It's convenient to get a package of the machine you want with all the installation hardware, right? With this Moen device, you get everything from the wires to the pipe and mount.
All you need is lots of putty. As said before, the installation is a piece of cake.
Looks are also important to many of us. This unit boasts an elegant, modern look with black, white, and gray colors. It's not something you will be ashamed to have in your kitchen.
The motor is quite powerful, grinding the waste effectively.
Pros:
Powerful motor
Elegant
Modern design
Hassle-free mounting
Preinstalled power cord – no electrical experience required
Compact
Lightweight
Runs quietly
Cons:
Needs lots of putty for installation
Best waste disposal for septic systems for under $400: InSinkErator Evolution Excel 1 HP
One thing is for sure – the InSinkErator Evolution Excel is not a budget model. It might not be what you're looking for if you need something cheap and very affordable. But as the price of this one is high, so is the quality.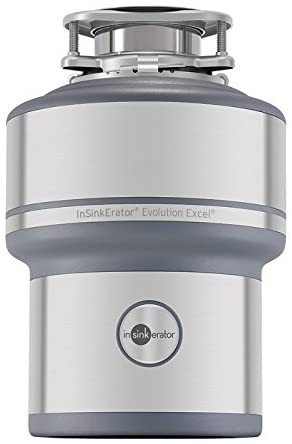 The Evolution Excel offers you exceptional quality in terms of performance and longevity.
The first feature I noted when I first encountered this model is how quiet it was. It is the quietest garbage disposal I have come across.
Apparently, this unit's grind compartment is sealed with Sound-Seal tech to ensure the noise doesn't go out.
Even the vibrations that happen with most models are almost totally absent with this unit.
Something else that really surprised me was that even though the machine was so quiet, the power was unimaginable.
It was able to grind a shocking amount of food scraps, even hard guava, and pineapple peelings without a hitch.
Apart from the materials the device is made of, the power can be credited to the motor it contains. It is a 1 hp motor with the capability to run at very high speeds.
The grinding power is thus quite significant.
And for that, this disposal can be relied upon to handle the needs of a large family of even over 5 people.
Durability is another factor that attracts buyers to this unit. Made of stainless steel parts and fortified with the innovative Leak-Guard tech, the disposal can last over a decade.
If you hate jams, this is the unit for you. It has a jam-assist feature and with its 3-stage multi-grind tech, it ensures the waste almost never gets stuck.
Pros:
Super quiet
Powerful 1 hp motor
Installed with jam assist to avoid jams
Potent 3-stage multigrind tech
Average power consumption – three to four kwh annually
Easy operation
Can handle the needs of a large family
Made in the USA
Cons:
Premium waste disposal for septic tanks: InSinkErator Pro Series 1.1 HP
If you've used disposals before, then you know it's not easy to find a very powerful unit that runs quietly.
If that is what you've been struggling to find, you're in luck because the InSinkErator Pro Series 1.1 HP is here for you.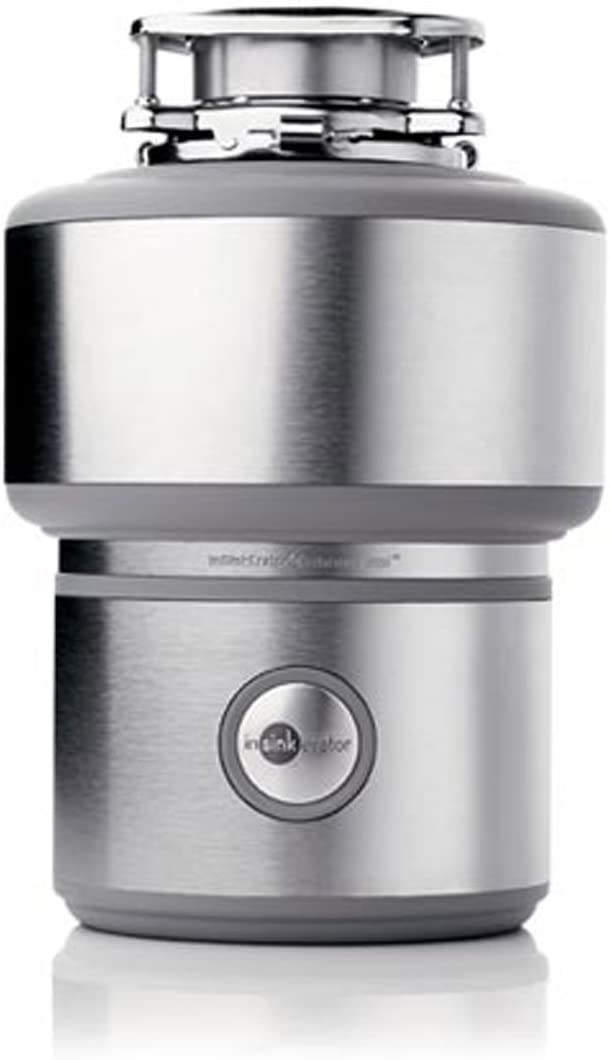 This is yet another model from the reputed InSinkErator brand, and definitely something you can depend on for efficient waste processing in your kitchen.
Installed with the SoundSeal technology, the device processes the scraps without noise. You can comfortably hold a conversation in the kitchen as it runs, thanks to its mouse-quiet nature.
Power is one of the main reasons why people go for this disposer. As the title suggests, it is a 1.1 hp unit, meaning it has the power to take care of the needs of a large family.
If you have a family of over 6 people, you'll like the Pro Series very useful.
Here's Rob Sinclair talking about the InSinkErator range:
The standard disposals have a 1-stage grinding action. That's fine for a small kitchen without too much leftover food. But if there are usually lots of scraps of different sorts, 1-stage grinding can only go so far.
In that case, a 3-stage grinding action like what the Pro Series offers becomes very useful.
Jamming is one of the issues that give people a difficult time using disposers. But thanks to the Jam-Sensor circuit installation on this unit, jamming is almost never a problem.
When this feature senses a jam, it automatically boosts the motor speeds by 500%. This breaks through the jam, however tough it might be.
Pros:
Ultra-quiet
3-stage grinding action
Jam sensor circuit tech
Stainless steel components for sturdiness
Exclusive anti-jam features
Powerful enough for a large kitchen
Made in the USA
Powerful 1.1 hp motor
Cons:
Check prices and availability here
Best septic system garbage disposal for under $100: Becbas Element 5
Are you looking for a fairly quiet, powerful disposer that goes for a lower price than the equivalent InSinkErator or Waste King?
The Becbas Element 5 Garbage Disposal would be an excellent choice.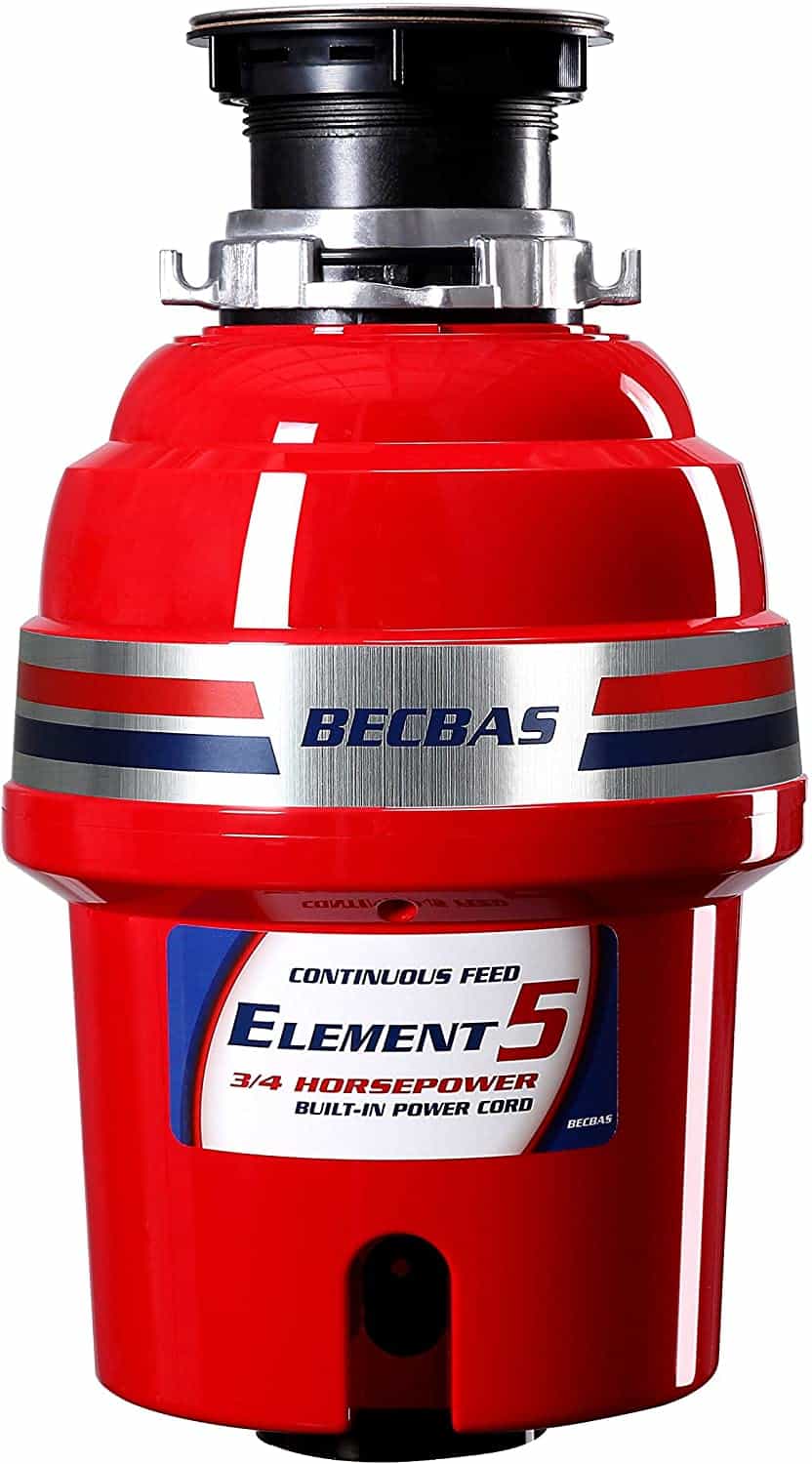 Although it is not as popular as the other two brands, this unit is awesome and great for someone on a budget.
The unit was going for less than 100 bucks at the time of writing this review. A comparable product would go for 200 bucks or more at any retail shop at the same time.
So it was (and likely still is) a product that saved money.
Perhaps the reason why the manufacturer is able to offer this one at a lower price is that the external body is made of plastic.
That, I would imagine, makes the unit a little less durable, but not by a huge margin.
Here is Becbas talking about their unit on their Youtube channel:
The first thing I noted when I came across this unit was how pretty it was. Yes, the Element 5 is virtually the most beautiful disposer I have come across.
It has a nice bright red color that makes you feel good even though the unit is going under the counter.
Another factor that many folks love about this unit is the performance it provides. Having a 1 hp motor, the unit is able to handle the waste grinding needs of a family of more than 5 people.
The motor has speeds of 2700 RPM. This increases the grinding capabilities and reduces the chances of jamming.
Any issues with this unit? Yes – the installation is a bit of a hassle. You might find it tricky getting the ring to engage and lock to the sink. A hammer and some silicone will likely be necessary.
Pros:
Beautiful design
Powerful 1hp motor
2700 RPM speeds to avoid jamming
Stainless steel grinding parts
4-years warranty
Sound-proof splash guard
Runs relatively quietly
Inexpensive
Cons:
General Electric Garbage Disposal part for Septic Systems
Ever used or heard about the GE sink grinder? It was a reputed model, especially for its longevity.
The General Electric Disposal Continuous Feed is an updated model of the GE sink grinder. It comes with its predecessor's longevity and a lot more.

One of the best things that people love about this model is its size. It is so small and compact in comparison to other ½ hp sink grinders.
Most other ½ hp units are more than twice the size as well as twice the price. So, what you get with this grinder is half the size and half the price.
And by the way, for the quality you're getting here, the price is truly low.
If you're a small family with a small kitchen, the power and functionality of this unit will suffice. Though small, it has a capacity large enough to take care of a small family's needs.
The motor is ½ horsepower, with a grinding action of 2800 RPM. That's lots of power, ensuring there's a reliable breakdown of food items and other organic waste.
Jamming is one issue no one wants to face. And fortunately, this grinder is designed to be safe from that. It has stainless steel, dual-swivel impellers that are jam-resistant.
There's also a manual reset overload protector to solve the jamming in case that happens.
We all know how important ease of installation is. With the General Electric Disposal Continuous Feed, you don't need any special skills to do the installation.
The unit comes with an EZ mount, which makes it easy to hook it to your old hoses and pipes.
It also comes with a pre-installed power cord. The direct wire power connection makes everything a cinch.
Pros:
2800 RPM
½ horsepower motor
EZ mount for effortless installation
Manual reset overload protector
Direct wire power connection
Pre-installed power cord
Cons:
Not suitable for a large family
Best cheap garbage disposal for septic systems: Frigidaire Grindpro FFDI501DMS
The first thing you're likely to notice when you first get the Frigidaire FFDI501DMS 1/2 Hp D Garbage Disposer is how light it is. It barely weighs 10 pounds.
Now, that is good because it makes the installation super easy. Lifting a heavy unit to install it wouldn't be so easy, but lifting this one and mounting it is a breeze.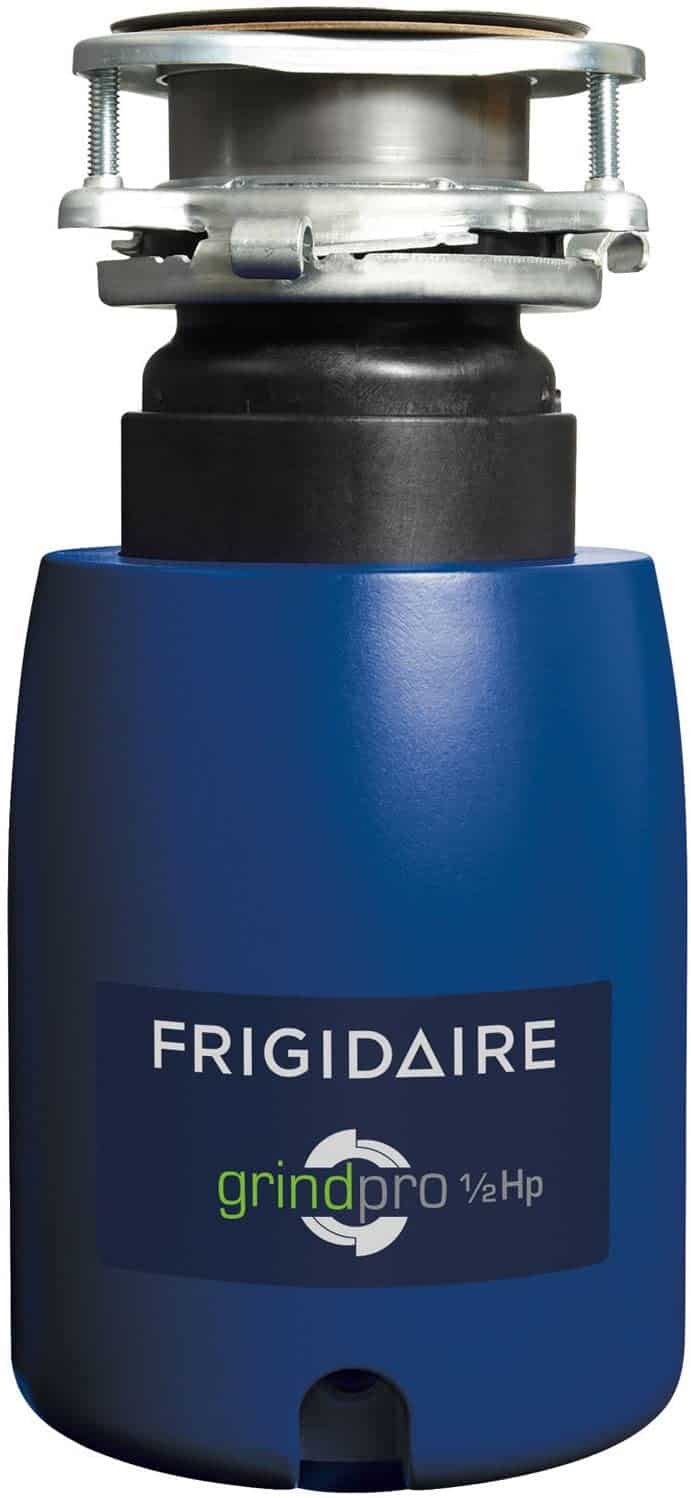 The appliance also features an easy-fit design that further eases the installation.
But as many people can tell you, light equals cheap and less performance. Well, that's not true, at least not with this unit. The disposer has high-speed spins, and it removes the waste speedily and efficiently to avoid jamming.
It is something you can depend on for a small kitchen's waste disposal needs.
The Frigidaire Disposer comes with a wall switch. By flipping it, you activate the motor and operate it on a continuous loop until you flip the switch again. The switch is direct wired, which makes the operation a piece of cake.
As for the electrical hookup, I didn't find this to be very convenient. It is situated in an indent, which doesn't allow you to secure it in place with the traditional wire clamp.
That's pretty much the only problem I found in this unit. Everything else was okay.
Even the looks were pleasing. It is a well-designed unit that you will feel good to have in your kitchen.
The noise level is not very low, but it's not too high either. For the price of the unit, the noise level is acceptable.
As for the motor, it works great. It is a ½ hp, though when you buy from Amazon, you can select the 1/3 hp corded or direct wire.
Pros:
Compact
Lightweight
2600 RMP ½ hp motor
Wall switch
Continuous feed operation
Easy fit design
Cons:
Noise level is not very low (but it's acceptable)
Most affordable InSinkErator: Badger 1 Garbage Disposal
Here's yet another awesome product from the respected brand, InSinkErator. One interesting fact about this brand is that in the US, it's more common than all other garbage disposal brands.
This is a good sign that the company really has something to offer.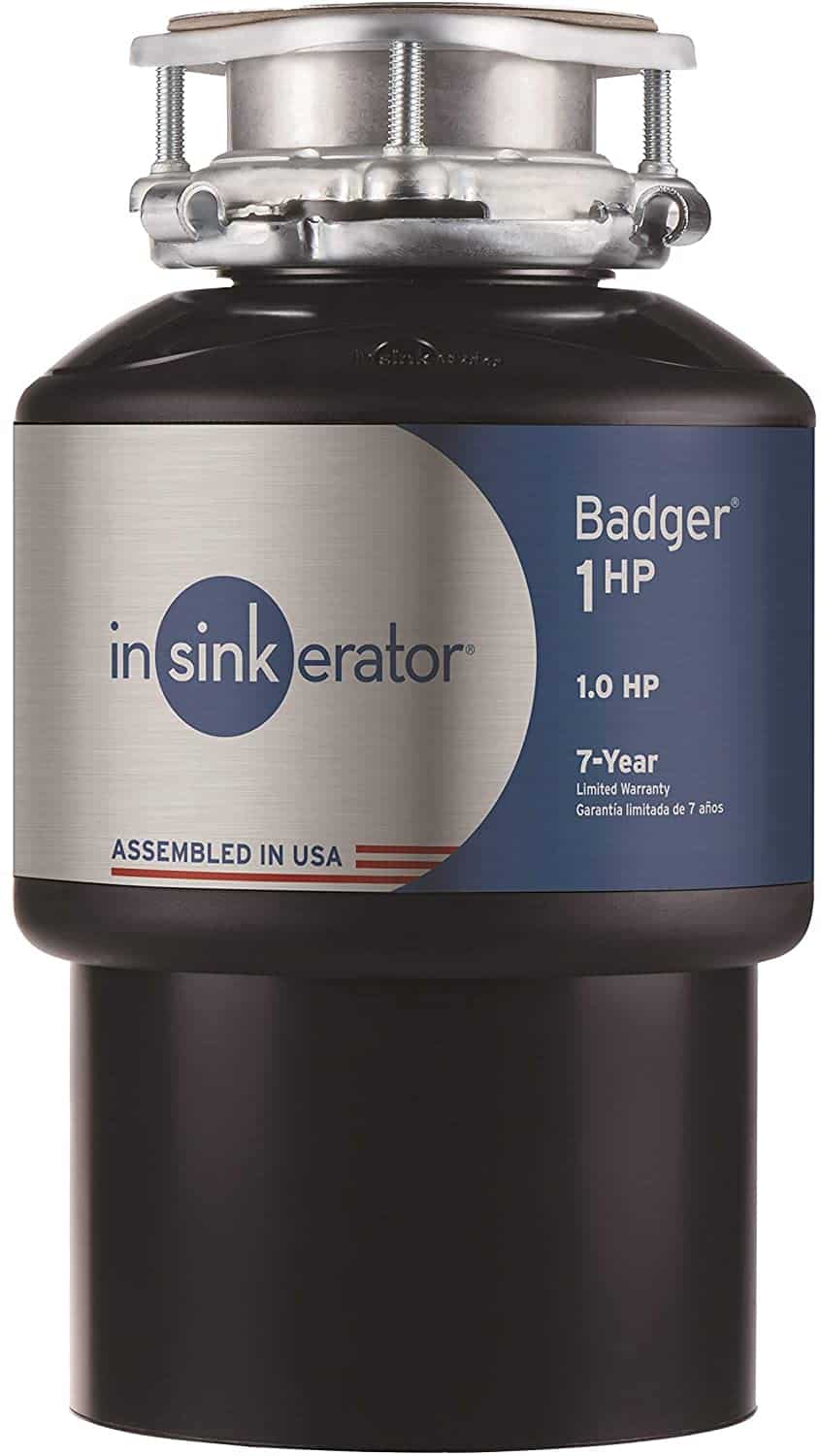 The InSinkErator Badger 1 offers you durability, reliability, and a faster, cleaner food waste cleanup.
Ease of use is the first aspect that makes the Badger 1 such a popular choice. In that regard, the unit comes with easy-mount features. You can hook it directly to your existing mounting system.
Again, the unit comes with a power cord kit that you won't struggle to install. This kit includes a 3-foot wire that makes it easy to reach the wall outlet, wire connectors, and a strain-relief clamp.
The installation is a breeze, and you even have a good set of instructions to guide you along.
Once you've installed the disposer, you can hook it directly to the regular wall outlet at home.
Power is one of the important factors to think about before buying a garbage disposer. You want a unit that grinds the waste efficiently so that it won't jam the pipes or clog the septic system.
You'll be glad to know that the Badger 1 has a good motor.
It is a 1/3 hp motor with dura-drive induction technology. That's adequate power for a little kitchen's needs.
Made of galvanized steel components, the motor gives you a dependable grind, ensuring all food scraps are properly taken care of.
It would have been better for the power cord to be pre-installed, rather than coming in bits that you're supposed to put together.
That said, the Badger 1 is easy to use and its quality and performance are excellent.
Pros:
Made in the USA
1/3 horsepower
1725 RPM speed
Made of galvanized steel – durable
Lightweight
Maintenance-free motor
Cons:
Power cord is not pre-installed
Check availability here on Amazon
Most quiet septic system garbage disposal: Waste King Knight
Compared to other 1 HPs, the Waste King Knight Disposer is really compact and sturdy. It is one little unit that you can install without a hitch.
The unit is also very well-made, which makes it strong enough to handle your kitchen's garbage disposal needs effectively.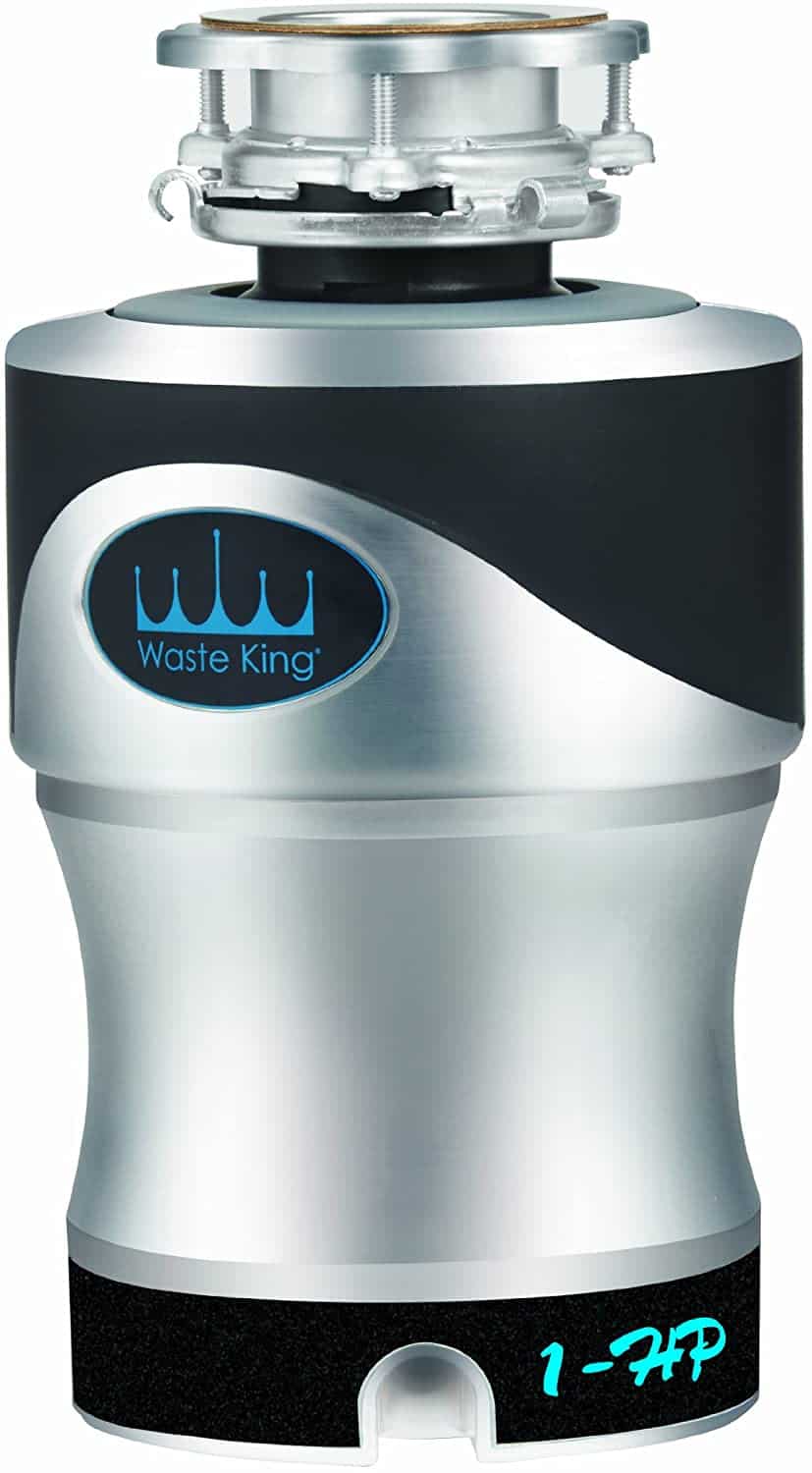 For instance, all the grind components are made of stainless steel. That gives the grind power and resilience enough to handle even the toughest scraps.
It also makes the grind durable.
One thing that is undeniable about this disposer and that many people love is its beauty. It is virtually the most elegant garbage disposal for septic I have come across.
The units color and that glossy finish make it one appliance that anyone will be proud to have in their kitchen.
With regard to the efficiency, I have mentioned that the unit has a 1 HP motor made of stainless steel. The 115V motor puts out high speeds of up to 2800 RPM, which makes the grinding action really effective.
But what surprises many folks is that even with such motor power and the high speeds, the Waste King Knight is still quiet. Compared to other disposers of the same class (1 hp), it is very quiet.
Operating this unit is a piece of cake, thanks to the wall switch. You can use this to grind the waste continuously and keep your kitchen clean without stress.
Compatibility with existing mounts is yet another factor that makes this unit a popular choice.
You can swap it with the regular 3-bolt mount. It can be installed on mounts used for InkSinkErator, Moen, and other disposer brands.
Pros:
2800 RPM – high speed
Powerful 1 hp motor
Mounts are compatible with those used for other brands
Pre-installed power cord
Wall switch
Continuous operation
Cons:
Check prices and availability here
What size garbage disposal do I need?
The size of the disposal matters because it tells whether the unit is compatible with your mounting assembly. It also suggests whether or not the unit will suffice for your needs according to the size of your family.
In general terms, sizing a garbage disposal involves looking at the power of the motor. The power of the motor is expressed in hp, short for horsepower.
Disposal motor horsepower normally runs from 1/3 hp to 1 hp. The higher the hp figure, the bigger the disposal, and the more powerful it is.
If you're an average person living alone, 1/3 hp disposal will serve you adequately.
If there are two or three of you in that house, you're better off getting a ½ hp unit.
If there are three to five people living there, consider a ¾ disposal.
And if it is a large household containing more than 5 people, a large size 1 hp unit is the best choice.
Note: usually, a higher hp number attracts a higher cost.
How do I use a septic garbage disposal?
The term "septic disposal" might sound fancy, but the truth is, this appliance is not much different from the regular garbage disposal.
The vast majority of septic disposals operate on a continuous feed, meaning you can put the waste in there and process it when you want.
A disposal typically works with the flip of a wall switch. This is extremely convenient, as it allows you to take care of the waste any time by simply pressing a button.
Normally, the unit has what is known as a splash guard. This is a little valve-like feature that allows the waste to go only one way – in. But not out. It is a useful little part that prevents the explosion of debris upward as the grind rapidly works to tear apart the waste.
What if the disposal stops working, you ask?
Jamming is usually the culprit. The first fix you should try is to press the reset button.
In case that doesn't help, use an Allen wrench to twist the grind mechanism from the outer lower part of the machine. Luckily, most disposals are shipped with a free Allen wrench just for this task.
How to prevent jams?
Water is the answer. As you run the disposal, be sure to run lots of water from the tap as well. Keep running the water a little more after the waste appears to have gone down the drain.
Another useful way of avoiding jams is to make sure you don't overload the unit or put non-food items in there. Items like wood, plastic, and paper shouldn't go in there, lest they jam or damage the disposal.
How do I install a garbage disposal?
Installing a garbage disposal is not a complicated or dangerous affair. Moreover, this appliance normally comes with a set of instructions for the installation.
With regard to what model to install, most homeowners find that it is easier to replace the previous disposal with the same model.
Tip: plumber's putty will help you get the sink flange on tighter.
While doing the installation, be careful with the electrical parts. I always advise that you get a unit with a pre-installed power cable, so that there's no complicated electrical work to do.
If you have to do any modifications to the hardwiring, it's advisable to get help from an electrician. That's of course, if you don't have electrical knowledge.
Once you have done the installation, the greater work lies ahead – taking care of your unit so it lasts. And not just that. You ought to care for your septic system as a whole.
First off, be sure to avoid putting grease/fat in there as much as possible. That's because these items accumulate as scum and float in the tank above the water.
The bulk of it makes pumping out the waste a difficult task.
Again, avoid putting hard or non-food items in the disposal unit. These not only damage the unit but also clog the plumbing pipes and the septic system.
Frequently Asked Questions (FAQs)  around garbage disposals
How long will a standard garbage disposal last?
On average, the typical garbage disposal will serve you for 5 years. The warranty should be a good indicator of the longevity of the unit. Disposals with a lifetime warranty will typically last over 10 years.
How do I clean a smelly garbage disposal?
Garbage disposals are prone to developing a bad odor. This is understandable, considering they process garbage.
One way to fight the smell is to run citrus peels through the unit, along with a few ice cubes. If this natural solution doesn't help, try a store-bought chemical cleaner.
What sort of waste is safe to put in a garbage disposal?
As a rule of thumb, run only food wastes. That includes most fruits and their peels. Of course, anything overly hard like coconut cover should go in there.
Avoid plastics, metals, glass, wood, and other non-food items. I once destroyed a disposal by putting plant stalks in there. I had run hard kale stems and that ended up costing me a replacement.
Is it necessary to have a garbage disposal with a septic tank system?
It is not a must to install a garbage disposer for use with a septic system. You can just put your food scraps in the garbage bin or do composting.
But, for many Americans, a disposer is a necessary installation. It helps reduce the waste in the kitchen and prevents blocking in the septic plumbing system.
Final Thought about Best Garbage Disposal for Septic Systems
One of the factors that keeps people from getting certain machines is the difficulty involved in the installation.
But when an important gadget is easy to install, that encourages homeowners to go for it.
Garbage disposals are easier to install than you might imagine. Most of the septic-ready ones integrate smoothly with your existing mounting setup.
And again, many don't need you to have any electrical knowledge. You just connect them directly to your existing wall outlet and run them.
They're not expensive.
For the functionality and convenience they offer, garbage disposals are some of the cheapest home appliances ever. You can get a great little unit for less than 100 dollars.
And if you want a model that offers more, for instance micro-organism injection, you only have to spend a little over 200.
Another thing why homeowners shy away from machines is the safety hazards involved. It's only natural to hesitate before getting something that puts you or your kids at risk.
With disposals, there's little to no risk involved as long as you do the installation correctly. The grinder is not exposed, but rather well concealed.
If you're looking for the best garbage disposal for septic system, I'd recommend you go for an InSinkErator unit but the best value for money is in the Waste King.
This brand is very popular in the US due to the good quality it packs. InSinkEratordisposals are very efficient at grinding waste and they also last long.
There are a few models of this brand in the review above. Check them out.
That doesn't mean other brands like the Waste King are any inferior. They got lots to offer, such as affordability.
Well, I hope my work has been helpful. Remember, a garbage disposal helps you deal with your kitchen's waste.
A good model is easy to install and use. But before getting one, be sure to consider your needs. The buying guide above should help you choose a unit that suits you.
I'm Joost Nusselder, the founder of Tools Doctor, content marketer, and dad. I love trying out new equipment, and together with my team I've been creating in-depth blog articles since 2016 to help loyal readers with tools & crafting tips.