I love creating free content full of tips for my readers, you. I don't accept paid sponsorships, my opinion is my own, but if you find my recommendations helpful and you end up buying something you like through one of my links, I could earn a commission at no extra cost to you.
Learn more
Why throw out glass bottles while you can turn them into beautiful home decorations? Who knows? Perhaps you have a hidden DIYer inside you who's waiting to get discovered. Well then, it's high time you gave it a try. If you're thinking about that too, a top-notch glass cutter is all you need to kickstart your journey.
Cutting glass bottles can be a hard nut to crack if you don't have the right tool. Because it is a task that requires a high level of precision. What can turn this tough job into an easy one is your effort behind choosing the best glass bottle cutters. You can count on us for that part as our team is here to make sure your hobbies don't have to die because of one wrong choice.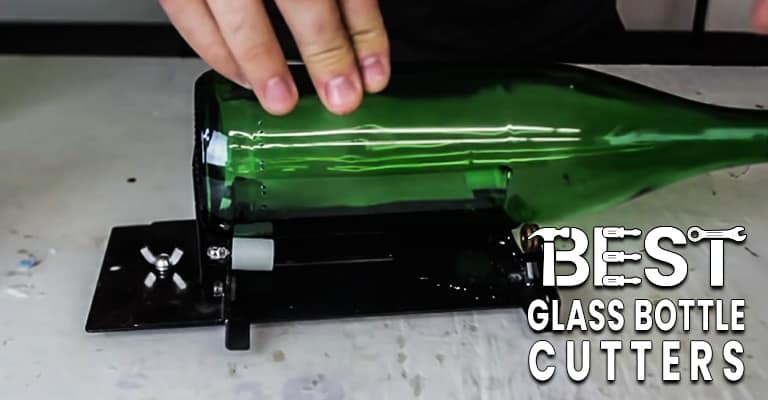 Glass Bottle Cutter buying guide
Though you may get promises from every manufacturer that their product is the best, it's hard to trust such promotions these days. Due to such reasons, it is wise to know about what to get and what to avoid before beginning the search. Here are a bunch of things that you should consider while looking for your bottle cutter.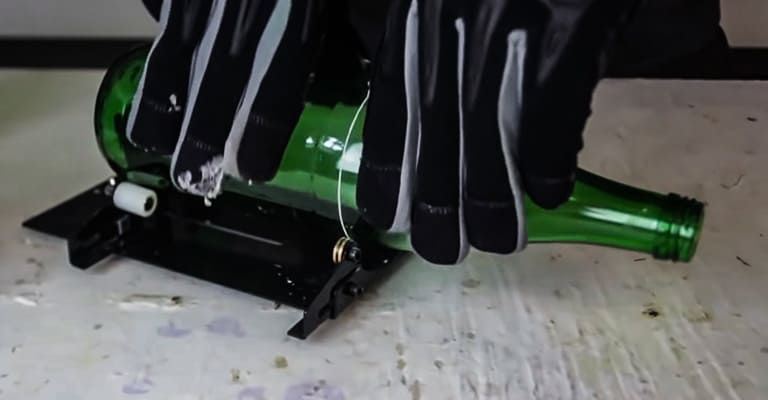 Design and Ergonomics
Design plays the main role in the performance of glass bottle cutters. So, make sure you don't forget to look for a cutter that has an ergonomic design for delivering the utmost precision. A cutter that is well designed can also help you work faster than the poorly designed ones.
Offered Bottle Shapes
You may need to work with bottles of different shapes depending on the type of project you have. Typical bottle cutters usually focus on only round bottles, which can restrict your capabilities. So, it will be better to purchase a bottle cutter that doesn't stick to a single shape and rather allows versatile cutting of different bottles such as square, oval, etc.
Adjusting Capabilities
Cutting bottles of different sizes won't be possible if you are unable to make adjustments to your cutter. The top-notch glass bottle cutters will give you quite the freedom to make necessary adjustments for both large and small bottles.
Having a width adjustment from about 1 to 3 inches or so aids to cover most beer and wine bottles along with their necks. As far as the length is concerned, the minimum value shouldn't be much less than 3 inches. The more the highest limit, the better it is, yet, less than 6 inches may disqualify a handful.
Features
Manufacturers these days try to enhance their glass cutters by providing them unique features. Not all of the features may prove to be of great use. But there is nothing wrong with looking for specific features such as self-oiling, tap-wheel technology, and so on.
Blade Quality
There's no doubt that the effectiveness of glass cutters depends solely on the quality of its blade. Make sure to look for cutters that feature blades made of solid diamond carbide steel. Such types of blades will last for longer. A cutter that enables 100 thousand cuts is an ideal choice.
Material
When it comes to the material of pen-hold cutters, consider getting one that has a metal build. Because, despite being lightweight and easy to carry, the plastic-built body doesn't provide much strength for cutting hard and thick glass bottles.
Best Glass Bottle Cutters reviewed
To make sure you don't have to spend your money on trying all the different options, our team analyzed them on your behalf. We have gathered seven products that our analysis found to be the top glass bottle cutters in the market. We tried to discuss their positive aspects and also the flaws in detail, and all that is just a read away.
1. Home Pro Shop Bottle Cutter and Glass Cutter Bundle
Positives
Being one of the most versatile products out there, this bundle package of both a glass cutter and a bottle cutter has unbeatable popularity. You'll also become a fan once you find out how fluently and precisely it can cut bottles and jars with its simple adjustment system. Such easy adjustment comes from the unique design that includes five support wheels for better stabilization of the bottles.
With this adjusting feature, the cutter will allow you to cut bottles of different lengths, up to 19.5 inches. Apart from that, you can get up to 100,000 guaranteed cuts by using its ultra-strong diamond carbide blade. Quite impressive, huh? Besides, cutting plane sheets of glass or mirrors won't be a problem either, as the bundle comes with an excellent glass cutter as well.
You'll find the glass cutter to be quite durable because of its premium design. Well, an impressive fact is that these cutters are not all you're going to get inside this bundle. A handful of accessories, including a pair of cut-resistant gloves, and an audiobook named Bottle Art, come inside the package. They surely are concerned about your satisfaction, as they provide a lifetime warranty with it.
Negatives
One small problem is that all of the five support wheels are not pre-installed in it.
Three of them come installed, and you have to install the rest of them by yourself, which may seem like trouble.
2. FIXM Square & Round Bottle Cutting Machine
Positives
Unlike traditional bottle cutters, this cutting tool from FIXM doesn't stick to cutting round shaped bottles only. Rather it will allow you to cut both bottles that are square and bottlenecks of round bottles. So, from now on, you won't have to restrict your creativity, as it will let you try different types of bottles for your DIY ideas.
You can not only adjust the length from 2.4 to 5.9 inches but also the width from 0.8 to 2.7 inches, which makes this cutter quite versatile for cutting bottles of different sizes. Whenever you have to cut bigger bottles, you can use the side wheels to get smooth cuts. Even with these adjustment opportunities, the machine is not hard to operate at all.
Since it can hold the bottles steady and still, you'll no longer have to apply any extra pressure for cutting them. As a result, you'll definitely get some added pace to your work. Apart from these, the package contains four sandpapers, one hexagonal spanner, and one small ruler, which are some must needed things for your projects.
Negatives
Although the machine allows cutting square bottles, you may find it a bit harder to roll them than the round ones.
3. Glass Bottle Cutter
Positives
When it comes to accuracy and precision, it is quite hard to find an alternative for this glass bottle cutter. Due to its unique cutting wheel that is easily adjustable, you won't face any difficulties in cutting different parts of the bottle. Since the cutting wheel can move up or down, cutting bottles of various widths will seem almost effortless.
Apart from these, the cutting wheel is also capable of heavy-duty. As a result, you are sure to get a perfect cut every time, no matter how thick the glass is. The bottle cutter also features an adjustable and removable backplate, with the help of which the restrictions of working with a fixed length of the bottle gets diminished.
Moreover, the machine comes with five rollers so that you can get more control while rolling the bottle for cutting. Well, they didn't just stop it there, as you can notice an extra cutting wheel included inside the package.
Along with that, you'll also get three pieces of sandpaper and some well-directed instructions for taking your skills to the next level.
Negatives
Although they claim that it can cut bottles of different shapes, it gets quite a tough task to cut the square bottles.
Adjusting the length requires a lot of effort.
4. Kalawen Glass Bottle Cutter
Positives
Kalawen brings you a complete kit for cutting glass bottles smoother than ever. What sets this kit apart from other cutters is its ergonomic design that provides maximum stability. You'll definitely be impressed with its versatility, which is possible due to the easy adjusting of its cutting blade. Feel free to choose bottles of different sizes, as you can adjust the blade from 3.1 to 11 inches upwards.
Cutting bottles having a diameter of more than 1.5 inches is a piece of cake with this machine though you'll have to skip the embossed ones. When it comes to stability, the cutter comes with five specially designed support wheels that will make sure your bottle can roll smoothly and stay stable at the same time. So, you are likely to get hassle-free cuts every time.
Applying constant pressure while rolling the bottle is all you have to do to operate this durable machine. They have made the smooth cutting blade using sharp and hard metal steel, which won't possess a single threat to your hands and has passed 10000 tests. Things like a pair of gloves, an extra cutter, six fixing rings, two matte papers, and a cleaning sponge are also present in this kit.
Negatives
A tiny drawback is that it cannot perform cutting on embossed bottles.
5. Glass Cutter Tool Set by Moarmor
Positives
Good news for you if you're into cutting plane sheets of glasses rather than round shaped glass bottles, as this product specializes in that field. An ultra-strong diamond carbide blade is its biggest strength, which has a solid hardness and sharp cutting ability for a more fluent experience. Also, you can cut glass of different thicknesses with the help of two additional blades provided in this set.
Moreover, you can clearly notice the effort put behind its excellent ergonomic design. Such a design combined with the non-slip metal handle is all that you need for a comfortable and secure grip while working.
To make sure you can change the blades according to your needs, they have included a screwdriver that makes adding and removing blades very much easier.
Another feature that lets this product stand out is its round metalhead. They made the well-polished head using premium steel, which you can use to strike or split glass. All these features don't actually add any extra weight to this tool, and thus it remains easy to carry. Therefore, feel free to slip it into your toolbox and use it for all your DIY projects.
Negatives
 Unlike the others, this toolset is only for cutting plane surfaces only.
6. Toyo Pistol Grip Glass Cutter
Positives
If the typical pen-like design of glass cutters annoys you, we've got something that is out of the box. Toyo brings you this pistol grip cutter to make sure you get a more comfortable grip. As a result, you can work for an extended period without causing any fatigue to your hands. What caught our eyes most is the patented tap-wheel technology they added in this tool.
Speaking of the tap-wheel, the benefits you will get from this unique feature include easier breakouts and cleaner edges every single time. But that's not all; this tap-wheel technology will add a micro-vibration when the wheel rotates so that it can drive deeper. Therefore, you won't have to put much effort into cutting glass sheets.
Although the cutter head is replaceable, you won't need to replace it too frequently. Cause, they made the blade using durable and rust-resistant carbide steel for withstanding more pressure than conventional cutters can.
Moreover, this pistol handle glass cutter with a self-oiling capacity offers a wide range of fluorescent colors, from which you can choose your favorite one.
Negatives
One of the few flaws that you will find is that the wheel may stop getting oil flow after using it for a long time.
7. Snewvie Glass Bottle Cutter Kit
Positives
Owning a glass bottle cutter that cuts only round bottles can restrict the boundaries of your creative mind. While finding an option that doesn't put such restrictions, you should consider purchasing this bottle cutter kit.  It allows cutting square, oval, round bottles, and bottlenecks as well. So, you can spread your creativity by working with different shapes of bottles.
As the adjustment scales are not bounded like the traditional cutters, this tool sure is a versatile one. While regular products have only three adjustment scales, this machine remains way ahead of them. It will allow you to adjust the length of the blade to the plate from 3.1 to 11 inches. Luckily, all these adjustments might sound intimidating but are not. In fact, you'll find it quite easy to use.
They have also included a plane glass cutter to make this kit a complete all-in-one package. Then the list of things coming in the kit is quite long, including two cutting blades, one glass hole saw, a pair of gloves, two fixing rings, two matte paper, a cleaning sponge, a 33ft hemp rope, and finally a screwdriver. What can possibly stop you from creating beautiful projects if you have all these?
Negatives
The poor quality of the instructions provided with this kit may prove out to be a bit irritating to you.
Frequently Asked Questions
Here are some frequently asked questions and their answers.
How do you cut an irregular glass bottle?
Can you use wd40 to cut glass?
One of the most important things when getting a nice cut on glass without accidently breaking it is to always keep the glass on a smooth surface. … The glass cutter is a very inexpensive tool to add to your arsenal. The directions say to use oil on the blade. I didn't have any handy so I tried WD-40.
How can I cut glass at home without a glass cutter?
You can use a glass cutter tool that's made for the job, or you can use an alternative tool to cut a piece of glass. Use a carbide or diamond-tipped scribe to score the glass so you can snap it and create a clean edge. For a cheaper, but potentially sloppier edge, you can use an normal steel file.
What Dremel bit do I use to cut glass?
Common Dremel Glass Cutting Bits
If you are cutting a straight line, a bit like the 545 Diamond Wheel is a perfect choice. The 545 Diamond Wheel has a thickness of . 023" (0.6 mm) and a diameter of 22.2 mm. It is completely coated in diamond dust making it well suited to cutting through glass.
What kind of string do you use to cut glass?
If you don't have yarn available, you can use any thick cotton string. At the location of where you would like the bottle to break, wrap a piece of yarn around the bottle 3-5 times. Tie the ends together and cut off any excess string. Soak the yarn in acetone.
How do you cut the top of a square glass bottle?
How do you cut glass with string?
Gather your string and wrap a portion of it around the circumference of the bottle. Tie the string together and cut off the excess. Take the string off the bottle and submerge it into a volume of nail polish remover. Put the string back around the the bottle and prepare to ignite!
How do you cut the bottom out of a glass bottle?
How do you cut wine bottles into glasses?
Fit the bottle to the bottle cutter and apply pressure to the blade, rotating the bottle in as few motions as possible so it makes one continuous mark around the glass. Repeat for each bottle you are cutting. 6. Hold a bottle that you've already scored and dunk it into hot water for 5 seconds.
Can I use baby oil to cut glass?
When I used a hand held glass cutter with a resevoir for oil, I used to use baby oil, it worked very well and smelled good too! I still use the hand held cutter for quickly cutting down scrap glass and it has a carbide wheel I have replaced once in 15 years!
Can I use olive oil to cut glass?
Cutter oil is used along with a glass cutter to cut glass for many different purposes. Look for Extra-Virgin Olive oil made in either Italy or Spain. These are usually very good. … Many of these "more primitive" cutters are still bought and used because they tend to be cheaper than oil-filled cutters.
Why do you need kerosene to cut glass?
The effective cutting of glass also requires a small amount of oil (kerosene is often used) and some glass cutters contain a reservoir of this oil which both lubricates the wheel and prevents it from becoming too hot: as the wheel scores, friction between it and the glass surface briefly generates intense heat, and oil …
Is there an easy way to cut glass?
Q: Do glass bottle cutters require extra attention for maintenance?
Ans: Glass cutters are far more delicate than any other cutters like flush cutters and laminate floor cutters– it's dimension falls in between though. Although most manufacturers try to make these products as hard and durable as possible, you might need to invest some efforts to make them last longer.
Be aware that embossed and thicker glasses can harm the wheels. You can use lubricants and regular cleaning so that the wheels keep functioning for a long time.
Q: How many cuts can glass bottle cutters withstand?
Ans: Well, the number of cuts actually varies depending on the material of their blades. An estimation can be from 10,000 to 100,000 cuts per cutter.
Q: What is cutting oil?
Ans: Glass cutting oil refers to a special kind of oil that helps to get smoother cuts and prevents breakage by filling into the scores made by the glass cutters.
Q: Is it possible to find replacements for the blades?
Ans: Yes, it is. Most manufacturers provide extra cutting blades for replacement. You can also find a suitable blade size and replace the old ones by following some simple steps.
Q: Can I use these bottle cutters to cut plain glass?
Ans: Since glass cutters come in different forms and designs, you should first select the field in which you'll use the tool. If bottle cutting is your priority, go for the cutter that consists of proper cutting wheels, support plate, and blade adjustments. Otherwise, purchase one that serves for cutting plane glass surfaces if that is what you need.
Final Thoughts
At this point, we hope it requires no further explanation about how the best glass bottle cutters can help to explore your creative mind. We suppose now that you have gone through the review section, you got a complete idea about which one to pick for your projects.
In case you still have any confusion, we are here to sort things out for you. Our team recommends that you should go for the Home Pro Shop Bottle and Glass Cutter Bundle if a complete package of cutters is what you want. You'll find out why it's so popular once you start experiencing the precision and durability it offers.
Another product that deserves your attention is the Snewvie Grip Glass Cutter if you intend to work with different kinds of surfaces of glass bottles. We've chosen this product from Toyo because of the excellent grip it offers while cutting. Unless these caught your attention, feel free to choose from any of the above products that we have enlisted.
We can tell you one thing for sure that is you won't regret spending your money on any of these items. But whichever product you choose, at the end of the day don't forget to wear your safety gloves.
I'm Joost Nusselder, the founder of Tools Doctor, content marketer, and dad. I love trying out new equipment, and together with my team I've been creating in-depth blog articles since 2016 to help loyal readers with tools & crafting tips.