Some tasks are so tedious that we want to have done them as soon as we set about. Turns out, if we start making a list of such annoying tasks, grout removal will meet the quota for the first place. However, nothing but the faulty approaches makes this job so hated among most DIYers out there.
You neither have to bag the expensive power tools that professional renovators carry along nor pick a screwdriver from your tool chest. Finding the perfect grout removal tool that fits your budget is actually easier than you think. Here's a couple of expert tips and tricks to get hold of the best grout removal tool in town.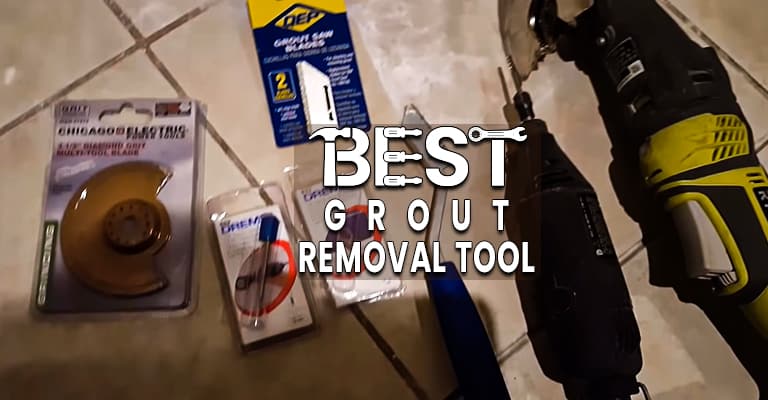 Best Grout Removal Tools reviewed
Amid such a plethora of options to choose from, it's never easy to simply label one particular item as the best. However, we can always narrow the list down to those that outperform the rest. Keeping that in mind, our experts researched a handful of products and figured out these seven as the most valued.
1. Dremel 569D 1/16-Inch Diameter Bit
Laudable Aspects
If you're willing to let go that extra bit of time drill bits require to cover the same amount of area power blades would do quicker, Dremel 569D is definitely the one to go for. You won't regret that tiny sacrifice either, as it will pay it back by sneaking into intricate and awkward spaces that you can only imagine.
The most amazing fact is that 569D comes with a carbide tip with a diameter of 1/16 inch. Thanks to this carbide tip, you can perform narrow cuttings and remove grouts from even the most challenging of spaces.
Furthermore, removing grouts from up to 3/8 inch below the tile surface is quite the child's play for this precision hardened bit. No matter how tight the grout sticks, you'll find it ideal for use on the wall tiles.
That being said, it won't hold back when it comes to removing grout from floor tiles as well. Whether you use this drill bit on floor tiles or wall tiles, the underlying floorboards or drywall are likely to stay damage-free. Due to such precision, you can indeed count on it with the safety of your property.
Pitfalls
A bit lengthy removal process.
High priced.
2. Spyder 100234 Grout-Out Multi Blade
Laudable Aspects
The Spyder 100234 Grout-Out Multi-Blade is a great option to expand your toolset and save a few extra bucks as well. This pack of two will help you with joints that fall between both the ranges of 1/16 to 3/16 inch and 3/16 to ¾ inch.
Apart from that, you'll love this product because of the compatibility that is second to none in the market. The insertion procedure is also no exception to that of any other standard blades out there. And since it fits in the place of all reciprocating saw blades out there, you won't find any issues regarding its fitment.
When it comes to durability, these blades are made from carbon steel for delivering maximum strength and performance. And due to their durable carbide grit edge, they offer utmost control while working. Thanks to this sturdy construction, removing grouts like epoxy and urethane is no big deal for them.
As for the removal method, they use the same back-and-forth motion of a reciprocating saw to take out the grout in no time. All you have to do is maneuver the blade around awkward grout lines and tight spaces whenever you need to replace cracked tiles.
Pitfalls
Requires some arm strength to operate.
3. Tuowei Grout Scraper
Laudable Aspects
Unlike the products discussed formerly, this scraper from Tuowei is a complete package itself, as it requires no additional drill or saw to operate. It's basically a three in one tool that you can use as both caulking and grout removal tool.
For grout removal, it comes with a stainless-steel scraper that will allow you to remove any stubborn old grout quite easily. Most amazingly, this scraper has two modes of cleaning, which will leave no grout behind when you push it back and forth. As a result, you'll no longer require masking tape to help you out.
While one end will do the scraping job, the other will work as a caulking tool. You can use that end to repair the gaps with new glue and improve the agglutinating quality and the aesthetic sense of the surface. It also comes with a finishing tool made of durable thicken plastic that will eliminate the waste of caulk from a caulk gun.
On top of these, comes the wide application of this tool. You won't have to hesitate before using it for home, kitchen, bathroom, tank, window, sink joint, and most other spaces. Lastly, this versatile tool also features easy access to the replacements of the silicon pads that you can replace using a non-slip push-pull button.
Pitfalls
Puts pressure on knuckles.
4. ORX PLUS TOOLS Scraper
Laudable Aspects
Here comes another versatile hand tool that features one scraper on each of the sides for overall easier and quicker grout removal. This uniquely designed combination of a triangle and a flat scraper makes this scraper from ORX PLUS TOOLS worthy of conducting a wide range of applications.
Most amazingly, its integrated structure will allow you to operate with utmost comfort and ease. You can push the triangle-shaped scraper both forward and backward to remove old silicon from almost every surface out there. And whatever that remains can be easily cleaned with the flat scraper on the opposite end.
As for durability, both the scrapers are made of stainless steel. Thanks to this material, you can remove grout in a flash no matter how hard it sticks. Besides, they've used POM plastic (Polyoxymethylene) for the handle. As this plastic has excellent dimensional stability, it will provide durability and a firm grip.
Finally comes the versatility of this tool. You can appoint it for the sinks in the kitchen or bathroom, DIY works, or floor silicone sealing without any hesitation. As it is applicable for most types of sealant, including silicone, acrylic, and resin, it's an ideal choice for budget purchases.
Pitfalls
No major drawbacks found.
5. Regrout Tool CECOMINOD062770
Laudable Aspects
The Regrout Tool CECOMINOD062770 is a unique hand-held, adjustable device that you can use to remove both sanded and non-sanded grout. Since it can remove old grout without scratching your tiles or creating a cloud of dust, it will clearly outperform most of the conventional rivals out there.
Although it may seem like a delicate tool due to its slim and vented body size, it possesses tremendous power. It can single-handedly take care of the jobs that old-fashioned removal tools like scrapers, grout saws, and rotary electric tools take days of hard labor to complete.
Moreover, they've designed this tool for grout joints of 1/8 inch or less so that you can remove grout from awkward spaces. It consists of two Tungsten Carbide Tips to maneuver around corners and tackle grout lines that aren't straight. Hence, it can get the job done in the blink of an eye even if the tiles are misaligned.
Apart from these, the versatility of this small tool is also mind-blowing. Thanks to its different size tips, it will allow you to remove grout from shower sinks, floors, countertops, tiling projects, and save a few bucks replacing the remodelers. Not to mention how easily you can adjust the speed of this one of a kind tool.
Pitfalls
Doesn't cover deeper grout lines.
6. MU-MOON QJD-1
Laudable Aspects
While thinking of hand saws, even some of these top choices, the first thing that comes to mind is the elbow grease you need to get the job done. However, that's not the case with QJD-1, as this atypical 8-inch hand jaw has been designed with a precisely angled body. Its angled handle, along with the blades, turns grout removal into a low hanging fruit.
Thanks to its angled design, it is easy to grip so that you can scrub without putting much effort. Its handle will help you to reach into the grout area quite comfortably while most other tools having a blunt tip will struggle to do so.
What makes this product stand out is its easily replaceable blades assembly that you can effortlessly change using two screws. Where to find replacement blades while you're in the middle of scrubbing? That's no longer an issue, as you'll get three extra blades inside the package.
Needless to say, all of the four blades have a gritty surface so that you can remove hard grout thoroughly. Due to a cutting surface that's approximately 1/8 of an inch thick, you'll achieve remarkably better results than most other tools. Apart from these, what more could you ask for at such a reasonable price?
Pitfalls
Time-consuming working procedure.
7. Hyde 43670
Laudable Aspects
Our last pick Hyde 43670 is a heavy-duty, multipurpose tool that you can use as both removal and a scraping tool. Tasks that used to wear you out only after a few minutes will become easy as pie once you bag one of these.
How could such a small tool take care of such hefty jobs? A sturdy high carbon steel blade is the answer to this query. This blade has been riveted for delivering maximum strength in jobs like digging out the grout, mortar, and many more. Besides, it comes with a durable nylon handle that will bear tough conditions.
On top of its enormous power, comes the convenience in the work it offers. It features a beveled scraping edge so that you can easily carry on the push and pull scraping. Moreover, there are sharp points on both sides of the blade to allow you to remove mortar, caulk, or grout with the utmost ease.
While most other tools out there make the removal process way too tiresome, you won't have to burn out soon using this one. As it comes with a bent blade with thumb notch, your knuckles will stay protected throughout the process.
Pitfalls
Grout Removal Tool buying guide
Chances are you've already spent a significant figure on different removal tools and blades. Therefore, none knows better than you about how misleading all those advertisements can get. To escape from that never-ending loop of pouring money down the drain, here's a couple of factors you should consider beforehand.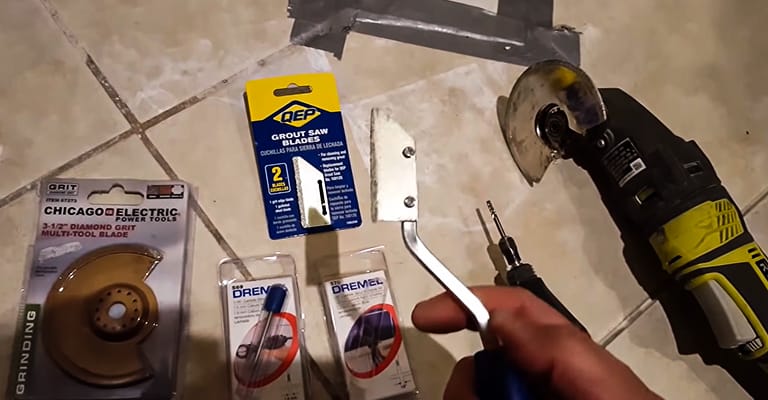 Types of Tools
You'll come across these two basic types of grout removal tools in the market.
Power tools are highly recommended if you've got a large project in hand and can't spare the whole day scrubbing with hands. There's also a bunch of options to choose from like rotary tools, reciprocating saws, angle grinders, and many more. If you have the budget, bagging one of these will definitely be a great deal.
If you're not in a rush and willing to spend that elbow grease for this job, hand tools are the ones to go for. You'll find a wide range of such tools in the market, including grout saw, scraper, hand jaw, etc. Though removing grout with these is a bit daunting, you'll get the job done at a minimum cost.
Durability
As for drill bits, you should look for a carbide tip in order to make sure you get a prolonged service. Otherwise, if you're buying a blade for your reciprocating saw, a carbon steel construction should do great. However, a stainless-steel head and a POM handle will be needed in case you choose to go with a scraper tool.
Joint Coverage
Blades and bits that cover somewhere between 1/16 to 3/8 inches should be applicable for most of the grout joints. You'll find a wide range of tools made for joints of 1/8 inch at a reasonable price. However, if you require a tool for more intricate jobs, you may have to count a few extra bucks.
Thickness of Blade
The thinner the surface of the blade will be, the more precise removal you're likely to achieve. To be specific, a remover blade with a thickness that is 1/8 of an inch or less will be ideal for removing the grout from between the lines without damaging the tiles.
Ease of Use
In order to make the daunting task of grout removal easy as pie, make sure the tool you choose offers an ergonomic design. For hand tools, angled handles will put less strain on your hands than the straight ones. And for blades of a rotary tool, always make sure they are widely compatible and easy to install.
Frequently Asked Questions
Q: How to remove grout without damaging the tiles?
Ans: First, use a grout removal tool to make an incision down the middle of every grout line of the tiles that you want to remove. Then use the incision as a starting point and carefully remove the grout between the pieces of tiles with a grout scraper. Beware of not rushing too much while doing so.
Q: How often should I apply new grout on tiles?
Ans: Fortunately, once you've done the grouting, you won't have to do that too often. A freshly applied grout won't require any replacement before 12 to 15 years, at least. However, if you don't clean and take care of it regularly, you may have to repeat the process every 8 to 10 years.
Final Words
Whether you're a professional remodeler or a DIYer, grout removal is a process that you can't simply skip. Therefore, the necessity of a proper grout removal tool in your tool bag remains fairly immense, regardless of the size of your projects. We hope you found the best grout removal tool among the above picks.
However, we found that the three in one tool from Tuowei being highly versatile will be a great choice if you've decided to go for the hand tools. And if you want an extension for your reciprocating saw, the durable and widely compatible Spyder 100234 Grout-Out Multi-Blade will be the perfect option.
On the other hand, if you're not willing to spare that extra bit of strength, you should definitely go for the electric grout remover from Regrout Tool. You won't regret spending the few extra bucks, as it will get the job done in no time without draining all your energy.