I love creating free content full of tips for my readers, you. I don't accept paid sponsorships, my opinion is my own, but if you find my recommendations helpful and you end up buying something you like through one of my links, I could earn a commission at no extra cost to you.
Learn more
Whether you are a professional contractor or a DIY enthusiast, you have to admit; carrying all your tools when you are on the job can get quite hectic. To make this job somewhat easier, you could try buying a tool bag before taking on your next project.
With this type of bag, you can carry all your essential tools and equipment with you when you have to move from one room to another. It saves you from a lot of running back and forth, which in turn reduces a lot of the stress that comes with the job.
Whether you want to admit it or not, the life of a handyman is never easy. You need to keep track of your equipment and decide which tool you need on the fly. And having access to all of your necessary devices is a must if you want to have a good time with your project.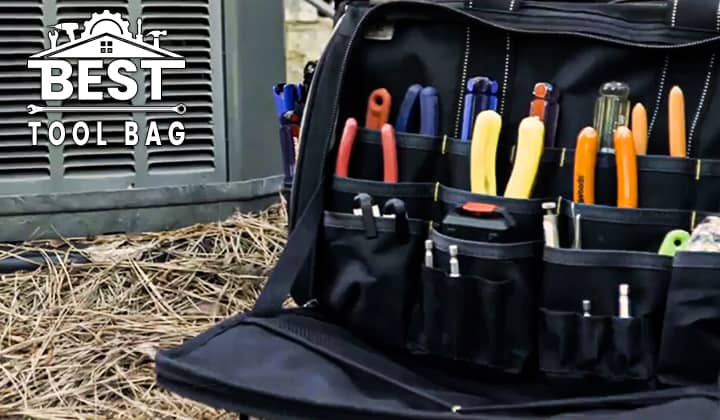 In this article, we will look at some of the best tool bags that you can find on the market to carry all your essentials conveniently.
Why Do You Need A Tool Bag?
But before we get into the list of products, you might be wondering why you even need to buy one. Well, if you are a handyman, a contractor, or even just a DIY lover who dabbles in different sectors occasionally, a tool bag can ensure you have a more productive work session.
Here are a few reasons why you should seriously consider investing in a tool bag if you do not already have one.
Better Organization: With a tool bag, you can keep your tool organized when you are working on a project. With better organization, you get higher productivity
Professional Image: A tool bag sends out a professional image to your clients or even yourself.
Portability: The primary purpose of a tool bag is to give you a portable tool drawer. You can quickly move from one place to another with all your items stored in a bag.
Convenience: Using a tool bag to carry your tools is hugely convenient. Since you can take more than you usually could without a bag, you do not have to go back and forth for the right tool.
Traveling in a Vehicle: While traveling in a vehicle, keeping your tools might become an issue. The sharp ends of your equipment can easily damage the inside of the car. If you keep them in a tool bag, your items are contained without causing you any trouble in the vehicle.
Anti-theft Protection: Finally, using a tool bag allows you to keep your tools safe from stealing. If you are wearing your bag while you work, and keep the tools inside it after use, no one can swipe your devices without you noticing it.
Top 10 Best Tool Bag Reviews
Finding a high-quality tool bag is never easy, especially if you do not know where to look. Fortunately for you, we did all the hard work already and compiled a list of top-rated products on the market so that you can have an easier time making your choice.
Here are our picks for the best tool bags in the market that deserves your consideration.
McGuire-Nicholas 22015 15-Inch Collapsible Tote – best tool bag for maintenance man
| | |
| --- | --- |
| Weight | 2.2 pounds |
| Dimensions | 14.96 x 7.48 x 9.84 inches |
| Batteries Included? | No |
| Batteries Required? | No |
First off, we want to look at a product aimed at the budget spenders. The McGuire Nicholas tool bag comes with all the space you might ever need on the job without taking a big chunk out of your wallet.
It comes with 14 exterior pockets of varying sizes to carry different tools of your choosing. Thanks to the smart placement of each pocket, it can hold most of your small tools such as Allen key set, measuring tape, etc. effortlessly.
The interior of the bag comes with 14 webbed loops to ensure you can maximize the space. The pockets feature a tapered design to further help you get the most out of your allotted space.
Despite a large number of pockets and storage options, the bag itself is not heavy. The top of the unit comes with a sturdy steel handle with foam grips to ensure you can carry it comfortably anywhere you want.
Pros:
Smart pocket setup
Comfortable to carry
Lightweight
Affordable price
Cons:
Bucket Boss The Bucketeer Bucket Tool Organizer in Brown, 10030 – best tool bag for carpenter
| | |
| --- | --- |
| Weight | 1.3 Pounds |
| Material | BUCKT |
| Mounting Type | 3 interior loops  |
| Color | Brown |
Next up, we are going to check out this fantastic selection by the brand Bucket Boss. The Bucketeer is a very special tool bag and represents everything that is great about the company.
If you have not used any tool bag by the company, you might be surprised by its shape. It is shaped like a bucket, which in turn allows the manufacturer to get creative with your storage options.
You get massive storage options with this unit, thanks to its whopping 5-gallon size and 30 exterior pockets. If that was not enough, the unit also features three interior loops that can hold heavy tools such as several types of hammers or prying bars.
The bag is made using sturdy and durable 600D poly ripstop fabric. It is the perfect choice for people who require a heavy-duty tool bag for a heavy-duty project.
Pros:
Massive storage option
Three hammer holder loops
Durable fabric
Amazing value for cost
Cons:
WORKPRO 16-inch Wide Mouth Tool Bag with Water Proof Molded Base – best tool bags for plumbers
| | |
| --- | --- |
| Weight | 12.3 ounces |
| Dimensions | 15.75 x 8.66 x 9.84 inches |
| Batteries Included? | No |
| Batteries Required? | No |
If you are looking for a close-headed tool bag with enough space to carry all your heavy equipment, then this unit by the brand WORKPRO might be right up your alley. And for the size it offers, it is quite affordable.
Right off the bat, it comes with a large wide mouth with eight interior pockets to compartmentalize your tools. You also get 13 additional exterior pouches to handle the rest of your small, quick-access tools.
To further add to its utility, the bag can either be hand-carried using the padded nylon handle or shoulder carried with the large nylon strap. The shoulder strap comes with a movable patch to ensure you have an easier time carrying it.
The bag is completely waterproof and features a molded base to ensure all the interior tools remain safe from any water damage. It is a perfect bag for any handyman and offers some extra utility to plumbers, thanks to its water-resistant nature.
Pros:
Massive storage space
Smart pocket arrangements
Waterproof base
Extremely durable
Cons:
Might be too bulky for a small project.
CLC Custom LeatherCraft 1539 Multi-Compartment 50 Pocket Tool Bag – best tool bag for electricians
| | |
| --- | --- |
| Weight | 6 pounds |
| Dimensions | 18 x 14 x 7 inches |
| Material | Polyester / Polypropylene |
| Warranty | 30 days |
Custom Leathercraft is a premium brand that aims to deliver top-notch leather satchels and tool bags for professionals. Whether you are an electrician or a contractor, if you are serious about your job, then you would want this bag.
The unit might not be the biggest one on the market, but because of its smart pocket arrangement, it sure feels like the most spacious one. It has a total of 50 pockets of different sizes devoted to holding any and all your tools effortlessly.
In addition to the normal pockets, you get a large compartment in the center of the bag to carry any bulky power tools that you might need for the job. This compartment is a lifesaver for electricians since you need to carry large power drills from time to time.
The side panels of the bag feature strong, high-quality zippers, that securely lock your tools in place. Although the bag might not be on the affordable side, it is a premium choice for professionals.
Pros:
A large number of pockets
Fantastic zipper quality
Large center compartment for heavy tools
Comfortable nylon strap
Cons:
DEWALT DG5543 16 in. 33 Pocket Tool Bag – best tool bag for handyman
| | |
| --- | --- |
| Weight | 3 pounds |
| Dimensions | 13.8 x 4.5 x 19.3 inches |
| Color | Black |
| Style | Tool Bag |
For anyone who spent any time in the workshop, DEWALT is quite a familiar name. The reputation of this company is legendary when it comes to bringing you a high-performance tool. Apparently, they also branched out in the realm of tool bags.
This product features 33 pockets in total that gives you thousands of options when you want to organize your tools. You even get a flap covered pocket on the exterior that features a Velcro closure system for easy access.
Similar to Custom Leathercraft, this bag also features a large interior compartment where you can keep the bigger and bulkier tools. It is a great feature that we want to see from other brands as well.
The bag is extremely durable and comes with abrasion resistant rubber feet to protect the bottom. It has an adjustable shoulder strap on the side that allows you to shoulder carry all your tools easily.
Pros:
Large center compartment.
Strong and durable construction
Comfortable and lightweight
Affordable price tag
Cons:
Could benefit from a few more pocket options
Rothco G.I. Type Mechanics Tool Bag- best tool bag for mechanics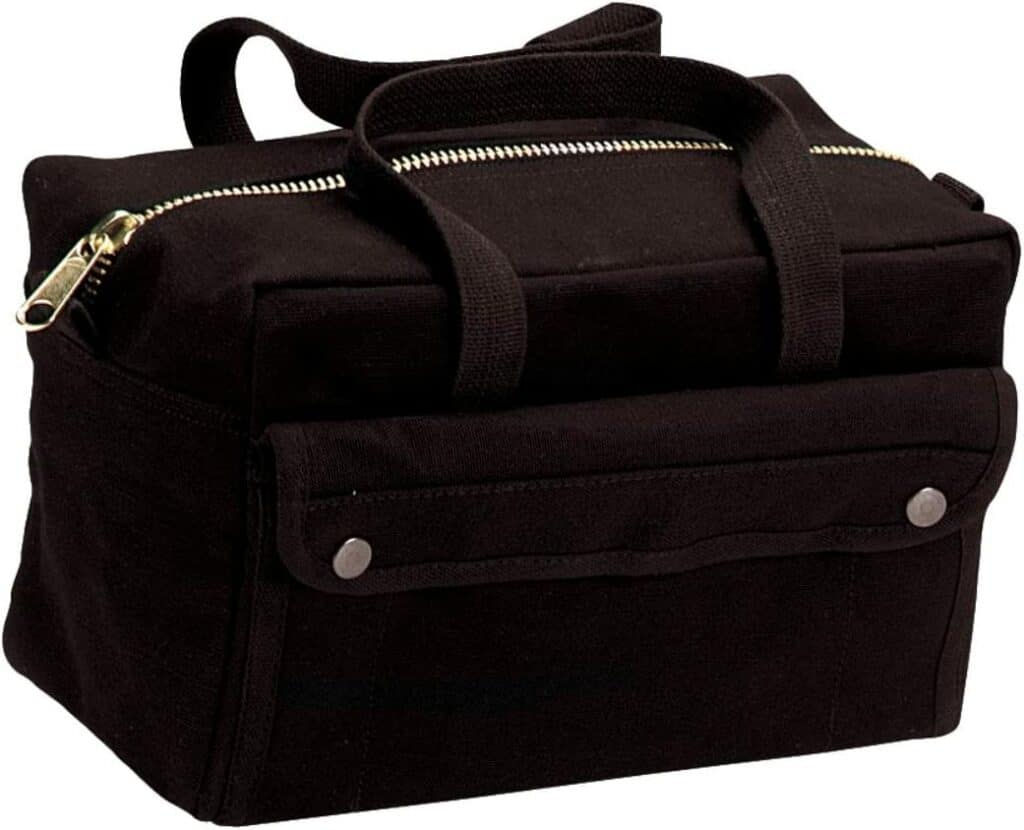 | | |
| --- | --- |
| Department | Unisex-adult |
| Dimensions | 11″ X 7″ X 6″ |
| Canvas | Cotton  |
If you are a mechanic, and often have to take your tools out for all sorts of repairing projects, this option by the brand Rothco is worth a look. It also comes in a few different color options to choose from, so you can be stylish when on the job.
But style is not the only strong point of this tool bag. It features a very limited number of pockets, but thanks to the smart arrangement, you will never be suffering for space.
The bag comes with eight inside tool organizer pockets where you can place tools of all types and sizes. In addition, you get two snap pockets on the outside to hold tools that you want to use frequently.
You do not get a shoulder strap with the unit, but instead, it relies on the two canvas straps for transport. The center compartment of the bag uses a heavy-duty nylon zipper that is both smooth and durable.
Pros:
Lightweight and efficient
Smart pocket arrangement
Perfect for a mechanic
Heavy-duty zippers
Cons:
Does not come with shoulder straps
Craftsman 9-37535 Soft Tool Bag, 13″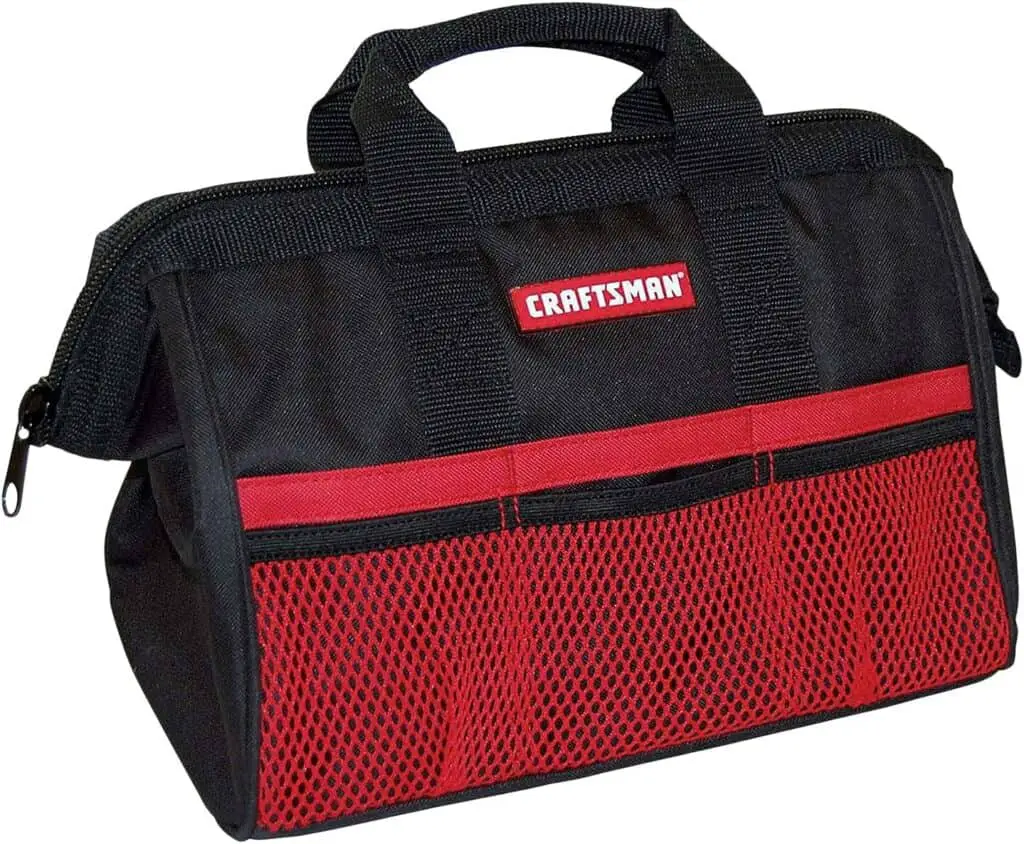 | | |
| --- | --- |
| Weight | 14 ounces |
| Dimensions | 8 x 9 x 13 inches |
| Batteries Included? | No |
| Batteries Required? | No |
In many projects, you do not want to carry a lot of tools. Sometimes you need to use only a few largeish tools, and for that, you do not need fifty or hundred pockets in your tool bag. Well, this bag by Craftsman offers the perfect solution.
The unit is featured only six pockets on the outside and a large internal zippered compartment. Three of the outside pockets have a mesh design, while the other three are your average pouches.
However, do not let the minimalistic design fool you. We feel that it is a practical unit that can handle most of the projects you face out in the field quite easily.
The design of the bag allows you to open up the center compartment fully to gain access to any size of tools you want to keep inside. It also comes with a reinforced base to ensure it can handle the stress of carrying your heavy tools.
Pros:
Minimalistic design
Affordable price
Reinforced and durable base
Open and large center compartment
Cons:
No hammer or long tool holder
Internet's Best Soft Sided Tool Bag
| | |
| --- | --- |
| Weight | 3.24 pounds |
| Dimensions | 16.2 x 12 x 4.2 inches |
| Batteries Included? | NO |
| Batteries Required? | No |
Next, we will be looking at a tool bag by a brand called Internet's Best. The company sure does not disappoint when it comes to bringing you high-quality work bags, and we can say that its name is quite well-deserved.
The unit does not go overboard on the number of pockets you get but rather chooses a smart approach. You get only 16 pockets of different sizes and a larger interior that opens up to house your more substantial tools.
The best thing about the unit is the exterior pockets come in varied design and structure. In one tool bag, you get a couple of mesh pockets, some open pouches, and even two medium-sized zippered compartments. Now that is some great value.
Carrying the bag is also quite easy since you have access to both shoulder straps and handle straps. The zippers included in the bag operate smoothly but could use a slight improvement as they do not seem very durable. However, the bag itself is made using durable 600D fabric.
Pros:
Excellent build quality
Versatile pocket designs 
Comfortable to carry
Amazing value for the cost
Cons:
The zipper quality seems lacking.
Carhartt Legacy Tool Bag 14-Inch, Carhartt Brown – best tool bag for HVAC
| | |
| --- | --- |
| Weight | 2 pounds |
| Dimensions | 14 x 9 x 10.5 inches |
| Color | Carhartt Brown |
| Material | Polyester |
The next unit on our radar is this vintage tool bag by the brand Carhatt. It comes in a beautiful brown color, but you also have a couple of other color choices. For people looking for a simple tool bag for regular use, it is the one to go with.
The unit comes with a total of 27 pockets. Of them, 17 are located around the exterior of the bag while the other ten is conveniently placed inside. Thanks to the strategic placement of the pockets, you will never feel out of space.
It also comes with a unique interior metal frame that keeps the bag stable when you place it on the ground. The bag is made using durable polyester, which ensures you get long use out of the product.
Furthermore, it comes with triple-needle stitching and YKK zippers, so any doubt you might have about its longevity can be put to rest. It also has an abrasion and water-resistant base, allowing you to take it with you anywhere.
Pros:
Extremely durable
Interior metal framing
Smart pocket design
High-quality zipper
Cons:
Milwaukee 48-55-3500 Contractor Bag – best tool bag for contractor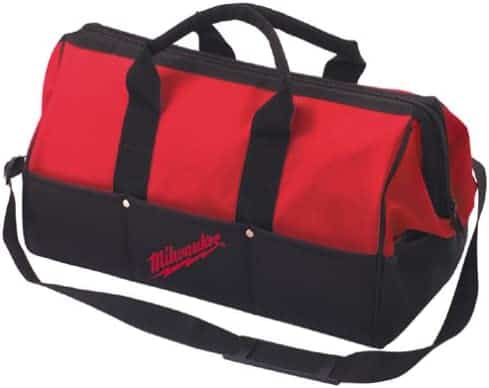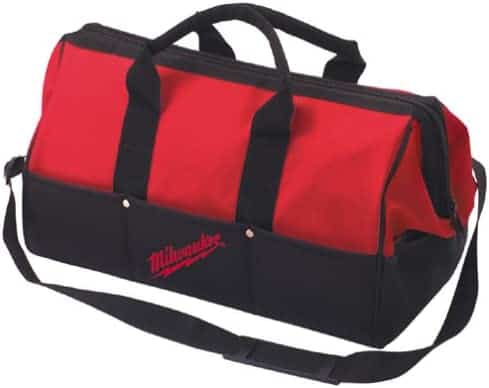 | | |
| --- | --- |
| Weight | 4 ounces |
| Size | 20-1/2" x 9" |
| Material | Fabric |
| Batteries Included? | No |
To wrap up our list of reviews, we bring you this excellent tool bag by the brand Milwaukee. If the name sounds familiar, then you must have used a few of their top-rated power tools. Thankfully, this bag also shares the same quality as their other products.
The inside of the bag features several interior pockets and a large center compartment to hold all your tools. You can organize your equipment any way you see fit as long as you do not go with too large of equipment.
The exterior pockets are not very large but can still hold small items that you might need at your job sites. Items like a tape measure, a pencil, or even a small screwdriver can fit snugly on the exterior pockets of the bag.
What this unit lacks in space management, it makes up for it in superior build quality. It features strong and durable 600D polyester construction along with a high-quality zipper closure that can survive the test of time without any hassle.
Pros:
Premium build quality
Easy to use
Water-resistant material
Lightweight
Cons:
Does not offer a good value
Things to Consider when Buying the Best Tool Bag
Now that you have gone through our list of products, we want to leave you with a few additional tips. Just knowing which product is the best one is not enough all the time, and you need to understand what makes them ideal for your needs. Without knowing these factors, you will not be able to make a smart choice.
In the following section of the article, we will give you a quick rundown of things you should consider when looking for the best tool bag.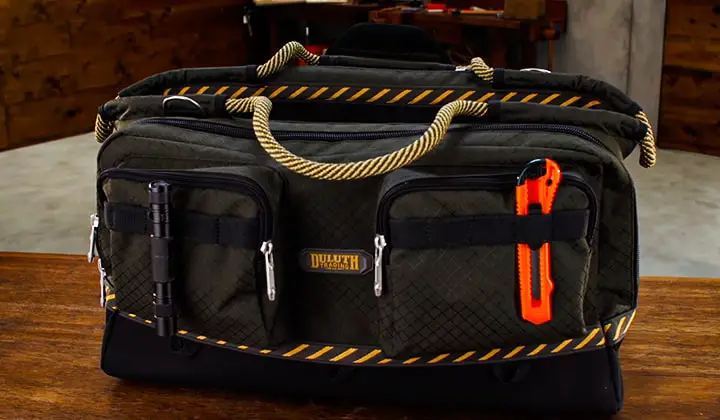 Construction and Material
In all the cases, the first thing you want to check when buying a tool bag is the unit's construction quality. The material used in its construction dictates its durability and lifespan. Tool bags are not immortal, but you should expect to get at least a couple of years' worth of use out of it.
Many different materials are used to make tool bags ranging from canvas to polyester fabrics. So, you have a lot of different options. You should also check the stitching quality as it would help you determine if there is any chance of the bag tearing suddenly.
Number of pockets
Another important factor you should think about is the number of pockets. Now do not make the mistake of confusing the number of pockets with the total storage space. You can find bags with massive storage space that are completely useless because of their arrangements of pockets.
But even a small bag with smartly placed pockets could be more useful than a bigger tool bag. Ideally, you want to think about all the tools you want to carry with you in the satchel. It should give you an idea of how many pockets you need, which in turn, will help you find the right bag.
Weight
With the materials and pockets in check, you need to put some thought towards the weight of the bag. When you put all your tools in the tool bag, naturally, it would weigh a lot. Handyman tools are heavy, and you need a strong spine to carry the bag with you all the time.
However, make sure the bag does not bring any additional weight to the table. You are already lugging around enough heavy tools to add another one to the list. The best option is to go with a bag that can handle all of your tool requirements without adding any extra weight of its own.
Comfort
Your comfort is another critical factor to consider. Ultimately, you are the one who will be using the bag, and if you do not feel comfortable using it, there is no point buying it in the first place. You should never invest your hard-earned money for a unit that gives you discomfort.
There are a few different ways manufacturers try to address the comfort issue of the user. Padded handles and straps are a must-have if you are looking for a comfortable unit. Another comfort feature you could look into is adjustable straps, as it would allow you to set the length of the straps as you please.
Price
Next, you also need to consider the price of the product before you can invest your money. Often, we find people exceeding their set budget to buy a unit that catches their attention. However, most of the time, it is not worth it as you will end up second-guessing your choices the next day.
If you want a good shopping experience, it is of paramount importance that you set yourself on a spending limit. Our list of reviews contains products in a wide price range, so you can definitely find a unit that matches your budget and your needs. The important thing is to have a fixed budget and not exceed it.
Additional Factors
If you have all the above features checked, there are a few additional aspects that you should look into. For instance, the quality of the zippers, if your tool bag has any, is an important issue to think about. Zippers are highly susceptible to breaking down, and you should make sure you end up with high-quality ones.
Additionally, you should also consider the design of the bag. Whether it is handheld or comes with strap also plays a role in your experience with the unit. There are also some belt-mounted models that are great, although they suffer a bit in the total carrying capacity.
Frequently Asked Questions
Here are a few common questions that people often have regarding the best tool bag.
Q: How many types of tool bag are there?
Ans: While looking at our list of reviews, you might notice a few distinct designs. Usually, a tool bag can come in three different formats, backpack, standard, and bucket.
Standard tool bags use traditional handles and allow you to hand-carry the bag. They do not feature any shoulder or back straps.
Backpack tool bags, as the name suggests, come with back straps and are generally more comfortable as you can distribute the weight evenly across your body.
Bucket tool bags are somewhat of a specialty item, and only a couple of manufacturers make it. These units come with a unique bucket shape and feature a massive compartment to carry your larger tools.
Q: How to properly organize your tool bag?
Ans: A tool bag allows you to carry all your essential equipment with you when you are working on a project. However, if your organization skills are poor, you might not be making the most out of the space you get with your satchel. So you need to understand which tools go first and which go in the deeper pockets.
Ideally, you want to keep your frequently used tools in the most accessible pockets. Small tools like wrenches or screwdrivers should stay in the exterior pockets so that you can use them instantly as you want. Your heavier items go in the center compartment, and specialty items should be placed in interior pockets.
Q: Do I get padded handles with all tool bags?
Ans: Padded handles are a comfort feature that ensures you have an easier time carrying your bag. Tool bags, when you bring all your equipment, tend to get quite heavy. If your unit does not come with a padded handle, you will feel pain and discomfort when carrying it for an extended period.
Unfortunately, not all units come with a comfortable handle. For people who want to have a good time in the job site, a padded handle is a must-have feature in the tool bag. So make sure the product you buy comes with this feature; otherwise, you will just be inviting a world of trouble.
Q: Can I buy a wheeled tool bag?
Ans: Yes, you can. Although quite rare, you can find a few tool bags in the market that comes with bottom wheels to give you an easier time moving it around.  It boosts the portability of your unit drastically as you do not need to lug it around on your back all the time.
Wheeled tool bags are an excellent choice for people suffering from back problems, as you will not have to carry the bag yourself. So if you can snatch a wheeled tool bag and as long as the unit ticks all the aspects of what makes a good product, you can go for it.
Q: Should I buy a tool bag with zippers?
Ans: Whether your tool bag comes with zippers or not is your decision entirely. Some people prefer zippers, while others prefer to have Snap-on buttons or even a hook and loop closure system. But if you do go with zippers, you need to understand that it is a vulnerable component.
In many cases, even for a high-quality tool bag, the zipper is the part most susceptible to breaking. But it does offer a level of security that other closing systems cannot match. So, if you want zippers in your tool bag, you should look for heavy-duty ones, and if it breaks, you need to be prepared to replace it.
Q: Can I use a toolbox instead of a tool bag?
Ans: A toolbox, although a good alternative to a tool bag, does not offer the portability and convenience that a tool bag brings to the table. A tool bag is lightweight and comfortable, but a toolbox is quite heavy.
To be fair, both the products have their own advantages and drawbacks, and you should have both of them at your disposal. That way, you can decide which one you want to use for a specific project.
Final Thoughts
When you are searching for a bag that you can regularly use for your work, you should not cut any corner. Since these bags need to survive a lot of abuse, you must ensure you end up with the most durable and functional product on the market.
With our extensive review and buying guide on the best tool bags, you should not have any trouble figuring out which unit would serve your needs well. We hope you found all the information in our article helpful in your search for the perfect product.
I'm Joost Nusselder, the founder of Tools Doctor, content marketer, and dad. I love trying out new equipment, and together with my team I've been creating in-depth blog articles since 2016 to help loyal readers with tools & crafting tips.