I love creating free content full of tips for my readers, you. I don't accept paid sponsorships, my opinion is my own, but if you find my recommendations helpful and you end up buying something you like through one of my links, I could earn a commission at no extra cost to you.
Learn more
We tend to listen to music while working. This could be while solving your math assignment, or writing up a boring 30-page report on last month's sale. All these situations are based at home, office, or while indulging in a piece of chicken at KFC.
However, when you're working at a job site, things get a bit serious.
With all the power tools at work and constant fear of brick falling out, you might want to consider looking into this list of the best job site radios money can buy.
If this doesn't boost your team's morale, we don't know what will.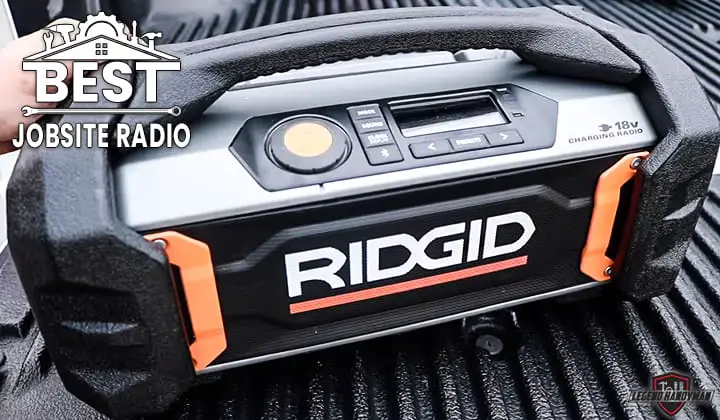 What is a Jobsite Radio Used for?
For those of you who are still confused about what a Jobsite radio is, let me help you out. A job site radio is just your everyday speaker, with some additional upsides to fit a job site needs where the going gets rough, and a regular speaker just won't cut it.
At a regular site, you'll probably expect the most haywire situation at effect. The job of these speakers is to provide you with clear sound in such environments. These give a boost to your workers and ensure they don't get bored while at the job. 
That's not all; unlike other construction tools, these speakers do not only provide you with entertainment but also dim out the sound associated with power tools. So, you aren't annoyed continuously and can keep a cool head while working.
These speakers are not only meant for work; they can be utilized for other events too. If you're out and about at a picnic with your family and need something portable that doesn't require a power connection, you're looking at the right webpage.
Heck! Some people even make use of these at home because of their sound quality and durability.
Best Jobsite Radios Reviewed
Something that helps boost you and your team's spirits, which might effectively improve their efficiency; something this crucial shouldn't be decided while you're out picking nails. Here's a list of what we think are a few of the best job site radios.
Sangean LB-100
| | |
| --- | --- |
| Weight | 6.8 Pounds |
| Batteries | 4 C batteries |
| Dimensions | 11.8 x 9 x 7.3 |
| Voltage | 1.5 Volts |
| Department | New |
They say the smallest packages pack the biggest punch; well, they are right. Sangean is a Taiwanese company that has been making radios since 1974. The LB-100 features a compact size; this is including the roll-cage. This tells you how easy it is to move around. Not only that, but you get an idea of how rugged the device is.
Built to last, this device will be able to take a blow and stand tall without a scratch. That's not all; the ABS plastic provides further protection from dust and rain. This makes it convenient for any form of an outdoor job; you wouldn't have to worry about keeping it elevated.
The radio uses an AM/FM digital tuner with the added PLL tuner to make sure you get an uninterrupted reception. Just pick up that antenna and tune into whatever channel entertains you. With 5 natural touches presets, listening to the radio is simpler than ever. Have all your favorite channels at the tip of your fingers.
But all these channels wouldn't be of any use without the large 5-inch water-resistant speaker, which includes a bass boost for those lows. All this will give you an unmatched sound experience for a price tag that you cannot resist.
Pros
Easy to carry around
JIS4-standard waterproofing
Shock resistant/dust resistant
Supports both AC and rechargeable battery power input
12 memory presets (6 AM, 6 FM)
Cons
Doesn't include Bluetooth or AUX connectivity
Batteries can only be charged while the radio is turned off
DeWalt DCR010 Jobsite Radio
| | |
| --- | --- |
| Weight | 6 Pounds |
| Batteries | 1 Lithium ion  |
| Dimensions | 10 x 7.4 x 10.75 |
| Color | Yellow & Black |
| Warranty | 3 yea |
DeWalt is a name that's well known in the power tool sector for its reliable and high-performance machinery. They seem to have paired this perfectly with something to entertain you while you're hard at work. This one is a little steeper in price, but we'll tell you why it's worth it.
Regardless of this being a radio, it is not limited to just AM/FM channels. The machine allows you to connect to your mobile phone using an auxiliary input. You can play the music you like or listen to a podcast through your phone.
You must be wondering how do you keep your expensive phone out in the open at a job site? Well, DeWalt seems to have thought it through, they've included a storage box right on the device itself, giving you a safe place for your valuables.
Talking about safety, let's not forget this one tops itself out when it comes to durability. With a specialized roll cage to take impacts of those falls, the hard plastic used creates an outer cover that can withstand any blow. The tactile buttons and nob are made to last so you might as well click away.
Also, the 20V battery ensures your tunes keep playing to your heart's content, and if you do find yourself running out of juice, you can shift quite easily to an AC input. While being plugged into the AC outlet, you might as well charge your phones as well using the USB port provided.
Pros
Includes an AUX input
Compact in size and weighs only 6 pounds, so it's easy to move around
Safety storage for your valuables
Highly durable and built for performance
Extremely loudspeakers with clear audio
Cons
Batteries have to be charged separately
Doesn't include a feature like waterproofing and Bluetooth
Bosch B015XPRYS2 Power Box
| | |
| --- | --- |
| Weight | 24 pounds |
| Power Source | Battery |
| Voltage | 18 Volts |
| Radio Bands | 2-Band |
| Connectivit | Bluetooth |
There are very few things that live up to their name, and we can confidently say that the Power Box is one of them. We can even call it the jewel of German engineering. For what this box is giving you, it can easily make other job site radios seem obsolete.
The radio is a portrait of what rugged is, featuring an all-round aluminum roll cage. Throwing it down from the first floor may be an insult to the Germans. This box tops off with a weather-resistant and dust resistant outer shell. So, if you're working out in the rain, hail, or snow, it wouldn't make a difference to your music.
With smartphones taking over the world, having to connect your phone to the AUX is something of the past. Wireless is the way to go, and sure enough, this machine includes Bluetooth connectivity. With a range of around 150m, you can change your music without having to make your way to the speaker every time.
This device is specialized for those most enthusiastic about music. The box features a 4-way speaker system to allow for a surround sound experience. And a subwoofer at the bottom to feel the base. The controls are a bit more advanced as well, with separate controls for bass, treble, and a customizable equalizer.
And it doesn't end here; the device also doubles as a power bank. With four individual outlets, you'll be able to charge your phone or use the outlets to power a 120V power tool. And you'll be surprised to know that you're getting all this at a fairly affordable price.
Pros
Great purchase for the price tag
Includes Bluetooth connectivity
Hard and robust design to handle the worse situations
An unmatched audio output with stereo surround sound
Can also be used as a charger
Cons
Storage space is a little small for today's phone sizes
Lacks other inputs such as AUX and SD Card Readers
Milwaukee 2890-20 Jobsite Radio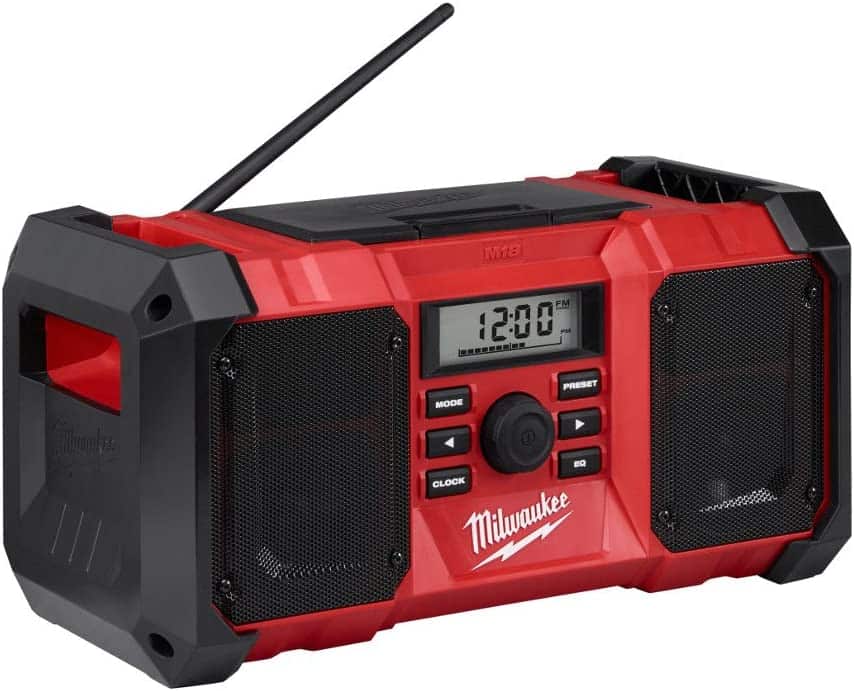 | | |
| --- | --- |
| Weight | 11.66 Pounds |
| Brands | 2-Band |
| Power Source | Cordless |
| Cordless | AUX |
| Color | Red |
Speakers usually come in weird shapes to make them aesthetically pleasing, but this also makes transporting them a big hassle. Well, Milwaukee seems to be a company that doesn't dive into these trends. They strive towards simplicity, and the M18 is the same.
With a toolbox-like shape, you can easily stack the speaker on top or even under your tools and other supplies. You might be worried about the speakers getting damaged; well fret not. The rugged design, sturdy material, and the shock-absorbing end caps installed make sure you never have to worry about buying a new speaker.
It includes a dual chemistry speaker set that gives you a powerful audio output, loud enough that the power tools wouldn't make a difference. The FM/AM mode includes up to 10 memory presets, so you're never wasting time finding your favorite channel.
But the radios not all, the device includes an auxiliary input that allows you to connect your phone directly. Therefore, you'll be listening to music that you love. All while your expensive smartphone is snuggly charging inside the safety compartment included onboard.
Moreover, it is a highly durable machine with excellent speakers, great reception, and the flexibility to shift between input choices. This proves that sometimes the simpler things in life are the most efficient ones. With the added price tag of below $150, this product provides value that's rare to find these days.
Pros
Dual chemistry speaker for a wider sound dispersion
High-quality build achieves high durability
10 memory presets
Storage and charging compartment
Great value for money
Cons
Doesn't feature a roll cage
Is not dust or water-resistant
PORTER-CABLE PCC771B
| | |
| --- | --- |
| Weight | 3.25 pounds |
| Radio Bands | 2-Band |
| Dimensions | 12.38 x 6 x 5.63 |
| Power Source | Battery |
| Connectivity | Bluetooth, AUX |
Coming from another power tool manufacturer, this machine was made to deliver performance. The device includes two sets of high-grade stereo speakers, delivering a wider sound range. This, paired with the performance of the speakers, gives you the ability to use it while being in a different room.
Speaking about different rooms, the speaker is compatible with Bluetooth devices, so you won't have to worry about going back and forth. Change your music or fix the volume from anywhere in a 150m radius. You can also connect it directly to the AUX input for a quicker connection.
But if you're not a smartphone geek, that doesn't set a limit on what you can do as you'll be able to choose from a large variety of radio channels, both AM/FM. With the added ability to have 12 channels added to your favorites, you don't have to spend time fine-tuning your way there.
The device is completely encased in a rubber shell; the rubber cushions won't fall, and it will make sure the insides remain intact. With metal grills incasing the speaker units, it makes it impervious to debris and dust. So, the speaker should do fine withstanding the usual job-site scene.
In a compact size, this sure packs a punch. Whenever you feel things are getting out of hand, you can customize the sound type using a built-in equalizer to get the most out of the price you're paying for it.
Pros
Comes with a built-in equalizer
Great sturdy design and extremely durable
Supports AUX, Bluetooth and AM/FM
12 channel memory list
Lightweight easy to transport
Cons
The price is a bit steep for the package
Doesn't include waterproofing
Milwaukee 2891-20 Jobsite Speaker
| | |
| --- | --- |
| Weight | 6.34 pounds |
| Power Source | Cordless |
| Dimensions | 14 x 16 x 16 |
| Speaker Size | 6.5 Inches |
| Color | Black |
This time Milwaukee didn't go into their simplicity concept. It went for something that was a little more aesthetically pleasing, added that it also improves performance. The hexagonal shape of the speaker allows for an upwards dispersion of sound. This speaker doesn't use a roll cage, allowing it to be less bulky and simpler to transport.
But that doesn't mean it compromises on durability. With reinforced side caps and grills, you won't have to worry about dropping it. Not only that, but this speaker provides dust and water-resistance as well.
The soul of the machine includes two high range tweeters and two mid-woofers. This gives you the clearest sound that you can run at high decibels. The tweeters maximize the range of treble you'll receive. Additionally, two passive radiators provide the maximum bass to hit those lows.
Connectivity is something you'll never have a problem with. Not only does this support an auxiliary input, but you can also connect your smartphone devices directly using Bluetooth. With 100 feet range, you will not have to worry about moving to and fro to keep changing the song.
And the list still doesn't seem to end; the USB port onboard allows you to charge your smartphone directly. However, the speaker doesn't include a radio mode as it does in others. All in all, this shouldn't stop you because, for the price, this is a deal you shouldn't refuse.
Pros
Both wireless and wired connectivity
A great sound range, with the lowest level of distortion
40watt digital amplifier to provide stereo sound
Heavy-duty design for durability
Acts like a power bank
Cons
Doesn't feature a radio like other models
Heavier than most speakers
Ridgid R84087
| | |
| --- | --- |
| Weight | 10.93 pounds |
| Material | Plastic |
| Dimensions | 18.35 x 9.49 x 9.21 |
| Voltage | 18 Volts |
| Color | Gray |
Embracing new technology is the way to go forward in life; it's the right move, and sure enough, Ridgid is taking it. This FM/AM speaker comes with its radio app; this app will allow you to change the channel, set your own presets, and much more.
There's no need to set down your drill machine every time someone messes with your tuning.
But that's not all; you can choose to connect your phone to the Bluetooth or AUX, allowing you to play the music of your choice. So, you and your team never face a dull moment at your job. The device is equipped with a well-built outer shell that's installed to take blow after blow without complaining.
You won't have to worry about it bumping into equipment or falling off tables. It is perfect for conditions found outdoors or at a job site. It comes with great speakers and the ability to connect with ease. You'll be taken aback when you look at the price for this device. Even more surprising is that we're not done praising it.
The speaker also features an onboard storage box that lets you safely handle your phone. Not only that, but you can also let it charge with the added USB port, letting you utilize the most out of this compact but powerful machine.
Pros
Radio app to make life easier
Multiple audio inputs (Bluetooth, AUX, FM/AM)
Easy to carry around with inbuilt handlebar
Can run on both batteries and AC power
Tough outer shell makes for a sturdy build
Cons
The battery pack is not included
Extremely heavy for its size
What Makes a Perfect Jobsite Radio
With an abundance of brands flooding into the market and corporate marketers trying to sell off their products, it's getting really difficult for modern-day consumers to make the right choice.
A piece of electronic isn't like your average cup of coffee; you don't like it. You buy another. This is something we make a 3-4-year commitment to and sometimes even more. It's better to get it right the first time around rather than having to wait some years to fix your mistake.
This is where we get in and hopefully help you choose not what's topping the market rather what's right for you. Here's a list of things you should look out for:
Input
Most job site radios, as the name suggests, aren't just radios considering the movement of technology and rising competition. Most companies try to include the most in their products. But some still try and specialize in just one thing.
Therefore, if you plan only to use the radio, you don't have to pay extra for the greater number of inputs. Rather you can get a great deal out of the cheaper models that don't compromise on quality. On the other hand, if you're a tech junkie who thinks Spotify is the way to go, then the extra bulk of the radio antenna should be avoided.
However, we would recommend that you go for the additional Bluetooth input. As our world becomes increasingly wireless every day, we must keep ourselves updated too.
Sound Quality
An expensive speaker doesn't mean that it'll sound great. Most of these speakers are made by companies that make power tools, so expecting studio-quality sound wouldn't be fair. However, for the price you're paying for some of them, you'd expect decently sounding speakers.
To make sure this is the case, try testing out the speakers before you buy them. You want to look into how loud they are; if you're working with power tools, this comes as a necessity. After that, you might want to check for clarity and level of distortion. You can do this by playing some tunes at high volumes at the store.
Lastly, if you're going that extra mile, make sure your speaker includes an equalizer. This will let the customer customize his audio according to his preference. On the other hand, any $50 or above speaker should be able to give you a decent sound.
Build Quality
The entire point of getting a job site radio is to have something that can withstand the rugged environment at a site. But that's not the only reason these radios are purchased. Some even use them for outdoor activities. So, you need something solid that can go along in the worst of conditions.
Most of these radios are great when it comes to taking a blow. With their padded outer shells and roll cages, it's almost impossible to break them. However, there is something you should keep an eye out for, such as dust proofing and waterproofing.
Size
They say the bigger, the better; we wouldn't say that applies here. As someone working in a contracting firm, you always have to carry around big bulky equipment. In that case, you wouldn't want another device that adds to the list.
There are quite a few speakers in the list provided above that emit a powerful sound in a compact and light form, making them both convenient to carry around and not taking too much space on your work desk.
Runtime
If you're an outdoor person, you're probably looking for a speaker that runs on both AC and DC. However, being able to run on batteries isn't the only criteria.
Runtime is the amount of time your tunes have been played on a single charge. The more you get here, the better. Since you're most likely not to have an AC outlet outdoors, you might want to find something that has more than 5-hour worth of run time or the basic amount of time you're planning to use it for.
User-Friendliness
Even though this isn't exactly the most crucial aspect to consider, it still carries a good level of importance. For your daily use, you might want a speaker that is quick to set up and easy to connect to your phone. You don't want to be stuck trying to pair the Bluetooth for more than 5 mins, because that's just a waste of time.
Speaking about wasting time, if you're into using the radio feature, consider buying one that has memory presets available. This will take away the hassle of having to tune it to your favorite channel every day. With memory presets, the push of a single button will get you exactly where you want.
Others
This section includes things that aren't exactly necessary but would be great to have. Even though some of this might cause prices to bump up a bit, having features such as these on hand makes life more convenient.
Some of these speakers come with a built-in storage box, this comes in handy when you're on the job and have no place to keep your phones or valuables in.
The box not only acts as a safety compartment, but it also turns into a charging slot for your electronic devices. That is if you have the USB outlet option included. Moreover, some speakers even include slots through which you can run your power tools.
Frequently Asked Questions
Here we have some of the most commonly asked queries regarding job site radios:
Q: Are job site radios waterproof?
Ans: Not all job site radios give you the waterproofing feature. However, most are water-resistant. This will allow you to use it in drizzling rain or take a few accidental spills. But you might want to keep in mind that it'll only take so much. Make sure to check your speaker before buying to find out its water resistance rating.
Q: Can the radio charge it's battery while connected to the power outlet?
Ans: This is something that highly depends on the brand you're purchasing. Since most of the brands sell power tools, they make one single battery pack and its charger. These have to be then charged separately. Others do not include chargeable batteries; rather, you have to replace them.
Q: Can the radio be used to charge other devices?
Ans: At the right price, yes, a lot of these radios come with a USB outlet. This allows you to charge your phone while you work. And not only your phones, but some radios also come with built-in outlets. This will let you charge your power tools, as well.
Q: How is the reception?
Ans: The quality of reception you get depends on two factors: one is the brand of the product you've purchased, and the second one is your distance from a cell tower. Any well-known brand will give you a decent reception that produces a fairly clean sound.
However, if you purchased the most expensive speaker in the market, it'll all come down on where you are located. If you fail to get reception in the middle of nowhere, the reason would be quite self-explanatory.  
Q: Does sand/dust affect the speakers?
Ans: No, in most cases, you wouldn't face a problem even if your speakers were submerged in sand dust. Since most of them come with dust resistance, you wouldn't have to worry. A nice little shake should be enough to remove any particles stuck inside the speakers.
Final Words
Trying to find something that fits you is a learning process; you have to do it more than once to be able to learn. Even after that, some fail to make the right decision. We hope that this article here helps you find the best job site radio that suits your needs on your first try. Cheers!
I'm Joost Nusselder, the founder of Tools Doctor, content marketer, and dad. I love trying out new equipment, and together with my team I've been creating in-depth blog articles since 2016 to help loyal readers with tools & crafting tips.