I love creating free content full of tips for my readers, you. I don't accept paid sponsorships, my opinion is my own, but if you find my recommendations helpful and you end up buying something you like through one of my links, I could earn a commission at no extra cost to you.

Learn more

Are you a passionate woodworker who is feeling the need for a planer and jointer in your small workshop?  Or are you just a minimalist who likes the exceptionally versatile tools? Well, no matter what the case is for you, what you require is a jointer planer combo machine. However, we struggled a lot to get the best jointer planer combo for our small workshop. We first purchased something average at best. But through this article, we will ensure that you do not have the same experience as us.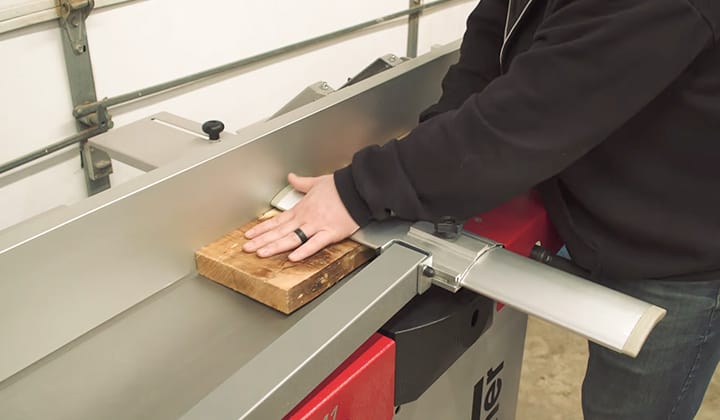 How will we do that? When we gave these combos a second chance, we had hands-on experience with the most popular models. And we have a clear idea regarding which one is worth it and which is not at this moment.
Benefits of Jointer Planer Combo

Before we move into describing the models that caught our eyes, we would like to ensure you have a fair idea of the advantages you can expect. And they are:
Value for the Money

Firstly, separately purchasing a good jointer and planer will cost you a good amount of money. In comparison, if you can get a combo that performs well, you will be saving yourself quite a chunk of money. The well-performing ones usually offer an insane value proposition.
Space Saving

The space-saving nature of these machines has solved the problem we were facing in our workshop. It was pretty much impossible for us to accommodate a separate jointer and planner. But these combos eliminated the issue.
Easy to Maintain

If you have a separate jointer and planer, you need to maintain two different machines. Now, as busy woodworkers, we value our time the most. We believe the case is the same for most of the carpenters as well. Nonetheless, after getting one of these combos, you just need to worry about one machine, not two. That will make the maintenance task around the workshop more effortless and hassle-free.
7 Best Jointer Planer Combo Reviews

We must admit that loads of combos out there will claim to offer an insane amount of performance. But most of them provide sub-par performance in reality. So, when we scrutinized and tested the options, we kept all of the essential factors in mind. And these are the ones that seemed worthy of getting to us:
JET JJP-8BT 707400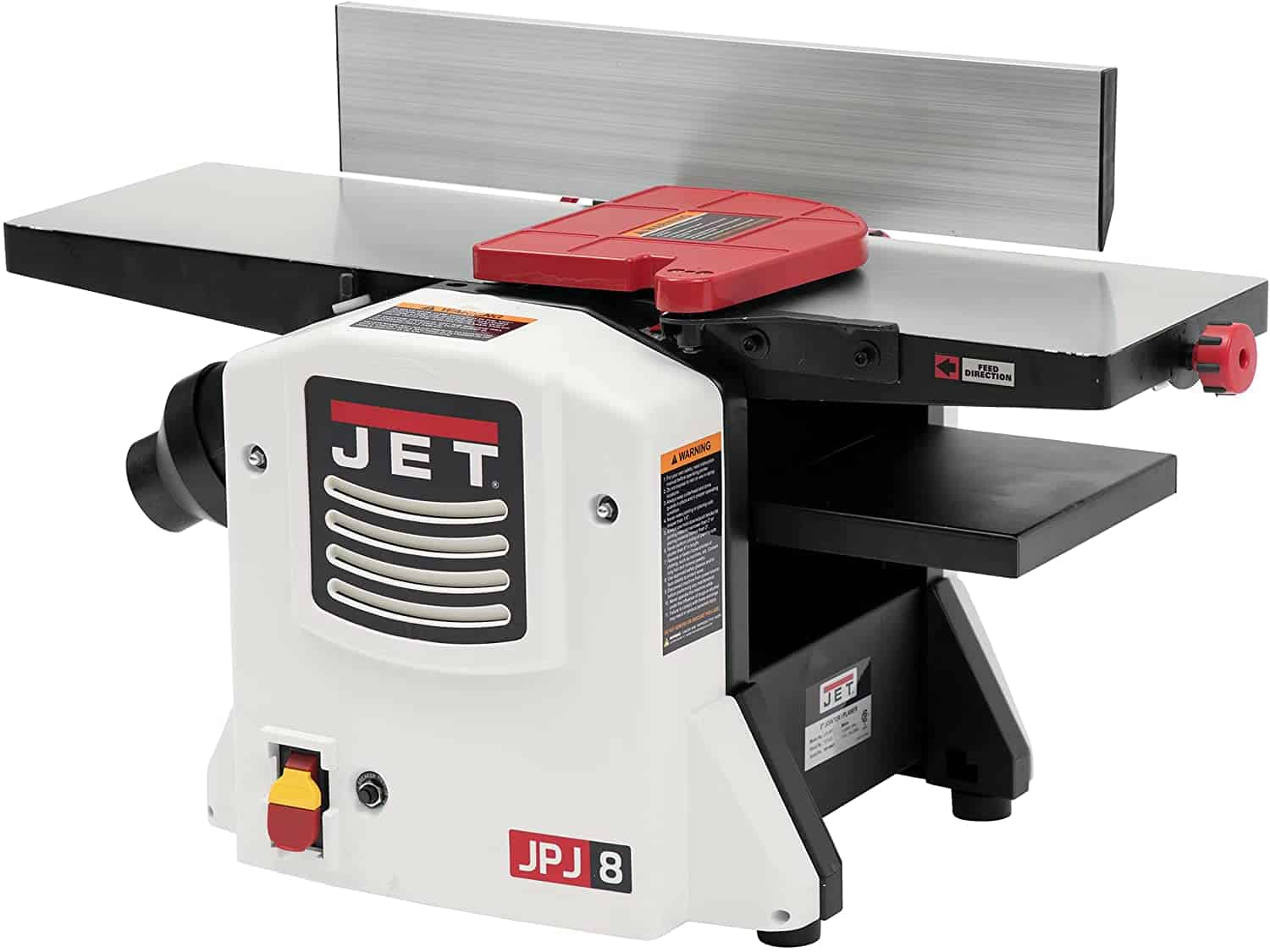 Pros
Sports a large aluminum fence
Remains highly stable
Compact and highly portable
It relies on a heavy-duty motor
Comfortable and easy to work with
Cons
Does not have a co-plainer in-feed and out-feed
The jack screws are a bit wobbly
This offering from Jet has it all. It utilizes a powerful motor, has a large aluminum fence, is highly stable, compact, and can be stored and transported without any hassles. Check prices here
Rikon 25-010
Pros
Constructed of cast aluminum
Compact yet highly durable
It has a 4 inches dust port
Utilizes a 1.5 HP motor
Stable and has a praiseworthy cutting capacity
Cons
The assembly directions are a bit vague
It does not have an adjustable in-feed table
It has a top-notch build quality and a higher durability level. The motor is well capable, and it has a built-in dust port. Also, the cutting capacity and maximum depth of cut are pretty praiseworthy. Check prices here
Jet Tools 707410
Pros
The motor is reasonably fast
It has a maximum cutting width of 10 inches
Exceptionally stable
Features a unique design
Integrates ergonomic and oversized knobs
Cons
The blade holder is not placed correctly
It has plenty of small parts that are not that easy to work with
The machine integrates a fast motor. It can offer 1800 cuts per minute. Also, the blades are well-capable for providing precise and accurate cuts. Check prices here
Grizzly G0675
Pros
Made of high-quality materials
Capable of handling heavy workloads
It has plenty of adjustable mechanisms
Features an excellent overall design
Compact
Cons
The motor is a bit underpowered
It does not have that high cutting capacity
This combo is an excellent choice because it features a good build quality and is highly durable. It also has multiple adjustable mechanisms and is highly compact. Check prices here
Rikon 25-010
Pros
There is a ribbed drive belt
Sports an excellent build quality
Weighs reasonably low
It has a dust port
Boasts a 1.5 HP motor
Cons
It does not ship with a proper assembly guide
There is no proper locking mechanism present on the table
It can mitigate vibration exceptionally well. That increases the overall stability. As a result, you should be capable of getting accurate and precise adjustments to your workpieces. Check prices here
Grizzly G0634XP
The size of the table is reasonably large too. It is 14 inches x 59-1/2 inches. As it is comparatively large, it will be possible to work with large-sized workpieces on top of it. The fence is large too. It is 6 inches x 51-1/4 inches. For that reason, you will be capable of controlling and adjusting the workpiece properly on this. When it comes to the blade, the manufacturer did not skimp one bit. They have integrated a carbide cutter head. The diameter of the head is 3-1/8 inches and can offer wide cuts. Even the depth of cut is highly praiseworthy too. And the cutter head speed is at 5034 RPM, which is not that common. You will also find a quick-releasing mounting system for the fence. As a result, it will be easy to detach the fence from the top. There is a four-inch dust port available as well. That will keep the whole surface free from dust. Pros
Boasts a 5 HP motor
The cutter head can spin at 5034 RPM
It has a comparatively large table
Features quick-releasing mounting mechanism
Sports four inches dust port
Cons
The drive assembly slips a bit
It does not come with a proper user manual
We were pretty impressed by the fact that it integrated a 5 HP motor. It even has a large table on the top, and the blades are phenomenal as well. Check prices here
JET JJP-12HH 708476
Pros
Boasts a powerful induction motor
It offers a high amount of accuracy
Remains highly stable during operation
The build is of heavy-duty materials
Operates quietly
Cons
The product may arrive with damaged parts
It does not arrive with factor calibration
The combo is highly capable of handling a heavy workload. Also, as it utilizes an induction motor and has a Helical cutter head, it will operate quietly. It will also offer a superior finish on the workpieces. Check prices here
Things to Consider Before Buying

You might be wondering about the things we considered while scrutinizing and testing the jointer planer combos. Well, these are the things we factored in:
Form Factor and Heft

The main reason behind getting a jointer planer is to save some room space, right? If you happen to get something larger than two of the tools combined, would you be able to get the crucial benefit these combos are offering? Not really! For that reason, you need to consider the form factor before making a purchase. Secondly, weight plays a vital role in terms of transportation and mobility. The lighter the combo, the easier it will be to carry it around. Also, it will be easy to move the machine from one workspace to another. Considering that, we would highly recommend opting for something light in weight.
Type of the Stand

Alongside the form factor and the weight, consider the stand type. There are three types available out there. Open, closed, and the machines that fold down. Each one of them has its weaknesses and strength. First, the open stands!  They are more like tables that have shelves on them. The storage boxes can surely come in handy if you want to keep some tools close by while you work with the projects. These will allow you to save some space in your workshop further. On the other hand, there are closed ones. These are comparatively expensive than the open units. Also, as these will generally have a one-piece construction, they will be reasonably durable than the open versions. Lastly, there are foldable ones. These are usually used on top of a stand or a bench. As these do not have a built-in stand, you will be able to place them in different places instead of setting them permanently in one place.
Cutting Depth and Width of the Bed

It would help if you also considered the cutting depth and the width of the bed. It dictates the speed at which the blade removes the materials from the project. In other words, the higher the cutting depth, the quicker you will be able to complete a specific task. The width of the bed determines the size of the workpieces the machine is capable of accommodating. Some machines will have a dedicated bed for planing and jointing operations, while some will have separate beds. For both cases, opt for the size that suits your needs.
Motor

The motor is the most crucial part of the combo. In this case, the higher the power of the motor, the better the performance you will obtain. The lowest power available for these machines is 1 HP. But that amount is only enough for hobbyist that intends to use the machine to work on softwoods. But if you are purchasing one of these, you would want it to get the most out of it, right? For that reason, we would recommend opting for something with at least 3 HP or more power. With those, you will be able to work on both demanding and less demanding projects effectively.
Dust Collector

Lastly, consider the dust collector (like one of these). A combo that does not have a dust collector demands manual cleaning. And you might even have to clean the upper surface multiple times while working with a workpiece, which will slow you down. So, we would highly suggest getting a combo that has a dust collector. Make sure that the dust port is reasonably large and it can offer the proper airflow to accumulate all the dust properly in one place.
Frequently Asked Questions
Are jointers and planers the same thing?
No, there are differences between planer and jointer. Jointers make a flat surface on the wood. On the other hand, the planer thins the piece of wood.
Is it possible to plane wooden workpieces with a jointer?
No! It is not possible to properly plane a wooden workpiece with a jointer. The jointer flattens the surface; it does not make the piece plane.
Can I flatten a wooden piece with a planer?
With the planer, you can only lower the thickness of the wooden piece. To flatten the piece, you would require a jointer.
How big is a jointer planer combo?
Most of them will be considerably small in size. At least, the form factor will be smaller than jointer and planner combined for most cases.
Are jointer planer combos portable?
Due to having a compact form factor and being comparatively lightweight, these machines are usually highly portable. But some might be less mobile than others.
Final Words

We saved quite an amount of room space after getting the best jointer planer combo. And the great part is that we had to make little to zero sacrifices by getting a combo. Nonetheless, we can assure you that each of the models we have reviewed in this article will offer you the same experience that we are having with our one. So, you can pick one without overthinking.
I'm Joost Nusselder, the founder of Tools Doctor, content marketer, and dad. I love trying out new equipment, and together with my team I've been creating in-depth blog articles since 2016 to help loyal readers with tools & crafting tips.