I love creating free content full of tips for my readers, you. I don't accept paid sponsorships, my opinion is my own, but if you find my recommendations helpful and you end up buying something you like through one of my links, I could earn a commission at no extra cost to you.
Learn more
Masonry hammer requires that ruggedness, that sharpness and above all that ergonomics. Many times ensuring these indeed becomes a time-consuming challenge for you. Besides, it's not always what they say underneath that wrapping.
Masonry hammer has it's particularly defined field of use and popularity. You can't just rely on that guy in the shop to suggest a reliable one. We've brought an end to that with these reviews on the most demandable and popular ones in the market.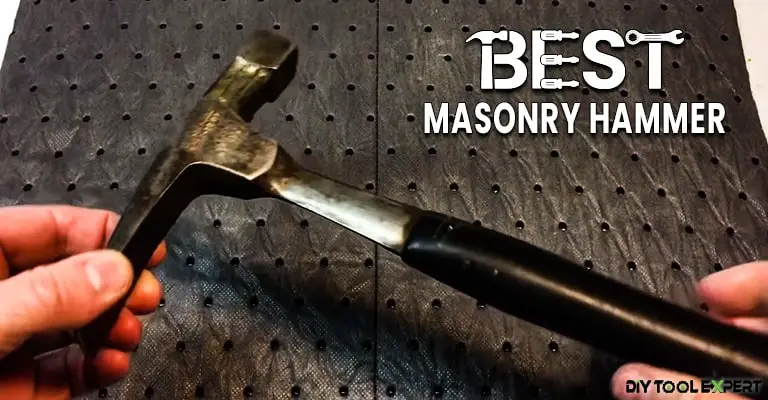 Best Masonry Hammers reviewed
To help in your quest, we have brought here some of the best products available. You won't have to waste any of your time testing tons of other options, as this review section is your route to getting the hammer for masonry related work.
1. SE-8399-RH-ROCK
Praiseworthy Aspects
When it comes to masonry works, this rock hammer brought to you by SE is undoubtedly among the best ones out there and deserves to get a place in your toolbox. With a 7 inches long head ready to deliver the necessary strength, the 8399-RH-ROCK has a total length of 11 inches.
In spite of weighing only 20 Ounces, the hammer features a body of single piece drop-forged steel. The perfectly designed structure, along with a comfortable handle, provides you a great balance as well as a solid grip in hand, even on impacts.
SE has also made sure that it hardens the head and tip of this product to make it last for a more extended period. As a result, you can carry on all your masonry construction, prospecting, mining, and other daily uses without worrying much about buying new tools now and then.
Shortcomings
Some people seemed to be complaining about the material used in this hammer. Few of them shared pictures of the unit they received having a bent neck, which they claimed had happened after using it for continuous hours.
2. Estwing E3-22P Geological Hammer
Praiseworthy Aspects
Estwing has built this one to put you in awe by enhancing it with a key feature known as shock reduction grip. Being bonded and molded to the hammer, these grips are capable of reducing strong vibrations from impact, which will result in the utmost comfort of the user.
Want to know if it can handle all your tough jobs? No worries as you will find this 22 ounces rock picker both durable and long-lasting due to its excellent build quality. It has a length of 13 inches and solid America steel forged in one piece for delivering you the maximum power.
The pointed tip available on the hammer serves for cracking rocks while the smooth square face enables excellent scope for rockhounding. As expected from Estwing products, this masonry tool is born to take up all the challenges you will probably throw at it.
Shortcomings
A small number of customers have proclaimed some issues with the E3-22P masonry hammer as receiving it with a few factory misfits. Some rare incidents also include the bending of the hammer neck after heavy use.
3. Estwing E3-14P Geological Hammer
Praiseworthy Aspects
Haven't you found the lightweight hammer you were looking for yet? Perhaps your wait is finally over. Let me introduce to you a smaller version of the Estwing geological hammer stated above. No more fatigue caused by heavy hammers as this 14 Ounces option can get all your jobs done.
Despite featuring less weight, E3-14P does not hold back when it comes to delivering top-class performance. Shock reduction grip is also included, just like the heavier version that I have discussed earlier, to protect your hands from impact vibrations.
Essential features such as the pointed tip and square face are also present in the 11.1 inches long body for multipurpose uses. In the fields of durability and longevity, this lightweight variant performs way better than other available options and thus can surely claim a position in your buying list.
Shortcomings
A tiny drawback noticed in some units is that the tip of the hammer seemed way too sharp than it should have been. Hence, you should remain conscious while using such a tool to avoid any kinds of injuries.
4. EFFICERE Best Choice HM-001 Rock Pick Hammer
Praiseworthy Aspects
The 22 Ounce HM-001 can be an ideal choice if you are not willing to spend too much but still desire to get an impressive tool for rock picking as like as a stiletto hammer.
Specially engineered drop-forged all steel 11 inches body can put some extra power in your every strike. The ergonomic design of the soft rubber handle prevents the hammer from slipping out of your hands and reduces shock effects. You can also get more pace while swinging it because of the even distribution of its body weight throughout the head and handle.
Not only does it feature a well-polished structure but also a special coating for protection against rust, making it more durable than others. It brings more versatility with its pointed tip and square face too. With all these additional aspects, HM-001 offers you a great deal at such an affordable price.
Shortcomings
The ability of the hammer performing heavy duties may seem questionable towards some users due to the low pricing of it. Though it's featured to be rustproof, exposure to moisture or rain for a weak or two would allow some chunky corrosion.
5. Stanley 54-022 Fatmax Brick Hammer
Praiseworthy Aspects
You will be quite impressed by this Fatmax 54-022 from Stanley once you hold it yourself. Because of the anti-vibe technology and tuning fork alike design used in it, you can hardly feel any vibrations or shocks generated from impacts. As a result, your wrist and arm are likely to stay safe from injuries.
Even the 20 Oz weight feels almost nothing as the hammer features a precision balance. Enjoy the utmost comfort while cutting and setting brick, an opportunity offered by the splendid rubber handle on it. Forged one-piece steel assures that you get excellent durability as well as the maximum level of strength from it.
Apart from all these, the 11.3 Inches long hammer fits well in your medium-sized toolbox and is not going to break so soon, even after heavy use. Stanley has kept the price to quality ratio pretty standard, and I can tell you that the amount you will pay for it will be worth spending.
Shortcomings
A small weakness that I found was the lack of rust preventing coating, though it should have been present at such a price.
6. Estwing E3-20 BLC Mason's Hammer
Praiseworthy Aspects
Here comes another hammer from Estwing and the last one on this list, the E3-20 BLC. A unique patented nylon end cap along with a chisel edge sets this tool apart from the others. What this cap does is that it makes the handle more durable, and the large and smooth face of the hammer provides a better brick setting experience.
Furthermore, the handle also features a shock reduction grip so that impact vibrations lose 70 percent of their strength before reaching your skin. Therefore, it protects your hands from all kinds of harms and guarantees your comfort when you are holding it.
Excellent build quality plays a vital role in making it one of the most durable 20 Oz hammers you will possibly see. Since it provides long term service without getting hindered, you don't have to take stress about replacing it soon. With all these features behind its name, the 11 inches long tool can surely be a game-changer for you.
Shortcomings
One negative aspect of this hammer is that the balance needed for striking might not be as prominent as expected.
Frequently Asked Questions
Here are some frequently asked questions and their answers.
What is a masonry hammer?
A brick hammer — also called a masonry hammer — is a hand tool used by carpenters and masons. One end of the hammer head has a block, and the opposite end has a chisel. While there are several handy ways to use the brick hammer, it is most often to break, trim and clean brick slabs.
What does a rock hammer look like?
Shape. Geologist's hammers, as with most hammers, have two heads, one on either side. Most commonly, the tool consists of a flat square head on one end, with either a chisel or a pick head at the other end. A corner or edge of the flat head is used to deliver a blow to a rock with the intention of splitting it.
What is a Scutch hammer used for?
Scutch hammers are used for cutting bricks similar to scutch chisels, This premium quality 20oz scutching hammer is made from steel and features a black head and comfortable soft grip handle. The Hammer has two groove components for double sided use.
How do you cut masonry bricks?
How do you break bricks into pieces?
Place your brick-set chisel into the groove with the straight edge facing you. Tilt the tool's edge slightly away from you and begin striking the handle firmly with a hammer to break the brick into two pieces. If the brick doesn't come apart from a firm strike, score around the cutline once more with your chisel.
How do you break a rock with a hammer?
A crack hammer works best for large rocks. For smaller rocks, a rock hammer/pick or household hammer will work fine. Put the bag of rocks on a firm surface (concrete or asphalt), and knock gently. Slowly apply more pressure, until you feel the rocks start to break.
How do you use a hammer and chisel?
Chop out large Amounts of wood by slicing off small amounts with each cut. Strike the chisel with a hammer and chop down about 1/2 in. Then chisel from the end to remove the piece before continuing. Your chisel must be sharp for this cut.
What types of tools do geologists use to gather data?
Geologists use a lot of tools to aid their studies. Some of the most common tools used are compasses, rock hammers, hand lenses, and field books.
What is a Scutch comb?
A scutch comb is an attachment that, when attached to a scutch chisel or hammer, becomes its cutting edge. It is detachable and can be taken out of the scutching tool and flipped over to allow use of the second cutting edge. A scutch comb is used specifically to make marks across a surface.
What is a Scutch?
Definition of scutch (Entry 2 of 2) 1 : scutcher. 2 : a bricklayer's hammer for cutting, trimming, and dressing bricks.
What is the difference between carpentry and masonry?
As nouns the difference between masonry and carpentry
is that masonry is the art or occupation of a mason while carpentry is (uncountable) the trade of cutting and joining timber in order to construct buildings or other structures; woodworking.
How do you do masonry work yourself?
Q: How much lifespan to expect from these hammers?
Ans: Almost all the masonry hammer is made of strong metal.
Q: Are handling bricks so hard with masonry hammers?
Ans: Though Stonemason's hammer is the perfect answer here, it's totally okay to break bricks with this versatile hammer. But you need to take the help of chisel in this case which sets the situation to be a cumbersome one.
Conclusion
It doesn't matter if you are an aspiring geologist or a professional masonry worker; the need for a masonry hammer is inevitable. Hopefully, you found the hammer you have been looking for among the products that we have enlisted here.
In case you are still confused, let me help you out. You may go for the Estwing E3-22P Geological Hammer as it comes from a reliable manufacturer and has a unique shock reduction grip. If you don't have a problem with the price, this hammer is worth trying. On the other hand, if you are looking for a low-cost option, I recommend that you should be purchasing the SE-8399-RH-ROCK.
Feel free to select any of these hammers, as they have been hand-picked carefully, keeping your demands and safety in mind. Remember, the right masonry hammer can be a reliable friend of yours, whether you are a novice or a professional.
I'm Joost Nusselder, the founder of Tools Doctor, content marketer, and dad. I love trying out new equipment, and together with my team I've been creating in-depth blog articles since 2016 to help loyal readers with tools & crafting tips.