I love creating free content full of tips for my readers, you. I don't accept paid sponsorships, my opinion is my own, but if you find my recommendations helpful and you end up buying something you like through one of my links, I could earn a commission at no extra cost to you.
Learn more
If you work with metals, you know how difficult it is to cut them into a favorable shape. Luckily, circular saws are the solution to your troubling concerns.
They're fast and efficient pieces of machinery that help you cut metal in no time. However, most people do not know where to start and what makes a good circular saw.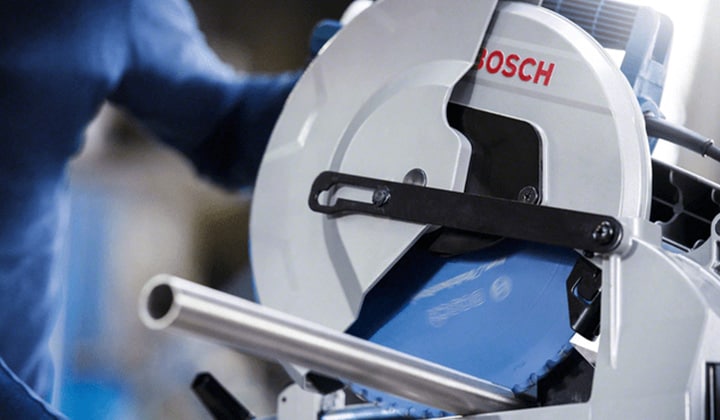 To help alleviate this issue, we reviewed some circular saws and came up with a list of the five best metal cutting circular saw we could find on the market.
How Does a Metal Cutting Circular Saw Work?
Circular saws are very simple in their operation, and the name is a dead giveaway. They differ from horizontal saws, so explaining the difference is a good way to portray what a circular saw does.
Any circular saw on the market will have two primary components. The circular blade cuts through materials, while the motor enables the blade to do so. These two components work in unison to make clean cuts in metals.
To use the circular saw, you need to hold the handle on the top part of the saw and push it down on the material you are cutting. Often, you'll see a trigger on the handle that allows you to turn on/off the blade however you like.
In short, a circular saw works by applying a rotating circular blade against the material to cut through it.
5 Best Metal Cutting Circular Saw Reviews
For your convenience, we took all of our reviews and put them in a detailed list so that you can check them out individually and make an educated choice.
1. Milwaukee M18 Circular Saw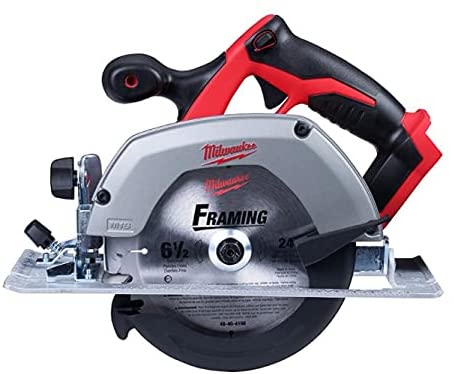 Longevity goes a long way when it comes to any tool and not just circular saws. If the equipment doesn't last long, you will soon have to look for replacements, which don't come cheap in any market.
If you are looking for a circular saw that has long-lasting qualities while being resilient, we suggest you check out the M18 saw by Milwaukee. It is a circular saw that you can use for a very long time without replacing any parts.
This saw has a brushless motor design with a portable battery source for starters. Meaning, you don't have to plug this saw in to supply power to it the entire time you are using it.
The motor can deliver up to 3900 RPMs of rotation to the saw blade, making it one of the fastest circular saws on the market as well. Since it is a brushless motor, it won't wear out and decay like standard DC motors.
With a full charge, you can make up to 370 cuts without having to plug in the saw once. This level of battery duration is impressive as most circular saws don't even provide a portable battery source.
Because of the battery and integrated hook, you can take the saw anywhere you want, making it a perfectly portable option for traveling mechanics.
Pros
Brushless motor design
It goes up to 3900 RPM in speed
No significant wear-out due to motor
Portable battery source system
Integrated hang hook for easy transport
Cons
It doesn't support underpowered batteries
Not suited for horizontal cuts
Verdict
Overall, the Milwaukee M18 circular saw is a perfect option if you're looking for longevity in your projects. Its fast and efficient operation, bundled with durable components, can go a long way in your metalworking career. Check prices and availability here
2. Fein Slugger Metal Cutting Saw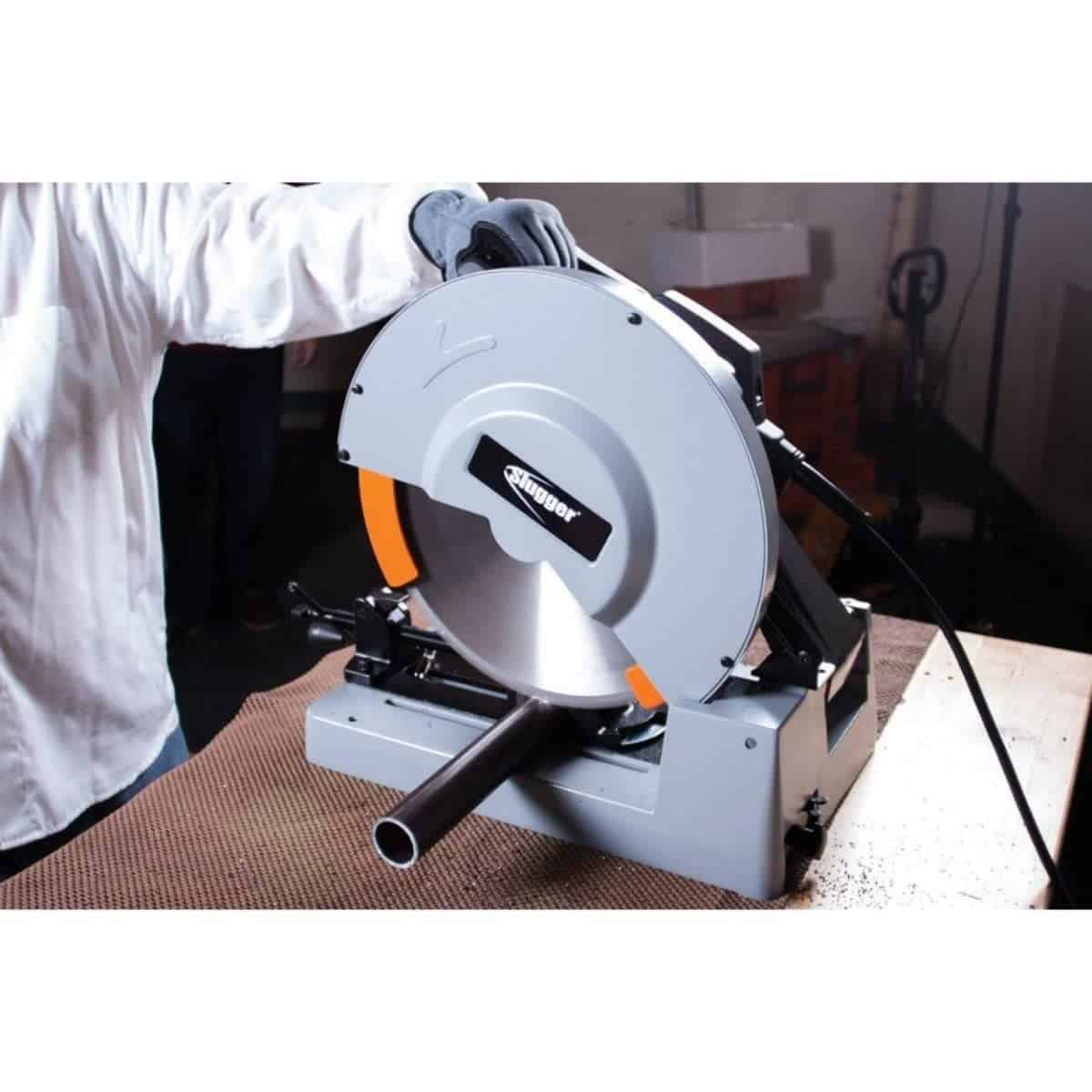 Durability is often a synonym with safety when it comes to power tools. If the equipment is durable, you won't run into an accident that could harm you otherwise. Circular saws, in this instance, need to be even more careful with their sharp saw blade.
There are many durable circular saw options out there, but nothing can outmatch the metal cutting saw by Jancy Slugger. However fancy the brand's name might sound, this saw and its durability are no joke.
First off, you get a nine-inch saw blade encased in an exceptionally durable case. The motor can supply up to 1800 watts of speed to the saw blade, speeding up the tedious process of cutting metal in a flash.
With double insulation, the motor is safe from any excess overheating that you would see on other similar types of DC motors. You also get a cast aluminum base that is excellent for holding down the saw and the material you are cutting.
As for other features, you get an integrated laser that you can use to guide your cuts without having to rely on your eyes. This feature is excellent if there is a lack of light where you are working.
With the package, you can get a wrench, custom case, guide plate, eyewear, and more, lending to the manufacturer's sense of care for you.
Pros
Double insulated motor
High-speed operation with 1800 watts of power
Cast aluminum base for ultimate sturdiness
Integrated laser guides for assistance
It comes with a variety of safety assortments
Cons
Tiny electrocuting shocks on the handle
Mediocre plastic build
Verdict
Safety is an essential factor you should consider when doing metalwork. The metal cutting saw by Jancy Slugger is a superior choice for its safe design, durable motor quality, and advanced features like the laser guide. Check prices here
3. DEWALT MAX Circular Saw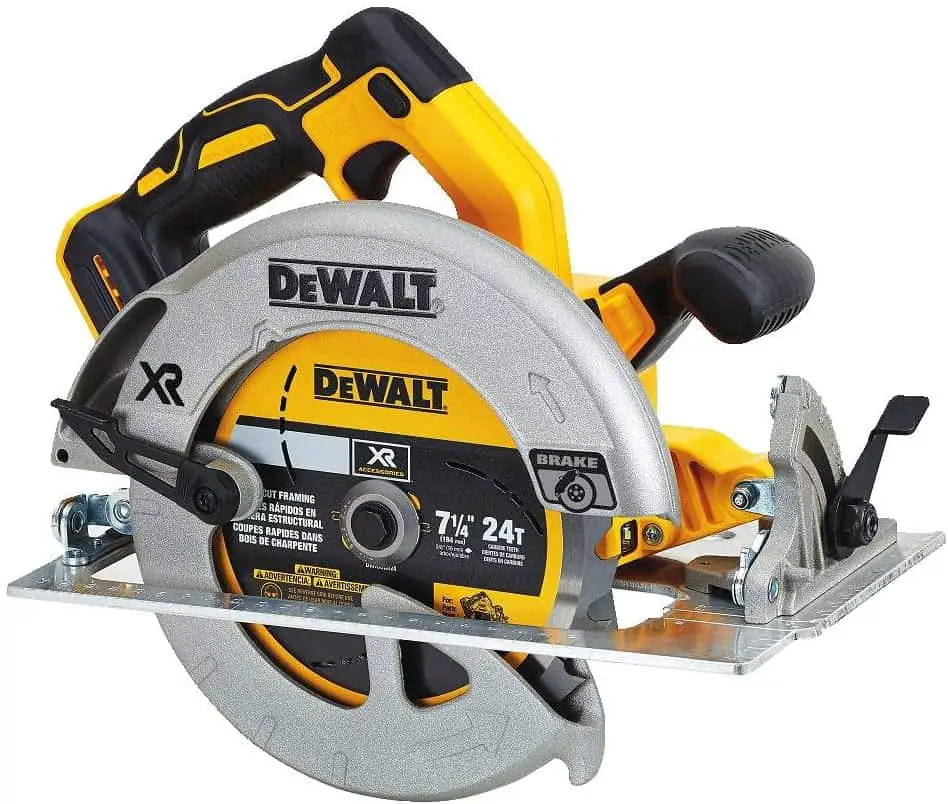 When looking for a circular saw, you look for durability, build quality, motor speed, technical specifications as the primary points of importance. However, circular saws stand head and shoulders above their competitors.
One such saw that far outmatches any circular saw you can think of is the MAX circular saw by DEWALT. Its dominant MWO motor, bundled with a 30T carbide-tipped circular saw blade, is perfect for the toughest of metals.
With a distinct yellow and black finish, the saw boasts an indomitable appearance, along with its silver casing. The motor can deliver up to 3700 RPMs of rotational force to the blade, making it one of the fastest circular saws we have ever seen.
With its 30T carbide-tipped design, its stock saw blade is no joke either. Using a blade like this, you can make quick work of any rigid material in a matter of minutes. You don't even need to worry about the angle, as the saw ensures clean cuts all around.
Apart from the technical aspects, you get a visibility system to help you see what you are cutting in dark places. Meaning, the saw can illuminate the material with the light, enhancing the material's visibility to your eyes.
You also get a window that helps you properly look at what part of the metal you are cutting at all times.
Pros
MWO Motor with 3700 RPM power output
30T Carbide-tipped stock saw blade
LED Light allowing usage of the saw in the dark
Sight-line window for better visibility
Rubber comfort grip for maximal control
Cons
Relatively heavier than most circular saws
Verdict
If you are looking for the best a circular saw can offer to your metalwork, the MAX circular saw by DEWALT (I've reviewed the brand here) is a more than perfect choice because of its exceptional power output and convenient features. Check the latest prices here
4. Evolution EVOSAW380 Circular Saw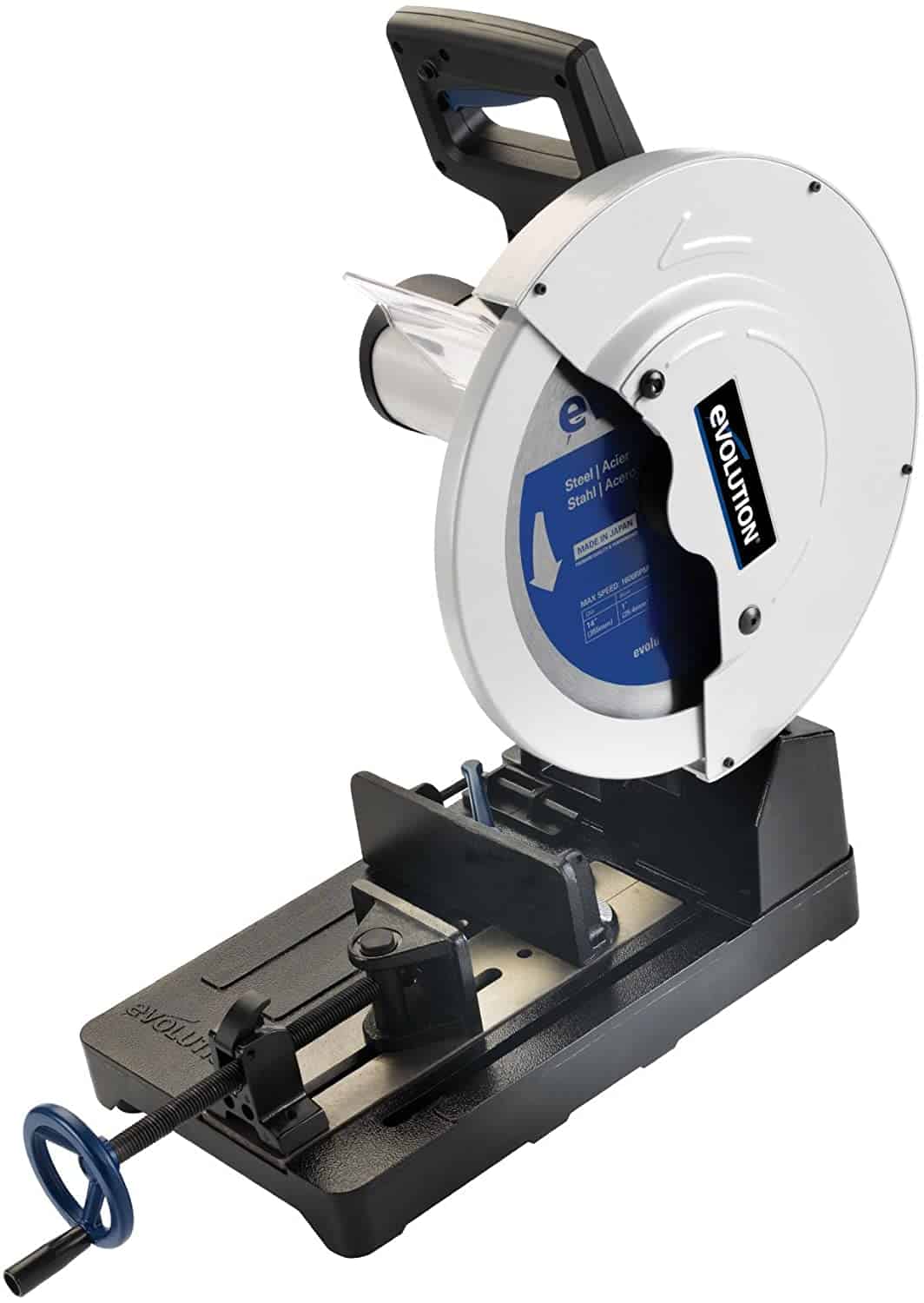 Portability isn't a factor most manufacturers think of when it comes to circular saws since the power is supplied through corded outlets. If you are someone who travels a lot, portability is almost a make-or-break factor for you.
Luckily, some portable power saws out there perform just as well as the corded ones. One such saw we found is the EVOSAW380 by Evolution. Its name might sound like a mouthful, but it is portable in its design and reliable in its operation.
First of all, this saw has a simple design with no base attached to it. No base means lightweight and can be operated without a flat surface to support the material.
Its motor can supply up to 1700 watts of power to the saw blade, which is decent enough considering its small form factor. Since it is a portable circular saw, it has a battery source that you can charge in 3-4 hours.
You can cut a lot of metal at full charge without running out of juice. With a portable saw like this, you can tilt it any way you want to cut the material in irregular shapes.
This type of design also makes it easier to make small incisions or adjustments, a purpose not supported by saws with a base.
Pros
1700 watt power output motor
Portable battery power source
Simple design with no base
45-degree bevel tilting
Well suited for travel purposes
Cons
Not suitable for rigid materials
It needs extra force to cut deeper
Verdict
If you prefer portable tools, the EVOSAW380 by Evolution is one of the top options you can consider. It is a reliable circular saw that fits onto the back of your car without needing anything else. Check availability here
5. Evolution S380CPS Circular Saw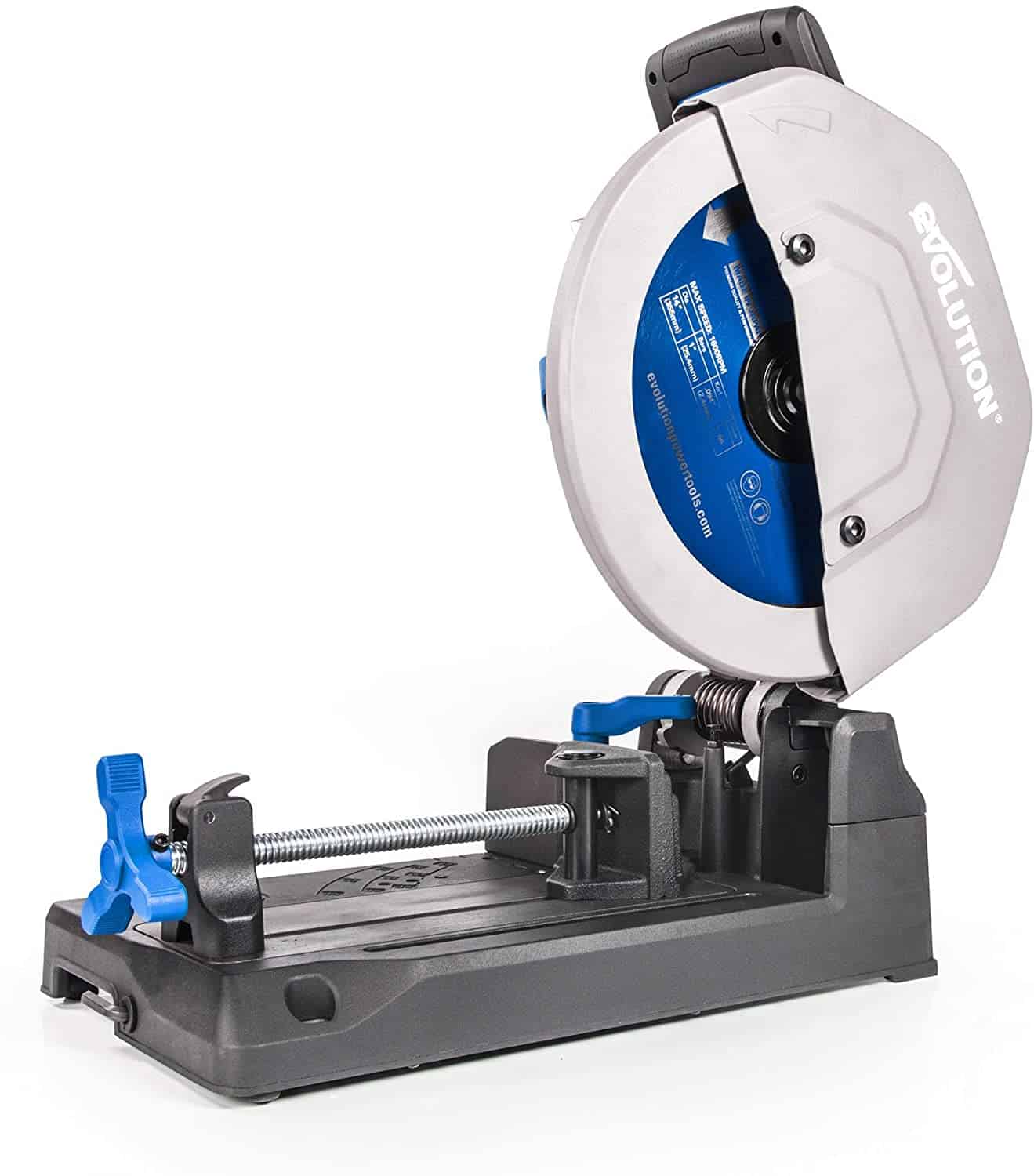 Previously we discussed a portable circular saw that didn't compromise on its quality due to its small form factor design.
However, what if you wanted something a bit more powerful? A circular saw that is still portable but possesses more power? One such that we reviewed fits that exact criterion. The S185 circular saw by Evolution is a saw that won't let you down at all.
It has a somewhat similar design to the previous Evolution saw we covered but ultimately differs in features.
First of all, the saw has a powerful motor that can supply 3700 RPMs of rotational force to the saw blade, allowing you to cut metal at crazy speeds.
But, if you're looking to make clean cuts, don't worry, as the blade is entirely safe from making abrasive cuts. No matter how much speed the saw runs at, the material wouldn't shatter in any case.
Since the saw has a portable design, you can tilt it and make cuts at irregular angles with the 45-degree bevel tilting. You don't need any separate tools or accessories to make those fine adjustments to the material.
As for other features, the saw has a clear-cut viewing window that allows you to peer into what part of the material you are cutting with ease.
Pros
3700 RPM output motor
The dry cut feature allows for cleaner cuts
Portable design allowing finer adjustment
45-degree bevel tilting
The clear-cut window for better visibility
Cons
Heavier than most circular saws
Not suited for rigid metal materials
Verdict
All in all, the S380CPS circular saw by Evolution is an excellent option to pick if you need power and portability in the same package. It cuts clean and fast and gets the job done in no time while being portable.
Frequently Asked Questions
Q: What should I look for in a circular saw?
In short, to find a good saw, you need to look for a combination of a good motor and saw blade to ascertain whether or not the saw is good.
Q: Cordless vs. Corded – which type of circular saw should I get?
The question depends solely on what purpose you're getting the saw for. If you travel a lot, we suggest getting a cordless circular saw. On the other hand, a corded circular saw performs just as well if used in your garage.
Q: How do I cut wooden/glass materials with a circular saw?
Circular saws are good at cutting rigid metal materials but aren't really built for cutting softer materials. Hence, it would help if you got a saw that is gentle on wooden/glass materials as they are fragile.
Q: What is the best circular saw I can get?
Our top recommendation for a circular saw would be the DEWALT Max saw for its incredible power and unique features.
Q: Can I cut any material with any circular saw?
Depending on the material you are working on, you may need to get a specific type of circular saw.
Final Words
Circular saws are incredible tools that allow you to cut through the toughest of metals almost effortlessly.
We hope that our top picks for the five best metal cutting circular saw contenders have helped you select one that best fits your needs!
I'm Joost Nusselder, the founder of Tools Doctor, content marketer, and dad. I love trying out new equipment, and together with my team I've been creating in-depth blog articles since 2016 to help loyal readers with tools & crafting tips.