I love creating free content full of tips for my readers, you. I don't accept paid sponsorships, my opinion is my own, but if you find my recommendations helpful and you end up buying something you like through one of my links, I could earn a commission at no extra cost to you.
Learn more
Anyone who has been working with drills has heard about the Milwaukee Company. They manufacture some of the best drill machines in the world. Whether you want handheld drills, huge machines for heavy-duty work, or small equipment for use at home, this company has it all.
If you are looking for the best Milwaukee drills, we have listed top 5 of them for you below. You will most definitely find your favorite one on our list.
Milwaukee is different from other brands as it makes products keeping the customer's needs in mind. You will notice that all the drills listed here have some excellent user-friendly features that other drills usually don't have.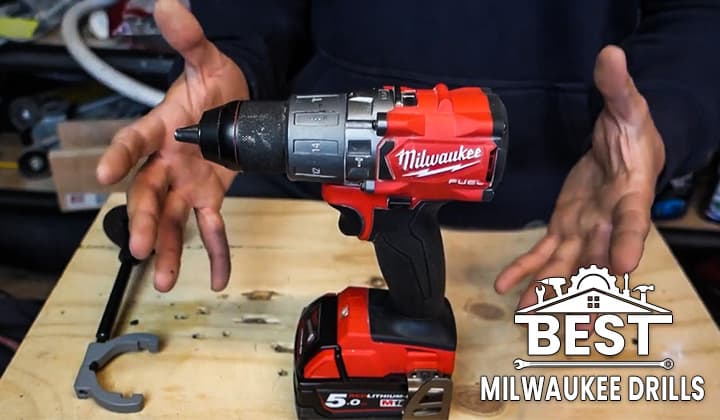 The company has been in the industry for a long time, and its users have always praised the products for being highly durable. You can use a Milwaukee drill for years without worrying about its performance fading.
Check out our list below to find the Milwaukee drill you are looking for.
Top 5 Best Milwaukee Drills
Here we have the best 5 drills manufactured by Milwaukee. The products listed here are from different price ranges and have different features. Go through the reviews to get a better idea of each.
Milwaukee 2691-22 18-Volt Compact Drill and Impact Driver Combo Kit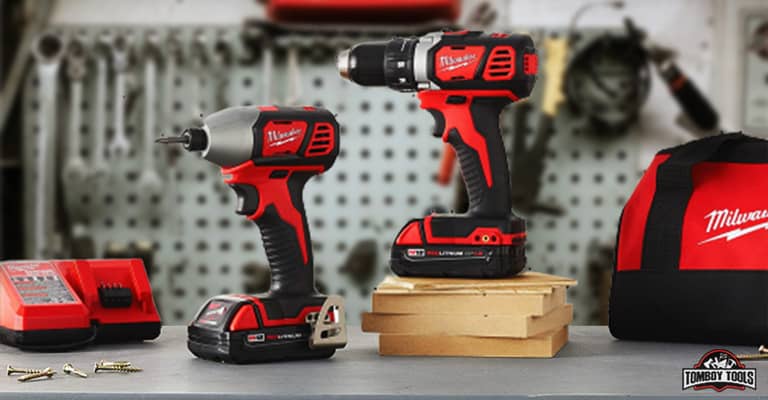 This one is not just a drill; it's actually a combo pack of two drill machines and a bag along with other necessary things. You will find an 18-volt compact driver, a 1/4-inch hex impact driver along with 2 batteries, 1belt clip, and 1 charger in the soft case.
As you are getting two different types of equipment here, you can most definitely use them for different purposes. One is a compact drill, and the other one is an impact drill. This set is the ideal pack for a professional. But it's user-friendly enough to be used by amateurs.
The drills are made of high-quality plastic. You will get torque of 400 inch-pounds with the compact drill. It weighs only 4 pounds and is 7-3/4 inches in length. On the other hand, the impact drill can deliver a torque of 1400 inch-pounds.
You will be able to control the speed with both of these drills. They come with different speed triggers, which makes operating them easier and gives user more control.
Both the drills have LED lights attached to them as well. This means you can use them when electricity goes out or outside at night. These drills are very lightweight; you can even handle them with one hand.
Highlighted Features:
Two different drills in one pack
Very lightweight; easy to carry around
Comes with a soft carrying case
Battery operated machines: battery comes included in the package
Attached LED lights
Milwaukee M12 12V 3/8-Inch Drill Driver
If you are looking for excellent torque, this one is the one for you. The drill driver can deliver a maximum of 275 in-lbs. when it comes to torque, which is better than most other drills.
The machine has an excellent ergonomic design, which makes it ideal for long term use. You definitely won't get tired even if you use this driver for hours continuously. The handle is very soft and sturdy as well. It has a rubber covering, which eliminates slipping off the machine whenever your hands get sweaty.
These machines are excellent for doing basic repair work or DIYs around home. The drills are easy enough to be used by amateurs and work excellently on all kinds of surfaces. You can use it for emergency drilling to get our cable out or build a treehouse using it.
It's a cordless drill that you will need to charge. But the equipment doesn't take up much time for charging; it takes only 30 minutes. And a small amount of charge can help it run for a long time.
With only 12 volts power, this machine can run swiftly. So, you are not only saving money on the equipment itself, you are saving on electricity bills as well.  We definitely recommend this drill machine for our amateur users. You will love it.
Highlighted Features:
Affordable
Offers excellent features for the price it asks
Small and handy with its ergonomic design
Excellent for amateur users
Charges really fast; within 30 minutes only
M18 Fuel 2-Tool HMR Drill/Impact Driver Combo KT
Looking for something really powerful? Check out this set from Milwaukee. The set comes with 2 tools: one ½ inches hammer drill and a ¼ inches hex impact drill. Both of these tools are very handy when it comes to construction work or woodworking. Any professional would love this versatile set.
Two belt clips and two-bit holders come included in the package so that you don't have to buy them separately. A multi-voltage charger that is compatible with both the tools is also included in this set to save from the trouble of having one.
The side handle makes handling tools way easier and more efficient. You can reach narrower space with the help of this handle. Performance of the machines is excellent; both of them can deliver a maximum of 1,200 lbs torque and can rotate 2,000 times per minute.
A carrying case is included in this kit along with the other tools. The case is big enough to hold all the parts and both of the drills easily. It comes with a handle so that you can take it everywhere easily. We highly recommend this versatile and sturdy kit for all the DIY enthusiasts out there.
Highlighted Features:
2 drill machines in one kit
Powerful and versatile
Comes with charger
Carrying case, belt clips, and bit holders are included in the kit
Charger is multi-voltage
Milwaukee 2607-20 1/2" 1,800 RPM 18V Lithium-Ion Cordless Compact Hammer Drill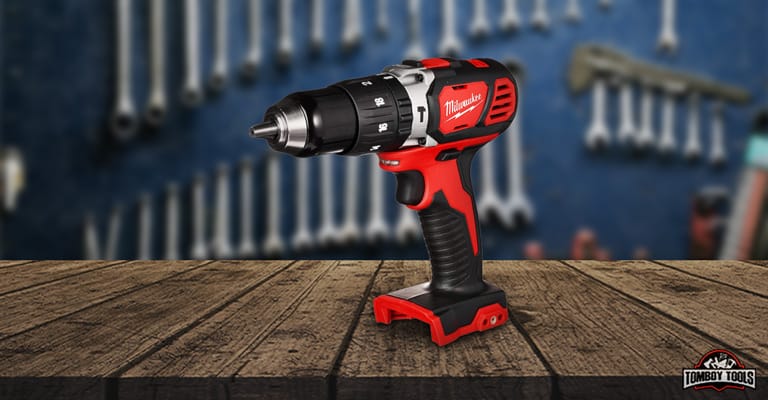 This drill might be a compact one, but it can go through anything. Many tools struggle to drill through concrete, but this one puts holes in concrete like its butter. The drill is an excellent choice for DIY work and mild construction jobs.
The drill comes with a stand, which means you can keep it upright on the floor. That way, you don't always have to hang it anywhere, and it becomes easier to store as well.
It has measurements printed on the head so that you can see how much you are drilling. This makes it easier to work in teams, and one drill can be used be by everyone this way. It weighs only 3.40 pounds, which makes it ideal for around the home as you can carry it around easily.
Textured grip of the drill gives users more control and makes drilling more comfortable. The handle is excellent for all sizes of hands; it's not too big or too small. Gear of this drill is completely made of metal. That is why; it's long-lasting and durable.
With an RPM of 1,800, the drill performs excellently. Although you can't use it continuously as it tends to heat up, who doesn't love breaks? The drill machine also has attached LED lights that allow users to drill in dark.
Highlighted Features:
Long-lasting and durable.
Can drill through almost everything
1800 RPM
LED lights
Cordless and battery-powered
Milwaukee 2804-20 M18 FUEL 1/2 in. Hammer Drill
Last but not least, this drill comes with a brushless motor, which makes work way more efficient and easier. The motor is specifically built for this hammer drill, which ensures that this one gets 60% more power.
The machine protects itself from overloading and damages with the help of the Redlink plus intelligence. This feature sets the equipment apart from the others. You can completely rely on the performance and durability of this machine, as it's backed by Redlink.
You can use the drill machine for hours without any trouble, as it has an ergonomic design. The tool doesn't put any pressure on the human body and makes drilling as swift as possible. It can deliver a maximum of 1,200 lbs. torque, which is perfect for a wide range of projects.
A stand is attached to the bottom of this drill so that it can support itself while on the ground. It also has a textured grip that prevents slipping and skidding of the machine due to sweaty hands.
The tool is cordless, and it runs on red lithium XC5.0 battery. These batteries can retain more power in lesser time, so the machine requires less charging time compared to others of same range.
It's 6.9 inches in height and weighs only 4.53 pounds. We recommend this great quality tool for both amateurs and professionals.
Highlighted Features:
Runs on red lithium XC5.0 battery
Brushless motor
Redlink plus intelligence to protect from overloading and damages
Textured grip
Ergonomic design
Key Features In Milwaukee drills
If you are looking for a drill machine, you certainly have looked at other company's products. So why Milwaukee drill? Here we will explain to you what's so unique about these drills that you should choose them over the others. Read on to get convinced.
One-key Features:
One of the best features ever invented by any electronics company; the one-key feature basically does three things. It offers advanced tool control, power tool inventory control, and job-site reporting feature.
The 3 of these services together allow drills to be integrated with different devices. It's an excellent feature that sets their drills apart and makes them superior.
Excellent Tool Sets:
If you have gone through the reviews, you definitely know that Milwaukee offers some of the best drill sets you can find in the market. They offer not only multiple drills but also include chargers and all the necessary equipment in the set. This saves money and time for users.
Durable Drills:
Most Milwaukee drills last for a long time. Obviously, you would have to use them with care and maintain them. But they can perform consistently throughout their lifetime.
These drills are durable because they are made of good quality materials. Some of them even come with self-healing features to prevent overheating and damages.
Powerful Drivers:
Compared to other brands like Makita or Dewalt, we would recommend Milwaukee because it lasts longer and is more powerful.
All the drills manufactured by Milwaukee provide exceptional power and can drill through even the hardest of objects. You can even save electricity with these machines as they don't require much power.
FAQ
Q: Which tools from Milwaukee are the most powerful?
Ans: The M18 fuel tools from Milwaukee are voted to be the most powerful tools manufactured by the company. The tool is an 18-volt cordless drill.
Q: Can I use the 2804-20 M18 FUEL hammer drill for standard drilling functions?
Ans: Yes. The tool can perform both hammer drills and standard drills works.
Q: What are the Milwaukee RED LITHIUM batteries?
Ans: These batteries are an upgraded version of lithium-ion technology. The batteries can increase runtime of tools and decrease the charging time for them.
Q: Are all Milwaukee tools made in USA?
Ans: No. Some tools are made in Korea, and some parts are made in China. The company is US based.
Q: What does the Redlink plus intelligence do?
Ans: This feature allows the tool to protect itself from overheating and damages. The intelligence system basically builds a connection between the battery, charger, and tool.
Conclusion
Milwaukee has always been a favorite for us. It performs better than most of the other brands available in the market, and the best part is, it performs consistently. You won't ever see a Milwaukee tool wavering in its performance.
We hope that you have found the best Milwaukee drill from our reviews. We have thoroughly reviewed each product so that you get all the information you need.
Please check out the company's website if you would like to research more. The price and other things are all mentioned there. It is recommended to stick to your budget whenever you are shopping for anything. Good luck!
Also read – best makita drills
I'm Joost Nusselder, the founder of Tools Doctor, content marketer, and dad. I love trying out new equipment, and together with my team I've been creating in-depth blog articles since 2016 to help loyal readers with tools & crafting tips.