I love creating free content full of tips for my readers, you. I don't accept paid sponsorships, my opinion is my own, but if you find my recommendations helpful and you end up buying something you like through one of my links, I could earn a commission at no extra cost to you.
Learn more
Nothing symbolizes a craftsman more than an occidental tool belt. Anything and everything that you might need for a project has a dedicated slot in it. Functionality, durability, and comfort: all 3 are things a craftsman might be looking for, and an Occidental's got it all.
Though there are complaints in regards to their price, they're the best in the biz, and that's a fact.
Once you put on that belt, the price won't matter. The leather, pockets, and looks will have you falling in love. So why not give a few extra dimes and nickels to get the best Occidental tool bag?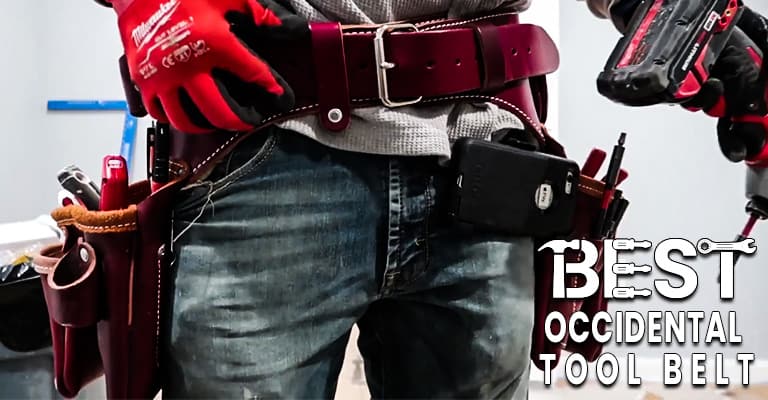 Let's take a quick look at my top choices for Occidental tool belts:
Occidental tool belt buying guide
There's no doubt that Occidental Leather dominates the market. But choosing a tool belt of your own requires some parameter matches.
Let's explore them!
Build quality
Stitches, buckles, and finish determine the build quality.
The stitches should be well done. The pockets and chambers should be reinforced with metal rivets. Copper rivets are favorites and are durable too.
Durability
The No-Spill feature is a must for these tool belts. It allows you to tackle tearing, eroding, or wear and tear to some extent.
If you want to use the products in all types of weather, then the fabric stress criteria should be maintained.
Material 
Mostly, these belts and pockets are made of leather. It's the texture and smoothness of the surface that differ from product to product. Note that even better-textured ones may not be as good as you think, as they may have a bad finish.
Often, belts are made of nylon, industrial rugged nylon, or some other artificial materials too. They aren't recommended due to the low comfort level they offer.
Pockets
Occidental tool belts mainly feature 2 main pockets. Other products may vary.
What matters even more is their depth and reinforcement.
Types
The 2 main types of tool belts are waist and harness belts.
If your tasks involve climbing up and working at higher places, harness tool belts should be your choice. But if you're doing all sorts of work or you're in a bind, go for waist belts.
Empty weight
Tool belts usually weigh about 2 pounds. So when you're carrying around 20 pounds of tools, it's more than that for harness belts and even more for waist tool belts.
Leather is everyone's favorite, but in terms of weight (or lack thereof), nylon wins.
Comfort
Some tool belts (like these leather ones) contain pads for your waist. That way, you don't have to worry about hurting yourself while working for hours.
Sometimes, these pads are missing or not available with the belts, so you may have to buy the pads separately. That's going to cost you some extra money.
Compatibility
Most tool belts produced by Occidental Leather are for average-sized people whose heights are 5 feet 8 inches to 6 feet 4 inches. If you're in this range, then you don't have to worry about compatibility.
Adjustability
After wearing the belt, you need to adjust it tightly and properly. Most tool belts have 3 to 5 holes at the end that provide good adjustability for any person.
But fewer holes will be a big problem, especially when you're on the bigger or smaller side.
Suspension
If the belt has a suspension system, it'll help you to keep the belt in position. Not only that, but it'll also be a great feature to work with rhythm.
In most cases, the suspension is a ring system made of high-quality fabric or nylon.
Brands
There are multiple brands producing quality products, but they're not always capable of keeping up their reputation.
So here, I've suggested tool belts only from Occidental Leather. These leather belts have continuously given people excellent service, with fewer complaints.
Best Occidental tool belts reviewed
I've created a shortlist of top-notch tool belts from the king of leather belt products, Occidental Leather. This list is based on various aspects and features, specifications and characteristics, challenges, and pitfalls reported by users.
1. Occidental Leather 8580 LG tool belt
Highlights
The first aspect that's going to attract you is the exclusive design. With the black and brown color combination, this tool bag's design does an amazing job of grabbing the buyers' attention.
The manufacturer has made the whole body with leather and nylon. The comfort and shape are ensured and maintained by 2 padded belts.
The belt is made of industrial nylon, which is extremely tough and abrasion resistant, and the 13 pockets are made of premium quality leather. For added durability, the corners are also reinforced, making this belt very tough. So you don't have to worry about the durability of the product.
Because the belt is made of pure leather, the belt is spill-proof and this makes it more durable too. The tool belt is mostly used by mechanics and needs to be pressure-resistant, so it fulfills those requirements too.
This belt can be heavily used outdoors. There are various sizes available, such as small, medium, large, extra-large, and XXXlLarge.
The Occidental Leather 8580 is built tough to withstand day-to-day abuse. In addition to being very well-built, it's also very comfortable to wear. So if it feels somewhat heavy, the comfort might offset some of the weight.
Specs-wise, this belt is designed to carry hand tools. It features the No Spill tool holder system that provides years of durable service. For comfort, the 2-ply bags are padded and can retain their shape for a long time.
If you want to get the most out of this belt, make sure to use suspenders.
Pros
The tool belt is insanely comfortable
It's available in 5 different sizes
Fits true to size
No Spill™ tool holder system
It has lots of space to hold all your hand tools
Cons
Somewhat expensive, but well worth the money
Challenges
To some users, there aren't enough pockets
You can use it for heavy carpentry and electrical projects, but not not for compact jobs
2. Occidental Leather 9850 adjust-to-fit fat
Highlights
The black and orange color combination is attractive and the design gives the belt a shiny and beautiful look.
Many of the belts you'll find on the market don't have a perfect or strong chain. But in this belt, you're going to find a strong and durable chain to protect your tools.
There are chains added to the pockets, and the pockets are arranged in such a way that you can find your tools easily. That way, you can save some time on your projects!
The belt is full of exclusive features; another one is a leather FatLip. This leather FatLip helps you keep the belt open and gives you some extra space to keep your tools.
The leather FatLip also helps you to protect the belt from wear and tear, and scrapes. This feature will let you use the tool for multiple purposes.
Unlike the previous one, this belt contains 24 pockets, which is much more efficient. The main pockets can be used for tools with larger dimensions, as the pockets are 10 inches long.
The nylon in the bag and leather reinforcement at the bottoms and corners provide extra durability.
The belts are very well made. The adjust-to-fit system accommodates waist sizes between 32″ to 41″. They fit and adjust really well.
The belt is also designed by combining high-density neoprene, leather components, commercial nylon, etc., based upon the company's original leather Buscadero design. D-rings are pre-installed, and are used with suspension systems.
This belt weighs only 1.01 pounds, which is insanely light. You can change the cloth of the bags seasonally, which is really cool!
Pros
FatLip design and open neoprene-made bags with 10″ depth
Nylon and premium leather
Easily adjustable for any waist size between 32″ to 41″
Hand tool holders provide maximum working flexibility
It weighs only 1.01 pounds
Cons
Left and right-handed bags are fixed; have to decide before buying
Challenges
If you wear the belt for a long time, it's not going to be comfortable, as the belt isn't padded
You won't find a suspender attached to the belt; you have to buy a tool belt suspender separately
3. Occidental Leather 9855 adjust-to-fit fat
Highlights
The main feature of this particular tool belt is its 2 variables: right-handed and left-handed.
This belt is mostly designed for those in carpentry. The pockets of the belt are manufactured step-by-step.
On the backside, you'll see a 2-in-1 tool holder for the belt. Like the first belt I recommended, this one's belt is made of nylon material and the body is made of pure leather.
The leather used in this belt is durable, as well as spill-proof. These features ensure durability and the amount of pressure the belt can take.
If you have tools with larger dimensions, this belt is the one for you. You'll have 10-inch pockets, which are much more efficient.
The Occidental Leather 9855 is also based on the FatLip design. It gives the user multiple advantages, like formed shape, open bags when empty, and protection from abrasion. As it's sequential to the 9850 model, this one is very similar to that model.
This leather tool belt set is specially made for production carpenters. So a hammer holder is included at the backside, which is very useful. However, these bags aren't big enough to keep a powerful hammer.
Commercial nylon in the bags and reinforcement of leather at the bottoms and corners provide extra durability to the bags. You can change the cloth of the bags every season, which will give a new look to the set.
The suspender is a great feature. It shifts the load on your shoulder and makes a relatively heavy one much lighter.
One free-size suspender is adjustable for all and the belt is really cool. The belt is designed by combining high-density neoprene, leather components, commercial nylon, etc.
Pros
Reinforcement of leather at bottom and corners
On the backside, there's a hammer holder
Very comfortable suspender included
10″ deep bag made of industrial nylon
FatLip designed bag
Cons
May feel bulky to new users
Challenges
The pad of the tool belt isn't as thick as it needs to be, which can be an issue for users
You won't find any chains on the pockets to protect your tools, so safety is a problem with this belt too
4. Occidental Leather 5089 M seven belt framer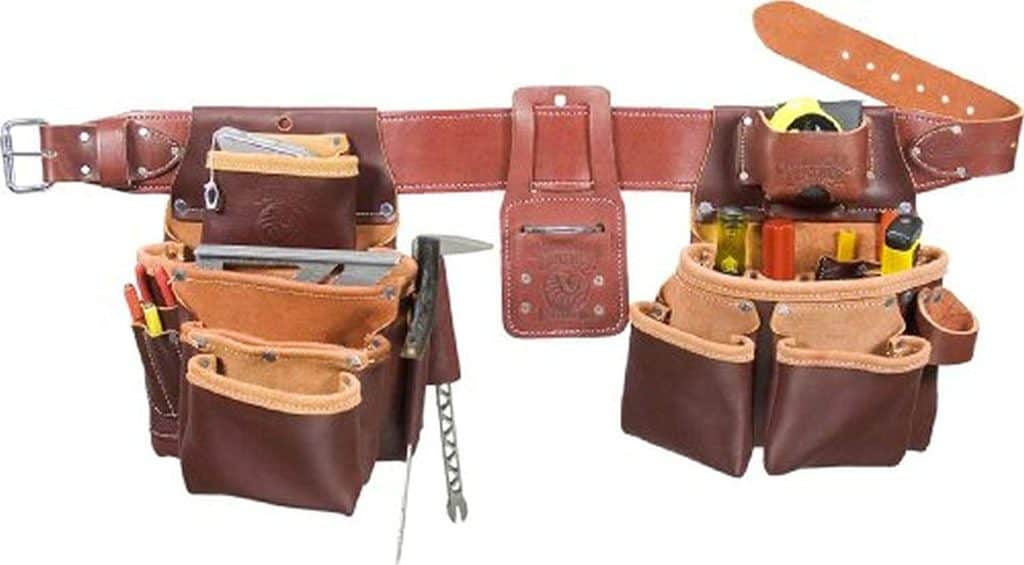 Highlights
This is one of the most popular tool belts by Occidental Leather. Premium quality leather is used to make it, which ensures long-lasting durability.
Here, the pockets are made of pure leather and these pockets are spill-proof. You'll find a total of 23 pockets, which is quite satisfying for users.
These pockets are suspended by copper rivets, so no need to be worried about the pockets tearing. Very few belts have these suspenders, so this is a great benefit.
The sizes of the pockets aren't the same to accommodate different-sized tools. Each of the belts has varying dimensions too, such as small, medium, large, extra-large, XX-large, and XXX-large. So there's excellent compatibility for users.
The belt's length is adjustable. Besides, you can use this belt in any kind of weather.
Challenges
If you want to work for hours, you'll have to buy the pads separately; otherwise, it may hurt to use the belt for a long time
For everyday housework, this isn't ideal; this belt is mostly for outdoor use
5. Occidental Leather 5089 LG seven belt framer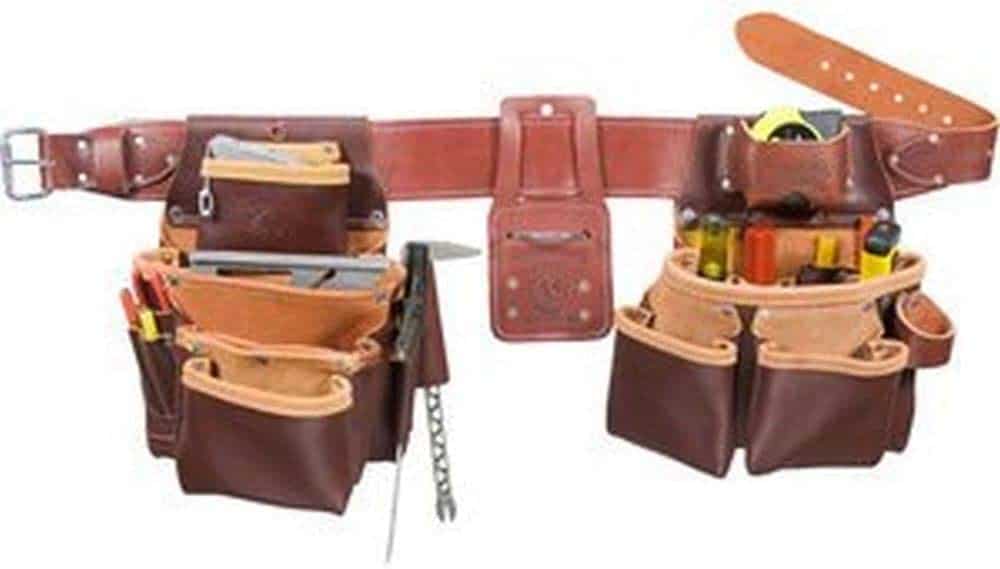 Highlights
This Occidental tool belt and the previous one are quite similar, except for the size and some of the specifications. And mostly, these 2 belts have separate fan bases.
The design of these 2 belts is identical. The quality of the leather that's been used to manufacture the belt is the same too.
Like the previous one, this belt has top-grain leather, which is trendy. It has specific leather tool holders, which makes it efficient if you're planning to work outdoors on heavy projects.
To protect the pockets from tearing apart, copper rivet reinforcements are used, which ensures long-lasting durability too.
This tool belt is spill-free, which isn't a new feature, but a very essential one. The suspender is attached to the belt by default, so you won't have to add the suspenders separately. Not only does this save you extra money, but also some effort.
Challenges
As there are no pads added to the belt, it might seem hard on your waist, so it may make you face some problems regarding working for a long time.
You can use it only for heavy outdoor projects, not your home projects or daily works.
Occidental Leather 8089 M OxyLights 7 bag framer set
Next comes the Occidental Leather 8089, which is a seven-bag farmer set that's great for DIY enthusiasts.
This one is specially designed in such a way that it can hold multiple tools at once. This Occidental belt also has numerous pouches for your tools' security and to keep your frequently needed items in one place.
You can also use this framer set as a belt. A correctly-fitting belt will prevent falling it from sagging.
All the materials used to make this belt are premium-grade ones. The company manufactures with such care that they'll last longer and will be durable.
This is a handmade professional-grade tool belt. The leather bags and stitches are ready to take on heavyweight tools and rough handling.
It's not very big or small, so it's really comfortable for users. 2-ply padded tool bags are added to keep their shape.
The belt is extremely lightweight, despite its multiple pieces of leather and 2-ply bags; it's only 4.08 pounds.
You can adjust the bags according to whether you're left or right-handed. You can even change the combination of the pouches to mix and match them to your preferences.
Pros
Multiple pouches ensure your tools are secure
Durable and long-lasting
2-ply padded tool bags
Available in 5 sizes
Heavy-duty, professional grade
Cons
Little pricy, but worth it
Occidental Leather 9525 M The Finisher tool belt set
All the tool belts made by Occidental are unique and innovative, and the Occidental 9525 M is no exception. It's positively reviewed by a vast number of customers worldwide.
This is a full-capacity, round bottom tool bag. Innovative in design, it's engineered for full function trimming, finishing, and light framing work.
This bag is one of the most versatile ones. Left or right-handed people have the benefit to place the tool holders according to their preferences, which helps with efficiency, especially in combination with the wider mouth of the bags.
The belt set weighs only 4 pounds, which enables you to move easily. It's much lighter than others available on the market, plus it has many functionalities.
You can add a suspender if you're a load carrier. That'll shift the weight from your waist to the shoulder, which will ensure great comfort.
You can also customize the bags' hammer loop. You can even bring them all to the front side.
Pros
Available in 10 different sizes and types
It weighs only 4 pounds
Handmade in the USA
Comfortable leather-made belt
Cons
Moving the bags isn't very easy
FAQs
Here are some frequently asked questions and their answers.
How do I choose a tool belt?
The most important things to look for are durability and comfort.
A good quality tool belt should be very sturdy. Occidental leather tool belts are an excellent option, and thick nylon fabric is a very strong choice too.
Who owns Occidental Leather?
Almost 40 years ago, building contractor Darryl Thurner of Occidental, California, got a little tired of dropping tools on the job. So he started making tool belts!
How do you stretch Occidental Leather?
I simply ran hot water over the parts I wanted to stretch, working the leather until saturated. Then I inserted a tool to shape leather, stretched it slowly, and made sure it was soaked.
If you try this and it won't go, repeat the wetting and stretching process.
What kind of leather does Occidental Leather use?
All of Occidental Leather's tool bag leathers are a premium full grain cowhide tanned with a special blend of oils and waxes to their stringent specifications. That way, the belts perform in all weather conditions, requiring virtually no extra care.
They use only the heaviest weight suitable for each application.
What is Occidental Leather?
For over 40 years, Occidental Leather has designed and produced impressive, high-quality leather tool bags, belts, suspenders, and tool pouches. All Occidental Leather tool carrier products are made in the USA to ensure uncompromising assembly, comfort, and meticulous attention to detail.
Why choose the Occidental Leather tool belt?
Occidental Leather is a pioneer in the leather tool belt industry. They manufacture a variety of designs for working tradesmen. From their all-leather tool belts to the beltless suspension system, you can find the right product for your needs.
Does Occidental Leather have products for lefties?
Yes! Lefties will be happy to know that they offer left-handed versions. They have mirror images for the lefties of their most popular models.
Look for the word "LH" in the product title if you want a left-handed model.
Pick up a quality Occidental tool belt
These tool belts are very efficient for mechanics but buying them can be confusing. But this article should help! Though I've given you a shortlist, right now, I'm going to give you an even shorter and sweeter list.
Considering the material, finishing, and features, the Occidental Leather 8580 LG tool belt can be a good choice for you. The design and arrangement of the pockets are excellent.
In addition, the Occidental Leather 9855 adjust-to-fit fat can be the one for you if you're a left-hander and you need a tool belt with various features.
So don't waste any time now that you have pretty good knowledge about these belts. Grab the best Occidental tool belts for you!
I'm Joost Nusselder, the founder of Tools Doctor, content marketer, and dad. I love trying out new equipment, and together with my team I've been creating in-depth blog articles since 2016 to help loyal readers with tools & crafting tips.