I love creating free content full of tips for my readers, you. I don't accept paid sponsorships, my opinion is my own, but if you find my recommendations helpful and you end up buying something you like through one of my links, I could earn a commission at no extra cost to you.
Learn more
If you seek to buy the best palm sander in the market, and your judgment is clouded by confusion, you're in the right place.
We know better than anyone how challenging it can be to pick the perfect product in this day and age.
All the limitless options and exaggerated promises can leave you drowning in a sea of questions. If you wish to refinish your furniture but know nothing about palm sanders, we have got you covered.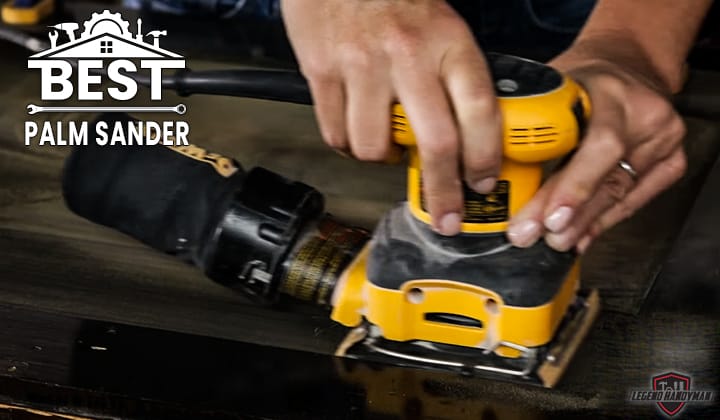 Here, we have carefully handpicked the top 7 palm sander based on their features and additional perks. Feel free to browse through the detailed reviews and pick the one that best suits your needs.
Best Palm Sander Reviews
Palm sanders are essential power tools required to achieve the best out of your old furniture. It is also perfect for sanding any homemade furniture to perfection. However, the level of finish you achieve highly depends on the type of sanders you choose.
You can easily get lost among the various choices available due to modern technological advances. To make your choice less confusing, we have accumulated the 7 best-rated palm sanders below.
BLACK+DECKER Random Orbit Sander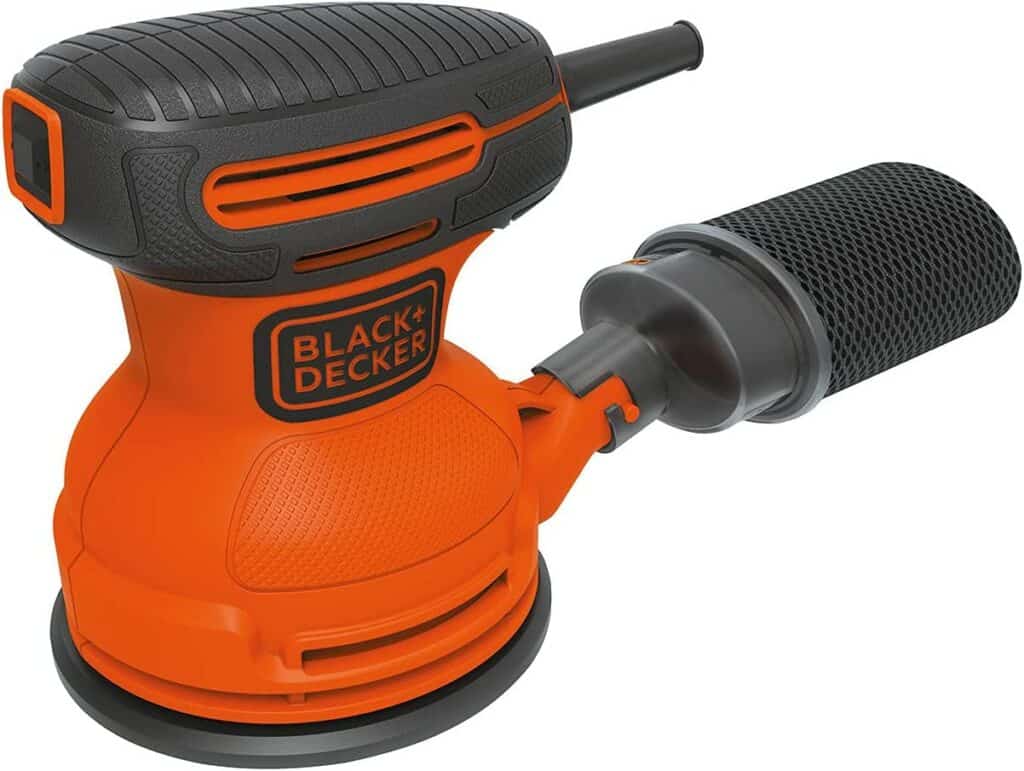 BLACK+DECKER has been satisfying its valued customers ever since its establishment in 1910. Modern technology and reliable designs have been the root of their products. One such product is their BDERO100 random orbital sander. This compact sander provides any piece of wood with a rigorous finish.
The random orbital motion gets rid of all the jagged edges with more speed and precision than ever. Refinishing old furniture doesn't take longer than a few minutes, and its compact design makes it easy to maneuver. It's lightweight so you can carry it to your workplace without much effort.
Storing it is even more convenient as it takes up only a small amount of space. It handles like a dream because of its compact design and effortless orbital action. This makes your job less tedious and hassle-free.
Moreover, due to its small size, it makes it easier for you to control the pressure you exert. Putting too much pressure can cause you to form dents on the furniture, and ruin it. This sander is gentle on the wood and requires less effort to make any old furniture look as good as new.
It's also very budget-friendly and easy to use. Therefore, it's mostly ideal for beginners delving into the carpentry hobby.
Another important feature is the dust-sealed switch. BLACK+DECKER has always been keen on making their models long-lasting.
Similarly, the dust-sealed switch keeps the orbital sander working efficiently by blocking the dust and debris from automatically storing inside it. It is also less time-consuming to change the sandpaper because of the hoop and loop system.
Pros
Compact and lightweight
Easy to control pressure
Dust blocker ensures durability
Hoop and loop system makes it easier to change papers
Cons
Not ideal for frequent use
Makita BO4556K Finishing Sander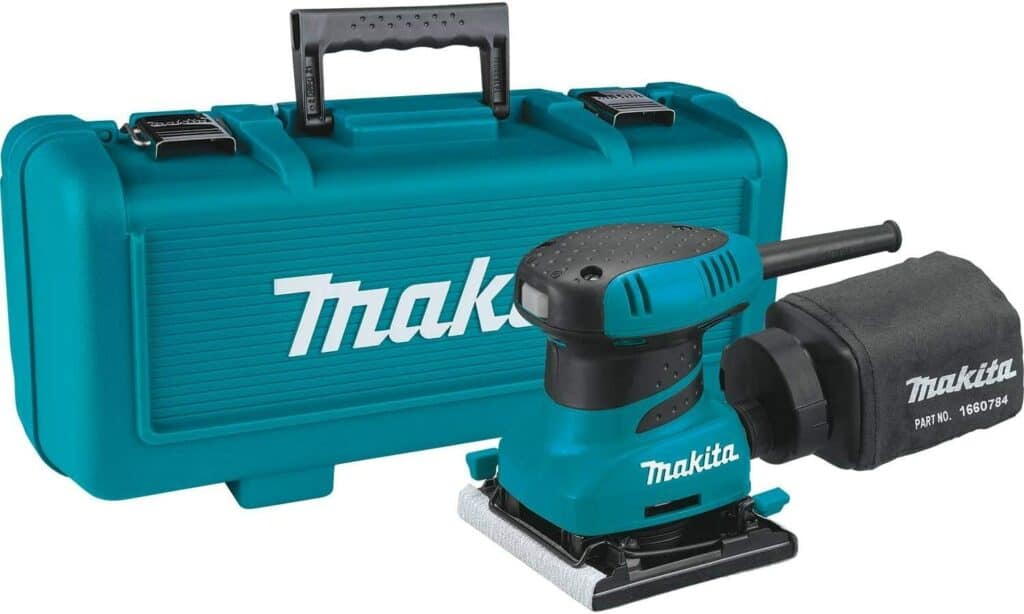 If you wish for fast and environmentally friendly sanding, Makita's BO4556K finishing sander is the perfect pick for you. Its ergonomic design makes sanding wood a breeze. Equipped with a rubberized palm grip, it increases your maneuverability and lets you sand every inch to perfection.
This feature will give you full control of this powerful sanding tool, and the minimal weight is sure to impress you. Weighing at just 2.6 pounds, it is operated by a robust high-end motor. The 2 AMP motor keeps the sander spinning at a whopping 14000 OPM.
Also, the highly enhanced orbiting speed lets you remove uneven edges at maximum speeds. It will give you the most satisfying results within half the time than any other orbital sander. Despite its immense potency, the all-ball bearing design reduces sound pollution significantly. Now you can sand in peace with undeterred attention.
You can also attach sandpapers based on your preference with time to spare. The advanced large paper clamps hold the sandpaper in place and can be removed with the click of a switch. This will allow you to sand multiple surfaces with different levels of unevenness.
The modified base design will also keep vibrations at a minimum, allowing you to achieve peak levels of finishing. And the BO4556K has felt pads engineered to store the debris automatically. The dust and debris are then stored in a dust bag, which can be manually detached and emptied.
Sand efficiently without contaminating your surroundings. The dust bag has a wide opening so you can dispose of waste easily. It's completely environment-friendly, silent, and perfect for sanding different types of surfaces.
Pros
Ergonomic design
Powerful 2 AMP motor
Reduced noise and vibrations
Doesn't contaminate the workplace
Cons
Might get damaged due to heavy-duty usage
Genesis GPS2303 Palm Sander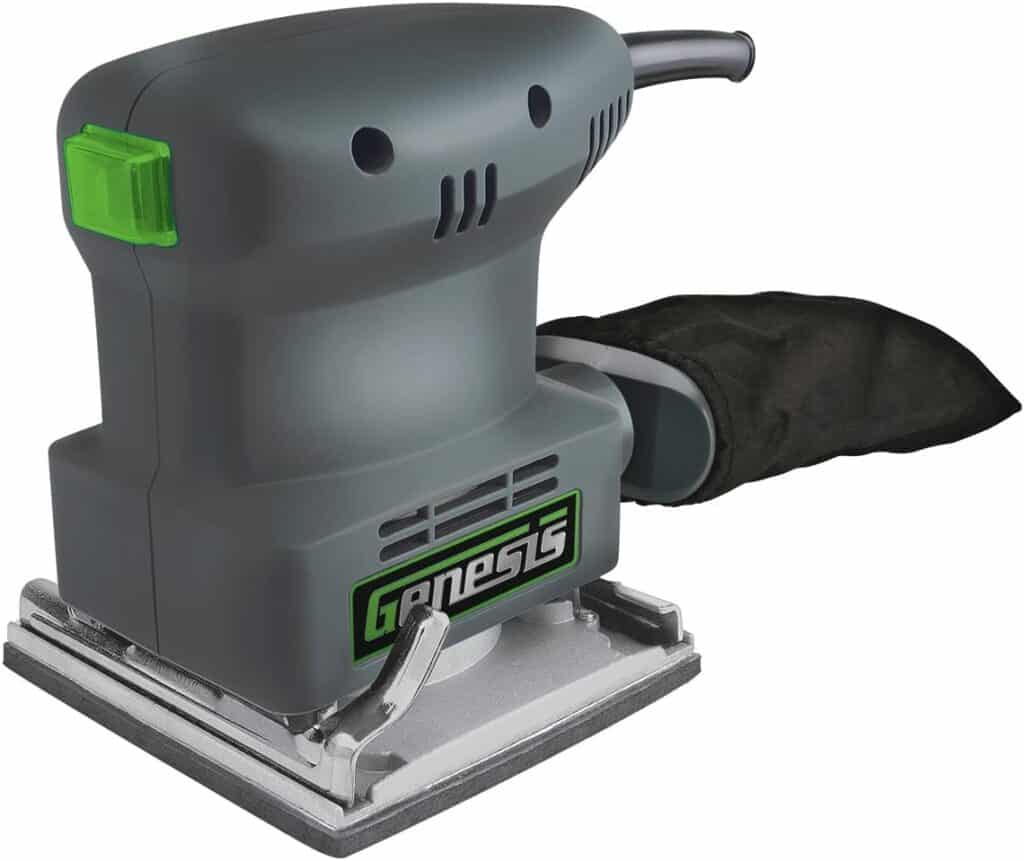 This next palm sander is specifically recommended for DIY carpenters who prefer to take matters in their own hands. It's very easy to use this sander, so you don't need to be an expert to operate it.
The comparatively low motor power makes it easier to control the speed and pressure and lets you achieve accurate finishing like any professional carpenter. This model of Genesis palm sander is run by a 1.3 AMP motor. The power of the motor might seem lower than others, but don't let it deceive you.
It powers the sander to make nearly 10000 orbits per minute! This amount rotation is enough to even out the jagged edges to utmost precision. The finishing will surely amaze you as it provides you the same results as any high powered palm sander, if not better.
Moreover, this product is effective if you want to make your furniture splinter-free. Kitchen cabinets and wooden drawers can also achieve a mirror-like finish with minimum effort. This is why this sander is ideal for amateur carpenters and experts alike.
Furthermore, the spring-loaded clamps allow you to change the paper as fast as possible, leaving you more time to concentrate on finishing. The palm sander is one of the most durable ones due to its rigid structure. It's made of die-cast aluminum and tough plastic housing to help it last longer.
Additional features include a dust collector that can be turned on and off using a switch. This will allow you to control the increased amount of mess created due to sanding wood. It also comes with various types of sandpaper, a punch plate, and a dust collection bag.
Pros
Perfect for DIY carpenters
Spring-loaded clamps
Durable aluminum body
Dust collection switch
Cons
Not ideal for heavy-duty usage
DEWALT DWE6411K Palm Grip Sander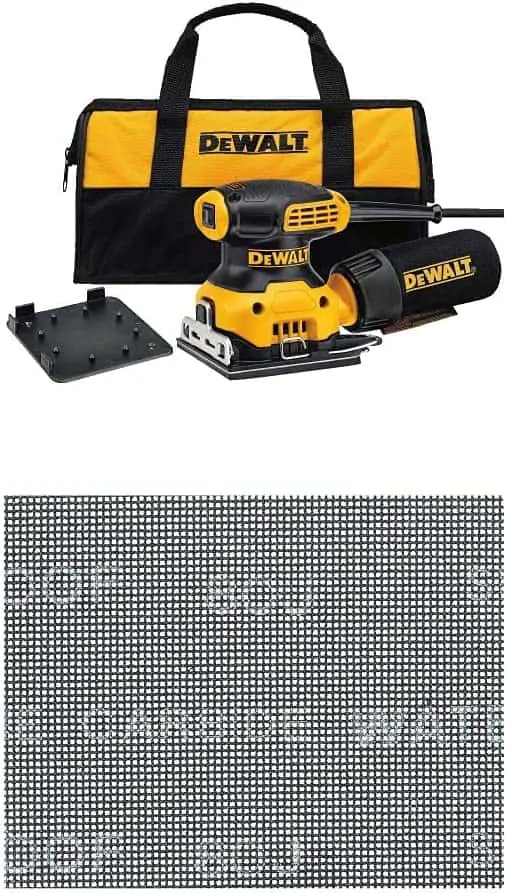 DeWalt DWE6411K is one of the most powerful palm grip sanders available on the market. Powered by 2.3 AMP motor, it can effortlessly produce up to 14000 orbits per minute. Needless to say, this product is perfect for heavy-duty operations and can last long even after frequent use.
The increased orbital action provides a more accurate finish that will definitely rejuvenate any piece of furniture. And the finishing is smooth and doesn't require much of an effort. Most carpenters often face the problem of dust retention inside the sander, which damages it faster.
Thankfully, DeWalt has taken care of this problem with a neat trick. It has introduced a locking dust-port system that prohibits the dust from being vacuumed inside the sander. Therefore, it significantly increases its life span keeping the sanding efficiency at its peak.
Moreover, the decreased height is effective for sanding on any surface as it allows you to get closer to the surface and induce more detail. Most sanders don't include this feature. So, the precision you can achieve by this is unmatched. The bottom of the sander is covered by a foam pad which is ideal for working on a flat surface.
All in all, this model has equally impressive effects on every type of surface. The switch is protected by a rubber dust boot, which saves it from imminent damage caused by dust accumulation. This ensures high durability and makes sure the palm sander performs consistently.
Apart from the sander, DeWalt provides a paper punch, dust bag, and a carry bag for safe transport. Now you can carry your power tools with you without worrying about its weight.
Pros
Robust 2.3 AMP motor
Locking dust port system
Foam pad for flat surfaces
Rubber dust boot for the switch
Cons
PORTER-CABLE Palm Sander 380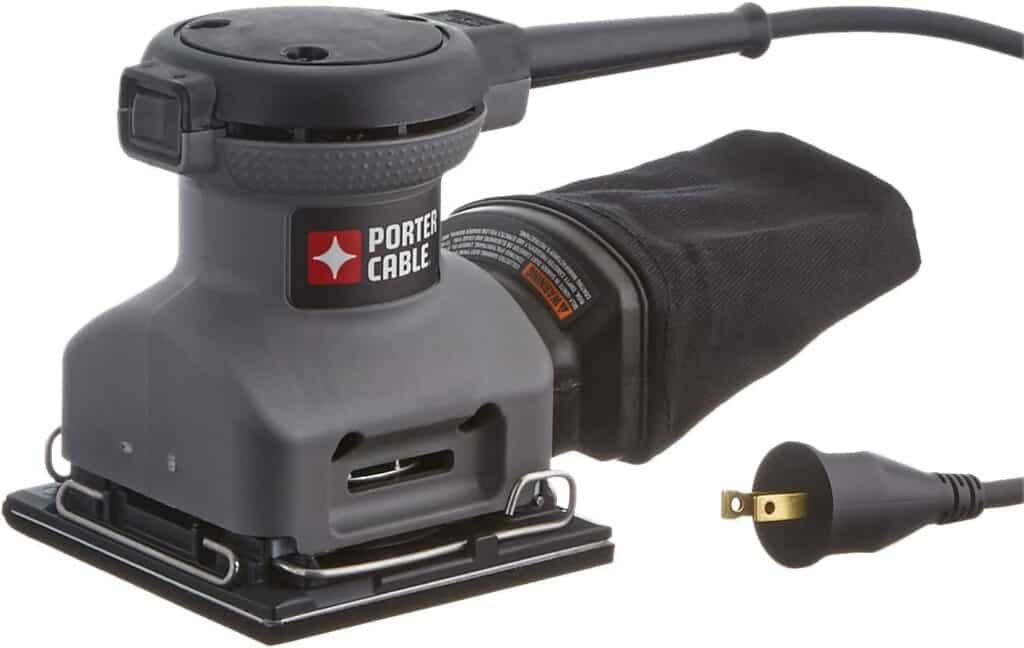 Does your palm sander require a lot of energy to operate? Well, get rid of your worries as Porter-Cable offers its new palm sander with a special design to reduce your fatigue. It's so compact and lightweight that you can maneuver it without applying too much force.
The entire design was constructed to ensure effortless sanding and allows you to work hours on end without being exhausted. Don't be fooled by its size though! Regardless of its cost-effective design, it can generate up to 13500 orbits per minute easily.
This is due to the specially manufactured 2.0 AMP motor that runs relentlessly until you are satisfied with the end result. The sanding is less aggressive. Hence, it doesn't take up much of your energy. This will allow you to work longer on your projects, and the finishing will keep you coming back for more.
Furthermore, its compact size allows it to sand corners that regular sanders can't reach. Your sanding will reach a new level with this device.
Dual plane counter-balanced design also reduces the vibrations. The vibration caused by sanding can be pretty irritating and leave you with uneven edges. This model is completely user-friendly and minimizes minor mistakes. It also gives you a whole new level of control, which contributes to the detail of finishing.
Moreover, the dust seal switch protection is an added security measure that might come in handy. It keeps the power tool intact by restricting dust ingestion during sanding.
Also, the Porter-Cable palm sander is built to last long and specialized to sand in small corners. The simple clamp mechanism securely holds the paper in place and ensures maximum stability.
Pros
Reduces fatigue
A compact design able to reach corners
Counter-balanced design
Restricts dust ingestion
Cons
On/off switch is not well placed
SKIL 7292-02 Palm Sander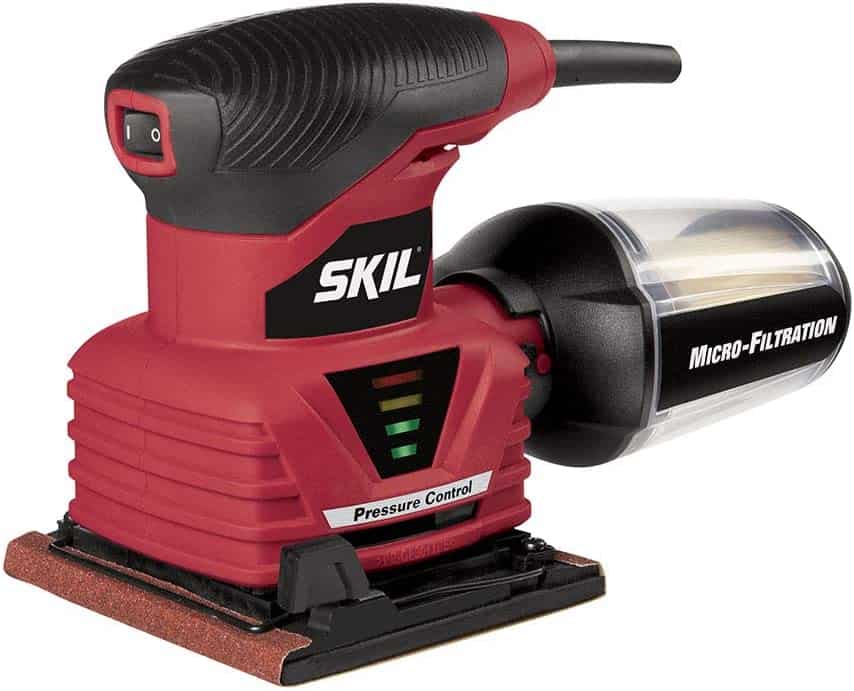 Advanced pressure control technology makes this next model the best hand sander for refinishing wood. This glorified technology alerts the user when too much pressure is being applied on the wood. As we might know, too much pressure while sanding can cause dents on the surface.
If you don't want to ruin your furniture and want to stay extra precautious, the SKIL 7292-02 will be a perfect addition to your tool shed. This product also comes with a microfiltration system that can efficiently reduce contamination. It automatically sucks up even the most minute particles and prevents you from creating a mess.
This palm sander consists of a built-in vacuum adapter, as well. The vacuum adapter effectively collects almost all of the dust and debris and stores it safely into a dust canister. Believe it or not, even this simple dust canister has its perks. It is made of a transparent but solid material, which lets you see the amount of dust accumulated.
Gone are the days of guessing when to empty the dust removal bag. Now you can empty it when needed and focus on sanding. Moreover, the soft grip feature allows you to control the sander with ease. Even the on/off switch is perfectly positioned at the top and doesn't interfere with the movement.
With all its remarkable features, the SKIL 7292-02 is a budget-friendly palm sander. Considering all the little ways it makes your job easier, it's safe to say that this item is a catch for woodworkers everywhere. Not to mention, the finishing is absolutely ravishing and admirable. It hardly requires any major skill to operate.
Pros
Next level pressure control technology
Advanced microfiltration system
Transparent dust canister
Soft grip for ease of use
Cons
WEN 6301 Orbital Detail Palm Sander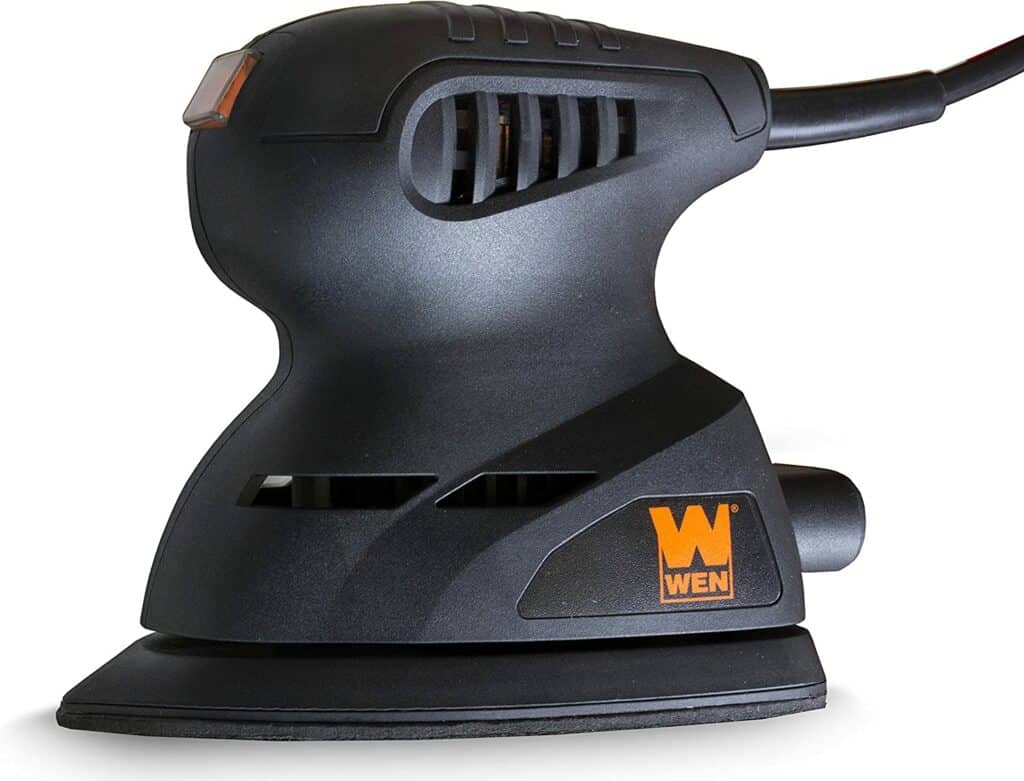 Want a ¼ orbital sanding power within the palm of your hand? WEN brings you the orbital detail palm sander that induces sheer power regardless of being small. The 6304 orbital palm sander is equipped with a potent 2 AMP motor that gives you the best performance you can ask for.
Sanding is carried out with utmost accuracy as the motor generates a mind-blowing 15000 orbits per minute. There are a few fan-assisted slots on either side, which allows you to collect all the sawdust into the dust collector.
The vacuum adapter is directly linked to the dust collector and enhances its ability to collect the maximum amount of debris. This will surely keep your environment clean and dust-free. Even the dust collection bag is complimentary and can be removed and attached with ease.
Unlike other orbital sanders, the WEN 6304 is compatible with both hook and loop and regular sandpaper grits. You can easily attach any kind of sandpaper to the base pad. This added range of options allows you to sand with different variations according to your needs.
Moreover, the felt pad also has an angled tip, which ensures further accuracy. The level of finishing you will achieve with this sander is certainly awe-inspiring. Even with such sheer potency, this power tool weighs at just 3 pounds! It's absolutely astonishing how such a small device can be so effective at sanding.
Speaking of the design, it consists of an ergonomic grip, which lets you apply intense amounts of pressure with ease. The control is smoother, and the sanding is much faster and fluid than any other.
Pros
The motor produces 15000 OPM
Fan-assisted slots paired with vacuum adapter
Felt pad with an angled grip
Lightweight and efficient
Cons
Before You Buy, What to Look for
Now that you know about all the best palm sanders available in the market, you can choose the one that fits your preferences. But just knowing about the different models isn't going to be enough to pick the best one for you.
Before you go out to buy a particular sander, you need to be perfectly aware of all the features that define a perfect orbital sander. To enrich your knowledge further, we have put forth all the major specifications you need to keep in mind when buying.
Oscillations Per Minute
As you might have noticed above, each of the palm sanders is equipped with different types of motors. The power of the motor is linked to the number of orbits it produces per minute.
And the oscillations created by the sander induce vibrations that help you even out the jagged edges of your furniture. It will also tell you what kind of surface the sander is suitable for.
Typically, the harder the surface is, the more power you need to sand it efficiently. If the surface you wish to work on is old and worn out, you might consider picking one with a low powered motor. And if your sander is too powerful, it might create unwanted dents and eventually ruin the wood.
Pressure Detection Technology
Another cool feature, usually found in the latest palm sanders, is pressure detection. When you apply too much pressure on the wood, it can make the surface uneven and even ruin it completely. If you are a DIYer and you have no prior experience with carpentry, this might prove to be a crucial feature to look for.
The sanders which are equipped with this technology warn you when you're applying more pressure than needed. It will alert you either by a sudden jerk within the machinery or by a flashing light on top.
This will keep you from destroying your furniture and let you carry out your project without worries. It is highly recommended for carpenters who are still learning on the job.
Stability
Stability is a major concern when you're trying to determine which product you want to choose. It will tell you how durable the device is and if it would survive heavy-duty usage.
Also, it depends on the type of material the sander is made up of. You should look for a sturdy metal body (usually made of aluminum) that can sustain harsh conditions.
The lifespan of your device merely depends on how frequently you use it and the type of surface you wish to work on. However, almost all the companies will assure you that their models are durable. It can be difficult to ascertain which of those sanders would be perfect for you.
Moreover, it's not possible to determine such a thing without using the tool yourself. Fortunately, you can rely on user reviews to make sure which model actually lives up to its promises. If durability is your utmost priority, you can consider buying a few of the models we suggested above.
Dust Collectors
This is more of a safety precaution than a feature. As a palm sander is a relatively small power tool, you might often underestimate its threats. You often resort to sanding a surface over and over again until you get that perfect finish.
However, ignoring all the dust and debris it produces can have serious repercussions on your health. Sawdust is a dangerous substance that can prove lethal if breathed in regularly. All the minute particles can eventually accumulate inside your lungs and cause serious breathing problems. It can also enter your eyes and irritate your vision.
Apart from using safety goggles and gloves during any kind of woodwork, having a dust collector on your sander is compulsory. There are several models out there equipped with a special dust vacuuming mechanism that automatically sucks up the unwanted debris.
With just the click of a switch, you collect the harmful dust particles while working simultaneously. Some models even include a dust collection bag that stores the particles.
You can easily dispose of it later on. Moreover, debris on your workstation can alter the end result. The finish won't nearly be as precise as you expect. So, having this feature in your power tool may be more useful than you think.
Dust Seal
Sawdust can be as lethal for your tools as it is for your health. When you sand an object, some of the debris can automatically enter the palm sander and rupture its crucial components.
Due to frequent usage, the motor can get clogged up and might not be able to generate enough power. This will result in reduced oscillations and give you disappointing results.
Furthermore, the sawdust can also cause the sander to stop working altogether. This certainly has a toll on the machine's lifespan and can cost you a lot of money. To put a stop to this predicament, several companies have installed dust seals in their sanders to stop the components from damaging quickly.
The dust seals are usually attached to the felt pads, or the on/off switch to stop the sanders from seizing during work. Having this feature will increase the device's lifespan significantly.
Corded and Battery Powered Sanders
This particular choice will mostly depend on your needs and preferences. Both have their perks and disadvantages, as well. So, it's hard to determine which one is a better choice. Battery-powered sanders allow you more freedom of movement. You can easily sand from any angle effortlessly.
It's easier to control, and you can finish your work relatively faster. However, it restricts you from working for several hours consecutively. The battery tends to run out of charge, at which point you would have to plug it to a charger. Batteries don't tend to last long, either.
Eventually, you would have to replace them. The problem is, power tool batteries can be pretty expensive. This can increase your costs if you are a heavy-duty user. On the other hand, corded power sanders can run relentlessly for hours. You don't have to worry about charging, and it's recommended for frequent usage.
The only problem is the reduced maneuverability. You always have to be careful not to trip over the wire while you are working. Your workplace will also be limited to the nearest outlet.
Comfortable Design
Last but not least, you need to look for a comfortable design. Working at a stretch for a long period can prove to be exhausting if the sander doesn't have an ergonomic design.
A soft grip will allow you to work freely without tiring your hand. It can make the job much more fluid and effortless. Certain models also include a feature that reduces the vibrations, making it easier for you to maneuver the sander.
Frequently Asked Questions
Below are some of the most commonly asked queries regarding palm sanders:
Q: What is a palm sander used for?
Ans: A palm sander is a compact power tool that can be easily maneuvered using a single hand. It's particularly used to give a finishing touch to any wooden furniture or replenishing the shine of old furniture.
The sandpaper is attached at the bottom of the pad. It usually moves in a circular motion and moved by your hand to even out the edges.
Q: Is a palm sander the same as an orbital sander?
Ans: Both palm sanders and orbital sanders use circular sandpaper discs to give a finishing touch to a wooden surface. The disc moves in orbital motion and the holes in them remove dust from the surface. Orbital sanders come in different sizes, whereas palm sanders are usually small and compact.
Q: Which is better orbital or palm sander?
Ans: It's difficult to distinguish between the two as they both serve the same purpose. However, orbital sanders tend to be more expensive than palm sanders.
Q: What is the best palm sander?
Ans: Good question. There are several models out there who claim to be the best. Fortunately for you, we have mentioned the 7 best palm sanders above.
Q: Can you use a palm sander on wood?
Ans: Yes, you definitely can. Palm sanders are perfect for use on wood, plastic, and certain metals.
Final Words
Hopefully, this article has answered all the questions you had and removed all the confusion. You are now mentally equipped to buy a palm sander of your own. And you will undoubtedly be able to determine the best palm sander for you with the knowledge you have now.
When you do buy one, make sure you are taking all the necessary precautions before jumping into it. Wearing safety goggles, gloves, and protective masks are mandatory for any kind of woodwork. Carry out your sanding in an isolated room and keep it well ventilated. Best of luck!
I'm Joost Nusselder, the founder of Tools Doctor, content marketer, and dad. I love trying out new equipment, and together with my team I've been creating in-depth blog articles since 2016 to help loyal readers with tools & crafting tips.