I love creating free content full of tips for my readers, you. I don't accept paid sponsorships, my opinion is my own, but if you find my recommendations helpful and you end up buying something you like through one of my links, I could earn a commission at no extra cost to you.
Learn more
For any crafting project, the base of the project depends on the glue gun you are using. In fact, it is the mainstay of the art and craft world. But not only in crafting, but people also use glue guns in day-to-day life for attaching and fixing purpose.
When the glue gun is of pink color, it steals the heart of people ranging from children to grownups. That's why you need to select the best pink glue gun that will make crafting fun to you.
So, in this article, we sorted out the top 5 glue guns pink in color for you and tried to give you a brief review of them.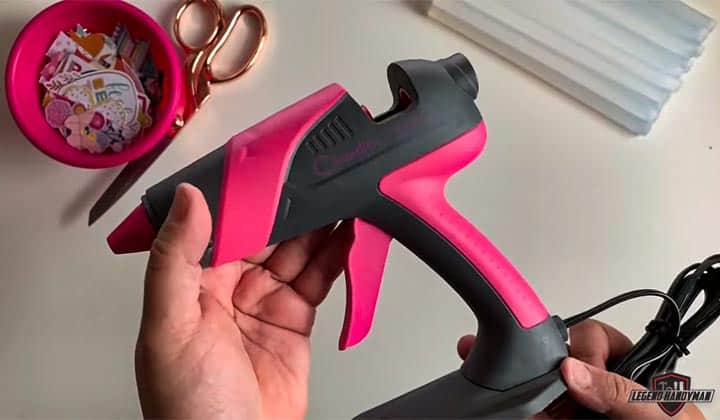 What is a Pink Glue Gun?
A pink glue gun is a pink-colored portable hand-held tool that works with a solid glue stick. There is a heating element that melts the solid glue stick when you power up the gun. Then all you need to do is just to squeeze the trigger gently and use the hot adhesive as you require.
Top 5 Pink Glue Guns
It is always difficult to select the best product that will worth your money. Here, we pulled together our recommended top 5 products for you. let's have a close look.
Chandler Tool Large Glue Gun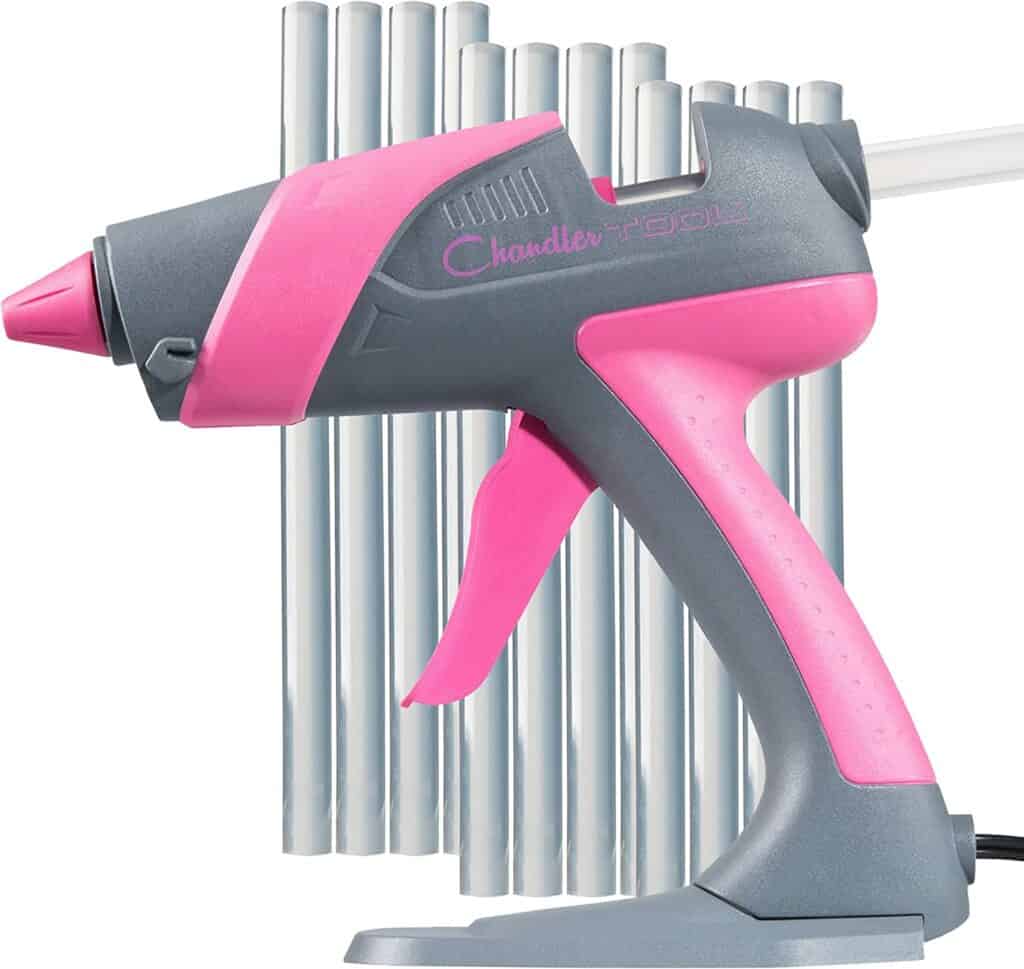 When you are thinking about repairing your furniture, toys, shoes or clothes, despite throwing them away, then nothing can defeat Chandler Tool Large Glue Gun. The UL certification of this glue gun ensures you your safety.
The feature that makes this glue gun unique is that, along with a traditional stand, there is a patented "Stand-Up" base to make crafting easy for you by giving you greater experience. The base stand is detachable so you can remove this and use the traditional stand when you need.
Also, you can clearly find professionalism in this 60W glue gun which uses 11mm long adhesive glue stick. There are twelve glue sticks in the package.
The body of the glue gun is made of impact-resistant plastic and an all-metal precision heating element to ensure the quality.
There are some issues as well. The body may melt for overheating as it is made of mainly plastic. Also, the gun may leave big drops of glue or drip a bit in your working intervals.
The glue dries too fast, glue doesn't stick easily and the stand sometimes keeps falling. Moreover, the rubber tip is not convenient and the gun is bulky to handle.
Workpro Cordless hot glue gun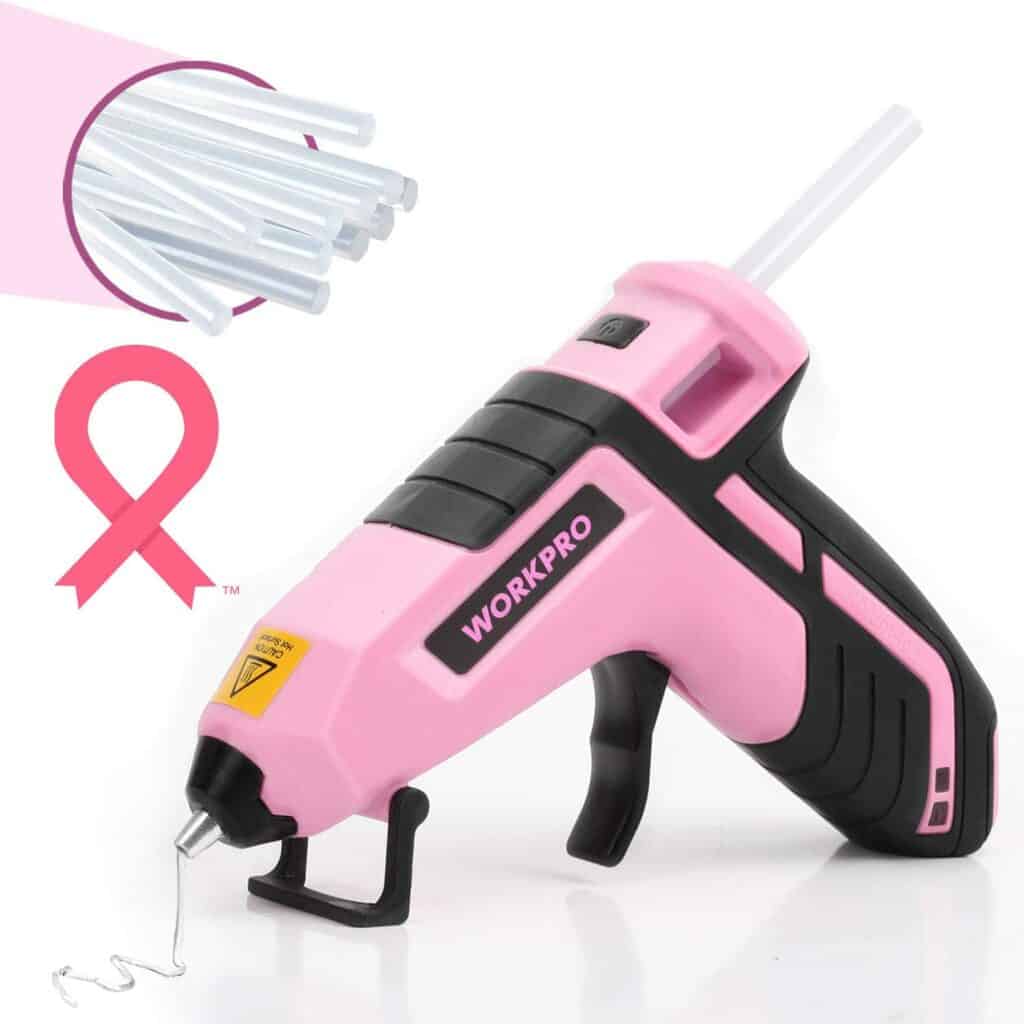 This Cordless hot glue gun has the feature of USB charging system! This wireless design makes the gun exceptional. There are a built-in lithium battery charges up fast and the charge lasts for a long time. So, you can carry this portable glue gun anywhere without any outlets.
There are 15 glue sticks with the glue gun as a bonus. The glue gun is designed in a leak-proof way with a high-quality calcium nozzle and trigger-propulsion unit to control the adhesive flow. So, you can save your glue sticks and craft in an economical way.
A plastic safety stand is provided to ensure your safety. This gun is designed to tolerate high pressure and high temperature without deforming. The ergonomic size of the pink glue gun makes it comfortable to handle.
You can use this in multipurpose like on carpet, plastic, wood, carpets, glass, wicker, brick, stone, metal, ceramic, paper, cotton, fabric and so other materials for arts and crafts.
It's not like that any product has 100% pros. There exist some cons too. The battery takes much time to charge up and thus the glue gun takes a while to heat up.
Artminds Pink Mini Glue Gun
When you are thinking about any beautiful project, you must inherit some great working tools and glue guns come first of them. If you need something handy then no glue gun can compete Artminds Pink Mini Glue Gun.
This pink hot glue gun can perform on both mini and maxi decorating projects. All you need to do to attach parts of your crafts is to squeeze the trigger carefully to get the adhesives uniform flow.
The small size of the glue gun enables you to store this easily in anywhere as it fits in everywhere and makes crafting fun and easy for you.
You have to use 0.28" mini glue sticks to get the best performance. The nozzle of the gun is protected and as it is UL certified you can use this without any safety worries.
Also, there are some drawbacks. Though there is a traditional plastic stand, there is no base-stand to make it look upright and avoid dripping of glue. This can be ignored by considering too many cons.
Vastar High Temp Mini Hot Glue Gun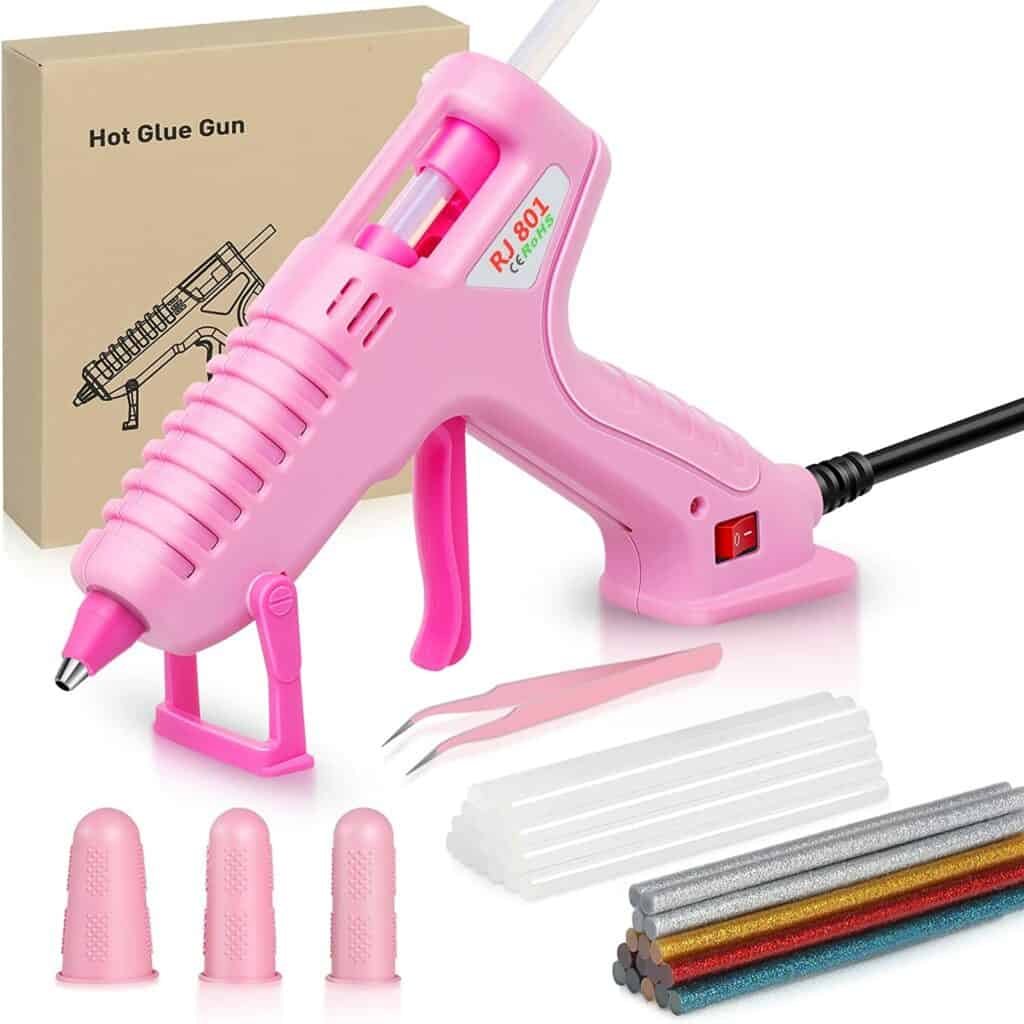 AdTech High Temp Mini Hot Glue Gun is a 10W glue gun which comes with a black charming daisy design. Besides its good looks, this glue gun performs efficiently. This glue gun is perfect for completing your crafting toolbox. All you need to is just to plug in and the hot glue will be ready for action in a couple of minutes.
To ensure your safety, there is a built-in stand near the nozzle to keep your finger away from dispensing hot glue. This glue gun is best for use on metal, plastic or wood. The cord is approximately 5-foot long.
By pairing them with mini and round glue sticks, you can do any small projects or detail work. So, this can be a good friend of you while crafting.
A few cons are there like, one stick must be shoved behind the other glue stick to keep continuing the glue flow. Also, the handle is tough to pull which is the reason for feeling uncomfortable squeezing. It takes time to heat up and the glue comes out slowly.  
Tovia Pink Handy Glue Gun Professional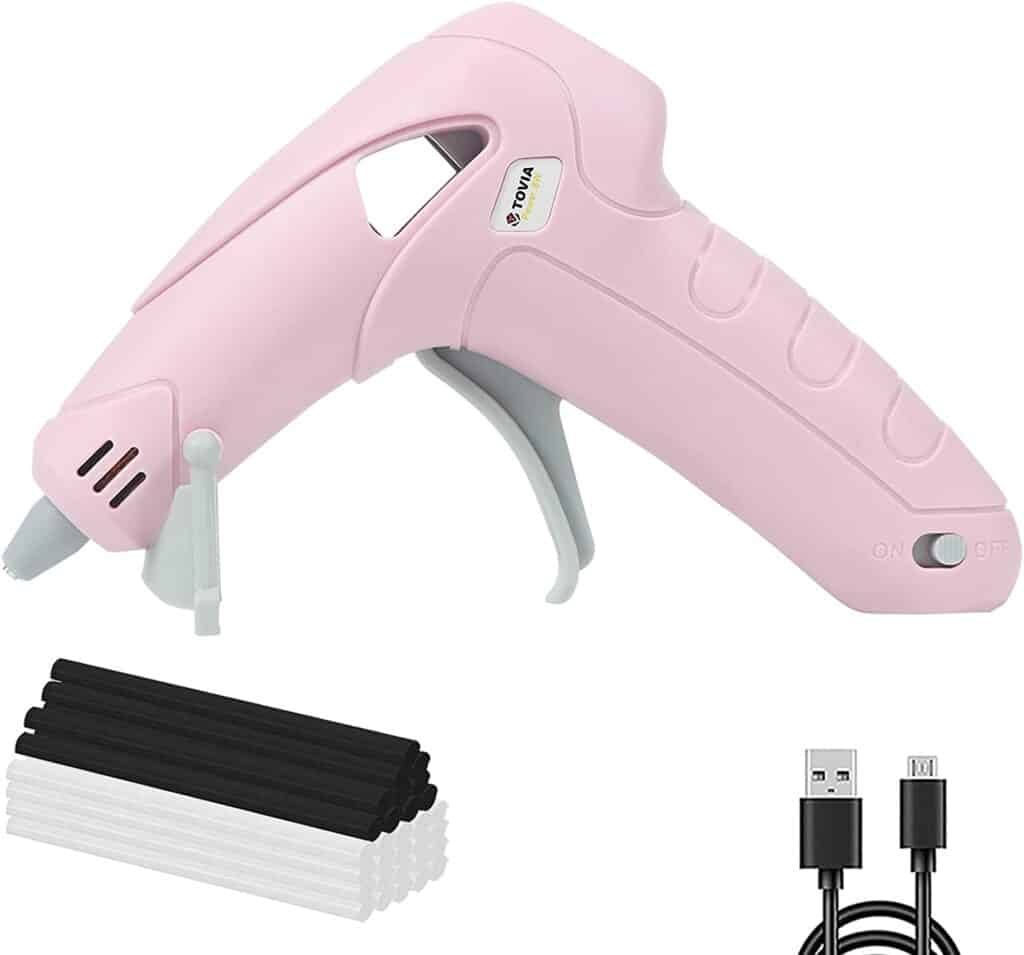 When you are crafting you always look for something handy and attractive to work with. This Pink Handy Glue Gun Professional has the ability to bring out your creativity from inside you by attaching your craft parts and its attractive look resulting in a wonderful project.
If you are working with a glue gun, the holt melted adhesive is a very common thing to worry about. While using these often people get burnt by touching the hot glue.
So, this glue gun has the feature of a nozzle stand to ensure your safety. Also, the nozzle is made of aluminum which makes the gun efficient.
You may face some problem too as no product is completely perfect. There is no traditional base stand with the gun. So, it may annoy you as you cannot make the gun stand.
FAQs
Some commonly asked questions are discussed below.
Q: How to remove the glue if I accidentally put it somewhere?
Ans: After drying the glue with a cotton swab and rubbing alcohol dab around the edges of the glue. Wait and then peel it off.
Q: How can I clean the inside of the gun?
Ans:  Power up the gun without inserting a new stick and carefully wrap a piece of aluminum foil around the edges of the nozzle. Then gently wipe the glue away.
Q: What will happen if I accidentally to unplug the gun?
Ans: After a long time, the glue will liquefy and drip out and result in a puddle under the nozzle. If it is made of plastic then it will burn with bad smell.
Ending
A pink glue gun can be a wonderful addition to your pink tool set. Considering the important facts, pros and cons you can find out the perfect pink glue gun from these five products.
If you are looking for a glue gun with the stand-up base then Chandler Tools is the one. Also, Cordless hot glue gun is unique for its USB charging system.
You can think of the glue gun of AdTech which has a very attractive daisy design. Or, Pink handy glue gun and Artminds mini glue gun will be the perfect choice for you if you want something small, handy and portable.
You may like to read best drill for a woman
I'm Joost Nusselder, the founder of Tools Doctor, content marketer, and dad. I love trying out new equipment, and together with my team I've been creating in-depth blog articles since 2016 to help loyal readers with tools & crafting tips.