I love creating free content full of tips for my readers, you. I don't accept paid sponsorships, my opinion is my own, but if you find my recommendations helpful and you end up buying something you like through one of my links, I could earn a commission at no extra cost to you.
Learn more
Tomboy Tools are tools specifically designed to be used by women, girls who can handle themselves in the handy"girl" profession, mind you.
It was actually a brand name that was later sold and ultimately discontinued, but fortunately, there are a lot of other brands that have since stepped into this gap to get everyone the right tools.
Workpro is an established tool brand with sturdy and reliable tools, and they recently came out with this pink version of their most renowned tool set. This is the perfect set for anyone getting into DIY or light home repairs.
To help all of you out looking for the best Tomboy Tools or replacements for this once great brand name, I've listed and reviewed some of the most sought-after pink toolsets on the market. This way you can easily choose one for yourself.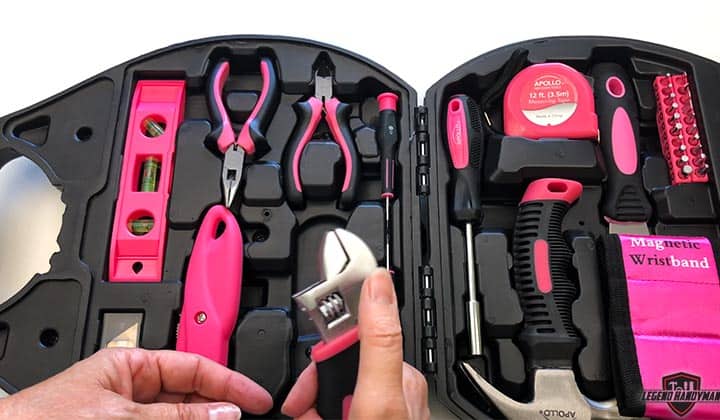 Here's a quick overview of the options. After that, I'll dive into each in more detail:
Best compact complete pink toolset
Best toolkit with pink case
Things Needed to Be Considered While buying your Pink Tool Set
There's usually not much to tell you when you're out buying a toolset. You'll know a lot about its quality, longevity, efficiency just from the looks of it. But still, there's a few heads up that you'll have to keep in mind.
Also read: these are the best chalk lines and when to use them
Knowing what you're going to be using it for
If you need to do light plumbing, you'll have to have one or two kinds of wrenches. But on the other hand, if you're buying it for a bit of electrician's work, hanging pictures or opening up boxes, make sure that you have a hammer, pliers, screwdriver and bit driver.
So, you get the idea.  
Bag Vs Case
The case is always better than bags, it's a given. But if you're buying a cheap set, you'll probably get a case with defective molds. You can't get your tools to stay in the molds. In that case, you're better off with a bag.
Guarantee
A lot of toolsets offer a guarantee or return policy for their toolsets. It's not that a set with a guarantee is an excellent one. But it does show the manufacturer's confidence in its product.
If you're not exactly after complete toolsets but something else, we've also reviewed the best tools for women in these specific categories:
Let's get into the Tomboy Tools sets!
Best Pink Tomboy Tool Sets Reviewed
Here is a list and unbiased and unsponsored review of some of the highly rated, popular and best selling and efficient pink toolset on the market.
Best overall: WORKPRO Pink Tool Kit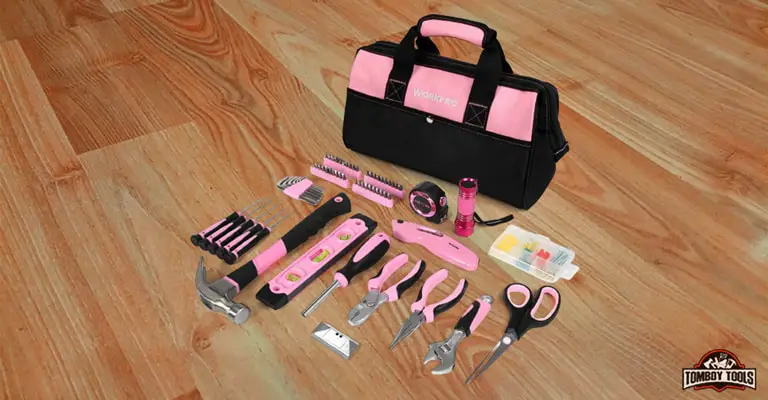 Affordable & Worth it
Everything That's Great About It
This set of tools has far exceeded the standards set by ANSI. It's primarily because all of the tools on this set has been drop forged, has a chrome plating and the soft bi-material grip on all of the tools.
This 75-piece tool kit contains more than enough tools for your at-home use and to meet your day to day necessities. Contents of this set are pretty much what you've guessed….. auto-locked tape, pliers, screwdriver, wrenches, scissors and you'll even find a flashlight. Another thing that's to be mentioned is the 14-inch hardy tool bag, it gives a lot more flexibility to your tinkering life.
Things That You Might Just Not Like
Some of the tools are a bit too small in size.
Best compact complete pink toolset: Apollo Tools DT0773N1 Household Kit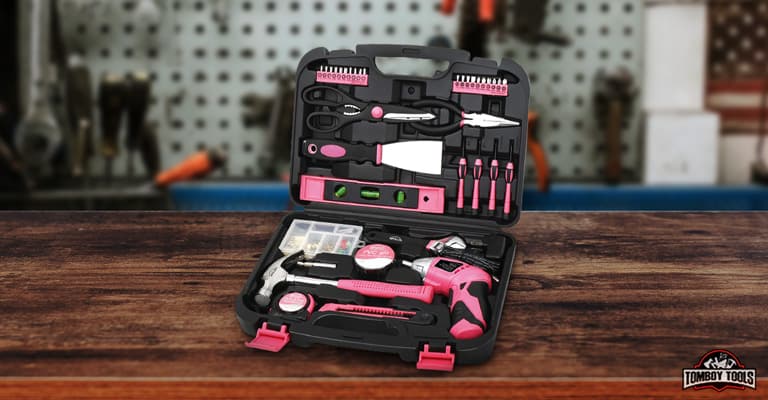 Everything for Light to Medium Duty Projects
Everything That's Great About It
Instead of the regular old school screwdriver, you'll find a 4.8 volts cordless screwdriver, pretty handy right. Needless to say, that it has both forward and reverse mechanism with 20 different bits. And yeah, you'll be getting a guarantee for this, a guarantee for 1 year.
Claw hammer and adjustable wrench are among the handiest tools on the list. In exchange for a bag you'll get a case, this way everything stays organized and is super easy to find.  The tools don't have its parts welded together, the whole of it's been drop forged to give it that durability.
Just like the last one, this set too has its tools chrome plated. This way the chances of rusting and corrosion is reduced. Buying this particular set of tools will help a great cause, you'll be donating in breast cancer research
Things That You Might Just Not Like
The wrench is a bit too small to be used comfortably. And there's a problem with the hammer too, the handles not placed perfectly.
Best toolkit with pink case: Ladies' Hardware SteelTec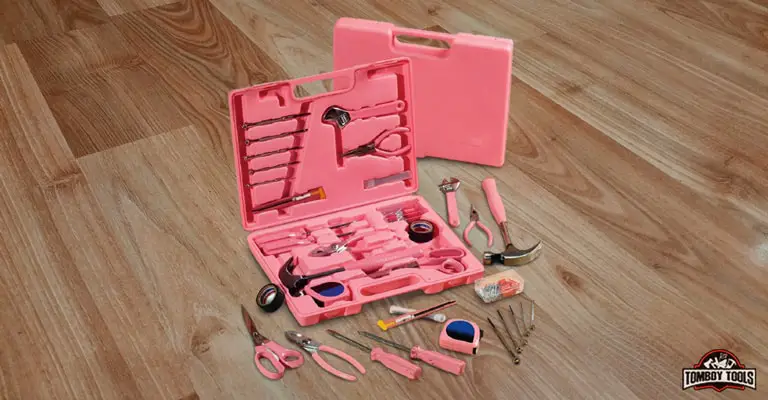 A set of 105 different pieces
Everything That's Great About It
You'll get the tools in 12 inches by 10 inches pink sturdy plastic case. This way your tools have a very small chance of getting lost. Besides its easier to find your tools this way.
You'll be getting tools of all different sorts like a crescent wrench, needle-nosed pliers, screwdrivers, scissors, etc. Collections Etc has been providing its buyers with quality products for the last 50 years. They're confident enough on this product of theirs that they're giving a 60-day return policy for 100% satisfaction guarantee.
Things That You Might Just Not Like
The tools are a bit too flimsy to be even used for medium-duty uses. They're also a bit too small.
Best toolset with drill: Pink Power Combo Kit Tool Bag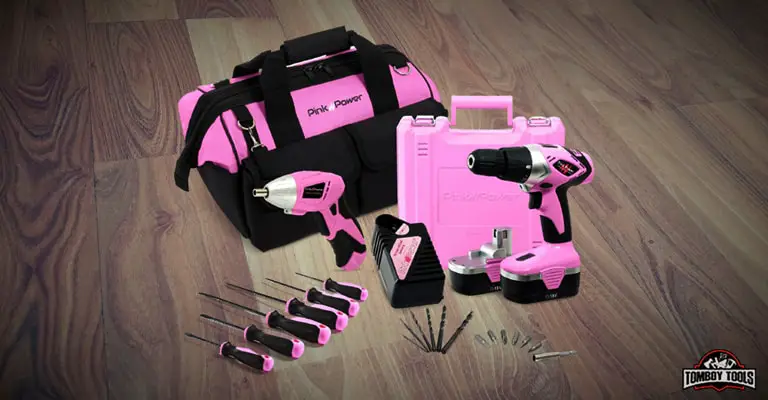 Two cordless drills!!!!
Everything That's Great About It
You'll get two different cordless drills in this set. One 18V and the other's 3.6V, if this isn't an attractive deal to you, then no one knows what is. And for the cordless screwdriver, you'll also get drill bit sets.
Now, let's talk a little bit more about this cordless screwdriver. The 18 volts cordless screwdriver has 16 different torque settings with its motor running from 1 to 550RPM. Like every high-end cordless drill, this has a built-in LED to make it easier. For this, you'll get a bit set of 12 and two NiCad batteries.
Then there's the 3.6 volts cordless drill. Its handle has this nice mechanism by which you can make the handle rotate by 180 degrees. Also has an LED battery gauge to show how much juice your battery has left.
For carrying all these screwdrivers, wrench, scissors you'll get an 11 inch by 16 inches by 12-inch nylon bag. You won't have to worry about your tools getting lost in the bag, there's a lot of interiors and exterior bags to make things easier for you.
Things That You Might Just Not Like
No matter how many pockets's the bag's got, it would still be way more convenient to have a case instead of the bag.
Best cheap pink toolset: Cartman 39-Piece Tool Set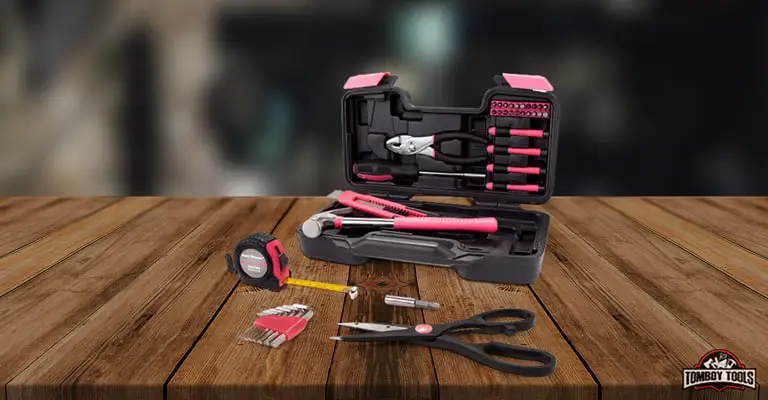 A tool kit for everyday light-duty use
Everything That's Great About It
This kit packs everything that you'd feel the need to have with you for your day to day use like opening boxes, hanging pictures tightening screws.
Well, if I have to mention tools in the kit, I'd begin with the 8 oz claw hammer, then there's my personal favorite the bit driver with 20 different bits. On top of the bit diver, you'll find precision screwdrivers for small screws. Alongside these, you'll find many other tools like hex keys.
The tools have been manufactured from high-grade steel alloy enhance strength, durability also its been chrome plated to prevent corrosion.
Things That You Might Just Not Like
The case, it's not all that good. The tools don't fit in a lot of the molds this makes closing the case impossible without taking out a couple of tools.
Conclusion
If you've gone through the reviews you've probably found the pink toolset that suits you.
My suggestion to those ladies who're into a bit heavy-duty tinkering is to get one with a high-end cordless drill like the Pink Power Combo Kit Tool Bag.
And those who're buying it for light-duty use like hanging pictures and opening up boxes or to keep a toolset in the house, just in case they need it, I'd say they should go with the one by Cartman.
Also read: these are the different types of square you'll need for your projects
I'm Joost Nusselder, the founder of Tools Doctor, content marketer, and dad. I love trying out new equipment, and together with my team I've been creating in-depth blog articles since 2016 to help loyal readers with tools & crafting tips.