I love creating free content full of tips for my readers, you. I don't accept paid sponsorships, my opinion is my own, but if you find my recommendations helpful and you end up buying something you like through one of my links, I could earn a commission at no extra cost to you.
Learn more
All women want a drill that is lightweight, compact, and also efficient for any type of DIY project. But it is a matter of hassle to find out the best lightweight drill for a woman from so many products roaming around.
In this article, I have given you a reliable buying guide, basic information about drills and pulled together our favorite lightweight drills along with their true reviews.
Why a Lightweight Drill is Necessary for a woman?
So, why a lightweight drill is required for a woman? Scientifically it is true that women can handle less weight than men. When they are drilling for household or any outside work, a lightweight drill gives them better control on drilling and they can work comfortably. 
Best Lightweight Drill for a Woman
Let's have a look at the brief reviews of our selected lightweight drills with their features, benefits, pros, and cons.
Dewalt DCD771C2 20V MAX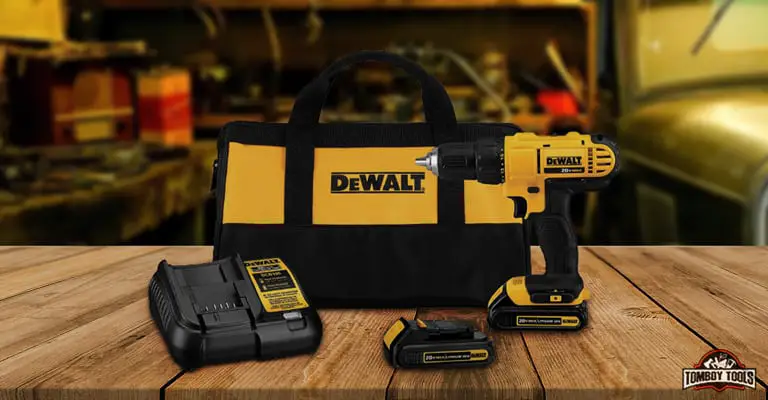 Dewalt DCD771C2 20V MAX is a cordless lightweight drill (3.6 pounds) which fits well into tight areas for a long period of time. A lithium-ion battery is included as a power source of the drill as the drill is cordless. This 20volt drill is made of steel.
Also. there are two speeds available from high-speed transmission for a range of fastening and drilling applications. These speed variations allow users to choose the level of performance they need for various projects.
The 0.5" single sleeve ratcheting chuck provides you with tight bit gripping strength ensuring more control on your work. For a comfortable grip, the handle is ergonomically designed. A carrying case, a belt hook and a bag are provided for home storage.
Moreover, there is a built-in LED light to facilitate you when you are drilling in dark places so that no unwanted injury occurs. 
There are some flaws as well. The battery may not charge enough and may die after using a few times. Make sure if you are inserting the battery completely into the charger. There are complaints that the help center is not helpful. 
This drill is not good for heavy-duty jobs. There is no status button to see the battery life. Sometimes the chuck loosens up causing the drill bit to fall out. Also, the LED light is not effective for its position.
Bosch Power Tools Drill Kit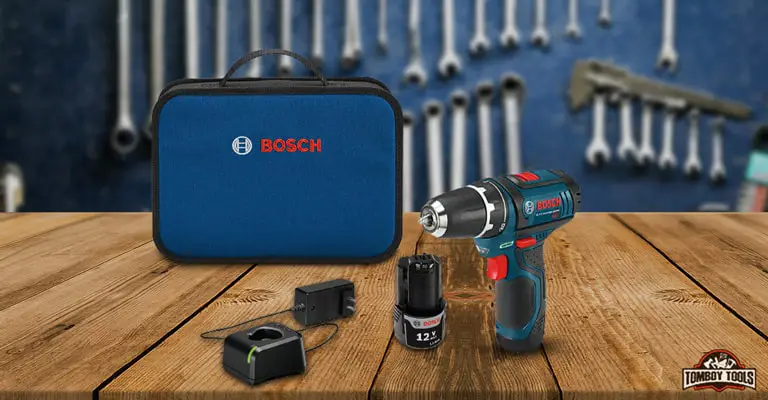 This Bosch Power Tools Drill Kit is ideal for plumbers, electricians or contractors for professional screw driving, removal or drilling applications. This is a cordless, blue-colored drill with the great performance-to-weight ratio which makes this tool a great solution for everyone.
The versatile use of this drill in tackling various applications in materials, wood, drywall or even metal. This is because of the high torque available.
Also, the two-speed settings allow the user to control the different level of speed for various intended tasks. The clutch settings are to make precious torque adjustments for accurate drilling.
This lightweight drill (2 pounds) works by two 12V lithium-ion batteries with increasing runtime. So, they are offering two batteries in the package. The drill shuts off automatically when fully charged.
A soft carrying bag is also included to carry and store the drill well. An interesting feature of this drill is the integrated LED light that is designed to work at dark places as well.  Also, a soft nylon zipper case is provided to hold the drill.
Problem is the chuck wobbles a little bit sometimes if you try to drill deeper. Also, Battery removing may be a hard task for you. Control trigger may fail by getting wait and so, you have to be careful in the rain. 
Nordstrand Pink Cordless Drill Set
The Nordstrand pink drill set is specially manufactured for women as it is very lightweight (2.4 pounds) and the handle has a very comfortable grip. Who are beginners and learning basic household drilling and DIY projects, this is perfect for them.
There is a pink carry case making it easy to port wherever you want. There are a drill, battery pack and charger and six standard size bits included in the set. Also, they feature six drills, an extension bar, and a wonderful pink safety glass!
The bright pink color makes the drill charming and easily traceable. The front light allows you to clearly see your work. Moreover, there is a reverse switch trigger to change the direction of rotation whenever you want. This is a versatile kit that is suited for any craft projects, repairing the bike or building furniture.
Now some cons are, the case is not well designed to carry contents. The drill pieces are not labeled with their size. Also, the battery slides off often and does not lock in place well. Sometimes the gear motor stops working for some consumers.
BLACK+DECKER LD120VA 20-Volt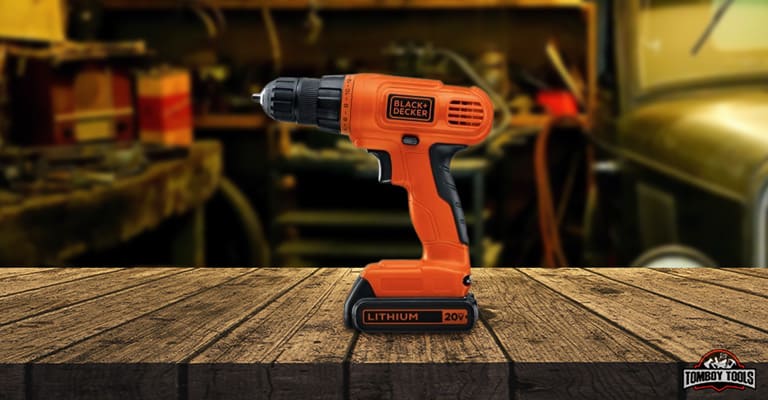 This orange-colored BLACK+DECKER LD120VA 20-Volt drill works with a lithium-ion battery that holds a charge for up to 8 months. So, a 20V battery and charger are included.
There is a soft-grip handle for users' comfort while drilling. So, this is perfect for drilling through or screwing in wood, metal, and plastic.
This package is featured with 30 accessories including drill and screwdriver bits, nut drivers and magnetic bit tip holder.
This lightweight (3 pounds) drill driver is useful mostly for light-duty household uses giving you quality feel.  Also, the wonderful speed control allows you to work with exactly the speed you require. This helps to have control while drilling.
There are some drawbacks like the quality of the chuck is not that good so allows the bits to slip in a tight position and it is difficult to tighten the chuck. The drill is not very sturdy as it woggles a bit while working. Also, all screwdriver tips are not magnetic. The battery may malfunction after a few uses for some users.
WORKPRO Pink Cordless Drill Driver Set
We also have this cordless drill that would give you your time and money's worth without losing a dime. The pink color of this drill doesn't just add to your style, it also makes you more productive and feel a lot more comfortable as a woman while drilling.
Working effectively for hours would never be a problem with its 20V, 1.5Ah Lithium-ion battery that keeps you working on and on without having to charge every now and then. Its battery is also easy to charge and replace, just in case you don't want to take any charging breaks or you want to work at a stretch.
It features an on/off switch that helps you control its LED light that gives you a clearer view especially when you're working in the dark and a two-speed gear control; operating at 0-400 rpm at low speed and 0-1500 rpm at high speed, making you able to control the speed of your drill depending on the kind of project you're working on.
Another feature that makes this drill super-efficient and productive is its torque adjustment ring, providing 21+1 different torque positions for all the power and precision you need to get the job done. It also features a 3/8 inches keyless chuck to retain your bits perfectly well.
All this greatness can be easily carried about in a light and portable storage bag, making it easy to work outdoors and at far places without forgetting any part of your tool since they are all in one bag. You can also drill projects that are high up with its belt clip that makes it easier to climb with.
Working with ease, convenience and precision is possible with this drill.
Pink Power PP481 3.6 Volt Drill Bit Set for Women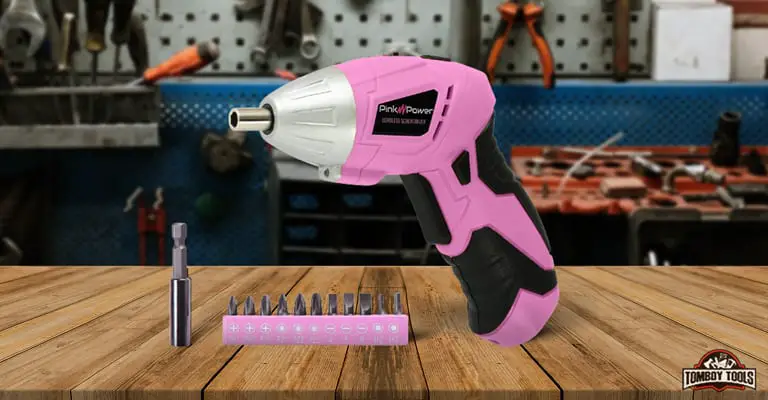 Pink Power Pp481 3.6 Volt Drill Bit Set for Women is an attractive pink drill which contains a patented pivoting handle which helps this to fit in tighter spaces. You can use it as a right-angled screwdriver like a pistol grip or you can rotate the unit straight by pressing a button on the handle.
The built-in LED light is for drilling in dark and confined workspaces. Each screwdriver is light in weight (0.75 pounds) and made of mainly plastic making it handy. This is battery powered and there is a built-in 3.6V nickel-cadmium battery.
You can use this in fixing loose screws, installing small light fixtures, organizing your furniture or in any DIY projects. This is because of the 0.25" chuck that accepts any size of bits.
The main advantage of this product is that the internal battery gauge displays the remaining battery charge. So, you can easily plan your works accordingly.
But there is no carrying case. Also, this is good for light jobs only otherwise it may wobble terribly. This pink drill lacks in power and speed and that's why the battery dies very quickly.
Apollo Tools DT0773N1 Household Tool Kit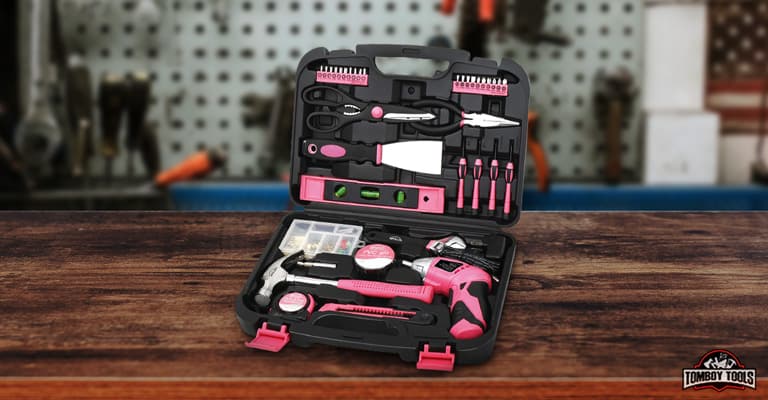 Whether you are dealing with light-duty jobs or medium-duty jobs of projects or repairs, Apollo tools DT0773N1 Household Tool Kit will you help greatly as your friend. There is every tool that you might need for your work. These kits are organized in a strong case safely. The case has a handle so that you can carry it with you anywhere.
The main component is the cordless 4.8V screwdriver. This has both a forward and reverse mechanism for tightening and loosening screws. This includes 20 bits, claw hammer, adjustable wrench, long nose pliers, precision screwdrivers, etc.
Some other accessories are added like a putty knife, 100 wall hanging kits with a wide assortment of pins, hooks, and nails, a level and a tape measure. So, this toolset can be a unique and effective gift idea. Also, you can take part in a donation to BCRF.
Well, there are some dark sides to the product. The toolset is a bit flimsy as mostly made of plastic. The wrench is very small and the hammer may stretch. This is not good for multiple and heavy-duty tasks. The drill may get hot while charging this and the charger plug may get hazardous. There is no on-off switch on the screwdriver.
Factors to Consider while Buying Best Drills for a Woman
What factors you should consider while buying a lightweight drill? Let's have a close look.
Power of the Battery and Charger
Power ratings refer to the performance of the drill. When you want something to do heavy-duty tasks look for something with greater power output.
Speed Control
It is good to have control of the speed as you can use a drill for many different purposes. Some drills introduce different levels of speed that match your task.
Versatility and Durability
Buy a drill that will serve you for a long time and in multipurpose projects. It is very important to have a drill that will not die out soon in the middle of work. 
Special Features
Consider the special features like integrated LED light, safety glass, carrying bags, case, bits, drills, etc. These features help to get better efficiency while working.
FAQs
Get the answers of some frequently asked questions about lightweight drills from below.
Q: How many types of drills are there?
Ans: They are of three types: traditional, impact and hammer type drills.
Q: What is the application of a hammer drill?
Ans: It is used to drill in hard materials like stone, concrete, brick or mortar.
Q: Can I use an Impact driver to drill?
Ans: Yes, you can use it to make small holes.
Ending
Although lightweight of a drill is the main concern for women, they also look for efficiency and safety. Drills defer in their special features that often create confusion while purchasing.
Pink Power PP481 is special for its battery charge level displaying mechanism and Nordstrand Pink Drill is interesting for the pink safety glass.  When you want the speed controlling feature then go blindly for the drill of Black and Decker, Dewalt or Bosch Power Tools.
If you are a beginner crafter and want a complete toolbox for small projects then go for Apollo tools. Now, I think you can decide yourself which one is the best lightweight drill for you.
You know what other handywomen uses for their DIY projects? Read about them – pink tool kit, pink hammer and so on.
I'm Joost Nusselder, the founder of Tools Doctor, content marketer, and dad. I love trying out new equipment, and together with my team I've been creating in-depth blog articles since 2016 to help loyal readers with tools & crafting tips.