I love creating free content full of tips for my readers, you. I don't accept paid sponsorships, my opinion is my own, but if you find my recommendations helpful and you end up buying something you like through one of my links, I could earn a commission at no extra cost to you.
Learn more
Pipe wrenches are a must-have for construction workers. If you are building a home, an office space, or even a shopping mall, chances are high that you'll need to tighten around objects for finishing your project. And the best pipe wrenches will do the job just right.
These tools come in a variety of options and are often very versatile. Usually, workers prefer using a pipe wrench because its jaws are a little curved, which makes holding a round object easier and gives users more control. An excellent quality wrench will surely be easy to hold and won't put a strain on your hands.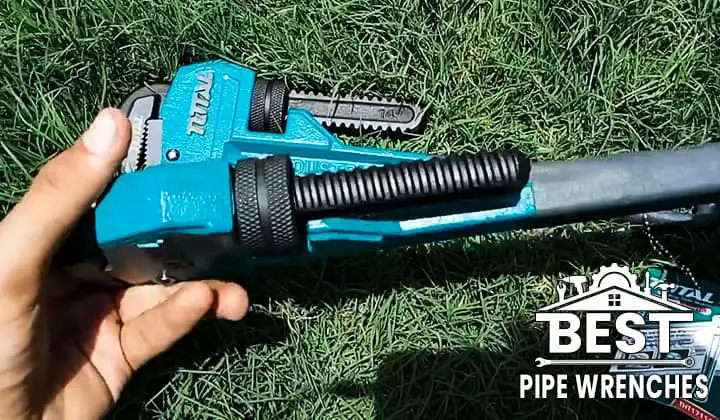 There are so many options in the market for pipe wrenches that it's easy for anyone to get confused. How do you know which ones are of great quality and will last longer and which ones wouldn't? Well, here we have listed 7 excellent products to help you out.
If you are buying this tool for the first time, go through our buying guide to get a better idea of its important features. Along with the reviews and buying guide, we have included an FAQ section where you will find answers to all your questions. Read on to check out the products.
Top Best Pipe Wrenches
Below we have listed the best of best pipe wrenches that are bound to make your work easier. All the wrenches come with different features, so go through all of the reviews before picking one.
1. RIDGID 31095 Model 814 Aluminum Straight Pipe Wrench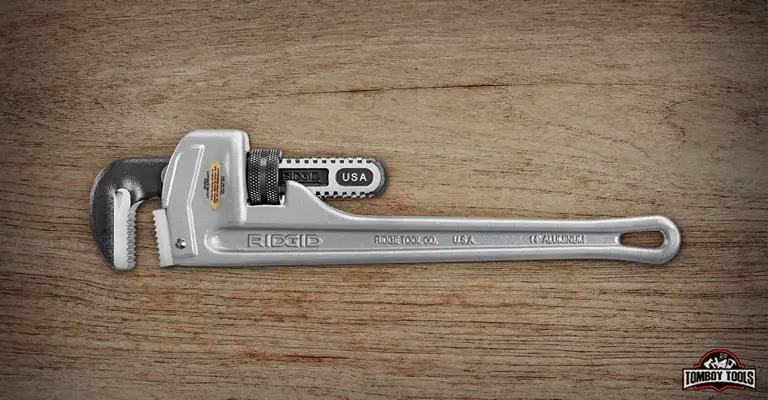 This heavy-duty, durable, and long-lasting wrench comes with all the features you can ask for in a great quality tool but doesn't have the weight you'd expect. It's maybe the lightest heavy-duty equipment you will find in the market.
The tool is completely made of aluminum, which makes it durable yet lightweight. It's actually 40% lighter compared to the other heavy-duty pipe wrenches. The tool is designed to be user-friendly and easy to handle.
It comes with an I-beam handle that features hook jaws, which are full floating forged. These jaws will make gripping anything easy and less time-consuming. Adjusting these jaws is quick and easy as well.
Threads of this tool are self-cleaning, and the adjustment nut is non-stick. The tool requires basically zero maintenance. You can easily replace its heel jaw, hook jaw, and rearrange the spring assembly.
This is a straight pipe wrench, which means it's compatible with all kinds of pipe works. You will have to just adjust it to a perfect fit, and then the tool will be ready for work. The 24-inch pipe wrench can work with pipe diameter 1-1/2 inch – 2-1/2 inch, and the pipe capacity should be 3 inches.
Highlighted Features
It comes with an I-beam handle
Threads are self-cleaning, and the adjustment nut is non-stick
This is a straight pipe wrench
40% lighter compared to the other heavy-duty pipe wrenches
It requires zero maintenance, is durable, heavy-duty, and completely made of aluminum
2. RIDGID 31035 Model 36 Heavy-Duty Straight Pipe Wrench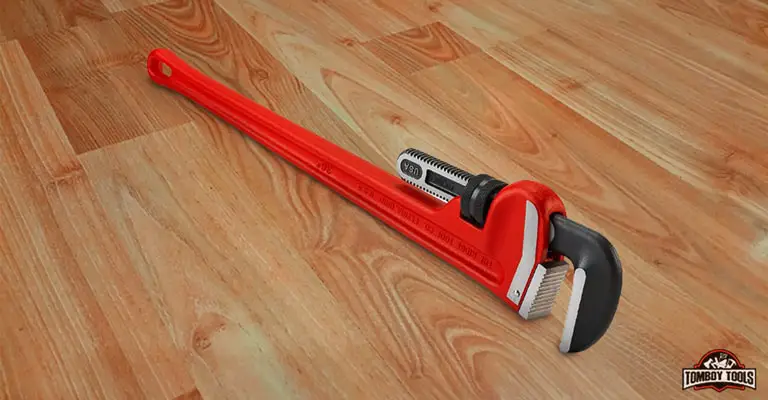 Our second pick is also from RIDGID. This model features an I-beam handle along with a ductile-iron housing. The housing makes this tool sturdy and more durable. The leverage performance of the wrench is enhanced by the I-beam handle.
When you are working, you will definitely need to adjust the lengths and jaws of your pipe wrench. In many cases, the task is time-consuming and requires other tools to do it. But with this particular equipment, you can make adjustments in minutes without breaking a sweat.
Hook jaw of this wrench makes adjustments quick and easy. It's because the hook jaw is full-floating forged, which also gives users a better grip.
The tool is a plumbing wrench. It is suitable for both plumbing and construction work. You can use a pipe wrench for heavy-duty purposes and even to fix your leaky sink. The versatility makes this product worth buying.
Like the previous tool, this one also features self-cleaning threads and a non-stick nut for adjustments. The spring assembly, heel jaw, and hook jaw are easy to replace as well.
This tool comes with all the certifications you need to rely on it. It complies with the federal specifications GGG-W65IE, Type ll, Class A.
Highlighted Features
Heavy-duty pipe wrench
It features an I-beam handle along with a ductile-iron housing
The hook jaw is full-floating forged
It is suitable for both plumbing and construction work
It complies with the federal specifications GGG-W65IE, Type ll, Class A
3. Goplus 4pcs Pipe Wrench Set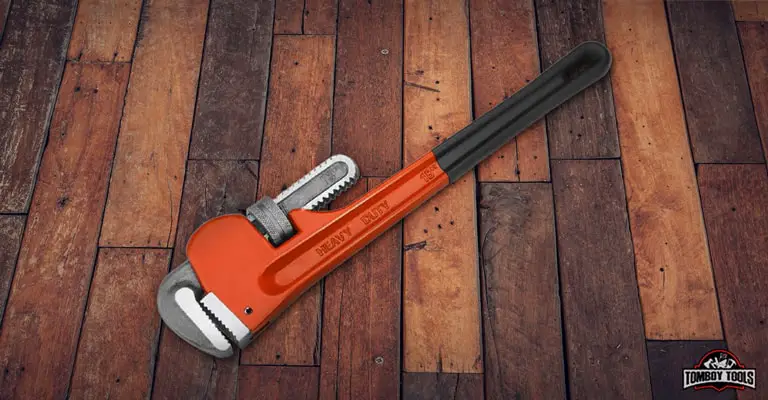 Unlike the products mentioned before, this one comes in a set of 4. All the pipe wrenches are made completely of steel, which makes them sturdy and durable. The head of these wrenches are made of forged steel, and the handles are made of malleable iron. Both are high quality and durable steel forms.
The forged jaw in this tool is treated in high temperatures so that it doesn't distort under pressure. Its teeth are as precise as machines; they are made with carbon steel and have excellent torsion force. These teeth are non- breaking, sharp, non-coiling, wear resistance, and high hardness.
The teeth are made with precision in mind; they will be able to grip any pipe strongly. You will be able to adjust the hook jaws quickly as they are full floating forged. As the jaws have been treated with high heat, they are anti-corrosion and anti-rust, they don't easily wear out either.
The wrench head has a spring-loaded design, which improves its efficiency. These tools are anti-skid, so they won't slip from your hands even when it's sweaty. Handle is also wrapped in plastic to further resist skidding. The I-beam design of the handle makes it suitable for working from any difficult angle.
You can work on any type of work with these wrenches, including vehicle maintenance, household plumbing, and tank repair. The tool can tightly grip any smooth round pipes and will make working on them very easy.
Highlighted Features
Anti-skid
I-beam handle
One set, four-pipe wrenches
Hook jaws are anti-corrosion and anti-rust
Made of steel
4. Wideskall 3 Pieces Heavy Duty Heat Treated Soft Grip Pipe Wrench Set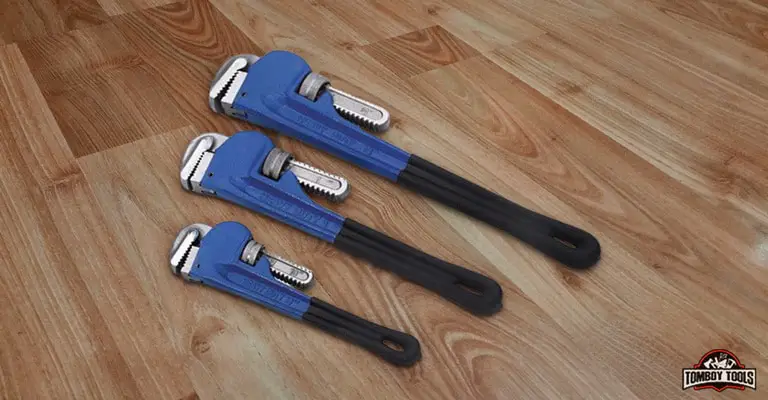 This one is a set of 3 different sized pipe wrenches. When it comes to pipe wrenches, chances are you will need a variety of sizes so that you can work with pipes of different diameters. These pipe wrenches are perfect for most pipes used in the household and vehicles.
Whether you are a construction worker or a plumber, you definitely need a wrench that's both durable and performs greatly. The ones in this set are all made of great quality materials and have housing of cast iron.
The steel jaws in this tool are hardened and have precise teeth. These teeth will grip any smooth round pipe strongly and won't skid in any situation. The teeth are deeply grooved, which makes them more precise are non-skid.
Working with these wrenches is as simple as you can imagine it to be. If you are working with pipes of different diameters, you definitely know what the diameter of a particular pipe you are using is.
With this pipe wrench, you won't have to adjust and check if a pipe fits; a diameter scale is engraved in the jaw arm of each wrench to make your work easier. Heat-treated handle gives users a soft grip and doesn't strain hands even if used for longer hours.
Highlighted Features
Steel jaws with hardened and precise teeth
It can grip smooth surfaces
It has diameter scale engraved on jaw arm
Comes in a set of 3
Heavy-duty
5. Tradespro 830914 14-Inch Heavy Duty Pipe Wrench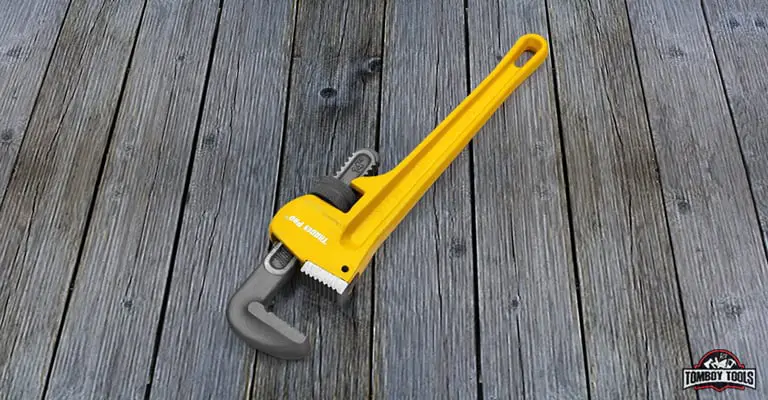 This one is one of the best adjustable pipe wrenches you will find in the market. The tool comes licensed by the Kawasaki. It's made of high-quality materials and is very durable to use even in adverse conditions.
The tool comes with all the features a great quality pipe wrench should have; it has a hammer-like head, great build and construction, deep toothed jaws, lightweight, and a great handle. You can work on any project with this equipment, and you will definitely be satisfied with the results.
Along with its amazing warranty policy, this product comes with all the features a plumber needs for excellent finish and smooth work. It comes with beautifully engineered parts. Handle of the tool is made of malleable iron, which makes it smooth yet sturdy. Head of this tool is made of great quality carbon steel, and it's finishing is done using the sandblasting method.
You can have a good grip on this 14-inch pipe wrench as the length is long enough compared to other shorter wrenches.  The handle is very flexible to use as well; you will be able to reach the seemingly unreachable and difficult areas using this wrench.
Highlighted Features
Licensed by the Kawasaki
It has all the necessary features a plumber needs to work on any kind of project
Head of the tool is made of carbon steel and finish done by sandblasting method
14-inch length
Heavy-duty and durable
6. Grizzly Industrial H6271-4 pc. Pipe Wrench Set 8″, 10″, 14″, 18″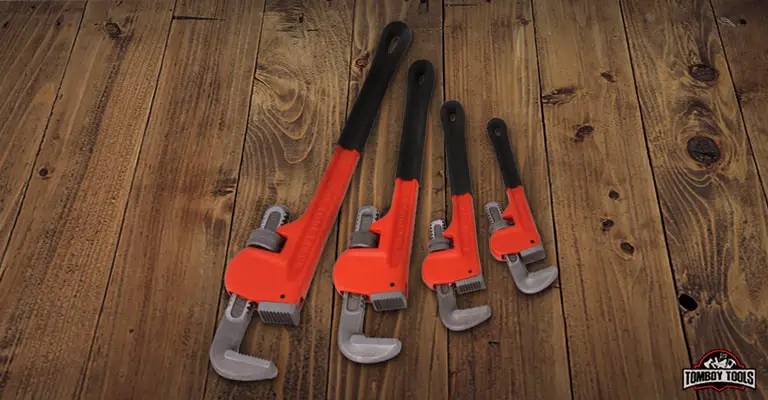 Any worker who has used pipe wrenches for a long time knows that one pipe wrench is just not enough. You need different sized wrenches for pipes with different diameters, which is why we are recommending this set of pipe wrench for you.
The set comes with four tools, each of different size. There are wrenches of 8″, 10″, 14″, and 18″. All the wrenches here are made of cast iron, so you don't have to worry about their durability or quality. Heavy cast iron contains 2-4 percent carbon, which makes the material tougher and stronger.
Jaws of this set are made of steel, and they are anti-rust. The teeth are deep and will be able to grip any smooth surface easily. You can definitely rely on the performance of this tool because of its tough built teeth.
All the wrenches in this set have standard dimensions of 5.4 x 17.1 x 2.5 inches. This makes the set universal and also gives users all over the world a tool they can firmly grip. The equipment weighs only 9.65 pounds, so you won't get tired even if you use it for longer hours.
A rubber plunged handle, along with all the other exciting features, makes this product unique. We definitely recommend it for professional plumbers.
Highlighted Features
Rubber plunged handle
Steel made anti-rust hook jaws
Comes in a set of 4
Made of cast iron
Weighs only 9.65 pounds
7. IRWIN Tools VISE-GRIP Pipe Wrench, Cast Iron, 2-Inch Jaw, 14-Inch length
The pipe wrench from IRWIN is definitely one of the best heavy-duty wrenches you will find in the market. This wrench comes with a drop-forged housing made of cast iron. All the great tools are made of great quality materials, and cast iron is one of the best materials to make a wrench.
Teeth of this tool are hardened, which provides excellent precision and a great bit. The housing is heat-treated as well, so that your wrench doesn't distort or break under pressure.
Adjusting nut of the tool is also heat-treated to make it durable; this nut spins easily as well and makes work quicker. You won't feel strain even after using this tool for longer hours because it comes with an I-beam handle. The handle distributes weight evenly across so that only one part of your hand is not leveraging the tool.
This tool also features the unique hammerhead design and is bend at the top. This gives users an opportunity to have a flat surface they can use for hammering.
Although this tool is a bit on the expensive side, it's definitely worth the money. The tool is highly durable, versatile, and easy to use. We recommend it for long time usage.
Highlighted Features
It can be used as a hammer
A highly durable tool made of cast iron
Most parts are heat-treated and strong
Handle distributes wrench weight evenly
Drop-forged housing
Types Of Pipe Wrench
Ask any experienced pipe wrench user about the situation when they choose the wrong pipe wrench for their job, and you will most likely get a long story in response. The story may contain the history of having scars on their hands due to wrench slippage, the pipe was once damaged due to a wrong pick, or their knuckles were injured.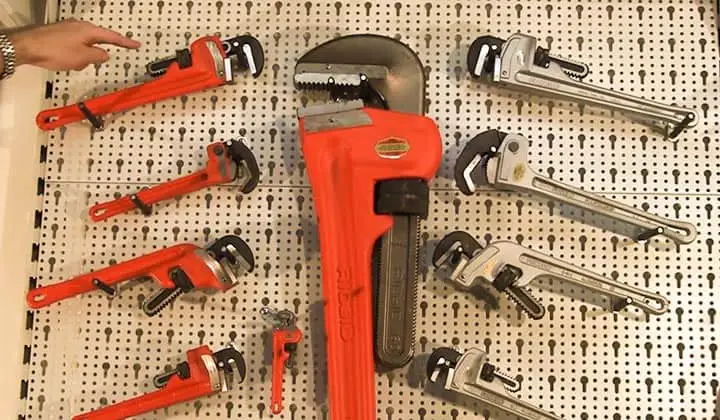 From this perspective, it is very simple to understand the necessity of knowing the types of pipe wrench and their uses. Having thought about all these aspects, we have compiled a list of pipe wrench types to help you choose the right tool for the job.
After looking at the current market, we have found six pipe wrench types that are available in different sizes. Usually, the pipe wrenches are pretty solid due to their steel or aluminum build. It was Daniel Stillson who invented the first pipe wrench in 1869. Today, pipe wrench designs have improved greatly, and you can find different designs available in hardware stores. However, let's see what kind of pipe wrenches you can include in your toolbox.
1. Straight Pipe Wrench
This iron-made pipe wrench is a traditional form that is used for multiple tasks. The jaw hooks of the straight pipe wrench have self-cleaning threads. Usually, this type of pipe range is found in a size range from half and a quarter inches to 8 inches. There are some heavy-duty versions available that are used for larger types of pipe wrenches.
If you look at the structure, the wrench head remains parallel to the handle. However, this pipe wrench is popular among most people for day-to-day tasks and a standard tool for most toolboxes.
2. Strap Pipe Wrench
The name of the wrench denotes its characteristic. A strap pipe wrench comes with a strap in the head instead of a traditional head. Simply, this strap is used to attach the wrench to the pipe, and you can use this mechanism for oddly shaped pipes. Because of such a unique mechanism, the strap pipe wrench is quite different from other traditional pipe wrenches.
The strap, which can be made of leather, chain, rubber, or even metal, causes friction with the pipe. As a result, you can self-tighten the strap in this pipe wrench.
3. Compound Leverage Pipe Wrench
If you want to work seized points of the pipes, the compound leverage pipe wrench can be a handy tool for you. To break the seized points, you will get additional leverage in it.
Sometimes pipe joints become frozen or jammed due to damage, age, build-up, or lock-up problems, and it becomes tough to free these joints. In such a condition, the ingenious design of a compound leverage pipe wrench boosts the power when you give force to this tool. Because of the amplification of the strength, you don't need to struggle much to break free.
4. Chain Pipe Wrench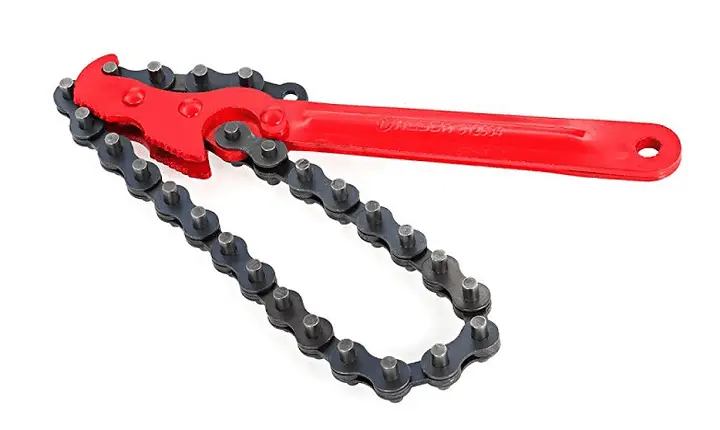 When you want to work with extremely tight pipes, you will need a chain pipe wrench. This pipe wrench also comes with a unique design, to be specific, a chain in place of the hook jaw. You need to attach this chain to the pipe to create a strong tie between the wrench and the pipe. So, you can use high force because of this tight chain bond.
5. Offset Pipe Wrench
Many times you will find your pipes in a small corner or at an awkward angle. Sadly, you cannot use most of your pipe wrenches in such narrow places. Here, you can use the offset pipe wrench as a solution to that problem. Because the offset pipe wrench can work in vertical positions. This thing becomes possible due to its wrench head which has a closed end. The end is shaped like a box to fit in narrow areas. The small designed wrench end can slip vertically and hold a bolt head.
If you use this pipe wrench, you don't need to worry about the sides around the pipe. Just get into a straight position to reach the pipe and access the bolt directly. You will be glad to know that the offset pipe wrench comes in two variations. One is for everyday use, and another is to perform heavy-duty tasks.
6. End Pipe Wrench
Every pipeline has an end, and that end is made using end pipes. These end pipes generally stay very close to the wall or in the narrowest places where you cannot reach simply by hand.
To overcome such conditions, the end pipe wrench comes with teeth in its jaws. You just need to reach the wrench end and simply get a grip of the pipe to move it. The teeth reduce slippage to loosen or tighten the pipe quickly. So, it is a perfect pipe wrench for end pipes in restricted places.
Choosing the Right Pipe Wrench
Before you purchase anything, it's important to know what features you should look for in them. Below we have listed all the important characteristics of a pipe wrench that you need to consider before you purchase a pipe wrench.
Material
In the reviews, we have mentioned products made of steel, aluminum, cast iron, and many other materials. Pipe wrenches can be made of many different things; there's actually no one best material.
But based on your preference, you can choose the material you need. If you are looking for lightweight yet durable tools, aluminum wrenches are perfect for you. If you want more durability, you can go for cast iron or steel.
It is important to choose a material that's durable and doesn't bend or break easily.
Size
Pipe wrenches are available in a variety of sizes. Often times, only one pipe wrench is not enough for a plumber because the pipes are of different diameters. It is wise to purchase a set because you will get at least 2-3 wrenches at once and at a lower price.
If you don't want to buy a set or you don't think you will need one, you can purchase wrenches of 14-18 inches. According to experts, this is the ideal size for most pipes around home. So, if you are a hobbyist, you can definitely go for one wrench to fix your sink or vehicle.
Adjustment of Jaws
This is a tiresome activity, and often time takes a lot of guessing to get the right fit. We recommend opting for tools with spring-loaded jaws so that you can easily adjust your tool and save time.
Some pipe wrenches can be locked, those are a bit expensive, but you can definitely buy them if you work with a specific type of pipe very often.
Handle Design
It's an important feature for any handheld tools. As you will be holding it for a few good moments, you need something that doesn't put a strain on your hands.
Some of the products listed above come with an I-beam handle. These handles are great for working longer hours. As they distribute the weight of the tool evenly, no part of your hands is strained, and you won't experience fatigue.
Weight
Pipe wrenches are handheld tools, so it's very crucial for them to be lightweight. If the wrench is making you tired, you definitely should get rid of it. Opt for a lightweight yet durable wrench so that you can work for hours without getting tired.
Frequently Asked Questions
Q: Can I use a pipe wrench for my vehicle and furniture?
Ans: Yes, pipe wrenches can be used for tightening nuts and bolts in many things, including vehicles and furniture.
Q: Is an I-beam handle important?
Ans: Yes, for a good pipe wrench, an I-beam handle is important, because the handle will decrease strain on your arms and hands.
Q: Are adjustable wrenches different from pipe wrenches?
Ans: Yes. Adjustable wrenches are used for tightening nuts and bolts of a variety of sizes. Pipe wrenches are used for tightening pipes.
Q: Can I attach my motorcycle tire to the body using a pipe wrench?
Ans: Yes. If you are skilled enough to do that, you can attach the tire to the motorcycle body using a pipe wrench.
Q: I have been trying to loosen a nut that won't come off. Can I use my pipe wrench for loosening it?
Ans: Spray some oil on the nut and then use your pipe wrench to loosen it.
Final Thoughts
We hope our article has helped you in the quest of 'finding the best pipe wrench.' Keep your budget and work environment in mind before you pick the product you want to work with. There are thousands of options, yes, but not all of them are great for you.
Go through each review and the buying guide carefully before you order your pipe wrench. All the products listed here are available online. You can order them from their respective websites or via e-commerce sites.  Make sure to use your tools safely and with care. We hope you have fun with the pipe wrench you purchase. Good luck!
I'm Joost Nusselder, the founder of Tools Doctor, content marketer, and dad. I love trying out new equipment, and together with my team I've been creating in-depth blog articles since 2016 to help loyal readers with tools & crafting tips.