I love creating free content full of tips for my readers, you. I don't accept paid sponsorships, my opinion is my own, but if you find my recommendations helpful and you end up buying something you like through one of my links, I could earn a commission at no extra cost to you.
Learn more
It's difficult to tighten and loosen nuts and bolts without a handy tool. When you are working with nuts and bolts that need turning, you must apply torque.
The one tool that is indispensable in such a situation is a wrench, also known as a spanner.
As a DIYer, the most crucial wrench you should have is an adjustable wrench, because it comes with jaws that you can customize to fit different tasks.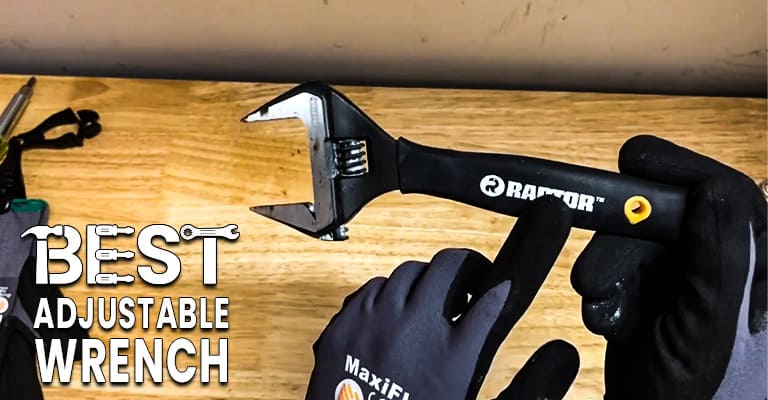 You can extend or reduce the jaws to suit faucets and pipes of different sizes. That way, you can handle home repairs and maintenance routines for your machines and tools.
In this guide, you will learn the major types and sizes of adjustable wrenches that are available. With regard to that, you will get insight into the distinctive traits and the uses.
In addition, we will share some of our top picks for the best adjustable wrenches on Amazon:
What is an adjustable wrench?
An adjustable wrench also goes by the name of an adjustable spanner and adjustable crescent wrench. But, all the names refer to one type of tool.
A wrench is used to tighten nuts and bolts. It is easy to tighten nuts and bolts with a wrench because it has jaws that are adjustable in size, so they offer the perfect grip.
For that reason, you can easily maneuver the wrench and tighten or loosen what you need quickly. An adjustable wrench is especially useful for working with tubes, pipes, nuts, and bolts.
How many types of adjustable wrenches are there?
There are four types of adjustable wrenches which have their own distinctive uses and characteristics. The most common is the crescent wrench, also known as a "crowfoot" or adjustable spanner for its varied use in loosening bolts. Then there are the Monkey Wrench, Pipe Wrench, and Plumber Wrench.
Adjustable Spanners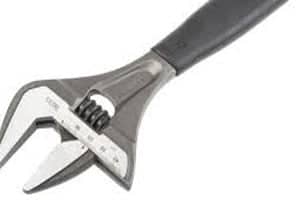 Also called crescent wrenches, adjustable spanners are available in virtually every household these days.
With this type of wrench you can apply increasing torque to move tightened fasteners by using your hand's natural grip motion.
The most distinct characteristic of the adjustable spanner is the 15° angle between the handle and the movable jaw.
Adjustable spanners are reasonably priced, and apart from that, they come in a broad range of sizes to suit any job you might have in mind.
They are best suited for unscrewing or fastening plumbing fixtures like elbows, faucets, and pipes.
If you don't have enough strength to open bottle lids? There's an adjustable spanner subtype that is meant just for you.
As you use the adjustable spanner, ensure that the movable jaw is clasped securely around the pipe. This will help prevent rounding, which can be a pretty annoying issue.
Also, be sure to position the jaw on the side toward which the rotations will happen. This will help avoid deforming the wrench. As well, this ensures a tighter grip as you start to move the wrench around.
Adjustable spanners vs crescent wrench
The adjustable spanner or wrench has been around for a long time. In the U.S., Canada, and other countries it's known as "Crescent wrenches" due to their popularity in these regions from the original patent holder of Crescent Tool Company which was founded back in 1887.
Monkey Wrench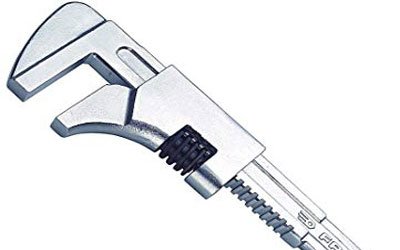 Looking for an adjustable wrench to use in large-scale projects like fixing vehicles or water systems for customers in your neighborhood? Then, you will need a monkey wrench.
What most distinguishes this adjustable wrench is its long handle and sharp jaws that grip objects very firmly.
The tool is crafted from steel or its alloys through a process known as heat-forging.
In most cases, the monkey wrench is used to clamp onto pipes, lug nuts, screws, and bolts.
The sturdy construction is what accounts for the monkey wrench's remarkable strength. A monkey wrench is capable of bearing your entire weight as you push against it.
Pipe Wrench
People often confuse the pipe wrench with the monkey wrench, as the two are very similar. Nonetheless, the pipe wrench, otherwise known as the Stillson wrench, happens to be sleeker than the monkey wrench.
Moreover, this wrench makes it easier for you to reach difficult locations like corners and nooks.
The pipe wrench is perfect when you're working with round-surface fixtures and soft iron pipes. But, you shouldn't use it with hex nuts as its teeth can quickly ruin the hex head.
The Stillson wrench is manufactured from steel or aluminum and can be bought in different handle sizes, including 10", 18", 24", 36", and 48".
There are also jaw kits if you prefer repairing your old pipe wrench rather than purchasing a new one.
What is the difference between a monkey wrench and a pipe wrench?
A monkey wrench is a type of wrench that is not as popular as a common pipe wrench. It is only used for hex nuts, thus it has limited usability. The monkey wrench has serrated jaws that offer excellent grip and therefore, it is easy to use.
On the other hand, a pipe wrench is made to twist pipes, and it is mostly used by plumbers. Metal pipes require manual twisting and that's when the pipe wrench (like some of these) comes in handy.
The most obvious difference between the two types of wrenches is that the monkey wrench has jaws that are straight out. In contrast, a pipe wrench has slightly curved jaws. These provide a better grip when used on round objects.
Plumber Wrench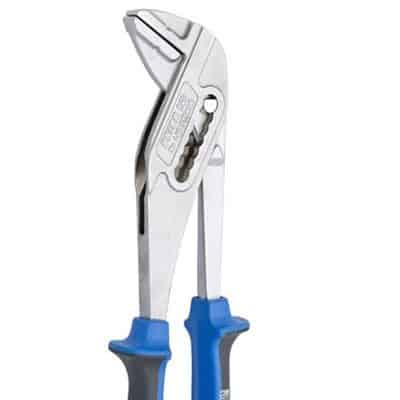 Plumber wrenches come with a key ring fitted to one handle, for closing the movable jaws around the fitting or pipe. Plumbers use this type of wrench to rotate the plumbing pipes.
This wrench clasps with striking force, and hence it doesn't need to engage the bolt or nut head it's applied to.
As the wrench is quite bulky, you should only use it where other kinds of wrenches don't work.
When used carelessly, this type of adjustable wrench can cause dents or even break a pipe.
What to look for when buying an adjustable wrench
Ok, so you are on the market for an adjustable wrench. Here's what you should consider when choosing one. First of all, keep in mind that one good adjustable wrench replaces several different types of wrenches.
look for a wrench made of industrial-grade alloy
check that the wrench has a comfortable plastic grip that is non-slip
the scales should be easy to see and clearly marked so that you can set the specific nut sized quickly
make sure it is easy to adjust
the wrench should have a hole in the handle so that you can hang it up
Despite being a pro, a resourceful buying guide can surely help you to know the known and unknown facts about any tool. And if you're a noob, you must keep track of the specifications of the tool for better workability. Let's get acquainted.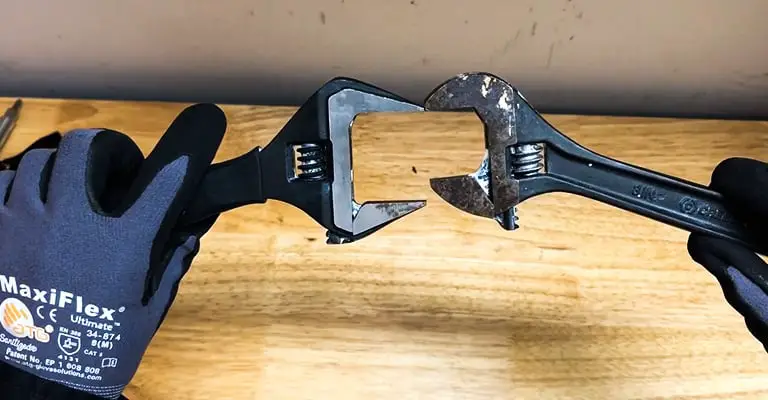 Comfort Grip
Unlike favorites, and comfort in grip is the feature that particularly depends on your personal preferences according to your comfort. But no matter what kind of wrench you buy, make sure the handle of the tool is grooved so it doesn't slip away from your hand while you are working on a lug nut.
A metal handle will give you more durability while the comfort grip will be convenient to use for a long time. If your hand is wet or you sweat more, you won't be able to work with the metal grip. On the other hand, light but bulky grip will affect the actual capacity of the wrench. We recommend the latter.
Scale
When you go to search for a wrench, you will find some wrenches have scales etched on their jaws. The scales that can be found are on metric and SAE or inch systems. Some wrenches have both types of scale, some got any of the ones, and some don't have at all.
The scales are provided so that you can quickly measure the fasteners' dimensions for better workability or different purposes. So it's better to buy an adjustable wrench with both scales etched on the jaws.
Wrench Kit
In this tale of pursuit,  many adjustable wrenches are ready to sell. You're gonna see some manufacturers offering wrenches of different sizes, but you need to buy them separately. But some manufacturer provides a wrench set or kit that offers you two or more wrenches at the same time at less price than the price when you buy all the wrenches individually.
You should go for one of the wrench sets for better workability as you often need to use this tool with many types of fasteners.
Jaw Capacity
Jaw capacity reflects how bigger the fastener the wrench can hold onto. The more the jaw capacity, the bigger fasteners it can hold and measure. Both horizontal and vertical surfaces play a fundamental role.
The capacity of the jaws vary from wrenches to wrenches, the capacity can be as small as only ½ inch to as big as 3 inch or more. Irrespective of your choice, you should confirm that the length and the weight of the wrenches are well proportioned. Otherwise, the wrench will break or it will be so hard to work with.
Material
Product quality is the most important feature no matter what you buy. And the quality mostly depends on the material used to build the product. In the case of adjustable wrenches, always prefer a wrench made of high-quality steel since only a durable tool is worth your money.
In the market you will find wrenches made of alloy steel, they are robust and extremely hard to break. But wrenches made of chromium-vanadium are even stronger. You should also keep in mind that the coating materials make tools more durable. Without the coating, your steel won't be able to prevent rust and corrosion. For lifetime corrosion-resistant, chrome or nickel coating is the best.
Weight
Since loosening and tightening fasteners like nuts and bolts are the main purposes of an adjustable wrench, it must be a portable tool. Though the portability depends on the weight of the item, a heavy portable tool is not as comfy as a lightweight tool.
A lighter tool is really easy to use but you can't just go and pick the lightest tool. The lighter weight of a wrench means it has less metal mass than a heavy one. And that won't offer you much workability.
Length
Lengths of the wrenches usually vary from 4 inches to 24 inches in today's market. You should always select a wrench with the proper length you need for your work, as torque and workability of the wrenches depend on the length of the tool. The more the length of a wrench, the more torque it produces. Every time consider buying a longer wrench for heavier work. Also, longer handles help you to reach far places. But for small and tight areas, smaller wrenches are the compatible ones.
Instruction
As the purpose of instruction is to let you know how to install and use any tool, you can name it as a guidebook. You might think that you don't need any instruction for a simple tool like an adjustable wrench.
Your guess is right but you need to keep in mind that not all the providers provide the same kind of tools and to improve the workability they change their wrenches accordingly. Also, you may damage the device you're working on if you don't know the proper use of a wrench.
For this reason, you better keep instruction at your arms reach. It can help your kid or someone who doesn't know how to use the wrench.
Warranty
Neither all manufacturers on the market provide you with a warranty nor is the period of the guarantee the same. Some providers offer a warranty for every item they sell, some only do for specific items while some don't provide a warranty at all. At the same time, the period of the guarantee varies from provider to provider.
Especially it's better to go for the product with the lifetime warranty. It proves their confidence on the wrench they're providing.
Adjustable Wrench Sizes
The adjustable wrench is available in varying sizes. The most common sizes include the:
8" to 10" double-end
6" to 8" double-end
8"
12"
36″
Best adjustable wrenches reviewed
It's hard to rank wrenches based on what is best, but we can recommend several good options that you can find on Amazon. These are all highly recommended because they are easy to use and durable.
Best Small Adjustable Wrench: Irwin Vise-Grip (6″)

This is a durable lightweight adjustable wrench.
It weighs only 0.2 ounces, perfect for use in small tight spaces.
It is made from a durable chrome vanadium material.
Has an extra wide capacity.
It has a hole so you can hang it up in your tool storage area.
The jaw capacity is wide and has an extra 1″.
Best Medium Wrench: Channellock 8WCB (8″)

This one has an extra-wide jaw opening of 1.5″.
The longer jaws mean that this tool has a better grip, which is especially handy in very small spaces.
It grips tight the first time, so you don't struggle to grab on.
It has measurement scales that are perfect for sizing tubes, nuts, and pipe diameters.
Made of chrome vanadium steel which is durable.
Best Large Wrench: Channellock 810W (10″)

This wrench is ideal for large nuts and bolts.
The longer jaws offer a much better grip than small tools.
Has inch and mm measurements for easy sizing of pipes, nuts, and tube diameters.
Minimal head width for easy maneuvering in tight spaces.
It is made from a durable chrome vanadium steel.
Check prices and availability here
Best Adjustable Wrench Set: HORUSDY 4-piece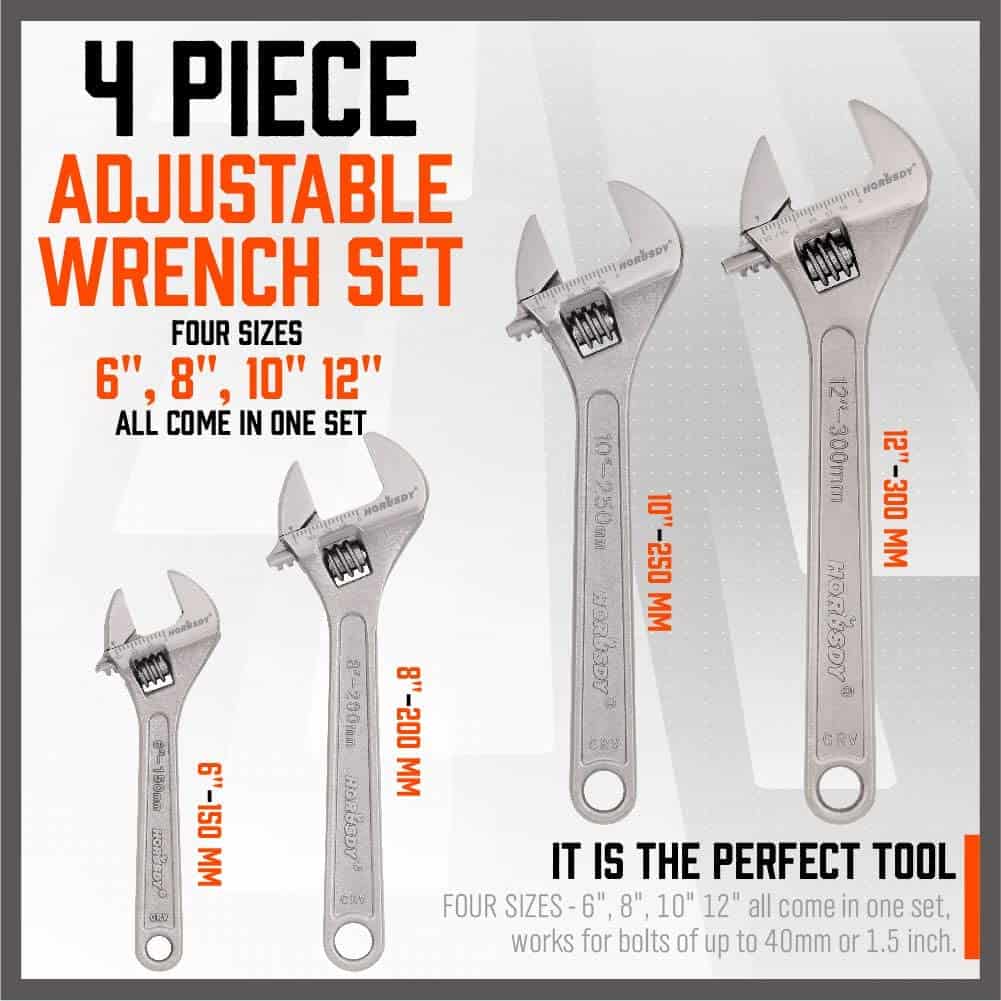 A set with different sized adjustable wrenches is perfect for any handyman/handywoman.
This set is made of heat-treated chrome vanadium steel so it is durable and long-lasting.
Precision jaws for easy grip.
This set has laser edged scales.
Each wrench has large knurls for easy adjustment and a tight fit.
FAQ around adjustable wrenches
Why is an adjustable wrench better than a regular wrench?
With a regular wrench, it's hard to have precision. Even the simplest of tasks can become complicated.
A regular wrench won't fit the nuts and bolts exactly so it will keep slipping and you'll waste a lot of time.
As well, the adjustable wrench is easy to use in small spaces because it has great ergonomics
. The design of this type of wrench is simple and the products themselves are durable, so they'll last you many years.
Most importantly, a single adjustable wrench can perform the tasks of an entire set of combination or open-ended wrenches, which means one tool can replace many.
Therefore, you are saving money when you invest in a good quality adjustable wrench. It basically replaces the other types of similar wrenches.
Can I use pliers instead of an adjustable wrench?
In some isolated cases, you can but it's not recommended that you do that.
Pliers are used for tightening small bolts and nuts but an adjustable wrench can do it better because it has a better grip.
Pliers can damage the fastener's surface and they are much harder to use than wrenches that are specifically designed for tightening tasks.
What size adjustable wrench should I buy?
For most common tasks, you'll want three basic sizes: 6″, 8″, and 10″ This will not only accommodate most standard hardware, but allow you to access hard to reach spaces and tight corners.
What is another name for an adjustable wrench?
Crescent wrench. In Canada and the United States, the tool is known as a Crescent wrench or an adjustable wrench. In Australia it is referred to as a "shifting spanner", usually abbreviated to "shifter".
What is adjustable spanner used for?
wrenches. The adjustable pipe, or Stillson, wrench is used to hold or turn pipes or circular bars. This wrench has serrated jaws, one of which is pivoted on the handle to create a strong gripping action on the work.
What is the difference between a crescent wrench and an adjustable wrench?
An adjustable wrench has one fixed jaw and one adjustable jaw which allows you to use it on a wide variety of fastener sizes. … The head of a crescent wrench is usually angled at 22 1/2 degrees to the handle so that the wrench can be flipped over to provide two different gripping positions in tight spaces.
What are the different sizes of wrenches?
Wrenches: Standard Combination Wrenches (1/4, 5/16, 11/32, 3/8, 7/16, 1/2, 9/16, 5/8, 11/16, 3/4, 13/16, 7/8, 15/16, 1) Metric Combination Wrenches (6, 7, 8, 9, 10, 11, 12, 13, 14, 15, 16, 17, 18, 19) Standard Flare Nut Wrenches (3/8, 7/16, 1/2, 9/16, 5/8, 11/16, 3/4, 7/8) Note: Each wrench may combine two sizes.
Are Harbor Freight wrenches any good?
They are OK, but do have more flex than an expensive name brand wrench. I wouldn't try to loosen or tighten a high torque bolt with the open end. If I can't get the box end on the bolt head, I will seek out a better wrench so I don't round any bolts off from wrench flex.
Is snap-on better than craftsman?
Snap-on's are definitely the best in terms of quality, but they're far more expensive than brands like craftsman. Most nicer tool brands have the replacement warranty, but professional mechanics can't afford to spend the time to go replace it, so Snap-on makes tools that just don't break.
What is the difference between a spanner and a wrench?
The term wrench is generally used for tools that turn non-fastening devices (e.g. tap wrench and pipe wrench), or may be used for a monkey wrench—an adjustable pipe wrench. … In American English, spanner refers to a specialized wrench with a series of pins or tabs around the circumference.
What does an adjustable wrench look like?
A crescent wrench looks a lot like a monkey wrench; in fact, most of the simple adjustable wrenches you know look like crescent wrenches. A crescent wrench is usually made of steel and has a relatively flat handle that's a number of inches long.
Is DeWalt made in China?
Many of DeWalt's tools are made in the United States using materials produced stateside. … Still, a portion of all DeWalt tools are also made in China, Brazil, the United Kingdom, Italy, and the Czech Republic.
Are Husky Tools Made in USA?
Husky is a line of hand tools, pneumatic tools, and tool storage products. … Husky hand tools were formerly manufactured exclusively in the United States but are now largely made in China and Taiwan. All Husky hand tools have a lifetime warranty.
Q: Are adjustable wrench and crescent wrench the same?
Ans: Yes. In North America, an adjustable wrench is also called an adjustable spinner or crescent wrench.
Q: Is there any difference between an adjustable wrench and a breaker bar?
Ans: Absolutely yes. A breaker bar is used to break lug nuts quickly, and it has a long handlebar. But a wrench has a shorter handlebar and takes a longer time to adjust nuts and bolt or any fasteners or bolt extractors.
Q: Do I need any safety for using an adjustable wrench?
Ans: It's better to use safety goggles while working with the wrench as you don't know if a fastener comes out with force and hurts you.
Conclusion
As you look for adjustable wrenches, I recommend you go for those that are made of steel or steel alloys.
These materials are stronger and can handle stressful jobs without breaking. Furthermore, they last longer than other materials.
If you can get one that is chrome-plated, that'd be even better as it will be able to resist corrosion and also make cleaning easy.
Also read: how to organize a garage on a small budget
I'm Joost Nusselder, the founder of Tools Doctor, content marketer, and dad. I love trying out new equipment, and together with my team I've been creating in-depth blog articles since 2016 to help loyal readers with tools & crafting tips.
Product prices and availability are accurate as of the date/time indicated and are subject to change. Any price and availability information displayed on Amazon.com at the time of purchase will apply to the purchase of this product.