I love creating free content full of tips for my readers, you. I don't accept paid sponsorships, my opinion is my own, but if you find my recommendations helpful and you end up buying something you like through one of my links, I could earn a commission at no extra cost to you.
Learn more
Cars can get messy very quickly. Whether it's an accumulation of food wrappers from your midweek lunches or leftover coffee cups from your morning commute, cars are a popular storage home for lots of different types of trash.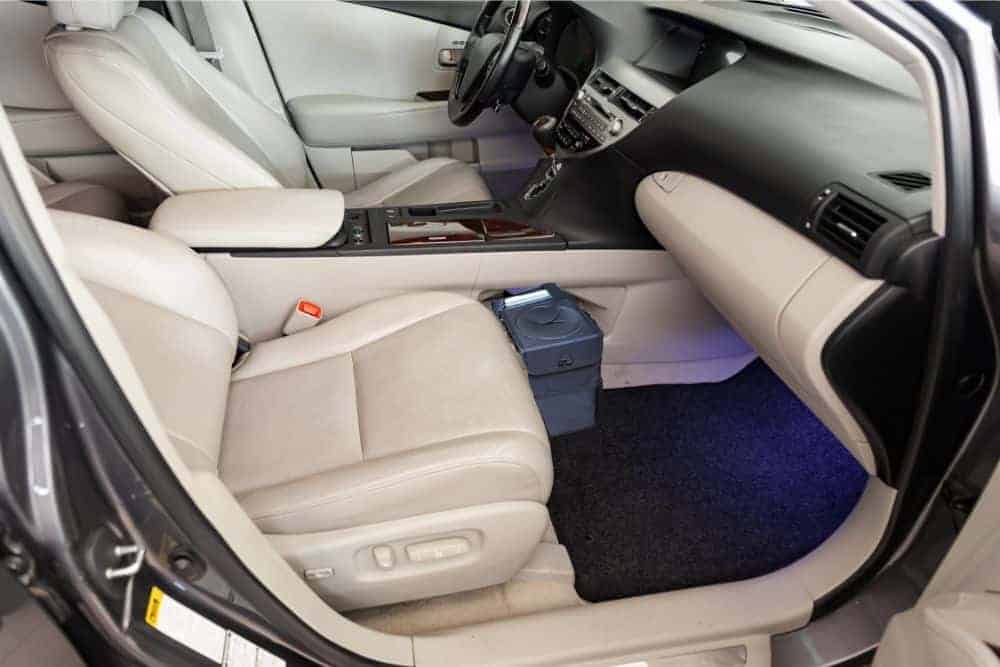 While this may not be too much of a problem at first, you'll quickly find that once the trash builds up, the safe confines of your car soon become far less cozy, and may even start to smell a little unpleasant.
Therefore, it's important to find yourself an effective pop up trash can to keep the inside of your vehicle clean, tidy, and smelling fresh. 
With this in mind, our guide will take an in-depth look at three of the best pop up trash cans for cars currently on the market. What's more, we've also put together a handy buyer's guide with all the essential information to keep in mind, as well as some of the frequently asked questions. 
Also read: pop-up not what you're looking for? Check out these other types of car trash cans
Best Pop Up Trash Can For Car
The first pop up trash can we'll take a look at is this popular offering from EPAuto. It's a 2.0 gallon capacity trash bin that'll be sure to keep your car clean, organized and free of unwanted trash. 
Included with the product are ten trash bags to get you started, while the trash can itself is designed with a well-structured waterproof interior to prevent it from collapsing. 
Other notable features of this bin include a lid with an elastic opening to help keep trash out of sight. This open-top opening mechanism means that access to the bin remains easy despite the elastic covering.
Furthermore, the trash can is equipped with fasteners on the lid which only enhance the bin's security and ease-of-use. 
This trash can may be one of the bigger and bulkier models on the market sized at 10.5" x 8.25" x 6.75", but it remains incredibly sturdy, thanks in part to its fasteners on the bottom which help to prevent the bin moving around while the car is travelling at speed. 
Pros:
2.0 gallon capacity provides plenty of space to store trash
Fasteners on the bottom of the trash can help to keep the bin relatively sturdy while the car's in motion
Elastic-opening lid keeps the contents of the trash can secure 
Excellent waterproof interior provides the bin with enough structure to stop it from collapsing
Product comes with ten trash bags to get you started
Cons:
A number of customers have complained about the durability and limited lifespan of the product
The second product on the list is the Mavoro Car Trash Can. This bin comes equipped with premium washable material that's also leak-proof, meaning that you're completely safe from any spills on your car interior. 
The trash can is strong, durable, and incredibly practical due to the fact that it can be hung pretty much anywhere you need. Sized at 6.5" diameter by 7.5" height, this collapsible bin can be used effectively in any car, van, suv or truck. 
It can also be used as a pretty effective storage bag for your kids' toys or any "junk" you may like to carry around with you. 
What's more, the bin has a 100% lifetime money back guarantee, so there's very little risk attached to buying it. Simply, if you don't like it, you can return it and get every bit of your money back hassle-free. 
All things considered, this trash can produced by Mavoro is one of the very best on the market, and therefore, a must-have car trash container for all travellers. 
Pros: 
Premium washable material is leak-proof which significantly reduces the likelihood of potentially problematic spills 
Strong and durable construction
Can also be used as an effective storage bag for "junk" or kids toys 
Impressive 100% lifetime guarantee means that purchasing the product is pretty much risk-free
Can be used effectively in any type of vehicle – car, truck, van, etc
Cons: 
Several users have found the product far too small and shallow to hold any kind of substantial trash 
The third and final pop up trash can on the list is Ryhpez's Car Trash Can With Lid. This bin has a multi-functional design with an interior waterproof lining which is durable, leak-proof and easy to clean.
It can also be used as a storage bag to put your umbrella and other essentials in, as well as a travel cooler for your drinks and snacks. 
This bin is compact and foldable, sized at 6.3" length x 9.5" height x 6.3" width. It has a 1.85 gallon capacity, and when not in use, can be flattened and placed between the seats or in the pocket of the car door. 
The trash can comes equipped with an adjustable strap and elastic strap which allow you to hang it for either the front seats or back seats. The easy elastic strap also keeps the bag securely in place. 
Other useful features include a rubber opening soft lid, velcro seal, two extra sides mesh pockets, two adjustable side clips, and a front fabric pocket. 
Pros:
Interior waterproof lining which is both durable and leak-proof 
Two extra sides mesh pockets and front fabric pocket perfect for storing anything you need
Compact and foldable, so easy to flatten and store between seats or in the pocket of the car door
Elastic strap keeps the bag securely in place
Cons:
Customers have reported that the bin isn't the most effective at keeping its shape
Buyer's Guide
When it comes to finding the best pop up trash can for your car, there are a few things that you need to consider. Below, we'll take a brief look at some of these important areas to focus on when scouring the market for the perfect product.
Functionality 
One of the most important qualities to look for is great functionality. You want a trash can that fits just about anywhere in the car, within arms reach for effortless disposal.
It must be easy to use when in motion or it may pose a risk. A trash bag that's a struggle to use can lead to a potentially dangerous distraction. 
Durability 
Needless to say, trash cans can often get dirty fast, with interior food and drink stains requiring thorough cleaning with harsh chemical products. Therefore, a bin that's made from quality material and reusable is desirable.
The best trash can is one that maintains its look and its functions for years. 
Size
The sizing of your trash can is essential. Firstly, you need one that easily fits in your vehicle without becoming an obstruction. Then, if you regularly shuttle your kids around or take numerous trips a day, you need to find one with a large capacity. Just be mindful that it's best to avoid bins that may inhibit legroom or headroom while you're driving. 
Waterproof And Leak-Proof 
One thing you need to know is whether a bin is safe to contain liquids, particularly before you throw a half-empty can of coke inside of it.
If a trash can isn't waterproof and leak-proof, then any liquid you toss inside will naturally leak, potentially damaging the interior of your car. Therefore, it's always best to prioritise a trash can with waterproof and leak-proof material. 
Secure 
The last thing you want is your trash can to flip over and empty its contents inside your car. To avoid this, choose a product that can hold its position – one that remains secure even when you drive on uneven surfaces or brake suddenly. 
Frequently Asked Questions 
What's the best way to clean a trash bin? 
Some pop up trash bins for cars can be thrown straight into the washing machine, while the ones that can't are usually spot cleaned with Clorox wipes, Lysol, or other cleaning products.
Moreover, a large number of trash cans suggest using liners which makes the clean up process even easier. 
Can it double as a cooler? 
Many pop up trash bins can serve multiple purposes. Some of the larger products can also be used as coolers if you pack some ice alongside your food and drinks.
Other popular uses for trash cans include storing toys, winter accessories, and other essential items. 
Also read: the best waterproof car trash cand reviewed
I'm Joost Nusselder, the founder of Tools Doctor, content marketer, and dad. I love trying out new equipment, and together with my team I've been creating in-depth blog articles since 2016 to help loyal readers with tools & crafting tips.