I love creating free content full of tips for my readers, you. I don't accept paid sponsorships, my opinion is my own, but if you find my recommendations helpful and you end up buying something you like through one of my links, I could earn a commission at no extra cost to you.
Learn more
There's little worse than having to empty out a trash can that's gone all soggy with trash juice. Disgusting.
But thankfully there's a very easy solution. What you need to do is buy yourself a waterproof trash can, and you never have to worry about such a scenario again. 
And the great news is that there are plenty of waterproof car trash cans on the market. We've been checking out some of the best ones, and after much deliberation we were able to hand pick our top few favorites to review for you here today.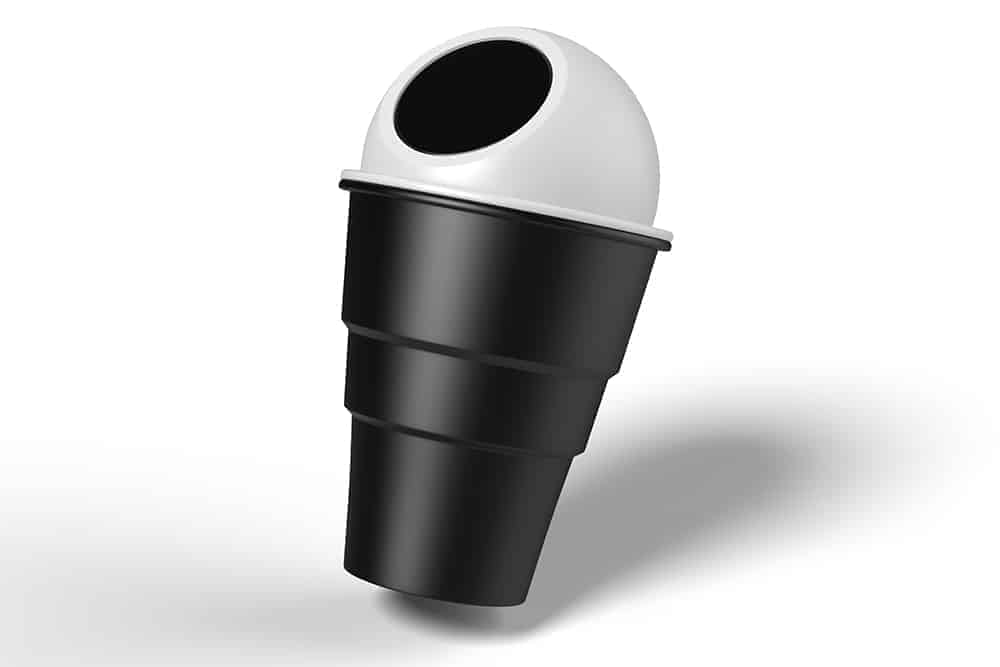 Then, we're going to wrap up with a super quick buying guide (checklist, really).
So, without further ado…
In a hurry? Check out our number one pick!
Also read: waterproof not what you need? Check out these reviews for more car trash can types
Our Waterproof Car Trash Can Reviews
Talk about flying off the shelves!
This trash can has proved super popular with the leading online retailers. On Amazon for example there have been well over 10,000 customer ratings so far, and that's just from the ones who bothered to leave a rating. 
Better yet, the average customer rating still comes out at a whopping 4 and a half stars out of 5 – pretty impressive huh?
With this trash can you  don't need to worry about any soda or juice spills, because not only is it waterproof, but it's also leakproof. And if you do get a spill on the material, it will come out in the wash.
It comes with an adjustable quick-clip strap that allows you to attach it to either a side door handle or the back of a headrest.
It also features a magnetic lid, so what's in the trash can stays there until you empty it, including the smell. And when you're not using it, it can be folded up for easy storage.
And not only do you receive the trash can itself, but you also get 20 disposable liners for it too, so you can start using it as soon as the box arrives. And there are dedicated liner clips to secure the liners firmly in place.
But what we love the most about it is how it doubles as an insulated cooler for your drinks
It's available in two color options, black or gray. And it's available in 3 different sizes, namely medium, which has a generous 2 gallon capacity, large, or extra large.
Amazon occasionally has deals on this particular trash can, simply click on "Check Price" to see if there's a deal now.
Pros
Bestseller with excellent ratings
Waterproof, leakproof & washable
Attaches to either door or headrest
Even the medium has a generous capacity
features a magnetic lid & liner clips
Comes with 20 disposable liners
Doubles as a drink cooler
Larger sizes available
Cons
Because it's a fabric trash can it's not as sturdy as plastic or metal one
Originally, when we saw how cheap this trash can was, we were dubious about the quality. But when we started looking into it we were impressed and felt it deserved a spot on our shortlist as the best budget car trash can.
The star feature of this trash can is how it's rubber opening lid allows you to push trash through the opening one-handed, which is particularly valuable for the driver, or anyone else who's busy with their other hand.
It fits every type of vehicle, thanks to the adjustable strap, and can be secured to the back of a seat, behind the center console, or simply placed on the car floor. 
It features a waterproof and leak proof lining, and the lid self closes to conceal waste and block in nasty odors. 
It also features 3 storage pockets, two mesh ones either side and a larger one at the front. It's great for keeping smaller items like a mini hand sanitizer and so on.
Pros
Bargain affordable price point
Features one-handed opening
Waterproof and leak proof lining
It is easily secured in place
Features 3 storage pockets
Cons
Because it's a fabric trash can it's not as sturdy as plastic or metal one
This trash can made our shortlist for a number of reasons. First off, when this article was written there wasn't a single negative review for it on the leading online retailer websites.
And secondly, it has a particularly large capacity, coming in at a whopping 3.5 gallons. Perfect if you have a full car with lots of kids.
Like the A AUESNY trash can we showed you earlier, this trash can also allows for one-handed opening, with a rubber list that you simply push items through.
It features a 100% waterproof and leak proof lining, so you don't need to worry about spillages. And if you want to install a disposable bag inside, you can secure it in place using the two side clips.
It also doubles as storage compartments, thanks to the 2 mesh pockets and the larger zip pocket. And it doubles as a cooler thanks to its built in insulation.
You can use the strap to fix it just about anywhere in the car.
It's available in two great color options, green or gray.
Pros
Excellent customer reviews
Has a large 3.5 gallon capacity
Features one-handed opening
Waterproof and leak proof lining
Doubles as storage compartments
Also doubles as a drinks cooler
Cons
Not foldable – it's too sturdy
If you want your car trash can to have an upmarket aesthetic, then how about this one?
It features a faux leather outer that looks like real leather. Really smart.
And you don't have to worry about spillages because it has outstanding waterproofing capability. It's a breeze to keep clean.
It also has a large capacity, with dimensions measuring 8.7 inches in length, by 6.3 inches wide and 6.3 inches deep.
And if you don't need to use it as a trash can, you can simply use it to stash your gear.
And the other great thing about it is how there's a heavy plate at the bottom, which prevents trash from toppling over, even if you have to break suddenly.
Amazon occasionally has deals on this particular trash can, simply click on "Check Price" to see if there's a deal now.
Pros
Stunning faux leather aesthetic
Great waterproofing capability
Large capacity and dimensions
Doubles as a storage container
It doesn't ever topple over
Cons
Doesn't block in odors
Doesn't hang from the back of a car seat
The great thing about this car trash can is that it fits right in your car's cup holder. Which is great because it's right at hand and you haven't got to stretch to reach it or fuss around with adjustable straps.
Or alternatively, it can also fit inside the car door.
It won the title of Amazon's Choice in the category of cup holder trash cans. Such a title is only given to products that are both of excellent quality and are also available at a good and reasonable price.
Of course, being a cup holder trash can it doesn't have the same size capacity as other trash cans that made our shortlist, but it's great for housing small items of trash such as candy bar wrappers, potato chip bags, or used tissues.
That said, it's quite large for a cup holder trash can with a 15 ounce capacity.
It features a lid to keep germs and odors locked in. And unlike fabric car trash cans, this one is made from sturdy food grade silicone. And as such it's completely waterproof.
And you don't need to bother with disposable trash can liners. To remove any trash you simply remove the can from its holder, open the lid and tip it into your home trash can when you get home.
It's available in a choice of three different colors, namely black, black 2.0, and a pale gray. All of which look quite smart and elegant.  
Pros
Very convenient placement
Great for small items of trash
It features a lid to seal in odors
It looks quite smart and discreet
Made from sturdy food grade silicone
It's completely waterproof
Cons
Relatively small capacity.
Waterproof Car Trash Can Buying Guide
As promised, here's your buying guide.
Here's what to look for in a waterproof car trash can.
Capacity – ensure there's enough room for all the families trash
Value for money – there's no need to pay more than you have to, be sure to check prices as you go along
One-handed opening – because sometimes your other hand is busy, especially when you're driving
Convenient placement – where you store it can make a huge difference
Customer ratings – what do people say about the trash can? Only look for trash cans with a 4 star rating or above
Other features – if it can double as a cooler or as storage compartments, that's a bonus
Also read: need a sturdy lid on your car trash can? These top brands should be on your list
I'm Joost Nusselder, the founder of Tools Doctor, content marketer, and dad. I love trying out new equipment, and together with my team I've been creating in-depth blog articles since 2016 to help loyal readers with tools & crafting tips.