I love creating free content full of tips for my readers, you. I don't accept paid sponsorships, my opinion is my own, but if you find my recommendations helpful and you end up buying something you like through one of my links, I could earn a commission at no extra cost to you.
Learn more
­­­­­­­­Shop vacs have come a long way from being large, robust, and space-eating machines!
Luckily, because of technological advancements, shop vacs are now efficiently designed to take up the least amount of space and to provide users with greater power than ever before.
These vacuums are also proficient in making the least amount of noise so you won't have to worry about waking up your neighbors.
So there's no reason why – if you're a handyman – shouldn't get one.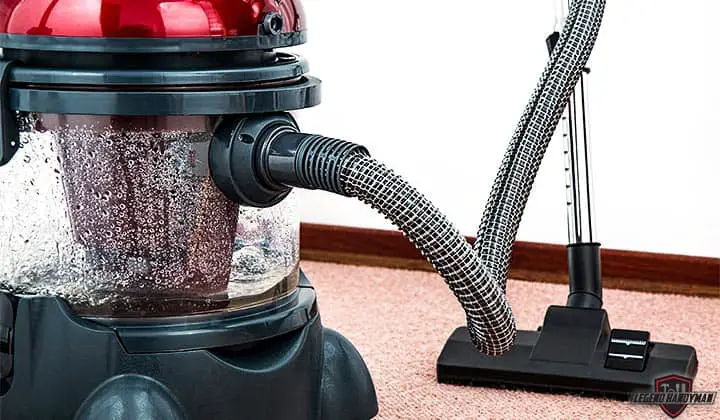 In this article, we have brought together seven of the best portable shop vacs and detailed reviews about them. Keep reading to find out the right one for you.
What is a Portable Shop Vac?
Shop vacs are short for woodshop vacuums. They are basically vacuum cleaners specifically designed to capture dust particles found in craft shops, where a lot of cutting and sawing usually goes on. Now a portable shop vac is one which, just as its name suggests, has the ability to be carried around wherever you take it with you.
Portable shop vacs are also quite popular because of their no noise feedback as well as cordless technology, which is another factor to add to its portability. All in all, it is a very useful device.
Our Recommended Best Portable Shop Vacs
It might be difficult to pinpoint the best shop vac out of many that can be found in stores. Fear not because the following are 7 of the best ones that I've hand-picked and reviewed for you.
Armor All 2.5 Gallon AA255 Shop Vacuum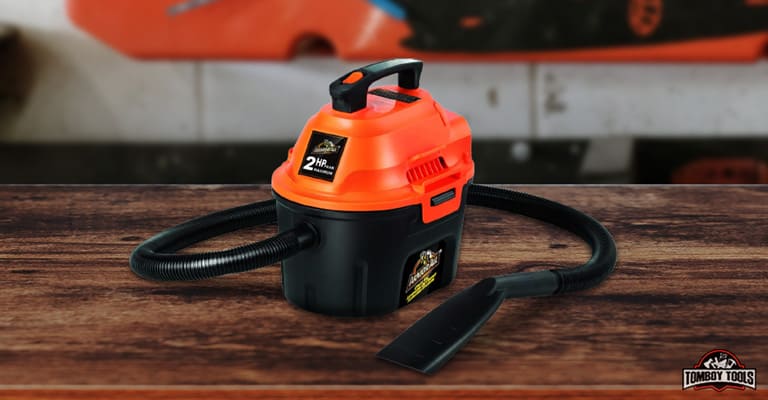 The first up on our list of the best is the Armor All 2.5 Gallon AA255. An average-sized vacuum that is just big enough to take in all the dirt you need to get rid of from a medium-sized space.
Compared to the size of the entire machine as a whole, the size of the tank it comes with does not look intimidating and its capacity is quite impressive too, with 2.5 gallons.
Because of this manageable size, it makes it convenient to carry around as well as storing it snugly in your home or workspace. Even if you take it with you to other sites, it's great to work within small spaces.
The vacuum also comes with a hose long enough for you not to tug the entire tool every time you move to another space in the room. It is also very much customizable as it comes with many different types of nozzles which allows you to be specific to the type of cleaning up you're doing.
A useful thing about this particular product is that also comes with a storage compartment to keep extra accessories that you might need while away on work. This shop vac is known to have one of the best values for all the amenities and features it is able to offer.
Pros
It has the 2.5-gallon tank and a long hose of 6 feet in length. It also comes with a useful storage compartment to keep supplies/accessories. The price is affordable.
Cons
It's not very powerful.
Vacmaster VP205 Portable Wet/Dry Shop Vacuum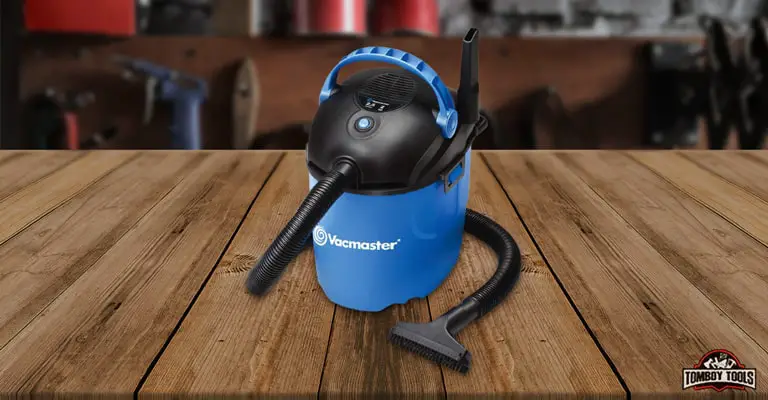 If you're the type of person who likes to work indoors and get your hands dirty on small DIY related projects, then the Vacmaster VP205 is perfect for you. This easy to use vacuum is also easy on the wallet which makes it great for your home.
The build of the entire machine is conveniently light in weight so it makes it easy to carry around and get cleaning jobs done fast.
Another way you'll be saving big bucks with this machine is that this is able to change into a blower. So you'll be getting a 2 in 1 product. It has a capacity of 2.5 gallons so you won't have to lug it around with you as it is a manageable size.
The machine also comes with a compartment that lets the user store accessories so it is available at their reach. One of the most useful things about this shop vac is that it is able to sense when the tank is full.
As soon as the tank gets full, the machine turns off by itself to stop the tank from overflowing. This is useful especially because this is a specialized wet/dry shop vacuum so you wouldn't want any sort of liquid overflowing out of the tank and making even more of a mess.
Pros
The tank is easy to carry, and the unit features a powerful motor. It comes with a sensor to prevent overflowing of substance. This one works as a blower. It also has storage for accessories and comes with a cord of 8 feet.
Cons
It's not good for big projects as it needs to be emptied frequently.
DEWALT DCV581H Wet-Dry Vacuum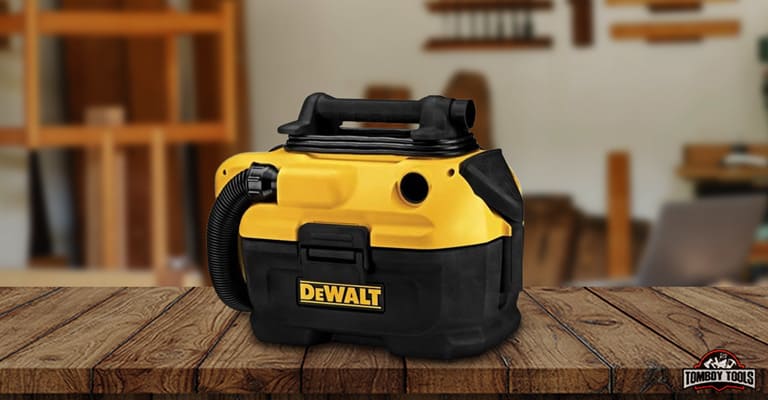 The next on our list is from a brand we all know and love, DEWALT. The king of everything hardware, DEWALT never disappoints and they have one of the best shop vacs in the market.
The company produces its own line of powerful batteries and that's exactly what this shop vac uses to run so all you'll get from this device is high quality. Along with the incredible battery of 20 volts, it comes with a hefty tank with a capacity of 2 gallons.
With the larger than the average-sized tank, the benefit you get from this battery-powered portable shop vac is that you'll be able to work for long periods of uninterrupted time.
Uninterrupted meaning that you won't have to keep going out to empty the tank of its unnecessary dust and debris as the large tank will take longer to fill up.
Besides its efficiency, it's also a pretty powerful machine as a whole because it comes with a hose long enough to get you clean hard to reach places. The hose can also withstand pressure without falling apart.
You can probably understand why this portable vacuum is deemed the greatest by regular users, and with all these amazing features, it is no surprise why it may not be the best.
Pros
The filter can be washed and cleaned easily, and the battery power is also very good. Its tank has an impressive capacity of 2 gallons and the hose is specially designed to resist being deformed.
Cons
It is not suitable for cleaning wet or damp substances.
Shop-Vac 2021000 Micro Wet/Dry Vac Portable Compact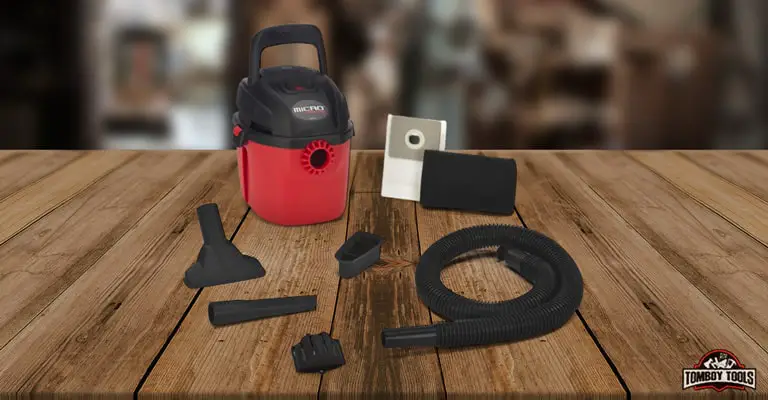 Sometimes, people steer themselves away from purchasing shop vacs, no matter how great they are, just because they don't have enough room to keep it.
However, there is one incredible vacuum that will surely fit snugly into toolsheds because of its extremely portable size and that is the Shop-Vac 2021000 Micro vacuum. You can keep your floor clear of clutter as this tiny device can be easily wall mounted.
This product also comes with a handle that is collapsible as well as a pretty neat hose of 4 feet in length. It also arrives with different types of nozzles, crevices, and even a bag to keep tools in.
The tank of the vacuum has a capacity of only 1 gallon, so you know that it gives you just enough to clean up small spaces. However, it is powerful enough to suck up both liquid and solid materials with 1 HP.
So if you're looking for a shop vac that will conform to your tiny tasks or daily clean-ups, then this is the perfect contender to get the job done. As it is a very small vacuum, it can't take heavy duty so it is not recommended for professionals who work on big projects.
Pros
It performs really well and is particularly good for tight spaces. This one is also easy to carry around. The device is durable.
Cons
It doesn't suck up finer particles very well and the motor isn't so powerful. Also, the tank fills up too fast.
Shop-Vac 2030100 Wet Dry Vacuum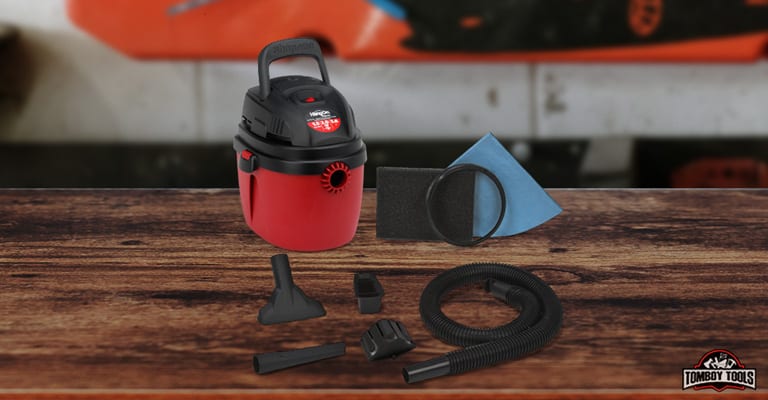 Here we have another successful Shop Vac product on the list and this time it's the Shop-Vac 2030100 Wet Dry Vacuum. This one is more powerful than the former as it runs on a motor with a power of 2 HP.
It is also slightly a bit heavier, but not so heavy that it would adversely affect its portability. With this vacuum, you can be sure of getting the job done fast.
The capacity of its tank may be a bit underwhelming but the fact that it can take up liquid substances as well as large particles makes this one a winner. This product works best in small spaces.
Also, the hose is quite long enough to get all the hard to reach places in a room. The filters can also be washed and reused over and over again without causing any sort of damage.
Another one of the most useful parts about this particular product is that it comes with a bunch of accessories. This means that you won't have to keep running back and forth from the hardware store to get extra supplies because you'll have them all with you while you're cleaning.
The accessories that come with this vacuum include a nozzle specifically known as the gulper nozzle and also a crevice tool.
Pros
It's easy to carry around and the motor is impressive. It's useful and adaptable and also works as a blower.
Cons
The tank has a low capacity.
Vacmaster Professional Beast Series 5 Gallon Wet/Dry Vac VFB511B0201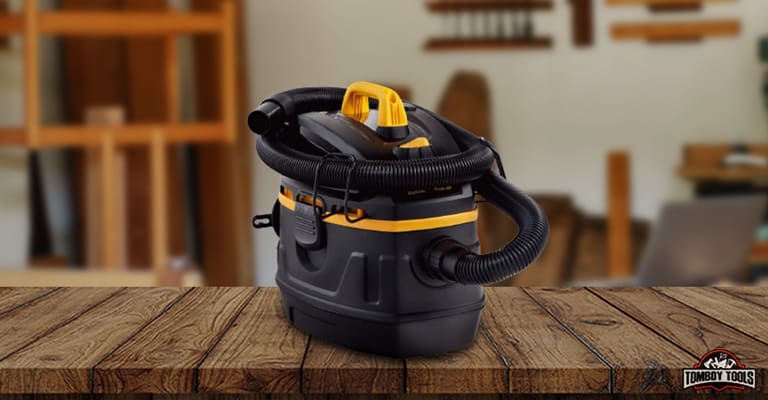 Judging from the title of this product review, you can probably already tell the magnitude of its performance I'm about to explain. Categorized under the "Beast series", this shop vac really does live up to its name.
Beside it being one of the biggest vacuums in the market as well its ability to perform with a very high amount of power, it comes with a more than affordable price point.
With a tank as large as 5 gallons, the product can carry on cleaning fit for kings. This bad boy can really pack a punch and handle heavy-duty work. Not only is it great in size but it is also great in horsepower. It is known to be one of the most powerful shop vacs available in the market.
Even when you aren't using it as a vacuum cleaner, you can easily use it as a blower with the press of a button. This is a very useful feature and will save you big bucks on purchasing an extra machine just to blow leaves.
Also, even though it is a comparatively large machine, it is designed in a special way to easily fit into hard to reach places, so its portability is versatile. It's a great machine with great value for money.
Pros
This one has a very spacious tank and the motor is very strong. Moreover, it can be used as a blower.
Cons
It doesn't have wheels, so it is hard to move around. Sadly, it's also very large in size, so this reduces its portability.
Best Portable Shop Vac Buying Guide
Shop vacs have now become one of the most purchased hardware items among handymen. And I'm sure you must be reading to find out what to look out for when you want to get the finest portable shop vac out there.
Read on to find out.
Size
Any great vacuum means that it can take in a large portion of unwanted particles both dry and liquid. The capacity of the shop vac that you should get depends on the surface area you need to clean.
However, keep in mind that shop vacs that have a larger gallon capacity will be heavier than the ones that are smaller.
If you're okay with carrying around a heavy device while you clean, then I would say go for a large shop vac. Or else, get a smaller one if you're fine with emptying it out more often than not. Both have their pros and cons.
Resilience
Shop vacs are extremely useful devices so it is important that you get one that will last you a long time. You should look for machines that are made of stainless steel, as they are able to withstand large amounts of dry and wet waste.
On your part, maintaining it properly will also ensure its longevity. After every use, if you are able to clean up the insides, then you're good to go.
Accessories
It's always convenient to look for products that come with extra accessories or supplies. There are a lot of vacuums in the market that come with all sorts of useful accessories. Look out for those so that you won't have to go back and forth to stores.
Some of the most useful vacuum accessories include brushes, tubes and other such tools. Make sure to get one that comes with the accessories that will benefit your cleaning needs.
Frequently Asked Questions
Q: What is the process behind shop vacs?
Ans: Shop vacs work like any other vacuum cleaner; which is by creating a low air pressure which in turn sucks in the outside air through some sort of pipe and into a storage compartment.
Q: Is it okay to not use a filter while using a shop vac?
Ans: It really depends on the type of shop vac it is. Some require filters while others don't. You need to check the instructions manual of the specific shop vac.
Q: Why does my shop vac blows dust?
Ans: Your shop vac blows dust because there might be some sort of opening created in the filter, the filter isn't correctly fitted, or the dust may be too tiny for it to be stopped by the filter.
Q: Instead of sucking in air, can shop vacs blow out air?
Ans: Yes, shop vacs can blow out air if required. They can replace the job of leaf blowers if you don't happen to own a leaf blower. You know there is a very close tools of a shop vac is the dust collector, though have some comprehensive differences.
Q: Is it okay to wash shop vac filters with water?
Ans: Yes, it is absolutely fine only if you let it dry completely before using it again.
Final Words
A portable shop vacuum is a good solution to small shop dust management. I hope that the reviews of the vacuums I've put out have assisted you somehow and gave you a clearer idea of what to look for.
To wrap it all up, hopefully this article will help you find the best portable shop vac that will sweep you off your feet.
Also read: these are the best wet dry shop vacs you could buy
I'm Joost Nusselder, the founder of Tools Doctor, content marketer, and dad. I love trying out new equipment, and together with my team I've been creating in-depth blog articles since 2016 to help loyal readers with tools & crafting tips.