I love creating free content full of tips for my readers, you. I don't accept paid sponsorships, my opinion is my own, but if you find my recommendations helpful and you end up buying something you like through one of my links, I could earn a commission at no extra cost to you.
Learn more
Chainsaws that a pro uses are on a whole another level compared to the regular ones that your hobbyist pitmaster friend uses.
Best professional chainsaws slide through timber like knives through butter. When you're using your chainsaw as a timber mill or cutting down 50 feet trees on a regular basis, the regular ones won't fit the resume.
These chainsaws being bigger, bulkier, and expensive, you don't see these in any old residential yard. And it requires passing a certain set of requirements for obvious reasons and to justify that long price tag.
But if you do have a sizable wooden property that needs rigorous maintenance, or considering becoming an arborist, then a decent professional chainsaw is a must-have.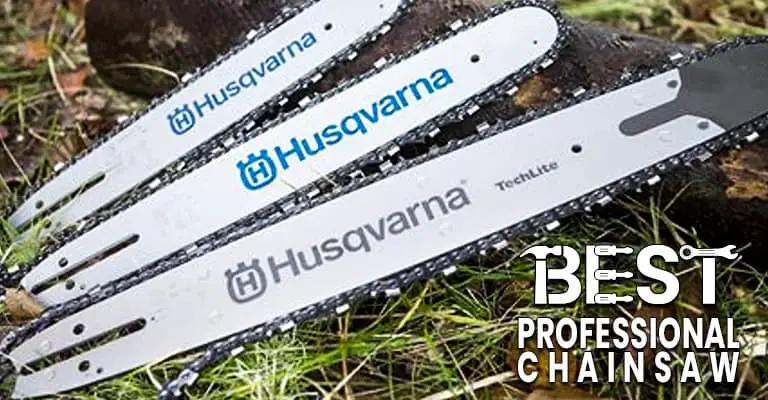 So how do you choose the best one? To be honest, there's no 'best all-around professional chainsaw.'
Rather, you can find the best for a specific use. The list below contains specialized chainsaws, not the so-called messiah. I'll talk you through the best options and point out what factors to take into account when choosing a professional chainsaw.
If I would have to pick a favorite though, it is the Husqvarna 20 Inch 455 Rancher, hands down. This quality piece of equipment is built to last and will give you many working hours, providing you take good care of it. It's powerful and reliable, but still lightweight enough to be wielded with ease all day. 
But there are more options, some that might be better suited to your needs. Let's dive in.
What needs to be considered for the best professional chainsaw?
Warning! I'm about to discuss some technical mambo-jumbo. These are important for figuring out the best professional chainsaw.
Remember, you're a smart person who chose to go through this article rather than hearing from some 'experts'.
Let's know some key points and give a tribute to your efforts by reaching the target.
Power source
Chainsaw engines are just like cars. They can be either electric motor driven or fuel-based.
They're designed to work in various positions: 90 degrees, tilted, or upside down. Gas-based chainsaws are good for cutting through thick lumbers, but they're noisier and bulkier than their electric counterparts.
Electric chainsaws are easier to carry and require little maintenance, but they're not great for heavy-duty wood cutting.
Engine
Gas-based chainsaws are an effective option to cut through thick lumbers. But they're not efficient as their electric counterparts.
You need to invest bucks for good-quality insulation shields for yourself.
They need fuel to be burnt inside the engine which itself is a noisy process. Moreover, the heat generated by the process can become unbearable.
As they get older, it's obvious that those engines will turn to gas-guzzlers that adds more to this dismay.
Electric motor
Motors can be efficient in operations but not mighty enough to endure heavy workloads. For dealing with smaller-sized lumbers or those firewoods out there, electric chainsaws are better options.
These chainsaws come in two variants: cordless and corded. A corded chainsaw confines your workstation in a limited space while the cordless one allows you to move freely.
But as the cordless one is battery powered, extreme milling is not possible by this type. Corded ones ensure a greater duty period.
Size
The overall size of the chainsaw decides how big lumber can be handled ergonomically. If you're up to dealing with huge timber chunks, you must go for a big chainsaw with a bar length of 22 to 24-inch.
However, a longer and thicker chainsaw blade don't necessarily mean that it's a good one.
It's worth mentioning that smaller-sized electric chainsaws will do for light wood.
Weight
During the operation, you need to counter the weight of your chainsaw. Heavier chainsaws require more force to be balanced.
But the heavier ones that have a bulky aft section are easy to be stable. If you need to do heavy milling, it's normal that you have to go for heavier options which may be of 16 to 17 lbs.
Bar length
Bigger chainsaw bar length enables you to cut through bigger lumbers. It also defines how smoothly the process will go. A 14-inch bar to 24-inch bar is common in the market.
While 18 inched bars cover major portion tasks, 22+ inched ones play a vital role to determine the best professional chainsaw for cutting firewood.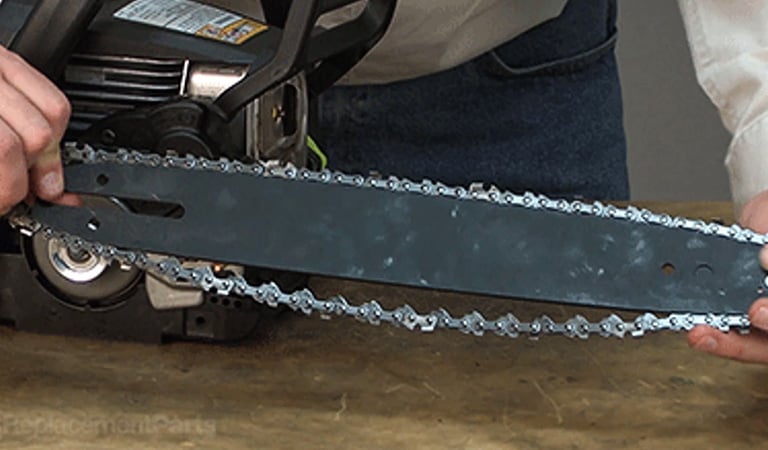 Also read my review of the Best Chainsaw Bars for 2021: are they universal?
How to start
For the gasoline-powered chainsaws, the starting process may be a little painful. In older versions, you can hardly find any additional support to start the engine.
But in newer ones, the manufacturers have introduced special mechanisms (like i3 pulling starting system or likewise) to support the process.
Safety
Of safety features, automatic braking tops the list. If any kick-back occurs, the inertia of the saw will trigger the brake automatically. Besides, you can break the process whenever you need it.
For your safety, check that the system is onboard. Besides, over-heat protection, suitable gripping of the handle is also required.
Chain
There's no universal chain that fits in all saws. That's why you need to change the chain frequently.
A quick-release technique is required for the process. A side-mounted chain design can be handy for that.
Chain sharpener
You need to sharpen the chain every now and then. Some chainsaw requires an additional tool for this process. But the newer variants offer tool-less chain tensioning for easy sharpening.
Read more on How to Sharpen a Chainsaw with A Grinder
Handle position
The best professional top hand chainsaws have their handles positioned at the rear section. Moreover, it should be covered with thick and soft padding. That's the easiest way to damp unnecessary vibration.
The handle should have a smooth rubber grip to support critical maneuvering.
Additional features
Some additional features are there to increase the effectiveness of your saw. These options are not mandatory but are something that smoothens the milling. These add-ons are to be seen in higher range options.
Automatic oiler
Automatic oiler put oil in the chain during the operation. This helps the chain to cut through smoothly and produce less heat during the process.
Thus the durability of the chain is increased without major maintenance.
Oil view window
The oil view window enables you to observe the fuel level from outside. This eliminates the necessity of removing the cover for checking fuel.
Such a window is proved to be handy, especially when you do milling regularly.
Mufflers and anti-vibration mechanisms
Mufflers are introduced to reduce the noise level. Besides, a dedicated anti-vibration mechanism helps to reduce vibration.
As noise and vibration are reduced, the fatigue level of the operator will certainly decrease.
Best professional chainsaws reviewed
Now let's look at my top-picks professional chainsaws in more detail. What makes these products to good?
Best professional chainsaw overall: Husqvarna 20 Inch 455 Rancher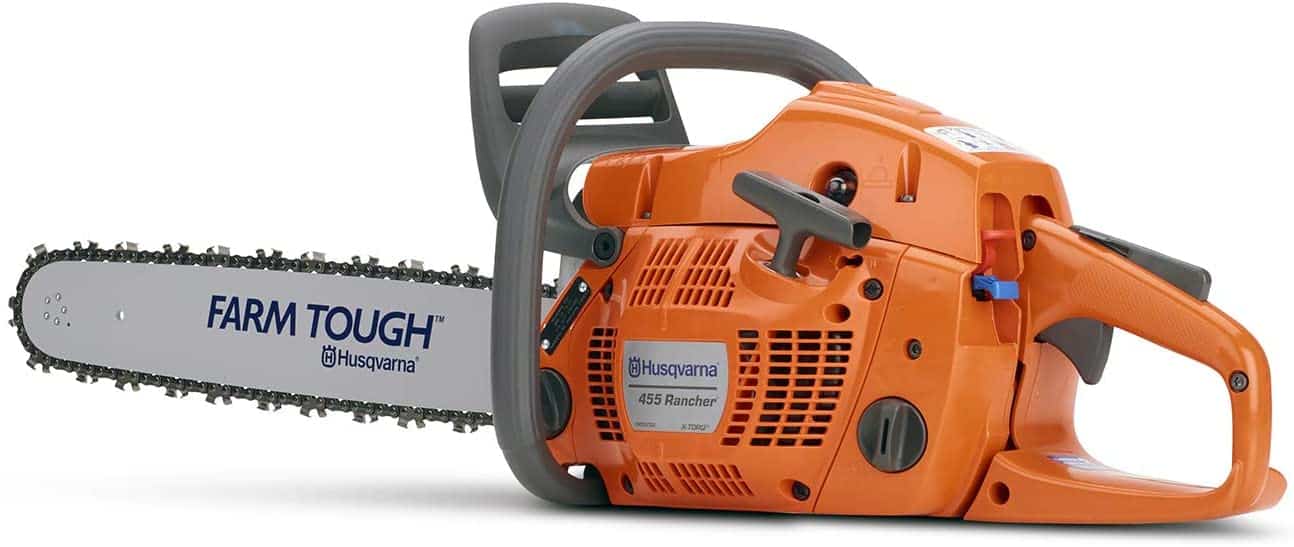 Laudable aspect
If you're up to milling light-weighted woods or usually do moderate woodworking, Husqvarna 455 is the one that can delight you much.
This is a gas-powered chainsaw and it houses a 2-stroke engine of 55.5cc. The engine generates 3.49 HP at its best to facilitate moderate milling.
Husqvarna 455 serves is a light-weighted companion that is meant to use in seamless cutting. The overall weight of this chainsaw is 12.5 lbs. that is not too much, especially, when you compare it with other counterparts.
To facilitate the milling further, there's a system that prevents excessive vibration. Because of its lightweight and anti-vibration technology, your muscles encounter fewer shocks.
As a result, you experience less fatigue during the operation.
A quick-start mechanism is another point of interest. Although it's a gas-burning chainsaw, the quick-start mechanism enables it to start the process fast.
That's why it can deliver up to 9000 rpm after a fraction of seconds. Fume emission is also lessened by X-Torq technology.
Centrifugal air cleaning structure is there to ensure perfect disposal of sawdust and thus prevents the air filter to be clogged up.
No extra tool is required to tighten the chain. Thanks to its tool-less chain tensioning feature.
You don't need to worry about service life. 2-years limited warranty is given by the manufacturer.
Glitches
The chain may fly off the bar during heavy milling.
Best heavy-duty professional chainsaw: Husqvarna 24 Inch 460 Rancher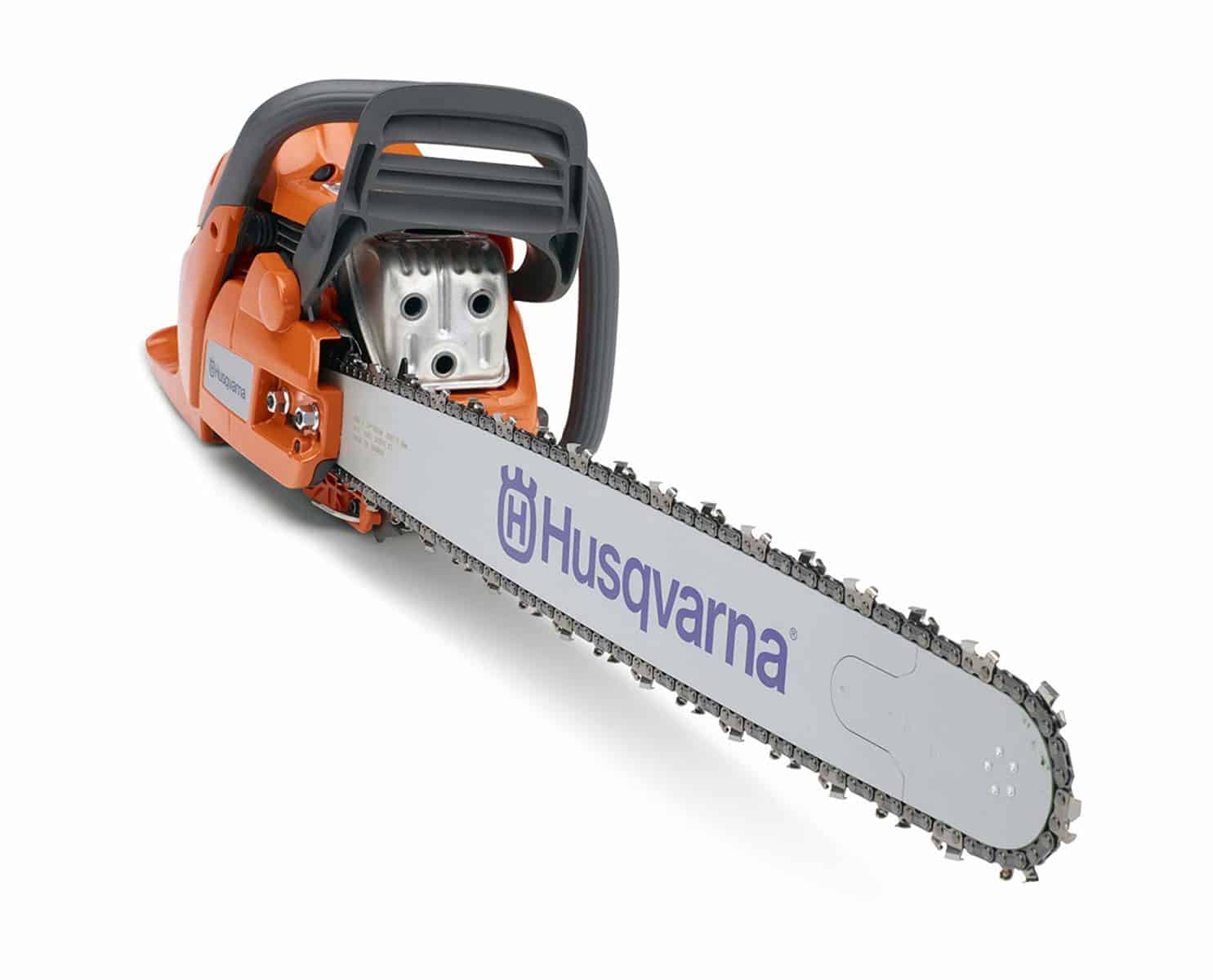 Laudable aspect
Unlike the previous one, the Husqvarna 460 Rancher is capable of heavier woodworking. This is also a gas-powered chainsaw and a 2-stroke engine is its heart.
The 60.30 cc engine is capable of producing 3.60 HP which is enough for regular usages.
This is quite a heavier variant than the previous one. Husqvarna 460 weighs 22.6 lbs. which is significant.
The weight distribution is worth mentioning though. While using, you'll experience less pressure on your hand because of the rubber-coated handle.
Yes, this one does have a low vibration mechanism alike its brothers. This feature further improves stability and thus allows your muscles to relax during the operation.
A 24-inch bar length ensures proper cutting and enables you to slice through the lumber without experiencing terrible friction.
Gas power chainsaws require much time to start. But this one, the time is minimized. Thanks to its quick start technology.
Apart from this, the X-Torq technology ensures less fuel consumption even when the tool is running at the full 9000 rpm.
Handy stop control to encounter any kickback is simply accomplished by disconnecting the power. It's a laudable add to the safety features.
A quick-release mechanism is given to smoothen the process of changing oil filters. Overall, the tool ensures solid performance with low fuel consumption and handy features.
Glitches
Oil may leak during the operation.
Best lightweight professional chainsaw: Poulan Pro 20 in. 50cc 2-Cycle Gas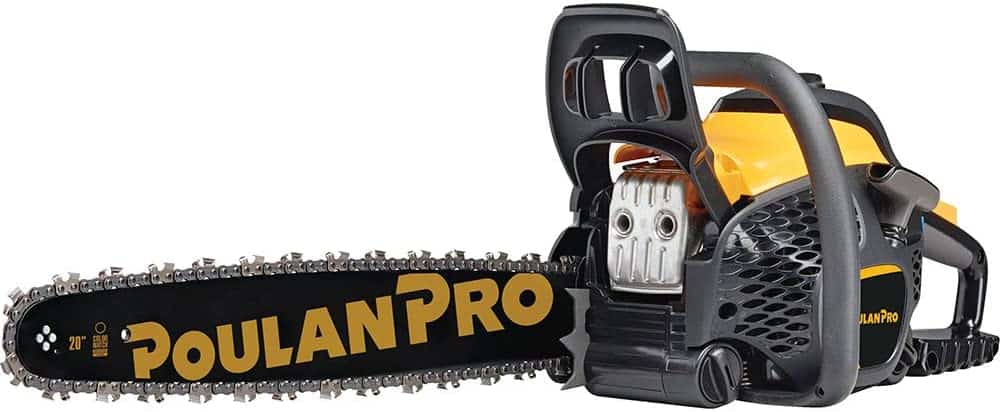 Laudable aspect
Here's another light-weighted chainsaw that is built to deal with general-purpose usages like milling the firewood or so. That's why this tool features a 20-inch bar length which is enough for this purpose.
But the feature which has made this tool distinguish is the engine used.
This is also a gas-powered chainsaw but has a more efficient engine. OxyPower engine is used to ensure a strong output stroke.
The 50 cc chainsaw engine is designed to be eco-friendly which ultimately emits 70% less toxic smokes. At the same time, it's designed to be 20% more fuel-efficient.
The tool weighs 17 lbs. which is distributed evenly throughout the body. Because of its weight and proper distribution, you're able to do some tricky maneuvering.
As a result, you get a proper cut with smooth finishing.
30% faster starting than its counterparts is ensured. Thanks to its pull starting system. With a few pull, the engine is ready to roar.
The rear handle houses a combi tool to facilitate the painful task of tightening the chain.
The purge bulb is protected with sufficient coverage to ensure a continuous flow of fuel in the carburetor. Besides, the chain brake is activated automatically or by right-hand activation – a "kick" to kickback.
Glitches
It can be tricky to start the saw
Poulan saws are prone to flood
Best budget-friendly professional chainsaw: XtremepowerUS 22″ inch 2.4HP 45cc

Laudable aspect
This chainsaw serves people who want a light tool for regular usages. If your target is to buy a budget-friendly gadget, this tool is here to delight you.
Alike the previous ones, this is also gas-powered. The powerhouse is a 45 cc 2-stroke engine that can produce 2.40 HP.
The overall weight of this chainsaw is 16 lbs. which may seem heavier for this type but the added weight helps a lot to achieve better stability and control.
Moreover, the anti-vibration feature is there to ensure less fatigue. You can easily maneuver the tool due to this well-balanced design.
Top-notch safety features are equipped in this chainsaw to facilitate the milling- whether it is in a chainsaw mill or not. As the tool is quite balanced, kick-backs can easily be controlled.
Besides, the mechanical hand brake is positioned at a convenient place to ensure a quick stop. This feature is really handy to counter kick-backs.
An eco-friendly engine is there to ensure less emission. Because of the low emission, this engine is efficient enough to consume less fuel.
The engine design is EPA approved. Enough power is produced to run the 22-inch bar through medium to medium-large lumbers.
Glitches
It tends to be overheated.
Comparatively heavy.
Best professional chainsaw for light use: ECHO 20 in. Timber Wolf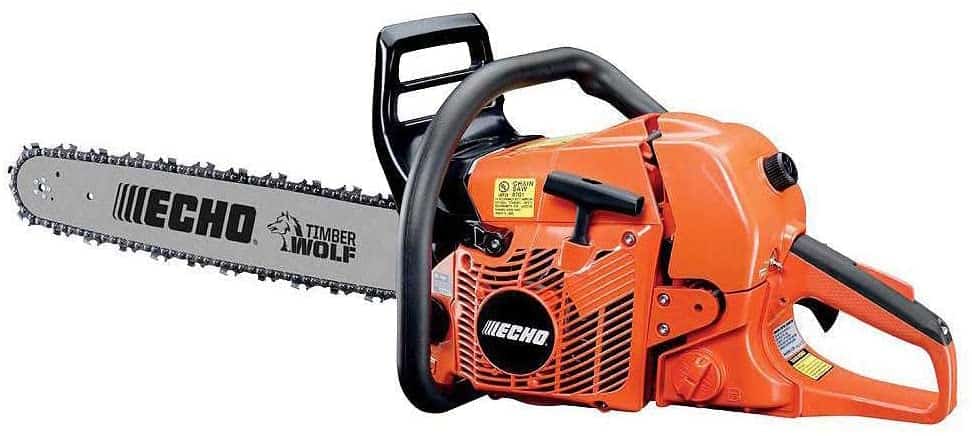 Laudable aspect
If you're not a pro yet or about to begin a woodworking career, this chainsaw can be a good option.
The echo has made this particular model focusing on light usages. Both professionals and hobbyists can use this tool with ease because of its simple yet sturdy design.
The chainsaw has an 18-inch bar length which is enough for moderate milling. The tool is powered by a 40.2 cc 2-stroke engine which delivers sufficient power to mill lumbers ever for a longer period.
Because of the improved design of the engine, fuel consumption is low and thus ensures higher efficiency.
Outstanding performance is achieved by the top-notch design. A comfortable handle is positioned in a suitable manner that ensures better ergonomics.
Between the handle and the engine slot, there is a rubber bushing and spring that acts as a protection against excessive vibration.
Safety is given priority throughout the design. The chain brake is also on-board to ensure instant breaking actions that ensure immediate stop when need.
The system gets activated by inertia as well. Better cutting stability is ensured because of the metal bucking spikes.
Glitches
Not suitable for larger lumbers.
It doesn't allow tool-free chain tightening.
Most comfortable professional chainsaw: Remington RM4618 Outlaw 46cc

Laudable aspect
Remington has brought an 18-inch bar chainsaw is here to fascinate you. This is a gas-powered chainsaw with a 46 cc engine that can deliver up to 3 HP output.
This is a part of the series of light chainsaws from the manufacturer. That's why this unit bears significant similarities to its brothers.
Apart from the engine, there are many technologies onboard to ensure safe and fatigue-less operation. Even having a shorter bar length, the chainsaw weighs 16.40 lbs.
This weight is evenly distributed throughout the tool by positioning the handle behind the body. This allows you to cut smoothly and achieve full control.
The chainsaw is equipped with numerous technologies to minimize vibration. That's why you can find this tool more comfortable to operate.
The first line of defense against the vibration is the '5-point anti-vibration.' Besides, the soft padding of the handle with a comfortable grip helps a lot to minimize the vibration.
An automatic oiler prevents jamming and ensures a smooth operation. You have a 2-year warranty from the manufacturer.
Glitches
Heavy to carry and can be over-heated.
On/off switch is positioned at a tricky part.
Best fuel efficient professional chainsaw: Jonsered CS2245, 18 in. 45cc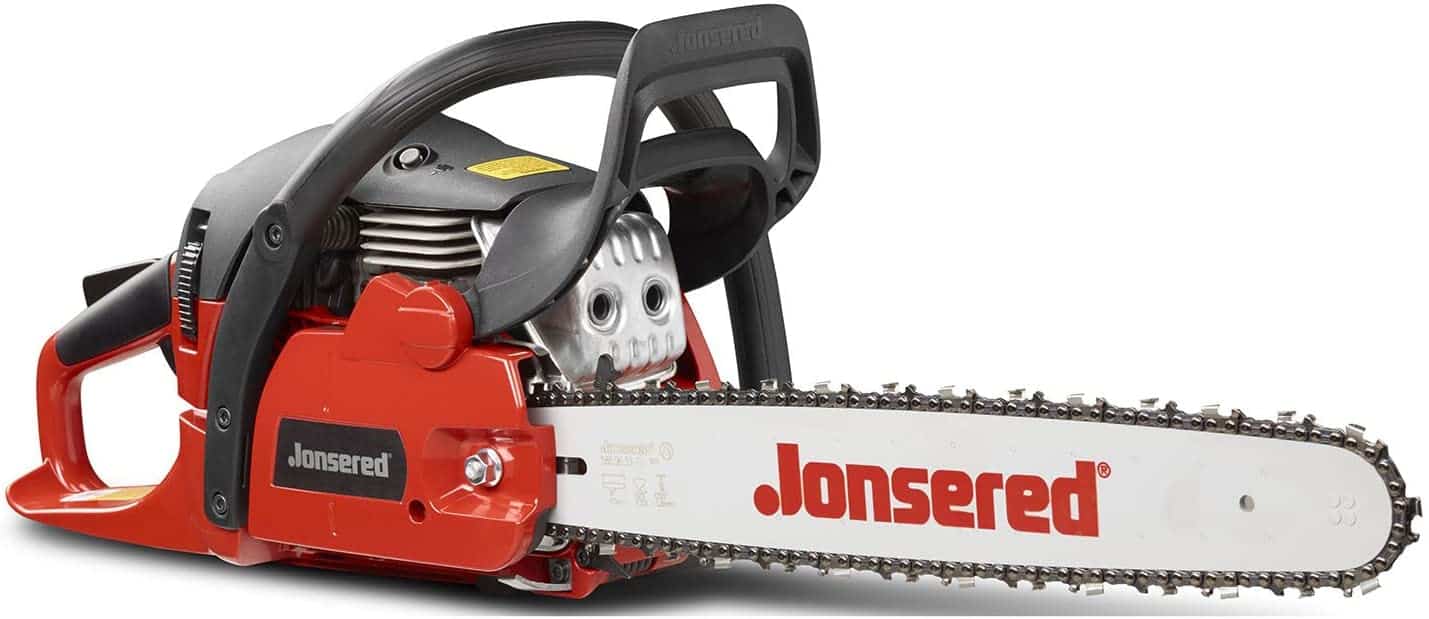 Laudable aspect
At the very last of the list, I present you another awesome chainsaw with a 18-inch bar. This tool is designed to deal with medium-sized lumber daily.
This gasoline-powered chainsaw can hit 9000 rpm with its 45 ccs 2-stroke engine. 2.8 HP output power is delivered to facilitate the milling.
This is a light weighted chainsaw that weighs only 13.25, one of the lightest one is this list. That's why you need to encounter less trouble during any critical maneuvering.
Besides, the handle helps a lot in this process by giving a counterweight. That's why this one is a competitor to begin the best small professional chainsaw.
Engine design is so much efficient that it reduces the emission of exhaust up to 75%. The easy start of the engine is ensured by the quick start mechanism.
It's 40% easier to make the engine run. A quick-release cylinder is used to cover the air filter. That's why it's easy to access and smooth to remove.
Some features that have made the process easy are worth mentioning. 97% of the sawdust is removed by the turbo intake of air. That's why clogging is a rare incident for this tool.
A tool-free chain tightening process enables you to restart your task quickly. A visible fuel level indicator is a handy addition.
Glitches
Not suitable for heavy lumbers.
Professional chainsaw FAQ
Is it necessary to buy strong protections for light chainsaws?
Kick-back is a common incident for all types of chainsaws. They can be dangerous enough to hurt you badly.
Other types of incidents can also be lethal. It's mandatory to invest in them even you're operating a light chainsaw.
How often should I tighten the chain?
A sharp chain is necessary for proper finishing. If you want a fine cut, you should tighten the chain after every 3 tasks.
How can I avoid getting injured?
The most common cause of serious chainsaw injury is kickback. This happens when the moving chain at the tip of the guide bar touches an object.
In most cases, the blade tip moves upward towards the operator which can cause fatal injury.
Can I leave gas stored in the unit?
No. Always drain the fuel tank to prevent gum deposits from forming in the system.
Wrapping up
Congratulations! Hopefully, you've decided on the model you gonna buy. At least, you've got an idea of what type of chainsaw is suitable for your task.
To help you further to hit the target, I, hereby, have revealed the names that have attracted me the most.
If you're up to heavy milling that requires lots of power, you can check out Husqvarna 460 Rancher Gas Chainsaw that gives an output of 3.6 HP.
Poulan Pro 20 in. Gas Chainsaw is a good option if you need a smaller yet sturdy and efficient one. The ECHO 20 in. Timber Wolf can be a good start for newbies.
For more woodworking powertools, check out my review of the Best electric wood chipper | Top 5 choices for a spotless yard
I'm Joost Nusselder, the founder of Tools Doctor, content marketer, and dad. I love trying out new equipment, and together with my team I've been creating in-depth blog articles since 2016 to help loyal readers with tools & crafting tips.