I love creating free content full of tips for my readers, you. I don't accept paid sponsorships, my opinion is my own, but if you find my recommendations helpful and you end up buying something you like through one of my links, I could earn a commission at no extra cost to you.
Learn more
Everyone is in love with a neat and clean lawn. Yet there is nothing worse than waking up after a windy night and finding unwanted branches all over your otherwise well-maintained garden.
Many may think it is easy to move them but to be honest it is not an easy task without cutting them into pieces.
Here comes the best electric wood chipper that will chip the strong and hardwood into a thousand pieces within an hour. If you are fond of making wood sculptures with a chip carving knife then this could be a blessing.
If you are anticipating getting the best shredder for your yard then this is the end of your search.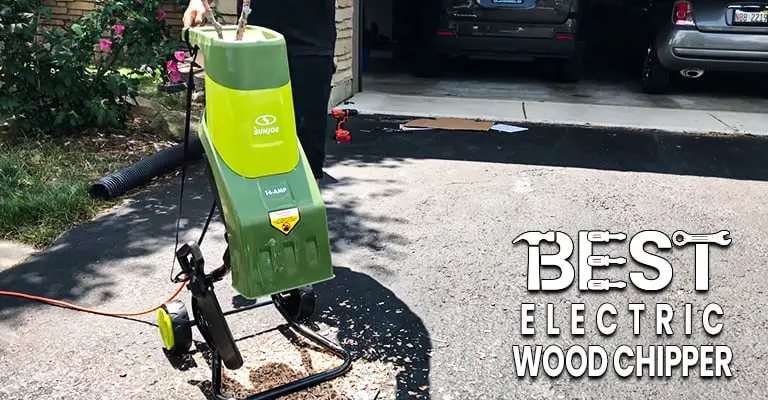 There are a lot of different options available on the electric wood chipper market, but have no fear! I've tried and found the perfect value for money in this Sun Joe CJ601E. It's so lightweight I can wheel it anywhere in my yard, PLUS it handles branches without fail. 
But, there are some more options that might work better for your specific situation.
I've gotten together some of my favorite electric wood chippers and did research on their benefits and drawbacks to help you decide what's best for you.
| | |
| --- | --- |
| Best electric wood chipper | Image |
| Best value for money electric wood chipper: Sun Joe CJ601E 14-Amp | |
| Best electric wood chipper for domestic use: Sun Joe CJ602E-RED 15 Amp | |
| Best electric wood chipper for heavy-duty jobs: PowerSmart 15-Amp Brushless Induction Motor | |
| Best compact & maneuverable electric wood chipper: WEN 41121 15-Amp |   |
| Best all-in-one electric wood chipper: Earthwise GS70015 15-Amp | |
What to keep in mind when buying an electric wood chipper?
There are certain things you have to keep in mind to find the perfect electric wood chipper for your grooming yard. In this section, I have piled up what I think you should consider.
Motor
Chippers that are operated by high rating and high-speed motors are the ones to look out for. The more powerful wood chippers normally use 14-15 Amp,120V and 60 Hz motors with a speed of around 4300 rpm.
Blades
The fundamental thing on which the performance of a woodchopper depends is the number of blades and blade quality.
So, if you don't want to get bigger chunks, the wood chippers with sharp-edged, high quality, and 2-4 number of blades with 6-7 inches dimension will serve you well.
Also, the blades should be easily accessible to replace them if they are damaged. This is also necessary to clean them or else it will clog the machine frequently.
Reduction ratio
The reduction ratio defines the ratio to which the chipper can cut down the tree trunks. The machines capable of turning your yard wastes to mulch with 1/8th or 1/10th of the original size is suggested.
Cutting capacity
Different wood chippers have different cutting capacities, ranging from 1.5inch to 4inch. Some of them give out 130 cuts per second.
So, always check the size of the wood you are going to chop. The machine should be capable of chipping branches you need to shred.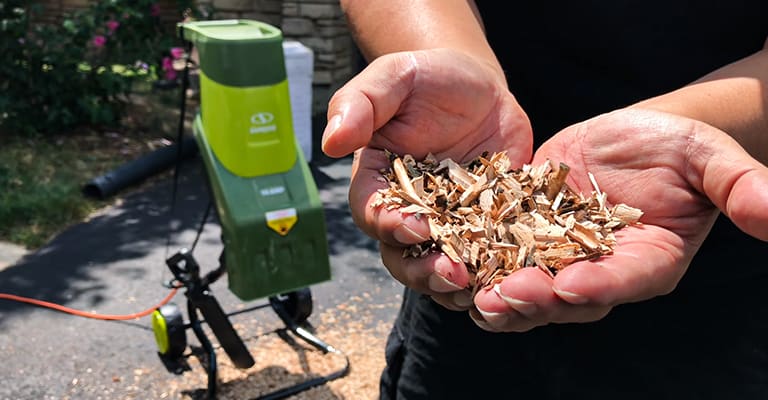 Brands
You can rely on popular and prestigious brands with product quality and service. Sun Joe, Patriot, WEN are some examples of well-renowned brands.
Multi-function
For a large garden, wood chippers capable of chopping multiple types of materials are recommended.
Multi-functional wood chippers discharge highly nutrient mulch as they can chip not only wood but also leaves and other wastes of your yard.
Size and weight
As for electric wood chippers, they are lighter in weight than gas-powered chippers. But the size depends much on the purpose of your use. Normally the weight of electric wood chippers ranges from 23 to 95 pounds.
If you are going to chop heavy and huge branches then the suitable chippers will be large. Or if you have some light works to do with the chipper and for easy storage, find out a lighter and smaller weight wood chipper.
Mobility
You have to move the unit in between your works across the lawn and also to store them.
As you cannot expect your wood chipper to be light like a feather, the machine should be equipped with large wheels with about a 6-inch dimension and a handle to provide portability.
Position of insert chute
If the chute is situated on the side, then the stray chips may be thrown back to you. On the other hand, the chippers with a chute on the top may make you reach and stretch to put leaves in.
So, keep optimal comfort and safety in mind when choosing which chipper is right for you.
Hoppers
Hopper is the part of the chipper where the unprocessed wood is inserted. Wood chippers are designed with different types of hoppers. Some hoppers allow a tilt-down operation to chip the wooden wastes on the ground.
According to your intended work, look for the hopper that suits you.
Also, narrow hoppers should be avoided so that you don't have to cut down wood before inserting it into the machine, that's the whole reason you're looking for a wood chipper in the first place!
For safety reasons, always select the wood chippers that have a safety hopper locker.
Durability
As wood chippers do very strenuous work of chipping strong wood, the housing and other equipment should be made of high-quality material like gauge steel or polypropylene.
Plastic body wood chippers should be avoided.
Design
Some wood chippers have an auto-feed design. This is efficient as it automatically pulls in the wood. This type of design is equipped with large rollers that pull in tree branches safely.
Easy access
Every wood chipper jams after using it several times. To clear the clogs, you have to enter into the shredding chamber. So, the shredding chamber should be easily accessible by opening screws to clean it easily and safely.
Collection bag
Many wood chippers include a collection bag with about 40 liters of space. This bag helps to avoid any annoying mess.
It is necessary that the bag is large enough and made of quality material like polyester to ensure durability.
The last thing you want is to go from picking up branches, to picking up mulch.
Also check out my post on the Best frost-free yard hydrants for 2021 reviewed: drain out, flow control & more
Best electric wood chippers reviewed
Let's keep all that in mind and have a look at my favorite wood chippers now.
Nothing beats the satisfaction of shredding all that unwanted wood, and only a decent machine will do that without hiccups.
Best value for money electric wood chipper: Sun Joe CJ601E 14-Amp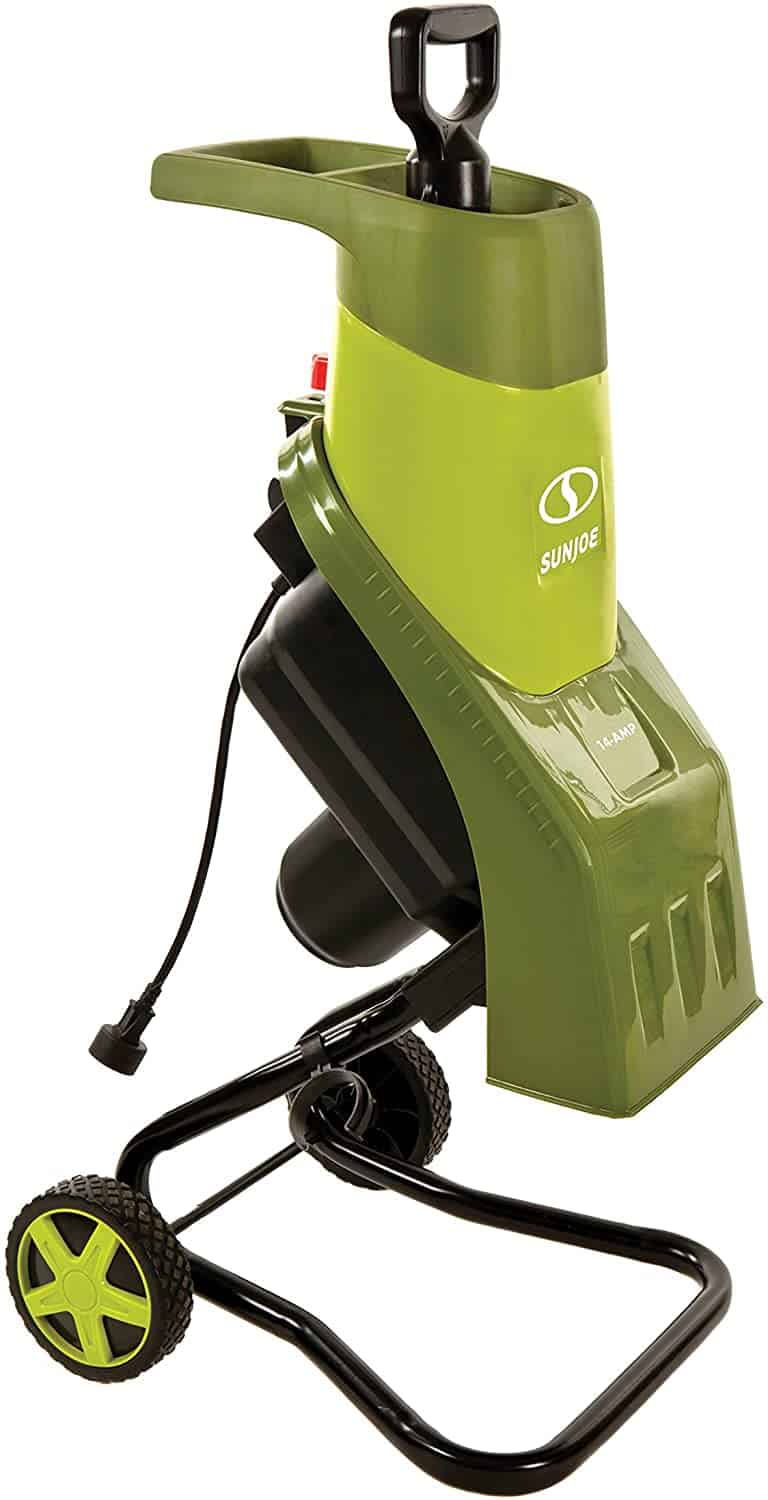 Assets
Firstly, I have the Sun Joe CJ601E 14-Amp on my picklist. By reducing the tree limbs and trunks about one-sixteenth of the original height, it can turn wooden sticks and twigs of your yard into nutrient garden mulch.
The six-inch wheel and light-weight make the wood chipper portable and movable on any kind of surface. So, you can move it anywhere if you need it and also easily store it after you are finished.
One of the several things I liked about this wood chipper is that it is very effortless to operate for beginners. You can start it simply by pressing a button mounted on the side of the handheld bar.
It is equipped to effectively chip branches with a height less than 1.5 inches with a no-load rotational speed of 4300 rpm. The robust motor has a rating of 14 amp and works efficiently.
I liked the fact that it is ETL approved and there is a safety hopper locking knob to ensure security.
When you open the chipper, the motor can be automatically stopped operating using a locking knob. It is designed with a reset button to use in case the chip is overloaded.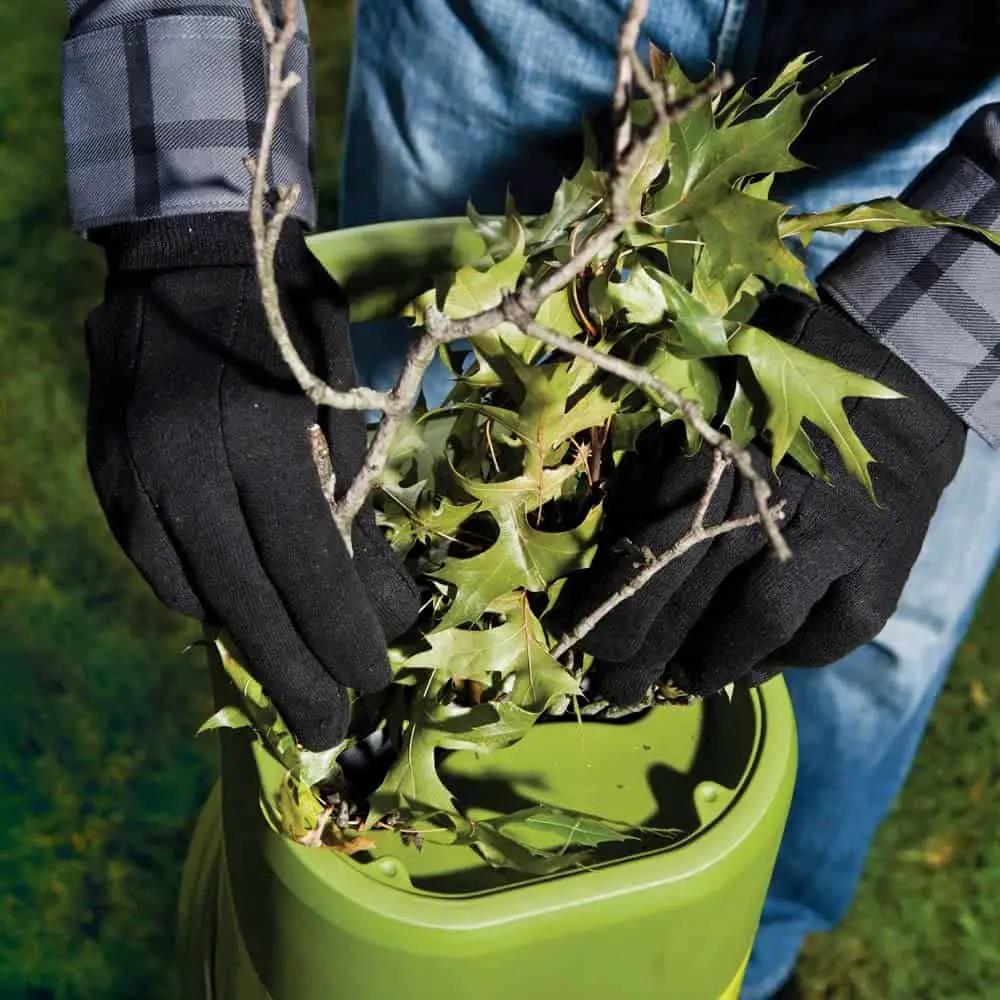 As it is an electric-powered tool, so you don't have to be annoyed with any smoke, costly tune-ups, starters faced in gas-powered chippers. You can easily wash it as the blades are not difficult to access.
Downsides
This wood chipper frequently jams and consumes much time.
Check prices and availability here
Best electric wood chipper for domestic use: Sun Joe CJ602E-RED 15 Amp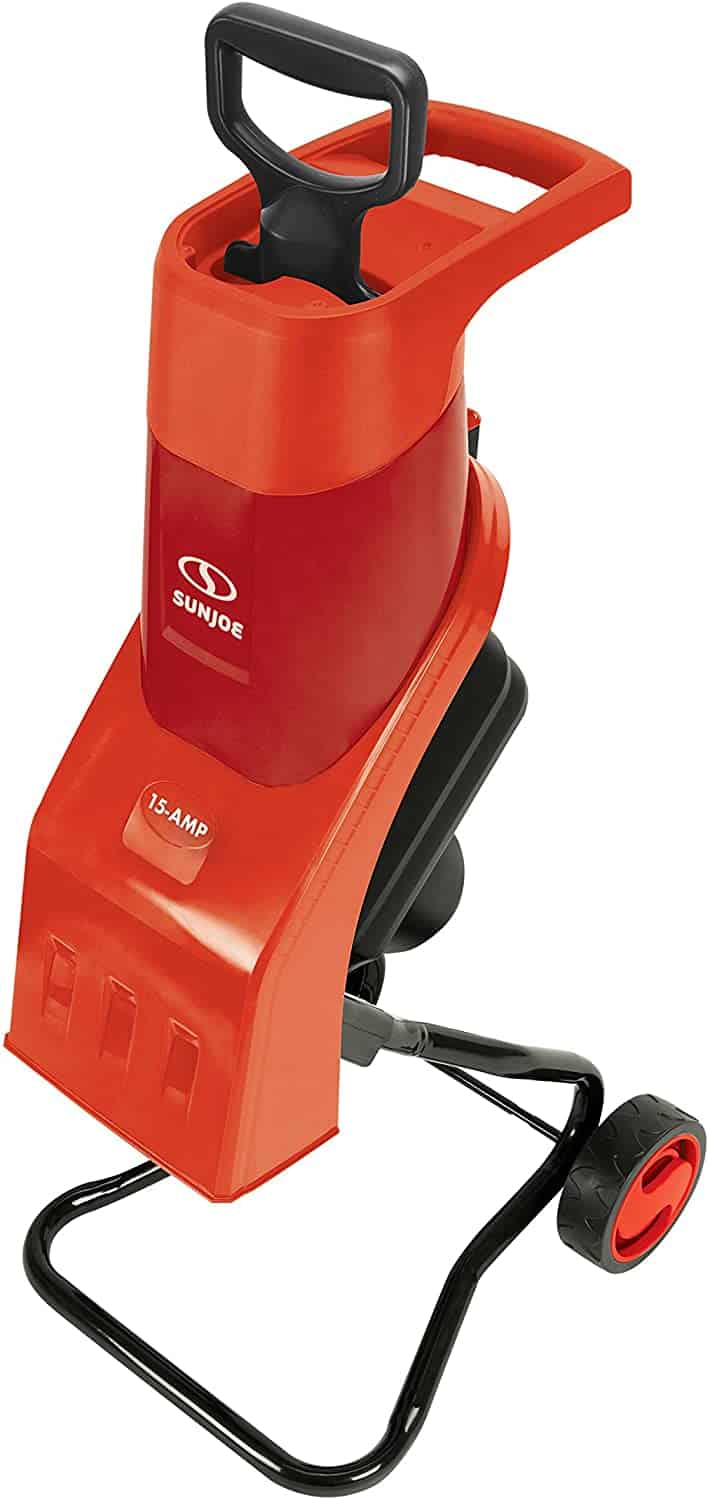 Assets
The next electric wood chipper I have on my list is the Sun Joe CJ602E-RED 15 Amp, another product of the extremely popular Sun Joe range.
The motor of this chipper is worth mentioning as it has a current rating of 15 amp. The motor rotates with a rotational speed of 4300 rpm, making quick work out of the uninvited eaves, shrubs, or branches overcrowding your garden.
This electric chipper is designed for only light-duty tasks. You can turn any wooden junk up to 1.5 inches that you find to 1/17th of its original size with this chipper, great for nutrient compost.
This mulch is great for helping growth around your flower beds and trees in your garden.
What's great about this wood chipper shredder is that it is ETL certified for safe operation and comes with a warranty for 2 years of operation.
The safety hopper locking knob introduces better protection and prevents the motor from running when the machine is open.
It's designed to be portable and contains a wheel with a dimension of 6-inch, meaning you can use it all around your garden.
Also, there is a start switch mounted under the safety hopper which will help you to start the wood chipper effortlessly and instantly.
Downsides
The blades are not very high quality and get dull soon.
Check prices and availability here
Best electric wood chipper for heavy-duty jobs: PowerSmart 15-Amp Brushless Induction Motor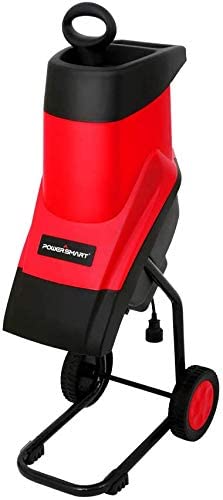 Assets
If you need to clean the trees, bushes, and shrubs of your yard, PowerSmart 15-Amp will seal the deal. It chews through dry twigs, and branches like a pro.
The important thing is, this wood chipper or shredder is operated by a 15 Amp, 4500 rpm, 120V, 60 Hz motor. This motor makes this machine heavy duty.
This is capable of turning clippings and foliage about 1.62 inches into high-grade mulch. The wood chipper works best on the long straight and dry wood.
Another great thing is that you can move this compact wood chipper to anywhere irrespective of the surface type by using the six-inch wheels. As it weighs about 33 pounds, you can travel and store it spontaneously.
It is featured with overload protection and a locking knob as a safety hopper which is worth mentioning. This locking knob is designed to stop the motor automatically while keeping the wood chipper open.
The maintenance is very easy and the wood chipper is eco-friendly as it uses electricity to power up. It is always advised to use gloves while feeding for safety.
Downsides
After some time the cutter wheel may loosen up.
Lacks extension on the chute to channel the chips into the box effortlessly.
Best compact & maneuverable electric wood chipper: WEN 41121 15-Amp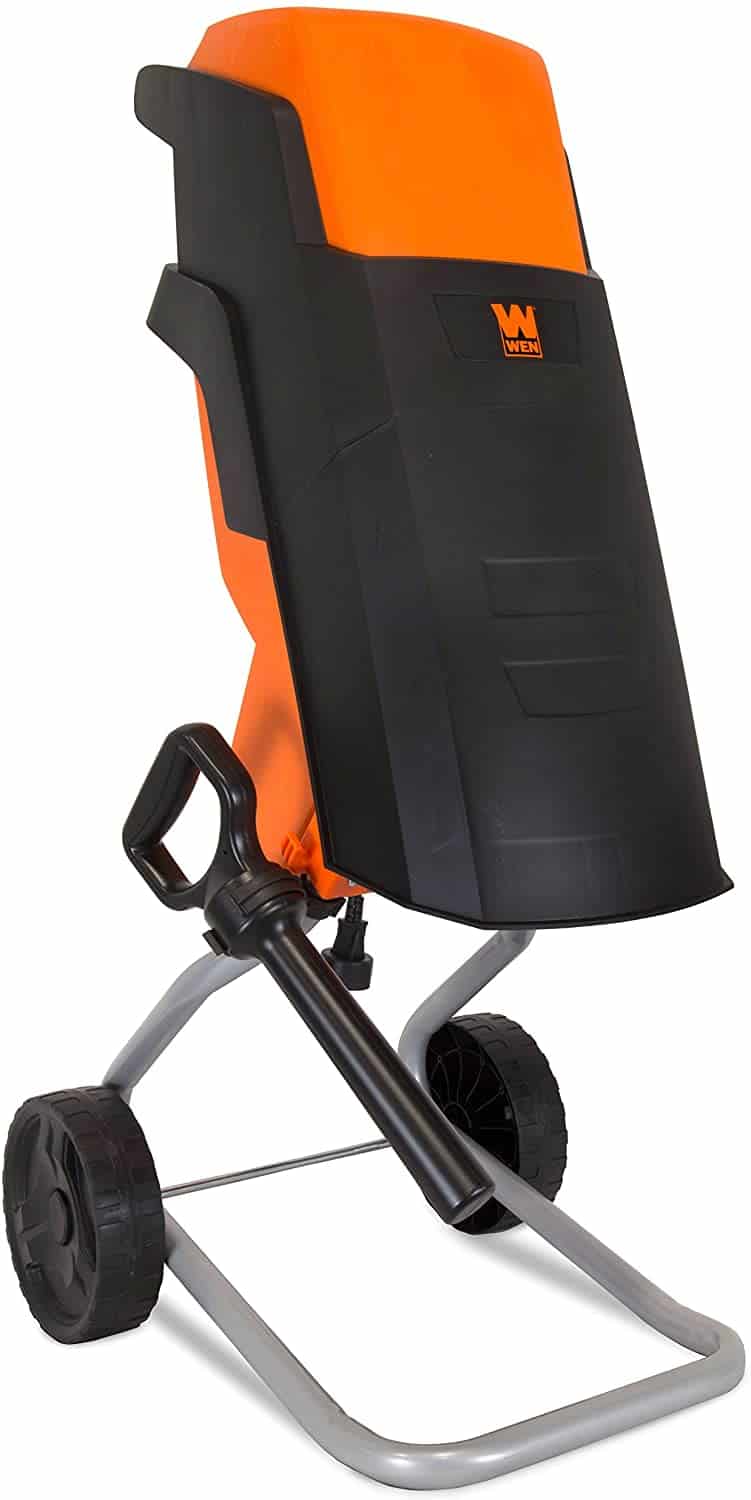 Assets
WEN 41121 Electric Wood Chipper and Shredder is operated by a high speed 15-Amp motor. This efficient machine is equipped to give out 130 cuts per second.
There are two seven-inch blades which are highly efficient and sharp. Using these blades, the machine can chip and shred excess branches with a diameter up to 1.5 inches instantly making nutrient compost.
Another thing is, the wood chipper is designed with keeping extreme safety of you in mind. There is an internal safety mechanism that functions to keep the motor shut when the hopper is not closed.
Also, there is a push stick using which you can easily place the twigs, foliage, or branches in the hopper safely. The stick can be stored on the board while not using it.
There are two 6-inch back wheels and a handle to transport the wood chipper easily by pushing like a cart. The included collection bag enables you to store this compact machine between jobs keeping it neat and clean.
Downsides
The safety dial is locked inside.
The opening side is narrow so it only takes in a small amount of wood.
Check prices and availability here
Best all-in-one electric wood chipper: Earthwise GS70015 15-Amp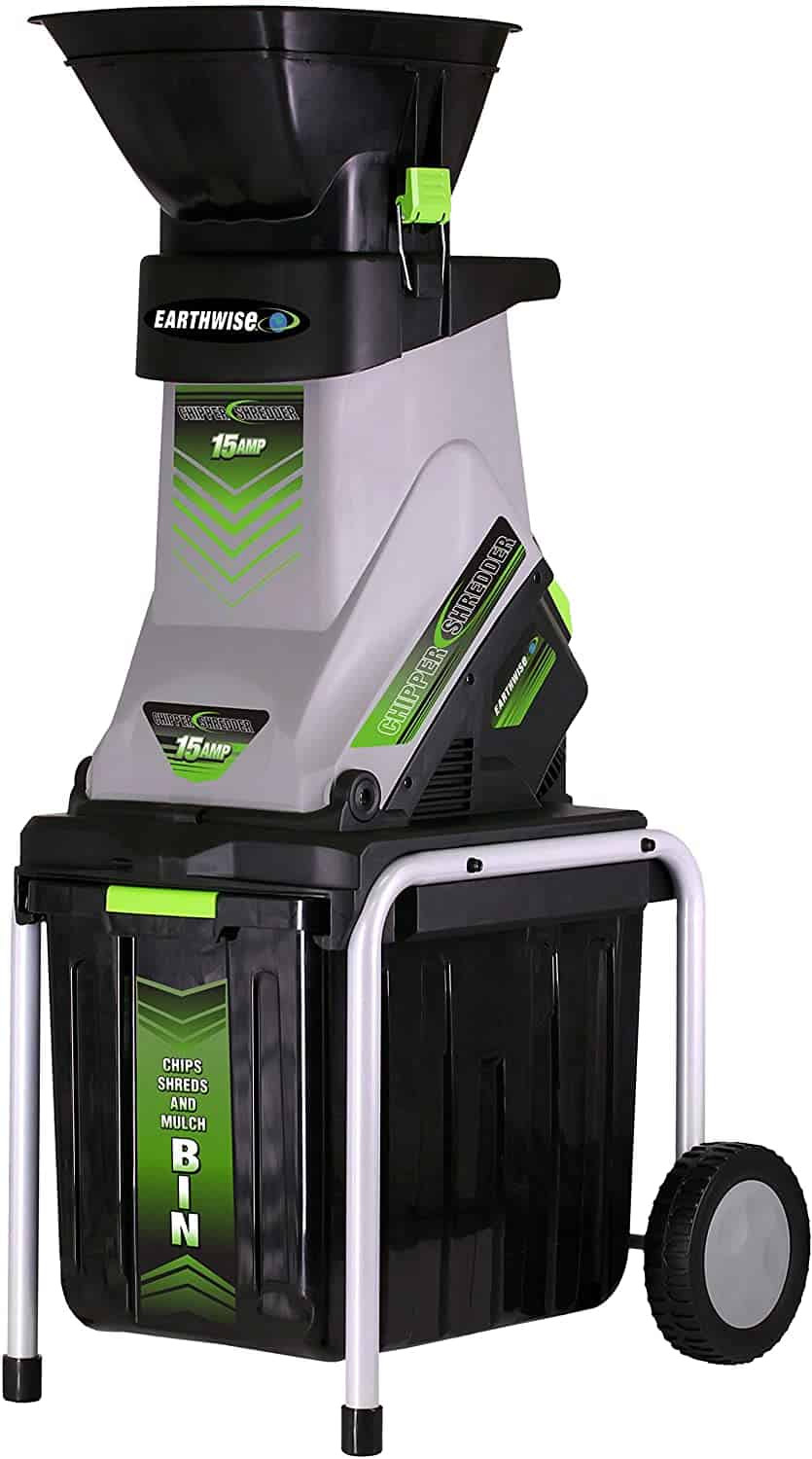 Assets
Earthwise GS70015 is perfect to carry out a wide range of farm works with the powerful 15 Amp motor with steel blades. It can easily go to town on branches of sticks about 1.75 inches thick.
The thing that really sets it apart from the competition is the 1.2 inches and 40liter bushel collection bin. This bin will assist you to clean up the leaves, so you're not adding another job to your list.
Safety is a priority for this wood chipper, and with the leaf chute and temper tool, the chipper provides greater protection of your hands while feeding wood in. There's also a safety switch for overload protection.
This electric corded chipper or shredder is designed with durable rear transport wheels. This slim design and wheel make the chipper movable anywhere across the lawn.
Also, the machine is very simple to use, clean, and assemble.
Downsides
The top of the plastic feed bin pops up frequently which is annoying.
You have to push the leaves through two 2inch holes in top shuts.
Electric wood chipper FAQs
What is the main difference between a wood chipper and a shredder?
The difference lies in which they break down the wood. Chipper is used for larger branches and shredder can shred small materials with its blunt edge.
Can you feed wet wood inside a wood chipper?
No, it is not recommended as this may break the belt.
Final thoughts
No one wants a messy backyard looking like a tree has shed all its branches onto your lawn.
The benefits of tidying up your garden, and then recycling the wood into nutritious compost for your plants and lawn are endless!
You can anticipate efficient performance from the wood chippers of Sun Joe. The rolling wood chipper of WEN is equipped with a push stick keeping the safety of your hand in mind.
So, wisely select the best electric wood chipper and keep your yard neat and clean.
Bikes can be another backyard eyesore. Check out these Outdoor Backyard Bike Storage Ideas (2021 Best Options Reviewed)
I'm Joost Nusselder, the founder of Tools Doctor, content marketer, and dad. I love trying out new equipment, and together with my team I've been creating in-depth blog articles since 2016 to help loyal readers with tools & crafting tips.