I love creating free content full of tips for my readers, you. I don't accept paid sponsorships, my opinion is my own, but if you find my recommendations helpful and you end up buying something you like through one of my links, I could earn a commission at no extra cost to you.
Learn more
Automatic saws will be the ultimate game-changer if it is equipped with a proper saw blade. A perfect blade will deliver you the satisfaction of cutting materials. They are mostly useful for cutting wood, pipes and in fact heavy metals.
These saw blades are pretty easy to use. Just mount them with your saw, tap the trigger and start cutting down your materials. Actually, a lot of factors control your smooth cutting action precisely. A reciprocating saw blade can put you in stress if not bought wisely. Producers pretty much don't express any downsides of their product.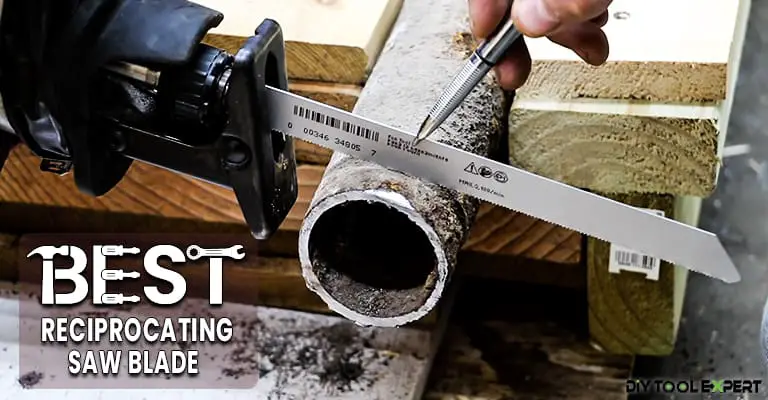 So, before you decide to purchase, let us help you to find the most suitable reciprocating saw blade for you. Through our review and buying guide section you will learn that knowing all the ins and outs is very crucial to purchase the best reciprocating saw blade.
Reciprocating Saw Blade buying guide
All sort of buying needs prior knowledge. Reciprocating saw blades are your first pick up in any type of cutting work. If you are willing to buy a reciprocating saw blade, don't hesitate to read this buying guide section. It is a good source to read as we've included the required information that you should think before purchasing a reciprocating saw blade.
This buying guide is prepared carefully while keeping count of the points that are needed to figure out before buying saw blades. We have narrowed down the available best options for you.  The major features that you will look for while buying reciprocating saw blades are teeth per inch (TPI), length, durability, and construction materials of a blade.
Teeth per inch
The biggest distinguishing factor among reciprocating saw blades is teeth per inch grading. Usually, every blade has its own TPI rating. Blades having a common teeth per inch rating with different length or thickness indicates that they are suitable for the same type of tasks.
Saw blades having less than 10 teeth per inch are mostly useful for woods. This type of reciprocating saw blades is also capable of cutting woods through nails. So, they are highly suitable for cutting any wooden structure with nails.
Reciprocating saw blades having higher than 10 teeth per inch are less useful for cutting woods. Containing such a higher concentration of TPI, blades will probably burn any wooden body while cutting. But this kind of reciprocating saw blade is mostly useful for cutting PVC pipe and metals. Blades having even higher TPI are made for cutting heavy metals only.
Length
Different brands have reciprocating saw blades of different lengths. Though there is no standard parameter for the length of saw blades, it starts from 6 inches and ends up in 12 inches usually. You need to know well about the length of the blade that you are looking for.
12 inches long blades are the largest and these are required mostly if you are doing a heavy demolition work or cutting down small trees with your reciprocating saws. 6 inches blades are supposed to be used for cutting PVC pipes.
However, one important fact is that every saw has a mounting area for saw blade where you might lose up to 3 inches of the blade's length. Such a loss will make the saw an inefficient cutting machine. So, 9 inches long blades will be a perfect choice for doing any type of work as it will have an active length of 6 inches after losing a significant length due to the mounting area.
Durability
Blades with higher flexibility have more strength. At first, it may seem petty strange, but rigid blades break more easily than the flexible blades. In fact, rigid blades can tolerate less force than the flexible blades. So, the flexibility of blades should be a key concern for durability.
Another important factor that pushes durability to the maximum is the welded teeth. Typically, the very best saw blades are sharpened by hand or by machinery. The other type with a bit less quality is sharpened by hard compressed pressing. If a blades tooth is cheaply welded, it is pretty common that they will shear off the blade quickly resulting in poor durability.
Construction Materials
It is pretty commonly seen that some blades are harder than most other blades. But hardness won't provide you any assurance for better-built quality. Usually, blades are made of three types of materials. They are high carbon steel (HCS), high-speed steel (HSS) and bi-metal (BIM).
1. High Carbon Steel
High carbon steel made blades are comparatively softer than most other blades. These blades are known as the most flexible blades. Such flexibility decreases its durability. These soft blades are mostly applicable for cutting woods, particle boards, and plastics. They are the cheapest ones in the market. So, buying such flexible blades will be an economic choice.
2. High-Speed Steel
High-speed steel made blades are well known for their heat resistivity. A tempering process makes them more durable than carbon steel made blades. Their extra hardness provides more protection making them more efficient for metal cutting work.
3. Bi-Metal
Bi-metal reciprocating saw blades are a result of hybrid technology. It combines the best properties of high carbon steel and high-speed steel. Their teeth are made of high-speed steel for extra hardness and body of these blades are made of high carbon steel providing enough flexibility. these blades can tolerate any extreme application requiring demand of both toughness and flexibility.
Best Reciprocating Saw Blades reviewed
Have a look at what we've got for you.
1. DEWALT Reciprocating Saw Blades, Metal/Wood Cutting Set, 6-Piece
Admirable facts
DEWALT reciprocating saw blade set comes up containing a 6-piece set of metal and wood cutting reciprocating saw blades. According to the term TPI (Teeth Per Inch), it has a set of 6, 5/8, 10, 14, 18, 24 TPI blades. All of these 6 reciprocating blades have a length of 6 inches.
This reciprocating saw blade set adds an extra layer of perfection in your cutting need as it features compatibility with all saw brands. Moreover, it has the capability to cut all types of metal, plastic, wood, and drywall. Its tooth is designed in such a way that it ensures faster cut by increasing the tooth contact area. Steel made blades won't even break into pieces unless used conveniently.
Having a very reasonable price and strong features against that price has made this product a big dominator in the market of saw blades. These reciprocating saw blades will certainly make your work a lot faster and also a faultless one.
Glitches
Despite having a 6 inches long body, these blades work in a length of 4-4.5 inches only as it loses its length due to the mounting area of the saw that is being used.
2. Milwaukee Sawzall Reciprocating Saw Blade Set
Admirable facts
Milwaukee offers you some of the best reciprocating saw blades in the market. This 12-piece set contains 12 reciprocating saw blades with different TPI ranging from 5 to 18. It is basically designed for multi-material cutting which makes woodcutting with nails, plastic very easy.
Its teeth design is staggered for a more aggressive cut. Its ergonomic blade design allows it to last longer than other normal blades. The efficient design increases the cutting ability of metals and high alloys. It is wide enough to be fitted in tight space.
Milwaukee reciprocating saw blades have some additional features. Blades have the 1-inch height for extra strength and are even thicker than any other ordinary blades measuring its thickness 0.042 inches and 0.062 inches for any sort of extreme application.
Combining with a bit higher price, this 12 efficiently designed reciprocating saw blade set can be a very good choice for those who may have regular cutting work. Hence, this product is very prominent in terms of cutting wood with nails, plastic and any other material.
Glitches
The only issue that I have found in this product is that it is a bit expensive. But such a price ensures its quality at a major scale.
3. Bosch Wood Cutting Reciprocating Saw Blades
Admirable facts
Bosch reciprocating saw blades are well known for their top-notch finishing quality in any wood cutting work. This product comes up in a pack containing 5-piece RP125 saw blades set that ensures fast and long-lasting performance.
This saw blade set is featured with turbo teeth technology that increases its longevity 3 times more than any other ordinary blade. This blade is equipped with 5 TPI. Blades are designed in such a way that it can easily tolerate tough applications delivering a professional-grade cutting.
Its 5 blades are convenient enough as these are color-coded (grey) so that these can easily be identified. Despite being designed for wood cutting, these blades are also strong enough to cut wood with nails, metal, stainless steel, cinder block, cement board, and fiberglass too.
This will be a versatile option for a user to pick up for any occasional, standard, heavy or demolition work. Its reasonable price for its versatile application area has made this product a very good competitor in the market of the reciprocating saw blade.
Glitches
It has such a minimum drawback that it can easily be overcome. Its blades may not stay sharp for a pretty long time.
4. IRWIN Tools Reciprocating Saw Blade Set
Admirable facts
IRWIN reciprocating saw blades are regarded as the product of quality with an assurance of perfection in cutting. This product comes up with a pack containing 11 pieces of reciprocating saw blades. Each of them is designed for proper cutting of various materials.
These saw blades are featured with 3 different sizes ranging from 6 inches to 9 inches. These are also equipped with different TPI including 6, 14 and 18. These blades are made of steel and cobalt. 8% cobalt keeps teeth sharpened for a longer period.
These blades have bi-metal construction that ensures faster cutting and added durability. Its precision set teeth are designed for faster and smoother cuts. It can cut composition materials, plastic, carbon steel, and stainless steel without leaving any damage mark on the material body.
IRWIN blades offer high-quality cutting experience with almost all saw brands. This will be a very wise decision to choose this product as it provides a wide range of cutting applications. Having a competitive mid-range price makes this product a very demanding one in the market.
Glitches
This product usually does not demonstrate any major drawbacks. Blades may get bent if too much pressure is put on it.
5. Freud DS0014S Wood & Metal Demolition Reciprocating Blade Set
Admirable facts
Freud reciprocating saw blade for wood and metal cutting comes up in a pack containing 14 blades. Each of these has individual TPI and length. Blade size varies in two broad sections. One variation is 6 inches and another variation is 9 inches. Blades teeth per inch (TPI) range from 5 to 14. This different TPI ensures proper cutting force for different materials.
Being made of steel, these blades deliver a fine and smooth cutting for separate materials including wood with nails, metals and plastic and a lot of others. Its ultra-hardened cutting edge increases its longevity almost by 5 times than any ordinary saw blades.
This product is a bit pricy but its prominent features and quality perfection in work make it a very good competitor in the market. Users who want to get a well-tuned product for an affordable price can pick this one as an ideal one.
Glitches
Making a bisection of this product, it becomes pretty hard to find any glitches except that it may seem a tad bit expensive.
6. 12-Inch Wood Pruning Reciprocating/Sawzall Saw Blades
Admirable facts
This product is packaged with 5 pieces of reciprocating saw blades, each being 12-inch-long made for smoother cutting with perfection. Each of these blades has a tooth grading of 5 TPI. It is made of high-quality carbon steel which grips the feature of fast wood cutting.
Faster cutting often occurs vibration which leaves a mark on the body of the material. But it has an increased thickness of 1.44 mm whereas other ordinary blades have a thickness of 1.2 mm. Such thickness eradicates the vibration on a large scale.
When the question of compatibility with other saw brands arises, this product has a plus point. It is compatible with almost all saw brands in the market including DeWalt, Makita, Milwaukee, Porter & Cable, Ryobi, Black & Decker, Bosch, Hitachi, etc.
This product comes up with a durable clear plastic storage case for safety which will only come apart when pulled and not when shook.  So, keeping count of the affordable price range of this item, picking up this one for a smoother uninterrupted cutting work will certainly please you.
Glitches
Due to a bit extra heavy, these blades can occur unnecessary friction. Sometimes it may produce extra heat. Also, teeth may not remain sharp for a longer period.
7. WORKPRO 32-piece Reciprocating Saw Blade Set
Admirable facts
WORKPRO 32-piece reciprocating saw blade set is undoubtedly a dominator in the market. It comes with a pouch provided for easy carrying of the blades. The blades are made entirely of steel construction for cutting coarse/fuelwood with a thickness of 20-175 mm (free of the nail). This package includes pruning saw blades for cutting any product having a diameter of less than 180 mm.
Metallic blades designed for multipurpose cut metals with a thickness of 0.7-8 mm, pipes with a diameter of 0.5-100 mm smoothly with a touch of perfection. An exclusive feature of this product is that it is compatible with all reciprocating saw brands in the market.
This product comes up in a package containing 32 pieces of blades with several pieces of different TPI and lengths. Such a variation comes in handy as it will provide a lot of options for choosing the most suitable one for your work.
Glitches
The only issue that I found is that sometimes blades got bent after several uses on heavy metal cutting. This can be overcome by using it under proper supervision.
What Is a Reciprocating Saw Blade?
Saw blades can cut material while moving in forward and backward direction simultaneously. As they are used in reciprocating saw and perform in the aforementioned manner they are termed as reciprocating saw blades. They create all the difference in how the saw performs. The term 'reciprocating' refers to a very particular structural feature of a blade.
Reciprocating blades have a different working theory than other ordinary blades. Ordinary blades cut any material in a single direction either moving forward or moving backward. Reciprocating saw blades are completely different in this case. Its teeth are designed in such a way so that the blades can cut any material while moving in both directions; forward and backward, simultaneously.
FAQ's
Here are some frequently asked questions and their answers.
How do I choose a reciprocating saw blade?
Reciprocating saw blades range from 3 – 24 TPI. The number of teeth per inch determines the cut speed and roughness of the cut. Lower TPI blades cut fast but leave rougher edges. Blades in the 3 – 11 TPI range are typically best for wood and demolition work.
Which saw blade makes the smoothest cut?
Blades with densely packed teeth make the smoothest cuts. Typically, these blades are limited to cutting hardwoods 1-1/2 inches thick or less. With so many teeth engaged in a cut, there is a lot of friction. In addition, the small gullets of such closely-spaced teeth eject sawdust slowly.
How thick of wood can a reciprocating saw cut?
Reciprocating saws typically have very short blade movement – something like 30 millimeters, so once you cut anything thicker than perhaps three times that range the blade will not fully remove the chips out of the cut and that will slow the cutting process down.
Can I use a reciprocating saw to cut tree branches?
You can cut branches and limbs with a reciprocating saw. If your tree is small enough, you can cut a tree down. Bear in mind, these saws are ideal for cutting stationary material. If there's a lot of give to your branch or limb, the saw may just shake it rather than cutting through it.
Is more teeth on a saw blade better?
The number of teeth on the blade helps determine the speed, type and finish of the cut. Blades with fewer teeth cut faster, but those with more teeth create a finer finish. Gullets between the teeth remove chips from the work pieces.
Can you cut plywood with a reciprocating saw?
Yes, you can cut wood with a reciprocating saw, along with a wide variety of materials. You can cut through plywood and plyboard with no problem using just a general purpose blade with your tool. You can also cut dimensional lumber and studs, too, along with the nails and screws.
How thick of steel can a Sawzall cut?
Tips for cutting metal using a reciprocating saw.
The recommended blades for thin metal are those with 20-24 teeth per inch, for a medium thickness of metal between 10-18 teeth per inch, and for very thick metal a blade with around 8 teeth per inch is recommended.
Can a Sawzall cut hardened steel?
Carbide tipped Sawzall blades can cut hard metals like boron steel, cast iron, hardened steel and stainless steel. So carbide-tipped Sawzall blades should be used with Sawzall for cutting hardened steel.
Will a Sawzall cut rebar?
A sawzall (more accurately, a reciprocating saw) will cut rebar. The issue is to choose the right blade, and cut at the right speed. … A better choice is a portable band saw or an abrasive saw with thin, metal cutting discs, but the abrasive saw will cause a lot of sparks, and requires eye protection at a very minimum.
What's the difference between a Sawzall and a reciprocating saw?
Is Reciprocating Saw Same as Sawzall? The answer is yes, only with a slight difference. Sawzall is a brand name of a popular reciprocating saw. It has been invented in 1951 and claimed to be the first electrical reciprocating saw.
Are reciprocating saws dangerous?
DO NOT use this machine unless you have been trained in its safe use and operation. Potential Hazards: Exposed moving parts and electrical hazard with the potential to cause harm through entanglement, cutting, impact, abrasion, exposure to noise, projectiles, sharp objects, and friction.
Can you cut 2×4 with reciprocating saw?
A good reciprocating saw should cut through your 2X4s easily. You shouldn't have to change blades after cutiing just a few 2X4s either. You might try borrowing a saw from a friend to see if you get better results.
Which is better jigsaw or reciprocating saw?
While both jigsaws and reciprocating saws are considered fairly useful for a number of renovation tasks, reciprocating saws are more powerful, less precise, and useful for demolition projects and getting tasks done quickly. Jigsaws, on the other hand, are more useful for precise and detailed work.
Q: Do reciprocating saw blades fit all saws?
Ans: The reciprocating saw blades have a universal shank that is designed to fit all saws.
Q: Which length of a reciprocating saw blade is preferable?
Ans: A smart length of reciprocating saw blade for all sorts of cutting work is 9 inches. This is the perfect length as it will still have a working length of 6 inches after losing 3 inches of length due to the mounting area of a saw.
Q: What is the best TPI for reciprocating saw blades?
Ans: If you are looking need a faster but not smoother cutting then pick a blade with lower TPI (around 4-8). But if you want a slower but smoother cutting then choosing a blade with higher TPI will be a wise decision.
Conclusion
A perfect reciprocating saw blade will certainly add a layer of perfection in your cutting work. So, choosing the best reciprocating saw blade is very important for accomplishing your task with satisfaction. These have been covered well in the buying guide section.
The 'Milwaukee Sawzall Reciprocating Saw Blade Set' and 'Freud DS0014S Wood & Metal Demolition Reciprocating Blade Set' is chosen by us mainly for their widespread TPI range, multi-material cutting ability, and high built quality. Both of these products have demonstrated their potential to be picked up as the best reciprocating saw blade.
Our sincere responsibility is to help you make a wise decision while purchasing reciprocating saw blade set. So, picking up these two products will absolutely return your investment by providing an outstanding service.
I'm Joost Nusselder, the founder of Tools Doctor, content marketer, and dad. I love trying out new equipment, and together with my team I've been creating in-depth blog articles since 2016 to help loyal readers with tools & crafting tips.